With the growing number of SEO tools available on the UK market today, choosing the best one to help you improve your search engine standings, drive more traffic, and dominate your niche can get rather difficult. Before coming to a decision, SEO and marketing specialists need to compare dozens of options, which isn't only time-consuming but also ineffective if you consider the number of tools that need to be analysed.
At Top10 SEO Software, we offer an alternative solution. We've handpicked 3 of the most popular and promising SEO platforms for the United Kingdom—SE Ranking, Semrush, and Ahrefs—and analysed them with regard to 4 critically important aspects of search engine optimisation, namely:
Keyword rank tracking
Competitive research
Backlink analysis
Website audit
Sure, each tool has its unique, standout tools and features, but we focus specifically on the most important ones in terms of SEO. It should be noted that all three solutions are excellent for search engine optimisation and have all set standards with regard to different aspects of the industry.
Here, we listed the features offered by these companies in each of the mentioned areas of SEO analytics, analysed them, and drew our conclusions by identifying the main pros and cons of each platform. Then, we compared all three solutions to find out which one comes out on top, but we do pay greater attention to the price/quality ratio to give you a better understanding of the value you get for your money. So, if you are looking for great SEO analytics tools for the UK and don't know where to start, keep reading.
SE Ranking: Should the top dogs be worried?
It is difficult to find a platform that would work equally well both for SEO beginners and seasoned professionals who want to get data-rich analytics, but SE Ranking comes very close.
This comprehensive software solution aims to help marketers and SEOs of all levels build effective marketing campaigns, improve SEO, and dominate the niche without forcing them to go through a huge learning curve or deal with unnecessary hassle. So what goals can marketers and/or SEOs achieve by using SE Ranking tools? Let's take a look.
Read the full SE Ranking review.
SE Ranking keyword position tracker
Like most top-quality SEO platforms, SE Ranking has its own keyword rank tracking tool that makes it possible for specialists to conduct a detailed analysis of their own websites rankings, compare their data with niche competitors, and ultimately get tons of useful insights. Currently, the tool is considered to be one of the top solutions for the UK in terms of SEO opportunities and price.
Let's take a look at a list of the tasks you can complete using this tool. With SE Ranking's Keyword Rank Tracker, you can:
Get accurate data on your site's search ranking across all major search engines.
See keyword rankings for any location (country, city, and postcode filters).
Analyse mobile, as well as desktop search results.
Monitor SERP features for your websites including rankings, images, and videos.
Track Google Ads rankings.
Compare your rankings with that of up to 5 competitors.
Analyse the dynamics of the top 100 results on Google.
Filter and tag all players, minimise charts, leave notes & comment.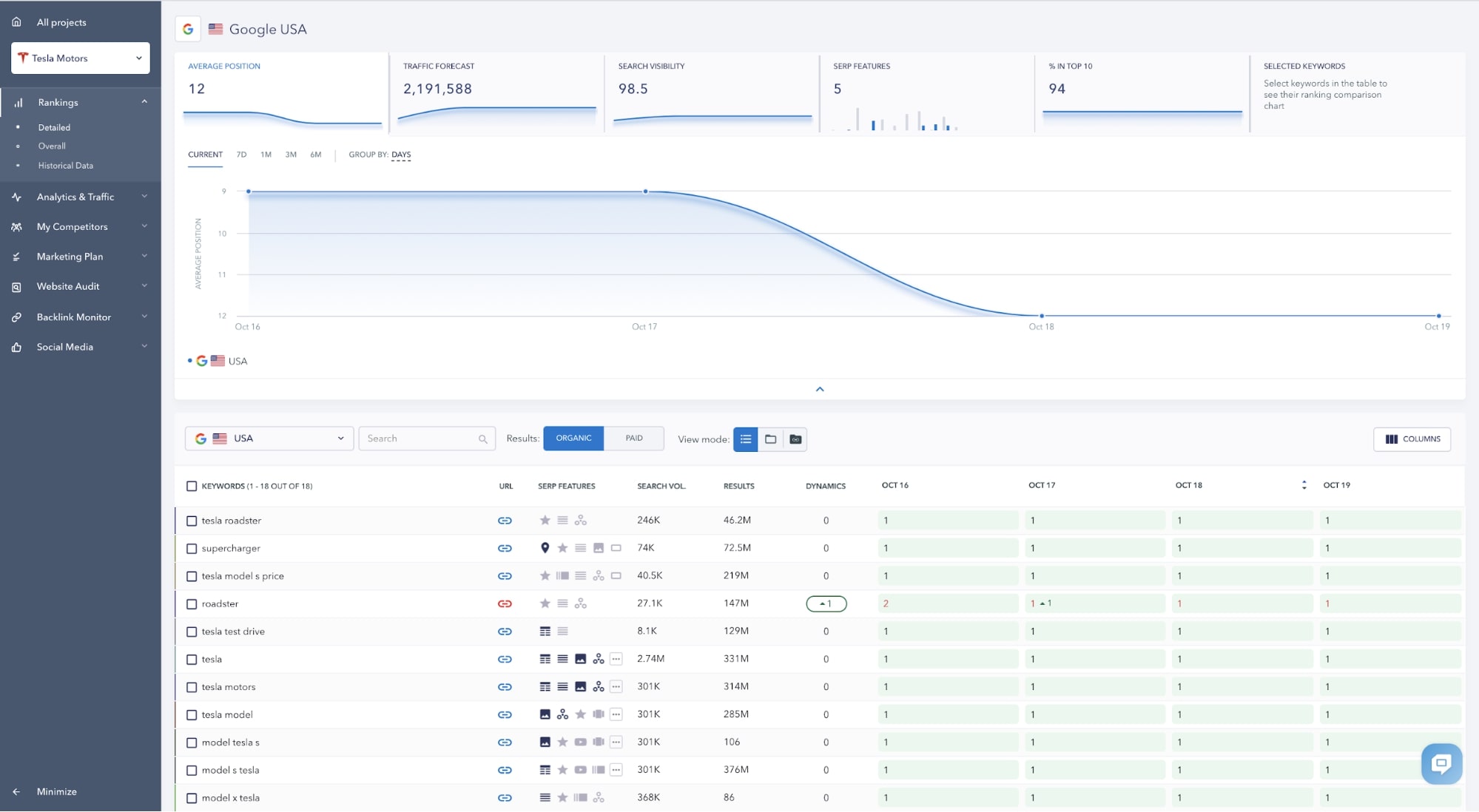 SE Ranking competitive research
SE Ranking offers an easy-to-use competitor research tool that gives you the freedom to evaluate your competitors' SEO campaigns on a large scale, as well as analyse a plethora of data to adapt, improve or create your own effective strategy.
What exactly can a specialist do using this competitor research tool?
See the top-ranking pages in the UK or any other country, find top subdomains, see the amount of traffic (paid and organic), see the price of traffic, and more importantly, see where your competitors are getting traffic from.
Find websites that rank for a target search query.
Find competitors that target the same keywords in their paid campaigns.
Track rankings of the top competitor-owned websites.
Find your top-100 SERP competitors.
Analyse competitors' ad and PPC strategies.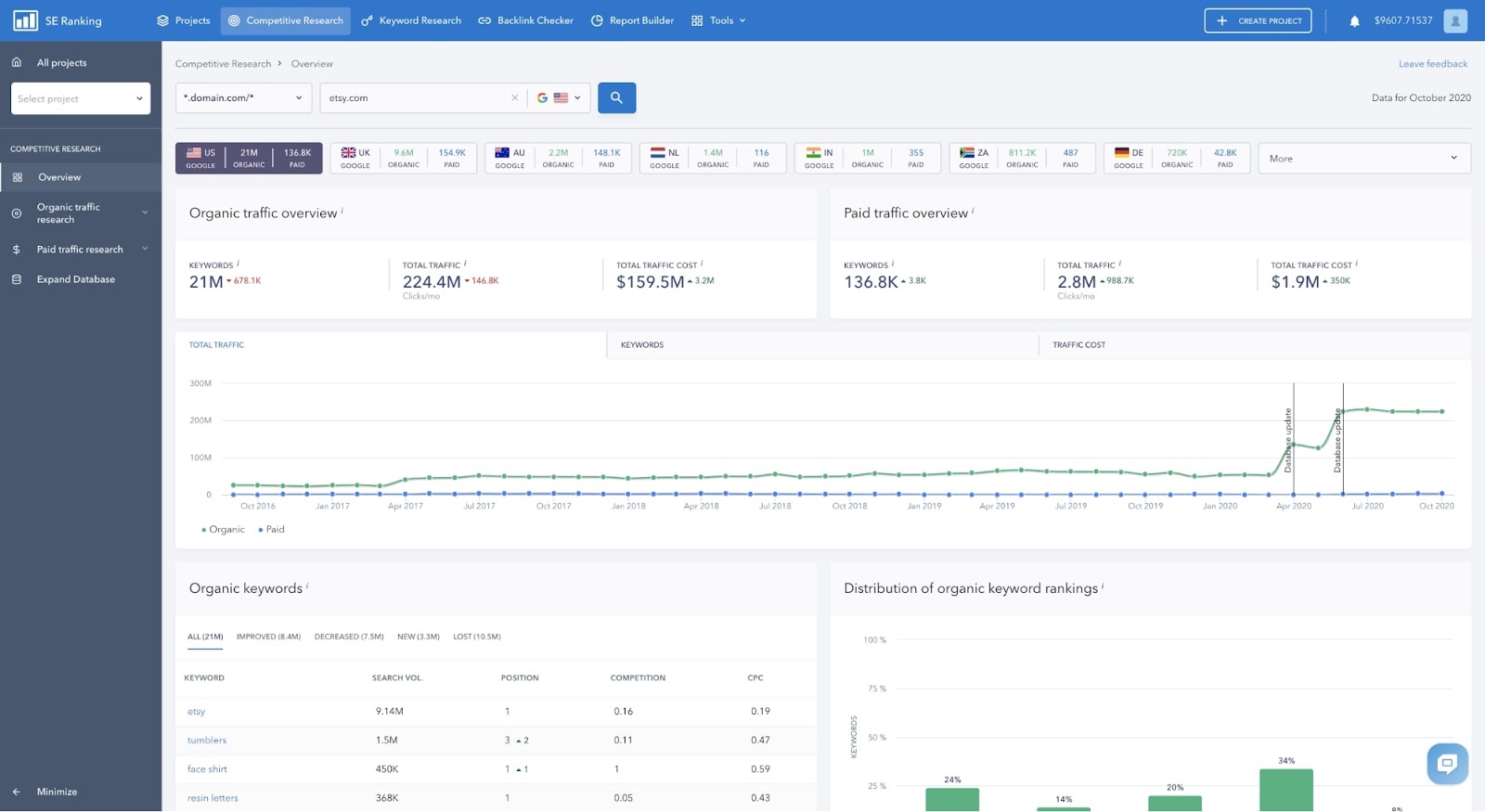 SE Ranking backlink analytics
As the name of the platform suggests, SE Ranking was created as a ranking tool, but it quickly evolved into a full-fledged platform packed with tools for SEO specialists and digital marketers. The Backlink Checker tool offered by SE Ranking is one of such "additional" tools. But don't let this fact take anything away from the tool as it remains one of the best and effective tools on the market.
Here are some of the things it can help you do:
Run a domain search to find backlinks.
Get data on your competitors' backlink profiles along with useful information, such as Domain Trust and Page Trust scores, referring domains, number and quality of backlinks, and follow/nofollow ratio.
Evaluate each backlink profile in detail and consider various aspects like dynamics of lost and new links, the most effective regions for promo campaigns, anchor text distribution, the best pages in terms of backlinks.
Get additional real-time metrics, including found/not found backlink status, Google index status, user-generated or sponsored content.
Filter and export backlinks.
Estimate the total cost of a link-building campaign.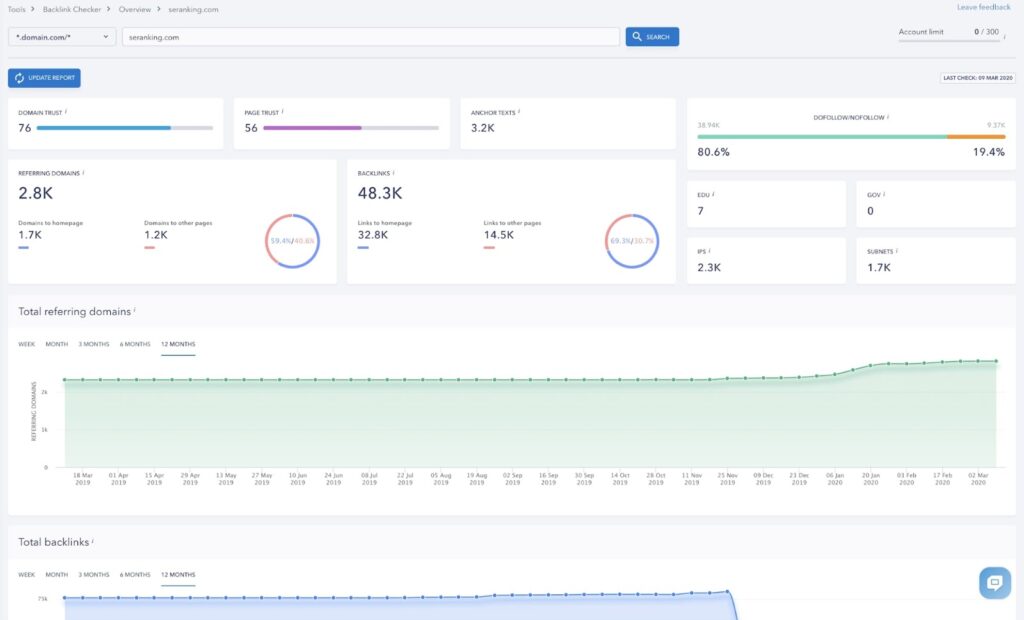 SE Ranking website audit
Since SE Ranking is an all-in-one SEO platform, it has to live up to its name. That's why one of the offered tools is a website SEO audit. Every marketing and SEO expert working with a website needs a tool that can scan a website in its entirety to find any reason for people or search engines to leave your site or simply avoid it.
Let us take a look at the features of the tool that can be used to spot and fix every issue with the goal of improving a website's search engine standings.
Scan every page of any website.
Check subdomains and test domains.
Find technical errors from hreflang tags to blocked pages.
Check all headers and meta tags.
Find issues that are slowing down a website.
Analyse images and internal link profiles.
See the current progress and a list of issues that still need to be fixed.
Get scheduled customised reports.
Track all page changes with the Page Changes Monitor.
Compare crawls to track progress.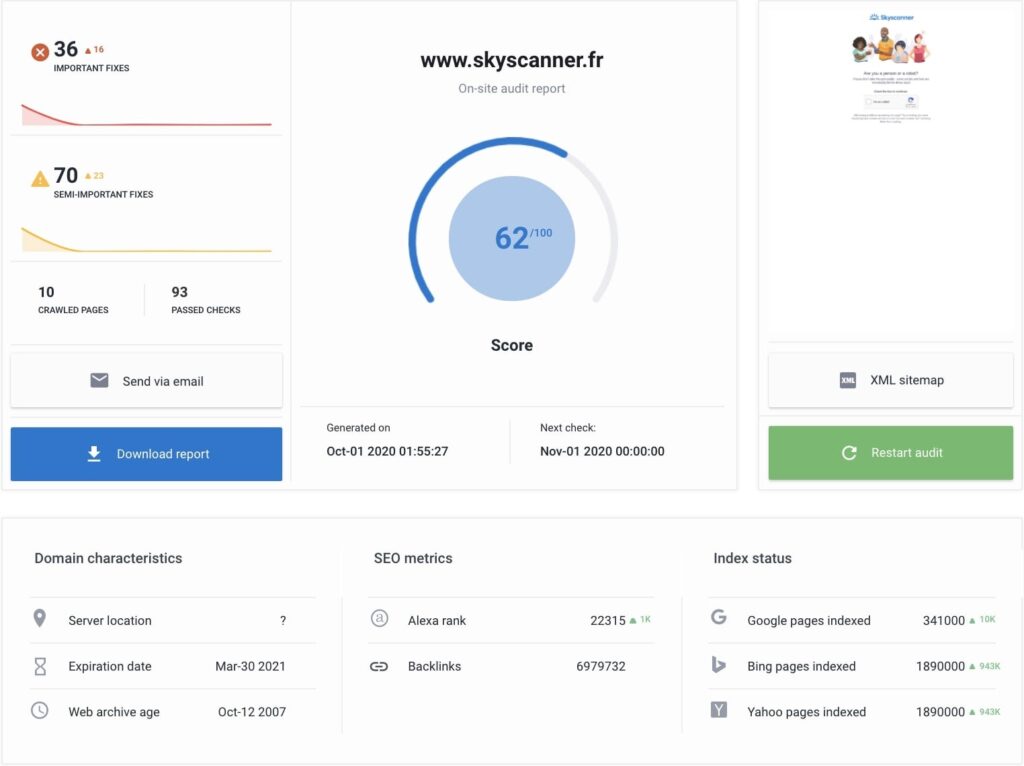 What's the verdict on SE Ranking?
Pros: very reasonable price, excellent rank tracking tools, detailed reports, great local SEO data, a lot of SEO tools for any situation, constant updates
Cons: some competitors have larger databases, beginners may need more help getting started
SE Ranking is hands down great when it comes to data, accuracy, and pricing. It is also a solid option for those who are looking for an all-in-one platform for in-depth analytics. Although SE Ranking hasn't been around that long, it shows a lot of promise and excels at providing high quality services. Backlink analysis, competitive research, rank tracking and website audit—this data-packed platform can do it all, accurately and at an affordable price.
Semrush: Is the hype backed up?
Generally speaking, Semrush is pretty similar to SE Ranking, as it also offers a number of useful functions that make it possible for marketers and SEOs to effectively manage their work, improve the quality of content, enhance advertising, and create successful ad campaigns both for search engines and social media.
However, it has its own specifics, pros and cons, so let us take a look at its rank tracking, competitor research, backlink analysis, and website audit tools in more detail.
Semrush keyword position tracker
Let's talk rank tracking. Of course, the team over at Semrush understands the need to analyse the successes and failures of particular SEO strategies, as well as separate steps and efforts. The company developed their rank tracking tool to help users see how certain actions affect a site's usability. So, what exactly do marketers who choose this platform get for their money?
Let's take a look at the best rank tracking features Semrush has to offer.
Monitor mobile and desktop search results for a set of keywords.
Monitor your website, as well as competitors' sites (see rankings for any domain, subfolder subdomains, URLs).
Get accurate local and global results.
Analyse Google's cross-niche volatility and stay up-to-date.
Monitor keyword rankings for various countries & languages.
Filter data by 15+ features.
Find top niche competitors.
Receive detailed PDF reports.
Get notifications on any significant position changes.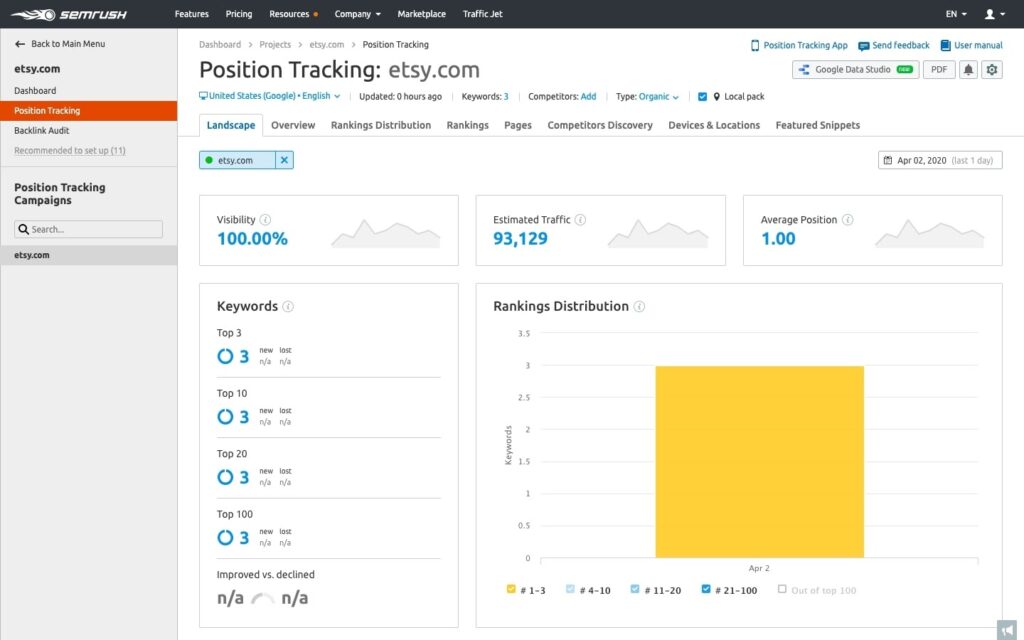 Semrush competitive research
With the help of Semrush, marketers and SEOs can analyse their own and their competitors' websites in detail. Naturally, the tool has its distinct characteristics, so let us check them out.
Analyse your competitors' traffic, find out where other players get traffic from, assess their paid campaigns and level of success in the UK or any other region.
See "global" marketing trends, discover what currently works for most players.
Find missed opportunities for your website(s).
Find out what strategies help your competitors improve organic rankings.
Find keywords your competitors rank for but you don't.
Analyse competitor profiles.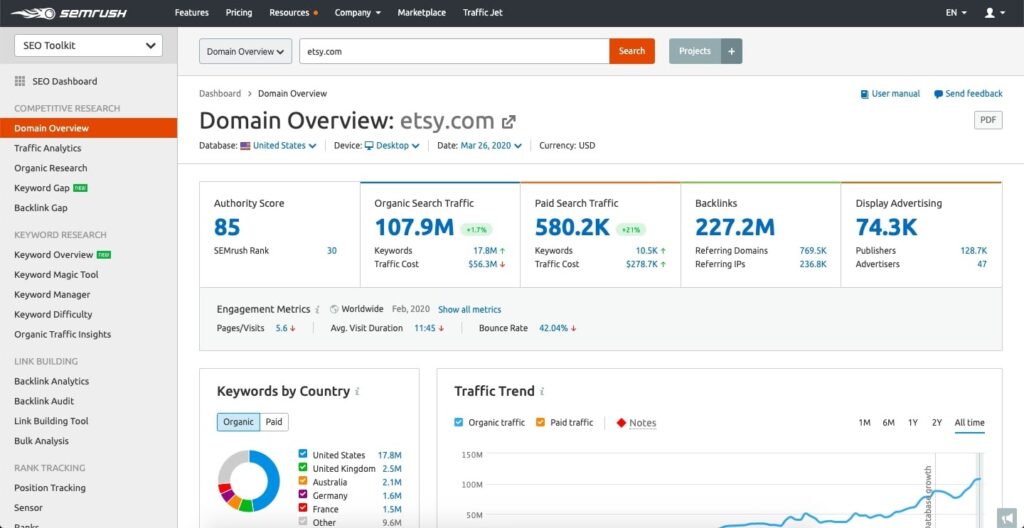 Semrush backlink analytics
SEOs who choose Semrush can also review their competitors' link profiles to get profound information and insights into their backlink strategies. Let's dig a little deeper to find out what exactly you can do with the tool:
Track any link to any domain, analyse growth/decline dynamics, monitor new links and deleted links.
Find out if referring domains are of high or low quality.
Find missed backlink opportunities.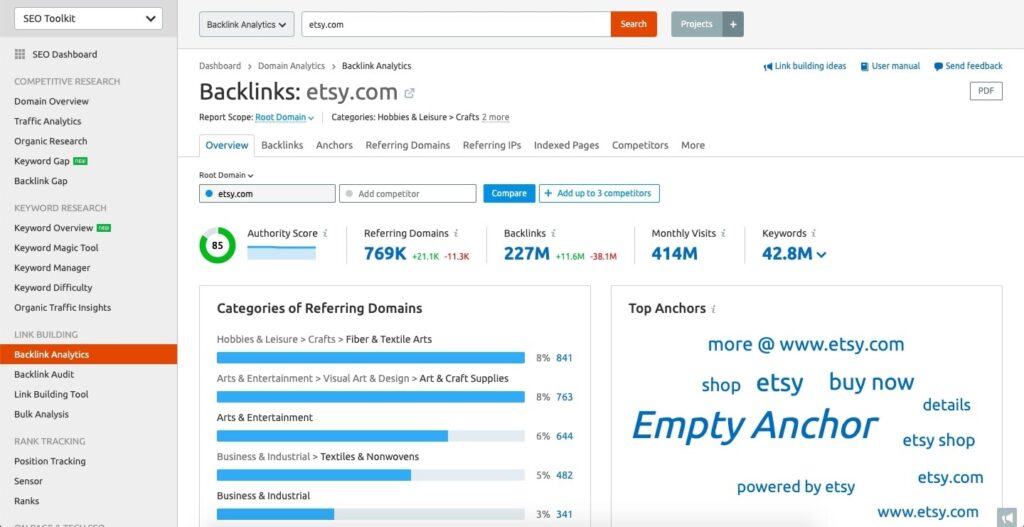 Semrush website audit
As for website audit, Semrush offers a pretty standard but still very effective solution to those who want to make sure their sites work properly, find existing issues and get suggestions on fixing them. More specifically, Semrush users can:
Find every technical error from website speed to meta tag issues.
Find all content-related issues.
Get comprehensive and detailed technical reports.
See critical issues that should be fixed ASAP.
Track progress and see what issues still need to be resolved.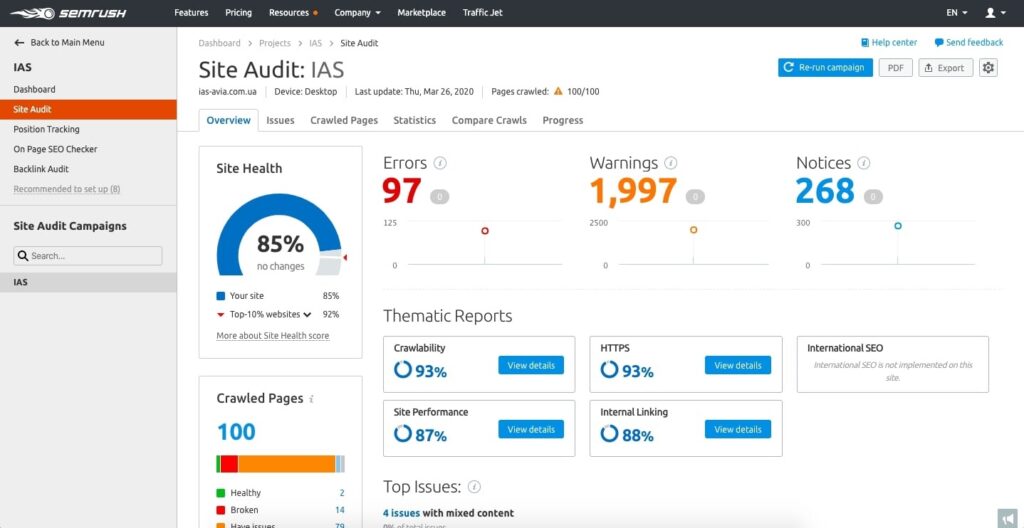 What's the verdict on Semrush?
Pros: keyword database, data-rich link analysis, on-going updates, great for PPC planning
Cons: no in-built SERP analysis, poor keyword rank accuracy, rather expensive
Semrush provides an easy-to-use software solution, but more importantly, it provides experts with the opportunity to meet different goals and perform tasks without having to switch to any other platform—something that all three mentioned tools have in common. Probably, its most important advantage is its database. However, the results could be more accurate. Still, the service is constantly working on updates and is getting improved, so users can expect Semrush to make their tools better in the future. It should be stressed that it is not cheap, which is why it is mostly used by experienced specialists who need to analyse a large number of projects.
Ahrefs: What's good besides backlinks?
Even if you are an SEO newbie, you've probably heard of Ahrefs. This is one of the oldest and most popular platforms used by SEO specialists worldwide. But what is its key to success? Simply put, it offers great link building services, great keyword research tools, and a huge database.
Since the same can be said for the other two tools covered here, let's focus on what makes Ahrefs stand out. To answer this question, we need to take a closer look at its main tools.
Ahrefs keyword position tracker
Ahrefs was designed to meet 3 main goals: help users grow traffic, spy on competitors, and achieve success in the niche. Here is what you can do with Ahrefs when tracking rankings:
Monitor mobile and desktop rankings on Google and other search engines.
Analyse search results for more than 150 countries.
Get regular updates and evaluate your progress considering the history of the site's visibility and rankings.
Analyse SERP feature metrics from sitelinks and image packs to videos and shopping results.
Group your keywords by filters & tags.
Find out how your website ranks compared to your competitors.
Receive in-depth reports right to your inbox.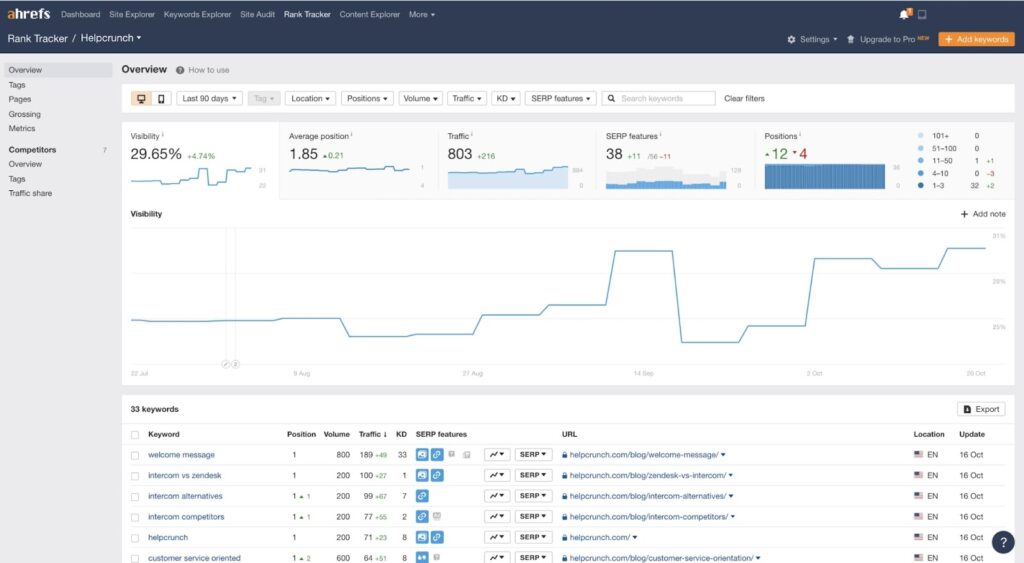 Ahrefs competitive research
This platform can be used in a number of ways to improve your website, SEO and therefore, get more traffic. However, the fact that there is no separate competitor research tool to use can be a problem.
As a matter of fact, there is an effective algorithm Ahrefs users can use to learn a lot about other players in their niche. Using Ahrefs, you can find:
Organic keywords in their huge keyword database—Ahrefs monitors hundreds of million keywords in the United Kingdom, and many more across different countries.
Your competitor's most successful pages that get them a lot of traffic using the Site Explorer tool.
Keywords from different search engines.
Competitors' backlinks, understand how they get them, and what is the referring domain quality.
The best websites for guest blogging.
Topics with the lowest competition using the Content Explorer tool.
Keyword opportunities you have missed.
Broken pages with quality links that can still be really helpful.
Your competitors broken links and ask referring sites to link out to your website.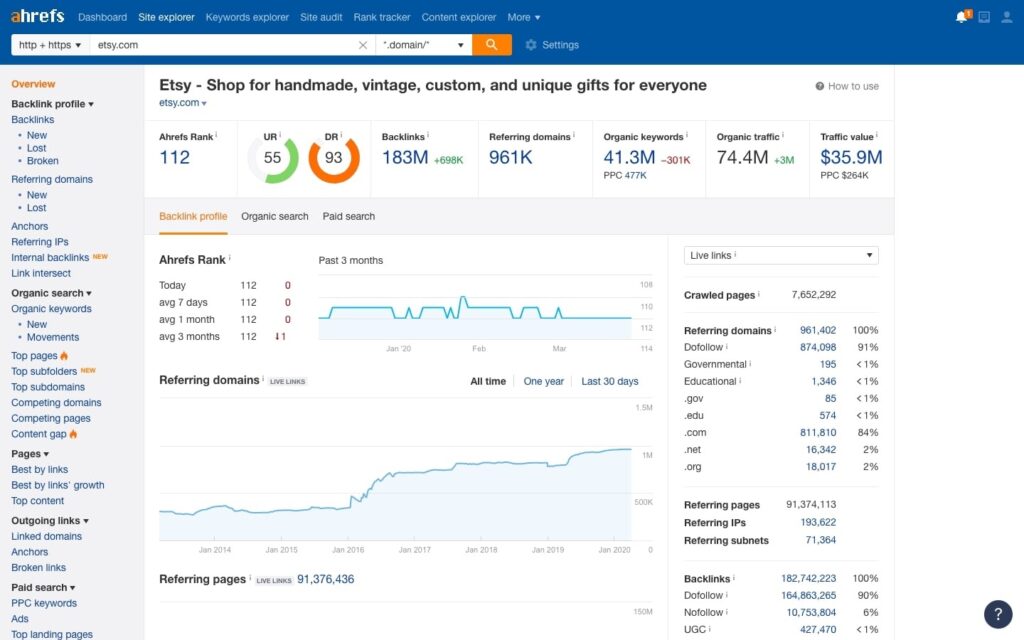 Ahrefs backlink analytics
This is one of the flagship products from Ahrefs, and there is no denying that it is very popular mostly because it makes it possible for every SEO specialist to achieve one of the most crucial goals—research backlinks.
Just like SE Ranking and Semrush, Ahrefs offers a great special feature. It lets its users analyse the backlink profile of any website down to the very last detail. Here are some of the features you can take advantage of:
Check your own or a competitor's website to get accurate results thanks to the immense index of backlinks.
Compare the backlink profiles of any two domains.
See how backlink profiles change over time.
Find link spikes.
Find low-quality referring domains.
Identify the best and worst referring sites.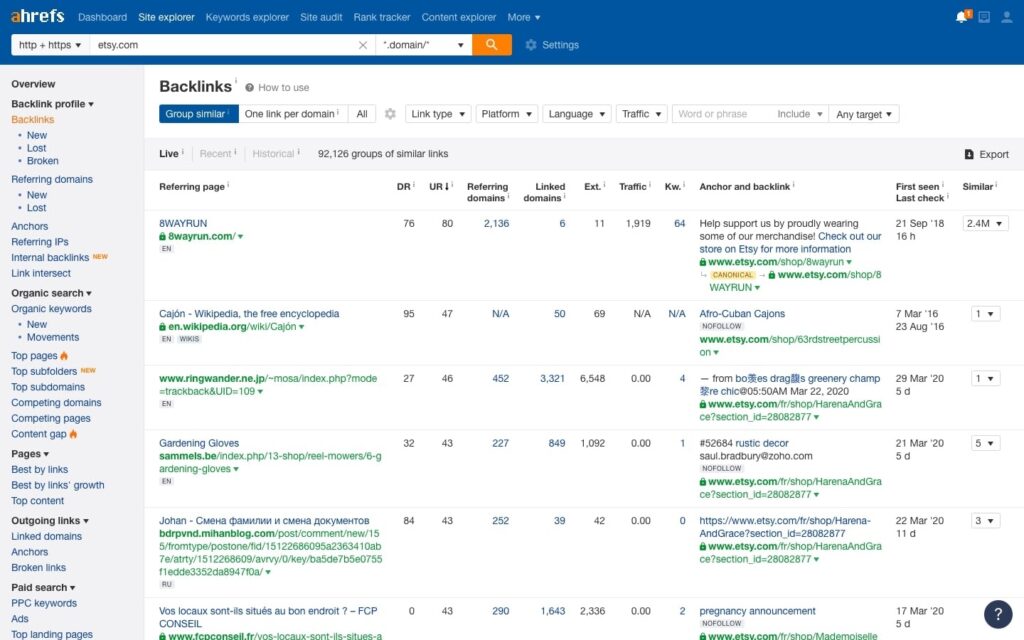 Ahrefs website audit
Of course, like all of its top direct competitors, Ahrefs provides its users with the opportunity to audit a website, find issues, and fix them to improve SEO performance. Here is what you can expect from this tool:
In-depth site analysis visualised in tables, charts, and text. No matter how big your site is, Ahrefs allows you to see the overall picture and the details on what should be fixed/improved.
Over a hundred considered SEO issues. The tool can find a vast number of issues, all of which are broken down into such categories as performance (slow pages, problems with CSS or HTML), problems with tags, low-quality content, hreflang issues, link issues (nofollow links, orphan and broken pages), etc.
Special opportunities for experienced specialists. Ahrefs also provides the opportunity to customise the process to conduct a deeper analysis and find rarer, not "pre-defined" issues.
Being a cloud-based solution, you can track your progress on all your websites regularly without storing terabytes of data. By the way, users can export all the data at any time.
Learn what is right and what is wrong with the mobile version of your website.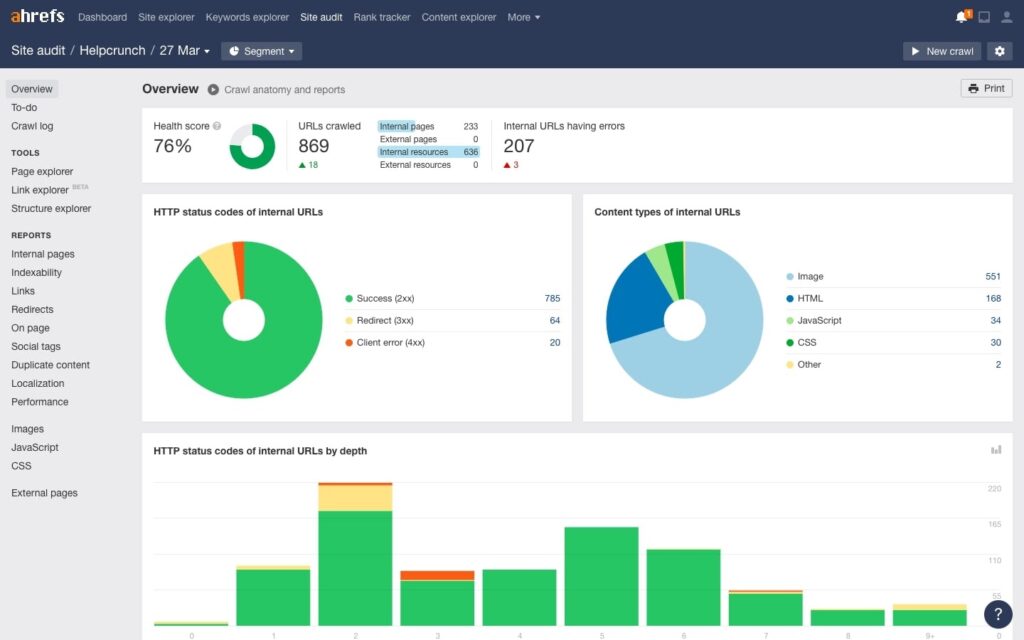 What's the verdict on Ahrefs?
Pros: industry-leading backlink database, quality keyword suggestions, great competitive analysis tools, various opportunities for content planning
Cons: inaccurate statistics, low number of filters for referring domains, greater focus on external than internal links
No big surprise, but Ahrefs is one of the biggest names in the industry. If you need a top-notch tool for backlink analysis, for finding and analysing all referring domains, Ahrefs is definitely one of the best options to go for. However, we wouldn't recommend it to beginners because it is a platform for professionals who know exactly what they are doing. Plus, the user interface isn't that intuitive and you'll have to spend a hefty sum of money to get all the data you need.
However, it is still accurate when it comes to keyword research, competitive analysis, backlink research, and website audit. Ahrefs allows you to create a well-thought out content and marketing plan, which is one of the main reasons it remains so popular.
SE Ranking, Semrush & Ahrefs: Which is best for the UK?
First, we'd like to emphasize that finding the best or even the perfect option, in this case, is practically impossible. After all, each platform has its own pros and cons that definitely make them serious contenders for the top choice. Nevertheless, this doesn't mean that we cannot compare them to get a good idea of the data they offer for the UK market. Let us start by taking a look at their pricing policies.
Pricing
Here is what all these companies offer in their membership plans: paid and organic traffic analysis, competitor rankings, ads overview, competitor, backlink and keyword research.
The prices, however, differ significantly (note that we compared annual subscription plans):
Basic plan (500 – 750 keywords): SE Ranking — £45/mo, Semrush — £62.5/mo, Ahrefs — £61.5/mo
Mid-range plan (1 500-2 000 keywords): SE Ranking — £89/mo, Semrush — £125/mo, Ahrefs — £111.8/mo
Most expensive plan (5 000 keywords): SE Ranking — £189/mo, Semrush — £250/mo, Ahrefs — £249/mo
As you have probably noticed, all of these companies offer very similar sets of features. There is no denying that they all have different benefits and drawbacks, but in general, they allow you to do the same things. This is confirmed by the features included in their membership plans. However, we can see that the costs are different. Semrush is the most expensive option, and SE Ranking is the most pocket-friendly one.
Social proof
Another factor that can help you make up your mind is social proof and reviews. Peer-to-peer review site G2 includes comprehensive profiles on all three SEO platforms covered here. In G2's rating, Ahrefs scored 4.6 out of 5, Semrush got a score of 4.5 out of a possible 5, while SE Ranking got a little ahead of the rest with a score of 4.8 out of 5.
Once we dig a little deeper into the tools offered by the three companies, we can see that G2 has a comparison table that rates every tool side by side.
In this rating, SE Ranking came up on top in ease of use, ease of setup, quality of support, and ease of doing business with. As for the tools, SE Ranking was rated best at website auditing and change tracking, Semrush got the highest score in keyword suggestions, while Ahrefs was rated best in long-tail keywords and search volume.

For rank tracking, SE Ranking is the absolute best. Ahrefs was voted best in link building—no surprise there—but SE Ranking got the best reviews for monitoring backlinks. And Ahrefs was also voted best in competitive research, but the other two companies were right behind.
This proves that all three SEO tools maintain a very high standard and are always playing catch-up with one another. Whichever option you choose will be a good choice, but you have to find out how useful each tool is specifically for your business and niche.
Best keyword rank tracker
First off, we'd like to point out how many search engines you can work with in each of the three tools. SE Ranking supports 7 search engines, namely Google, Google Mobile, Bing, Yahoo!, Yandex, Yandex Mobile, and YouTube. Semrush only supports 4 search engines: Google, Google Mobile, Baidu, and Baidu Mobile. As for Ahrefs, it supports 10 search engines along with mobile results: Google, YouTube, Amazon, Bing, Yahoo!, Yandex, Baidu, Daum, Naver, and Seznam. So in terms of the number of search engines you'll have access to, Ahrefs is the obvious choice, but it really depends on the search engines you need to have access to in your work.
Now, when we compared prices, we took plans from all three companies that allow to track 500 keywords a month. Simply put, SE Ranking offers more than its competitors. Let us show you what we mean.
Even though all three companies say you can track 500 keywords in your account, in reality both Ahrefs and Semrush will count a single keyword tracked within several locations as several keywords. So if you want to track your keyword rankings in, for example, 5 different search engines or locations, you will only be able to track 100 search queries.
However, SE Ranking offers something a little bit different. You can check each of the 500 keywords in 5 combinations of search engine, region, language, and device. This turns 1 keyword into 5 keywords. Since you can do 30 checks a month, you will ultimately have up to 900,000 monthly keyword checks under this specific subscription plan. Moreover, the same logic applies to all other SE Ranking pricing plans.
Although all three tools are similar in terms of rank tracking, we at Top10 SEO Software have come to the conclusion that SE Ranking provides a much smoother user experience without losing out on data, plus you can track way more keywords at a much cheaper rate. It also provides overviews on every aspect of SEO along with detailed reports that can be used by industry gurus to tackle any SEO issue.
Because of the vast amount of data it provides, its unusable account limits, and price, Ahrefs comes in second in our rating. We want to point out that in order to make use of Ahrefs in your daily work, you need to upgrade your subscription to a plan that will cost you around £150 a month. The account limits in the basic plan will in no way be enough for a business, yet alone for a freelancer.
This puts Semrush in third place because it doesn't really give users access to anything besides Google and Baidu, which doesn't really give UK-based businesses much to work with. Sure, it is easy to use, but the functionality Semrush offers to its basic plan users is limited and when compared to Ahrefs in terms of data and price, it doesn't offer the same power for your pound.
Furthermore, both Ahrefs and Semrush used to provide more accurate search volume data because they used clickstream data in their calculations. However, due to a number of scandals involving both Ahrefs and Semrush, the quality of their data isn't as good as it used to be. And even back when their quality of data was better, they still provided data that wasn't that different from the data Google had to offer.
We do not want to take anything away from each tool in terms of functions, but when you look at the offered account limits, SE Ranking is the absolute best.
Best competitive research tool
First, we'd like to draw your attention to the data capabilities of each tool for the United Kingdom. According to Ahrefs, its UK keyword database has 313M search queries. Although Semrush has 894M keywords in its keyword research tool database for the UK, it only has 24M keywords and 27M domains in its competitive research tool. As for SE Ranking, its competitive research database includes 80M keywords for the UK and over 418M search queries for keyword research.
While every tool claims to have a huge database, in reality you have to check how much info you get from each tool for your specific business. So, to give you a proper idea of what data each tool offers in terms of competitive research, we have run an analysis of 2 random UK-based websites using each of the covered tools. As a result, you can see which one offers more data for the UK market—and don't forget to keep the subscription cost in mind.
Lovefone.co.uk
The first website we analysed in each tool's competitive research modules was a phone repair shop in London called Lovefone. Let's take a look at the results we got in each tool before summarising the data.
Ahrefs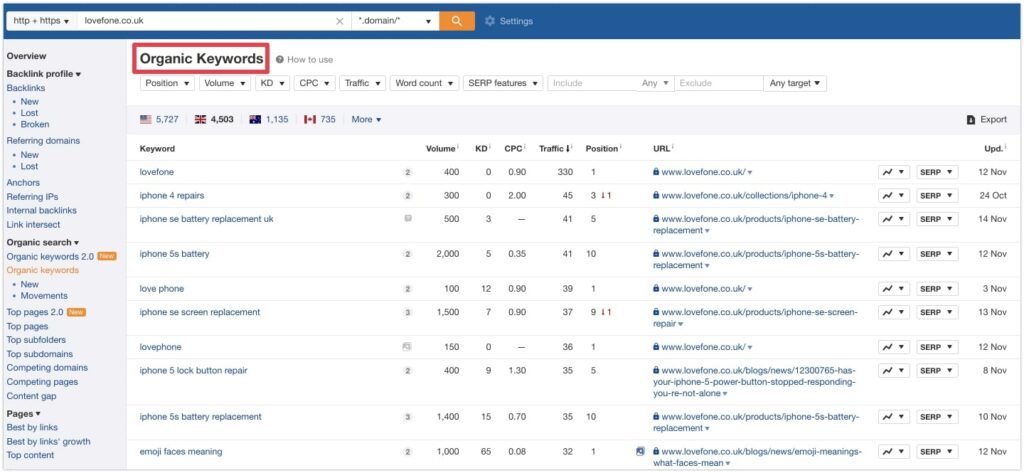 Semrush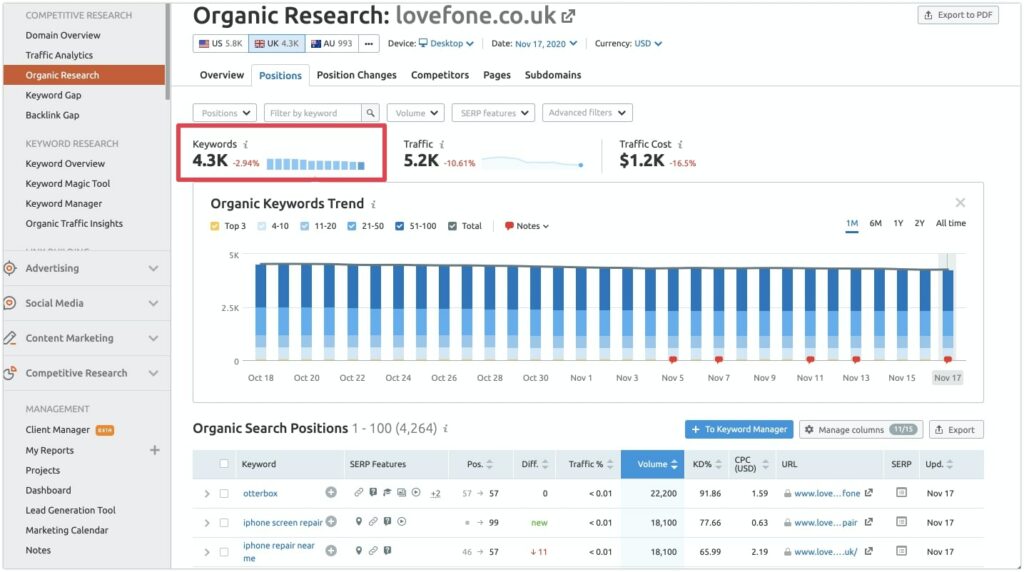 SE Ranking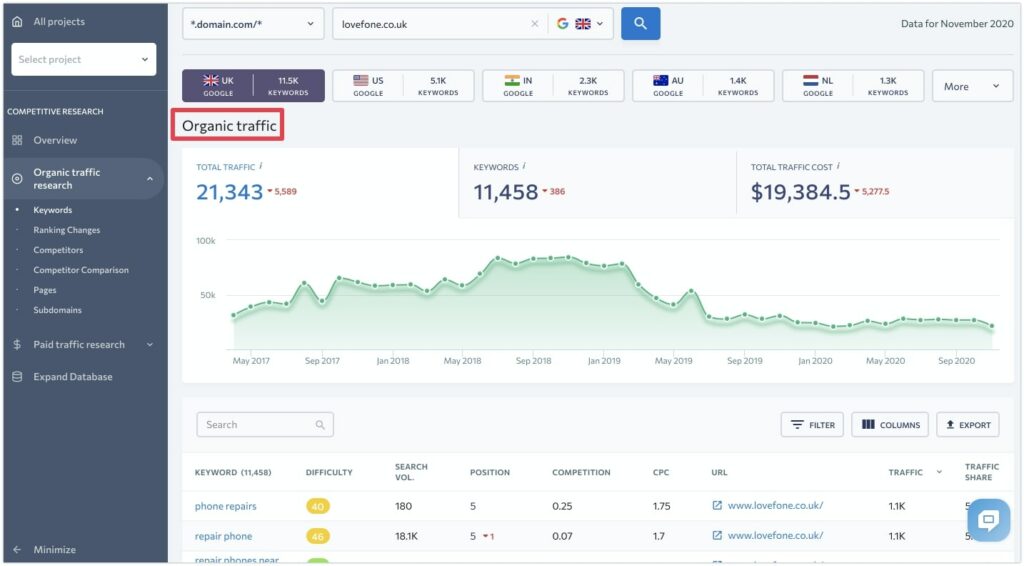 As you can see, Ahrefs found 4,503 organic keywords for the United Kingdom, Semrush found 4,300 organic keywords for the same region, and SE Ranking found a whopping 11,458(!) keywords ranking organically for the website lovefone.co.uk.
Despite claiming to have humongous competitive research databases, Ahrefs and Semrush were unable to provide more results than SE Ranking for this specific website. Let's take a look at the other results we got in these platforms while researching websites in the United Kingdom.
Londonist.com
Next up, we took the website all about London, Londonist, and ran a search on each tool to see what keywords will be found. Once again, let's go through the results before analysing the data.
Ahrefs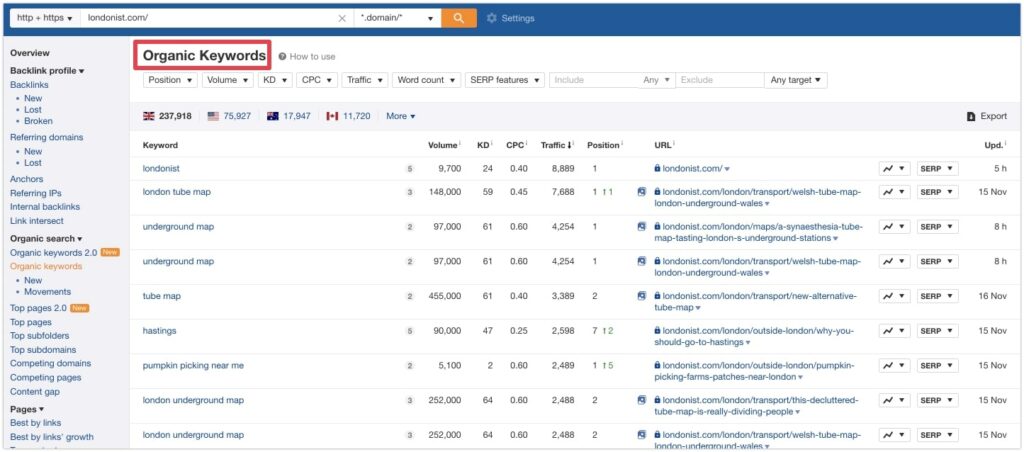 Semrush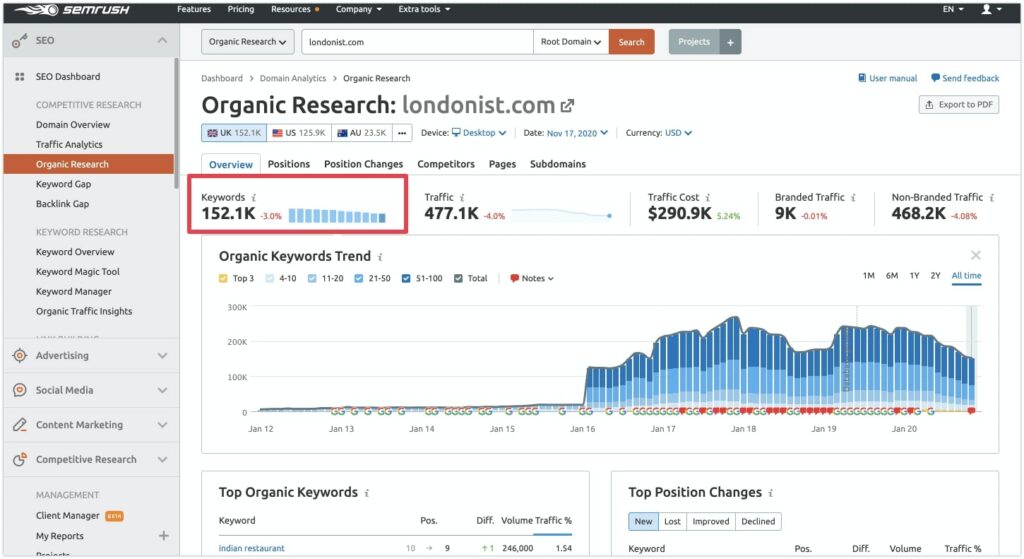 SE Ranking
Ahrefs was able to find 237,918 organic keywords in its database for the UK, Semrush came in with just 152,100 search queries, and in first place we have SE Ranking with a cool 341,680 keywords which almost as much as the other two tools found combined.
Once again, we want to stress that we randomly selected websites for analysis. As you can see, despite having access to an ocean of data, neither Ahrefs nor Semrush were able to provide more results for the two domains than SE Ranking.
In fact, SE Ranking has completely redesigned their entire platform in 2021 along with the keyword and competitive research tools. They used to be able to hold their own even before the makeover, and now they look very sharp and modern.
Furthermore, SE Ranking has a feature in its keyword and competitor research tools that allow users to expand databases. If you work in a specific niche that SE Ranking doesn't have any keyword data on, you can just upload a list of all relevant search queries, and get all the information you need, including a complete overview of organic and paid traffic, search queries and competitors.
For many years, Semrush set the industry standard for keyword and competitive research tools. But we at Top10 SEO Software believe that given its pricing policy and data, SE Ranking did just about enough to move ahead of Semrush in this regard. This leaves us with Ahrefs taking third place in this category.
Best backlink analytics tool
Now let's move on to off-page SEO: backlinks. The backlink database in Ahrefs contains 24.91 trillion results. Semrush claims to have 35.26 trillion backlinks in its database. While SE Ranking fell behind the two with only 2.7 trillion backlinks.
Again, we wanted to find out if these numbers actually mean anything and conducted a research where we analyze two random domains in terms of backlinks in each of the three tools.
Directwoodflooring.co.uk
One of the websites we selected to analyze in terms of backlinks was DirectWoodFlooring, and here are the results.
Ahrefs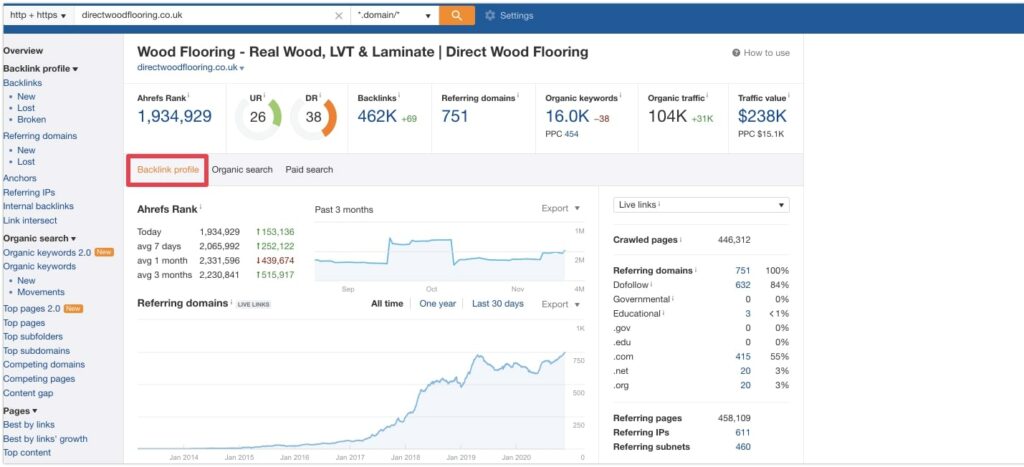 Semrush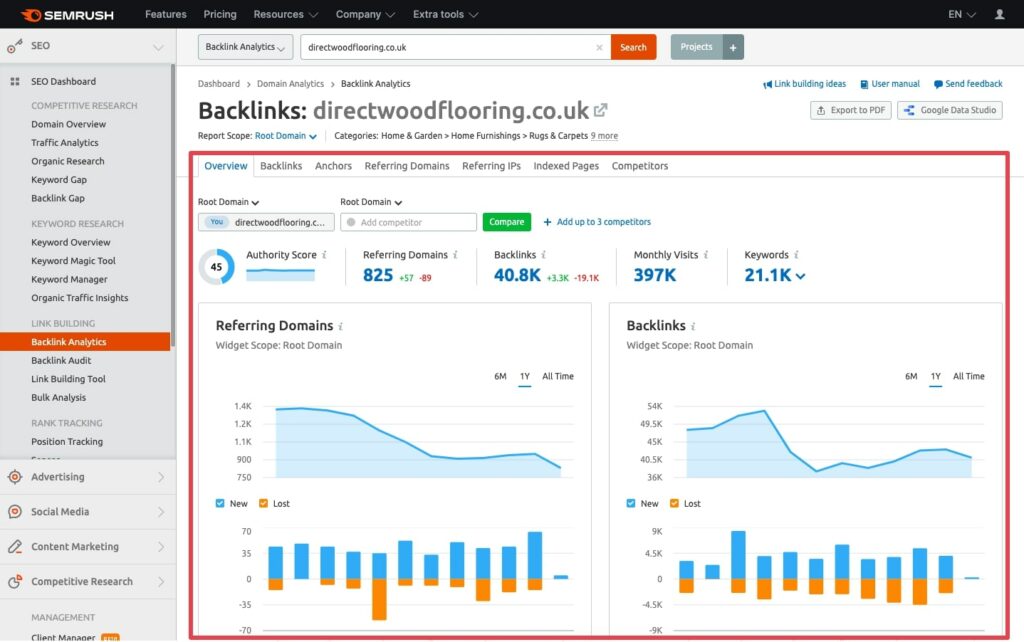 SE Ranking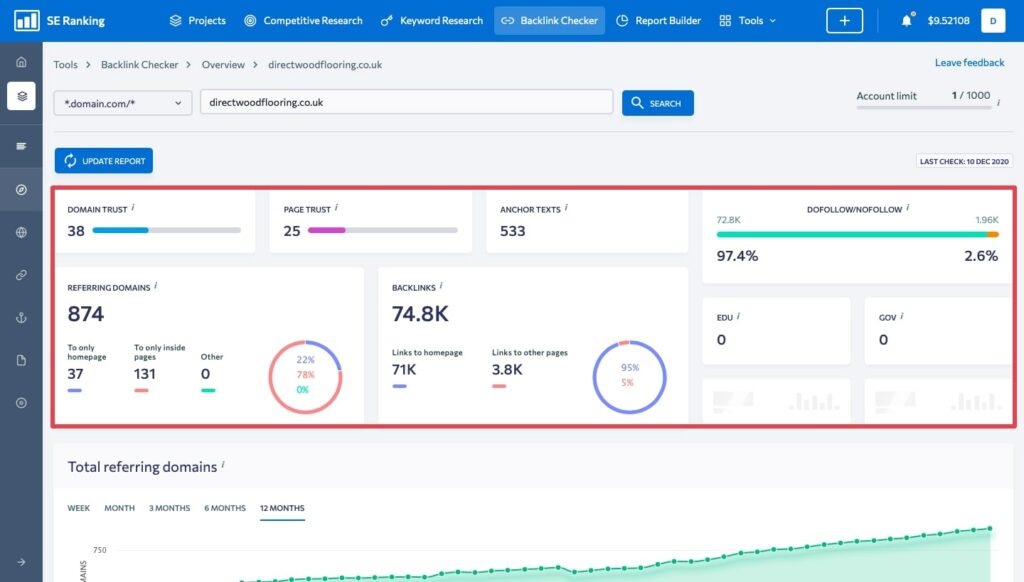 Ahrefs was able to find an incredible 462 000 backlinks for the analysed website in the United Kingdom, Semrush got 40 800 backlinks, and SE Ranking discovered almost 75 000 backlinks. Obviously, Ahrefs destroyed the competition here, but surprisingly, SE Ranking found a lot more backlinks than Semrush.
Wickes.co.uk
The last website we analysed in each tool in the United Kingdom, was Wickes. Below, you will find screenshots of the results from each of the three tools compared here.
Ahrefs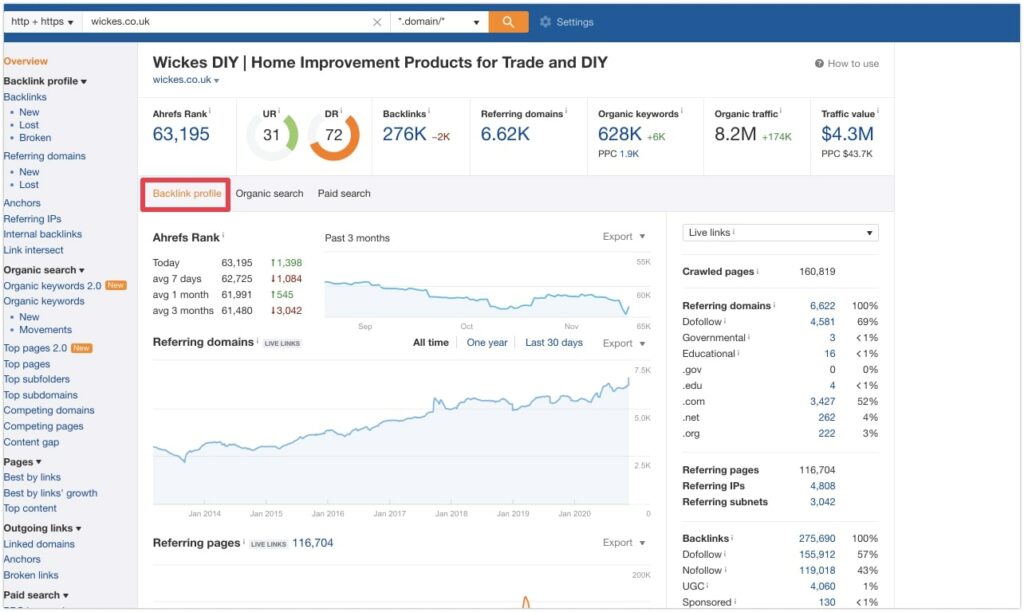 Semrush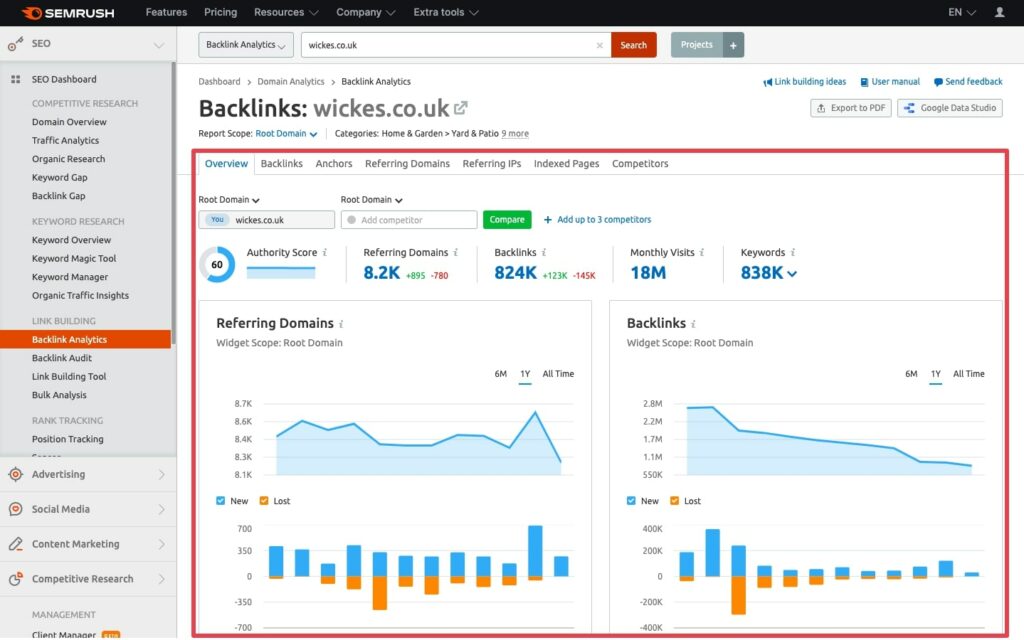 SE Ranking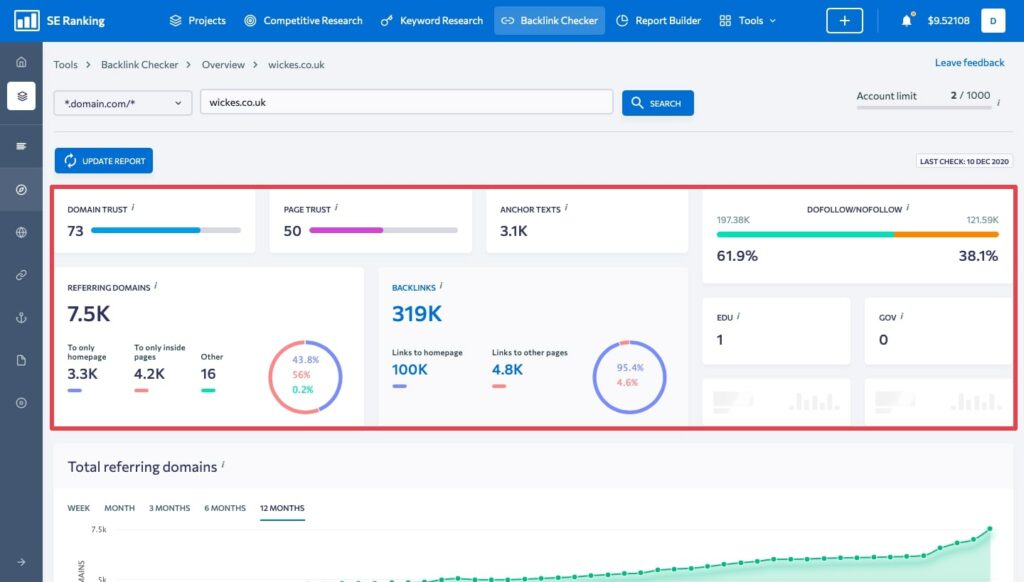 Ahrefs found 276,000 backlinks, 776,800 backlinks were found for Wickes in Semrush's database, and SE Ranking found 319,000 backlinks. In this case, Semrush beat everyone else, but SE Ranking came in second once more.
When it comes to backlink research, and frankly, any type of SEO or marketing research, the quality of data you get largely depends on the niche and website you're dealing with. Put these results next to the price you have to pay for each tool and it becomes obvious which solution offers more value for less money.
Let's also take a look at the account limits on using the backlink research tool in Ahrefs, Semrush, and SE Ranking. Semrush provides an unlimited number of backlink checks per month even to those who choose the cheapest membership, while SE Ranking offers 10 000 link checks per month. Ahrefs, in turn, provides a mere 25 daily checks. So all that data offered by Ahrefs is not of much use if you have to fork over a small fortune to get all the data you need.
As for the analysed parameters, the difference is very subtle—Semrush, SE Ranking, and Ahrefs, analyse 7, 8, and 9 parameters, respectively. Since there's not much of a difference there, we'd like to remind you what the cost of using each tool is.
The final verdict is that Ahrefs is the industry standard in terms of tracked parameters and backlink analysis, but its account limits are so low that you have to purchase a more expensive plan from the get-go. Plus, the size and the accuracy of its databases are no longer market leading.
As you can see in the analysis above, all three tools produce very similar results. Semrush and SE Ranking have similar functionalities, but SE Ranking's pricing is far more accessible.
So, if you are a seasoned SEO pro, then Ahrefs is the way to go, but make sure to get a more expensive plan that offers higher account limits. However, if you need to do more than backlink research, you should definitely consider both Semrush and SE Ranking. At Top10 SEO Software, we think that SE Ranking has the perfect price/quality ratio for the UK, Semrush is a solid, but more expensive alternative, while Ahrefs is ideal for larger agencies that handle multiple clients.
Best website audit tool
Once again, we want to stress that each of the three tools is excellent for all types of SEO work, but we wanted to see which one is best for the UK and its market.
In terms of website audit, let us take a look at the opportunities included in the cheapest plans offered by these providers:
Pages crawled/month: SE Ranking — 60,000, Ahrefs —10,000, Semrush — 100,000
Pages for a project: SE Ranking — 10,000, Ahrefs —1 crawl per project, Semrush — 20,000
As you can see, Semrush offers more checks compared to SE Ranking, which is more budget-friendly. And Ahrefs turned out to be the most expensive tool when it comes to website audit. We have also learned that when working with clients, Semrush and SE Ranking provide better, more complete reports that can be shared with senior management, colleagues, and other clients.
Special mention
One very important aspect of SEO tools is how well they are set up for work with teams and customers.
While all three tools provide branded reporting opportunities, when it comes down to sub users and the white label feature, SE Ranking gives its users the ability to add as many users as needed without having to pay extra. To compare, each additional user will cost you £105 in Semrush, and £22 in Ahrefs.
As for SE Ranking's white label feature, it offers everything businesses need to present the SEO platform under their own brand name and domain. That way, you can make SE Ranking's SEO software solution your own, which will ultimately help you increase trust in your business.
Final thoughts
Though it may seem that these platforms are identical, that is an exaggeration. They are completely different and focus on different aspects.
All of them have their pros and cons, but considering the price as well as the quality and ease of use, SE Ranking is the best offer on the UK market. It has amazing rank tracking tools, makes it possible to analyse competitors in detail (you can create a new project, enter your competitor's domain and track it like it's your own), get all the info on backlinks and find out what's holding your website back from ranking among Google's top 100 search results.
Still, Semrush and Ahrefs are well-known, quality platforms that work well for a lot of professionals worldwide. It would be a mistake to underestimate them. Generally speaking, the best decision is your decision—just consider all the factors, decide what is more important for you, your goals and your project, and make a choice.