Ahrefs is definitely one of the most high-performing digital marketing tools used to optimize a business. With a scope of valuable features and potent streamlining insights, it will help you increase traffic organically and efficiently boost your site's rankings . Along with its well-known backlink analysis and keyword research capabilities, Ahrefs includes an extended site explorer that makes overviewing your and the competition's site performance effortless and employs unique tactics to enhance your SEO campaigns.
Still, like many SEO tools, it has some downsides, which may be unacceptable for your workflow. For example, the advanced toolkit and interface can be hard to utilize, especially for newbies. And
 a somewhat overrated pricing policy might not fit certain individuals and mid-sized businesses. That's why many marketers and SEO specialists are looking for Ahrefs alternatives. So if you are on that in-search team, you have come to the right place.
In this post, we will cover the top Ahrefs competitors top to bottom to empower your business with effective solutions. Explore the platforms presented below that are similar to the Ahrefs toolkit and functionality and choose the one that is most suitable to your needs and budget. Each software suite promises impeccable quality and optimization, so a desirable outcome is guaranteed. Let's start our exciting best Ahrefs alternatives journey!
1. SE Ranking
A combination of rich-feature functionality, versatility, and affordability, SE Ranking is one of the most brilliant Ahrefs competitors. It provides users with the same core tools as Ahrefs but at more reasonable prices. At the same time, usage allowances are typically higher, which offers impressive value for money. For those who run tons of projects, there is no better option. Initially famous for its ranking-tracking opportunities to bring the site to high-end SERP positions, it is currently an all-purpose SEO suite encompassing immense databases of keywords and links.
Features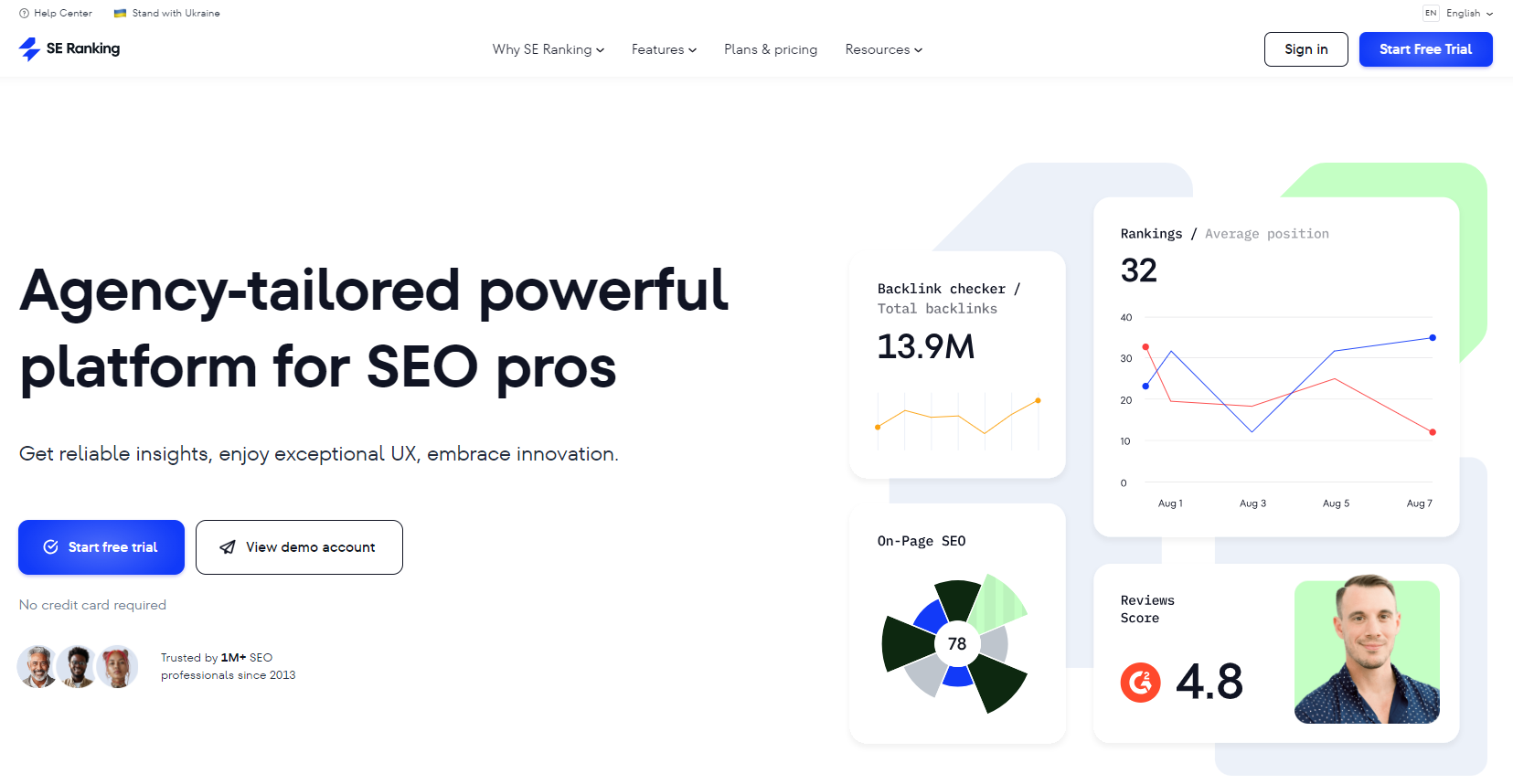 When it comes to functionality, the platform has everything you need for streamlining the site, building brand awareness, and boosting online visibility. There is a lot of overlap between Ahrefs and SE Ranking, but the latter is a bit more comprehensive and user-friendly. Thus it will help create efficacious SEO and digital marketing campaigns for both experienced and beginner business owners via the following features:
Keyword Rank Tracker – checks the performance of all your keywords across search engines in any location.
Keyword Research – gives insights into targeted keywords within organic and paid searches and expands your keyword list with relevant phrases.
Backlink Checker – traces both your site's backlink performance and the competition.
Backlink Monitor – allows you to add any backlink base to verify its status.
Competitive Research – explores in-depth competitive marketing strategies in terms of traffic, PPC, and keywords and performs solid backlink analysis.
Website Audit – detects every single issue that prevents the site from reaching hot ranking positions.
On-Page Checker – discovers how well specific pages are optimized.
Page Changes Monitor – traces any modifications on the site or alerts at a glance.
In addition to intelligent SEO, SE Ranking will come in handy when working with clients with white labeling, report building, lead generation, and guest linking. The same refers to social media management, which makes the platform a superior Ahrefs alternative. For those seeking an all-in-one online presence optimization tool, it is just the job.
Pricing
SE Ranking offers three plans: Essential, Pro, and Business, priced at $55, $109, and $239 per month, respectively. The flexible pricing system allows everyone to customize a plan based on their marketing needs. The primary metrics here are the frequency of rankings checkups and the number of tracked keywords. For that reason, SE Ranking is more approachable and scalable than other alternatives to Ahrefs. A 14-day free trial will prove the software is the best of its kind.
Verdict
Thanks to multifaceted functionalities, an easy-to-use interface, and stunning pricing accessibility, SE Ranking is the most promising Ahrefs competitor. Its all-inclusive SEO toolkit will supercharge anyone's site, from freelancers and small agencies to large enterprises. So if you want not only to reach towering SERPs but scale your business globally, this is the perfect solution.
2. Moz
If you strive for simplicity of usage and flawless automation, Moz is at your disposal. It will aid you in understanding your audience's search intents and applying those insights to create compelling content. With its set of enterprise-level tools and an extensive database, both SEO sharks and marketing beginners can grow their businesses extensively. It is a highly recommended alternative to Ahrefs since it offers better value for relatively similar pricing.
Features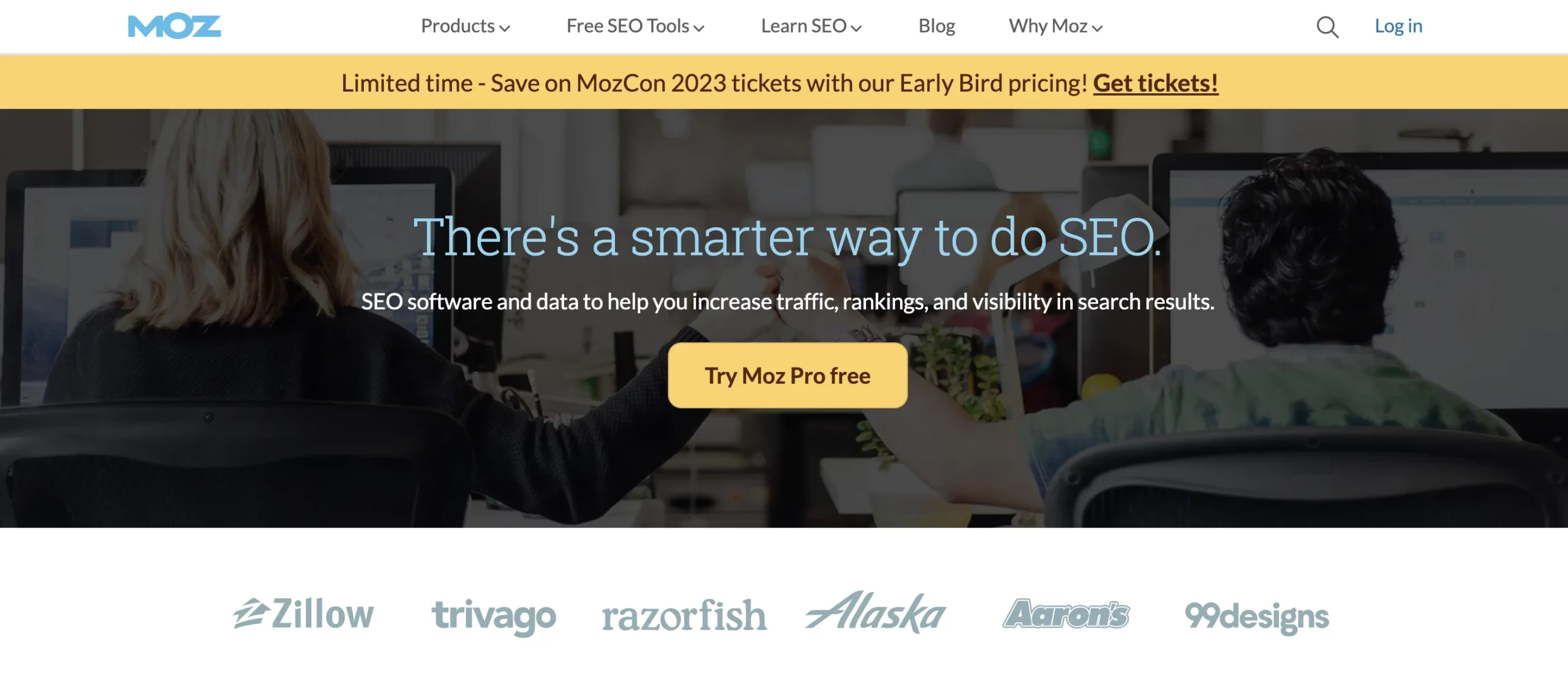 The Keyword Explorer is definitely its iconic feature. It is able to strategically target keywords with accurate keyword volume and difficulty metrics. Plus, it's possible to compile and save keyword lists for further tracking and updates. By tracking local and national searches as well as competition, users will get a holistic picture of how to optimize on-page content to rank high for keywords . Crawling and auditing options detect every issue across the site that needs to be fixed and alert about them instantly.
Moreover, unlike other Moz alternatives, the software comes with its proprietary SEO metrics like Page Authority and Domain Authority so that you can leverage backlink opportunities safely and soundly. Moz is also about convenience and time-saving. It customizes PDF reports with drag-and-drop modules and annotations and schedules recurring reports, sending them directly to clients and stakeholders.
Pricing
The pricing tiers are almost identical to that of Ahrefs. The cheapest plan, Standard starts at $99 per month, and ideally suits those just learning the SEO ropes who need fundamental functionality. Ample limits and full access to keyword research tools are available with the Medium plan, priced at $179/month. The best Ahrefs alternative packages for vast agencies and enterprises are Large and Premium, with corresponding prices of $249/month and $599/month.
Verdict
Moz is a comprehensive SEO toolkit with great competitor metrics and decent data quality. And while it is pretty much similar to Ahrefs in terms of features and pricing , users will find it plainer in usage and more fruitful for promoting SEO campaigns.
3. SimilarWeb
SimilarWeb is an intelligent top Ahrefs alternative aimed at deep site analytics and competitive audit to outrank your industry rivals in an ever-developing digital market. With its advanced toolbox, you can attain valuable hints on how to boost the site's performance and discover competitors' gaps to use in your favor.
Features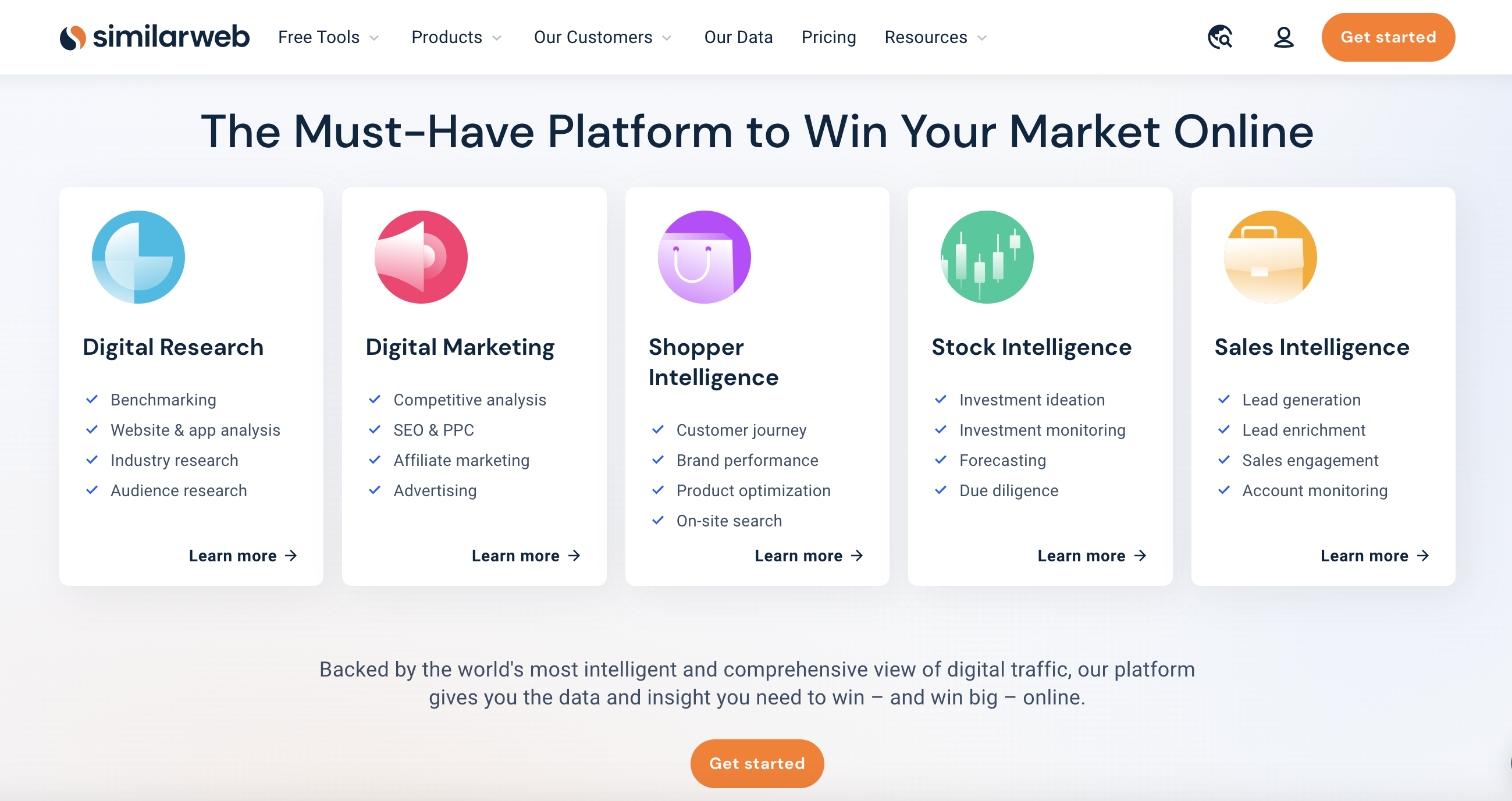 Compared to other SimilarWeb alternatives, you can find unique options like industry analysis, audience insights, and social sharing added to keyword research and site traffic analysis. That way, scanning and finding out sore points within site performance is swifter yet more informative. Features that allow you to monitor competitors' strategies and campaigns help you to keep abreast of their traffic indexes like volume, reach, distribution, and engagement. 
Furthermore, the capability to track up to 10 competitive sites side by side will reveal traffic to follow and market segments to target. Besides flexible report customizability and exporting, the app features scalability options, letting marketers add, trace, and measure a multitude of social media accounts. SimilarWeb also boasts robust SERP Rank Tracking and Localization tools that carefully track organic rank for targeted keywords and provide keyword data based on geographical location and device type.
Pricing
The good news is this is one of the few SimilarWeb alternatives to offer offers a free trial. And though it has quite a limited set of features, they are entirely sufficient for understanding if the platform aligns with your business needs. A more extensive scope of functionality requires a personal custom package. These are Professional and Enterprise, ranging from $199 to $799 monthly. Still, such an expensive cost makes the software hard to afford for individuals on tight budgets.
Verdict
SimilarWeb is the ideal alternative to Ahrefs for disclosing terrific digital opportunities, detecting potential threats, and analyzing competitors' behavior to raise site traffic and revenue. The vendor proposes easy-to-comprehend and -utilize Digital Marketing and Research Intelligence products to craft efficacious strategies to win the niche market. Benchmark your digital efforts against rivals, analyzing traffic and consumer-related insights, and skyrocket online visibility.
4. Majestic
From the backlink analysis perspective, Majestic is a formidable Ahrefs competitor. It is also the perfect decision for SaaS companies that wish to acquire extra metrics data and metrics for developing SEO campaigns. Still, it comes with functions of link analysis exclusively, so users actually pay for a single-use tool . But if your primary focus is to empower link-building strategies, there is no better match.
Features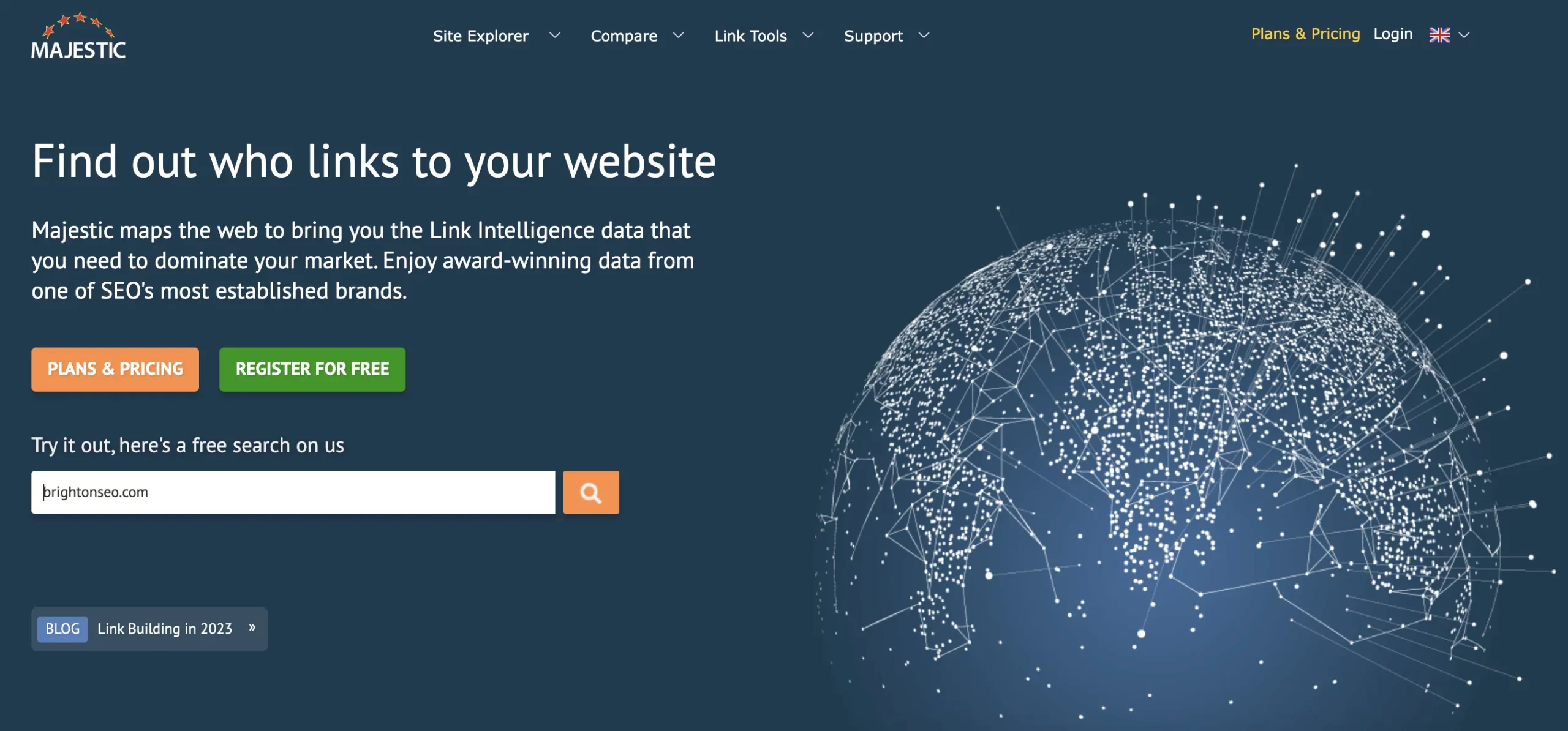 You can take advantage of core Majestic features such as:
Link Intelligence. This award-winning data houses a few invaluable metrics to maximize backlink potential. Trust Flow is data insights notifying the quality of a site's backlink profile,while Citation Flow showcases the number of links within a site's backlink profile. Without these options, you won't be able to correctly assess your and your competition's backlink profiles and site authority. 
In addition, compared to the rest of Majestic alternatives, the following one-of-a-kind data metrics can give you a significant edge over industry contestants. With Visibly Flow, skipping the weak directory-style links and unlocking precious editorial-style links is lightning-fast and hassle-free. And Topical Trust Flow evaluates all the site's nuances resulting from its topical relevance.
Site Explorer. This is responsible for putting all the above metrics together for comfy usage, so as to quickly find any site's top backlinks, compare top-level metrics, etc., to generate an efficient SEO strategy.
Historic and Fresh Index. They assist in getting helpful info about previous linking success. However, the Historic Index is time-consuming to build, while the smaller Fresh Index is more frequently and rapidly updated.
Link Context. This enables browsing and auditing backlinks in any context.
Pricing
Frankly speaking, Majestic is one of the few Ahrefs competitors with limited access to plenty of features within the cheapest plan, Lite, priced at $49.99 monthly. And regardless of its affordability, sometimes it may lack functionality, even for SEO beginners. However, the Pro ($99/month) and Api ($399/month) plans might cater to the needs of dedicated marketing agencies and large-sized businesses. There is also a 7-day money-back guarantee on the Lite and Pro plans.
Verdict
For those seeking a powerful SEO tool solely for link building and backlink audit, Majestic is an excellent Ahrefs alternative. Through an immense backlink database and invaluable metrics, you will be able to supercharge each SEO aspect of the site and outpace competitors in the industry.
5. WebCEO
Another highly flexible and versatile platform among Ahrefs alternatives is WebCEO. Via a complex pro-level suite of 23 SEO tools, users can take actionable measures connected to site audit, link-building, social metrics, and marketing analytics. Profound keyword exploration and link streamlining supply users with beneficial keyword suggestions, as well as provide info on how well sites respond to semantic searches.
Features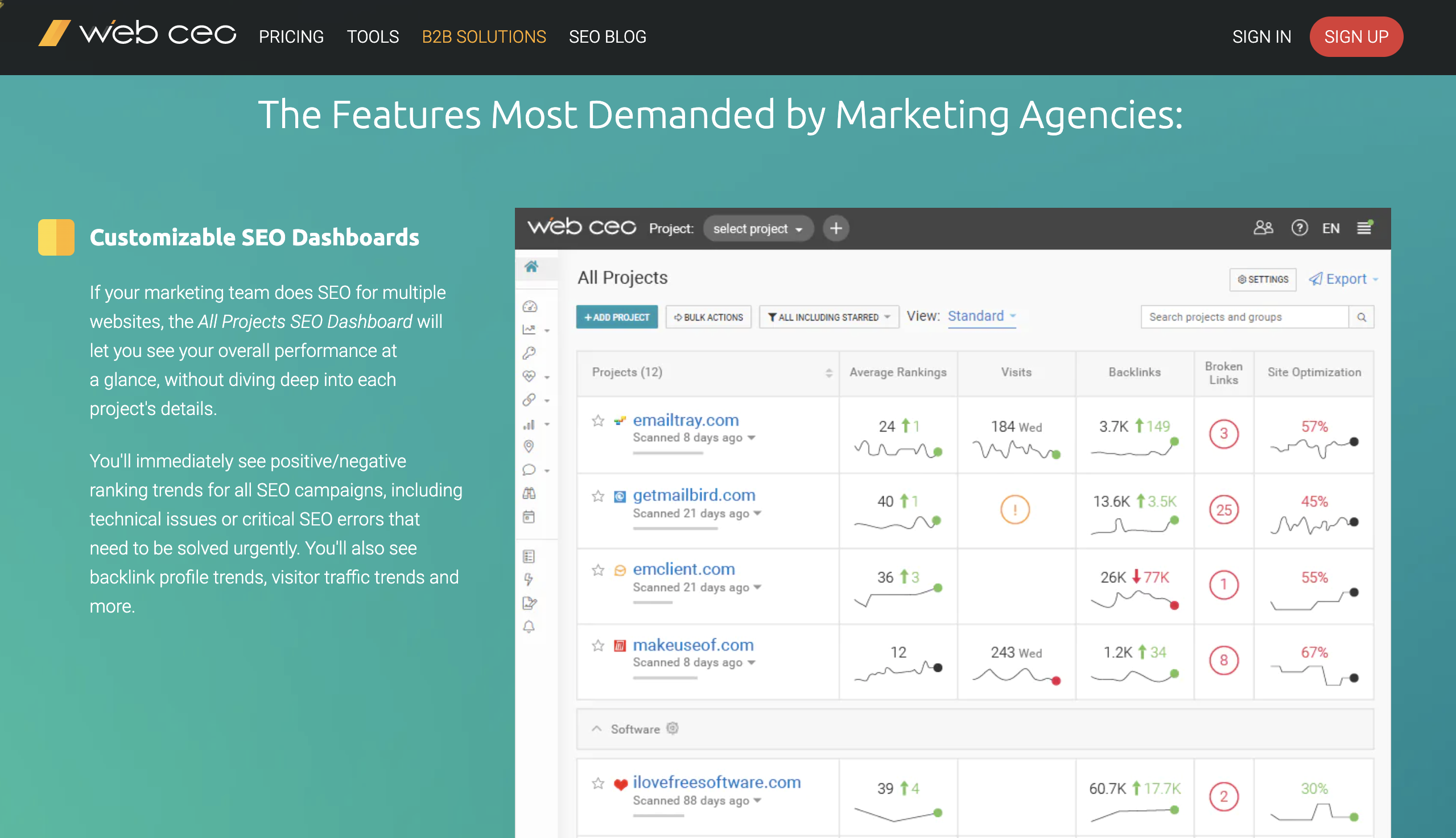 With all-in-one marketing functionality, you can enhance all the SEO elements that are causing you to lag behind the competition. Define keywords exploited by rivals and implement page authority analysis to raise landing page visibility. Design XML sitemaps and overview optimization reports to verify the overall health site usability or indexability. WebCEO enables you to discover issues both across desktop and mobile searches.
On top of that, the platform includes peculiarities that other WebCEO alternatives lack. The essential feature here is the Toxic Links Audit. It helps establish where traffic is setting in through detailed research tool capabilities. Web Buzz Monitoring facilitates disclosing brand reputation and hot industry topics while keeping users up-to-date with social media activity. One more exceptional option is the Content Submission Tool. Utilizing it will make your site available in different directories and content promotion platforms. 
Pricing
Depending on the number of users, keywords, and projects, WebCEO introduces three pricing tiers: Solo, Startup, Agency Unlimited, and Corporate, with corresponding prices of $39, $99, $99, and $299 monthly. Whether you are a newbie or a proficient agency, this platform can satisfy your SEO goals for business progress. To try out the toolkit in full and decide if it suits your marketing workflow, sign up for a 14-day free trial.
Verdict
Due to the all-aimed SEO and marketing suite of tools, WebCEO stands out from the best Ahrefs competitors. With various helpful functionalities and a user-responsive interface, smooth and high-performing site optimization, both locally and globally, is a sure thing. From freelancers and startup businesses to mid-sized and large agencies, every single SEO campaign will succeed.
6. Mangools
When you are not tech-savvy enough and complicated dashboards slow down your SEO workflow, Mangools is the way to go. A user-friendly platform, furnished with a 5-in-one toolbox, comprising keyword research, rank tracking, and three types of close-up analysis: SERP, backlink, and the site itself. Unlike other alternatives to Ahrefs, this app doesn't propose tool integration and isn't jam-packed with features. Nevertheless it offers a multitude of profitable insights, effortless navigation, and accessibility.
Features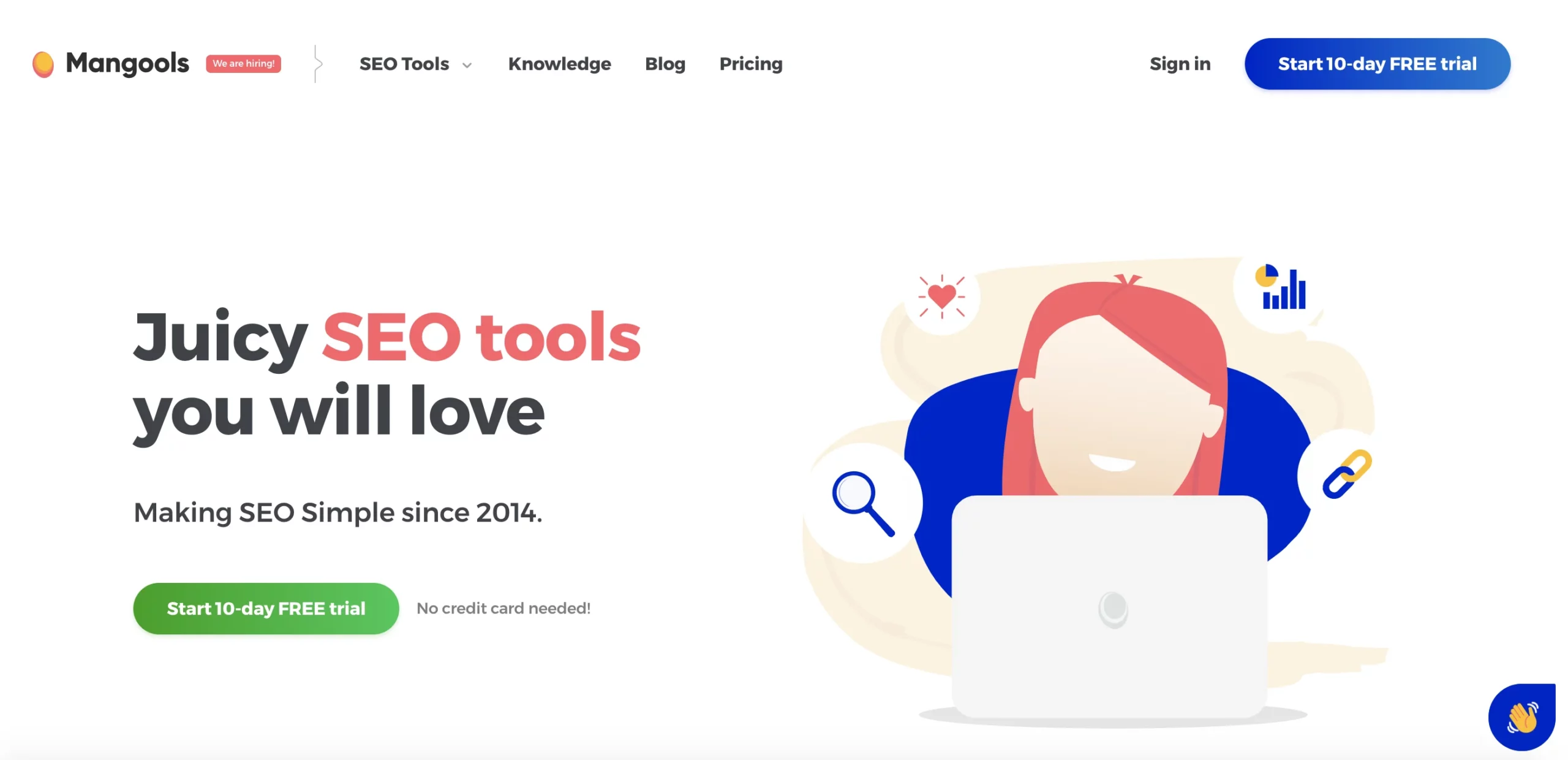 Let's look through the core functions of Mangools that supercharge site performance, driving massive traffic and conversions:
KWFinder – tailored to detect long-tail, low-difficulty keywords through seed key wordings or competitors' domains
SERPChecker – assists in qualifying potential target keywords via brief reports containing a summary of the KD score and the average SERP features number.
SERPWatcher – traces keyword ranking positions with search volumes across any location and device.
LinkMiner – with its Link Strengths metric, conducts competitive backlinks analysis and allows you to see the link placement in the site preview.
SiteProfiler – helps check the SEO authority and health of any site's backlink profile and yours alike. So you can easily spot the hottest content in your industry , benchmark your on-site SEO tactics against other sites' and find out audience demographics. 
Pricing
Only several Mangools alternatives give such an attractive price point. There are three available plans, Basic, Premium, and Agency, with monthly payments of $29.99, $44.99, and $89.99, tailored to delight developing small businesses and established agencies. Plus, if users subscribe annually in advance, they can get a considerable discount, saving up to 35%. Test out all the platform's goodies for free for 10 days.
Verdict
When it comes to top Ahrefs alternatives considering a user-friendly approach, well-developed interface, and an assistive suite of features, Mangools heads the list. If you are actively searching for your first SEO platform, this one should take priority.
7. Long Tail Pro
Seeking vital automation to capture niche keywords of the highest quality? Long Tail Pro will come to the rescue. From tiny blogs to large-scale sites, this comprehensive software suite promises impressive growth within the digital landscape. In-link keyword capabilities make it the best Ahrefs competitor for a reason. Users may run keyword and competitor analysis based on SEO metrics and identify keyword profitability resulting from past performance.
Features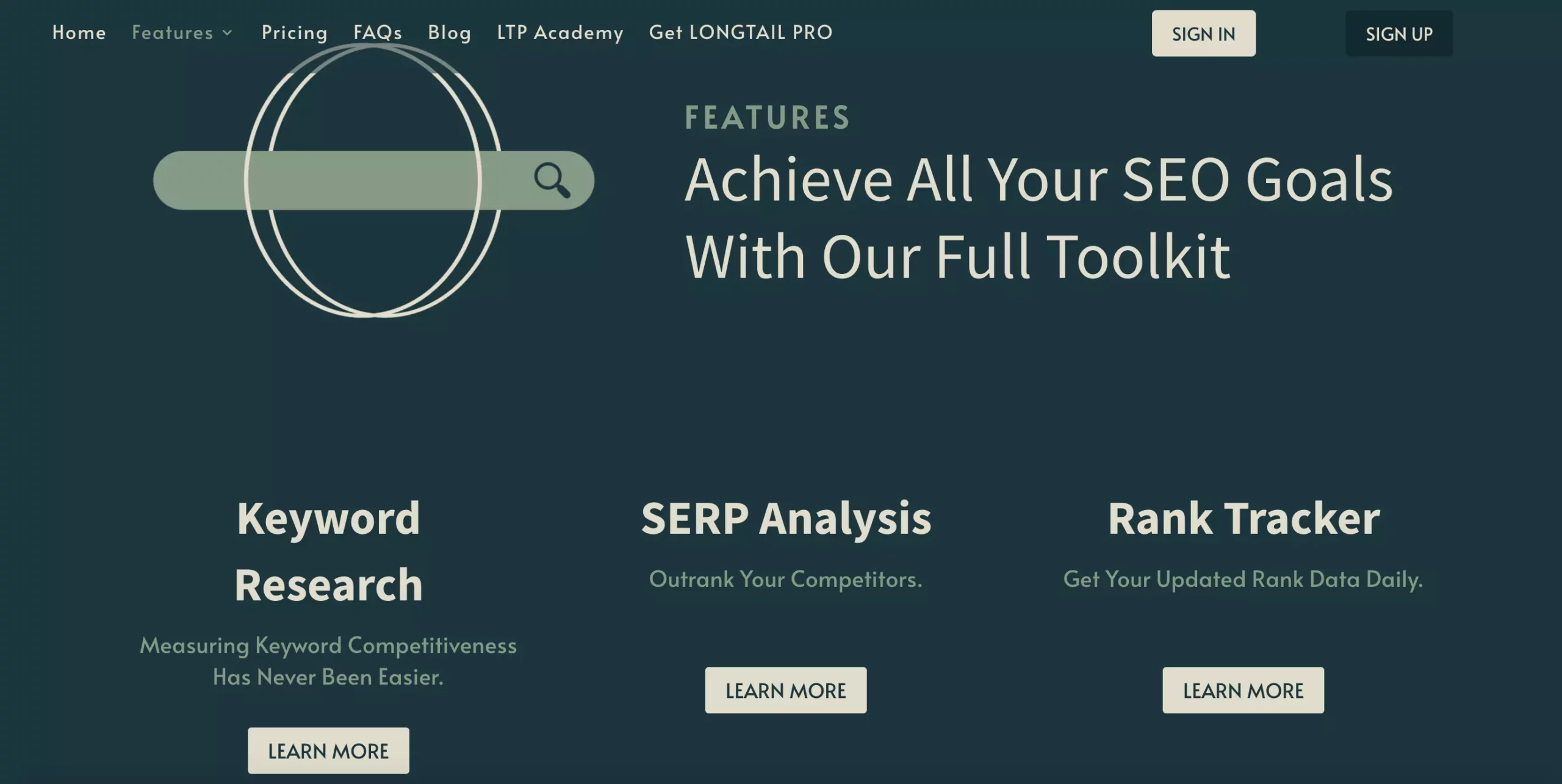 Long Tail Pro involves lots of exciting keyword-centered features. Keyword Research picks relevant long-tail keywords and predicts their potential when adding them to content. Also, you may track keywording progress and determine needed improvements for winning keywords with Rank Tracker. SERP Analysis dives deep into metrics to reasonably gauge site performance and adjust proper changes to outperform competitors.
Like most Long Tail Pro alternatives, Backlink Analysis and Site Audit tools have a place here. Diligent backlink tracking maintains link equity and detects efficient SEO data, streamlining the site's health with long-term guidelines. A unique feature occurring rarely at Ahrefs alternatives is Long-Tail Keyword Generators and Suggestions that blend common keywords with various phrases to craft the most advantageous targeted combinations. 
Pricing
Based on the SEO capabilities, the scope of the features, and the budget, the software provides flexible price plans such as Starter, Pro, and Agency, priced at $59.99, $89.99, and $299.99 monthly. To unlock the most advanced options and decide whether the platform is worth integrating into your SEO agenda, take a 7-day free trial.
Verdict
This Ahrefs competitor is for someone who has only been familiarized with SEO instruments and isn't yet well-versed in keyword optimization processes. The sophisticated toolkit, accurate and up-to-date insights, and simple-to-comprehend dashboard will help tiny blog owners and skilled marketers significantly increase organic traffic and gain revenue.
8. SEMRush
Considering the integrity of functioning, SEMRush is a top Ahrefs competitor. Its tools offer endless opportunities, from keyword research and rank tracking to competitor analysis and top-to-bottom site audit. More importantly, users can enjoy the PPC features that Ahrefs doesn't support. In fact, over 40 advanced tools are ready to enhance the site's performance for you. For that reason, the platform ensures excellent value for money. With its multifaceted, well-developed options, SEMRush is core-oriented for enterprise-level marketers with enormous investing capabilities rather than small business owners with budget constraints.
Features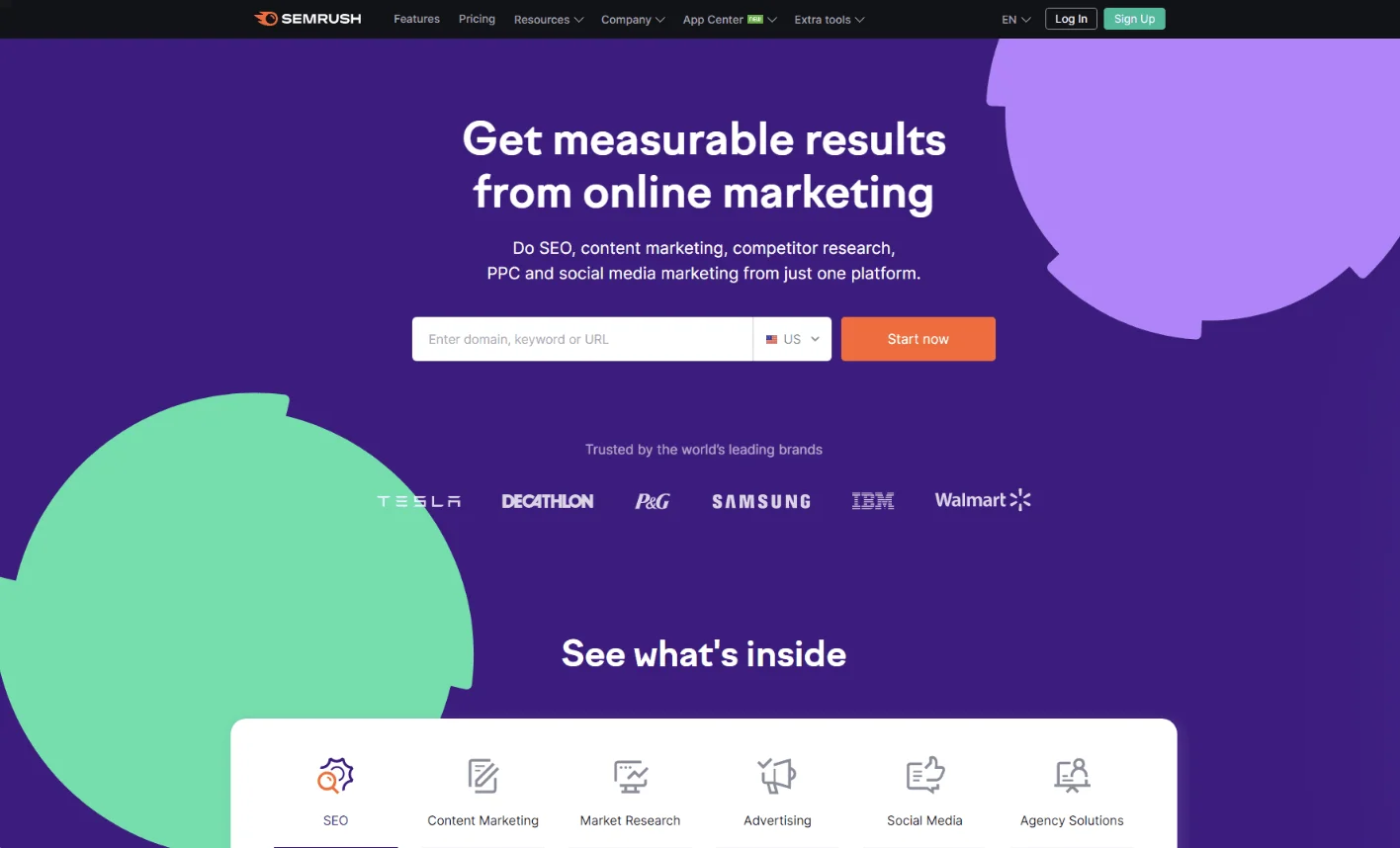 The prime SEMRush highlight is definitely PPC functionality. In contrast to other SEMRush alternatives and Ahrefs itself, you can come across a paid search software suite here, which incredibly benefits those who yearn to trace Google Ad Campaigns in a loop. Besides, it is possible to review keyword choices of the competition across their PPC campaigns and explore their ad copies . Together with a well-designed SEO strategy, these insights can provide a massive edge over competitors while running Google Ad Campaigns.
Another distinct peculiarity is the local SEO potential. The comprehensive listing management tool will keep you consistent with basic info like brand name, address, and phone number across the site and in online listings. In view of reporting functions, this software outpaces most Ahrefs alternatives since it allows for generating automated reports and integrating data from Google Analytics and Google Search Console.
Pricing
The pricing policy is elastic and tailored to cater to various marketing needs. SEO beginners and small teams may opt for the Pro plan, with a monthly payment of $119.95. While agencies and vast enterprises can experience rich-feature toolkits with the Guru and Business packages, priced at $229.95 and $449.95 per month. A free trial of these plans is available, but you must sign up for it on their site.
Verdict
Though the SEMRush UI interface is desirable and more intuitive and easy to navigate, this Ahrefs alternative still remains a noteworthy solution. By applying built-in unique and versatile functions within SEO improvements, any business can make a giant leap in the industry.
9. Linkody
Can't understand why your site is losing backlinks? Linkody will solve this problem and help you to conduct more practical link-building campaigns. Like a few Ahrefs competitors, this SaaS-based tool lets users keep an eye on general backlink performance, including follow/nofollow links and site-wide footer links. A user-responsive, handy dashboard will alert you to each upcoming link for deeper insights to strengthen your backlink strategy.
Features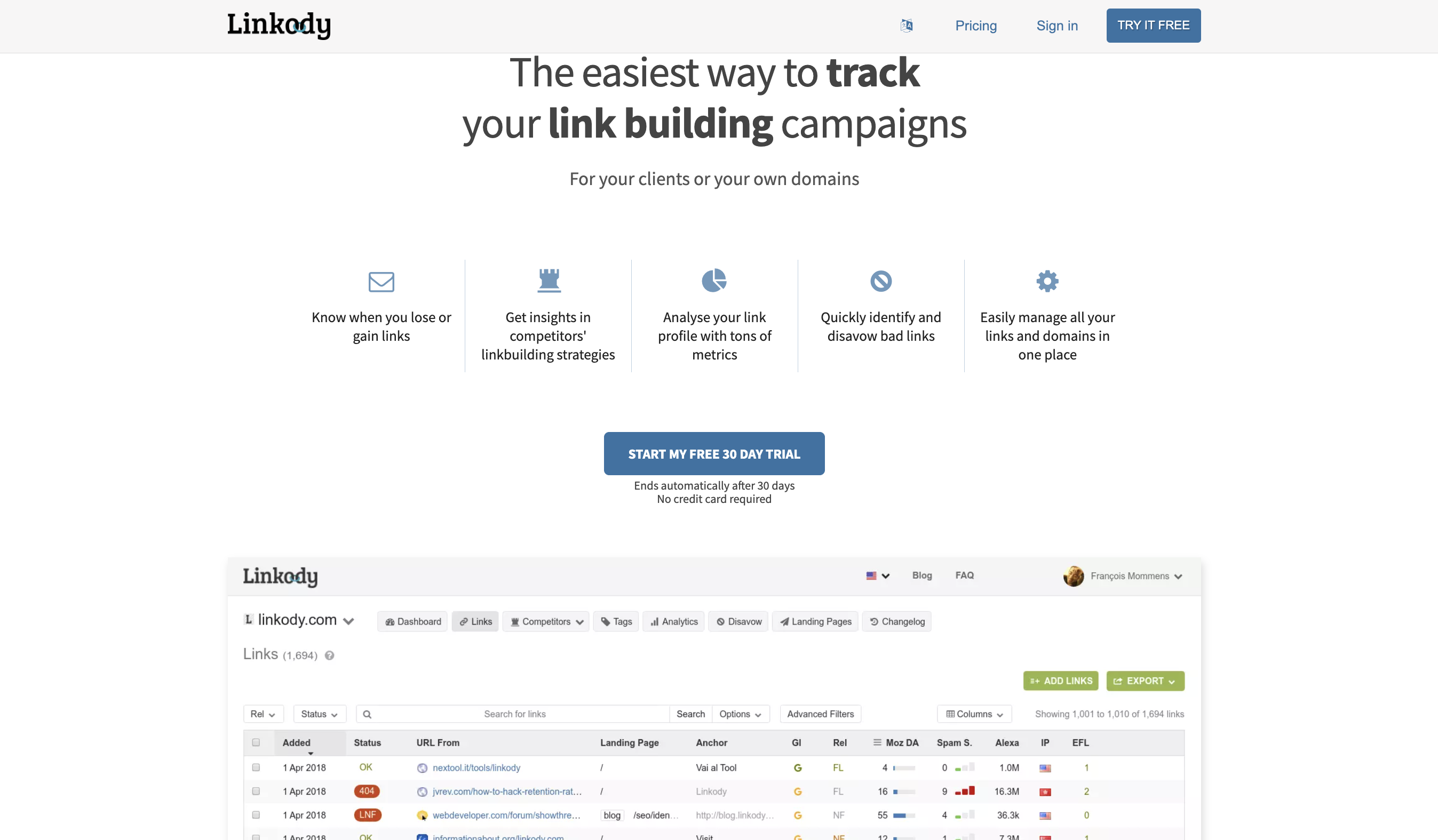 Since everything throughout this Ahrefs alternative, is focused on linking, you will discover features only related to link-building processes. Watching the link profile feels like a breeze with the Backlink Checker and Monitor. All the essential lost and new backlinks get detected quickly and trouble-free. Instant notifications about lost links enable users to contact site owners to fix them in 24 hours and prevent harming ranking in SERPs. 
Through Competitor Research options, it is possible to assess your backlink efforts and campaigns against industry competition . This furthers your link-building strategies and provides an understanding of lost linking possibilities. Linkody's Disavow Rule Generator is a valuable feature making the platform prominent among other best Ahrefs alternatives. It quickly scans for spam links and removes them to keep the site updated, meeting spam guidelines.
Pricing
The variety of pricing models is striking. Whatever your payment expectations are, there will be a suitable option for your link-building requirements. Webmaster, Advanced, and Pro plans, with monthly billing of $14.90, $24.90, and $49.90, will cater to those who trace a not-so-big number of links and competitors' domains. While Agency ($99.90/month) and Agency XL ($153.90/month) are designed for those targeting to reach corporate marketing goals.
Verdict
In contrast to Linkody alternatives, the presented app is not highly advanced in its SEO functions. But rest assured you won't find a better tool to close backlink gaps and gain traffic organically and efficiently at such reasonable prices.
10. Serpstat
Matching most Ahrefs features, Serpstat is a precious unity of functionality, data quality, and pricing. Coming with 30+ tools in its arsenal, the platform is among the leading Ahrefs competitors. Whether your primary aim is keyword/backlink analysis, rank tracking, or site auditing, the accomplished suite of tools will optimize every aspect at the highest level. And a substantial database of keywords and referred methodologies for competitive research purposes could make your business paramount in the digital market.
Features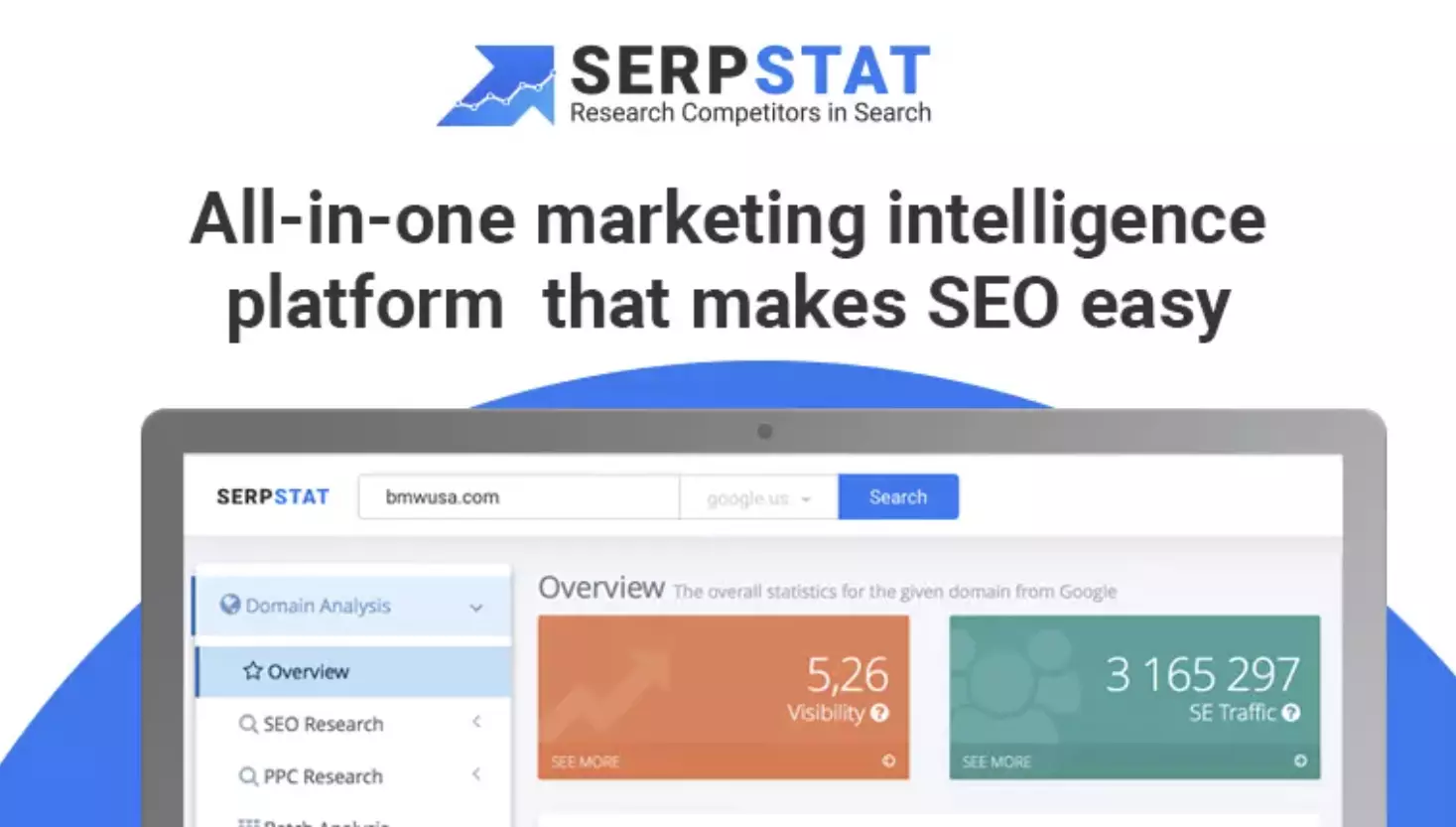 Speaking of keyword-oriented actions, Serpstat offers features like:
Keyword Research – uncovers the most actionable keyword opportunities for PPC campaigns.
Page Audits – implement keyword improvement suggestions and define potential issues with images, duplicate content, sitemap, etc.
SERP Crawler – gives a clear picture of current keyword competition.
Despite the instrument including a less comprehensible interface and fewer data filters compared to other Serpstat alternatives, it is more powerful in other things. A great example is its Malicious Sites Reporting. Not only can you look through all the typical backlink data, but you can also get an overview of all the malicious sites linking to yours. By tracking content that receives significant social media shares, you may work on mistakes and develop a better performing strategy. 
Pricing
The biggest perk of this Ahrefs alternative is the pricing. Of course, there are more affordable choices, but the cost is completely justified by the benefits the toolkit provides. Freelancers and small teams can achieve their SEO and marketing goals with the Lite and Standard packages, priced at $55/month and $119/month, respectively. The Advanced and Enterprise plans, billed monthly at $239 and $399, perfectly match enterprise-level demands.
Verdict
Serpstat is among the top Ahrefs alternatives with its invaluable holistic view of SEO and content marketing tools built-in. With its convenient interface and smart functionality, users can streamline content across the site and meet the specific needs and queries of the target audience.
Conclusion
In conclusion, the world of SEO and marketing is constantly evolving within the digital landscape. It is vital to adjust the business and workflow to current trends to successfully outperform the competitors. That's why you should arm yourself with automated solutions. When it comes to powerful SEO tools, Ahrefs is definitely the talk of the town. Still, the market offers other efficient alternatives to Ahrefs, like the ones discussed above, to empower your SEO campaigns. But how to understand which is worth taking on board? 
First, carefully think about your current goals and needs, as well as the future scaling of the business to define what the toolkit of the best Ahrefs competitors might consist of. Each alternative to Ahrefs has its strong points and weaknesses. Choose the tool that offers the greatest number of promising capabilities specific to your case. 
No less essential is the pricing policy. Try to assess your investing potential reasonably and don't bite off more than you can chew. That way, you will effectively streamline your SEO and PPC strategies at every stage without harming your budget.
Finally, pay attention to interface usability, integration options, and customer support within top Ahrefs alternatives. Poor operation of these components can create a vast obstacle in the way to a smooth and fruitful online presence. By sticking to these guidelines, you will obtain the best Ahrefs alternative and stay ahead of the competition.