Getting your business to appear in top SERP positions takes a lot of SEO efforts and investments. Today, there is a tremendous amount of competition online, and the number of sites promoting the same products/services and developing identical-topic content is only rising. Consequently, potent SEO and keyword strategies are crucial for getting massive traffic, boosting sales, and outranking niche competitors.
But how do you know which keywords might supercharge your site and which ones could facilitate your rivals in getting ahead of the curve? Not to mention the critical aspects of SEO and link-building that need improving to reach a high ranking . An all-in-one SEO tool is the solution, and Mangools is definitely the best-of-its-kind.
This Mangools review goes over all of the platform's advantages and drawbacks, pricing system, and full-fledged functionality in detail to help SEOs and marketers make an educated decision. Keep reading to learn how the software operates in various areas so you can be sure it is worth implementing. Let's start the ultimate Mangools review 2023!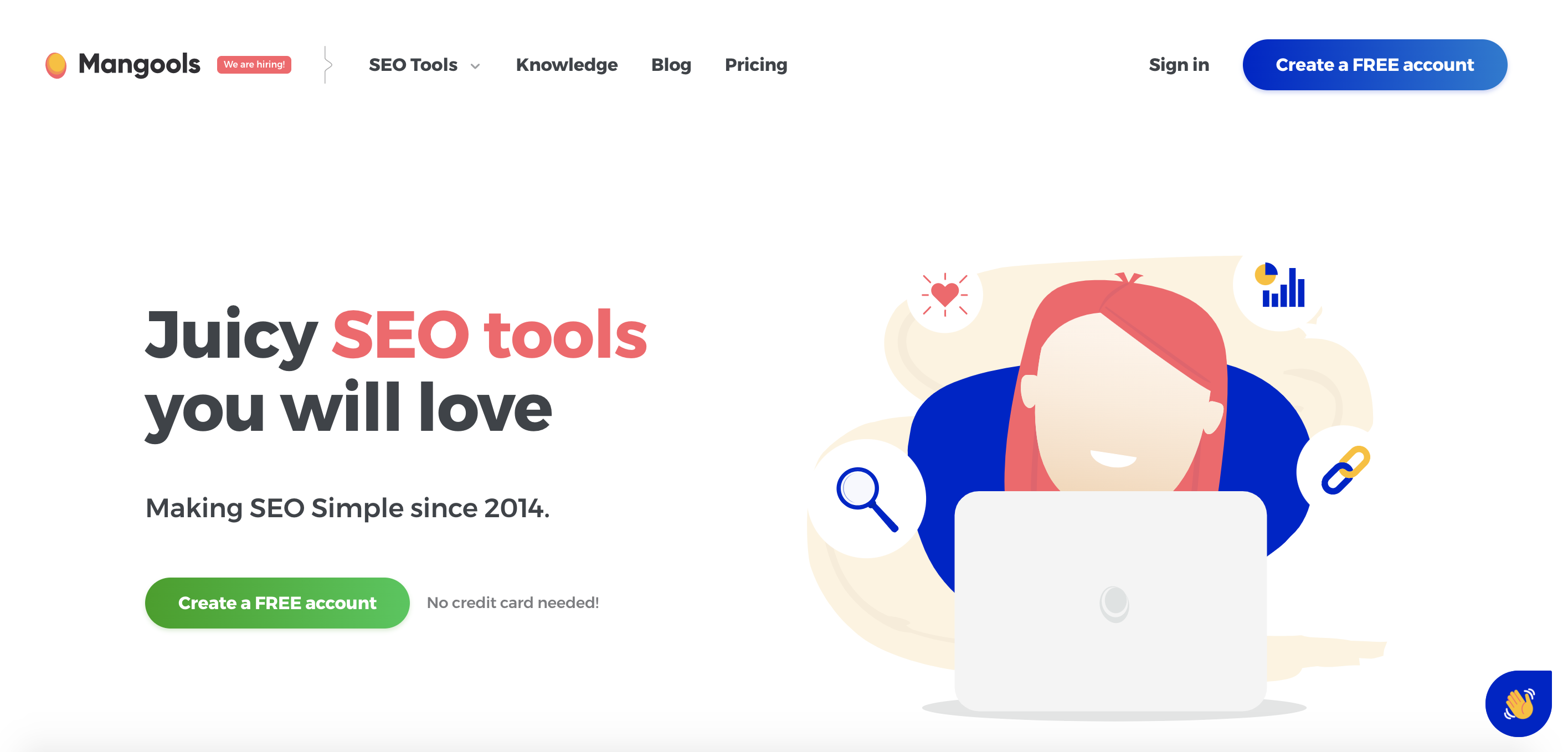 Pros & Cons
Pros
An easy-to-use and install interface that provides smooth and trouble-free navigation.
A comprehensive set of tools encompassing all critical facets of SEO, from keyword research to backlink audit.
Lightning-fast SEO analysis.
Unique features, like Site Preview, that most expensive industry alternatives lack.
Attractive pricing plans tailored to different business levels.
Multiple languages are supplied.
24/7 helpful and reactive customer support.
Cons
Uncomfortable maneuvering between the 5 core SEO tools since they have separate URLs.
Small link database with updating only a few times per year.
Manual refresh of some keywords.
Overview
Mangools is an intelligent SEO software app comprising 5 essential tools for keyword research, rank tracking, competitor analysis, SERP audit, and backlink analysis. Due to the clear and well-organized interface, as well as highly affordable pricing, the platform suits the SEO workflow of newbie bloggers and affiliate marketers to SMEs or large SEO agencies and helps them to stay ahead of the competition.
Unlike other Mangools reviews, we can't help pointing out that anyone may access all the core features within the Basic package, whereas other SEO tools supply them only on a trial basis or under premium package subscriptions. While most platforms target businesses with vast investment capabilities, Mangools gives small-level blogs and companies with a limited budget a chance to grow efficiently in the digital environment.
Every single one of the app's tools, which we will discover further in our Mangools review, comes with a unique ability to take the highest rankings and increase online visibility. KW Finder is famous for its incredible accuracy of keyword difficulty, and SERP Checker allows you to conduct a competitor analysis for over SEO metrics. SERP Watcher can track the overall progress by only one key metric, instantly showcasing imperative data. Prioritizing rivals' backlinks to replicate is effortless via Link Miner. To peep into competitors' campaigns by all top metrics, just plug their domains into Site Profiler to get swift and valid results.
Pricing & Plans
According to an up-to-date review of Mangools charging policy, pricing starts at $29.90 per month for the Basic plan and rises to $44.90 and $89.90 monthly for the Premium and Agency plans, respectively. The great news is that you may leverage the same scope of features by opting for any plan. The primary difference in plans is related to the number of times keywords and sites are looked up.
Basic. Users can search 100 keywords in 24 hours and attain 200 keyword suggestions per search. Over 20 site lookups a day and 100 000 backlink rows/month are at your disposal.
Premium. Look up 500 keywords daily with unlimited keyword suggestions per search. Plus, it is possible to overview 70 sites within 24 hours and acquire 500 000 backlink rows/per month.
Agency. Experienced webmasters may look up roughly 1200 keywords and 150 sites daily . The plan also includes unlimited keyword suggestions and 1 200 000 backlink rows a month.
Features
Though the Mangools toolkit might seem less accomplished than SE Ranking's, which is somewhat true, it still has everything you need to perform well in the SERPs. Besides, compared to all-in-one platforms, the UX is straightforward, and users can avoid spending hours on tutorials trying to figure out each feature's functionality.
However, first it is vital to learn about the tool's capabilities in depth to streamline the site in various areas before incorporation. Our Mangools review takes a closer look at the core features so SEOs and marketers can get the full picture on improving their SEO strategies. Let's cut to the chase!
Keyword Finder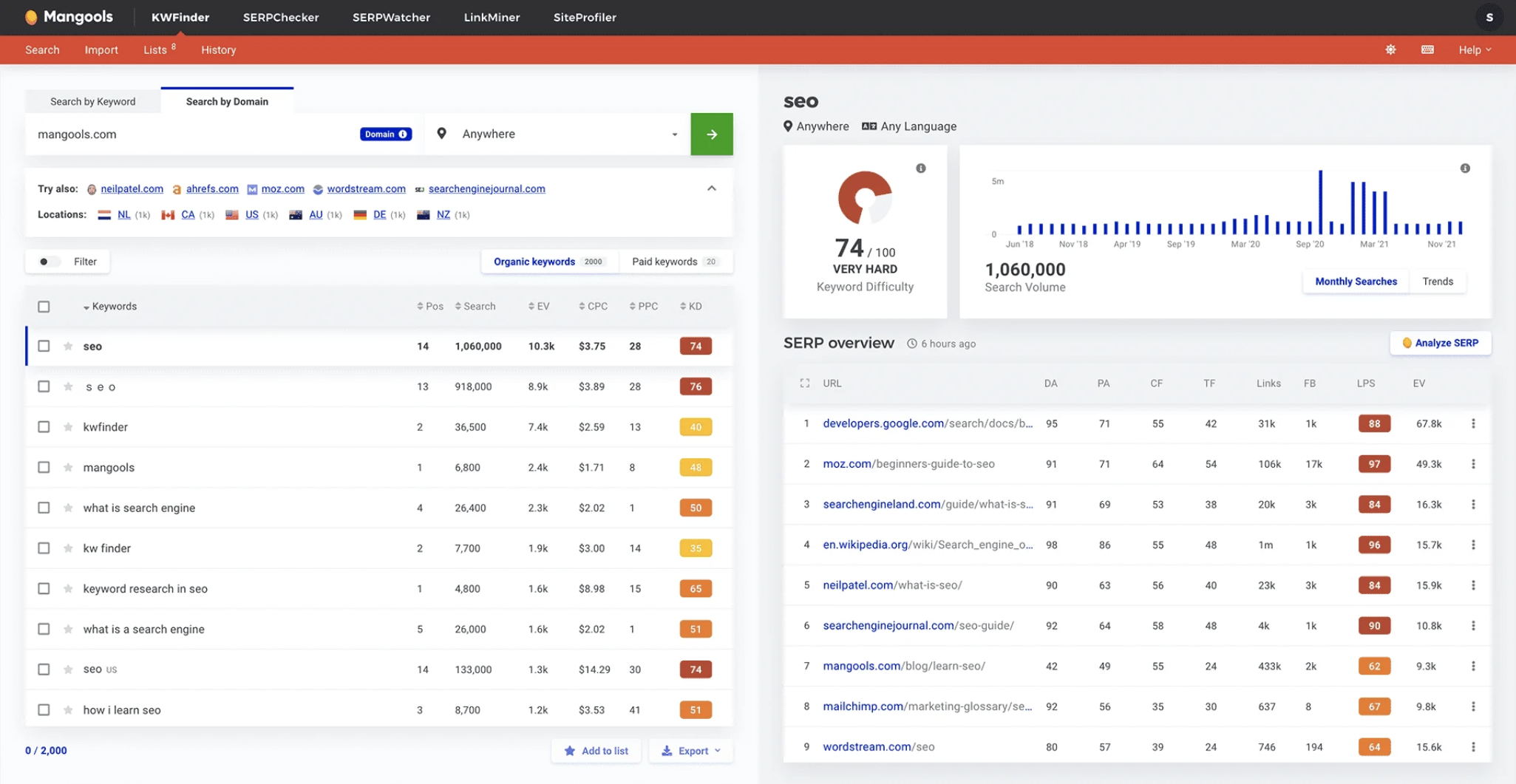 KWFinder is undoubtedly the platform's precious gem and most vivid feature people yearn to try while looking through Mangools reviews. To start your research, you just have to select your required keyword and enter it into the 'Search by Keyword' field. In a moment, the tool will provide you with a complete list of related key phrases resulting from the seed keyword. To obtain more precise insights, just narrow down the keyword suggestions by language or country.
Considering the main draws of KWFinder, we should highlight the striking accuracy and relevancy of each keyword recommendation. This is due to a thorough audit of the following metrics:
Trend – showcases the specific keyword popularity throughout the entire previous year.
Search Volume – reveals the average amount of keyword searches per month.
CPC – identifies the average cost for the ad people are clicking in Google, thus reporting how competitive the keyword is.
KD – calculates the power of the link profile and towering-ranking URLs. The most hassle-free keywords to target are with KD scores below 29, while those above 30 are challenging to rank a page for without a potent backlink profile.
However, KWFinder goes beyond merely generating key phrases that add a word to the beginning/end of the seed keyword or autocomplete suggestions. Instead, it offers a valuable lateral keywords option. This makes it possible to yield tons of unique topics and keywords rather than come up with them independently. The tool will handle it for you.
To find even more winning keywords, take advantage of searching by domain. By typing in a competitor page, you can spy on the keyword the page ranks for, including the highly traffic-engaging key phrases. With this insightful data, you will be able to design high-performing strategies and become a leader in the industry.
SERP Checker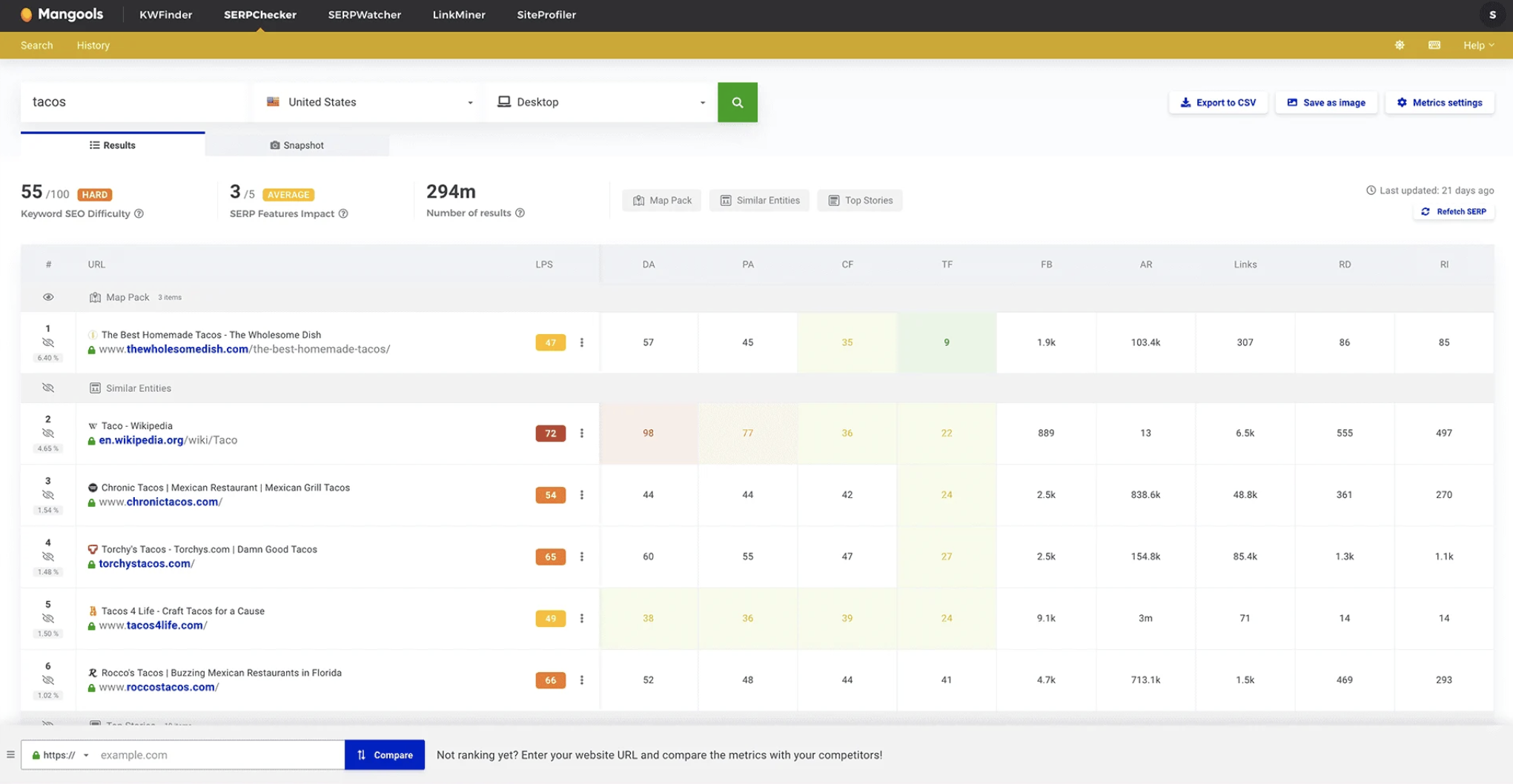 Another less critical feature to review about Mangools is SERP Checker. The toolbox contains over 45 SEO metrics to analyze your site's strong and weak points and carefully evaluate any competitor alike.
When searching for a keyword on Google, its algorithms shape results based on what you might like. Meanwhile, outcomes for the same keyword can significantly vary for other web users. So how to know where the truth is and what to consider for creating effective keyword strategies? This is where SERP Checker comes into play. It will assist you by showing you what most of the audience encounters while seeking a specific keyword.
Before optimizing ranking for some keywords, you should be aware of their niche competition. Not only can users determine the volume of ranked target keywords for a specific timeframe, but they can also discover how difficult some might be to rank for. It is also possible to assess potential competitors' overall site performance by parameters like average links number, Domain Authority, Page Authority, Referring Domains, CF, TF, etc.
Keep in mind the amount of referring domains is a more meaningful factor than the quantity of backlinks. This is explained by Google treating pages/sites that drive numerous links from different sources as suspicious.
Compared to other Mangools reviews, we emphasize that SERP Checker is specifically outstanding in the number of detailed insights for every looked-up keyword. It informs you whether a featured snippet pops up at the top of the SERP and presents the percentage of clicks the search results may gain. Plus, SERP Features Impact will uncover how crowded the SERP is for your target terms.
When it comes to competition, the tool lets you compare your site's rankings against niche rivals. Enter the site URL and see how it compares to other sites on the search results page. Moreover, SERPs with actual previews of over 50 000 locations, including countries, cities, or DMA regions can send your SEO both at the local and national level skyrocketing
SERP Watcher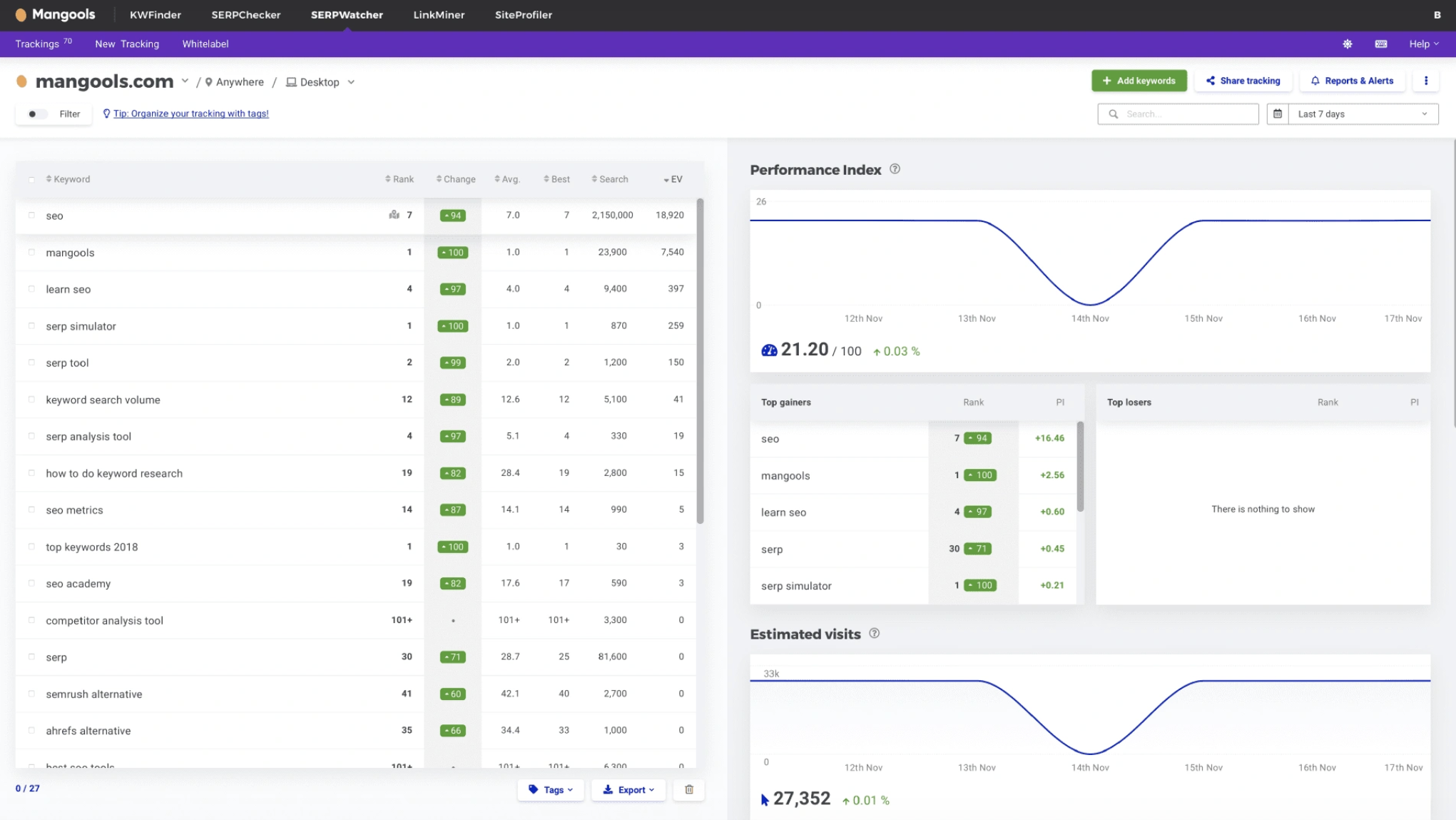 Any Mangools review describes SERP Watcher as a robust rank-tracking tool, which is not surprising. Its functionality keeps an eye on the overall dynamics of the site's ranking positions across the SERPs for specific keywords. On top of that, you can attain crucial data to correctly measure your SEO efforts.
Monitoring ranking progress is carried out by the criteria below:
Keyword: A chosen specific keyword to track.
Rank: The current daily ranking position for the target keyword.
Average Position: The tracked keyword average ranking resulting from the set timeline.
Best Position: The most winning ranking spot for the keyword.
Search Volume: A rough search volume of the particular keyword per month.
EV: The potential organic search traffic based on the tracked keyword's ranking position.
Still, if you aim to track keywords both for desktop and mobile searches, you should set each report up individually. The problem is SERP Watcher doesn't supply concurrent monitoring for two search types by default.
The SERP Watcher dashboard involves other essentials to keep abreast of the site's ranking performance:
A button to switch between mobile and desktop rankings.
Performance Index, which defines the overall ranking progress in SERPs based on the traced key phrases.
Time frame selector for different periods or custom dates to check on ranking positions.
Top gainers and losers boxes, indicating the most high-performing and non-working keywords across SERPs on a daily basis.
Many Mangools reviews, and this is not an exception, emphasize the tagging keyword features. They are highly beneficial for filtering keywords and grouping them into categories and save time by keeping you from scrolling through the entire list to pick keywords/search terms for one specific topic.
Link Miner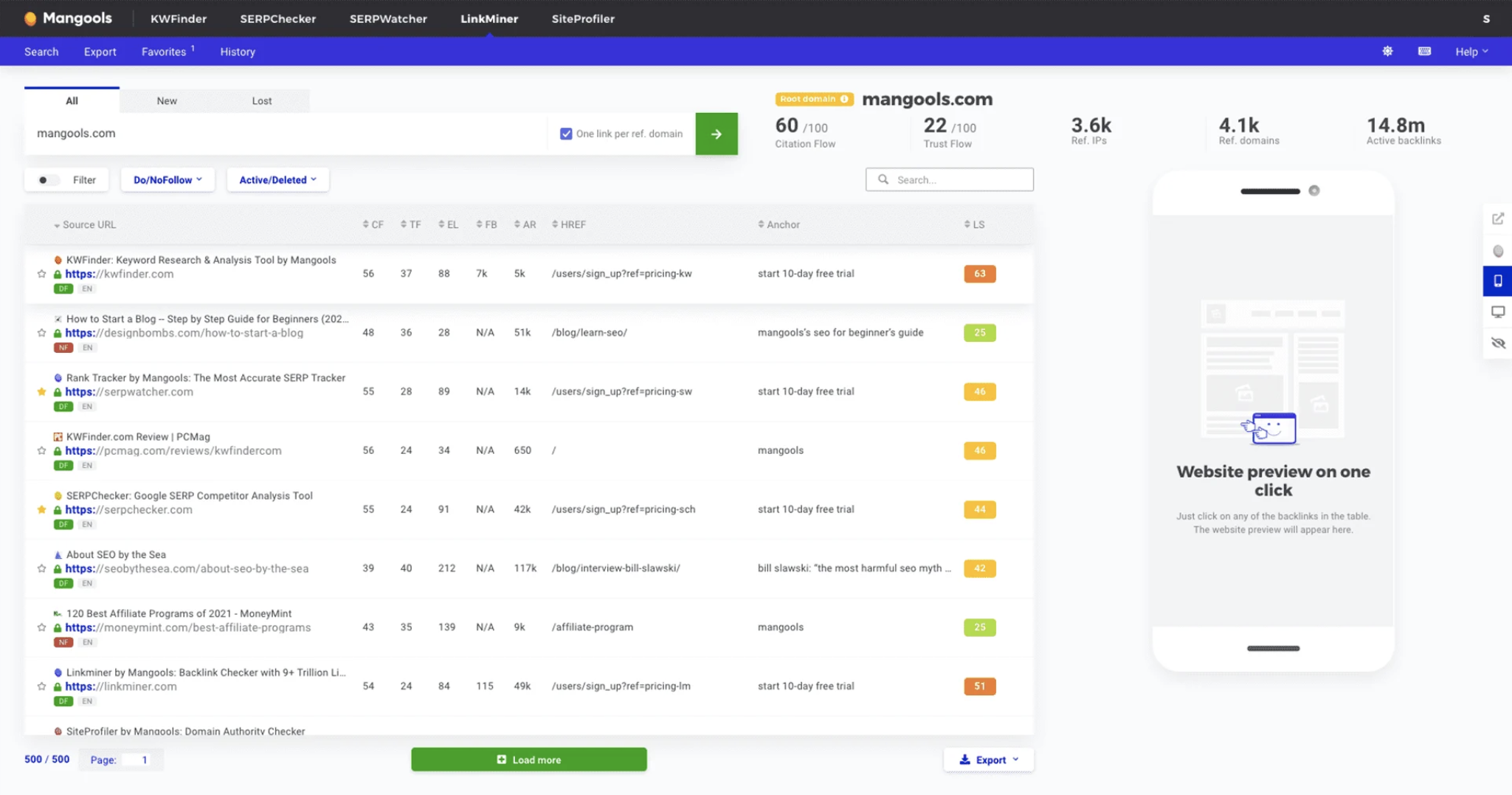 To review Mangools from a link-building opportunities perspective, dip your toes into the Link Miner tool functions. Regardless of not having a proprietary link index, the platform duplicates data from Majestic. So a ton of linking value to advance the site is guaranteed.
To start optimization, verify the backlink profile, which is possible in two ways: via the entire domain or individual page. Just point out your target URL and detect all the links directing to your site. Filtering the results on follow/nofollow link status and new won/lost links will give you even more priceless insights to broaden linking capabilities.
Plus, Link Miner thoroughly evaluates your site's backlinking strength by the Majestic-powered suite of metrics below:
Citation Flow – scores the page's potential influence resulting from the number of pages linked to it.
Trust Flow – assesses how powerful the page is based on the quality level of links leading to it.
EL – reveals the total amount of external links leading to the page.
AR – Alexa Rank.
FS – displays the quantity of Facebook shares.
RD – uncovers the number of referring domains directing to the backlink page.
Our Mangools review specialists can't but mention Link Miner as Website Preview, a fancy feature that most industry alternatives don't include. With this function, users can load the link page in a viewing pane and automatically scroll down to the backlink. The highlighted anchor text enables its evaluation for off-page SEO goals.
Site Profiler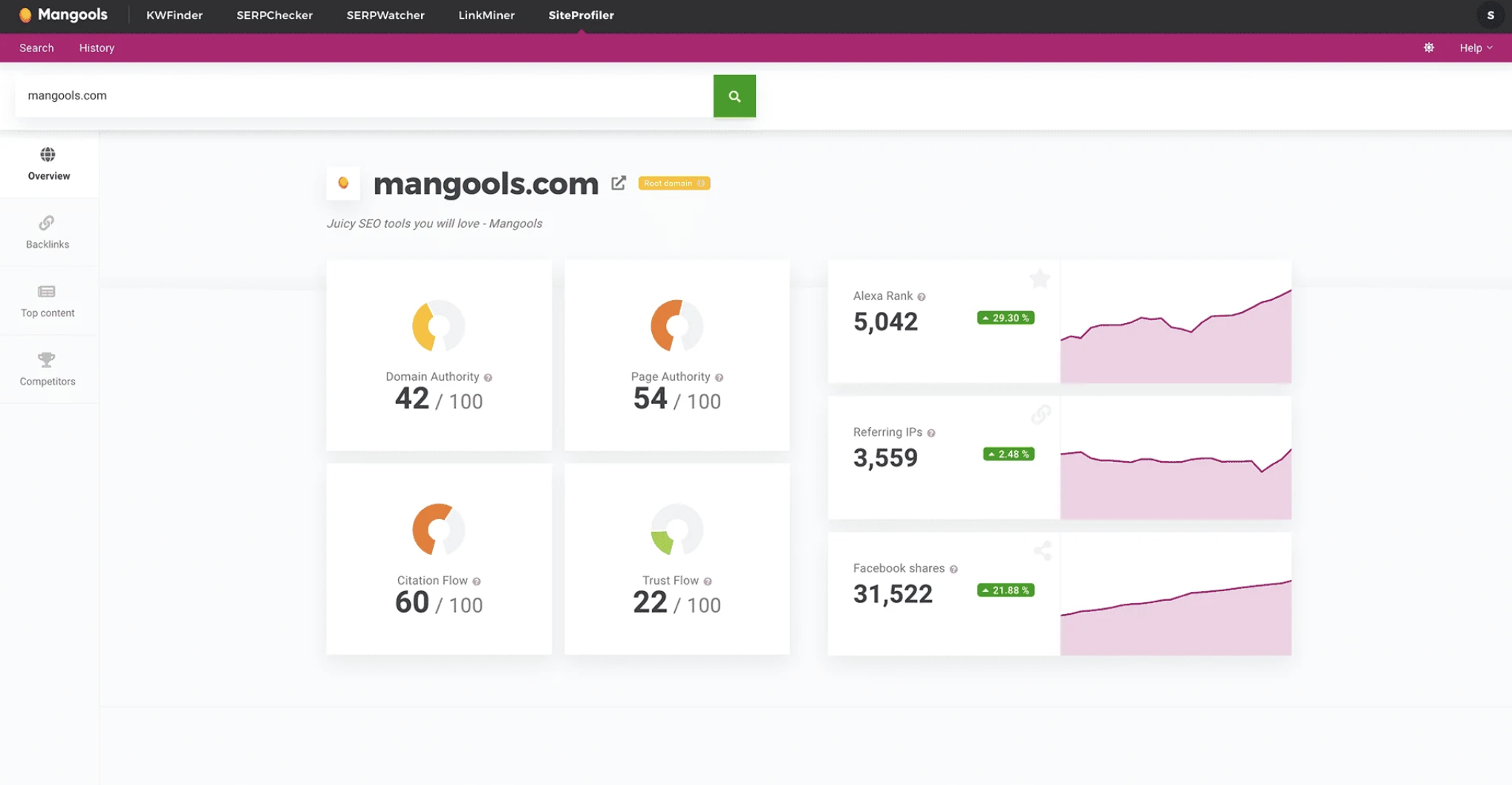 Plenty of Mangools reviews claim the Site Profiler tool is the heart of the platform, which is not surprising. Due to a solid, multi angled analysis of your and your niche competitors' site, you can make a giant SEO leap by figuring out which tactics are worth incorporating and which to eliminate.
Users may effortlessly and rapidly get a clear picture of all core domain authority metrics like DA, PA, CF, and TD under one roof. The same relates to comprehensive graphs showcasing accurate info on AR, Referring IPs, FS, and Total Backlinks.
The feature that shines most in the Site Profiler toolset is definitely the Anchor Texts box. But what makes it so special? Since it precisely identifies the anchor text used by competitors, it gives you an edge in strategizing more promising anchor text.
The key to success is not solely to gain as many backlinks as your rivals but also to gain similar anchor texts. Through careful anchor text scanning within competitive backlink campaigns, the tool will arm you with the best campaign for your site. Plus, users may investigate the hottest anchor options in the niche.
In addition, by the Site Profiler, Mangools reviews high-quality and traffic-attracting content of rivals sorted by FB and RD. Get valuable insights into the competition's SEO endeavors in terms of Link Type Distribution, Dofollow Links Ratio, and Active Links Ration .
Other Features
Aside from the advanced core tools, the platform boasts other cool features like an extension for Google Chrome and Firefox and dedicated customer support.
You might think Mangools hasn't broken any new ground with this browser add-on, but considering the platform's pricing, it really is a bargain. After the extension installment, you don't have to continuously open the Mangools site to check on-site performance and spy on competitors. Now it involves merely clicking the extension button in your browser to track keywords, backlinks, and on-page parameters. Compared to opening the Mangools dashboard in a new tab to paste the URL, it's dramatically easier and saves time. Regarding keyword maneuvers, instead of copying the needed keyword and launching KWFinder, users may choose the keyword on the page and click the KWFinder link with a right-click. Furthermore, any optimization action across the platform gets saved into the app, so there is no need to navigate away from the exploration.
As to customer support, our Mangools review notes its incredibly responsive service. With Live chat options, everyone will get complete guidelines on how to solve a particular issue. Additionally, replies are lightning-fast, and you can ask follow-up questions for instant fixes. Sometimes, a quick reaction to an SEO problem may prevent you from ranking drops, and there are cases when even experienced marketers need help. So reactive and practical Mangools support is always at your disposal.
Conclusion
We left no stone unturned with our all-encompassing Mangools review, and now it's up to you whether to give the platform a try. Of course, everything depends on your SEO intentions and budget opportunities. But there is no better value for the money when looking for versatility and simplicity. You can efficiently conduct keyword exploration, track ranking, audit every on-page SEO issue, monitor your competitors, and analyze SERPs and backlinks via an easy-to-utilize interface. Both those who are starting out in SEO digital marketing and established agencies/businesses may leverage the toolkit functionality to achieve even better progress.
Despite lacking some of the advanced features you might find with Mangools alternatives, such as SE Ranking, it is still a decent solution. Offering unique functions like Site Preview,multiple languages, a comfy Google Chrome/Firefox extension, and helpful and reactive support, it is worth every dollar spent.
Quick Answers Questions
What Is Mangools?
It is an SEO software furnished with a powerful and user-friendly toolkit consisting of KWFinder, SERP Checker, SERP Watcher, Link Miner, and Site Profiler. Anyone from newbie bloggers and affiliate marketers to SMEs or large SEO agencies, may scale their business via practical keyword research, rank monitoring, backlink analysis, and in-depth competitor analysis.
How to Use Mangools
As we described in our Mangools review, the UX is highly comprehendible, and exploring keywords, tracking ranking, and carrying out analysis by specific metrics is as easy as pie. All you need to do is to place the selected keyword/URL into the relevant bar, set the required option, and launch the process.
What Is Mangools Used for?
To review Mangools in terms of use cases, we should first point out who leverages it. It is used by SEO professionals, digital marketers, and webmasters. Depending on the niche and SEO requirements of the specific business, you can explore keywords, track rankings and on-site SEO issues to design winning campaigns, and analyze backlink profiles and watch rivals' performance to stay ahead of the competition.
How Much Is Mangools?
At this moment, according to the Mangools review 2023, the platform offers three plans with some of the most affordable pricing on the market: Basic ($29.90), Premium ($44.90), and Agency ($89.90). Each package supplies an identical suite of features, and the only difference lies in the number of keywords and sites to look up, as well as the amount of keyword suggestions/backlink rows.