General overview
As part of the Top10 SEO Software project, we most often review universal toolbars that try to be useful in all areas of website optimization at once. That's why the WooRank review became an interesting new experience for us since it is not so much a comprehensive solution as a highly specialized service. Its main task is the technical website audit. All other functions are positioned as bonuses — useful but not mandatory.
WooRank offers much fewer tools than recognized leaders like SE Ranking, Ahrefs, or Moz. But it perfectly copes with its task, offering a quick and in-depth audit of web pages. The result of its work is brief, clear reports that indicate not only the existing errors but also the best ways to solve problems.
There is only one caveat, which is the developer's pricing policy. The subscription plans are quite costly for such a specialized service, and the significant difference between their prices makes it difficult to choose the best subscription. Is it worth paying such an amount for a website auditor? We will tell you about this in the WooRank review 2023.
Pros
Clear, uncluttered UI
Detailed analysis of on and off-page SEO
Actionable documentation, links and guides
Easy-to-follow marketing checklist
Chrome extension
Cons
Single-user access below Enterprise plan
Limited number of SEO tools
Steep pricing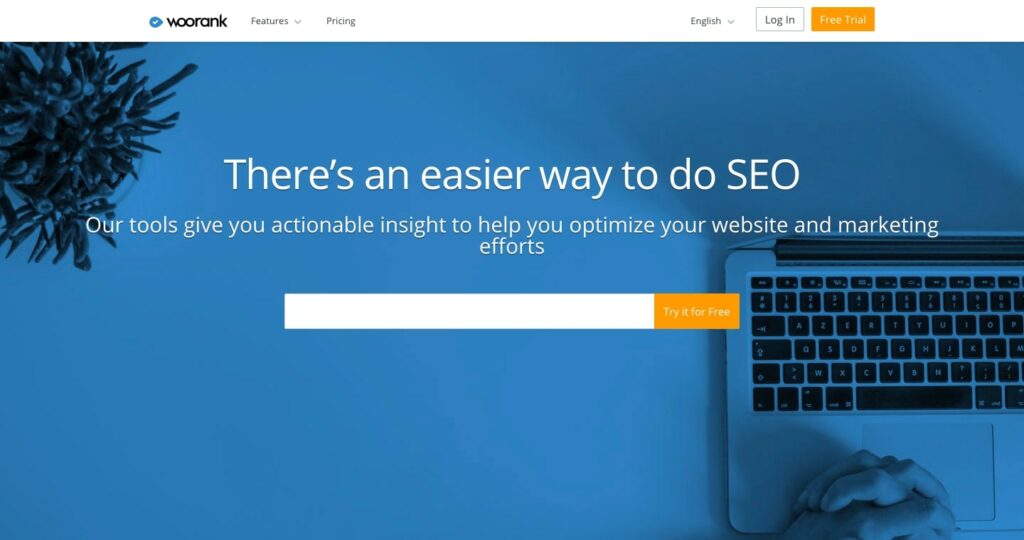 Founded in 2010 in Belgium, WooRank is a website SEO audit tool designed to help small and large business owners, agencies, digital marketers, and SEO professionals analyze their websites and get actionable suggestions on how to improve them for both search engines and human visitors.
While we review WooRank, we should note that this web-based tool provides website data to give its users a list of everything that's wrong on their website from the standpoint of SEO so that they can develop strategies to make it easier for searchers to find their site on search engines like Google. Plus, WooRank helps discover website keyword rankings, and traffic volume to make it easier to find opportunities for improvement and growth.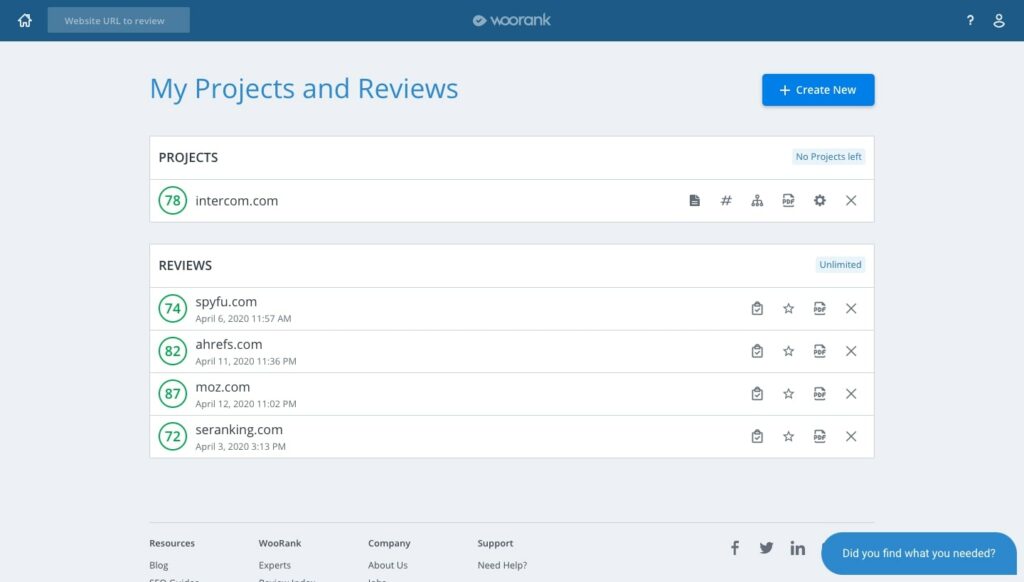 With the tool, you can get a general overview to find out how well your website is performing in search. To do this, WooRank combines your website SEO audit results with data from your Google Analytics, Google Search Console as well as your Facebook accounts to provide comprehensive reports.
WooRank reviews show that one of the tool's most useful features is that it keeps an eye on your website 24/7 and sends you general weekly reports about its performance, as well as email alerts if your website goes down for any reason. With monthly subscription plans starting at around $60, the site auditor offers a money-back guarantee, is available in six languages, and definitely should be tried out if you're looking for a website auditing tool.
Pricing & Plans
Depending on the needs of your business, WooRank offers three subscription plans. Since it's not a one-stop SEO shop, it's pricing plans are on the high side.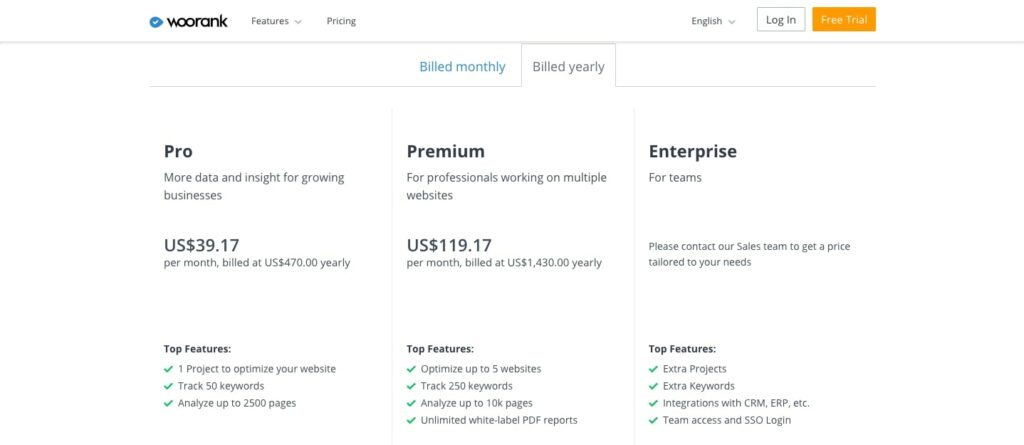 The most affordable subscription level available in WooRank is the Pro Plan, available at $59.99 a month or $40 if you go for annual billing. With this plan intended for individuals, you get single-user access to the tool and can get an unlimited number of website reviews and SEO audits. On top of that, you can get more advanced website data by connecting Facebook, Google Analytics and Google Search Console, as well as get custom data on keyword tracking, competitors, and 100 backlinks.
The next subscription level offered by WooRank is the Premium Plan. At $179 a month and $1,430 a year, this plan unlocks customizable reports, and gives you the opportunity to download and store as many reports as you'd like. Furthermore, you get data for 5 websites and additional monitoring features. WooRank reviews also praise the possibility to create as many White Label PDFs as you need. Both of the aforementioned plans can be tried in a free 14-day trial.
If you work at a large company and need to give teammates access to your WooRank account, you need to go for the Enterprise Plan, usually starting at $249 and up. You will need to directly reach out to WooRank to get the exact price quote based on your business needs.
Rank Tracker
WooRank's keyword research and tracking capabilities are expressed by its Keyword Tool. But it must be noted that WooRank's keyword tool doesn't work like your typical keyword research tool. It doesn't generate keyword suggestions, but checks how the keywords you're currently targeting are performing in search. Let's take a closer look at the tool.
Naturally, WooRank lets you know how your site is ranking for your target keywords in over 80 countries. However, you can list your top 3 competitors and keep track of how they are ranking for your target keywords as well.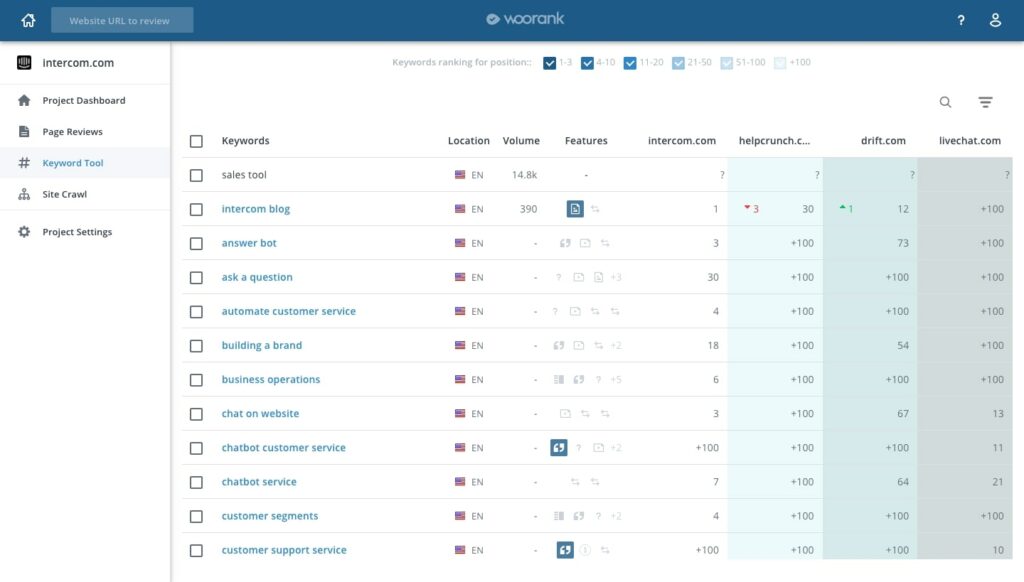 This is where WooRank has a different take on things. The tool will provide you with a list of keywords that neither you nor your competitors are using that have a better chance of getting higher SERP rankings. This keyword list is purely based on the content that's already been published on your site, and is a great way of finding untapped keywords. When creating a review about WooRank, we cannot but add that this is a unique feature among all the tools we reviewed, so be sure to check it out if you need to expand your semantic core.
Next, WooRank's Keyword Tool lets you put all of your target search queries in one location so that you can easily manage them. And if you want to track local keyword rankings to drive more local clientele, you can get regional data from the tool.
In the WooRank review, it is also worth noting the regular reports that contain such data as monthly search volume, ranking positions (you and your rivals), SERP features, weekly ranking dynamics, and ranking data for the past 3 months.
The bottom line is that WooRank simply won't be enough if you need to generate a long list of keywords, so we recommend using SE Ranking, Semrush, or Ahrefs instead. But if you are just starting out and don't have a lot of keywords to track, WooRank is a good place to start.
Site Audit
As we already touched on, WooRank's standout tool is its comprehensive website review or audit. Let's get one thing straight: reviews provide a quick, general overview of website data. But in the WooRank review 2023, we paid more attention to audits that include additional information such as GA website traffic, source and user behavior reports, Performance report from GSC, Facebook Analytics reports, server accessibility, backlink quality, and referral traffic.
Now, in a nutshell, WooRank audits your site with the goal of finding technical issues, ranks it on a scale of 0 to 100, and provides suggestions on fixing each problem.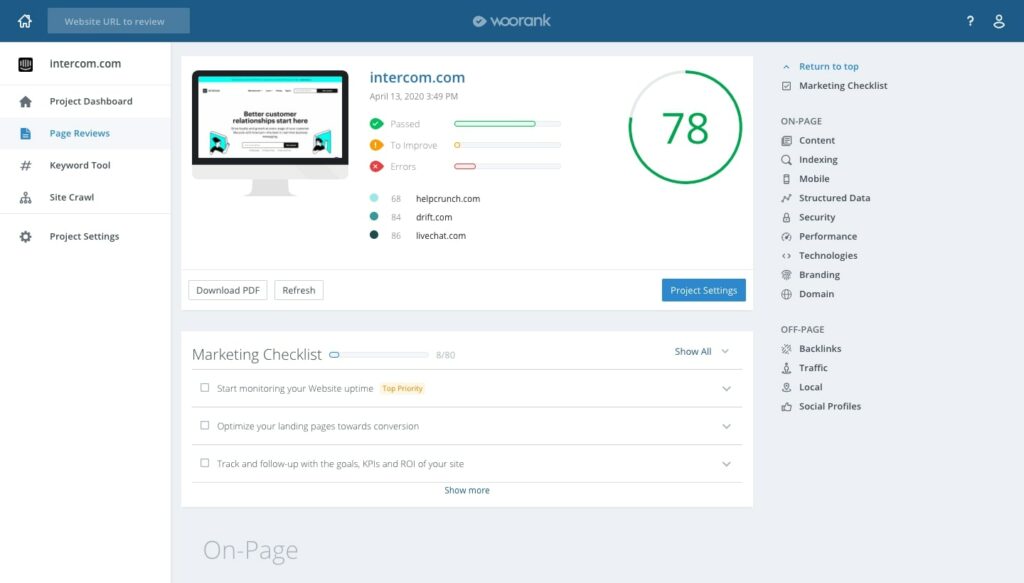 In the screenshot above, you can see that there are a lot of things that can impact your website's final WooRank score. For instance, one of your pages could have a missing meta description or it could be taking ages for it to load up, resulting in a high bounce rate.
During our WooRank review, we found out that you can find on- and off-page issues on your website by simply scrolling to the bottom of the page. Some of the things that are considered here are page headings, in-page and broken links, sitemap, backlink factors, Schema markup, and mobile-friendliness to name a few. WooRank itself will point out what areas of your website you need to focus on most.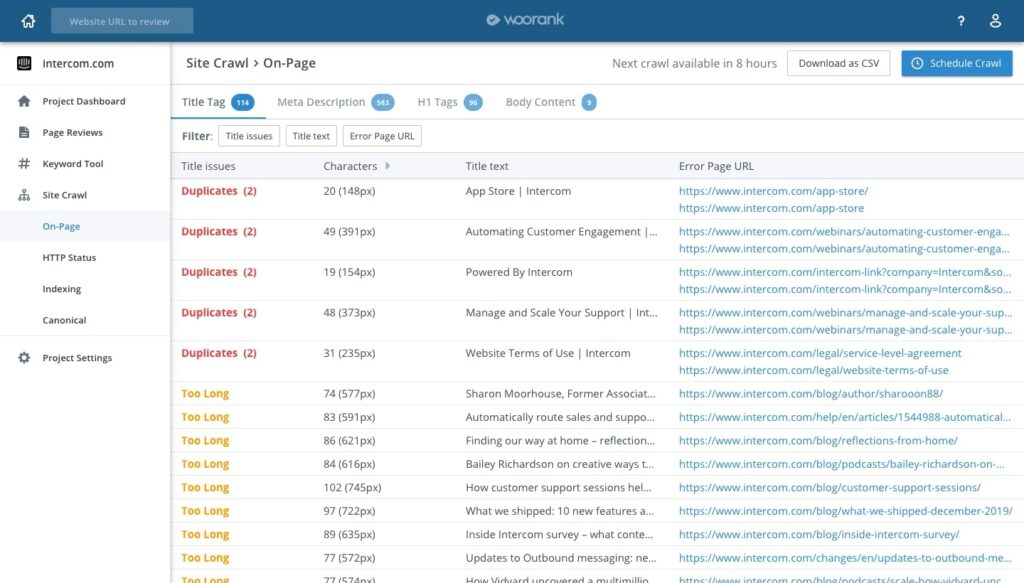 Every thorough website audit includes sections on on and off-page SEO, and WooRank is no exception. The off-page section of the website audit report includes Backlinks, Traffic, Local, and Social Profile. We're not going to go into detail about backlinks or traffic here as we will look at them in the following sections of the review.
The Local section of the report helps you check to see if your site is listed in any business directories in your vicinity, like Yelp. WooRank reviews note that doing local SEO is vitally important because it helps people find out about your business.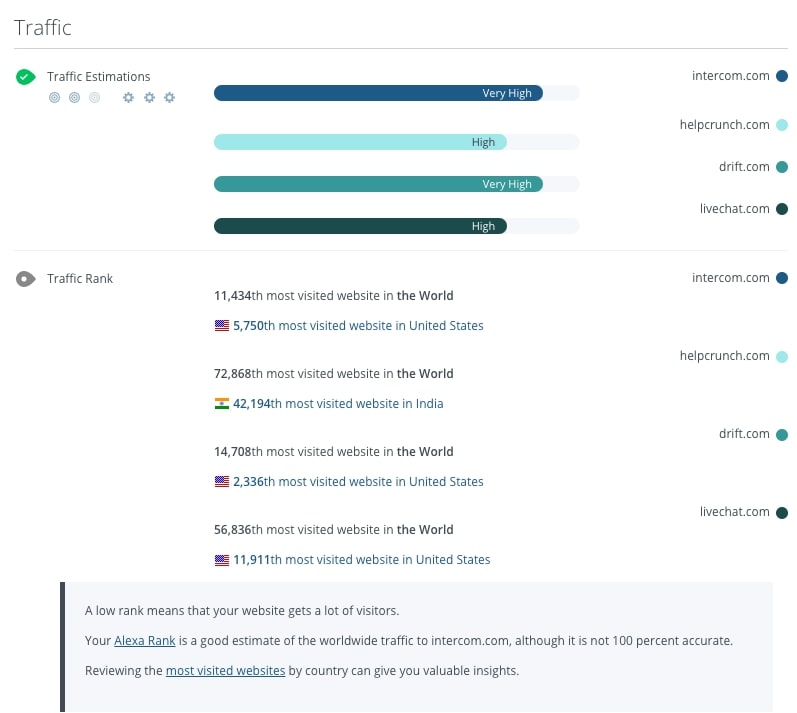 The last section we want to look at in the WooRank review is Social Profiles. It provides data on your social media presence and activity. You can also see info like URLs and how many followers you have. So the more shares and posts you have, the better.
All in all, WooRank provides comprehensive, easy-to-understand website reviews and audits, which, in turn, helps users figure out their next best move. This is a must-have tool, if you want to quickly get detailed SEO audit reports.
Competitor Research
Unfortunately, WooRank doesn't have a competitive research tool in the classic sense of the term. Instead, you can use the audit report's Traffic section to compare your traffic volume, reach and popularity with that of your top 3 competitors.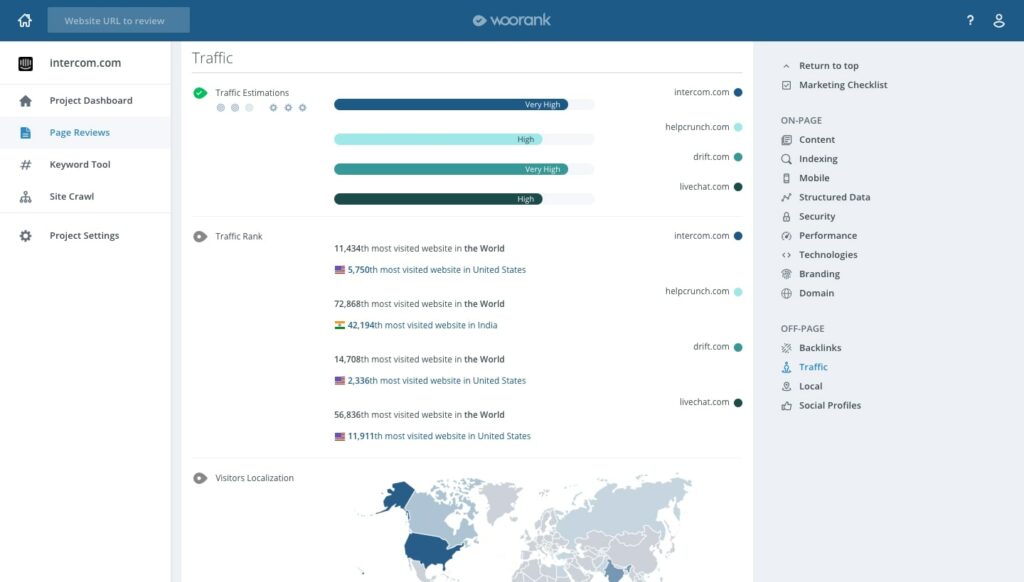 Along with this data, you can find out where you're getting traffic from the most, and adjust your strategy to cater to your audience in untapped locations. WooRank provides links to valuable content to help you achieve this, but, other than that, you're pretty much on your own.
As for the expected features of a classic competitor research tool, WooRank won't show you any real PPC or SEO data. Practically any other tool in our line-up–especially SE Ranking and Semrush–does a better job at providing actionable insights into your digital rival's organic and paid strategies. Therefore, while reviewing WooRank, we must warn you that this tool is only suitable for a specific task, so you shouldn't treat it as a panacea.
Backlink Research
Every solid all-in-one SEO tool has a tool designed to check backlink profiles. As for WooRank, it finds out how many backlinks and referring domains a website has using Majestic SEO's data, and gives each website a score on its backlink profile. Alas, this is it in terms of backlinks from WooRank.
It is easy to explore backlinks in SISTRIX. All you have to do is punch in a domain and click on overview under the links option in the navigation bar on the left. Then, click on "Activate Linkplus" and this will activate all the data. You will be able to see the backlink structure in no time.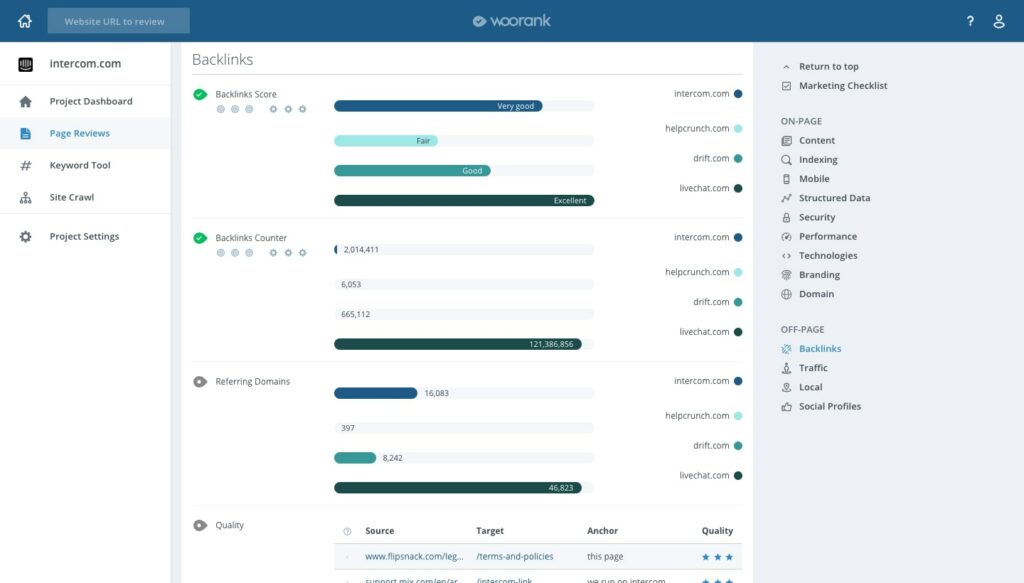 Besides providing backlink data, WooRank also offers links to suggestions and best practices. This means a lot of reading for you and a lot of work afterwards. If, for example, you have a page that doesn't have a lot of backlinks, WooRank will put up a warning, letting you know that this is something you need to work on.
You can use the information provided in the tool on the total number of backlinks and referring domains to figure out if you need to engage in more outreach to build more links to your site. WooRank reviews show that this is a very useful feature that has an impact on the real effectiveness of the optimization strategy. 
Once again, WooRank is best used as a tool for getting a quick overview of a website. That being said, it's backlink checking, competitive analysis, and keyword research tools don't provide the necessary level of data required to devise an actionable strategy. In the WooRank review 2023, we should note that it is more suitable for technical optimization. To form a competent marketing policy, we advise you to use Ahrefs, SE Ranking or Semrush if you want to get a sufficient amount of data.
Conclusions
To conclude the WooRank review, we should remind you that we are not dealing with a universal SEO tool but with a specialized website auditor. And we must admit that it is very simple, functional, and effective. Its interface is accessible even for a beginner. If you decide to optimize your site yourself, you will be able to fix most technical errors without attending expensive courses and spending dozens of hours reading the documentation.
All WooRank reviews emphasize the completeness of the information provided by the service, and we won't lag behind them. We really like that it takes into account not only on-page but also off-page SEO. Thanks to this, you know absolutely all the strengths and weaknesses of your online business promotion strategy. And tips for optimizing a project on social media can be called a very rare feature, almost unique.
However, there is one thing that we should mention in the WooRank review: the website audit module makes up about 80-90% of the service's functionality. Apart from it, the platform offers only basic features in the areas of keyword research and external link management. And this raises the question of the reasonableness of the price tag, which starts at $60 in the basic plan.
Frequently Asked Questions
What is WooRank?
WooRank is a specialized website audit service. It detects technical problems and evaluates their impact on the efficiency of web page optimization on a scale from 0 to 100. In addition, the platform gives advice on how to fix errors. It also includes keyword research and external link management modules, but they have a somewhat limited set of functions.
How to use WooRank?
WooRank is a cloud-based service that runs in a browser. To conduct an audit, you just need to enter the URL or domain of a website in the search bar. You can also install the WooRank extension for Google Chrome to get all the information you need while browsing the web.
What is WooRank used for?
WooRank conducts on-page and off-page SEO audits. This includes working with meta tags, titles, links, sitemaps, Schema markup, etc. The service also works with external links, social media optimization, local directories, and other means of promoting your business online.
How much is WooRank?
The basic WooRank Pro plan costs $59.99 per month or $40 if you prepay for a year. It provides access to basic audit features but limits the number of projects and users. A Premium subscription for $179/120 allows you to unlock customized report settings and increase the number of projects. For large businesses, the WooRank Enterprise plan is suitable — its cost is determined individually and starts at $249.
Visit website