General overview
SEOprofiler offers a solid toolset that can analyze your website's health, ranking, backlinks, and help you get to know your competitors better. It offers rankings monitoring, a range of profilers, keyword research instruments, backlink analysis, and more. The impressive range of capabilities enables anyone to run a digital marketing campaign almost single-handedly.
SEOprofiler pros:
A comprehensive set of marketing tools
The ability to quickly optimize and re-optimize pages
Custom online reports
Solid website auditing with deep analysis
Sufficient keyword recommendations for your focus query
A keyword difficulty research tool
SEOprofiler cons:
The price has grown significantly
Lacks usability
Lower backlinks database than the competitors'
Few integration options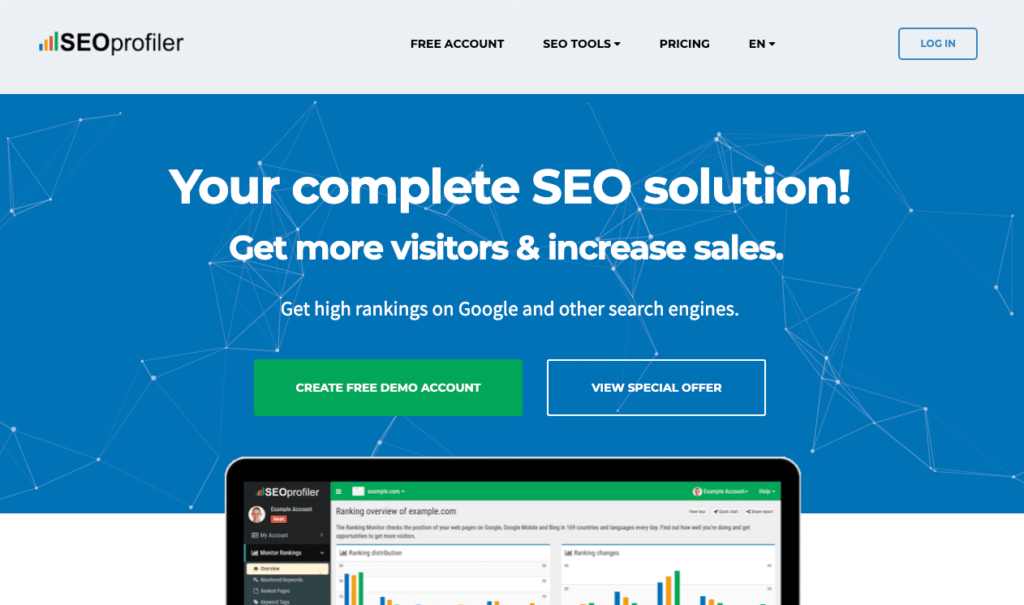 The company has been around since 1997. Its team has been gaining experience, learning about trends, and including their knowledge into the tools they develop.
Have you heard about iBusinessPromoter? It was their project.
With SEO Profiler, you can monitor the rankings of your website's pages across the most used search engines such as Google, Bing, and Yahoo!. It's worth mentioning that it's a safe SEO tool that only works using the official ranking guidelines. So, everything is whitehat here.
First of all, to use instruments by the developer, you have to create an account and log in. The beginning isn't that difficult since they walk you through every step. First, you should register and login, and then you can create a new project by entering the URL of your website.
After that, the algorithms of SEOprofiler start scanning your site from A to Z, collecting all the data it will need to show you well laid-out reports about website performance, keywords, competitors, and backlinks.
The data the tool collects will always be visible when you click on the project. And if you need to monitor another site, simply create a new project, and the algorithm will do its job again.
At this point, everything is pretty much organized, so it won't be difficult to get used to even if you're a beginner.
When you open the needed set of data, you get a summary of:
Overall visibility score
Website audit statistics
Ranking stats
Backlink stats
Uptime monitor.
That's enough for a rough overview of your website and its main pain points. Later in this SEOprofiler review, we'll go deeper into the tools the company offers.
SEOprofiler Pricing & Plans
When you were reading about the cons, you may have wondered about the real cost of the toolset and available plans. Let's just say that the prices give you the possibility to rank higher due to the extensive data you receive through the software, its analysis, and the adjustments you make to your on-page and off-page SEO strategies.
It's also important to mention that if you own a small business and need SEOprofiler for yourself or you have a couple of clients that need good on-page analysis, it isn't necessary to get the most expensive option.
So, what's the price of SEOprofiler?
There are several plans: Standard, Smart, Professional, and Enterprise. The Standard plan costs $69.95 per month. You pay for 1-user interface, a daily check for 1,500 keywords, the ability to create and curate up to 10 projects, a 20,000-page audit capacity, and the ability to generate basic reports. It's wise to mention you don't get the link disinfection tool that can help you bring your backlink profile back in order.
The Smart plan costs $99.95 per month. It's larger and provides its users with a 5-user capacity. You can audit up to 50,000 pages, curate up to 50 projects, and do 3,000 daily keyword checks. Also, this plan comes with the link disinfection tool and the ability to generate white-label reports.
The next one is the Professional plan, at a price of $249.95 per month. The plan ups the game quite a bit with its 15-user capacity, the ability to curate up to 150 projects, and audits for 150,000 pages. Also, it includes 7,500 keyword checks every day, the ability to generate white-label reports, and the link disinfection tool.
The final plan is Enterprise at $999.95 per month. This is the largest plan SEOprofiler has. It's suitable for large enterprises due to its impressive capacity (hence the name). The plan involves an unlimited number of users and projects which they can curate, 30,000 daily keyword checks, and an audit for up to 750,000 pages. It also includes the ability to build white-label reports and the link disinfection tool.
As a SEOprofiler discount, you can get a free demo.
Before you choose a plan, make sure you find out what features you will need. For example, if you want to handle backlinks in SEO Profiler as well, the Standard plan won't be suitable for you.
If you don't want to pay too much for access to the link disinfection tool, you can also opt for a good SEOprofiler alternative. For example, SE Ranking offers a basic plan at $39 per month that includes monitoring for 6,000 backlinks, as well as a daily backlink check for 20 domains.
That's in addition to a Website Audit for 40,000 pages, 10 projects available with 5 competitors per project, 100 reports every day with up to 1,000 results per report, and more.
SEOprofiler Review: Rank Tracker
SEOprofiler has the Ranking Monitor Pro tool that helps users track any keyword in any country/location across 3 search engines:
With the tool, you can monitor focus keywords, see where your website is in the ranking for every query in every target location, find new domestic and international markets to enter, see how many searches every keyword has, where your site is in the mobile rankings, and more.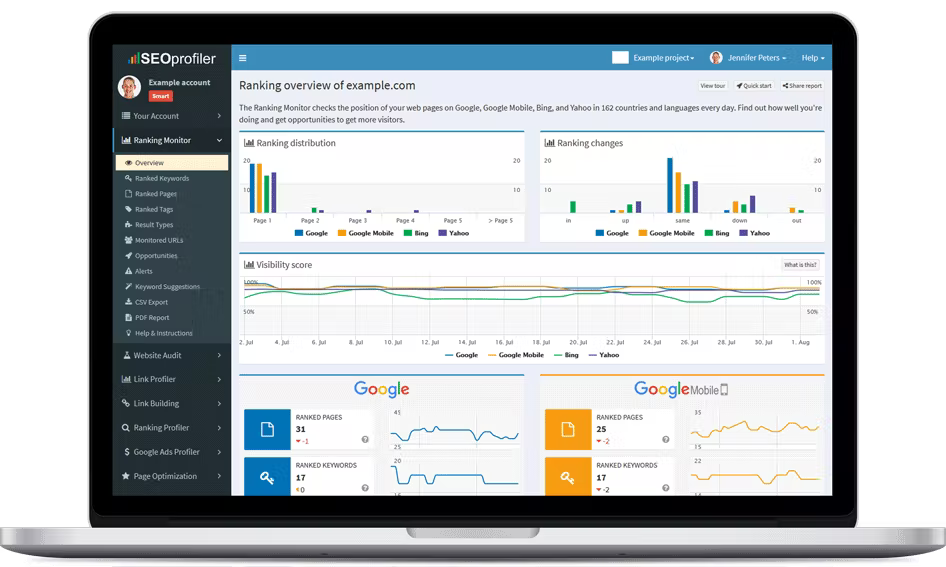 Tracking your ranking every day will help you get deeper into the dynamics of every query, location, and search engine. Over time, you'll see the progress of your SEO strategies by comparing reports.
Besides, the SEO Profiler tool will save you time since you won't have to build reports and use multiple instruments to find out how your keywords are doing. The Ranking Monitor Pro shows everything in easy-to-understand graphs so that you can see the progress in a moment. The best-performing pages and queries are listed conveniently to save your precious time.
Moreover, there's the 'Alerts and Opportunities' page that gathers everything that requires your attention. For example, if there's a keyword you rank for on the second SERP, you'll see a notification in Opportunities.
If you can promote the page with that key term a little bit more and get to the first SERP, you'll get much more organic traffic for your website and business.
The Ranking tool will keep you from falling behind and help you move closer to the first result page. And if you work with a client's website, extensive reporting is available. You can simply download the report in a PDF and send it to your customer with comments if needed. Constructive data for them, a great impression for you.
SEO Profiler Tool: Site Audit
Regular website audits are absolutely necessary if you want to rank higher and get more high-quality traffic to your website.Thankfully, SEOprofiler has a tool for it. The audit is automatic and regularly checks your site for errors. If the report wasn't compiled automatically, click on Website Audit > Overview to see all the issues you may have.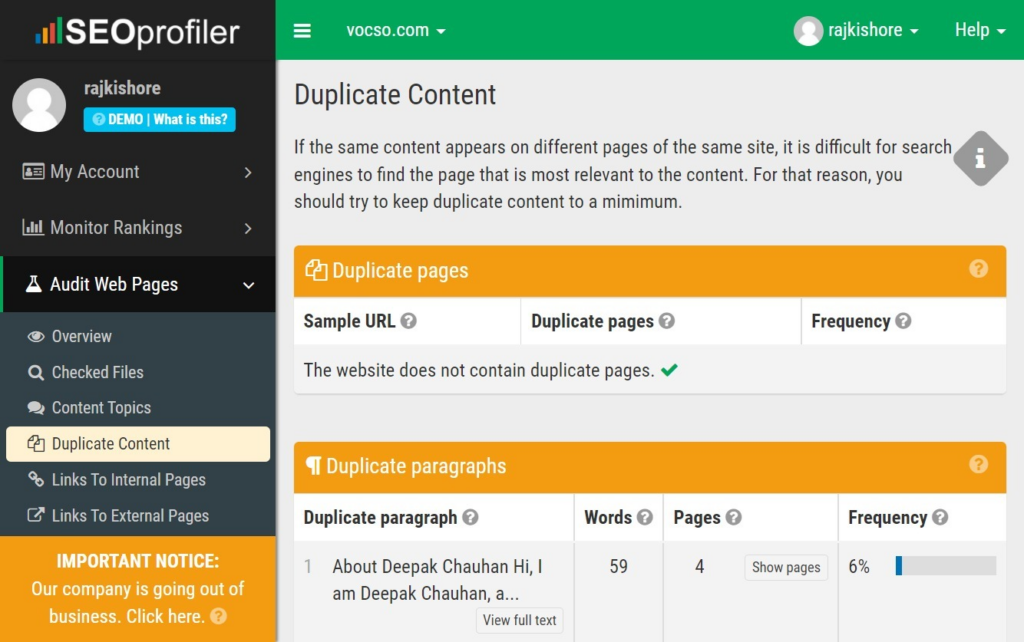 The algorithm looks for thousands of potential issues that may hinder your search engine ranking.
To find out what pages are responsible for the issues, visit the report page and filter the information to see what errors there are on your site. If you need more info about a certain error, click on Details.
Basically, there are several types of errors highlighted with colors:
Errors (in red).
These are issues that may undermine your SERP progress. The list includes all kinds of server errors, duplicate or empty titles, broken links, timeouts, etc.

Warnings (in orange).
These may not make your page rank lower, but resolving the issues listed under the orange color will definitely help you jump higher. This list includes little to no text content, meta description issues, blocked or not-allowed bots, HTTP & HTTPS issues, duplicate pages, title issues (too short, too long, etc.), and many more.

Notices (in blue).
These aren't too important, but the service wants your website to be perfect. So, if you've fixed all the issues and worked with all the warnings, consider fixing these as well. On the list, there are wasted anchor texts, H1 tag problems, redirect issues, upper-case and canonical URLs, etc.

Misspellings (in pink).
SEOprofiler cares about the quality of your content. So, you can see a list of misspellings on all the pages of your website. Multiple languages and dictionaries are available. You can choose between 2 dictionaries.
Fixing issues may take a while, but the tool offers a step-by-step guide on each error. Just click on Details and see the breakdown. Follow the steps suggested by the service to adjust your damage control and improve it.
Do audits regularly to avoid having to deal with dozens of thousands of issues at once.
Competitor Research with SEO Profiler
SEOprofiler doesn't have an extensive competitor analysis tool. However, there's a competitor traffic analysis tool you can use to get an in-depth look at how competitors' pages are doing. Thus, you can learn about their strategies and what types of content work the best for the target audience that you share with them.
Here's what you can find out by using this tool:
How many users visit the pages of your competitors overall
Where the most traffic comes from: paid ads, references on other websites, or search engine results
Whether people visit their websites through social media, etc.
To access the tool, go to SEOprofiler > Your project > Spy on competitor stats > Overview. Add your competitors and see the total visits, time on site, pageviews, and bounce rate.
By compiling reports for each competitor and comparing them, you may find out the key to their success. They may use a similar strategy to get people's attention, promote on certain websites where you're not, and more.
Traffic analysis should be an important step in your competitor research.
If you need more than traffic analysis, SE Ranking Competitive Research will come in handy. The tool offers you deep insight into the status of your competitors, their SEO and backlink strategies, successes and failures, references that work the best, their organic competition, organic and paid traffic data, and more.
All that in easy-to-understand graphic summaries which you can expand to get additional data about the competition. What content are they focusing on? What keywords are they using? Where are there gaps in their strategies and how can you fill them? The answers to these questions are crucial, and SE Ranking, as an addition or an alternative to SEOprofiler, should help you find those answers.
SEOprofiler Backlink Checker
With SEOprofiler, you can check the backlink portfolio of any web source. By default, you see the specifications of your own profile. Here's what you'll see on the screen:
The number of unique links referring to your pages
Total backlinks to the homepage
Dofollow and Nofollow ratio
Link Influence Score – the higher, the better. This is a metric that analyzes the quantity and quality of your backlinks and calculates how influential your portfolio is in terms of website value.
You can filter the links and sort them conveniently. At first, the filters may be too difficult to understand, but as you get used to them, you'll have an easy way to see certain links first. Besides, there's a small link under the filters that leads to the company's guide on getting high-quality backlinks whenever you want to improve your profile.
Of course, the SEOprofiler backlink check can also detect some unnatural links that may put you at risk of being penalized by Google or other search engines. You can use the Link Disinfection tool to gather all those suspicious links into a list you can use later to disavow bad mentions or contact webmasters to discuss deleting links to your pages.
All the information you find about your own website applies to competitor backlink research. Check their profiles to see where they get backlinks, where those links work the best, and whether you also have a reference on those referring sites.
If not, then you have outreach ideas there for the next link-building campaign.
Although the tool itself will give you insight into the quality of backlinks in your competitor's profile or your own, the database scale could be better. As a SEOprofiler alternative, you can use the SE Ranking Backlink Checker.
UPD: As of the 26th of April, SEOprofiler is closed. But don't be discouraged, you can find many high-quality alternatives by reading reviews on our website.
Visit website