Whether you are striving to benefit your own SEO growth or developing someone else's brand, the accurate and efficient measurement of your online efforts is critical. Google rankings for particular keywords can vary, resulting from many signals like location, previous search history, and time of the day. Plus, manual monitoring of ranking for dozens/hundreds of various keywords is challenging and time-consuming.
That's why a robust rank tracker is indispensable, and Wincher is definitely among the best SERP ranking tools on the market. Due to an intuitive and simple-to-use interface and an advanced toolkit, every newbie and proficient SEO professional will be able to solve all their rank-tracking issues consistently and perform at a high level.
This Wincher review 2023 covers everything business owners and agencies should know about the platform , from its perks and cons to pricing and functionality. Let's figure this out in detail!
Pros & Cons
There is no utterly perfect tool. To know what to expect from the rank-tracking workflow, it is worth considering the platform's advantages and downsides. Our Wincher review honestly evaluates every single aspect to give users comprehensive feedback.
Pros
Up-to-date data
Highly accurate Rank Tracker tool
Simplicity of usage and integration
Flexible pricing policy
Daily ranking updates
Instant alerts
Some free resources and features available
Responsive and dedicated support
Cons
Overly basic Keyword Research toolbox
Limited-function WordPress plugin
On-demand manual data update
Overview
Wincher is an excellent SEO solution for keyword research and tracking ranking position modifications across search engines. It helps users keep abreast of how well pages rank for specific targeted keywords on Google SERPs. Additionally, it can give you a daily detailed overview of your current keyword rank. By monitoring local keyword rankings, you will be able to determine your gaps and empower your local SEO strategy to become a leader in your industry.
The platform also boasts a competitor tracking toolset, on-page SEO tools, new keyword suggestions, lists of related keywords, keyword rankings reporting for particular pages, etc. All these features aid in engaging the target audience, staying ahead of the competition, and increasing revenue. Another Wincher draw is that Rank Tracker can be effortlessly integrated with WordPress. Thus, users can explore keyword performance directly on the WP site without bouncing between tabs.
Like other Wincher reviews, we ensure that affordable pricing, a straightforward interface, and powerful rank tracking opportunities, specifically for targeted keywords, make the app stand out from the rest. Newbie webmasters, experienced bloggers, site owners, and content marketing experts will doubtless breathe new life into their businesses by leveraging the included functions.
Pricing & Plans
Pricing is a vital part of the Wincher review since the final decision primarily depends on it. Unlike other platforms with fixed limited plans, Wincher offers an elastic pricing system to cater to different SEO efforts and budgets. Based on the number of sites to manage, keywords to track, as well as the suite of functions, users can opt for Starter, Business, and Enterprise packages, correspondingly priced at $39, $74, and $289 a month. 
 Paying for a year in advance gets you 2 months of free usage. Plus, to make sure the software meets your SEO needs, you can test its complete tool variety in your workflow for 14 days free of charge.
Features
Rank Tracker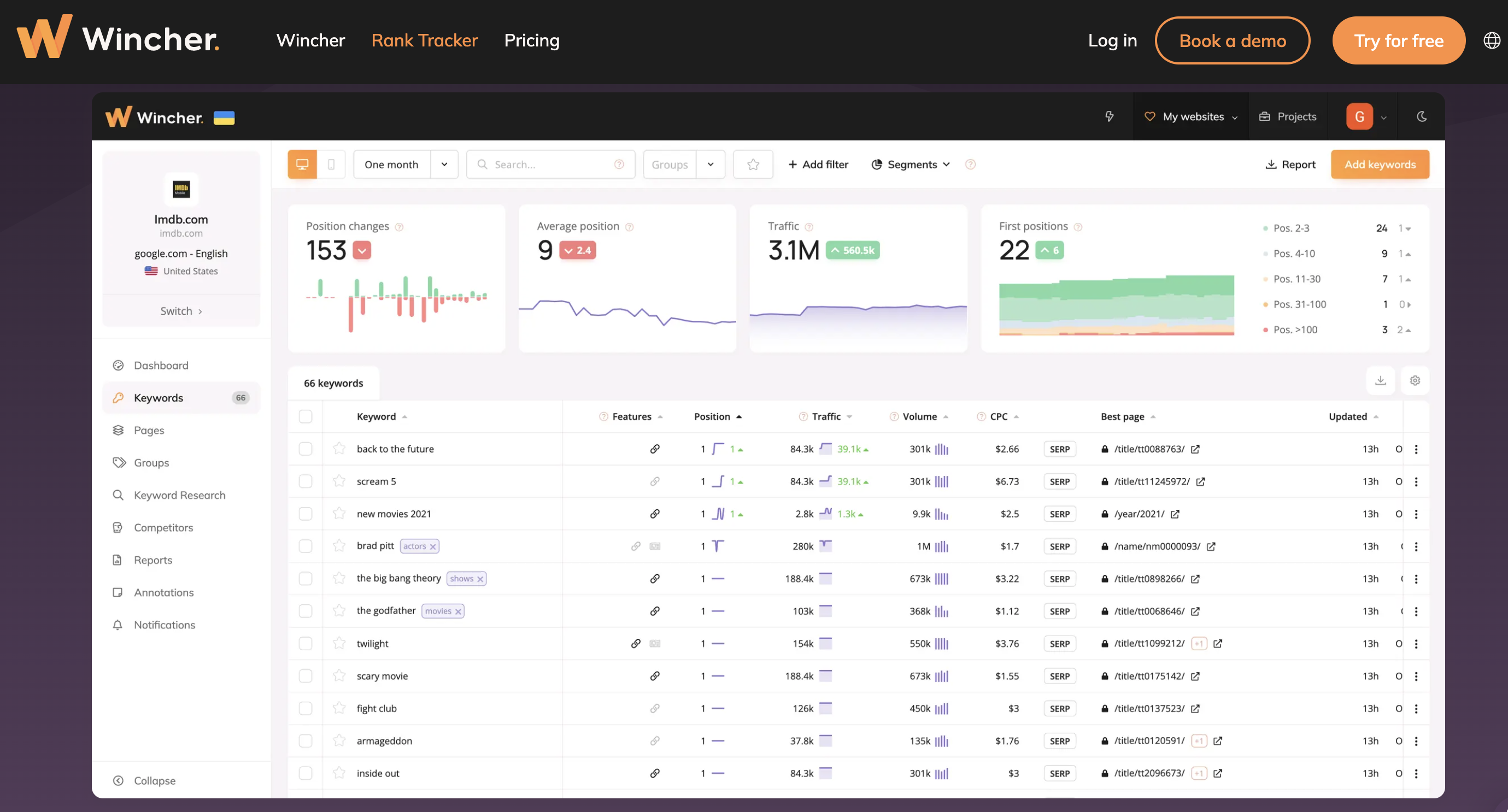 In all of the Wincher reviews , Rank Tracker tops the list of precious tools, and this is not surprising. The tool makes keeping track of keyword rankings seamless, accurate, and trouble-free . All it takes to start the tracing process is adding the requisite keywords.
Moreover, the platform enables detecting particular keywords that users already rank for. Attaching other new key phrases is possible in manual mode. As soon as you add the needed keywords, the instrument showcases the site's ranking separately for each. You can also get insights into daily position fluctuations and the average position. To have a clear vision of how different Rank Tracker instruments optimize sites and pages for towering spots in the SERPs, you must thoroughly learn their operational potentials separately.
Daily Ranking
When it comes to rank-tracking highlights, Daily Ranking is the first feature to review Wincher. Compared to other SEO tools, users can enjoy search engine position data updates every day. The same refers to your competitors' ranking dynamics so you can always be a step ahead in terms of SEO . This function is specifically helpful for discovering sudden drops in rankings and taking quick measures to fix them.
Still, since Google SERPs are ever-changing, sometimes daily ranking updates appear insufficient. In other words, some pages yearn for the freshest ranking spots here and now. But no worries. Wincher allows for refreshing positions manually on demand. For instance, if you have just published a blog post on a page/site and can't wait 24 hours for the automated ranking updating for specific keywords, instant manual tracking is available. On top of that, not only can you boost rankings for newly posted content, but optimize overall existing pages in this mode.
Local Rank Tracking
Most Wincher reviews accent the Local Rank Tracking toolbox for a reason. Though initially, the platform was missing this option, it is currently one of its strongest points. Covering over 100k locations across 180 countries, any business, from a tiny blog to a large enterprise, will grow online in specific areas. 
When site/ blog owners target different GEOs, tracking performance solely on a national level is ineffective. So marketers need to explore how they are doing within the local search engine environment. By narrowing down ranking results, they will get extremely accurate insights. Whatever region you select from the40k cities , Wincher will assist you in being aware of the slightest ranking modifications so you can act accordingly.
Competitor Tracking
Another vital component of the Wincher review is analyzing your SEO opportunities against the competition. The Competitor Tracking functionality enables you to watch out for rival keyword campaigns in your niche. By adding a specific competitor for audit, the tool will fetch their traffic and keywords with a deep in-graph overviewing against your performance as well as Google search results. Then, you will be able to figure out what aspects of their streamlined pages are better than yours. Just click on the particular keywords to detect the exact link leading to the competitive page where those key phrases came from. That way, developing more powerful tactics for each keyword to outrank them is easy.
With competitor analysis, you may also attain insightful info about competitors' traffic-driving keywords and average ranking position over time. The exciting feature generates hassle-free custom reports based on the necessary parameters, which can be downloaded in PDF format. More importantly, it is possible to schedule them without repeatedly going through the operation every single time.
Keyword Research
While plenty of SEO specialists interpret this software exclusively as a rank tracker, our review of Wincher prioritizes its keyword research capabilities . Despite it not being an accomplished toolkit like SE Ranking, it still offers invaluable keyword suggestions to create top-quality content for high rankings. Optimize your site based on the following core metrics:
Position – reveals your site placement across search results.
Volumes – defines the monthly number of search queries for specific keywords.
Traffic – showcases the rough amount of clicks per month.
CPC – calculates the estimated cost to pay a search engine every time people click on your ad.
Competition – informs you about the competition level concerning particular keyword campaigns.
In addition, users can choose whatever keyword they are interested in to assess its ranking tendency over time. The Related keywords function discloses a list of appropriate keywords resulting from the seed keyword, so you may select the most suitable one to create new content around or re optimize existing posts. To reach incredibly detailed insights into keywords you are already ranking for, integrate a Google Search Console account to Wincher and supercharge those keywords even more to rank higher.
Keyword Grouping
Among all of the Wincher reviews, the Keyword Grouping tool stands out as a critical player. What does this feature encompass? It helps create keyword clusters, as they are significant for business promotion in view of reach, popularity, relevance, and other metrics. Such analysis carefully detects non-performing key wordings and pages and implements correct tactics to turn things in your favor. 
Throughout the grouping process, SEO individuals and marketing agencies can sort keywords to track page ranks in different areas effortlessly. Another practical approach is to gather all high-priority key phrases with considerable impact on your ranking dynamics in a single group. Thus, it might alleviate the evaluation and auditing of the overall SEO efforts, with aggregated group-level data always at hand.
Keep in mind that Wincher's dashboard also identifies keyword cannibalization. That is to say, it showcases all available pages accidentally optimized for the same keyword, which can provoke internal competition across Google organic search results. Look through the Best Page column to discover the ranks-leading page in SERPs and see whether it shares identical keywords to rank for with other pages.
Other Features
The above mentioned toolset is decisive for achieving SEO goals and increasing target audience, traffic, and online presence. However, while getting familiar with the platform close-up, you can come across many other bright features to scale the business. So to make your life easier, we have collected that red-hot suite of functions at our Wincher review:
Automated Alerts on Ranking Changes. This feature notifies users of any movement within their ranking. If you worry about skipping viable info, rest assured that every meaningful action to take won't go unnoticed. The platform alerts even when you log out and send emails, including alerts about a keyword breaking into the top 10. If you think these notifications relate only to your ranking dynamics, this is not the case. Users also get alerts on the competition's substantial SEO ups and downs to get an edge over them.
Multiple User Management. A few users may concurrently access one account and manage SEO tasks. What is more attractive, you don't need to pay for every new marketing specialist, which makes the platform highly appealing to agencies. Each SEO team member may experience seamless performance analysis and take real-time actions with no limits.
Data Importing and Exporting. Besides profound Wincher review of keyword insights on various metrics, you can import related reports utilizing CSV or TXT files. It is also feasible to export reports in CSV and PDF formats and send them to any email address weekly or monthly . Add a custom logo and generate white-label reports while running the agency or solo SEO services.
Annotations. With this feature, you can create notes within your account as reminders to make important SEO actions. Apart from adding annotations to the site in general, it is possible to attach them to a particular group of keywords for proper tracing modifications .
On-Page SEO Checker

Aside from the rank-tracking functionalities and keyword research opportunities, a review about Wincher can't be complete without examining the On-Page SEO Checker. Its toolbox determines how powerful pages are streamlined for particular keywords. By giving a score to the site's overall SEO health and providing actionable step-by-step guidelines, the tool will swiftly and effectively assist you in fixing issues hindering your top-ranking success.
The tool understands the importance of high SERPs to increase traffic, and keeps track of potentially winning keywords for your online business advancement. This involves finding high-volume key phrases with low competition.
So how do site owners get the most out of its on-page SEO checking capabilities? They should start by pointing out their URL and the specific keyword to optimize the page for. Then they will immediately acquire a report with insightful data on how to fix the most crucial issues according to present-day technical suggestions.
With potent SEO checker tools, reaching an impressive ranking in the SERPs is not a blind game with hit-or-miss tactics anymore. On the contrary, it is a robust, proven strategy for smooth and fruitful business scaling, and most Wincher reviews claim the same.
WordPress Plugin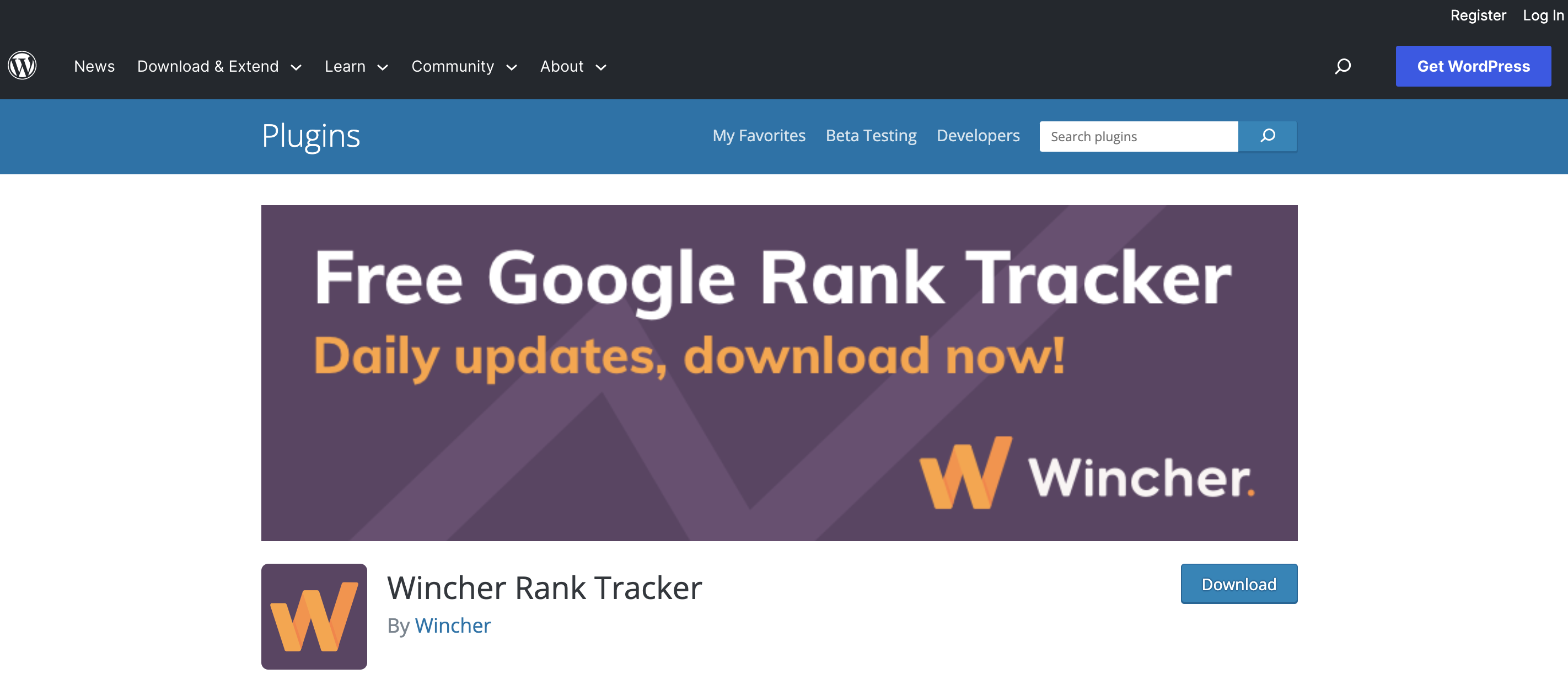 Finally, one of the most striking features of our Wincher review is the WordPress plugin. But what makes it so adored by bloggers and content marketers? Everything is actually quite simple. The plugin connects your Wincher dashboard to WordPress, facilitating the monitoring of keywords you'd like to rank for within WP. That way, SEOs don't have to bounce between tabs, and they get the ultimate picture of the ranks for various key wordings while uploading new content. 
Wincher cooperation with the WordPress plugin enables a lightning-fast and straightforward overhaul of the metrics below:
All the added keywords to the dashboard.
Significant niche competitors.
Ranking movements for all key phrases – each keyword is highlighted with a distinct color for better info consumption.
Comprehensive keyword table – comprises URL, ranking, search volume, etc.
The free Wicher version allows for the tracking of up to 10 keywords and obtaining referred key phrases to monitor and rank for. Meanwhile, a paid subscription comes with unlimited keywords to track and the ranking history for up to 5 years.
Conclusion
Covering all the necessary functionalities within the toolset for both marketing beginners and experienced SEO sharks, Wincher makes flawless value for money, with a starting price of $39, which is very affordable. Throughout our deep Wincher review, we have discovered impressive accuracy within every rank-tracking tool vital for digital promotion. Though the app includes simple keyword research features and slightly limited WP integration, it can still successfully develop your site, company, or brand from scratch.
An easy-to-utilize interface combined with reactive customer support will provide users with a smooth and effective SEO experience. The extra essentials of the Wincher review, like local ranking, multiple user management, on-demand data updates, annotations, automated alerts on ranking modifications, and data CSV and PDF exporting and importing, make the platform suitable for earning massive conversions. Don't waste a minute and test out Wincher's complete toolbox during a 14-day free trial.
And even if the platform gets the job done, you might lack some fancy features available with other Wincher alternatives. The best alternatives are SE Ranking, SEMRush, and AuthorityLabs.
Quick Answers Questions
What is Wincher?
Wincher is a feature-rich SEO tool for the accurate rank tracking of your and your competitors' pages and keywords. A Wincher review in terms of content means a solid analysis of how well posts/articles perform for all critical SEO metrics. The Rank Tracker and On-Page SEO Checker toolbox are easy-to-understand and -use for those learning the ropes and industry experts alike.
How to Use Wincher
As soon as you create an account, select the sites to keep track of, the type of device (mobile or desktop), and the location for the site's search rankings tracing. Then, put your keywords in the rank tracker. There are a few ways to do this: manual typing, through attaining Wincher suggestions, importing from GSC/CSV files or another site tracked by the app, and finding the hottest key phrases via the Keyword Research tool. Pick the best-fitting option and update rankings daily without any hassle.
What is Wincher Used for?
From whatever angle to review Wincher, its primary purpose remains invariable – in-depth rank tracking for on-page and on-site SEO enhancement.
How Much is Wincher?
According to Wincher review 2023, the pricing model, tailored to different SEO requirements and budget frameworks, supports three plans: Starter, Business, and Enterprise, with corresponding monthly prices of $39, $74, and $289. Compared to other Wincher alternatives, the cost is highly affordable so that even people with budget constraints can fully leverage the toolkit.