The US has the biggest economy in the world with the highest competition. To gain positions and thus traffic in this region, your product or service should be significantly better than others. It also applies to SEO – your website has to have superb backlinks, perfect technical optimization, and outstanding content. To achieve all of it you surely need to use an SEO tool, so let's compare 3 top SEO software in the United States – SE Ranking, SEMrush, and Ahrefs, to determine the leader that provides the best toolset to achieve organic search goals.
In this article, we'll be mainly focusing on 4 core SEO activities that specialists face the most:
Keyword rank tracking
Competitive research
Backlink analysis
Website audit
All SEO software providers have much more features than just those 4, but they are fundamentals. SEO software provides the best results for the US when it handles those core tasks well, so we are using them as a benchmark.
Besides functionality, we also compared pricing models to define the best value for the price, and online reviews to sustain our conclusions with social proof. Let's get started.
SE Ranking
This app provides basic and advanced tools for SEOs of any level. It covers any task SEOs and marketers are facing: creating a marketing strategy, analyzing competitors, link building, SERP checker, and more. Let's meet more closely with core features that help users conquer the higher organic positions.
Read the full SE Ranking review
SE Ranking keyword position tracker
Speaking of positions, let's start with the SEO ranking software for keywords positions. This module provides day-to-day SERP statistics by the keywords you've added, making it possible to see the slightest changes in rankings.
It's a fairly basic tool, but there are a lot of going on, let's overview each component.
Dashboard
On the first screen, you can instantly see how the site is performing. The key elements are:
Keywords distributions by positions
Average position
Estimated traffic (based on positions and keywords volume)
Visibility (based on positions)
Rich results by search queries
Percentage of keywords in top-10
Dynamics of the selected parameters
Detailed table
At a first sight, there are a lot of colors and elements, but once you figure them out you'll love them!
Keyword metrics
Most of the time you should focus on high-volume and low-competitive keywords. Those are exact metrics from SE Ranking integrated into this report to help you distinguish those priority keywords from others.
Day-to-date positions change
Here you can see the exact position your site has by each keyword and day. Besides that, green background means that keyword is within the top 10, gray background means new keywords and blue background means that keywords just reached the top 10.
Cannibalization signals
To track it, you should assign each keyword to the target URL in the keyword ranking tool beforehand, otherwise, SE Ranking wouldn't be able to know what is the right page for the keyword. This icon will be red if a different page ranks instead of your target one. The number near it means how many URLs have ranked by this search term. Neither of those things is good, so you should keep track of it.
Keyword groups
Most of the time there are several keywords associated with a page, so it makes sense to keep those organized in clusters. With the "Groups" feature, you can combine keywords to see how the whole cluster is performing and for easier navigation.
Other features
We've seen the result, let's lee the steps before it.
First of all, add a search engine you want to monitor positions. SE Ranking's capabilities are far beyond regular SERP crawling:
Select a search engine
Sometimes SEOs forget there are other search engines than Google. For example, Microsoft's Bing has almost 7% US traffic share, and it keeps gaining. Might not seem like a lot, but consider the fact that this data is normalized across all websites. In reality, it very much depends on the niche – sometimes Bing organic traffic can be higher than Google.

That's why it's important to keep an eye not only on Google SERPs but on other search engines too.
Select a country
Country selection is a must when speaking of SEO tools for the US. Not a secret that search results drastically differ depending on the country. Having an option to select the United States as a search region ensures that you will actually monitor positions in the US, not worldwide.
Select a city
If you have a local business, most likely you want to track performance by a specific city. With SE Ranking you have this opportunity.
Select a language
Similar to country, interface language also impacts the search results. If you want to target a specific audience, you can select a different language than English
Local SERP
Regarding local SEO not only you should keep track of your local pack presence, but also how well you perform there. To do it, select this toggle to enable local pack position tracking.
Ads positions
Last but not least, PPC. Many SEOs use paid search for tests or as an additional traffic channel, so it's a nice thing to track paid positions in the same tool.
SE Ranking competitive research
To beat the competition, you must know your competitors' strategies, take the best from them and add improvements. With SE Ranking competitive research you are able to find and examine your top rivals.
Domain and page trust
SE Ranking's aggregated metric that evaluates pages and sites from 0 to 100 based on the quality and quantity of backlinks.
Organic search performance
Search results keywords count estimated traffic and its cost, based on keywords volume, CPC, and site's positions. A fast yet precise way to evaluate overall performance.
Paid traffic
Similar to organic search metrics, but based on paid search results.
Backlinks profile
Provides more details on backlinks, works best compared to a Domain Trust – is DT a result of backlinks quality or quantity?
GEOs
Your target competitors should have the majority of organic search coming from the United States, otherwise, they are not your direct competitors.
Dynamics
Those graphs show you what time did it take for your competitor to reach the results it's having at the moment. This insight is priceless when conducting a marketing strategy, estimating results, and planning resources.
Perhaps the most important question for competitor analysis is "what are the best-performing pages?". There is an answer for it in the "Top pages" report.
There is never just one competitor. To find others, all you need is to scroll a bit to the "Organic Competitors" section. This report is based on common keywords – search queries, which results contain several competing domains.
SE Ranking backlink analytics
The main part is competitor analysis is backlink profile research: how many of them, what types, what anchors, domain quality, etc.
To start, go to the "Backlink Checker" module and request a backlink report for a domain.
Unfortunately, this report is based on 30k backlinks, so for websites with vast backlink profile, there will be big data loss.
The dashboard features familiar DT and PT, but also have many new parameters:
Distribution of referring domains by destinations
Distribution of backlinks by destinations
Nofollow ratio
Domain types
The next few sections are providing information on links dynamics and anchor texts.
This data will be enough to understand the general off-page strategy of competitors, but not enough to dive deep into it.
The unique part is the distribution map. The interesting thing is that it can display referring domains' location based on their IP, not only TLD.
SE Ranking website audit
Traditionally, the first screen can tell you how your site is going technical-wise. It includes not only well-known issues like non-200 pages but also parameters like site speed and issues with resources (JS, CSS, etc.)
The most distinctive feature of the website audit tool is the amazing issues report.
All issues are grouped by priority – from critical errors to minor notices.
Issues are grouped by categories
You can access affected pages right there
You have the instruction on how to fix it
This SEO monitoring software makes technical optimization much easier, no matter whether you do it or someone else.
Also, there is an SEO report generator that generates an audit report that can be sent to a client if you working in an agency, or to a developer/content manager if you are delegating fixing technical and content issues.
Wrap-up: How good is SE Ranking?
Pros
Agile rank tracking tool, coherent website audit
Cons
Strict backlinks report limits
It provides you with all you need to handle any SEO task. It's primarily focused on managing SEO projects: tracking positions, monitoring backlinks, watching technical optimization, etc. The competitive report is pretty basic and is enough for most cases since you most likely won't spend too much time spying on your competitors on daily basis. The only big flaw is 30K limitations on backlinks report per domain, making it tough to find donors.
Overall, SE Ranking is a truly all-in-one SEO platform.
SEMrush
SEMrush is one of the oldest SEO tools, founded in 2008. It states that you can "do SEO, content marketing, competitor research, PPC and social media marketing from just one platform". Let's check this statement by testing its tools.
SEMrush keyword position tracker
SEMrush website ranking tool does not provide day-by-day position tracking, but 2 dates comprising instead. It's enough to see the snapshot of performance, but you cannot see the insights from it. For example, if one page goes in and out of SERP, it can signal that there is some problem with it, but you won't be able to identify it by comparing 2 dates since the result can be the same.
Search settings aren't great, but decent. You have an option to choose between Google and Baidu, but not Bing, DuckDuckGo, or Yahoo. Location-wise you can choose country or city, depending on the business you are running. Another good thing for local businesses is the possibility to check local map results by business name.
SEMrush competitive research
There is a lot going on here, and it's the main SEMrush strength – the comprehensive competitive research tool.
Authority Score – metric similar to SE Ranking's Domain Trust and Ahrefs' DR. Evaluates website's quality based on backlinks profile.
Organic search displays traffic dynamics and distribution by countries, nothing fancy here.
Organic keywords report is divided into position ranges to analyze how the website performs without considering keywords' volume.
Keywords by intent – unique keyword tool for the US by SEMrush. Each keyword has it's own intention – informative, commercial, navigational, etc. Knowing it, SEMrush is able to determine the ratio of each traffic type so you could understand competitors' traffic better.
Branded traffic – another unique feature that is similar to keywords' intention. Displays how much branded traffic your competitor is receiving.
But there are more insights available in the Traffic Analytics report.
This is outstanding data on users, bringing competitive analysis to a new level. You are able to learn more about competitors' users: their age, their path, and the domains they were visiting besides competing domains. This information is hard to overestimate since it basically tells who is your target audience, making it easier not only to create an SEO plan but overall marketing strategy and product vision.
SEMrush backlink analytics
The backlinks summary is pretty basic, but at the same time provides some extra useful data for backlink profile analysis. Let's overview them one by one:
Referring domains and backlinks accumulated graph displays a historical snapshots of backlink profile.
New and lost domains report may give you hints on how many backlinks per month you should build to catch up your rival
Referring domains categories – great report that estimates the donors' topics. Since relevance is one of the most important backlink characteristics, having this information for analyzing the backlink profile is super useful.
Anchor cloud – a fast visual representation of the most popular anchor terms.
Breakdown by AS – actually, not so useful report, because any domain will have the same correlation.
Backlink types and attributes – a default distribution of links across types and link attributes
Domains by countries – TLD is not useful, since most popular domain zones aren't attached to any country (.com, .org, .net, etc.). But the Top Countries is much more representative since it is based on referring domain IPs. Yet the SE Ranking's map is a more convenient way of representing distribution by countries.
Domains, IPs, and Subnets – a funnel with visualization of the actual backlink profile, since not all domains are treated as unique domains. For example, links from multiple subdomains from a single domain (IP) are far less valuable than links from different domains with unique IPs.
Last but not least, domains with similar links. For Etsy, results are not too representative, but if you work in a specific niche, this report may find more competitors than just the organic search method.
Even though the summary is great, the detailed report is not so. It is good, doesn't have strict limits on backlinks, but still cannot show the whole picture. For example, the Authority Score metric is not enough to determine the domain's quality.
Therefore using filters and export you are able to customize results the way you need to not only perform a backlink profile analysis but also find good domains to receive a backlink from.
SEMrush website audit
Meh – here is the word describing it. It works and can detect issues, but the dashboard provides very little useful information besides health and issues count.
The detailed report is also not so good. You have the instructions and priority, but to see affected pages you need to leave the page – not only it's annoying going back and forward, but it also slows you down because every time you do so you wait till it loads.
What's the verdict on SEMrush?
Pros
Outstanding competitive analysis tools, good keywords database
Cons
Poor website audit and position tracking
SEMrush actually can do everything SEO-wise, but not everything is great about it. It actually has amazing competitive research that provides unique insight on traffic and users, but tools for routine tasks like technical optimization, linkbuilding, and position tracking aren't too good. This leads us to the conclusion that SEMrush is an amazing tool for competitor analysis, but weak in terms of everyday all-in-one SEO software.
Ahrefs
The name states for itself – "a href" is an HTML tag for a link, no surprise Ahrefs mainly focuses on backlinks. Even though backlinks are the core of Ahrefs, it provides much more than that. Let's meet its modules more closely.
Ahrefs keyword position tracker
Rank tracker in Ahrefs does its purpose: it shows the ranks. But when it comes to additional functionality, Ahrefs lacks it. For example, to see daily-by-day positions, you need to open each keyword; to check for keyword cannibalization you need to manually validate if the SERP URL is the correct one.
Regarding settings, it also has fewer opportunities: you can select country, city, and language. You have no option to select device type or search engine – Ahrefs is a Google search optimization tool only.
Ahrefs competitive research
Ahrefs Site Explorer displays the same metrics you've seen earlier: traffic, keywords, traffic cost, and backlinks. The difference in naming: DR – domain rating – means a relative 0-100 score that evaluates the domain's quality by backlinks; UR – URL rating – similar metric for the page.
Ahrefs is trying to move over to Overview 2.0 for a quite long time, but the legacy version is still primary, meaning users don't want to change it. We'll overview the old version because seems like it won't be retired any time soon.
The only unique feature about it is an organic position heatmap. It actually brings to a SEO analysis a lot more than the total amount of keywords, since it's visually representing the domain's trust: if the majority of keywords have high positions, it means that the domain has great authority.
The top pages report displays best pages by estimated traffic, traffic value or keyword count plus the top keyword and it's GEO.
The Competing Domains report will help you swiftly find competing domains that rank by the same keywords as the target domain. An interesting feature is the common keywords percentage graph – it's actually more representative than total common keywords, because domains with a high percentage of common keywords are more relevant to the target domain. Think of Wikipedia – it surely has a lot of common keywords with many sites, but none of them can be considered competitors since the percentage of the common keywords is extremely small.
Ahrefs backlink analytics
The backlink summary is a main type of domain overview, once again mentioning that the Ahrefs primarily focused on backlinks. Besides custom DR and UR metrics, it features another AR (Ahrefs rank) parameter. It works similarly to the retired Alexa rank – the #1 domain is the best and domains that rank lower have less strong backlink profiles.
Other parameters we've seen earlier: referring domains and links dynamics, new and lost links, link types and anchors distribution. All of it is done in a minimalistic way that works fine for graphs, but not for distribution by link types and attributes report – humans are not computers, and seeing the same report for several domains in a row makes it difficult to perceive it.
Anchors report provides you with flexible toolset to sort and filter anchors by referring pages, domains, DR, etc., making analysing the anchor strategy a 2-minute task. For example, if the domain was spammed by bad anchor phrases, you can filter them out by date or DR so they will not generate noise, making the results cleaner.
But the most distinct Ahrefs feature is the Backlink profile report because it delivers the information on backlinks in the most convenient way. It's very intuitive and you can easily answer following questions for each backlink without even visiting the referring page:
What type is this backlink: text, image, iframe, redirect, etc.?
What is the anchor?
Is it a unique link for the domain?
What is referring domain quality?
What is the context of a link?
What is the topic, type and language of a referring page?
Also, there are filters to help you narrow down your search to discover the best backlinks you can include to your off-page strategy.
Ahrefs website audit
Similar to previous SEO checker tools, this report features the overall score of technical optimization, issues distribution by priority, and instructions on how to fix them. It's good enough to understand the technical optimization of a site as a whole, but working on fixing issues from it is difficult since it's not divided into categories and to see affected URLs you need to leave the page.
But there is another dashboard that is way better than issues report – a Page explorer.
This report is more complicated, but also has more capabilities – if you are an experienced SEO, you'll love it. The magic of this report is that it's very agile: not only you can filter pages by multiple criteria, but also add and hide columns. Using this toolset you are able to create any report you need.
Didn't find the issue you need? Create your own! You can set custom conditions that will be checked when crawling so you won't miss anything you consider is important. You can stack multiple conditions with AND or OR logic to tweak website audit report personally for you.
What's the verdict on Ahrefs?
Pros
Great competing domain analytic tools, amazing backlinks report, flexible website audit reports
Cons
Poor rank tracker functionality, weak website audit for beginners, requires time to get used to
Ahrefs is descent all-around SEO tool, but it excels when it comes to backlink analysis. And not just analysis, but an actual link-building process when you need to find great domains to get links from.
Also, adjustable website audit reports are promising but require a lot of skill to set them up correctly, while standard reports aren't well-thought.
SE Ranking vs SEMrush vs Ahrefs: Which is best for the US
Now let's compare those tools side-by-side. Each of them has its own strength and weaknesses, but what is the best overall? Let's find this out.
Best keyword rank tracker
Hands down, SE Ranking has the best SEO tracking tool for rankings. Not only you can precisely adjust tracking settings, but also able to see the day-by-day change, group and tag keywords, keep track of cannibalization and more.
The second place takes SEMrush. Its report is similar to Ahrefs, but it provides more functionality like cannibalization reports, visibility by countries, and more precise filters.
The final results are:
SE Ranking
SEMrush
Ahrefs
Best SEO competitor analysis tool
SEMrush has the best features, but it's not enough. To be the best software for SEO, the application should back up its capabilities with vast and accurate data. To compare keywords databases, we've examined 2 random domains with the US as a primary traffic region. Let's see the results of this experiment.
Spreadshirt.com
Semrush – 570K
Ahrefs – 755K
SE Ranking – 888K
Wayfair.com
Semrush – 5.8M
Ahrefs – 5.6M
SE Ranking – 9.2M
​​From this research, we can clearly state that SE Ranking has the biggest US keywords database. This means that SE Ranking is getting ahead of Ahrefs regarding competitive analysis since they are pretty close feature-wise. Yet, the quantity cannot beat the SEMrush quality. Data that it's providing might be not the broadest, but the most precise, making it the #1 in competitive analysis.
So, the rankings in the competitive analysis nomination are following:
SEMrush
SE Ranking
Ahrefs
The best backlink analytics tool
For now, Ahrefs is leading in terms of functionality and SE Ranking takes the last place due to 30K limitations, but let's compare database sizes to see if it changes the situation. To do it, we'll check another 2 random websites to compare their statistics in different apps.
Lampsusa.com
Semrush domains = 2.5K (backlinks = 35.3K)
Ahrefs domains = 1.91K (backlinks = 18.9K)
SE Ranking domains = 3.4K (backlinks = 28.4K)
Famousfootwear.com
Semrush – 15.3K domains, 2.7M backlinks
Ahrefs – 14.5K domains, 516K backlinks
SE Ranking – 18.3K domains, 523.7K backlinks
There is no significant difference in database size, just minor deviations, so the ranks stay the same:
Ahrefs
SEMrush
SE Ranking
The best website audit tool
Let's refresh the interfaces in the memory to figure out what is the best SEO audit tool.
SE Ranking
SEMrush
Ahrefs
UI-wise, SE Ranking is a winner because it shows not only crawl errors but also issues with resources and page speed. Regarding coverage, all services detect a similar amount of issues (errors-warning-notices):
The last but not least, using SE Ranking you can access both instructions and affected URLs in one place, which makes technical optimization management way easier.
Ahrefs outshines SEMrush because of its custom report opportunity, otherwise, they are pretty similar.
The ranks for the website audit category:
SE Ranking
Ahrefs
SEMrush
Pricing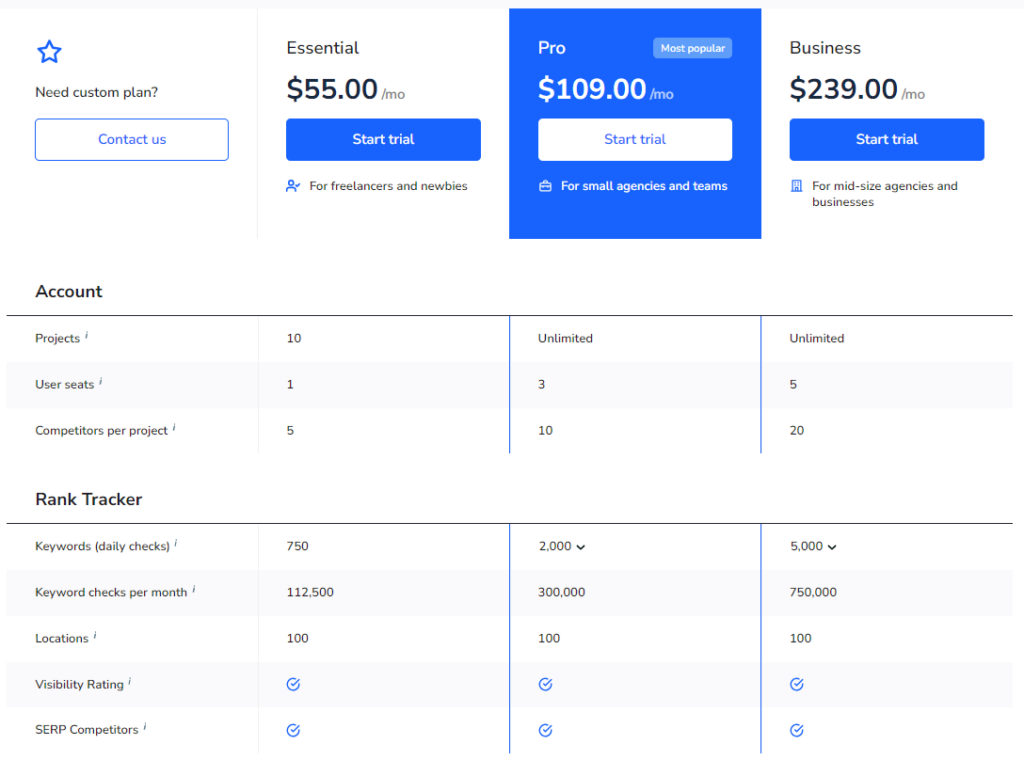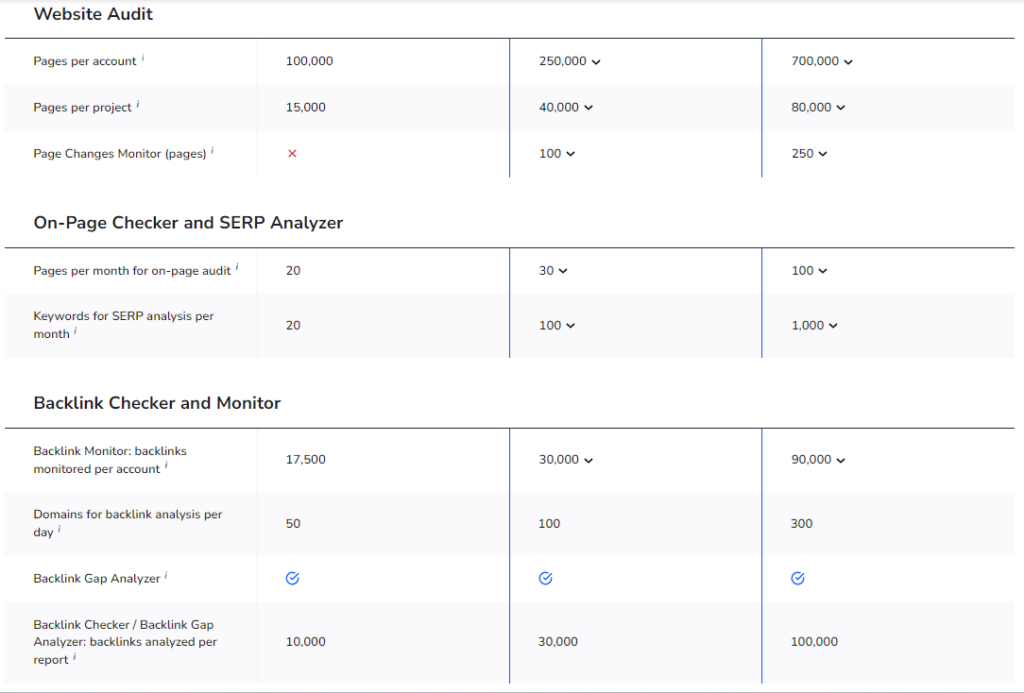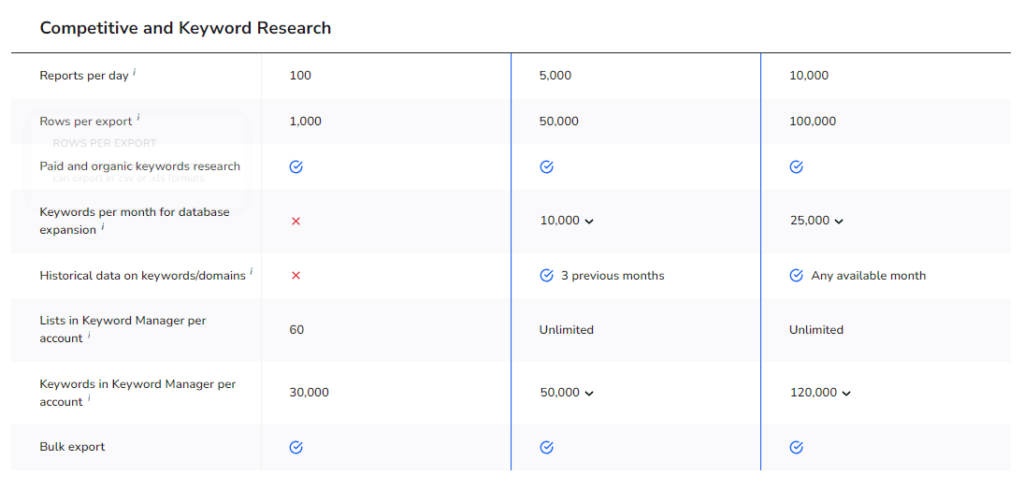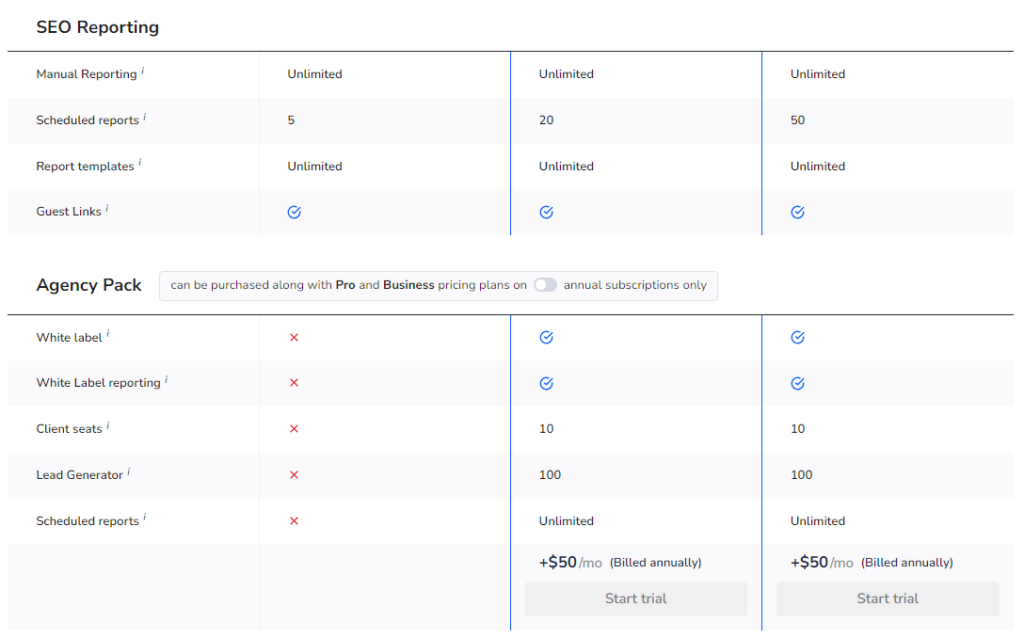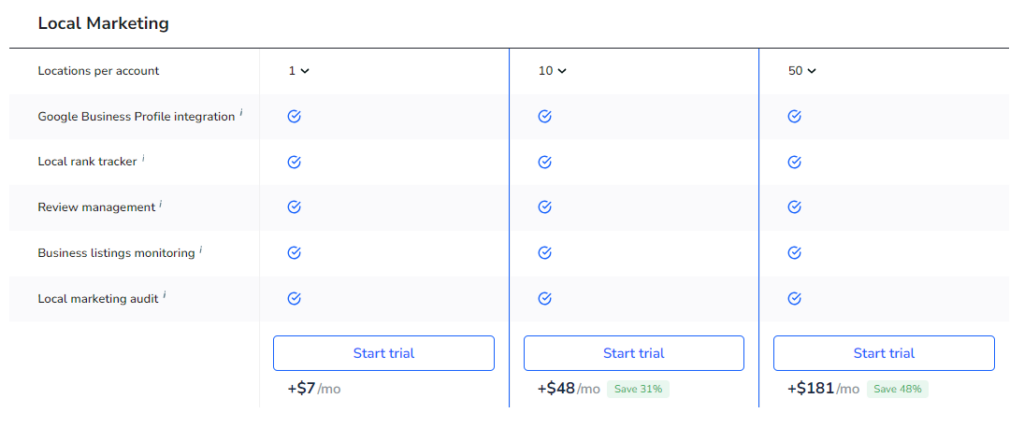 Both Ahrefs and SEMrush have free plans, but their limitations are okay just for demo purposes only. SE Ranking does not have a free plan, but a demo account instead – it's basically the same.
Minimum paid account prices:
SE Ranking: $55
Ahrefs: $99
SEMrush: $119.95
In this regard, it's fair to state that SE Ranking is the best SEO software for small business because it costs 3 times less than the nearest competitor while providing similar features.
Yet comparing pricing without considering limits is not representative, so let's calculate the price per core unit for a basic plan:
Rank tracker (cost per tracked keyword)

SE Ranking: $0.125
Ahrefs: $0.132
SEMrush: $0.240

Competitive research (cost per domain check)

SEMrush: $0.001
SE Ranking: $0.010
Ahrefs: $0.990

Website audit (cost per page)

Ahrefs: $0.0039
SE Ranking: $0.0045
SEMrush: $0.060
Considering average position by each category, here are the final rankings in terms of value:
SE Ranking
SEMrush
Ahrefs
Ahrefs and SEMrush have a similar average position, but Ahrefs took the last place because the difference in cost per domain check is unreasonably high compared to other services and units.
Online reputation
We could write anything we wanted, but it would be a subjective opinion. Besides product tours, experiments and calculations we back up our conclusions with social reviews to make them fairer.
G2.com:
SE Ranking: 4.8 (1 003 reviews)
SEMrush: 4.6 (1 549 reviews)
Ahrefs: 4.6 (405 reviews)
GetApp:
SE Ranking: 4.8 (180 reviews)
SEMrush: 4.7 (1 800 reviews)
Ahrefs: 4.7 (350 reviews)
The two most popular app review platforms show 100% identical results demonstrating mutual correctness: SE Ranking is rated with a higher average score while the other 2 services have parity in the score, but SEMrush has much more reviews count, placing it ahead of Ahrefs. The final rankings in this category are the following:
SE Ranking
SEMrush
Ahrefs
Additional features
We've talked about core functionality, let's mention other tools that could be a decision-making factor for some individuals.
SE Ranking: On-page SEO Audit and ​
We've talked a lot about keywords, positions, backlinks, and technical optimization, but what about content? This tool got you covered.
To get started, paste the URL you want to improve and the main/secondary keywords for these pages. Once it's done, SE Ranking collects the SERP and compares your page with competitor URLs in the top 10. Common characteristics of best-performing pages will be compared to your metrics, and the result of it are tasks that you need to complete in order to make your page worthy competitor of top URLs.
A similar report to it is SERP Report. The difference is that it's not comparing your URL, it's a place where you can see what's impacting rankings the most (similar to a Surfer SEO if you are familiar with it).
You can enable and disable any parameter you want to swiftly test your hypotheses.
Does readability impact rankings? What should be the optimal keywords-to-text ratio? How many links should I build to compete with top pages? Those and many more questions can be answered by turning on the parameter and comparing its graph to positions: if it correlates with positions then it has a descent impact on rankings.
SEMrush: Link Building tool
Speaking of link building, outreach and guest posting is the most effective strategy to receive high-quality and relevant links. But managing outreach campaigns in spreadsheets or task managers can be messy.
Using this SEO link building software by SEMrush not only you are able to organize your processes, but also save time searching for donors and contacts for them.
Ahrefs: API
SEO is becoming more technical, so you should start using custom scripts at some point. Via Ahrefs you can access basically any information that is available in UI reports to use in your custom app or just store it in spreadsheets. The simple use case: Ahrefs batch analysis limits input up to 200 rows, but you need only US traffic for 1000 domains. The best way to do it is to write a basic Python script that will collect it in a matter of seconds plus you are actually saving on limits since API limits and Reports are independent entities.
Conclusion
We've seen a lot, let's organize things a little bit. That 3 SEO software may seem pretty similar, but actually, they differ quite a bit:
SEMrush is focused on competitive research
Ahrefs specialization is backlink research
SE Ranking is focused on tools for routine SEO tasks
Knowing it and the specific of your work, answer yourself: where do you spend most of your time? If you freelancer, entrepreneur, or working in a medium company, most likely most of your time you are working on routine tasks, and so do 90% of SEO specialists. Sure thing it's important to analyze your competitors, but you don't do it too often (once in a month/quarter for 1 project). This leads to the conclusion that SEMrush is not the best SEO tool because its strength doesn't fit primary SEO needs.
Comparing Ahrefs to SE Ranking it's difficult to tell a winner. From one side, Ahrefs provides excellent backlink research tools, and off-page optimization is one of the most important aspects of SEO. On the other hand, SE Ranking provides better tools for technical optimization, content optimization, and rank tracking. It's fair to say that those 2 apps are equal in terms of functionality, but have their own pros and cons. But let's remember the value for the price – Ahrefs took the last place, because of the enormous price for a single domain check – $0.99 vs $0.001 of SE Ranking. This is a huge difference to ignore, that's why SE Ranking takes the first place and fairly can be called the best SEO software for the US.
Actually, we have the same conclusions when calculating the average positions each app took in different categories:
| | | | |
| --- | --- | --- | --- |
| | SE Ranking | SEMrush | Ahrefs |
| Rank tracker | 1 | 2 | 3 |
| Competetive analysis | 2 | 1 | 3 |
| Backlink research | 3 | 2 | 1 |
| Website audit | 1 | 3 | 2 |
| Online reviews | 1 | 2 | 3 |
| Pricing | 1 | 2 | 3 |
| AVG. | 1.5 | 2 | 2.5 |
But it doesn't mean that any of those apps is bad, it tells that for the majority of users who struggles between choosing one of them, SE Ranking is a more preferable option – that statement is proven not only by the research we've made but also by the online reputation of SE Ranking. If the competitive analysis is vital for your job – go with SEMrush; if your work on 90% consists of link building – go with Ahrefs. At the end of the day, only you know what you need, so consider the strengths and weaknesses of each app to find a perfect fit for your projects.