If the SEO industry had its epic, the Ahrefs vs SEMrush rivalry would be one of its main legends. These two services always appear in optimization tool rankings. Each of them has a huge number of followers ready to defend their superiority over competitors.
But who will emerge victorious in this battle? This question is extremely important for modern businesses operating online. To find the answer to this question, you need to test both services and find out what potential they have to increase traffic to your website, build a marketing strategy, and optimize your company's internal processes.
In fact, it will be very difficult to choose a winner in the SEMrush vs Ahrefs competition. Both services have a wide range of features that have been refined to perfection thanks to the expertise and extensive experience of their developers. Positive feedback on review platforms confirms that they are very effective in promoting business online and are beneficial for the financial situation of the company.
But we know that in any competition, there must be a leader who is at least one-hundredth of a percent ahead of competitors. So, it is worth considering the features of these two services in detail and making a choice.
Ahrefs
Ahrefs is one of the most popular SEO tools primarily used for checking site quality and backlinks. Ahrefs features a massive data index that makes a popular SaaS tool out there for SEOs.
This tool can help you get a sneak peek into your competitor's strategies, keywords, backlinks, and much more. The birth of Ahrefs dates back to 2010 with a backlink index launch which later on went on to turn into the data source for its first version of site explorer. Ahrefs has got most of the SEO needs covered. The features include organic and paid search, link intersects feature, content explorer, site explorer, and keywords explorer.
Semrush
Semrush is rightly quoted as an all-in-one content marketing suite. Vouched for by millions of users worldwide, this SEO software has got one of the largest keyword databases. Semrush has been able to deliver a wide array of functionalities and is apt to keep you up-to-date with the market situation and competitor strategies.
Semrush started its journey in 2008 with the ultimate aim of making the online competition transparent. One of the leading competitive research services, Semrush is trusted by global market leaders and besides SEO tools it has PPC advertising, Social media strategy tracking, content marketing management tool, and much more.
So, we will be pitting Semrush and Ahrefs against each other to find out which tool has got it all covered. Both tools offer a similar umbrella of features and we will analyze which one goes all the way. We will be making a comparison in terms of:
Rank Trackers
Site Audits
Competitor Research tools
Backlink Checker
So let's get started!
1. Rank Trackers: Ahrefs vs. Semrush
Rank tracker is one of the most useful tools for SEO. With Rank Tracker, you can monitor the SERP positions of your web pages and see how they fare against your competition. Therefore, this issue will be the key one in the Ahrefs vs SEMrush competition.
Both Ahrefs and Semrush keep a record of the ranks of the links in your website. This helps you to measure the progress of your website over time. Since you have access to the ranking data of your competitor, it's easier to compare the websites and see how you can improve yours.
Ahrefs Rank Tracker
With Ahrefs, their Rank Tracker tool will keep you updated with the current status of your keywords and the ones that your competitor is ranking for. Now that is the basic function of the tracker. Let us analyze what else we have here in stock.
Ahrefs Rank tracker will help you monitor the SERP features of the keywords, which in simpler terms means that you will be able to forecast the traffic generation from each tracked keyword and you will be able to check the ranking dynamic from your phone and desktop.

Ahrefs Keyword metrics allow the user to track the position, volume, number of clicks, Return rate, etc. for each keyword.
Once you are logged into your Ahrefs dashboard, you can see multiple options in the rank tracker and the first one is the Visibility Score. This particular option will let you analyze your website for percentage clicks that are powered because of your target keyword. This means you will be able to track the traffic generation for every targeted keyword.
Then comes the Average position tracker, which is going to help you the average ranking position of every keyword that you are tracking. All-in-all this option will give you a broad picture of each of your keyword campaigns.
Next in line is the 'Traffic', which allows the user to get an estimate of the organic traffic that is going to be led by the particular keywords towards your website. The Grossing report provides data on the ranking dynamics of tracked keywords. You can see how the rankings have changed for a particular period. It can be a week, month, ninety days, or more.

Grossing will help you see the ranking change of a keyword within a particular period
Then comes the SERP features report. This option will enable you to check on the number of featured snippets that show up for particular tracked keywords. This is where you can screen the number of SERP features that your website is featured on.
What is the takeaway for these SERP features for your websites?
Websites that appear in features snippets tend to get more traffic. Also it creates a sense that your website is more authoritative when compared with the competition.
Then the 'Position Metric' will track the change in positions of the keyword rankings. All this data will power you to understand the current status of your keywords campaign and also the results that the campaign has been yielding or is expected to yield. We should note that in the Ahrefs vs SEMrush review, the former service provides more accurate statistics that closely match Google Analytics data. 

Overview will give you snippets about the visibility, position, traffic and other SERP features
Now coming to the reports part of a rank tracker, there are multiple ways to benefit from the generated reports. The overview report will help you get a general overview of the ranking positions. This data is helpful in visualizations as well. The report will have information about every keyword including the ranking position, search query, search volume, monthly traffic volume, difficulty score, SERP feature breakdown, Target webpage URL, last updated ranking position, and more.

Ahrefs can help you analyze the page performance against the ranking keywords in addition to the traffic, volume, and other metrics.
Semrush Rank Tracker
Semrush is known for out of the box solutions for SEO needs. The tool will help you track the keywords but will also assist you with some other features that you won't be able to find in many SEO software.
So, yes, the rank tracking works pretty much like other tools and will help you figure out the keyword vis-a-vis the website's ranking. You will be able to track positions of each keyword for various regions and Semrush will let you have extra mileage with its visibility index, average position, estimated traffic, and more. The visibility Index of Semrush will help you analyze your website's current position on Google's paid and organic search about the tracked keywords. This index is based on the click-through rate of your website.
The estimated traffic will help you forecast the amount of traffic generated based on the current rankings. The average position is the average of all the ranks that your domain has for the particular set of keywords on SERPs.
The 'Top Keyword' metrics will fetch the details about the best performing keywords based on the search queries. You will be getting updates informing you about the success of your particular campaign based on particular keywords.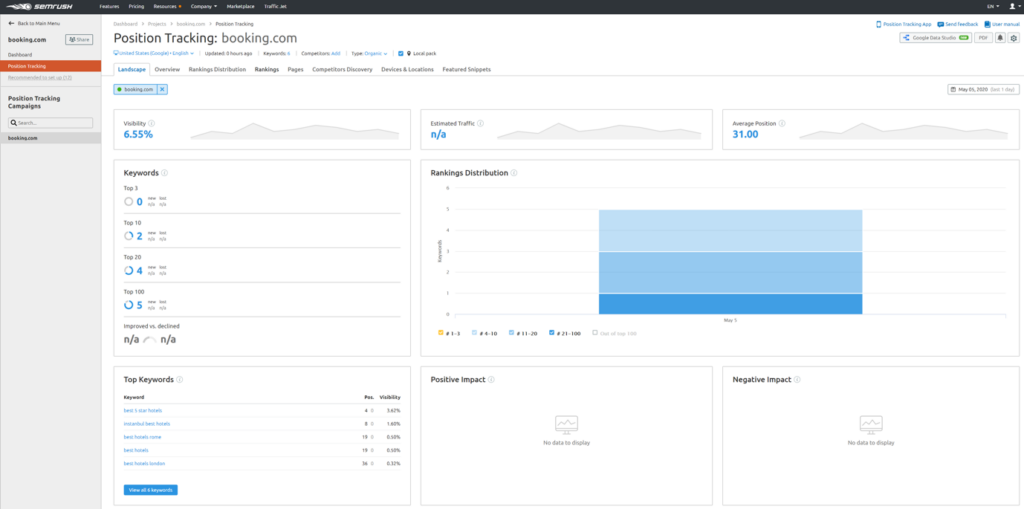 Semrush helps the user track keywords that they are ranking for, including the list of top keywords
One of the interesting metrics of the Semrush Rank tracker is its positive and negative impact data. This will help you get a picture of the best performing keywords and the keywords that did the exact opposite. And this will be a significant advantage in the SEMrush vs Ahrefs comparison.
If you want to get a snapshot of the distribution of your keyword ranking, you can do so with the Rankings distribution metric.
The SERP features will provide you the details about SERP features being tracked in a selected period.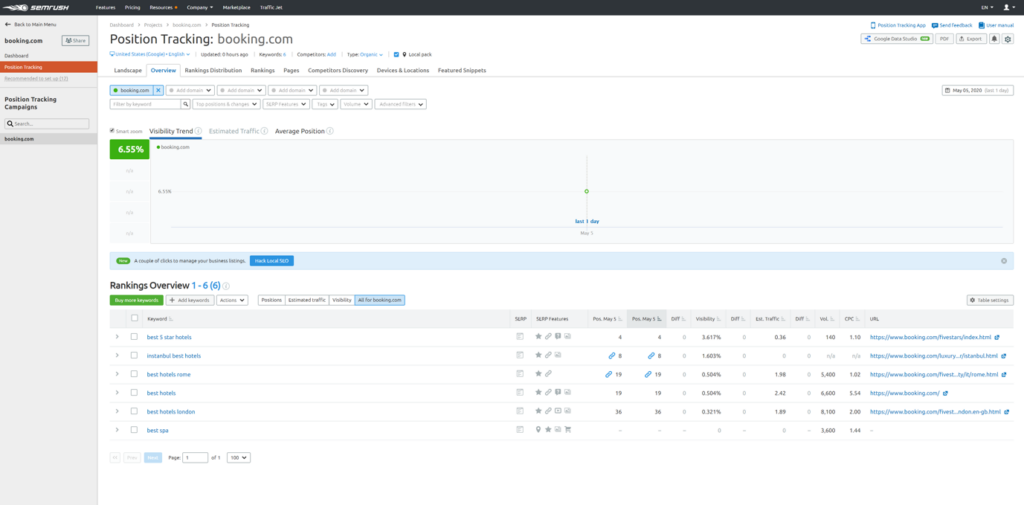 You will be able to check your visibility trend, estimated traffic, average position and much more.
If you have been using any SEO tool, you would know how important it is to keep an eye on your competitors. To be honest, this is one of the prime reasons for an SEO subscription. Once upon a time, it was more like a top-secret mission to get an insight into the competitor's strategies. SEO tools made this an open game.
With Semrush you will be able to analyze the competition just as you want to have it. The Top Competitors will let you monitor the ranking of your competitor's site and you can compare their performance with yours, this will help you get an edge in the keyword strategy and you will be able to knock them down.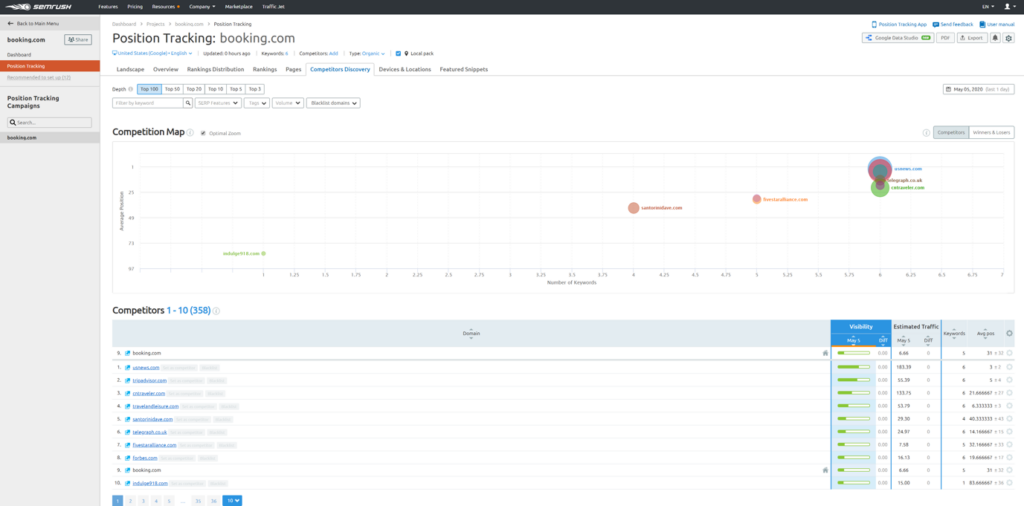 This tools will help you keep an eye out on the competition by allowing you to check on the competition map.
Semrush has a sensor tool which helps you measure the SERP volatility. The sensor tool measures the volatility in ranking for websites in a particular category. There are over 25 categories like Food & Drink, Health, Games, Finance etc. If you have noticed your SERP rank varying significantly in a matter of a few days or weeks, then the Sensor will help you figure out if it's a problem that affects websites worldwide.
Key Takeaway: Rank Tracker Comparison
Ahrefs: There is no denying that Ahrefs is great at rank tracking. The results from Ahrefs were compared with the real time position of the links, and the data certainly matches with the real ranks.
Semrush: Semrush is no slack either, in fact, when you compare the raw features of both tools, Semrush certainly gives more to the user. One thing that we absolutely love is the ability of Semrush to monitor ranks on a daily basis.
Final Verdict: Semrush Wins
Both tools perform very well in the rank tracking. The results from the tools and the real word searches do match when it comes to the position on SERP. So the final verdict in the comparison of Ahrefs vs SEMrush came down to the features that the tool offers to the user. On that front, Semrush has more features and updates their records every day.
2. Site Audit Comparison: Ahrefs vs. Semrush
In a world where everything is digital and businesses are a click away, websites are vital. If you own a site or you a managing a few, you understand that user experience can make it or break it. You spend so much energy and resources into increasing the website traffic and then when you finally can garner an audience, most of them find the site unresponsive and this never yields fruitful results. This is where SEO tools come to rescue, which will also be an important part of the Ahrefs vs SEMrush comparison.
With a site Audit, it is possible to crawl into the architecture and find all of the glitches and errors in real-time. These tools will also assist you to fix many such errors. Now it is going to be easy to find a broken link, a 404, any problem with the site loading speed, and many other things. All you have to do is add a domain name, which can be yours or the ones your competitors own and look into what works good for them and what is anchoring you down. So, let's see who will cope with this task better by comparing SEMrush vs Ahrefs.
Ahrefs Site Audit
You can get your website checked on Ahrefs and it is easy. You can start by verifying your domain ownership as this will help Ahrefs to crawl into your website faster and thereby get quicker results. You can crawl into an unverified domain too, but Ahrefs will put in some restrictions like the speed will be limited to one request per second. You can verify your domain and bear with the limited speed when crawling into your competitor's domain.
Once you have verified the ownership you can work with Ahrefs site audit. You can choose the default setup which works pretty good or you can customize your settings for better results. For example, Ahrefs allows you to enable the JavaScript execution, or change the number of internal pages, etc.
In the Ahrefs vs SEMrush review, it is worth noting that speed depends on the size of the site's setup. If it is huge the tool is going to take a while, and once the tool is done crawling through, you will be able to get a detailed overwide of the site's health. With the basic 'Lite' plan, Ahrefs will crawl as many as 10,000 pages per month.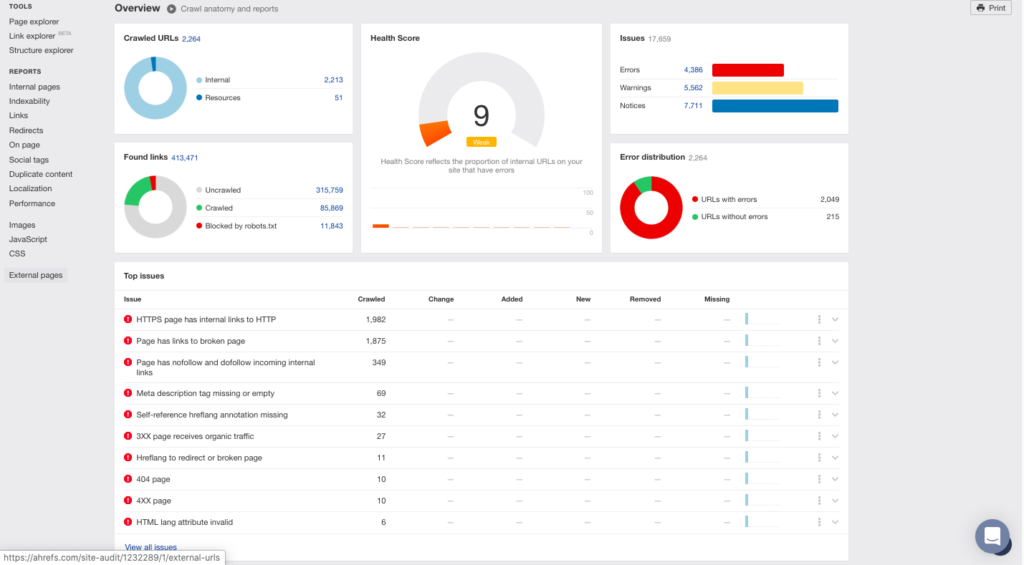 Ahrefs Site Audit overview gives you a detailed report about the health of the site, the number of crawled URL and much more
Now you have got a detailed report in front of you and you can use it to your maximum capacity. You can prioritize which error needs to be addressed ASAP or which one can wait. You can do this with the 'To-Do' feature available in the Site Audit menu. Whatever you find important, you can mark it as a task.
Make use of the Page, Link, and explorer tools which will help you with additional recommendations and other forms of actionable data. Each crawl will help you check on issues like
HTML Tags – You will be able to find the missing or duplicate title tags, H1 Tags and Meta descriptions
Performance – Ahrefs will help you figure out what causes slow pages or slow website
Content quality – You will be able to check on low word counts, duplicate pages, etc.
Social Tags – Ahrefs can find missing or incomplete open graph tags for you.
Incoming Links – The tool will assist you in the detection of the orphan pages or any no-follow links
Outgoing Links – Get to know about the broken pages or checking on the orphan pages.
Localization – You can keep a check on all the Hreflang issues
Resources – Ahrefs will check on the issues with any image, CSS or the JavaScript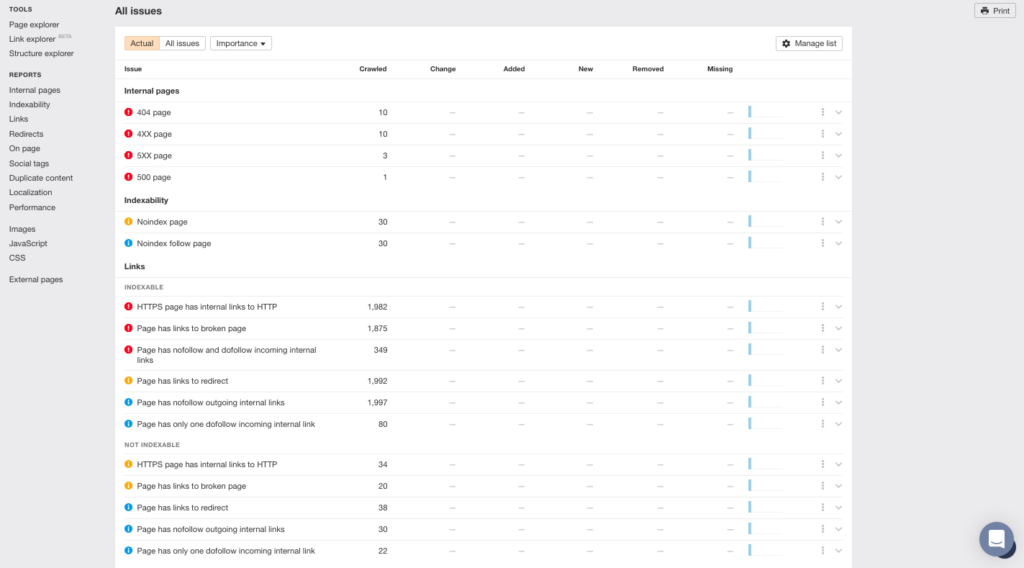 Ahrefs Check on every broken link, 404 errors, Nofollow errors, etc.
Semrush's Site Audit
Semrush is thorough and when we say 'thorough' we mean it considers 130 parameters before it gives you a final report on how the site is doing. Semrush can go through a whopping 1,000,000 pages of your website, or any website for that matter, which is dependent on the plan you have opted for. The basic plan 'Semrush Pro' will crawl 100,000 pages per month. If you are on trial, you will be availing the 100 pages per audit plan. To experience speed and detailed crawl reports, it is better to subscribe first.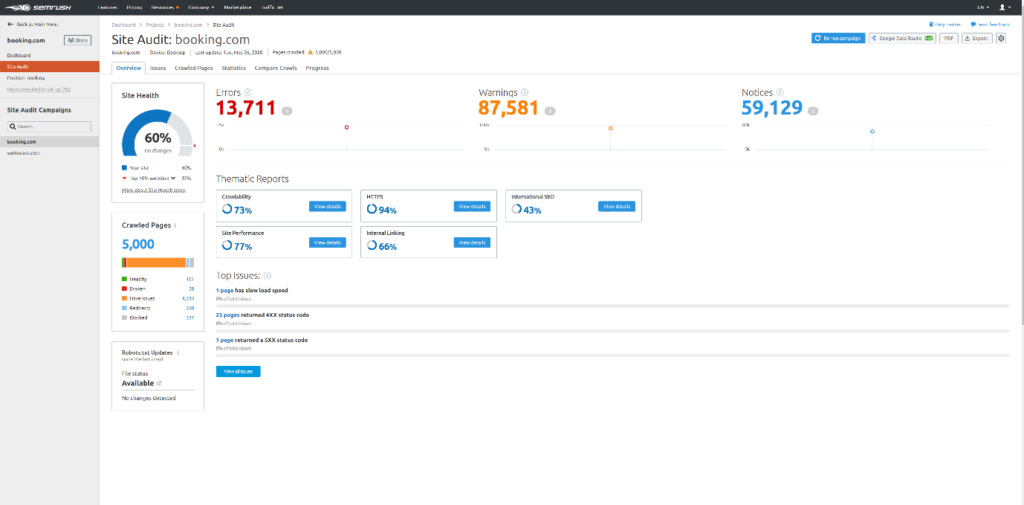 Semrush categorizes the report into issues warnings and notices
The site audit report is available in minutes on Semrush and the best part is the reports are easy to understand. You do not have to be a pro at understanding the SEO tools to go for a site audit here. The report will provide you with all the actionable data as well as solutions and you can go on to optimize your website for the best. Such speed and simplicity of results make it the main candidate for victory in the SEMrush vs Ahrefs comparison.
Semrush has a prioritization system in place. Each issue found on the website will be divided into three categories: errors, warnings, and notices. It helps the user to prioritize which issue needs immediate attention and which ones can wait.
Semrush will help you with On-page SEO checker, wherein you can optimize your website's performance by analyzing the Google ranking factors. You will be having expert assistance with the improvement recommendations. Semrush allows you to compare your website's performance with at least ten other competitors, to chalk out better strategies so that you stay way ahead. Semrush will be prioritizing pages for you and all you have to do is open the list and get working on it.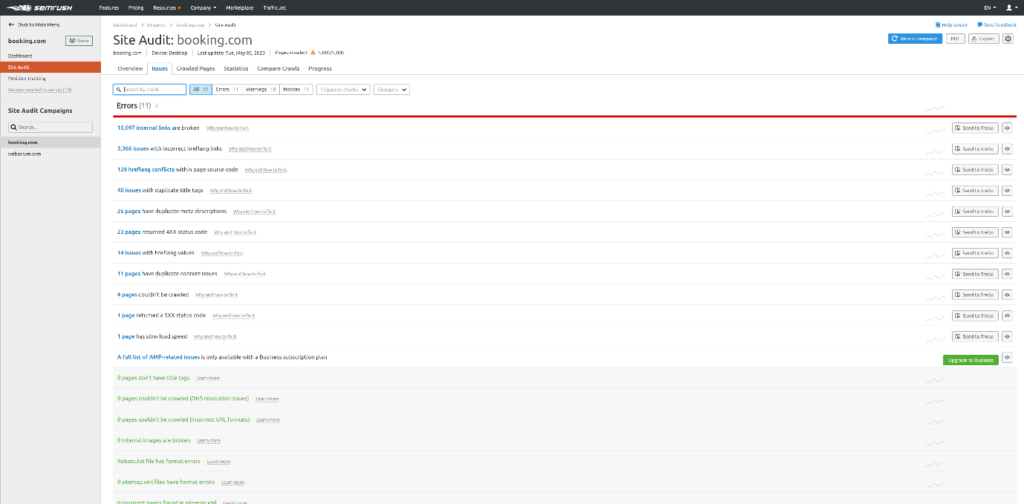 List of issues Semrush found on the website after crawling 5000 links
A detailed report will keep you in the loop about the improvements that you need to make for your site to perform better. This report and the results can be shared with anyone who is one of your team and Semrush makes this communication easier.
The tool will also keep track of any improvements that you make. This is done when you go for re-auditing after you have made any changes for the better. Just when the tool processes the crawling, you will be getting a score derived from the ratio of passed and failed checks. Semrush makes it easy to understand how the website is doing with people as well as on the search engines.
Semrush helps you fix a lot of issues. It goes on to check issues like Duplicate content, canonical pages, large page size, slow pages, crawling blocked errors, 4xx errors, Broken internal link, too many links, Nofollow attributes, Errors in Hreflang implementation, page metatags, page structure, crawl errors, and much more
Key Takeaways: Site Audit Comparison
Ahrefs: When it comes to site audit, Ahrefs reviews a website using 100+ key factors. Once the audit is over, you will be presented with a report that has the list of issues that needs to be sorted out with your site. However, Ahrefs takes its sweet time auditing a website. If your website has a lot of pages, then it is better to run the scan, log out and come back later.
Semrush: Compared with the basic UI of Ahrefs, Semrush is much easier on the eyes. The information is clearly laid out and you can easily navigate through its findings. Semrush is very fast at creating the reports, and it doesn't compromise on the final quality.
Final Verdict: Semrush wins
Although in the Ahrefs vs SEMrush comparison, both tools do a phenomenal job of auditing the website, Semrush is out with the better technical SEO features, better layout and fast in generating reports. In this case, Semrush wins without a doubt!
3. Competitor Research Tools Comparison: Ahrefs vs.b Semrush
A monopoly is rare. In a world like today's, where everything is available in multiple options and every business is trying to claw on each chunk of the market, the competition is fierce. It is obvious that every business needs dedication and hard work to stay ahead and even better they need to be thoroughly aware of the strategies that their competitors are keeping in place. SEO tools are becoming eyes and ears and truly so. Therefore, the Ahrefs vs SEMrush comparison in this area will also be very important for the overall evaluation of the services.
Ahrefs Competitor research
If you have been working with Ahrefs, you would know that the site explorer tool is one of the most used and most comprehensive tools available in its kitty. The tool offers in-depth details about paid and organic search campaigns. Ahrefs Site explorer dashboard will provide you comprehensive details about any website. You will be able to see several backlinks, traffic value, referring domains, domain authority metrics, and much more.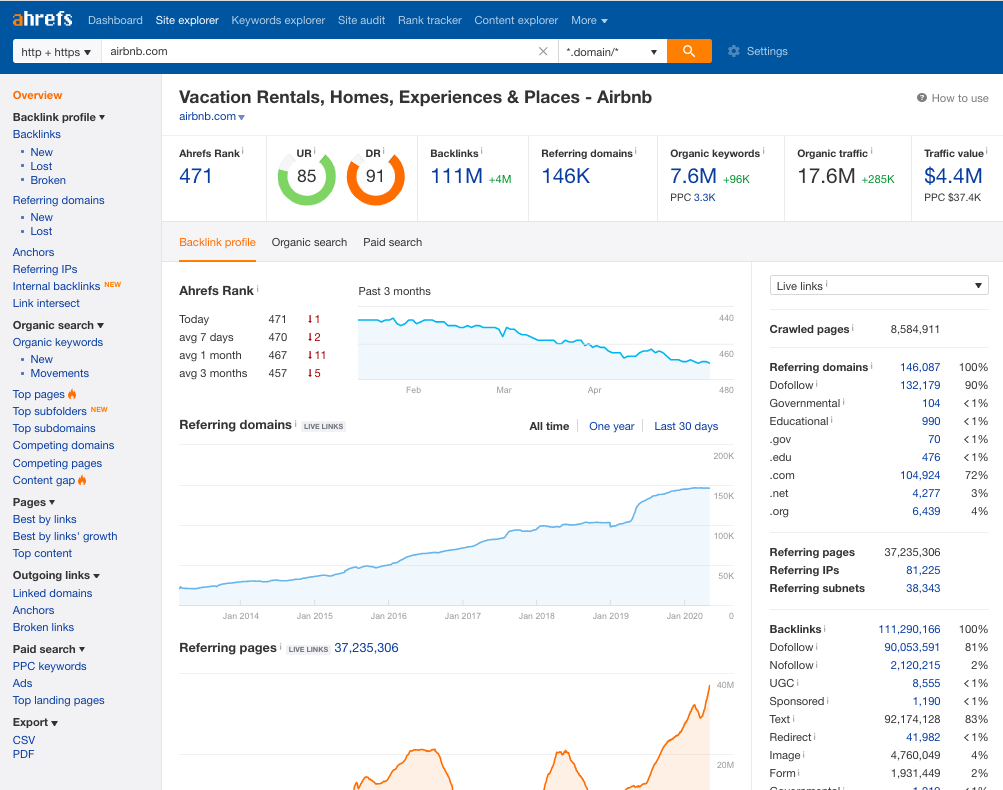 Ahrefs gives detailed information about the current rank, number of backlinks, keywords both paid and organic, traffic value
Now if you know all of this about your competitor's website, it becomes more than easy to take the trophy home. You can take inspiration from what works for them and avoid what doesn't.
Now getting familiar with the rest of the dashboard involves checking out options like link growth velocity, Domain rating, estimated organic traffic, popular content, most shares and links, popular ads, and many other things. You can get a gist of what is working for your competitors or what are they up to. Ahrefs also facilitates the Top Pages tool. This tool extracts the list of the pages which have been garnering much organic and paid traffic. You can check for the keywords each page ranks for from the organic search results of Google along with linking root domains, search engine ranking position, etc.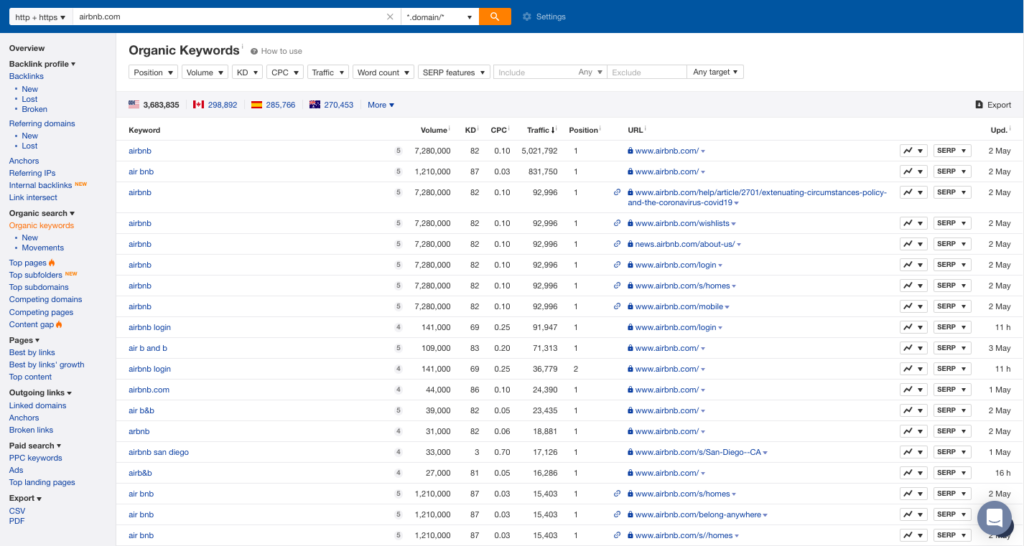 You can find the organic keywords being used with other vital details including the traffic that these keywords generate, SERO features, etc.
Top pages will help you understand what type of content is driving good traffic. The Organic and paid search tabs will help you get the traffic estimate along with the popular pages and list of keywords. It is time to reverse the ad campaigns in your favors and save some hefty bucks right there.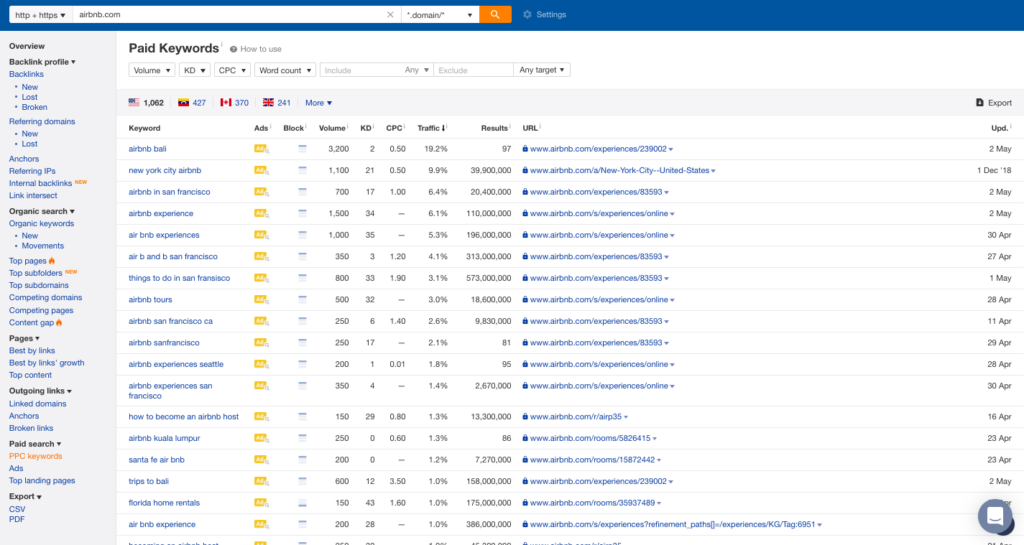 You can optimize your ad campaigns by looking at what has worked well for your competitors in the paid keyword domain
One of the most interesting details in the Ahrefs vs SEMrush review will be the "Content Gap" feature, which will address the ranking gap by telling you about the keywords that your competitors are ranking for and you are not. Just add up the list of your competing domains and start analyzing. The tool will do the rest.
Semrush Competitive research
Semrush is jam-packed when it comes to competitor research tools. This tool will keep you neck to neck with your competitor's strategies and you will know everything about the type of content they use, the backlinks that power their content, Paid and organic keywords, the traffic that their paid advertisements are generating. All of it.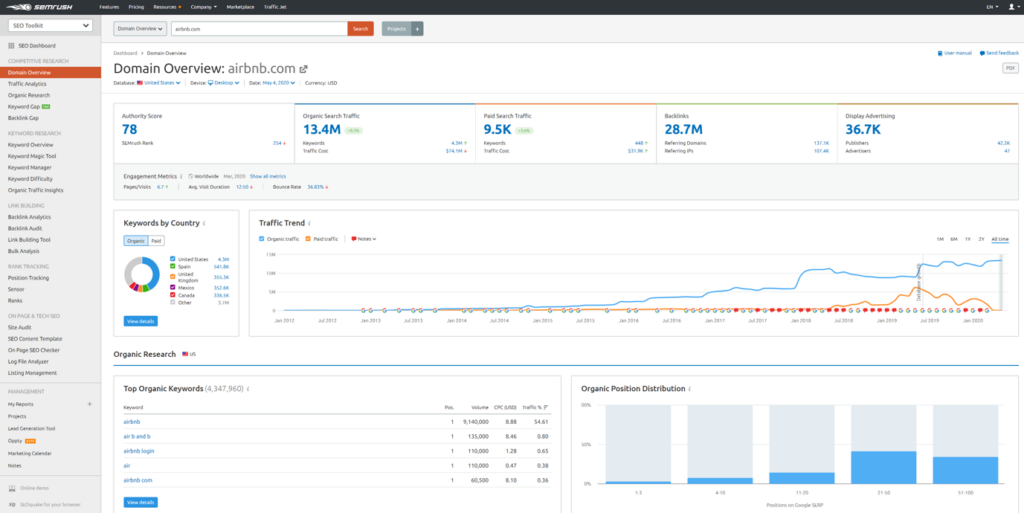 Semrush helps with a quick domain overview with all the important details like authenticity score, paid and organic search traffic, top keywords, etc.
Semrush provides the organic competitor's report as well, wherein you will be updated with the top twenty ranking domains on Google. Starting with the keywords, you will be having access to all the keywords that are working in your competitor's favor and you can then go on to check what type of ads is driving the traffic for them. This will help you create something powerful and more effective.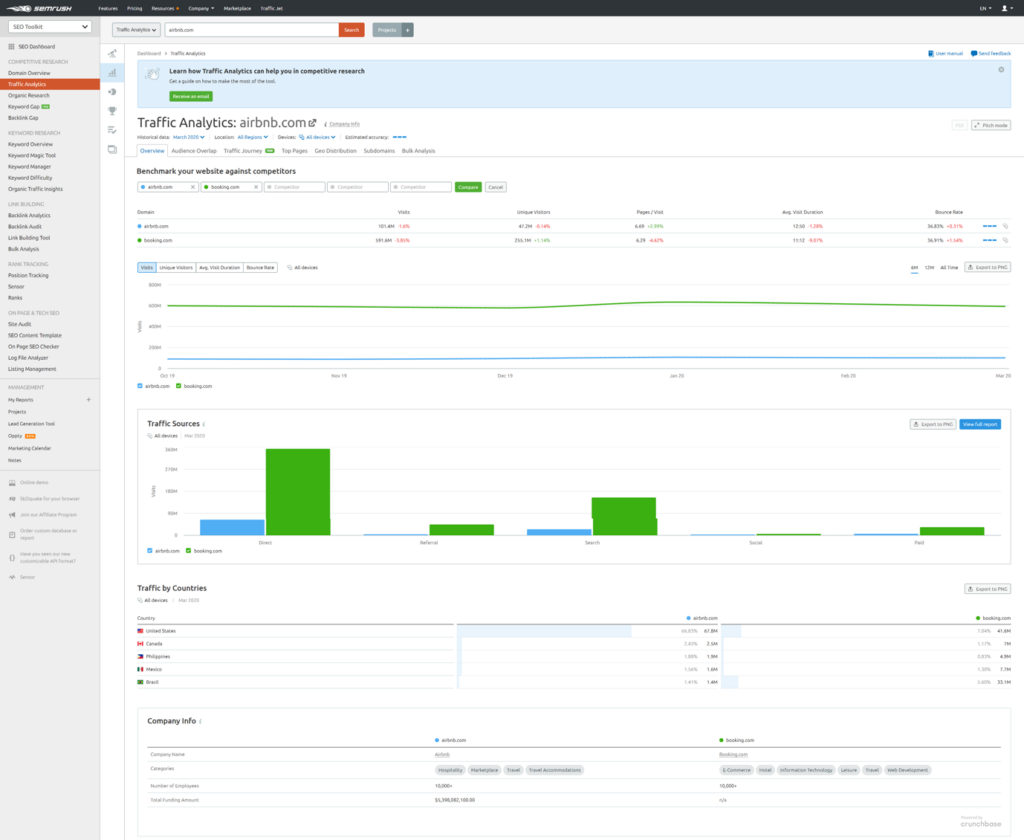 This overview by Semrush will assist your understanding about the traffic sources, traffic by countries, Visits and other metrics of your competitor's website
So, when you lay hands on the Semrush competitor analysis tools, you will be having access to the market explorer, Keyword Gap, Traffic Analytics, PLA research, display advertisement, Organic research and so much more. To demonstrate all the advantages of the service in the SEMrush vs Ahrefs review, we will briefly talk about the functions of each tool:
Traffic analytics – helps you analyze what drives the traffic on your competitor's website, the source of traffic, etc.
Market Explorer – Will provide you with the market traffic trends and the percentage share that your competitor is attracting. This tool can help you analyze your audience minutely including their interests and demographics.
Keyword Gap – will address the ranking gap by telling you about the keywords that your competitors are ranking for and you are not.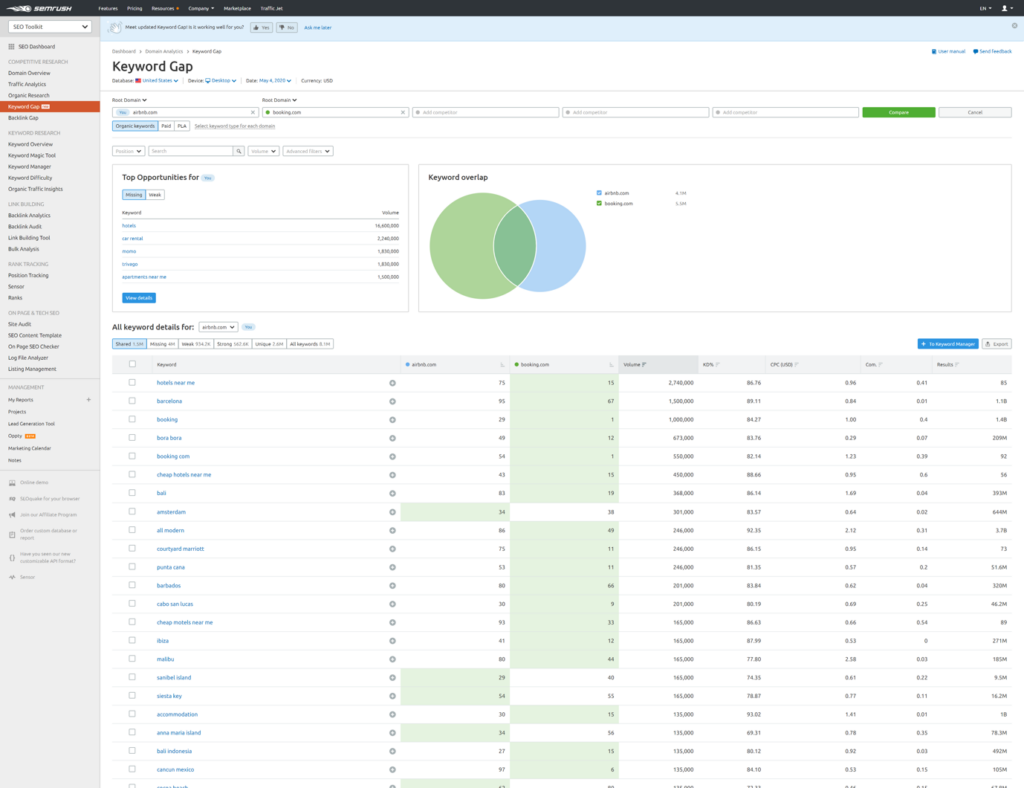 You will get to know about the missing or weak opportunities that you should be aiming for.
Organic Research – will let you know about the semantic strategies of your competitor.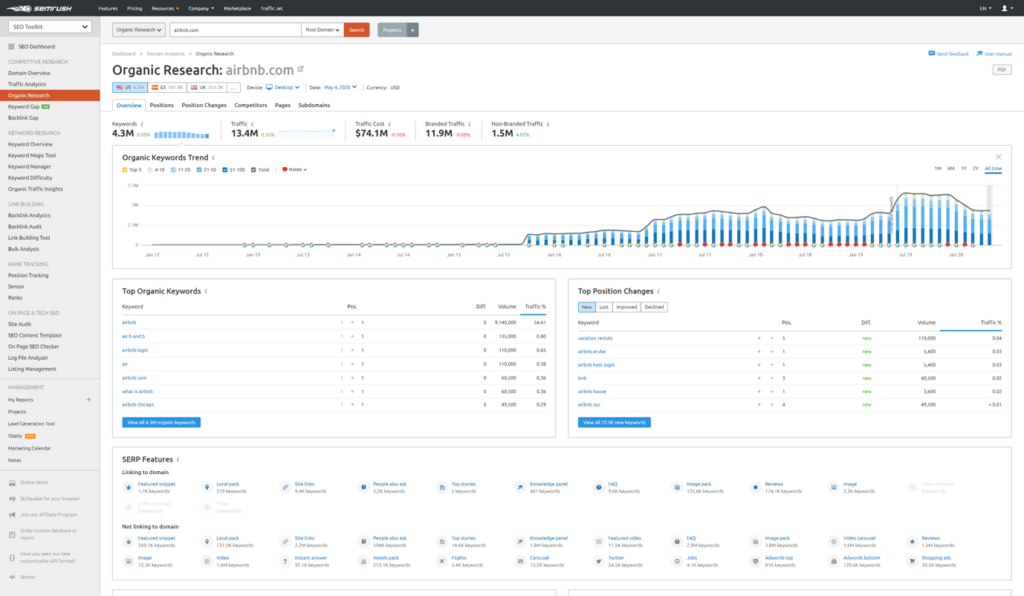 Get an overview here about the top organic words and the SERP features that can help you get ahead
Advertising Research – Will help you analyze the PPC strategies by the competitor
Display Advertising feature – Helps you avail data about the different types of advertisements on desktop or mobile.
Brand Monitoring – Helps you know the referring domain authority, the reputation quotient of the competitor, the success of their PR campaigns, and more.
Backlink Gap – Helps you address the backlink frame that you are currently missing on but your competitors are not.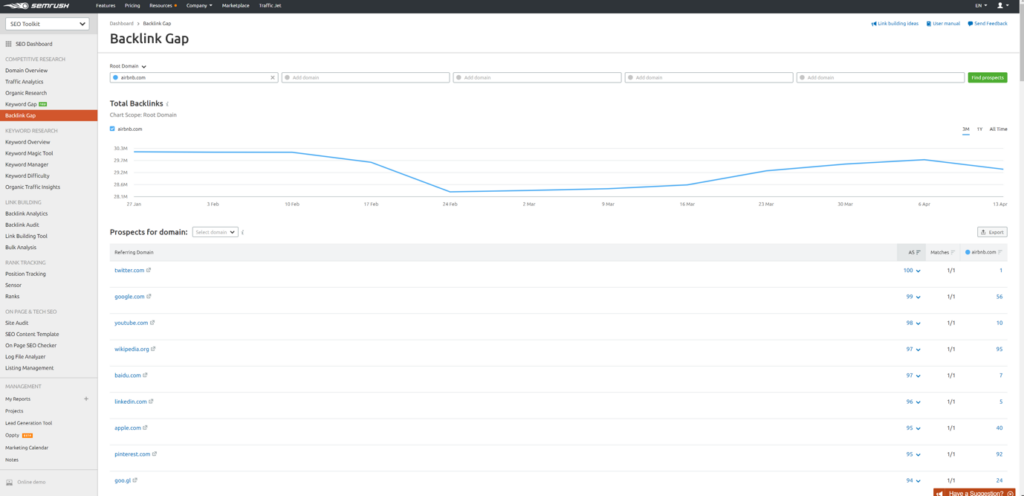 Semrush will provide you with information like the prospects for the domain to keep you in a strong backlink game
Domain vs. domain – Helps you compare your website against your competitors to see what can be improved
Key Takeaways: Competitor research
Ahrefs: Ahrefs has tools that you can use to get a good idea about your competition. The software does a great job at finding competing domains, keywords, etc.
Semrush: Semrush has a dedicated section just for competitor analysis. And the tools that you find there are worth your time. When ahrefs gives you information on your competitor, SEMrush takes it to the next level by suggesting ways to improve your website. Tools like keyword Gap and Backlink Gap are great to understand the depth between the websites.
Final Verdict: Semrush wins
Semrush takes this one home with the intuitive tools that they offer to the user. You will certainly appreciate the fact that Semrush has tools like Topic Research that gives you idea on the keywords actively targeted by the competition, thereby helping you to stay with the trend and make content for the trending topics. So, in the SEMrush vs Ahrefs competition, the first web application wins once again.
4. Backlink Checker Comparison: Ahrefs vs. Semrush
Backlinks are more like backbones of every website. They form an integral part of the database and they are more like votes. A vote that tells the user that the content on a particular site is credible and useful. Better the backlinks, the higher the rank. SEO tools will allow you every backlink against its utility and you can do the same while analyzing your competition for their backlinks. Looking ahead, we can say that in this regard, the Ahrefs vs SEMrush comparison pleasantly surprised us, giving both participants a chance to demonstrate their best features.
Ahrefs Backlink checker
Ahrefs has been boasting about their Backlink checker so much so that they made this tool available for free. This is how confident they are about the backlink analysis capabilities available at the user's disposal. You will find the backlink checker in the Site explorer dashboard. All you need to do is enter the domain and you will be having an overview which includes the domain rating as well as the top hundred backlinks in addition to their anchor texts and top pages. This is a serious claim to victory in the Ahrefs vs SEMrush review.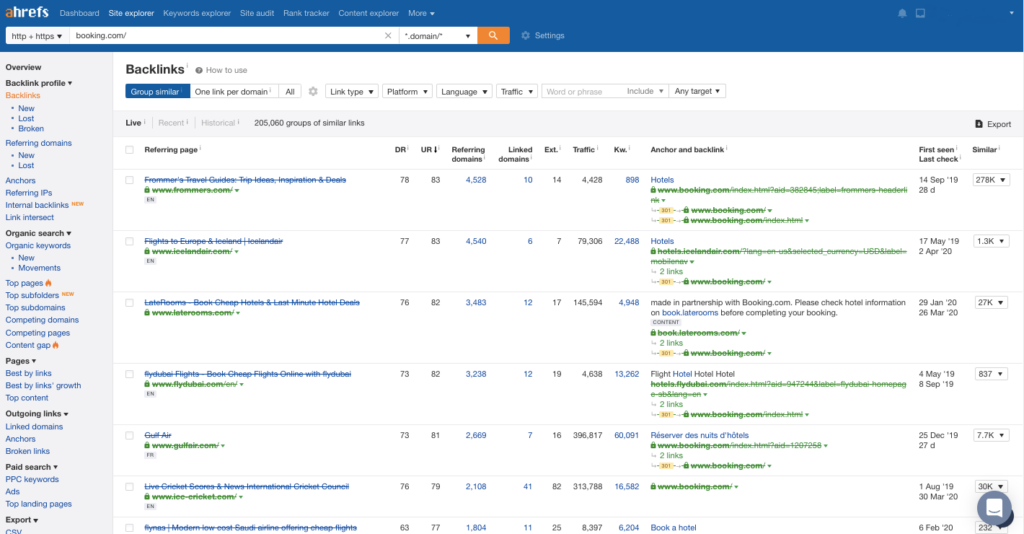 Detailed backlinks tab from Ahrefs has everything from the nature of the links to the authority of referring sites.
So this is where you can analyze your competitor's site to check for the backlinks that they have been using and this can help you get an idea about how to improve your backlink support. The Disavow tool is available to get rid of bad links just and when you want. You can create a disavow file wherein you can upload the bad links and upload the same to your Google Search Console. This will be taken care of by Ahrefs to make sure that these do not show in the link graph results. Ahrefs will also show you if you have any broken backlinks that need redressed and hence optimizes your site performance as mentioned earlier.
Semrush Backlink Checker
Semrush can help you analyze your backlink setup as well as that of your competitors. You can find whatever is working for your competitors and repeat the same but this time for your benefit. The backlink analytics report will give you details of the backlink frame of any website. In addition to this, you can also find the unique referring domain details.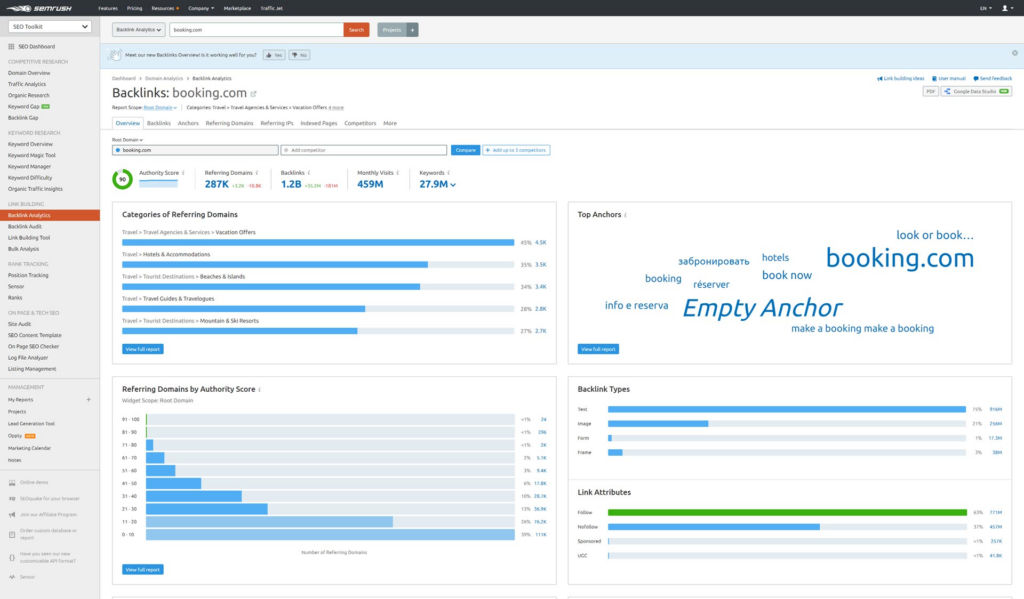 backlinks overview page along with metrics such as authority score, top anchors, keywords, etc.
Semrush will help you analyze the backlink profile of any website in graphical form to show the growth over time. You will be having the details about the types of backlinks being used, the website they are pointing to, the referring domain that they belong to, the countries from where the backlinks are linking out, the TLD backlink, anchor distribution text and much more.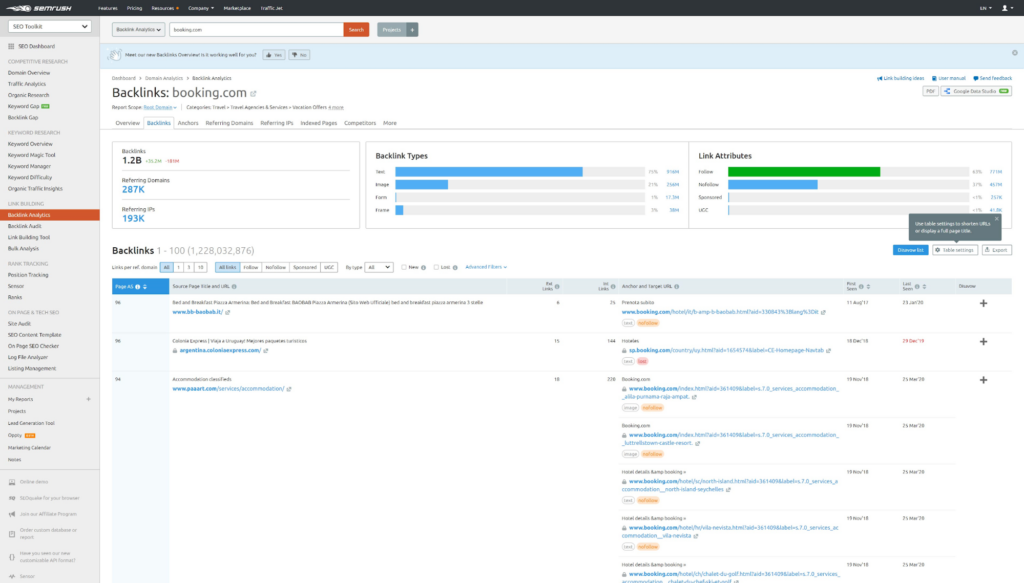 A detailed backlinks tab that contains the list of backlinks and the nature of the links.
It is going to be easier for you to analyze the top-performing competitor pages and check for the backlink data. All you need to do now is realign your backlink setup and strive to reach out to better sites and optimize your content accordingly. As mentioned earlier, you can also check for your backlink architecture whether anything is broken and needs maintenance.
Key Takeaways: Backlink Checker
Ahrefs: Ahrefs have always been praised for its ability to check Backlinks faster and better than its competitors. When we ran tests for the websites, we found that this to be true in every sense.
Semrush: Semrush performed very well in checking backlinks, but there was some disparity in the data at times. It has certainly improved over the years, but not to the level of Ahrefs.
Final verdict: Ahrefs wins
This time, in the Ahrefs vs SEMrush competition, the first place goes to the service that might have already seemed defeated. However, it can also offer businesses very serious support — first of all, it can help to increase the website's authority, which is considered one of the key factors in Google's ranking.
Conclusions
We didn't call this comparison epic in the beginning for nothing. The Ahrefs vs SEMrush competition is truly a clash of the titans. Both services offer everything you need to optimize your website and promote your business online. You can safely choose any of them, expecting to get a positive impact on traffic, conversion rates, and, of course, financial performance.
Still, in the battle of SEMrush vs Ahrefs, you need to choose a winner. And the first service seems to us to be the best candidate. It wins in three out of four areas, offering
daily data updates in the website rank tracker;
quick audit with a simple, clear report;
recommendations for improving your position relative to competitors.
The Ahrefs review shows that this web application wins in only one way. The service offers a very accurate backlink analysis module that analyzes in detail the effectiveness of your link-building policy.
How big will the gap be between the two participants in the comparison? From the SEMrush review, it becomes clear that it is only slightly ahead of its rival in terms of functionality. Ahrefs' lag is measured in a few percent or even tenths of a percent.
However, a comparison of the Ahrefs vs SEMrush pricing policy and interface increases the distance between them. The first service is designed primarily for professionals, while the second is more loyal to beginners. In addition, the average cost of a SEMrush subscription is lower, making it more affordable for freelancers and small businesses. It's also worth noting that Ahrefs' plans may come with additional costs — you'll have to pay extra for higher keyword limits and additional users.
Therefore, SEMrush is definitely our favorite. The service confidently withstands the competition in terms of functionality, offering a more user-friendly interface and a more affordable subscription. But Ahrefs also has its advantages. In our study, it showed impeccable statistical accuracy and better results in managing external links. If you focus on these areas of business promotion in your marketing policy, you should seriously consider this tool, especially since almost all of its features are available in a free trial version.