What company offers the best SEO software in the Canadian market? That's a complex question, actually. First, there are plenty of options to choose from, and nearly all platforms have a wide variety of features that are supposed to help SEO specialists rank higher, get more links, beat the competitors, and become the number one site in the niche. Second, it's pretty hard to understand which of the platforms provide the best solutions without testing them. Paying for a 1-month membership of various services and testing each for at least a month doesn't sound like a simple solution, either.
That's why we've tried and tested the top SEO software solutions for the Canadian market in 2021: SE Ranking, Semrush, and Ahrefs, so you can find a tool to meet your SEO needs. Yes, that narrows the search, but which one should you choose? It depends on plenty of things: from your level of expertise to the goals you pursue. The thing is that every platform has its strong and weak sides, and you need to know exactly what is more or less important for your strategy.
We analyzed these software providers focusing on the key tools needed for website optimization:
Keyword rank tracking
Competitive research
Backlink analysis
Website audit
We also provided the information on the pricing and compared these platforms considering their pros and cons in terms of the essential SEO tasks. So, knowing the potential of every service, you will easily choose the best solution for your needs.
SE Ranking: The new alternative to top all-in-one SEO tools in Canada?
Some SEO specialists say that there is no way to break into a well-established market of all-in-one SEO tools, but SE Ranking proves that there is no limit to improvement. This platform is aimed at providing comprehensive solutions to all categories of marketers, managers, SEO newbies, and pro users.
The best thing is that you get full access to plenty of tools to track your positions, analyze keywords/backlinks/competitors, conduct the website audit, and generate detailed reports, and more—all in one place without giving you useless information that will hardly help improve anything but will definitely make your job way more difficult.
Though SE Ranking is a multi-task tool that can help solve many website issues, its main focus is rank tracking across all major search engines in different countries and regions, including Canada. So, let's talk about all the tools in more detail.
SE Ranking keyword position tracker
The keyword position tracking tool by SE Ranking allows collecting accurate data on the site's rankings, get additional information on every keyword, track organic and paid rankings, search volume, and more. This tool will help you find out if you use the right keywords by analyzing the results of your work from different perspectives. Everyone who uses SE Ranking can complete the following tasks:
Collect 100% accurate data on your rankings across 5 major search engines (Google, Yahoo!, YouTube, Bing, Yandex) and up to 5 different locations.
Track SERP features, add top 100 or 200 SERP positions to check rankings.
Analyze search results for all devices.
Track Google Maps results.
Get detailed data on Google Ads rankings.
Compare rankings of your 5 major competitors with your own.
Analyze any changes in the top 100 search results on Google.
Edit the reports, tag particular websites, make notes, etc.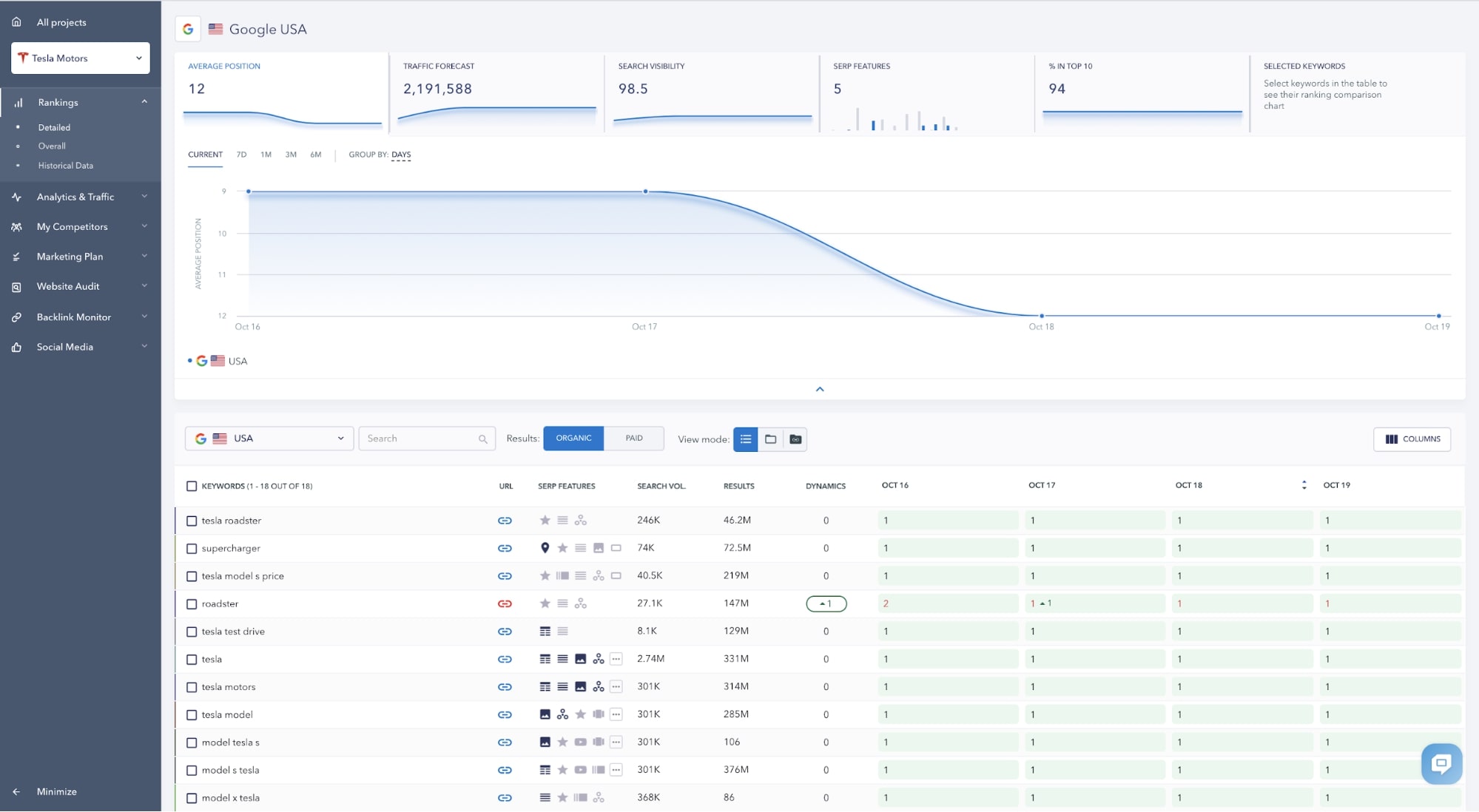 SE Ranking competitive research tool
SE Ranking offers a versatile and effective tool that suits both SEO beginners and experts. It allows analyzing competitor's campaigns and promotion strategies and helps find out what should be improved in your own campaign.
Competitive Research tool by SE Ranking can help you:
Analyze any website by entering a domain name or a URL.
Enter any domain name or URL and get a 360-degree view of its organic and paid promotion strategies, and find out what the traffic cost is.
Find sites that rank for the keywords you are going to rank for.
Find websites that focus on the same queries in their paid promo campaigns.
See what keywords bring a lot of traffic to your competitors' websites.
See top-100 competitors that get organic search traffic.
See how many backlinks your competitors have.
Use the Keywords Research tool to analyze keywords in detail and see how competitors rank for a certain keyword.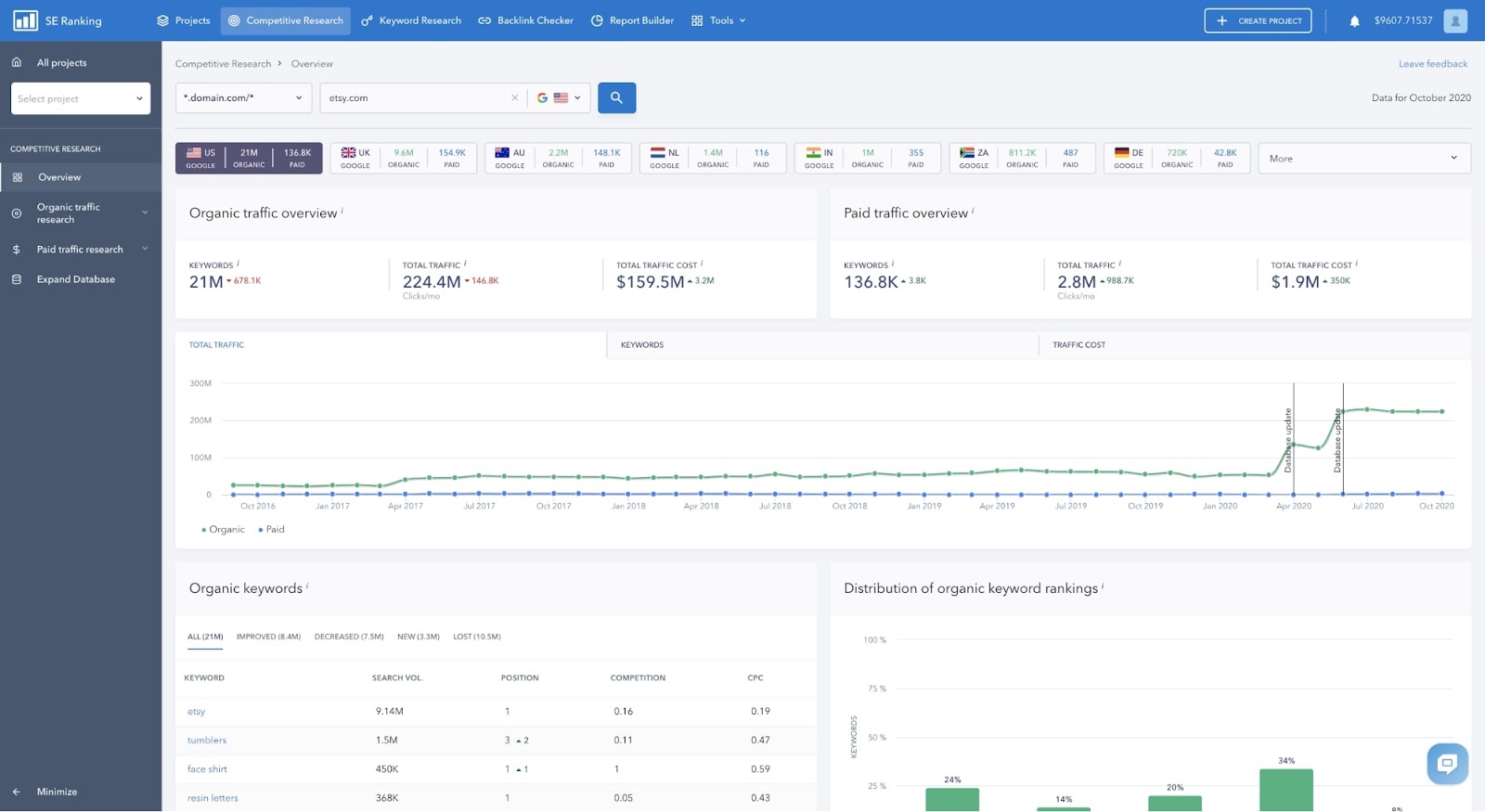 SE Ranking backlink checker
Initially, SE Ranking didn't focus too much on backlink analysis and was designed as an SEO ranking tool. However, the platform was constantly developing, and soon, the first version of the backlink checker was offered to the users. It kept improving and now users can complete plenty of different tasks with the Backlink Checker:
See a site's backlink profile with one click, by entering a domain or a URL and access the following metrics: domain and page trust, referring domains, backlinks, dofollow and nofollow links comparison, anchor texts, and more.
Find out where most backlinks come from.
Understand the general dynamics, see the number of new and lost links.
See the most popular pages in terms of backlinks.
Add links to the Backlink Monitor and track their actual status, Google index status, and UGC/Sponsor status daily.
Filter and export links.
Calculate the cost of a link-building campaign.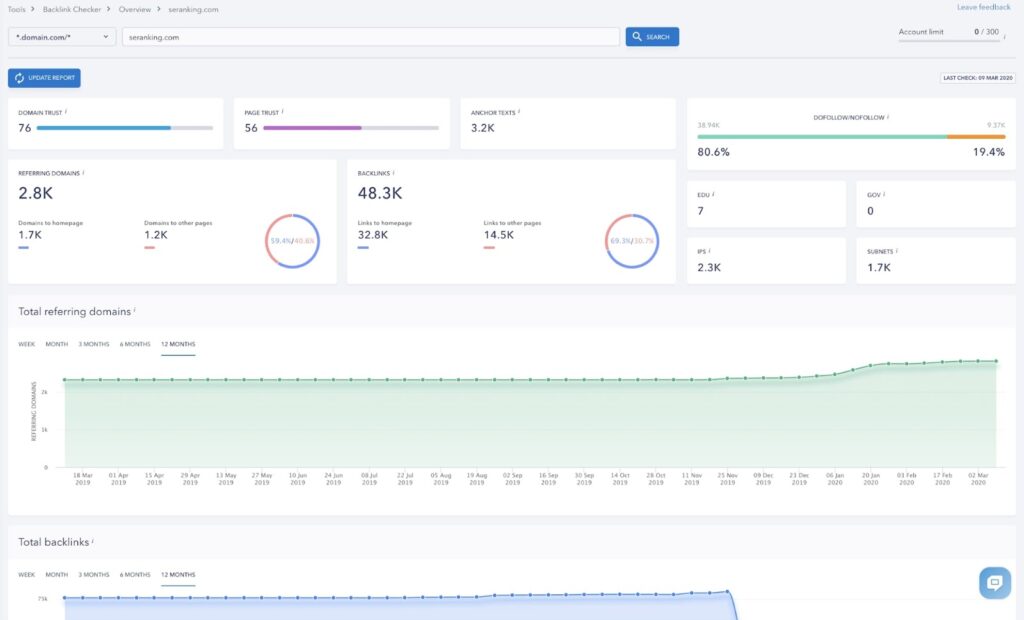 SE Ranking website audit
Recently, SE Ranking has launched its new audit tool, Website Audit 2.0, that is faster, better, and more customizable. It helps SEO specialists learn everything about the health of their websites, discover the existing problems, and solve them immediately. With this tool, you can:
Analyze over a hundred different parameters that are divided into 16 categories.
Pay more attention and get detailed information on every important metric, for example, slow page loading speed, page indexation issues, discover duplicate content issues, and more.
Expand a particular parameter and see the detailed description of the existing issue and useful tips to fix it.
Categorize issues: see which of them must be fixed right now, check warnings and notices.
See the Core Web Vitals parameters score and learn if your site meets the UX criteria. SE Ranking analyzes page speed and user interaction metrics (LCP, CLS, FSP, Speed Index, Time to Interactive) and determines how fast your website renders the first display area.
See the site's Health Score that is based on the cumulative value of every metric analyzed by the system.
Track your progress and see how many issues have been already fixed.
Access dashboards with all metrics presented in the form of graphs and charts, with columns and filters.
Customize parameters according to your needs.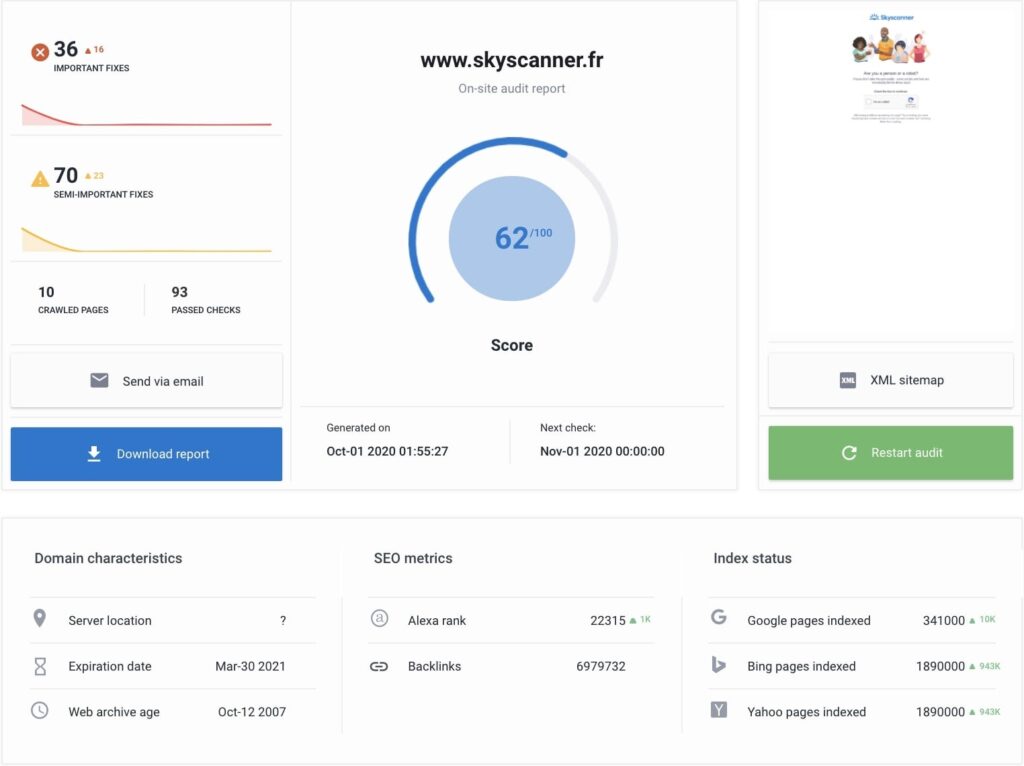 Wrap-up: How good is SE Ranking?
Pros:
one of the most affordable solutions in the market
works equally well for SEO beginners and SEO experts
collects data for all devices and a lot of locations, in particular, for Canada
has the largest keyword database in Canada
doesn't require payment for adding new users
Cons:
not the largest backlink database available in the market
users need to pay an extra fee to access some special features
So, is SE Ranking worth using? No matter if you are an SEO beginner looking for a cost-effective solution for your projects or an expert looking for an advanced all-in-one tool that could meet all tasks, from on-page SEO to competitor research, it will work for you. SE Ranking constantly updates its tools, offers reasonable prices, and provides users with accurate data on the site's rankings, backlinks, and competitors' websites as well. Moreover, as a new member, you can try most of the tools out for free during a 14-day trial period. All this makes SE Ranking one of the best versatile platforms in the market.
Semrush: A tool for intermediate and high-level SEO
Semrush works for a full circle of SEO and helps users track ranking, find the best keywords for their projects, analyze backlinks, find technical errors, analyze competitors' sites and promo campaigns, and develop effective marketing strategies for major search engines, as well as for popular social media. Still, it offers a pretty wide range of services, and the platform is especially good at SEO research, in particular, competitor analysis.
Semrush keyword position tracker
Such a popular platform, of course, provides the necessary tools that help specialists identify the pros and cons of particular promotion campaigns, evaluate the effectiveness of your efforts, monitor the progress and changes, and improve SEO strategies overall. Is it a good value for money? Here is what users can do with this tool:
Track daily rankings and monitor all the changes for particular sets of search queries (both for desktop and mobile).
See rankings for particular countries, regions, and languages, as well as global rankings.
Analyze your competitors ranking with one click, just by entering a domain or URL.
Monitor Google algorithm updates.
Keep up with Google updates.
Filter the results by more than fifteen parameters.
Find your major competitors.
Export reports in PDF.
Create your own sets of keywords and analyze the volatility.
Get notified of any serious change in the website's position in search.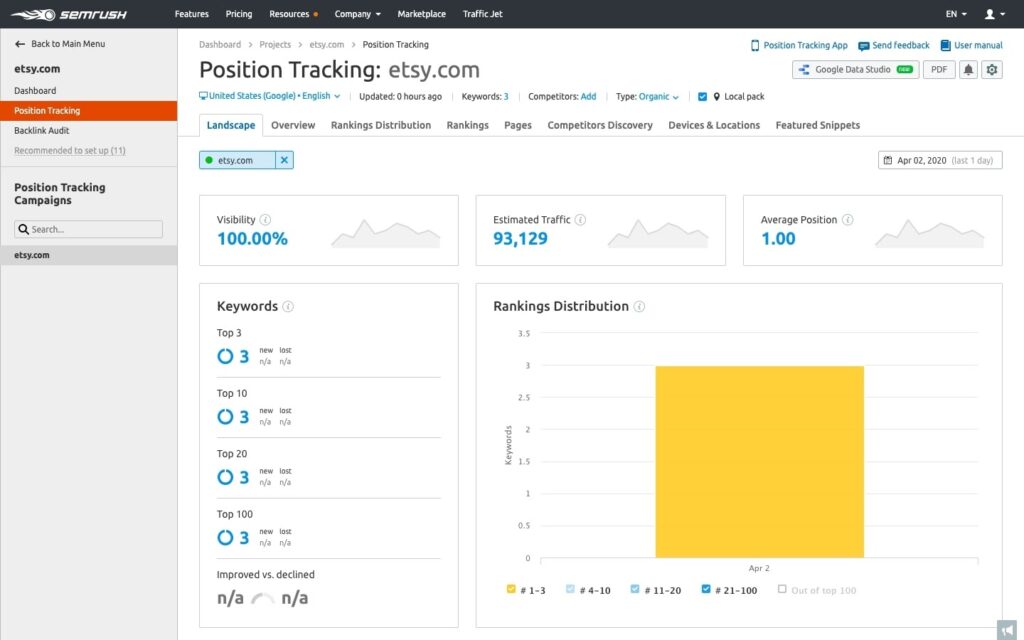 Semrush competitive research
Analyzing your own website in detail is not enough for developing an effective SEO strategy, and the Semrush team could not but offer a great competitive research tool. Everyone who uses Semrush gets access to one of the widest varieties of advanced features, the best of which enables to:
Analyze your competitor's SEO campaigns, traffic, audience, and presence in Canada.
Reveal global players in any niche, learn more about the most effective promotional trends, analyze users' interests, and find the untapped opportunities for your projects.
Understand how and where your competitors get their organic traffic from.
Find the keywords your competitors successfully use that are missing on your site.
Analyze your competitor's backlinks in detail.
Find out who are your biggest competitors in paid search.
Monitor your competitors' reputation.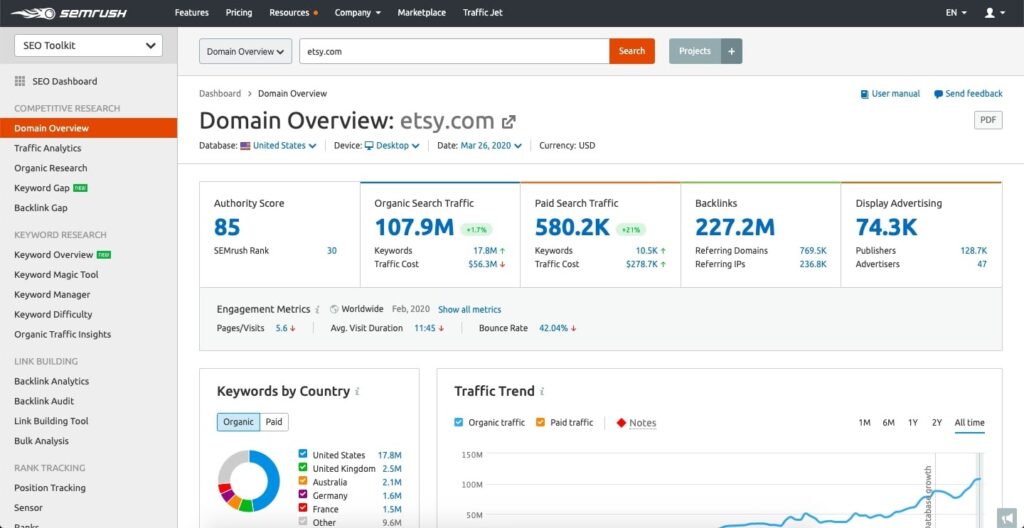 Semrush backlink analytics
Semrush has a big database of links that is updated daily and provides a few useful tools that allow analyzing competitors' backlinks in more detail. Here are the things that a specialist can do using this platform for backlink analysis:
Analyze your competitors' backlink profiles, track new links and the number of deleted links.
Identify the types of backlinks.
Find all referring links and domains, in particular, high-quality backlinks to the competitors' websites.
Find the link-building opportunities that you missed.
Compare your profile with your competitors' profiles.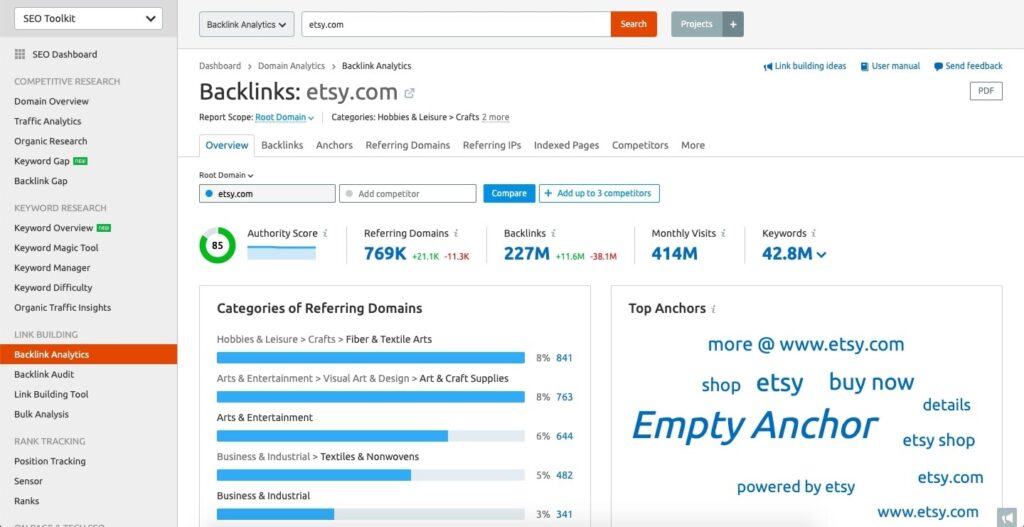 Semrush website audit
Semrush doesn't offer anything really extraordinary and revolutionary in terms of audit but it does provide some effective tools to users who want to find and fix errors, as well as get some tips to improve the website's performance. In particular, SEO specialists can:
Find all the most important errors that should be fixed ASAP: from duplicates to incorrect hreflang attributes.
Receive in-depth reports on all errors.
Include or exclude particular pages when auditing the website.
Monitor your progress and changes, evaluate their effectiveness.
Check the Core Web Vitals performance metrics and monitor changes.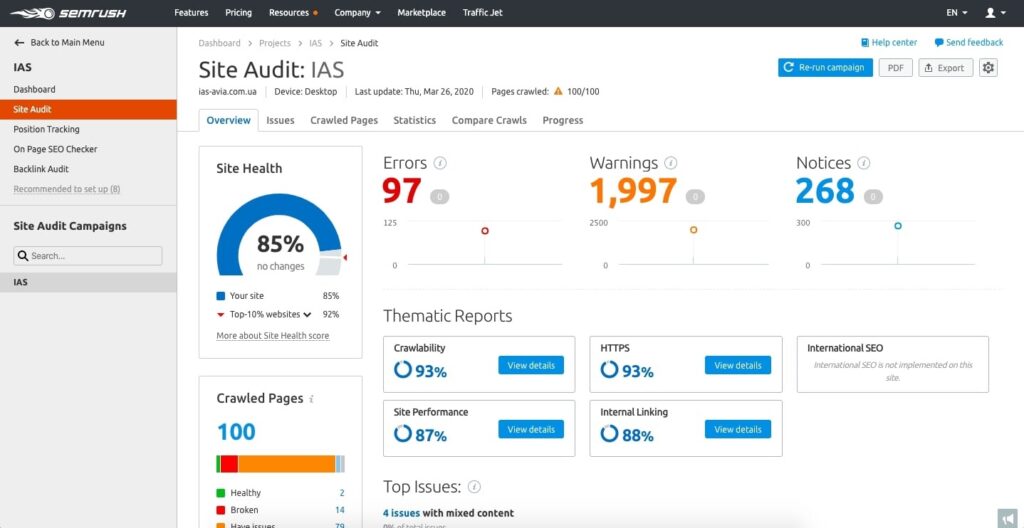 Wrap-up: How good is Semrush?
Pros:
large database
deep backlink research
good site auditing tools
great production planning and control features
Cons:
provides results only for two search engines
extra fees for adding new users
expensive subscription
poor user experience
Undoubtedly, Semrush is a great SEO platform that can be used for a variety of purposes: from creating your own keyword database, and analyzing links relying on the information from one of the largest databases to production planning and control. Semrush offers a 7-day free trial (which is twice less than what SE Ranking offers) and it's much more expensive than SE Ranking. Similar to Ahrefs, it is also not so easy to use for SEO newbies. Nevertheless, it does allow a user to complete all the tasks in one place and is very good at competitor research. On top of that, it's good for intermediate-to-high level SEO, in particular, it works great for multi-taskers who work on plenty of projects.
Ahrefs: Great backlink analysis, but what else?
Ahrefs is a professional SEO software that offers a wide variety of effective tools that make it stand out. Of course, it's also about the quality—for example, the company offers one of the most powerful tools for analyzing backlinks and keyword research. It's noteworthy that it has one of the largest domain databases. Some may argue that we said the same about all of the above-mentioned SEO platforms. Well, let's analyze Ahrefs tools in more detail to find out what helps it stay one of the most popular platforms in the market.
Ahrefs keyword position tracker
Let's start with the Ahrefs tracker—the tool aimed at helping SEO specialists and marketers get more traffic, get competitor insights, and finally become number one. Of course, it's possible only if you use its full potential, so let's take a look at the tasks you can complete with this tool:
Monitor your rankings across all major search engines for all types of devices. This tool works best for the US and UK but can give less precise results when it comes to Canada.
Get detailed reports with plenty of parameters sent right to your email address.
Monitor search results in most countries of the world.
See the history of changes, analyze improvements and ineffective techniques, and analyze your overall progress.
Group keywords.
Compare the positions of your website with the positions of your competitors.
Track SERP features and filter them.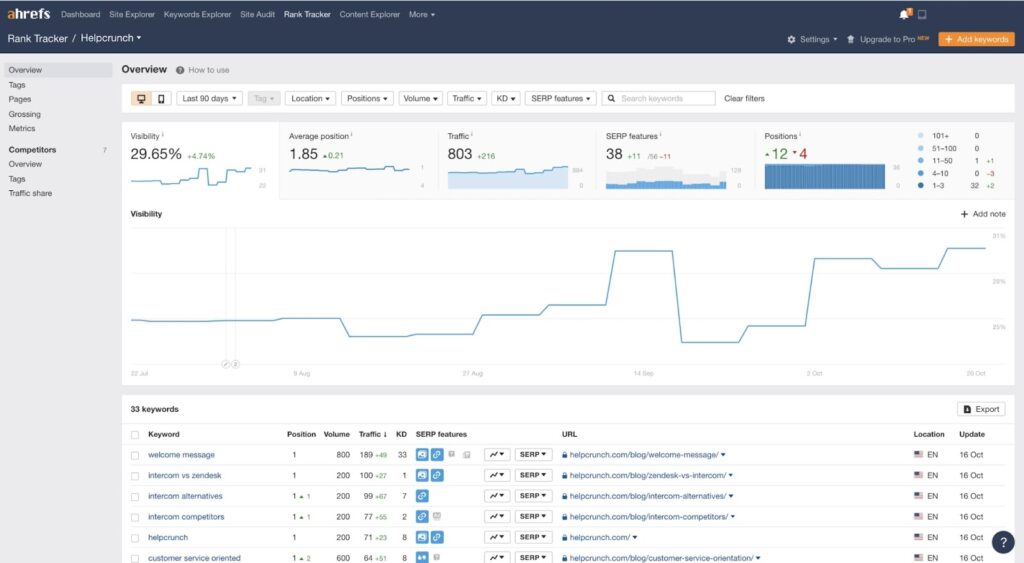 Ahrefs competitive research
Though Ahrefs does have tools for competitive research, they are not grouped into one tool. It may be a bit more difficult for beginners to find the necessary features at first. However, users can still complete a lot of tasks with it. In particular, they can:
Use Ahrefs keyword research tool to find organic keywords. Although it has a large database in lots of countries, its Canadian keyword database is sometimes insufficient.
Find competitors' best pages that get the most traffic.
See the competitors' backlinks, analyze their profiles, and evaluate the quality of domains that link to them.
Get keywords from all the major search engines.
Find top guest blogging platforms.
See what keywords competitors use that you don't.
Find broken links on the competitors' sites to contact their referring websites and offer to replace broken links with your links.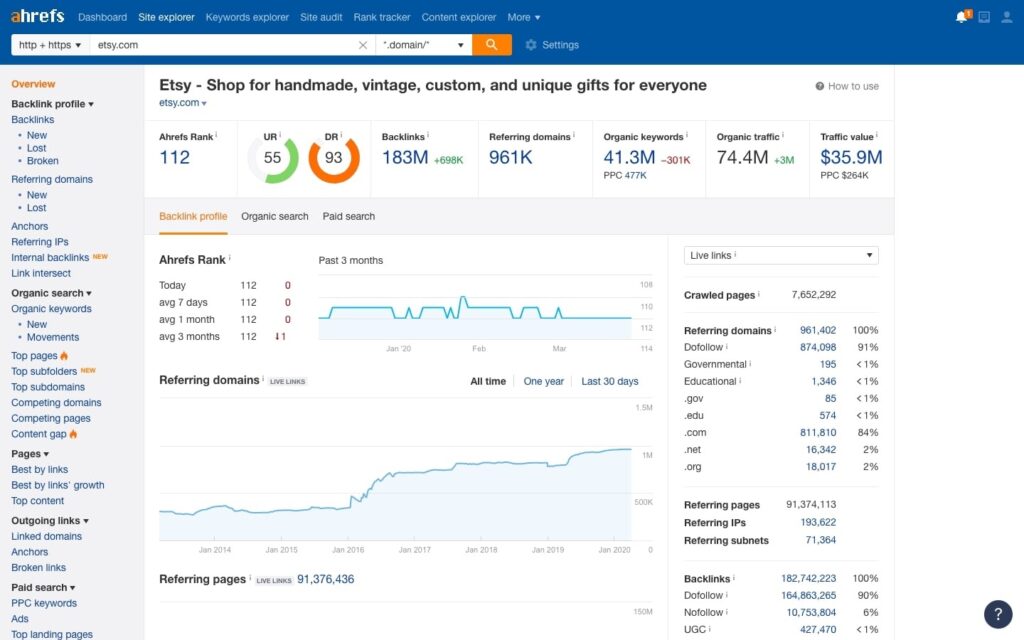 Ahrefs backlink analytics
What about researching backlinks? Ahrefs is one of the best tools when it comes to links—like the two above-mentioned platforms, it provides users with everything they need to analyze their competitor's backlinks in detail. In particular, it helps to:
Analyze your own projects as well as your competitors' sites, find all the backlinks in a large database.
Compare any two websites in terms of backlinks.
Evaluate the progress, see how the backlink profile is changing.
Evaluate the quality of domains that refer to the competitor's site.
See all the link spikes.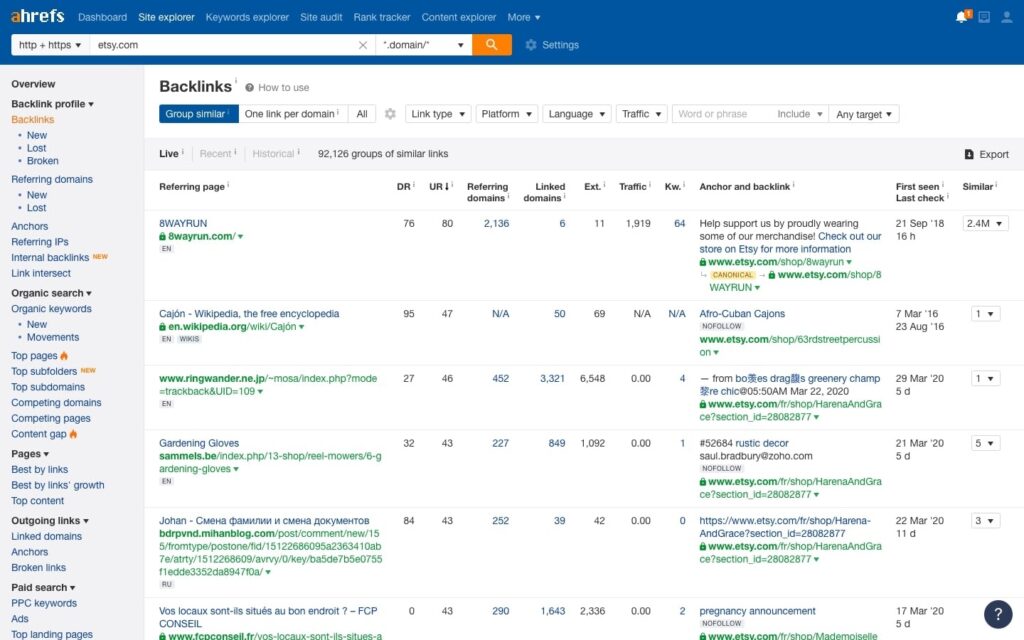 Ahrefs website audit
Ahrefs helps you find all technical errors, fix them, and improve the overall quality of your website. But what exactly can you do with this tool?
Receive detailed reports with charts and figures that will help you understand what's going wrong and fix all the errors in the quickest way.
Analyze your site, find 100+ important SEO errors: from low loading speed to poor content, broken links, and pages.
Use advanced features (especially useful for SEO experts), customize them, and find rare problems that still impact your website's performance.
Monitor the progress and changes.
Export reports.
Save all the data in the cloud and have constant access to them.
Find out how good your site is for mobile users.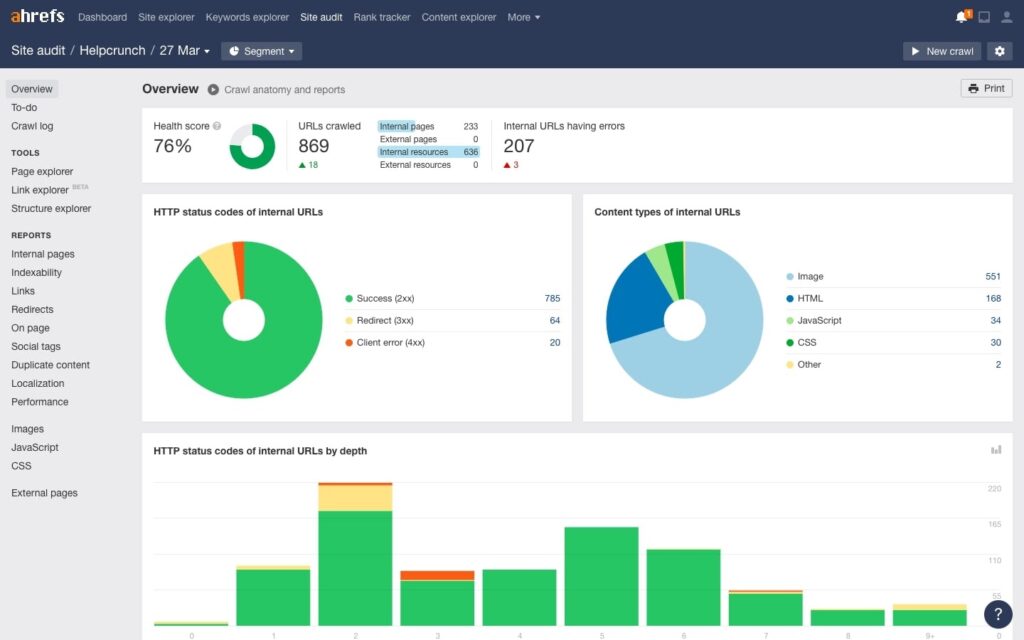 Wrap-up: How good is Ahrefs?
Pros:
the largest backlink database
supports 10 search engines
good keyword research tools, detailed information on each keyword
helps create effective content plans
Cons:
expensive subscription
local rank tracker is not so sophisticated
search volume data is way off
doesn't see around half of backlinks
Canadian database contains fewer keywords
So, what is good about Ahrefs? Plenty of things, actually. This platform has a huge database of links, provides users with the possibility to find the best keywords for their niches, find out how fierce the competition is, and create thoughtful, effective content plans. However, it has its cons, too. In particular, statistics could be more accurate, and there could be more filters for sorting domains that refer to your or your competitors' websites.
It's worth noting that beginners may find this service too complicated. Still, Ahrefs remains a great SEO checker for professional users with the largest backlink database in the market.
SEO software comparison: Semrush vs. SE Ranking vs. Ahrefs—Which platform is the best for Canada?
So, what's the best SEO tool for Canadian users: Semrush, Ahrefs, or SE Ranking? As you can see, there is no single answer to this question—each of these platforms may be better in one aspect and a bit weaker in another one.
Let's start with the Canadian database to understand what opportunities each of the platforms can give to webmasters and marketers in a particular region.
Ahrefs Canadian database = 15M keywords / 178M domains
Semrush Canadian database = 20.2M keywords / 25.1M domains
SE Ranking Canadian database = 86M keywords / 31M domains
As you can see, SE Ranking has the largest database of keywords, while Ahrefs has the largest database of domains. However, we can't rely only on databases—another important question is how they work. Moreover, there is another important parameter to consider—their pricing policies. We'll illustrate how the tools work with specific examples, and analyze their prices in detail below.
Best keyword rank tracker
So, what is the best keyword tool for SEO? What's especially important for a marketer who wants to know everything about the efficiency of their keywords? First of all, it's the number of search engines.
SE Ranking analyzes your results across 7 search engines: Google, Yahoo!, YouTube, Bing, Google Mobile, Yandex, and Yandex Mobile.
Semrush tracks keyword rankings in 4 major engines—Google, Baidu, and their mobile versions.
Ahrefs supports 10 search engines—Google, Amazon, Bing, Yandex, Daum, Naver, YouTube, Baidu, Seznam, and Yahoo!.
Hence, if you need to access the largest number of search engines, Ahrefs is definitely the best option. Still, if you mainly focus on Google, just choose the option that meets your personal demands.
But what about the number of keywords that you can track? All the platforms offer the same number of keywords, namely, 500, but there is one more important thing to consider. Semrush and Ahrefs count a keyword that you track for a few different locations as a few keywords, respectively. So, if you want to track your keyword rankings across 5 countries, for example, Canada, the US, the UK, Australia, and New Zealand, you'll actually track only 100 keywords.
SE Ranking, in turn, provides users with the possibility to check 500 keywords in five different combinations, not only for different locations and search engines but also for different languages and mobile/desktop devices. Considering the fact that a user can check rankings once a day, i.e., 30 times a month, they will have almost a million checks a month.
So, SE Ranking has the best SEO keyword tool in terms of value for money. On top of that, it's much easier for a beginner (as well as for an SEO pro) to figure out how the tool works without missing any details. The platform also provides detailed reports with all the important parameters that help a user understand what should be improved and how to rank higher.
Ahrefs is in second place thanks to its large database and lots of features, however, the price is higher than SE Ranking and Semrush offer. If you want to upgrade, you'll need to spend about $180. The cheapest plan may be good for webmasters who work for themselves but definitely not enough for a company that runs large campaigns. In addition to that, Ahrefs works well for the US and UK but can give less precise results when it comes to Canada.
Semrush is in third place for a few reasons. First, it allows you to check rankings only for two search engines. Secondly, it doesn't offer this many checks, and even considering that it's a bit cheaper than Ahrefs, it can hardly compete with it.
The comparison table shows the difference between the three tools based on prices, tracked keywords, the number of search engines, and mobile rankings.
Best competitive research tool
Let's examine these three platforms by analyzing two websites: Cleaningpros.ca and MrHandyman.ca. We've selected these platforms because they are both businesses from Canada that target Canadian market. Beyond that, these sites were chosen randomly.
Let's say a few words about these sites:
CleaningPros is a website owned by a team of trained professional cleaners that provide a wide variety of cleaning services in 5 Canadian cities, namely Edmonton, Red Deer, Calgary, Saskatoon, and Winnipeg.
MrHandyman.ca is another company that offers a solution for a wide range of home maintenance and repair needs in Canada.
We checked the websites to find out which of the platforms could offer better solutions for analyzing competitors who are racing for a higher ranking on major search engines.
Let's start with CleaningPros.ca
Semrush has shown us 396 keywords, Ahrefs has shown 482 keywords, and SE Ranking has shown 585 keywords.
Semrush: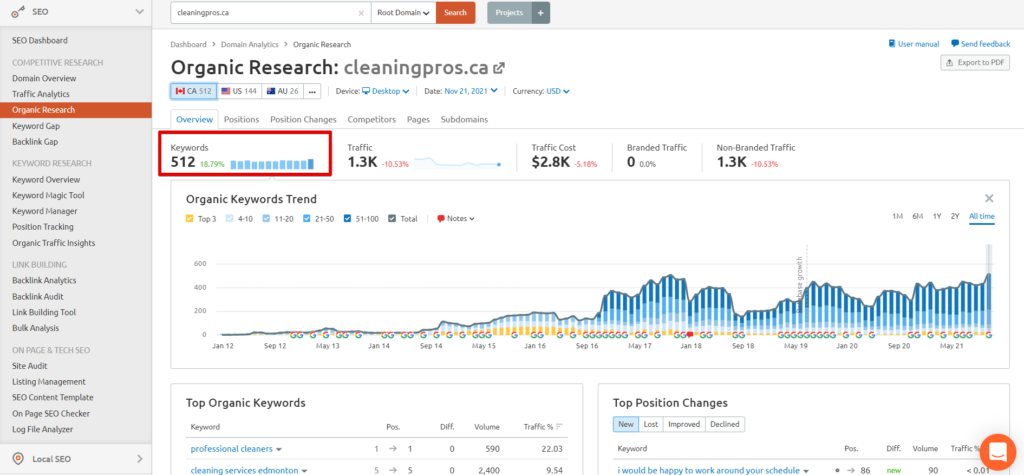 Ahrefs: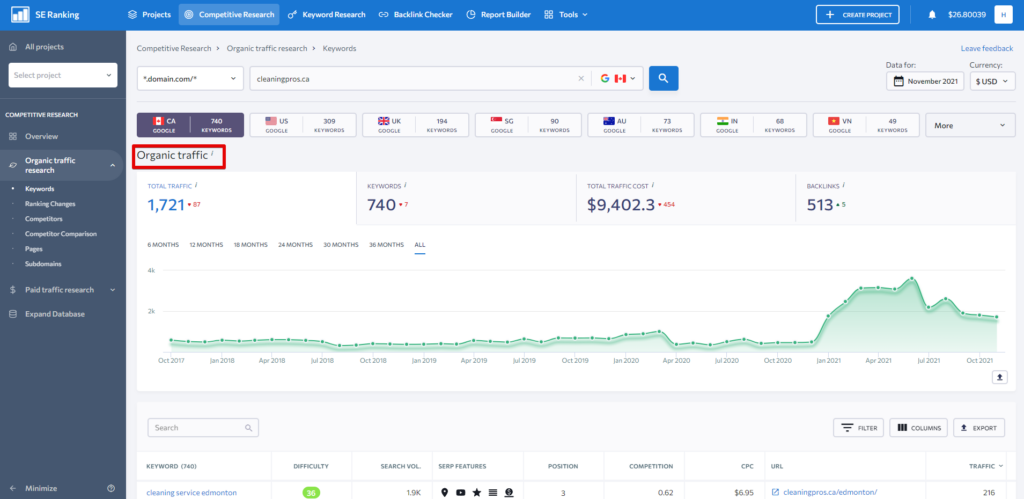 SE Ranking: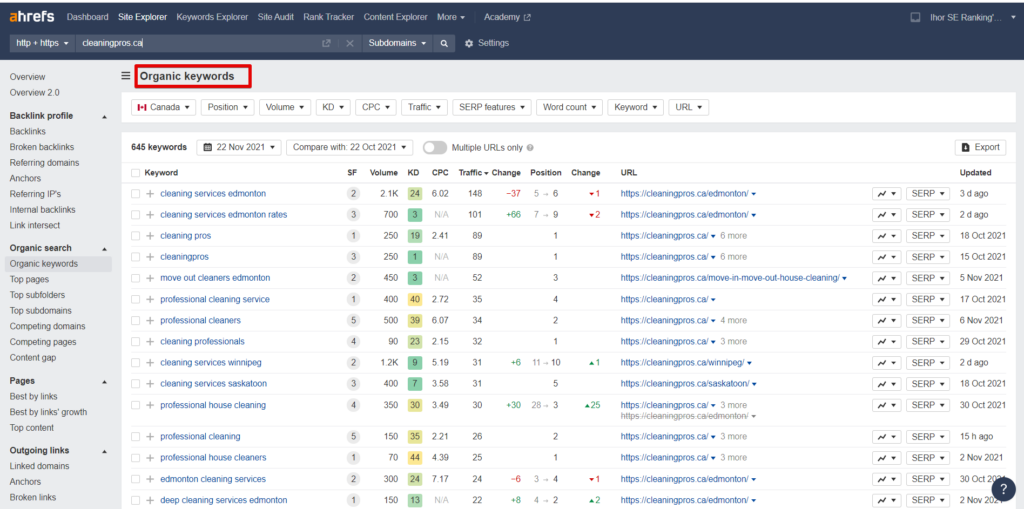 As you can see, though both Ahrefs and Semrush have large databases for Canada, SE Ranking has shown us significantly more keywords.
MrHandyman.ca
Now, let's move on to the second website, MrHandyman.ca. We got 2 500 keywords from Semrush, 2 300 from Ahrefs, and 2 400 keywords from SE Ranking.
Semrush: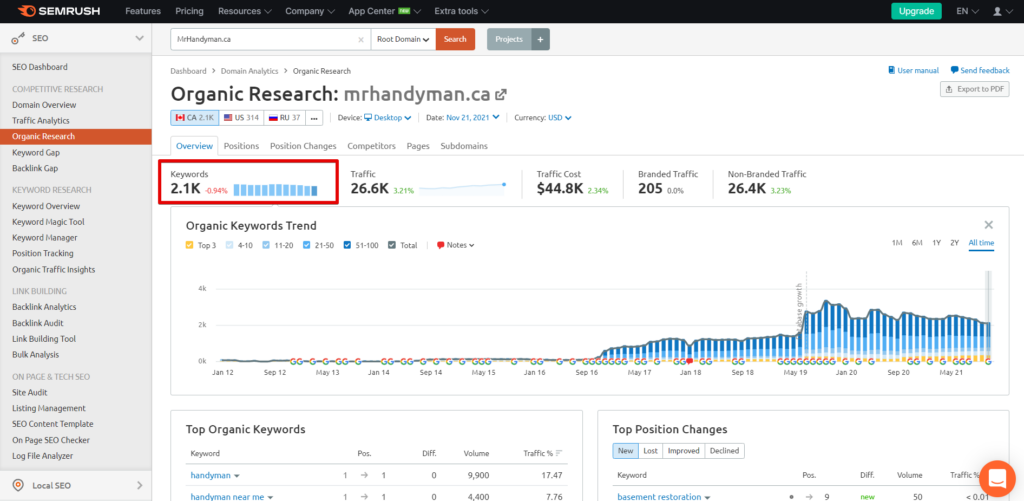 Ahrefs: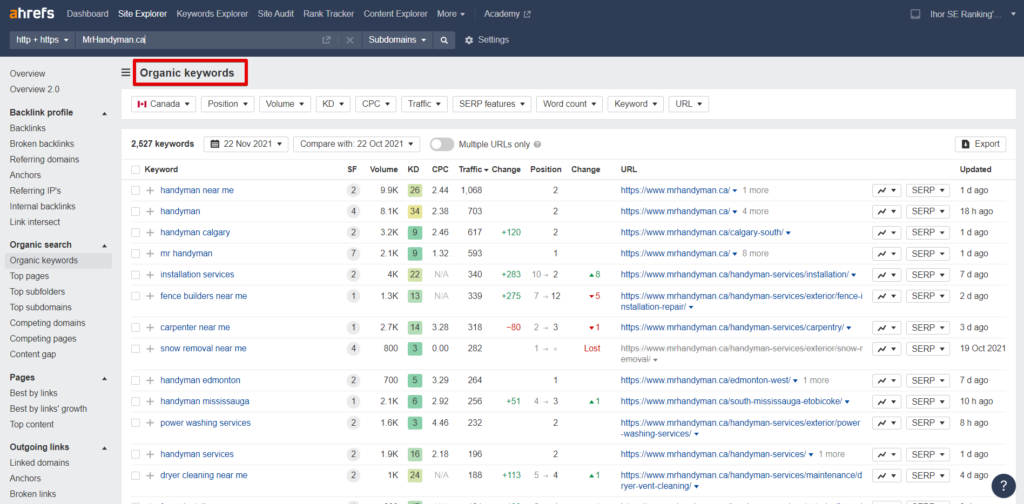 SE Ranking: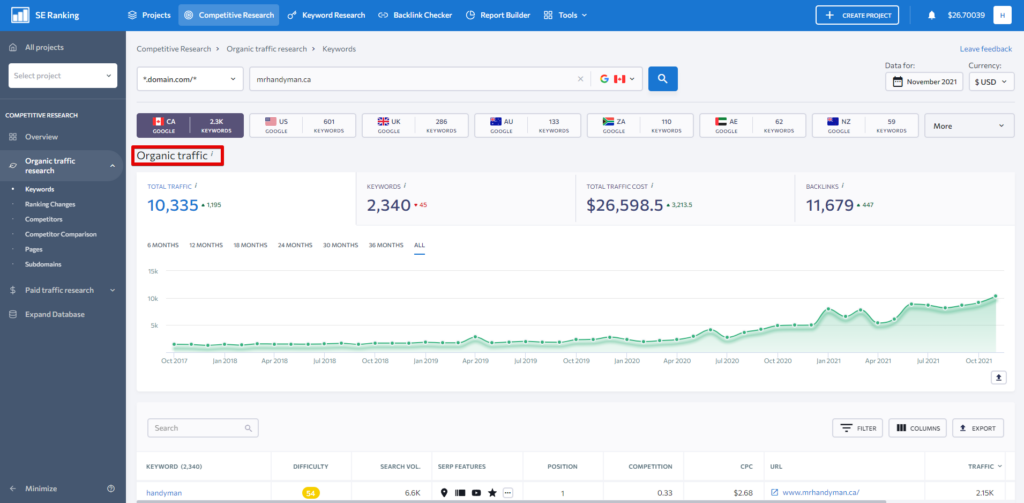 In this case, Semrush turned out to be the winner. However, its results were not that impressive for the previous website as it provided almost 200 keywords fewer than SE Ranking. On top of that, the gap between the number of keywords provided by Semrush and SE Ranking for MrHandyman.ca is not that large.
Best backlink analysis tool
Now, let's analyze two other websites, ParisJewellers.ca and Altitudegym.ca.
ParisJewellers.ca is a jewellery store located in Canada that owns 23 locations across 4 provinces. Altitudegym.ca is a relatively young business that was founded in 2010. Basically, it is one of the leading climbing centers in Canada offering people of all levels to try climbing in a training space. These two businesses operate in completely different niches and were chosen as the examples of local businesses.
Let's use all three tools to find backlinks and referring domains. In fact, the number of domains is even more important than the number of backlinks as it's more valuable data for SEO analysis. Obviously, these two platforms work in completely different niches in Canada, so it would be pretty interesting to see how all the tools work for each of these websites.
We checked the jewelry store first, and here are the results:
Semrush—415 domains, 3 700 backlinks
Ahrefs—492 domains, 2 500 backlinks
SE Ranking—715 domains, 3 800 backlinks
And here is how it looks on the platforms.
ParisJewellers.ca
Semrush: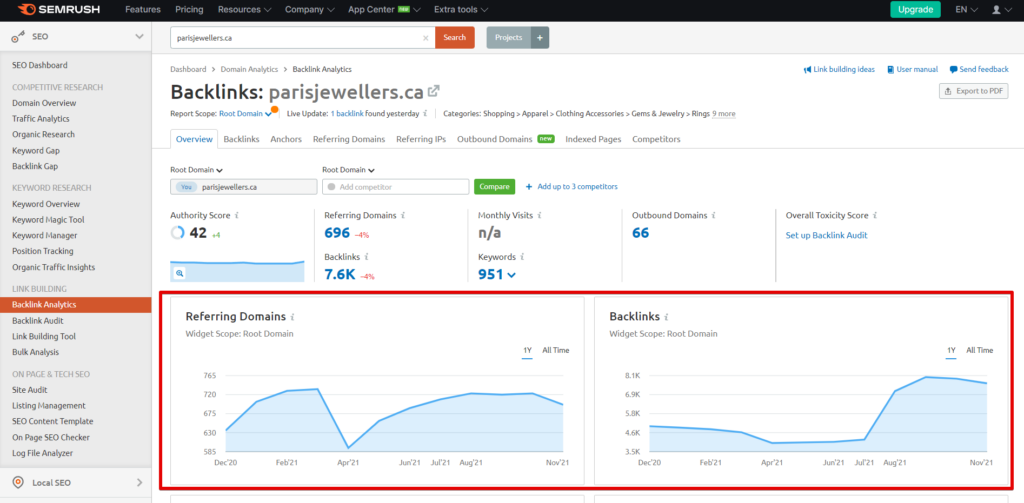 Ahrefs: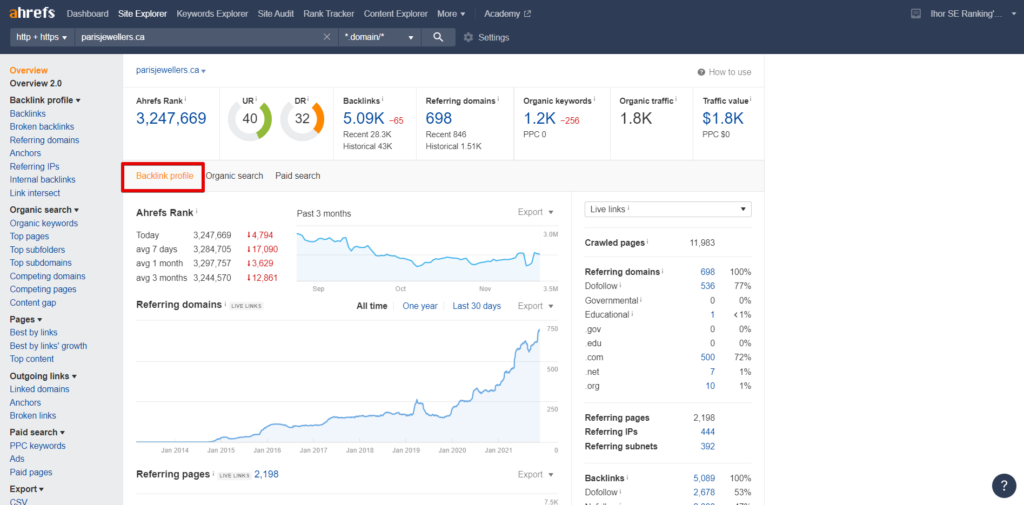 SE Ranking: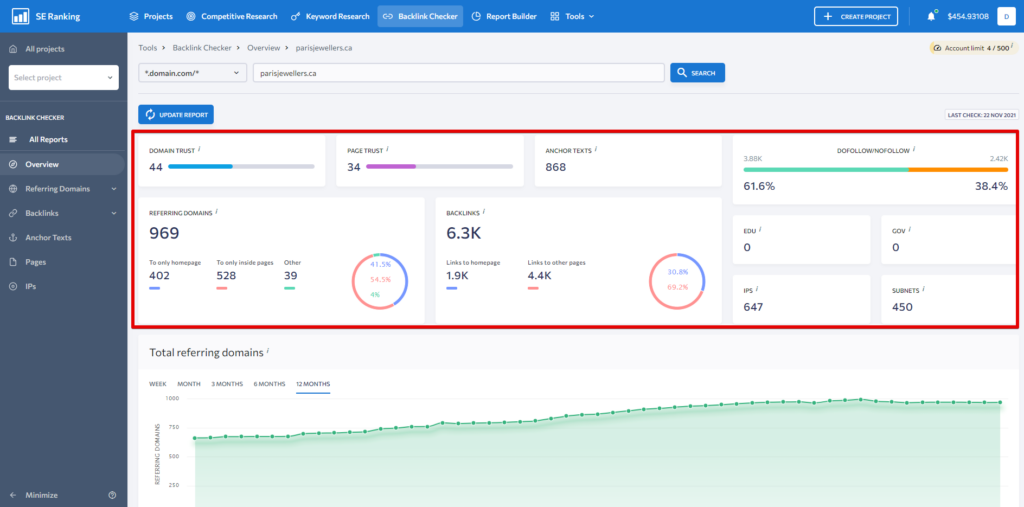 As you can see, SE Ranking shows more domains and backlinks. In this case, the number of domains is even more important in terms of SEO, as the difference between the results of SE Ranking and its two competitors is quite large. As for the backlinks, there is no such a big difference between those shown by Semrush and SE Ranking—the latter provided only 100 more backlinks. At the same time, Ahrefs provided more domains than Semrush did. In this case, we can put SE Ranking in first place, Ahrefs in second place, and Semrush in third place, respectively.
Altitudegym.ca
Altitudegym.ca has shown the following results:
Semrush—251 domains, 1000 backlinks
Ahrefs—232 domains, 1000 backlinks
SE Ranking—273 domains, 1600 backlinks
Semrush: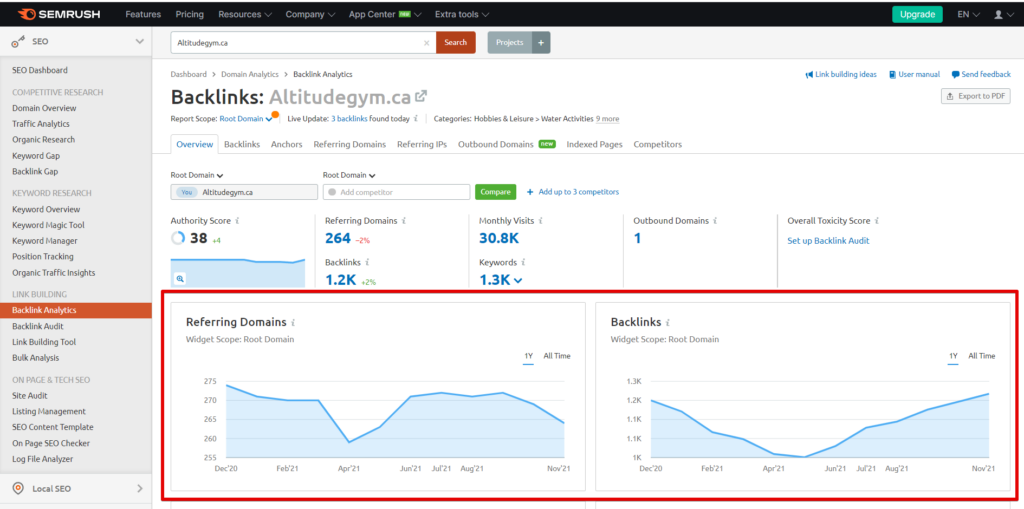 Ahrefs: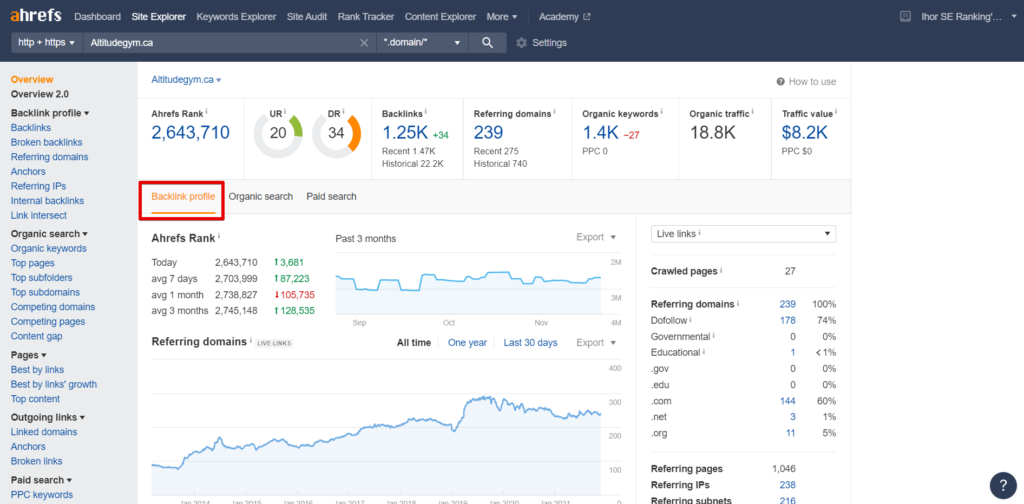 SE Ranking: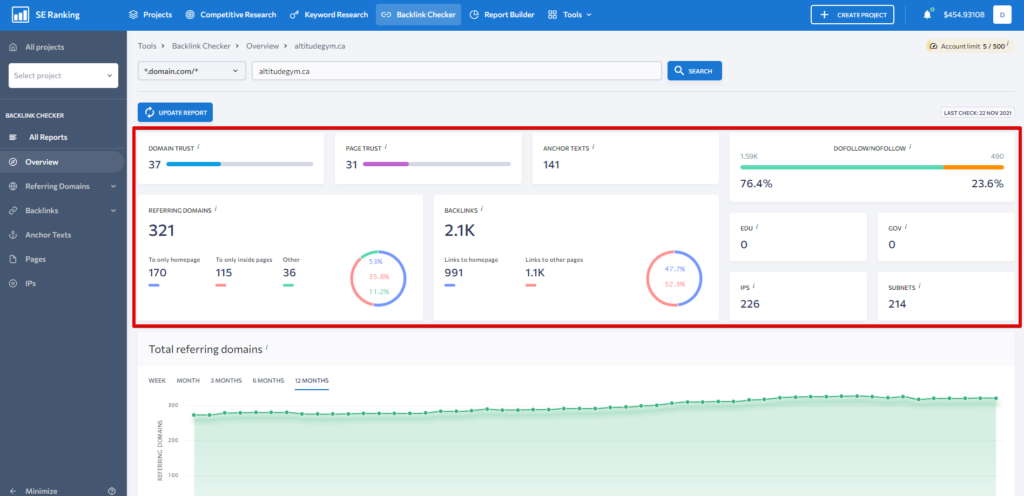 Although the difference between the results is not that big, SE Ranking has shown more domains, as well as more backlinks. In this case, we can put Semrush in second place and Ahrefs in third place.
Best website audit tool
As we've already mentioned, each of the three companies provides great all-purpose software for SEO, but let's see which one offers the best website audit tool in Canada.
First, let's take a look at the opportunities included in the cheapest plans.
Pages crawled/month: Semrush—20,000, Ahrefs—1 crawl per project, SE Ranking—10,000
Which of the platforms will find more issues, provide tips to fix them, and send you detailed and easy-to-understand reports? Semrush is a champion when it comes to a number of checks, but unlike SE Ranking, it doesn't check images and alt tags and doesn't provide as many opportunities for customization. Ahrefs, in turn, is the most expensive platform for audit—it also shows you the overall health score, some performance issues, technical issues and SEO errors, but Semrush and SE Ranking provide more comprehensive and detailed reports.
Additional features
We shouldn't also underestimate the importance of how all these services work with their corporate clients and private customers. SE Ranking doesn't limit customers to a particular number of users who can receive and analyze reports—once it's done, the results are available to all members of your team without extra charge. However, the other two platforms require additional payment for adding new users.
For a monthly subscription, Ahrefs will ask you to pay an extra $30 (C$36.4)/month for each new member; whereas Semrush has the following pricing:
Pro: $45 (C$54.6) per user per month
Guru: $80 (C$97.1) per user per month
Business: $100 (C$121.4) per user per month
You should pay special attention to SEO white label software—SE Ranking provides companies and teams with a possibility to present their websites under their brand names and domains and control the work of your team by adding users, granting them a specific level of access, etc.
Pricing
Let's take a look at the membership plans. And again, all these players offer rank tracking tools, competitor research tools, paid search overview, backlink profile research, and, of course, keyword planning tools for the following price:
Lite plans (500 keywords): SE Ranking—$25.8 (C$47)/mo, Semrush—$99.95 (C$144.78)/mo, Ahrefs—$82 (C$119.50)/mo
Standard plans (1 500-1 750 keywords): SE Ranking—$71.4 (C$107)/mo, Semrush—$191.62 (C$277.55)/mo, Ahrefs—$149 (C$216)/mo
Advanced plans (5 000 keywords): SE Ranking—$167.4 (C$228)/mo, Semrush—$374.95 (C$543)/mo, Ahrefs—$332 (C$481)/mo (in the case of Ahrefs, there is also an Agency Plan for $832 (C$1.206)/mo with 10 000 keywords)
As you can see, there is a pretty big difference in prices. If you are looking for an affordable SEO software still good enough to receive detailed information and find the best keywords, SE Ranking is definitely the best option. Still, platforms like Ahrefs offer extra special (and extra price, though) solutions for top professionals who don't mind paying for a high-end agency plan.
How do users rate each SEO tool?
So, what do users say about these platforms? Here are the scores that Ahrefs, Semrush, and SE Ranking have on the Business Software and Services Reviews site (G2):
As you can see, none of these platforms has a low rate—in most cases, users note that they were satisfied with the quality of services in all three cases, but SE Ranking received more positive reviews than the two other platforms.
On top of that, there is also a pretty illustrative table that shows that Semrush has the largest number of reviews (1,175), SE Ranking is in second place (798 reviews), and then comes Ahrefs (280 reviews). According to this, SE Ranking is the best at rank tracking, and Ahrefs is the leader when it comes to keyword research.
Final thoughts
At first, it seems that all three platforms have the same features, but when we take a closer look at its membership plans, the number of checks, size of databases, extra features, all their pros and cons, we realize that each SEO software is good in its own way. Still, we need to make a choice and choose what works for us the best. If we consider the prices, the variety of services, and the depth of analysis, SE Ranking will be the best tool for the Canadian market. It's also the leader when it comes to position tracking, it helps you spy on your competitors and receive detailed information on their campaigns, monitor the effectiveness of your link-building strategy, and find all types of errors—from low-quality and missing alt tags to broken links.
On top of that, it is a very intuitive tool that SEO newbies will love. On the other hand, Semrush and Ahrefs will be better solutions for sophisticated users who know exactly what they need and how to find the most useful data in tons of charts, graphics, and columns. To sum up, all the platforms are definitely worth using and paying for. Just consider your goals and choose the tool that will meet your personal demands.