With the rapid development of search engines, generating organic website traffic has become a considerable challenge. Simply publishing content and hoping for the best will not help you rank high in SERPs anymore. But what should you do to gain the highest possible organic search traffic? Which factors should you consider in the first place?
Once you build your website, you will need to make it clear to search engines what the theme and intent of your site is. This is where on-page SEO analysis comes into play.
On-page SEO, also known as on-site optimization, is the practice of improving both the site content (including text, media, and meta tags) as well as the HTML code and internal link structure. It refers to the optimization of all website elements that are within your control.
When done properly, on-page SEO becomes a truly effective tool for boosting rankings which will, in turn, result in more targeted visitors who will eventually be converted into leads and sales.
In this article, we're going to take a good hard look at 7 of the best on-page SEO tools for enhancing your site's performance. To make sure the results we get out of this comparison remain unbiased, we will analyze these tools using a combination of different metrics, including:
Page quality score
The number of competitors that can be analyzed
Range of issues explored
Recommendations on how to fix detected issues
Additional unique features
Keep reading this article to learn more about the best on-page SEO tools available in the market, their specific features, pricing options, and their usability.
Which On-Page SEO Tool Is Right for You?
By analyzing the comparison table outlined below, you'll learn more about each tool's on-page SEO capabilities and its functionality.
Consider asking yourself the following questions before deciding on which tool to use:
What features matter to my business the most?
What is my monthly budget for on-page SEO?
Really ponder on these questions and take them seriously. Choosing the right on-page SEO tool will be much easier once you have a clearer picture in your head of the direction you want to take your site.
Top 7 Tools for On-Page SEO Analysis
Let's begin by taking a step-by-step analysis of each tool, observing their strengths and weaknesses.
1. SE Ranking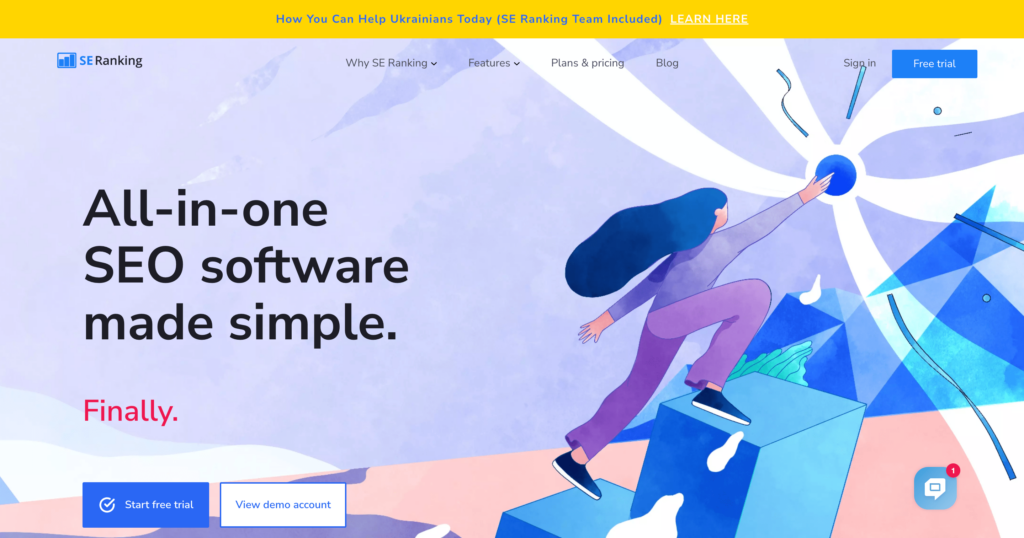 SE Ranking is an all-in-one SEO platform that offers a ton of strategic insights at your fingertips. Aside from analyzing a website's health, keyword performance, and traffic, this tool can check the quality of your backlinks, provide audits for technical errors, do competitive research, and give recommendations for on-page and off-page SEO.
The On-Page SEO Checker offered by this service measures every page against 94 parameters, starting from the page's title, content length, and keyword density all the way to the page's usability and backlink profile. If at least one SEO parameter goes beyond the normal range, the tool immediately qualifies it as an error, warning, or notice. This distribution depends primarily on the impact that a specific element has on the page's ability to get high positions on SERPs.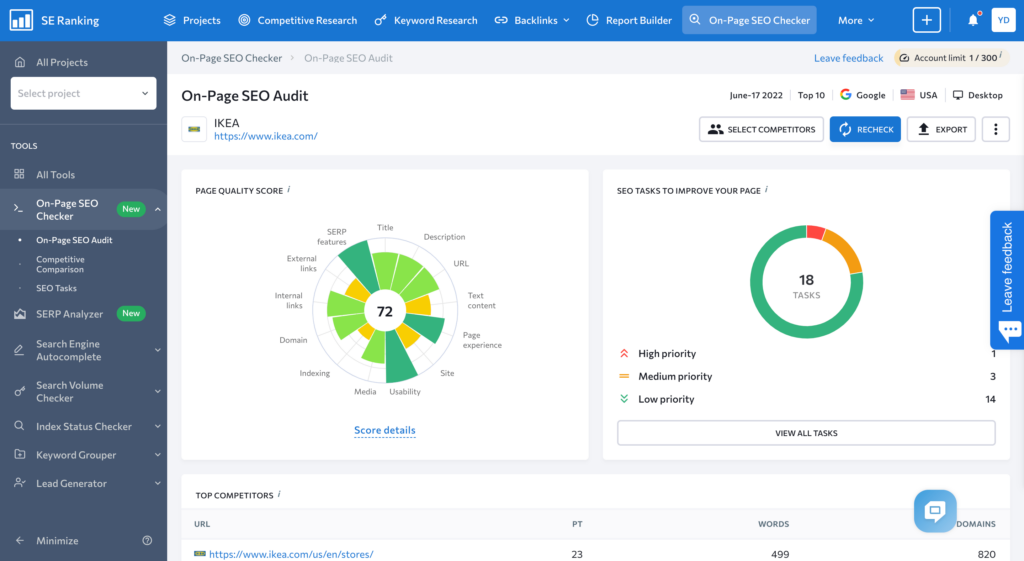 Every problem that SE Ranking finds comes with recommendations on how to fix it, so you won't be required to research lots of information to figure out how to deal with the detected issue. The tool also provides a to-do list of tasks that should be completed based on the drawbacks found.
What's more, unlike many other services that give recommendations based on standardized SEO guidelines, SE Ranking's On-Page SEO Checker suggests improvements based on the actual metrics of the page's direct competitors. For example, if your industry traffic is mostly mobile, you will be advised to keep your title tags under 60 characters despite the outdated recommendation that the title tag should fall within the range of 70 symbols.
Pros
Accurate page quality score based on nearly 70 parameters, with a different weight attributed to each indicator
Niche-specific SEO recommendations
The opportunity to get detailed insights on 3 to 50 SERP rivals
Recommendations are split between primary and secondary content
Cons
It can take some time to complete the loading/refreshing of some data
Navigation might be a little confusing for new users
Pricing
SE Ranking offers a 14-day free trial, after which you will need to subscribe to one of the following plans:
Essential: $55 per month (up to 20 pages of one or different websites can go through on-page SEO analysis per month)
Pro: $109 per month (up to 30 pages of one or different websites can go through on-page SEO analysis per month)
Business: $239 per month (up to 100 pages of one or different websites can go through on-page SEO analysis per month)
You can save up to 60% off of the monthly price by regulating the frequency of rankings checks and by choosing the subscription period that best serves your needs and budget.
Verdict
SE Ranking is a perfect fit for everyone interested in optimizing web pages to improve their rankings and user experience. Its On-Page SEO Checker offers an array of flexible and tailored features making on-site optimization as simple as possible. In addition to the high-quality on-page SEO process, SE Ranking is known across the board for providing accurate analyses of keyword rankings, scoping your competitors' website traffic dynamics, and analyzing backlink profiles.
2. Semrush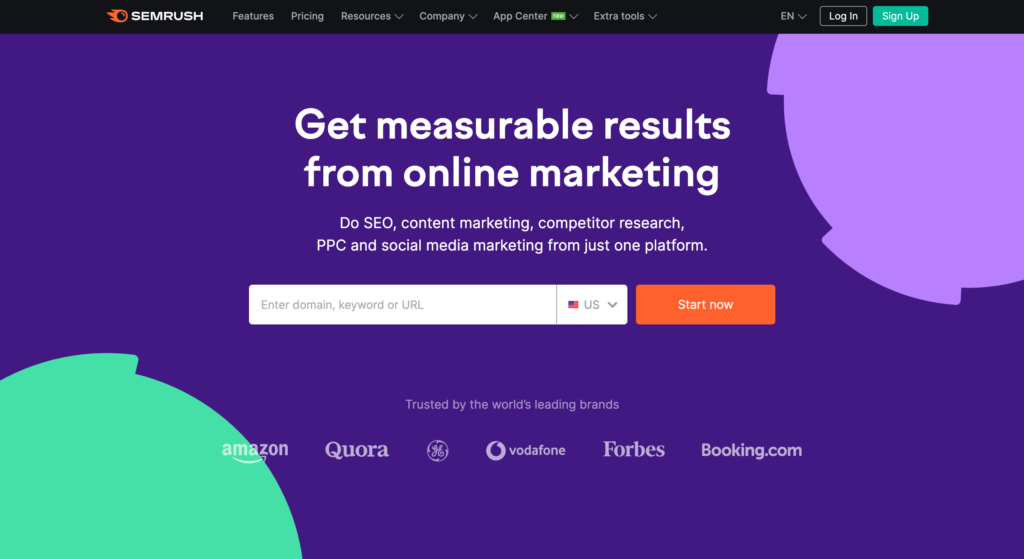 It's safe to say that Semrush is currently one of the most popular SEO tools on the market.
The over 50 digital marketing solutions offered by this tool explain why it has such a high level of recognition among SEOs. These solutions include but are not limited to: site audit, keyword research, content idea generation, competitive analysis, and so on.
Semrush's On-Page SEO Checker can perform an in-depth analysis of a website, compare it with the top 10 results in SERPs, and can even provide practical suggestions to increase rankings. This tool also provides:
backlink recommendations based on competitor anchor texts and niche-related rivals
technical SEO ideas to increase a website's health check score
semantically related keyword suggestions
content and user experience recommendations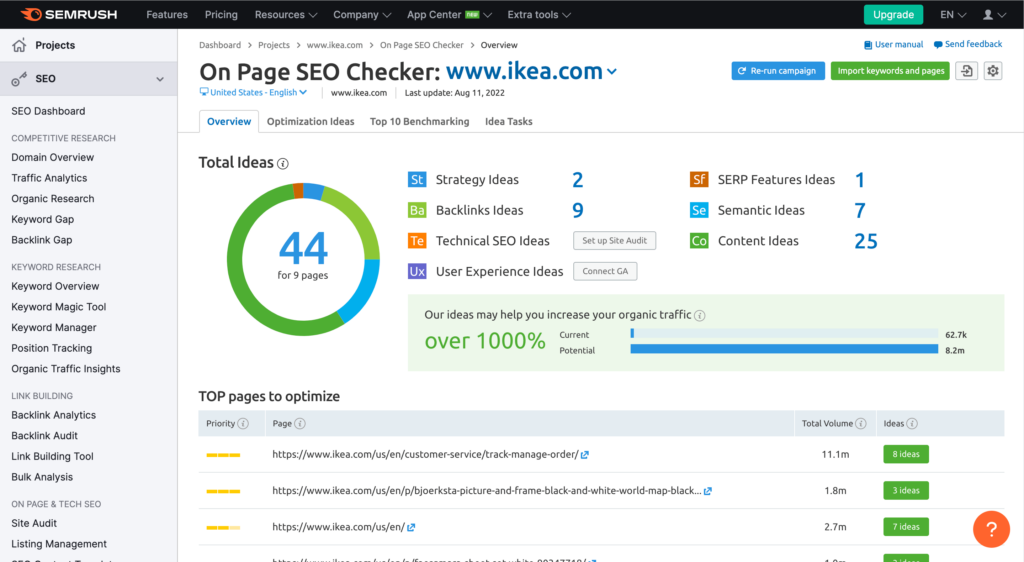 Just insert your site's link to the tool and wait for it to perform a thorough analysis. From here on out, you'll be able to access a well-structured list of pages that need on-page optimization. Just like SE Ranking, Semrush attributes each page with a certain level of priority, so you will be able to optimize the most valuable pages first. The rest is on you: simply implement outlined ideas to enjoy more traffic and opportunities for your business.
Pros
Clear prioritization of tasks
Not only does the tool offer tips but also explains why the tips matter
Comparison of your pages to the top 10 organic results
User-friendly interface
Cons
Expensiveness
It requires a high level of technical understanding and familiarity with the tool
Pricing
Semrush offers a 7-day free trial for new users. The subscription prices are as follows::
Pro starts at $119.95 per month (500 optimization ideas)
Guru starts at $229.95 per month (800 optimization ideas)
Business starts at $449.95 per month (2.000 optimization ideas)
If you pay annually, you can save up to 17% of the monthly plan price.
Verdict
Semrush is a versatile tool that can cover the majority of SEO requests that any site owner has. With the help of its On-Page SEO Checker, you will have the opportunity to dive into your website's weaknesses, determine actionable steps to take, and improve rankings based on the analysis of 10 real-time organic competitors.
3. Serpstat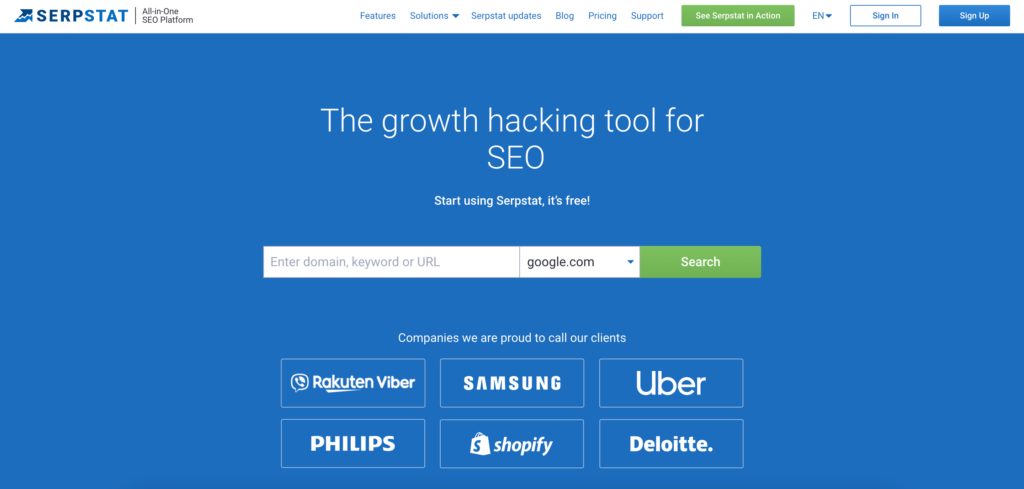 Initially founded as a keyword research tool, Serpstat has evolved into an all-in-one platform for SEO, PPC, and content marketing. Currently, its largest features can be divided into 5 blocks: site audit, competitors research, rank tracker, backlink analysis, and keyword research. These features are more than enough to optimize both on-page and off-page elements.
You can also use Serpstat's On-Page SEO Checker to determine SEO issues that don't let a certain page break through to the top. It takes several minutes for this tool to create a list of the analyzed page's errors and get actionable recommendations to fix them. Additionally, with the help of this platform, users have the opportunity to compare on-page parameters of a certain page side-by-side with the analogous competitor's ones.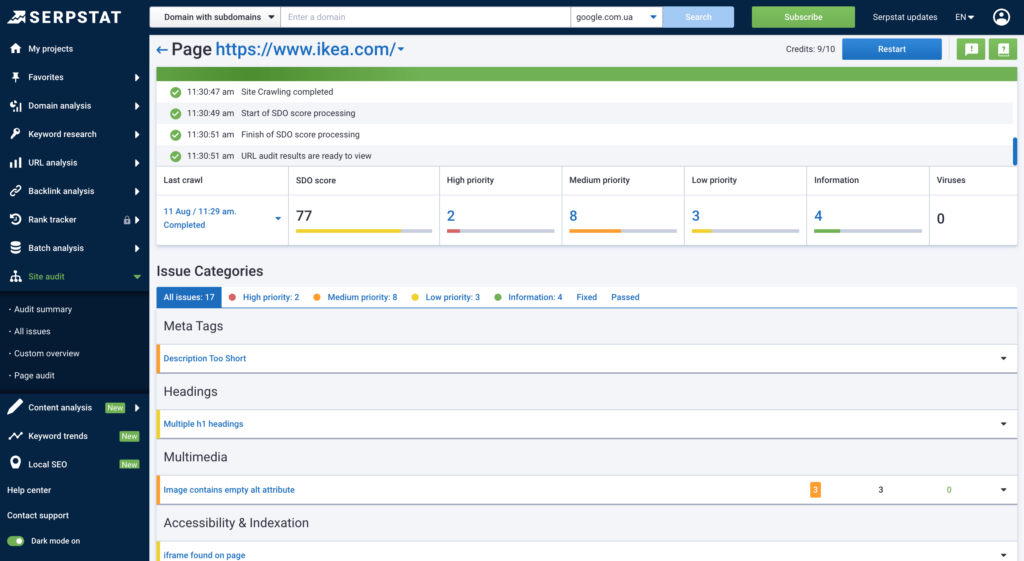 By the way, you can download the Serpstat browser extension to analyze a website in several clicks. Using this plugin can help you:
Perform on-page SEO analysis
Evaluate meta tags and site markup
Check microdata and site loading speed
Keep your finger on the pulse of traffic, visibility, keyword rankings, and backlinks
Pros
Convenient Chrome extension that can be used to analyze integral on-page SEO parameters
Opportunity to compare webpages with the rivals' pages
Suitable for small business owners
Cons
The site audit process takes more time than with most other tools
Poor design compared to its competitors
Pricing
After the platform's 7-day free trial, it will offer you one of the following subscription plans:
Lite: $69 per month (150,000 pages available for audit)
Standard: $149 per month (400,000 pages available for audit)
Advanced: $299 per month (1,250,000 pages available for audit)
Enterprise: $499 per month (2,500,000 pages available for audit)
With the annual subscription, you can save up to 30% of the total price.
Verdict
Serpstat has a lot of options available for marketers, including the On-Page SEO Checker which can be used to compare your target pages' SEO parameters with those of your rivals. Even though its design seems a little outdated, it still accurately performs all the integral on-site SEO procedures.
4. Woorank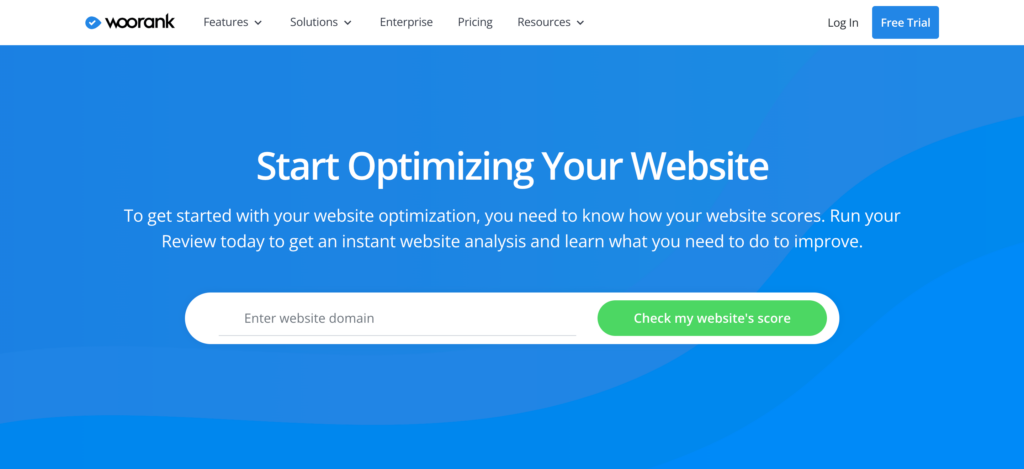 It would be fair to say that—with over 10 years of experience in SEO—Woorank is one of the top competitors in this industry. By integrating Google Search Console, Google Analytics, and your Facebook page with this tool, you'll be able to receive the most comprehensive information about your website performance to stay ahead of the competition.
Woorank doesn't have a separate tool analyzing on-page SEO elements, but its Website Review feature performs complete SEO analysis from the perspective of both on-page and off-page optimization. In the on-page optimization block, you'll have the opportunity to get information on content, indexing, mobile friendliness, structured data, security, domain, branding, and so on.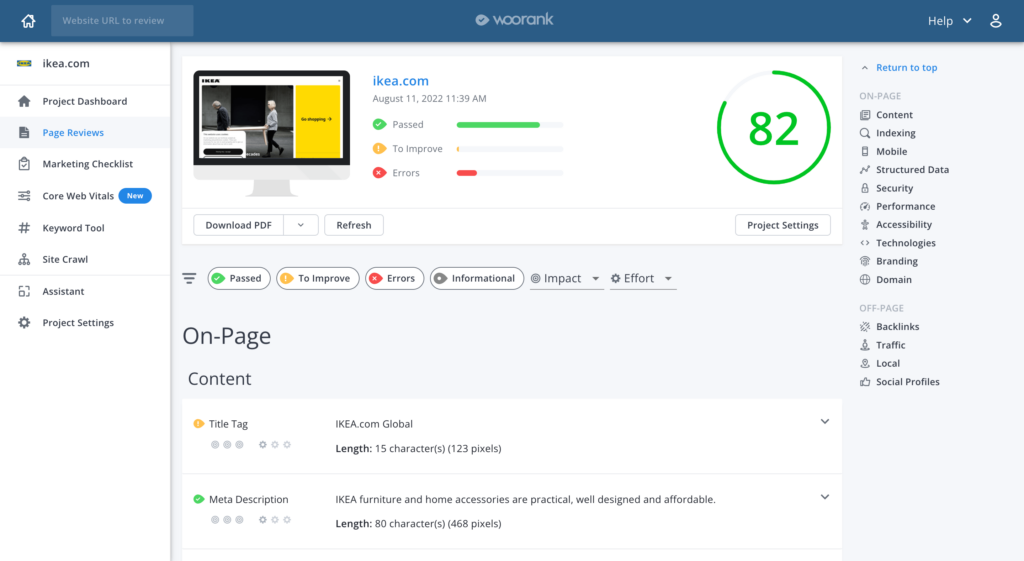 Just plop your domain name or URL in the search box and review the list of suggestions divided into three groups: errors, to improve, and passed. The most critical problems will be highlighted in red, problems of less importance in yellow, and the pages that passed will be highlighted in green. Each suggestion comes with a tip on how to fix it, so you can save a lot of time and effort on seeking methods to address a certain issue.
Pros
Easy to navigate and work with
Free browser extension for on-page SEO
Accurate website SEO health score
Cons
Each website can be compared to no more than 3 competitors
Not suitable for in-depth and complicated SEO problems
Pricing
Each new customer is offered a 14-day free trial. Once it is over, you'll be able to purchase one of the following subscription plans:
Pro: $79.99 per month (analyze up to 2,500 pages)
Premium: $199.99 per month (analyze up to 10,000 pages)
Enterprise (contact the Sales Team to get to know more about this plan's features and price)
It's also worth mentioning that you can save up to 30% of monthly costs by opting for annual billing.
Verdict
Woorank can bring positive on-page results to freelancers and small business owners, as well as large companies that want to keep track of their online visibility. Still, it is not as advanced as the SEO tools that took top positions in our review. More advanced tools might be a better option if you're looking for an in-depth analysis of your website's nuts and bolts.
5. Sitechecker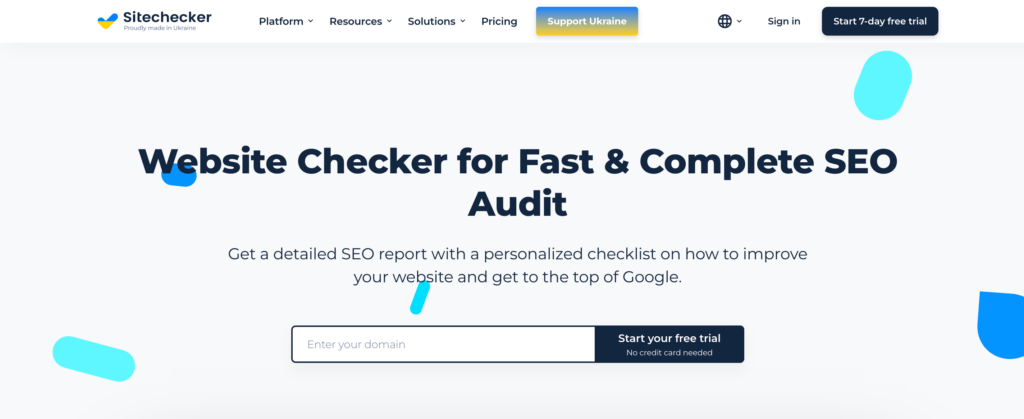 Even though Sitechecker was founded less than 6 years ago, it has quickly risen through the ranks since 2016. Today, it is an all-in-one website monitoring tool for SEO, which has around 250,000 monthly users. Its main features include site audit, rank tracker, site monitoring, backlink tracker, and a Chrome extension for on-page SEO.
With the help of the on-page SEO plugin, you can check websites for more than 50 parameters related to the content, targeting words, links, images, meta tags, and webpage loading times. In turn, to get a prioritized to-do list with recommendations on how to fix the errors, you will need to insert your page's URL into the On-Page Checker's search box.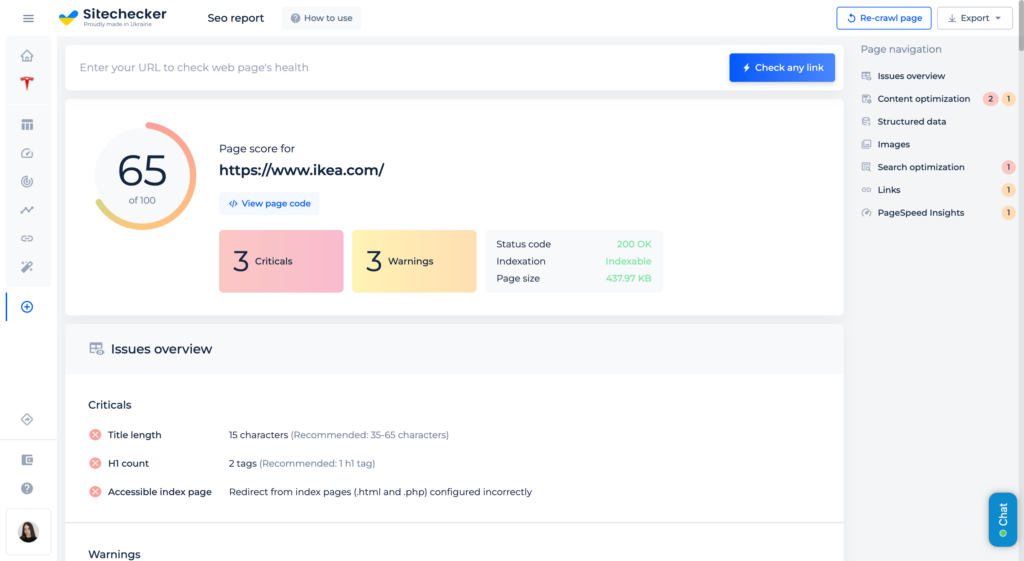 This is where you can get a general overview of your page's components, such as content, URL, internal links, CSS files, mobile page speed, JavaScript files, and so on. By clicking on any detected issue, you'll be able to get more details on how to correct it. Finally, if you want to send the whole on-page SEO report to a freelancer, an agency, or a colleague, simply copy a link to a report or download it in PDF format.
Pros
Its browser extension makes it possible to check the main aspects of your site's on-page SEO
Division of page-level issues into criticals and warnings, depending on their importance for on-site optimization
Website health score based on your site's total number of errors and warnings
Cons
Lacking opportunity to compare side-by-side on-page parameters of a certain page with its rivals' pages
Non-expert users may find it difficult to solve found problems, as some "how to fix" explanations are too complicated
Pricing
The platform offers a 7-day free trial to all new customers. After the trial is over, you will need to select one of the subscription plans outlined below:
Basic: $29 per month (1,500 pages can be analyzed)
Startup: $49 per month (5,000 pages can be analyzed)
Growing: $99 per month (50,000 pages can be analyzed)
Enterprise: pricing starts at $499 per month; billed annually
You can save between $70 to $238 per year by choosing the annual subscription to Sitechecker.
Verdict
Sitechecker is another useful all-in-one tool that can be used for on-page SEO purposes. Whether you want to monitor: the page's content, HTML tags, or internal linking, simply enter the desired URL to perform the overall analysis of on-site elements. But keep in mind that you'll need to combine data from both On-Page Checker and Chrome extension to get a full scan.
6. SEO PowerSuite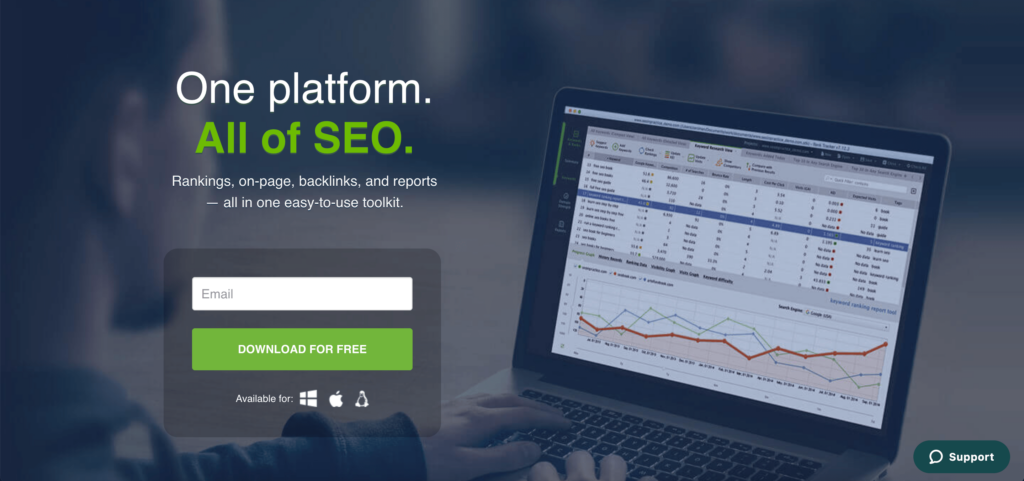 By using this offline platform, you can cover every step of your SEO campaign, from rank tracking and finding new backlink opportunities to providing in-depth on-page SEO analysis. You can serve these functions with the help of 4 powerful tools: SEO Spyglass, LinkAssistant, Website Auditor, and Rank Tracker. The Website Auditor should be your top priority when performing site audits and on-page SEO analysis.
After launching the tool, run an on-site SEO audit by going to Site Structure -> Site Audit. Then, submit the required information to see the division of all detected problems from the analyzed website by:
Errors: issues that need to be fixed immediately
Warnings: less critical issues
Info pages: the pages you'll need to revise later.
If you want to analyze a specific page for its on-page SEO, head to Page Audit -> Content Audit. In this section, you can assess the quality of your on-site optimization through the webpage health score and receive tips on how to address problems related to HTML code, broken links, content, etc.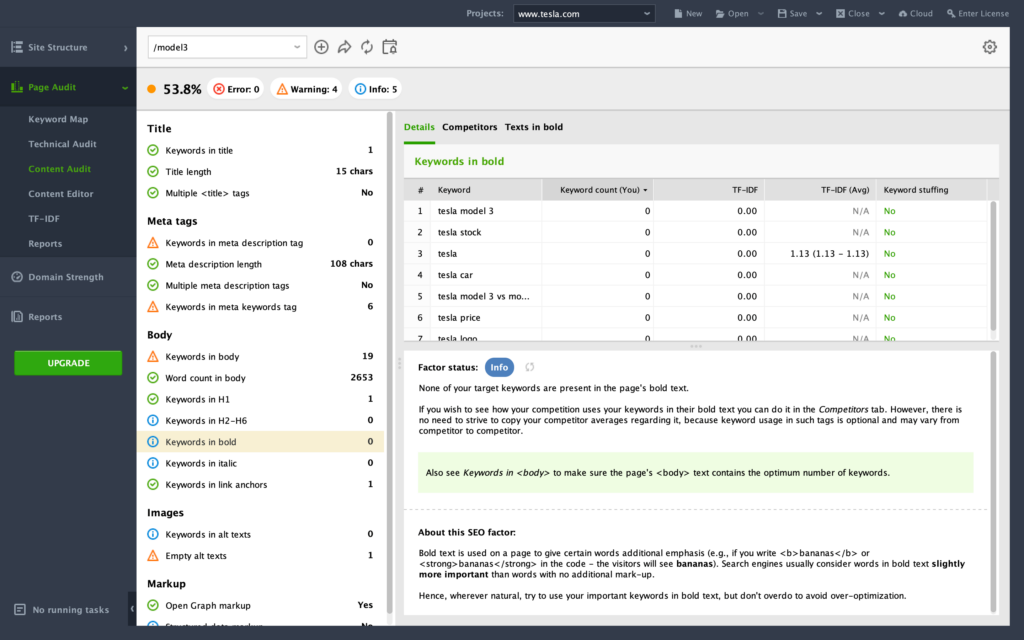 Pros
All issues are divided into groups based on their prioritization
Each detected issue features a brief description and actionable recommendations
WebSite Auditor tool is equipped with an in-built Content Editor ​​that assists with creating SEO-friendly content
Cons
Unlike cloud-based systems, this standalone desktop application can only be accessed offline
The loading speed depends on the type of computer you are using
Pricing
Once the 7-day trial ends, you will need to make a choice between these subscription options:
Professional: $299 per year (unlimited number of pages can be audited)
Enterprise: $499 per year (unlimited number of pages can be audited)
Verdict
Even though SEO PowerSuite is not a cloud-based system, and it requires a fast PC to function properly, this tool still deserves attention for its on-page SEO capabilities. With the help of its Page Audit feature, you can review your meta tags, spot images with empty alt text, fix broken links, and more. But take into account that SEO PowerSuite doesn't offer a monthly subscription, so it would be wise to have long-term plans if you plan to use this platform.
7. Seobility

Seobility is another useful online SEO software designed for website optimization, rank tracking, and backlink monitoring. You can use this application to check your entire website and even identify every page that contains errors.
The on-page SEO analysis is divided into 3 main categories: tech & meta parameters, structure, and content. By going through each section, you can find any errors affecting your SEO score as well as tips on how to solve them. Seobility can, for example, identify issues related to duplicate content, images without alt attributes, problematic domains, missing canonical links, long page response times, and so on.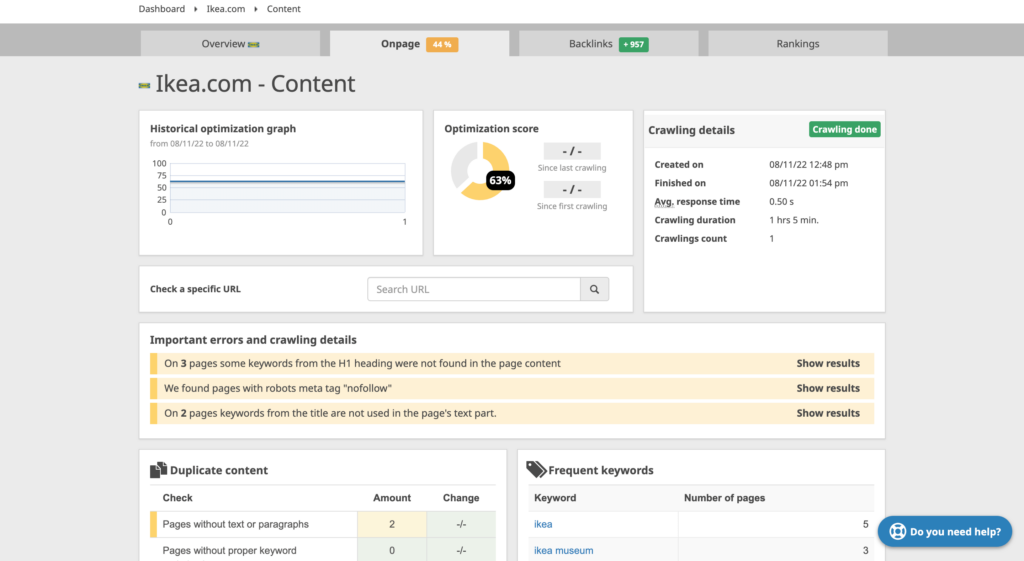 What's more, Seobility provides the opportunity to analyze all the issues within a single page. This means you can optimize the on-page elements of a specific page without having to dig into the audit of the whole website.
Pros
SEO audit is based on 300+ website factors
Opportunity to set up automated and individually scheduled crawls
You can be notified via mail if the tool automatically identifies severe problems
Cons
No opportunity to compare a specific page's on-site optimization side-by-side with a competitor's page
Outdated interface
Pricing
A 30-day free trial is only available for subscribers of the Premium plan.
Basic: free (this plan is not suitable for in-depth on-page SEO analysis, as many issues, such as duplicate content, pages with inappropriate titles, and competing pages with the same keyword optimization, cannot be identified with this subscription)
Premium: $50 per month (crawling of up to 25,000 subpages)
Agency: $200 per month (crawling of up to 100,000 subpages)
With the annual subscription, you can save up to 30% off of the total monthly price.
Verdict
This platform can be an excellent choice for finding and solving in bulk both technical and on-page SEO issues that your website might have. Unfortunately, this tool doesn't provide specific recommendations on how to improve on-page performance for specific pages. You will need to do your own research on best SEO practices to get a top position in SERPs.
To Wrap Up
The platforms presented in this article are exceedingly helpful in terms of on-page SEO because they provide the necessary tools to optimize your web page's content and HTML source code. Any of these tools will undoubtedly make a huge contribution to your overall SEO campaign.
We do believe, however, that the SE Ranking tool is the cream of the crop because of its versatility and other combined strengths. These strengths include but are not limited to low price, niche-specific SEO recommendations, the opportunity to get complete insight on up to 50 SERP competitors, as well as clear prioritization of tasks that need to be done to optimize webpages.
Alternatively, Semrush and Serpstat can also perfectly fit your SEO strategy for on-site optimization. Each of these tools offer advanced options for SEO health checks, page content optimization, and internal linking opportunities.
Woorank, Sitechecker, SEO PowerSuite, and Seobility might be less popular in the SEO industry, but they can still improve both your webpage's search engine optimization and user experience.
Ultimately, take some time to think about it before rushing to buy one of these tools. Get clear about your on-page SEO goals and expectations in advance so that way it will be easier for you to decide which of these tools will be the most appropriate and effective for your business.