General overview
There are so-called professional SEO tools, but there are also truly effective services. In this Searchmetrics review, we are looking at the second option. It's hard to find another platform that provides such an impressive list of tools: SERP analysis, audit, external link management, keyword research, competitor monitoring, technical optimization, and even content creation tips. And all this comes with full automation, a visually pleasing interface, and many filters for precise customization of reports.
It would seem that Searchmetrics definitely deserves first place in the 2023 review. But there is an important detail that should never be overlooked. It is the ratio of service quality and functionality to the subscription price. And here, the company's pricing policy plays such a big role that even all the above advantages are not enough to cover its disadvantages.
That's why it's worth taking a closer look at all the features of the Searchmetrics platform to answer the question: do you really need a subscription to a service with such a sky-high price? Is it possible to find more affordable analogs that will not be inferior in terms of service quality?
Pros
Content optimization, Searchmetrics will check and compare your web page with other pages that rank for your given keywords
Ad monitoring/research available
Unlimited projects/users on any plan
Personal support
50 petabyte+ database
Cons
No ability to research into specific languages when working with multilingual countries
Needs more keyword data in smaller countries
Non-transparent pricing
12-month contracts mandatory
Searchmetrics is one of the few all-in-one SEO tools in the industry with its very own crawl database. In other words, it doesn't use data/crawlers from third-parties. The company claims its database contains over 250 billion pieces of information. Its client-base includes eBay, Lufthansa Airlines, T-Mobile, Tripadvisor just to name a few of the giants in its portfolio. Plus, the company boasts of a 12 year+ experience and has won numerous accolades over the years.
Searchmetrics review 2023 shows that its pricing may not be for everyone, it leans towards the "more-expensive" end. They even make you jump through hoops just to get all the details on the tool, and you may well be converted to a user by the time you figure everything out. But this doesn't work for everyone.
Searchmetrics' primary dashboard is extremely simple. There's a thin left-sidebar which acts as the navigational menu. This is what you use to reach the different sections/features/modules that the tool offers.

The slider pops out smooth, graphs load equally good. No matter how much data your request, the page doesn't seem to lag/slow-render which is pretty impressive. Although it's not at the top of our roundup, it's still a very elaborate tool with plenty to offer to larger companies.
Pricing & Plans
Searchmetrics doesn't have a transparent pricing model. It sure offers detailed info on the packages and their features, but the exact price isn't mentioned. Three primary plans are offered: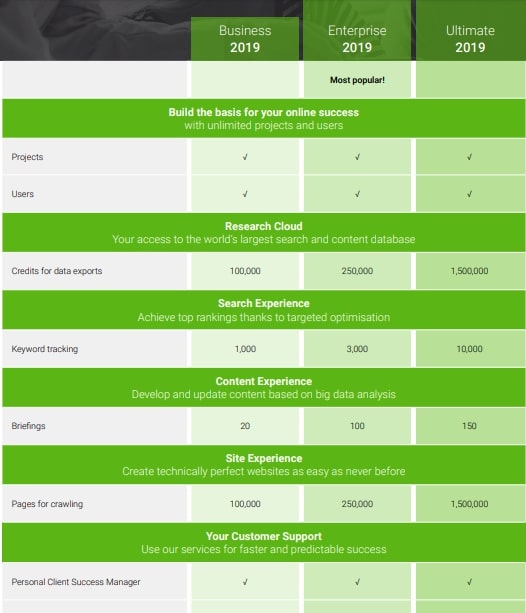 Business: 100,000 crawled pages/ 1,000 keyword tracking / 100,000 export credits
Enterprise: 250,000 crawled pages/ 3,000 keyword tracking / 250,000 export credits
Ultimate: 1.5 million crawled pages/ 10,000 keyword tracking / 1.5 million export credits
The pricing can be negotiated and is shared over call or via email. When compiling the review about Searchmetrics, we read the feedback and found out that in most cases, it's in the high-three-to-very-low-four-figures-per-month range.
It's safe to assume the tool focuses less on individual website owners, or those on a budget. It's more for you if you're a SEO with revenue-generating clientele, a digital marketing agency or have some revenue trickling in. Or obviously you can go for it if you've got the budget regardless of your current SEO career.
Probably the only major downside you'd find in Searchmetrics is its mandatory 12-month contract. You can choose to pay quarterly, semi-annually, or annually but you must pay for 12 months in total for each contract. That means, you'll have to pay even if you stop using the software after a certain period before your contract is up.
Although the one impressive aspect is that they assign a personal "success manager" who works just for you. So if you've got problems, doubts or any other issues, there's always a personal manager to help you out. From absolutely all Searchmetrics reviews, you will learn that its consultations will be very convenient and useful.
Another aspect, both bitter and sweet is that your resource limitations can be increased. The bitter side of this is that it's not an overnight process. Increasing resources takes some time, extending up to 24 hours.
Rank Tracker
Searchmetrics did a great job at developing keyword research and keyword tracking tools. The start is very traditional, simple and easy to understand. You search for a keyword, and the tools provides some data that includes search volume, seasonality, cost-per-click, and traffic volume potential.

An interesting point that we should pay attention to in the review of Searchmetrics is "Seasonality" that calculates the keyword's best-performing time throughout the year and shows this in a graph.

So you know if it's high time to work on a keyword, or maybe focus on potentially more fruitful ones.
Need the best and the worst-performing keywords for your site? Well that's possible as well. If you enter your URL on the "Domain Overview" module, it provides you with a list of the "Top Winner" and "Top Loser" keywords for your site.
Now this can be used towards multiple benefits. The simplest of which is tracking your rankings for specific keywords. As the screenshot above shows, you also get a "rank trend" that, basically, indicates the change in your ranking.
See the "traffic index"? Not many tools out there display this bit of data. It shows how much traffic you lost specifically due to the corresponding change in the ranking.
If you head over to the "Keyword Discovery" feature, more data regarding keywords is revealed. It's similar to the above screenshot, but you'll notice additional metrics such as ad budget and SERP feature integrations.
But these are not the most interesting details of Searchmetrics reviews. You can use "Keyword clusters" to find new keywords which may boost your rankings. When you search for a keyword using the Keyword discovery tool, it automatically suggests a number of clusters and filters like exact match, by keyword, word match, phrase match, or by search volume.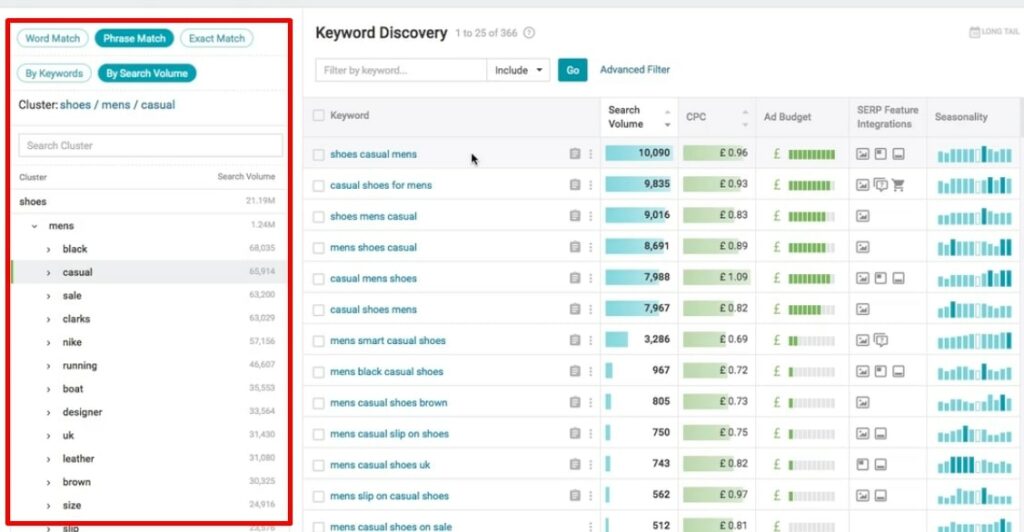 So far we've been monitoring top winners/losers, rankings, etc. when reviewing Searchmetrics. But what if you get into a more offensive SEO approach? What if you pick out a handful of specific keywords and start tracking them to the farthest and most detailed possible extent?
With Searchmetrics' Projects, you can chuck in all the primary keywords you wish to track over time. The project dashboard includes SEO visibility, keyword winners vs. losers, and keyword rank speed:

SEO Visibility is a metric that shows you how much attention you're getting overall. It depends on the search volume, your rankings, SERP, keyword and many other factors.
The keyword winners vs. losers is pretty self explanatory, and then we have the "Keyword rank spread" that breaks all of your keywords down into categories. So at a glance you know how many of your monitored keywords are in top 10, 10-20, 20-30, and so on.
The more important aspect that we would like to pay attention to in the Searchmetrics review 2023 is "organic keyword" feature. It lists all of the keywords you've been tracking and a lot of details for each one such as current ranking position, rank trend, traffic index and its potential, SERP features integration, etc.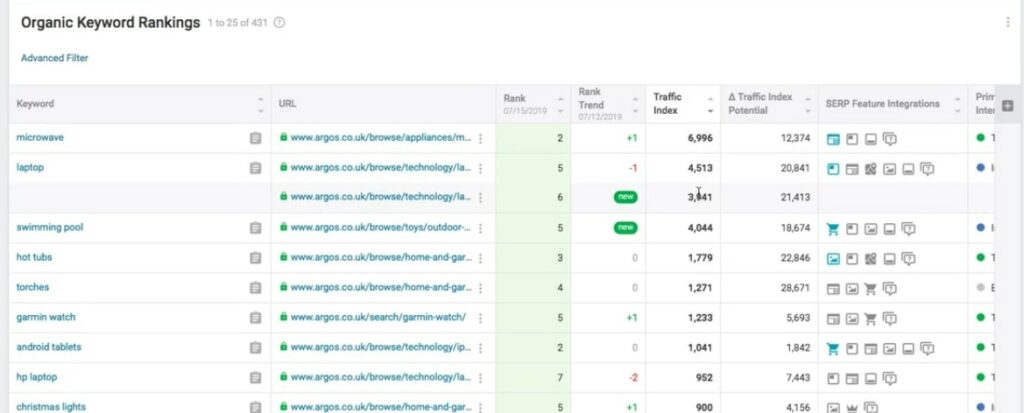 Pay attention to the "Traffic Index" here. This is the amount of traffic you're receiving for the corresponding keywords. The "Traffic Index Potential" lets you know how much more traffic you could get if you ranked #1 for the keyword. This again isn't an everyday feature with most other similar tools, but it isn't unique for Searchmetrics.
Searchmetrics boasts its "filters" for the organic keywords page. So you could choose from any of the metrics, and make only keywords befitting your criteria appear in the results. Do you only wish to see the keywords on the 11th position? Or those with a traffic potential of 10,000 hits/month? You'll get a keyword list in seconds.
In a nutshell, I'd say the company sure is impressive as far as its keyword features go. But plenty of other tools like Ahrefs and Moz Pro offer similar tools. SE Ranking's tool is even available at a much more pocket-friendly price.
Site Audit
A thorough website audit is pretty much the first step for any SEO project. Searchmetrics has got you covered in that aspect.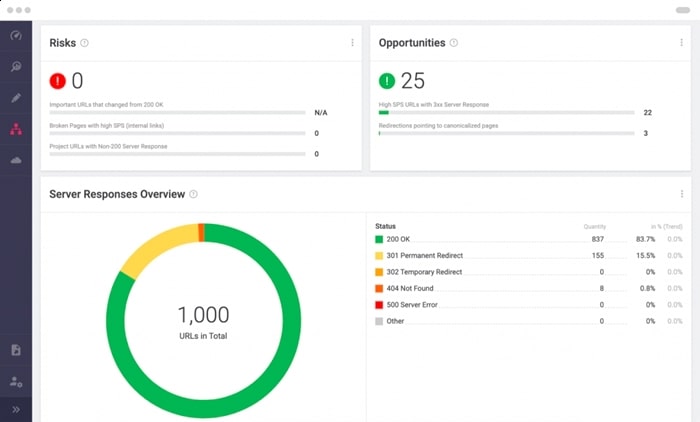 You can set up pre-scheduled automated audits, and choose the user agent for the audit from the list that includes Searchmetrics bot, Google bot, Apple bot, Android Mobile, iOS Mobile, and Baidu Bot.
As expected in such tools, you have the right to choose the location, as well as the crawl speed. Another great feature that we learned about while conducting the Searchmetrics review is its internal link assessment that can provide you with a list of pages with the highest potential, according to which internal linking can be adjusted for best performance. Naturally, basics such as title tag optimization, meta descriptions, canonical tags, duplicate content detection etc. are available as well along with recommendations for better performance, redirect chains, server response codes.
In a nutshell, everything is summed up in one report, making it easy to understand and implement changes. Overall, Searchmetrics offers a solid, actionable website audit report.
Competitor Research
Practically every tool, feature, or module can be used to analyze competitors. Need a domain overview, best/worst keywords, backlinks or performance reports of your competitors? You got it.
Although, sure, the company has features oriented towards and specially crafted for competitor research — they are often mentioned in Searchmetrics reviews.
For starters, it lets you add Benchmarks–sites that we consider to be your competitors. Or there's a separate classification for "competitors" that shows domains that the tool automatically identifies as potential rivals.
For starters, when monitoring organic visibility, there's a sidebar on the right that can be used to add competitors to the graph. This lets you directly compare your performance with that of a competitor:

Or, get more detailed insights of how many of your competitors' keywords are ranking as opposed to yours. And it's not just for the "articles". You actually get to select from one of the many other aspects of your websites, and compare those rankings. The comparison includes featured snippets, Ads, site links, images, news, maps, videos, video carousels, to name a few.

You can then move on to the "SERP details" feature that will list you the exact keywords, URL, traffic index, CPC, and search volume on all those competitors around you. Plus, the Google Ads feature makes sure you get complete paid-ad details of your competitors, if there are any.
And do you remember that earlier in the Searchmetrics review, we talked about specific keywords we could add for monitoring? Those could be monitored not just for yourselves, but also your competitors. Simply change the website for which you want to see the results from the top-bar.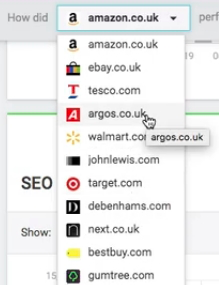 Once that's done, you'll see how and where the selected keywords are ranking for your competitors.
What if you need a much simpler, straight-forward competition analysis? Well, head on over to the "Top Performing URL" feature, enter a keyword or a domain. Ultimately, you'll get all the top results for whatever it is you entered. With the help of this feature, you get your top competitors, everything they're ranking for, total number of keywords they're ranking for, and many other details.
One of the unique features which deserves a mention is Searchmetrics' "Google Update Detection" that allows you to turn on the update-indicator on the visibility graphs. This then indicates when a Google update has happened, and the graph shows the aftermath.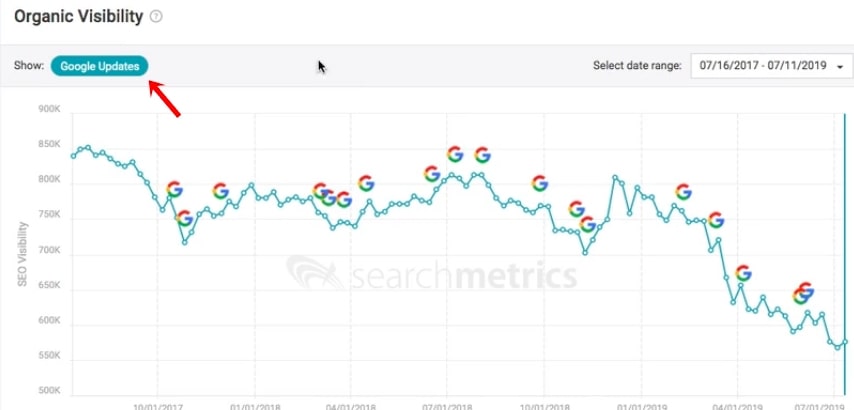 A pretty handy feature which eliminates the need to "guess" if an update impacted you or went by unnoticed.
The company also markets itself big on its Market Insights feature. It's a layered feature with many sub-features. With the "market growth" feature, you get very beautifully-designed graphs that are easy to understand in a single click. These show how you and your competitors have grown over a certain period of time. The graph also includes other data such as domain market share, growth, number of ranking keywords, and SEO visibility.

One click and you have a complete overview of all your competitors! Definitely a tool that deserves your attention if you're willing to fork over a hefty amount out of your budget.
Backlink Research
Searchmetrics uses its own database for everything and the same holds true for backlink analysis as well. The basics provided by Searchmetrics include number of links, and number of IPs. That's not a surprise. However, it also includes a "link strength" which provides an overall idea of the pages' value.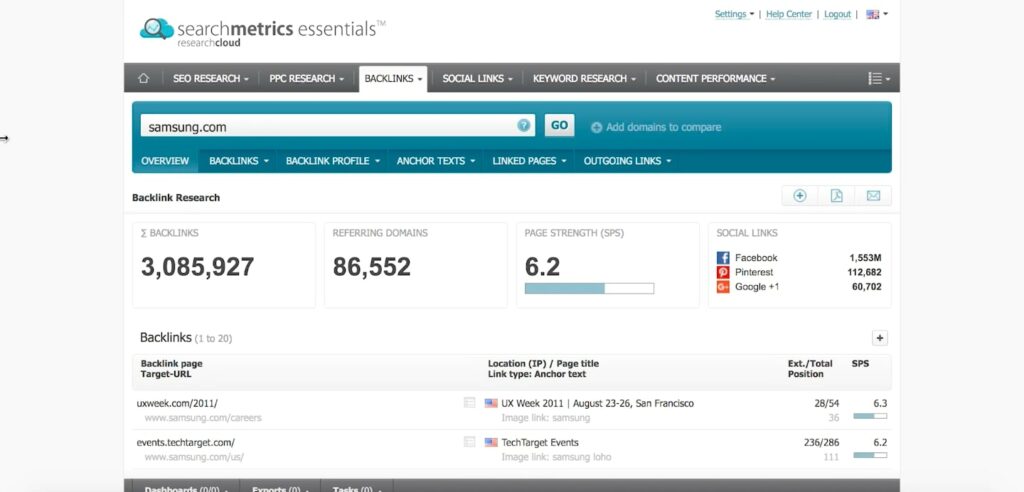 It also categorizes the links based on "Industry". I wouldn't beat around the bush in a review about Searchmetrics. Does it get you the data you need? Absolutely. Does it do anything unique or special? Probably not. It's not the best nor the worst tool in terms of backlink research, but we advise you to give Ahrefs, and SE Ranking a try. There's a good chance you'll get more for less.
Conclusions
If you're looking for the best service for large-scale work and don't care about budget numbers, the Searchmetrics review was created for you. It's hard to find an SEO platform that offers more metrics, features, filters, and granularity. In the hands of a competent specialist, this set of tools can work wonders — it will help you get your website at the top of the list in no time.
However, most favorable Searchmetrics reviews on the Internet omit an important detail, either intentionally or accidentally. The service is designed exclusively for professionals. The visually simple interface of the main menu hides very complex reports with an unlimited number of settings. To master them, you will need separate courses and regular communication with the "success manager."
Another important detail that should be emphasized in the Searchmetrics review is the completely non-transparent pricing policy, in which the developer behaves like a monopolist. Tariffs are set for each client individually, which, from a certain point of view, can be called discrimination. In addition, according to reviews, the cost of a monthly subscription rarely falls below $500. You can get a similar set of features for less money, so we advise you to think twice or even thrice before signing a contract.
Frequently Asked Questions
What is Searchmetrics?
Searchmetrics is a comprehensive website optimization service designed for professionals. Its functionality and subscription plans are aimed at large SEO agencies that have a loyal client base and are not concerned about budgetary constraints. In addition to an incredible number of features and settings, the platform offers you the services of a personal manager who is ready to provide comprehensive advice at any time.
How to use Searchmetrics?
Searchmetrics offers customized terms of cooperation. To test the service's functions and get full access to it, you will have to contact the developer's representatives via online chat or phone. After signing the contract, you will be able to log in to the platform using a modern browser — desktop or mobile.
What is Searchmetrics used for?
Searchmetrics provides you with a full range of tools for website optimization, including keyword research, competitive analysis, rank tracking, link management, and technical audit modules. One of the key advantages of the service is traffic volume forecasts under certain conditions, for example, when you reach a leading position in a certain group of keywords.
How much is Searchmetrics?
Unfortunately, the company does not have a public price list — the rates for its services are determined individually for each client. However, reviews indicate that the cost of a subscription is measured in hundreds or thousands of dollars per month. It is also worth noting that the minimum contract duration with Searchmetrics is 1 year. You can pay bills on a monthly or quarterly basis, but you cannot terminate the contract in advance.
Visit website