To come out on top, SEO agencies have to tackle every challenge in the book, including managing multiple projects, delivering outstanding performance, and effectively communicating their value. Thankfully, specialized SEO tools offer the solution they're looking for. These suites can help streamline workflows, improve reporting, and assist agencies in delivering better results to their clients, ultimately helping to retain clients, grow business, and lower costs.
In this article, we'll explore some of the top SEO suites available on the market and find out how these tools can help agencies stay competitive in today's rapidly changing landscape.
Methodology
When developing our methodology for evaluating SEO software, we took a balanced approach, including both all-in-one SEO platforms and dedicated tools. Our list contains five all-in-one tools that include all of the essential features for SEO agencies, such as keyword research, on-page optimization, backlink analysis, website auditing, and rank tracking. These tools offer a comprehensive set of features designed to assist agencies in effectively optimizing their clients' online presence.
We also took a look at five powerful tools designed specifically for certain tasks, such as website auditing, reporting, and content creation. These tools offer unique functionality and are most effective when used for their intended purposes. We've carefully selected these tools based on their popularity, effectiveness, and relevance to the needs of SEO agencies.
To keep our evaluation relevant, we didn't include free tools like Google Search Console, Google Analytics, or Looker Studio (formerly Google Data Studio). Most SEO agencies are already using them anyway, so we'll be looking exclusively at paid SEO tools whose functionality and value go beyond what any free tool could provide.
Our methodology, as you can see, is designed to provide a thorough evaluation of the most popular and effective SEO tools available. Our approach is also balanced, meaning that we cover both all-in-one and dedicated tools. We believe this is the best way to showcase the strengths and weaknesses of each tool, enabling SEO agencies to choose the best tools for their unique purposes so they can optimize their clients' online presence more effectively.
All-in-one tools
Using an all-in-one SEO tool can help agencies save time and resources by providing a single platform that includes all the necessary tools and features for effective SEO management. It can also streamline workflows and collaboration by allowing team members to work together in the same platform, easily sharing information and progress updates. An all-in-one SEO tool can also provide valuable insights and data that can help agencies make informed decisions and improve their SEO strategies.
Overall, using an all-in-one SEO tool can assist agencies by improving the efficiency, effectiveness, and profitability of their SEO efforts. Let's take a look at the most popular SEO tools on the market.
1. SE Ranking
SE Ranking is a robust SEO software that has been praised by agencies for its unmatched ability to assist in tracking, analyzing, and optimizing the online presence of their client's websites.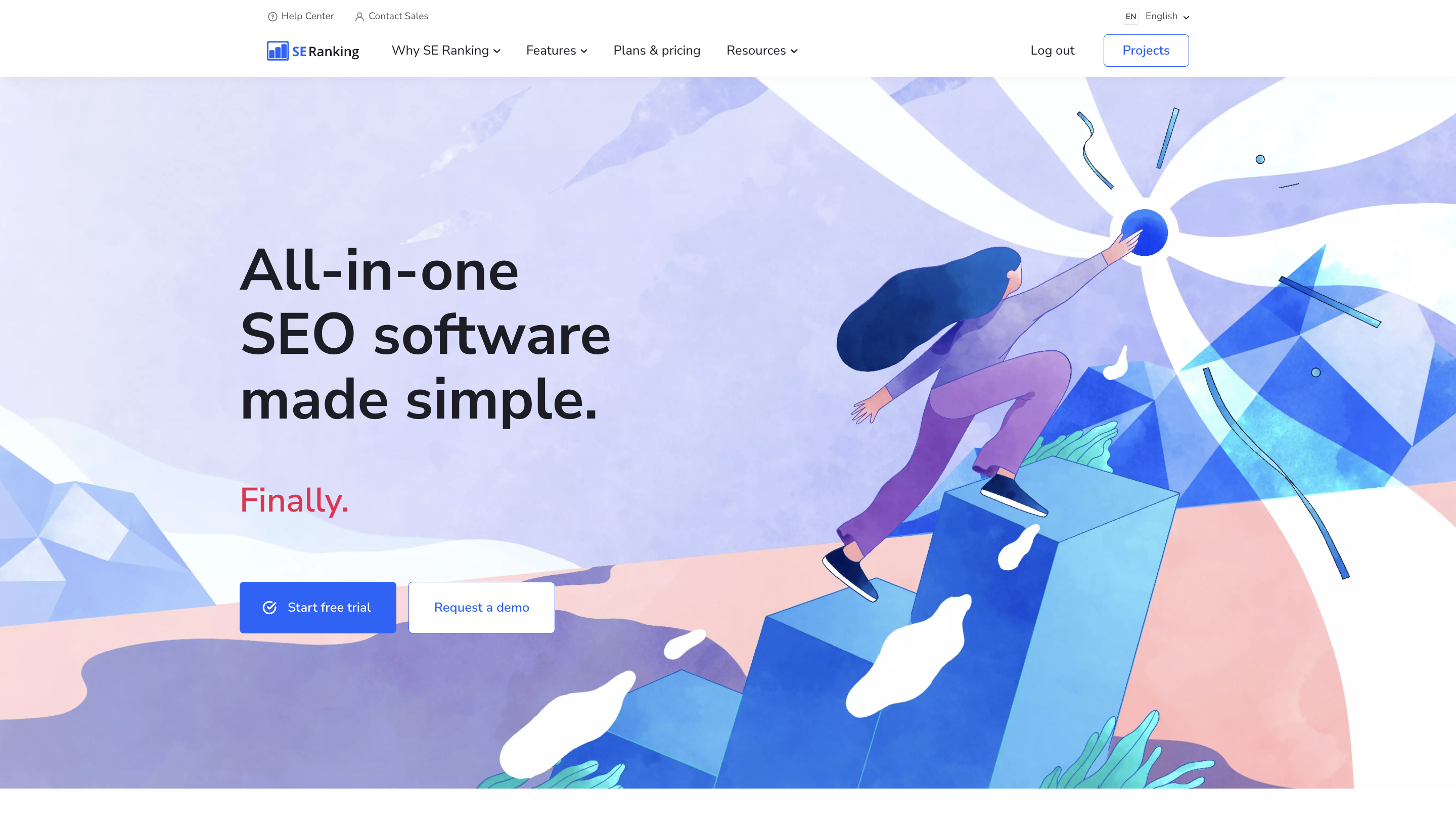 Tools and features
SE Ranking offers a wide range of masterfully developed SEO tools, including rank tracking, keyword research, website audit, competitor analysis, backlink analysis and monitoring, on-page optimization, content creation, and so much more. SE Ranking offers the full set of advanced features that you might expect from an all-around SEO suite, including a complete list of crawled pages that can be filtered by 50+ parameters, as well as AI-powered on-page recommendations, keyword and backlink gap analysis, historical data, and more. Despite its abundance of features, the platform remains user-friendly, with tools that are easy to navigate.
Benefits for agencies
SE Ranking is a great fit for agencies because of its accuracy, data visualization, and reporting features. The platform regularly updates its data processing algorithms and expands its databases to maintain information accuracy. For example, it declares to provide 100% accuracy for its keyword ranking data. It also seamlessly integrates with Looker Studio, enabling users to get a 360-degree view of website performance. With SE Ranking, all data is presented on a unified dashboard, making it easier to analyze and track progress. Also, SE Ranking's smart notifications and alerts system allows for proactive project monitoring and issue prevention.
SE Ranking features an extremely helpful Report Builder, which allows users to create customized reports and automate report building and delivery processes. Additionally, users can use SE Ranking's white-label option to customize the platform to their liking, displaying it as their own tool, or use the API to access the data elsewhere. For each pricing plan, the platform offers exceptional limits on user seats as well as a guest link, allowing users to easily share access to projects with teammates, clients, or stakeholders.
Pricing and subscription limits
SE Ranking offers three subscription plans, which differ in terms of the tools available, the number of websites you can add as projects, the number of keywords that can be tracked, and other subscription limits:
Essential – from $55 per month
Pro – from $109 per month
Business – from $239 per month 
The Business Plan is arguably the most suitable pricing plan for agencies and medium-sized businesses. At a price that is more affordable than that of its competitors, you get all SEO tools, 5 user seats, 5000 keywords in the rank tracker, 100 on-page SEO checks, and 90,000 monitored backlinks. All of SE Ranking's plans are flexible, so if you need to increase your limits for, let's say, the number of keyword rankings, you can do it hassle-free. Also, you can give SE Ranking's 14-day free trial a shot to see what features are most helpful for you. 
SE Ranking's advanced business features for agencies are included in its Agency Pack, which is available for Pro and Business plan subscribers for an extra $50 per month. The Agency Pack includes white label, lead generator, unlimited white-label reporting, and an extra 10 client user seats.
Pros
A comprehensive set of SEO tools, including rank tracking, website audit, backlink analysis, keyword research, and competitor analysis.
Accurate and up-to-date data with global coverage and historical data available to help agencies track progress and identify trends.
User-friendly interface and data visualization options that make it easy to present data to clients.
Robust and customizable reporting features that allow agencies to generate reports with their own branding and automate report sending.
Multiple user seats and shared access features that enable collaboration and facilitate client communication.
A nifty guest link feature that allows clients to access reports and data in real-time.
Seamless integration with Looker Studio and other tools to make workflows smoother.
Flexible pricing options and customizable project settings.
Cons
While the tool offers a comprehensive set of features, some users have reported that data can be incomplete.
The website audit feature is not as in-depth as that of some of the competitors on this list.
The platform lacks some other advanced features.
Verdict
There's a reason why SE Ranking sits high at the top of this list. It is a versatile and affordable SEO tool that offers a grand scope of features for agencies who demand the best and the most. SE Ranking's accurate and fresh data, extensive databases, and historical data make it a valuable resource for SEO research and analysis. With its user seats and shared access, all project information is centralized, making it easy to manage SEO campaigns for multiple clients and onboard new team members. Additionally, SE Ranking's reporting features, data visualization, and white-label options make it the ideal choice for agencies who want to present professional and sleek-looking reports to clients.
2. Semrush
Semrush is a highly rated and popular SEO software that offers a suite of tools designed to help businesses improve their online visibility, drive traffic to their website, and eventually generate more leads and revenue.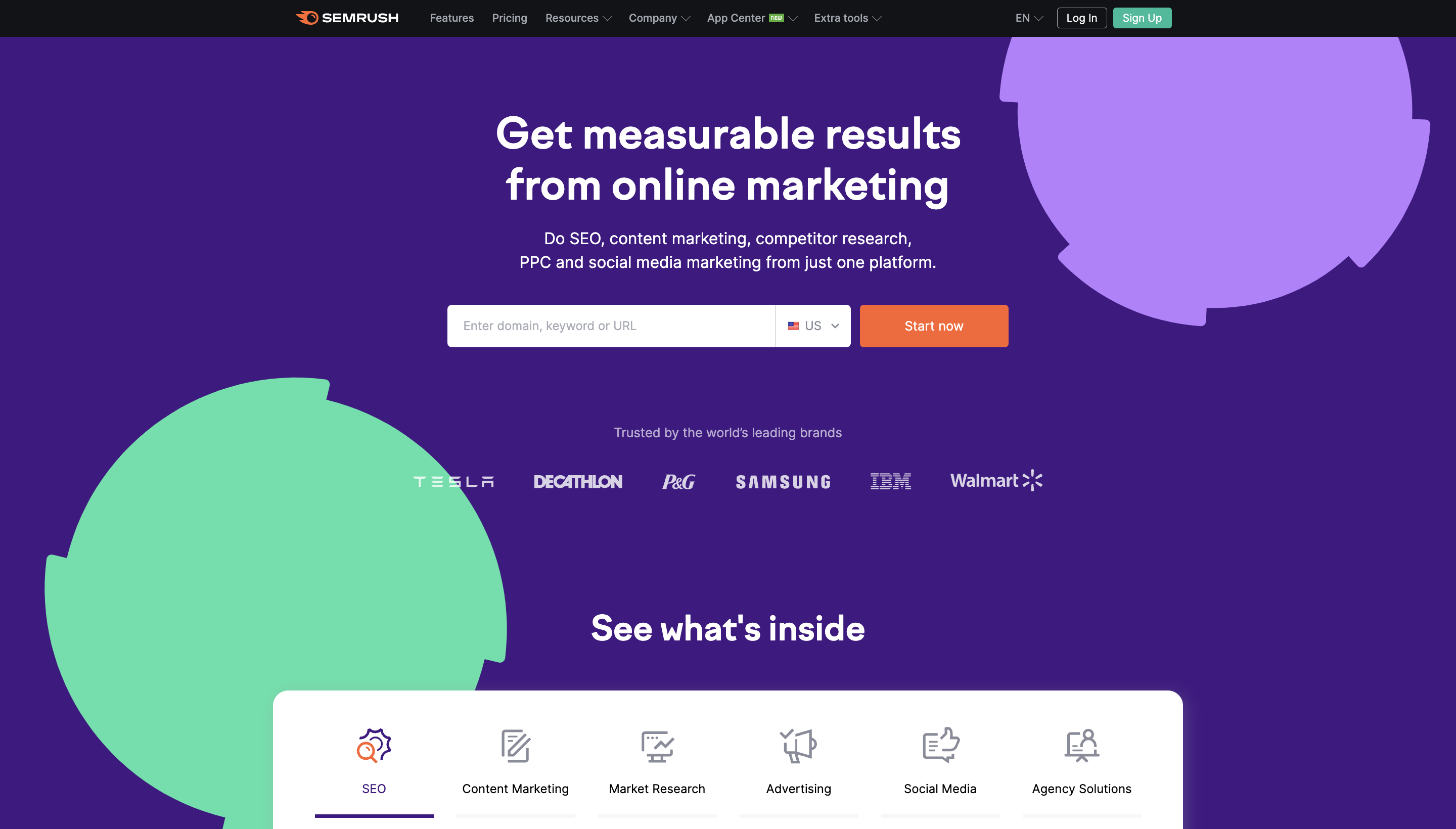 Tools and features
Semrush offers the full range of SEO tools that businesses need for their digital marketing efforts, including a rank tracker, website audit, backlink analysis, keyword research, and more. With Semrush, businesses can also track their competitors and see how they are performing in search. The platform also offers quite a few of its own SEO metrics, such as "share of voice", which allows users to measure their digital presence in organic and paid search against competitors. Semrush offers an Agency CRM tool specifically designed to help digital marketing agencies manage client relationships and projects more efficiently. With features such as client onboarding, task management, and reporting, Semrush aims to streamline agency workflows and increase productivity.
Benefits for agencies
Semrush is a great fit for agencies because it provides accurate and up-to-date data to assist in informed decision-making. The platform offers noteworthy data visualization capabilities that enable users to present their findings in easy-to-read graphs instead of just numbers, making it easier for clients to understand data. Speaking of reporting features, users can create customized reports, create scheduled PDF reports, and share PDF templates. Additional user seats, as well as Agency Growth Kit features, can be added to the project at an additional cost and are not included in the initial pricing plan. The platform can be easily integrated with Google services, allowing users to collect more data on organic traffic.
Pricing and subscription limits
Semrush offers three pricing plans, with a 7-day free trial available:
Pro – $119.95 per month
Guru – $229.95 per month
Business – $449.95 per month
Each of Semrush's plans offers varying levels of access to its features as well as limits on the number of available projects, reports, and keywords. The Guru plan is probably the best option for agencies, as it allows users to manage 15 projects and track 1500 keywords simultaneously. Its Agency pack features, such as white-label and additional users, are available at an extra cost. Additional users are $80 per user, and the Agency Growth Kit is $150 per month.
Pros
Large keyword database with global coverage.
Detailed competitor analysis and insights.
Comprehensive site audit and backlink analysis tools.
Customizable reports with white-labeling options.
Integration with popular tools like Google Analytics and Google Search Console.
User management and team collaboration features.
Extensive training materials and support resources.
Cons
Pricing can be expensive for small agencies or businesses.
Some features, such as the PPC advertising tools, may not be as relevant for certain agencies or clients.
User interface can be overwhelming for beginners or anyone who isn't familiar with SEO tools.
Keyword difficulty score can sometimes be inaccurate or inconsistent.
Verdict
Overall, Semrush gets the job done. It is a highly comprehensive and effective SEO tool, offering a wealth of features suitable for agencies. Its extensive keyword database and competitor analysis tools are great for agencies seeking a competitive advantage in their SEO efforts. The platform is easy to use and offers customizable reports and dashboards that make data sharing easy, too. Overall, Semrush is an expensive but decent choice for agencies looking for a comprehensive SEO tool with advanced features.
3. Ahrefs
Ahrefs is another well-known all-in-one SEO tool that provides a wide range of features for SEO professionals.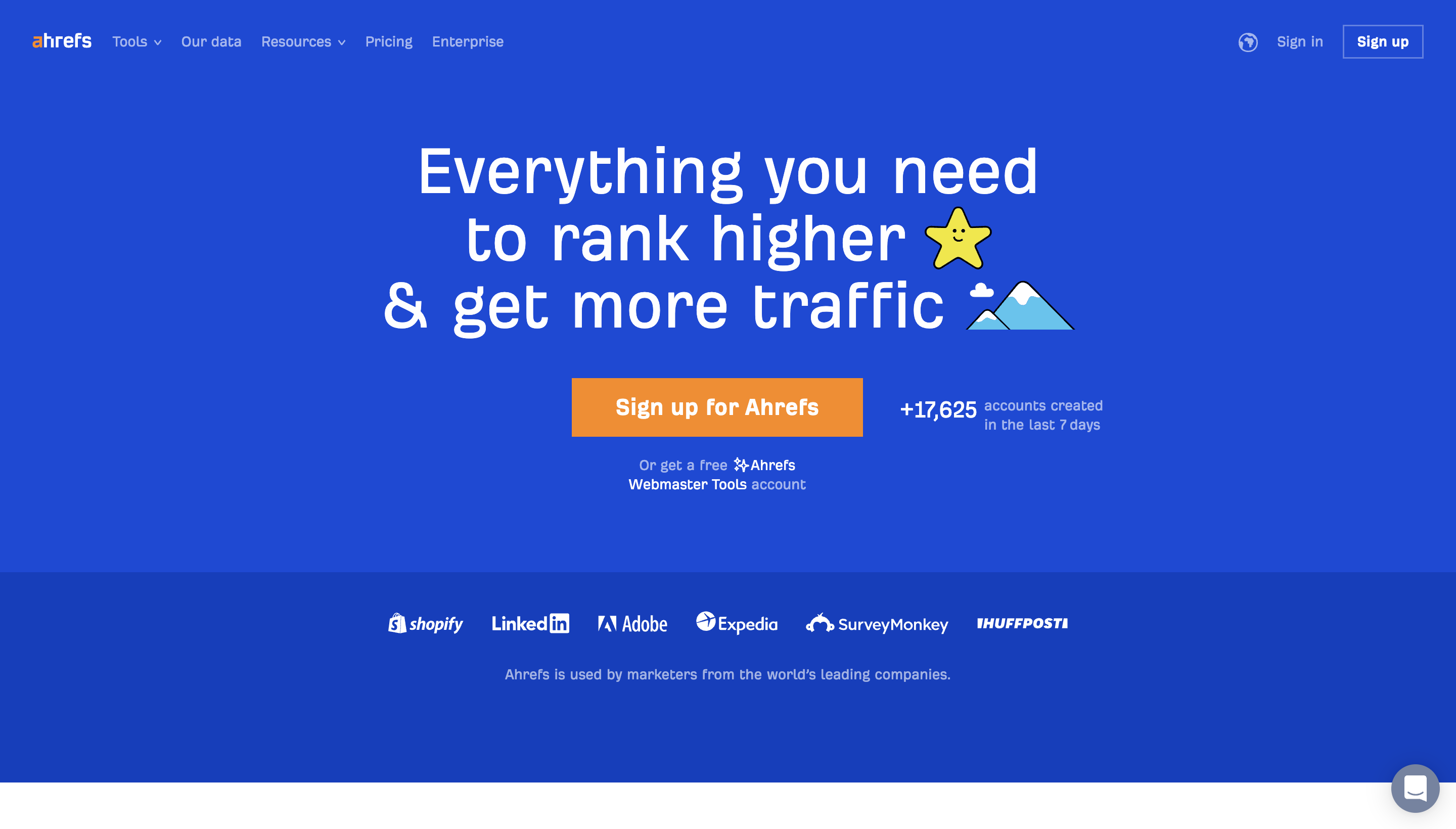 Tools and features
Ahrefs offers a variety of tools to bolster your SEO efforts, including Site Explorer, Content Explorer, Keyword Explorer, Rank Tracker, and Site Audit. The tool provides precise data and a large database of backlinks and referring domains.
Benefits for agencies
Ahrefs is a great fit for agencies because of its powerful features and user-friendly interface. The platform offers a variety of reporting features, such as its personalizable and professional-looking reports. Another great advantage of using Ahrefs is its customizable account settings, which allow users to set up an almost unlimited number of user seats, albeit with very limited access. This could be useful for agencies working on lots of projects simultaneously. Ahrefs also supports integration with services, like Google Analytics and Looker Studio. It also has a smart notification system to keep users up to date on any changes or issues.
Pricing and subscription limits
Ahrefs offers four pricing plans:
Lite – $99
Standard – $199
Advanced – $399
Enterprise – $999
The Advanced pricing plan is ideal for agencies with its 5,000 keyword limit and up to 4 million rows in reports. This plan also offers dashboard folders and integration with Looker Studio, making it the best option for agencies. Note that Ahrefs has a unique pricing policy that allows for an unlimited number of users with viewer rights. Still, every additional user with access to a project and editing rights comes at $50 more per month. The API is only available with the Enterprise subscription.
Pros
Extensive backlink database for accurate analysis of a site's link profile.
Robust site audit feature that detects technical SEO issues.
Useful for tracking new and lost backlinks, as well as keeping an eye on competitor activity.
Cons
Expensive and confusing pricing options when compared to other SEO tools.
Limited customization options for reports.
Limited data on local SEO and social media marketing.
No on-page optimization suggestions or content analysis features.
The interface may not be user-friendly for some users.
Verdict
Overall, Ahrefs is no SEO tool to turn your nose up at. Similarly to SE Ranking, it sets the industry standard for agencies looking to conduct thorough backlink analysis and competitor research. However, it may not be the best fit for agencies seeking a more affordable option or those with a focus on local SEO or social media marketing. Despite being more expensive than some other SEO tools, Ahrefs provides a range of powerful features that justify the investment for agencies and businesses looking to improve their SEO efforts.
4. SpyFu
SpyFu is a comprehensive SEO and PPC tool that helps businesses improve their online visibility and climb up the search rankings.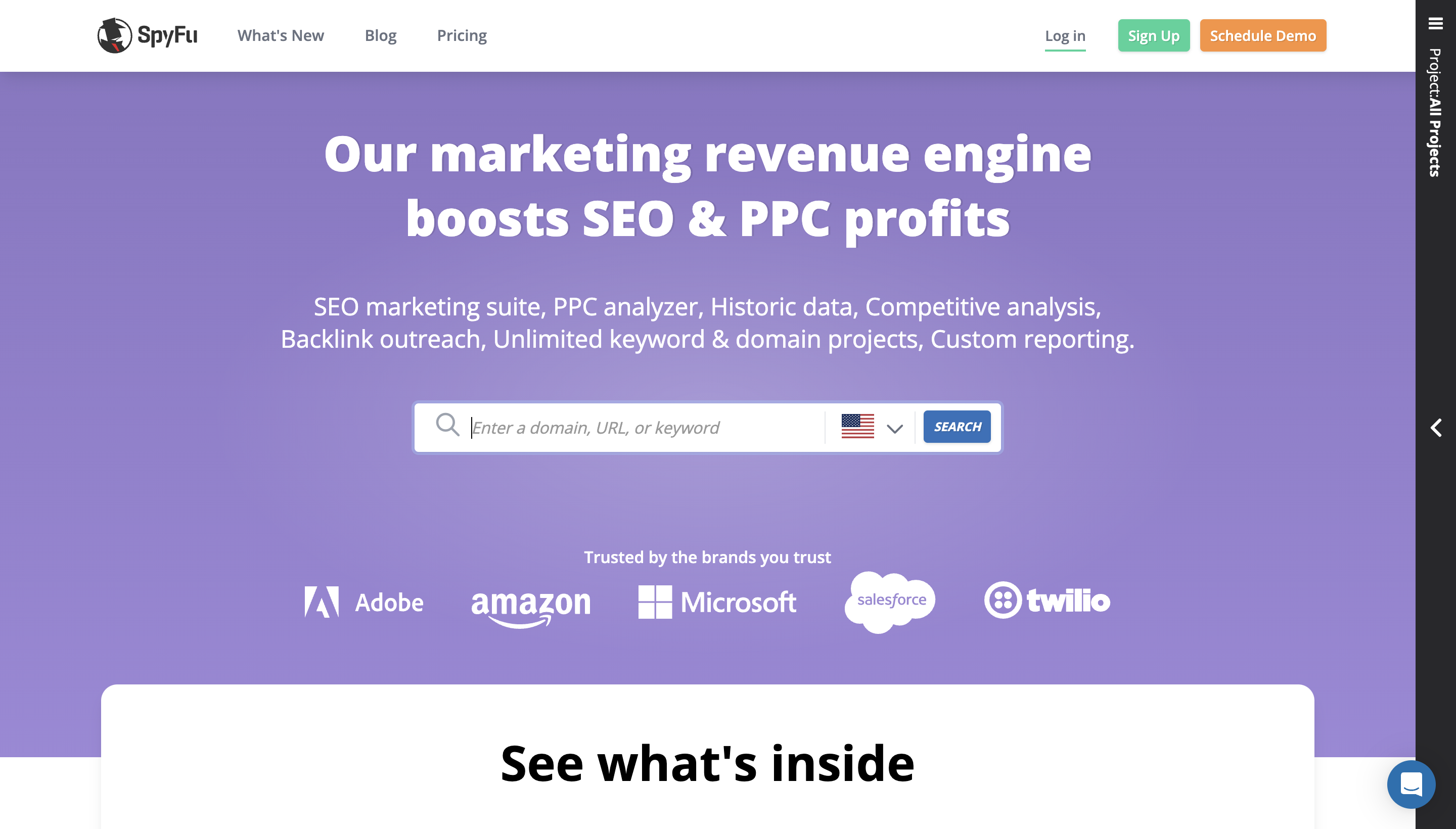 Tools and features
SpyFu offers a range of SEO tools to help businesses improve their online presence, including keyword research, competitor analysis, backlink analysis, and domain analysis. It provides accurate and recent data on keywords, organic and paid competitors, assesses their SEO performance, and monitors backlinks, allowing agencies to make informed decisions and develop effective strategies. At the same time, the platform lacks tools like website and on-page audit or content analysis.
Benefits for agencies
SpyFu could be an excellent choice for agencies looking to improve their clients' online visibility and attract more traffic. The tool's reporting features allow agencies to tailor custom reports for their stakeholders and clients.
SpyFu also has a white label feature that allows agencies to add their own branding and logos to the reports, thereby building trust with their clients. SpyFu's API allows agencies to integrate the tool into their own systems and workflows, making it more efficient and effective. Unfortunately, SpyFu can't do absolutely everything, as it lacks integration with Google services and focuses primarily on crawling data rather than processing it.
Pricing and subscription limits
SpyFu is considerably cheaper than other tools with similar capabilities. It has three pricing plans:
Basic – $39 per month
Professional – $79 per month
Team – $299 per month
These plans vary by the number of tracked keywords, custom reporting, and other features. For smaller agencies, the Professional plan is the obvious choice, as it offers 15,000 weekly tracked keyword rankings, unlimited data export, API, and even custom-branded reporting. Still, it is only designed for one person to use. SpyFu's user seats and shared access features are only available in the Team pricing plan, which allows agencies to work collaboratively with their team members and clients. The Team pricing plan allows for up to five user logins. With a 30-day money-back guarantee, users can test out SpyFu risk-free.
Pros
Excellent keyword and PPC data.
Straightforward data visualization through graphs and charts, with all project information available in one place.
Useful reporting features with customization options and the ability to automate report sending.
User seats and shared access, which is useful for agency collaboration and client access.
White label and API are available in the Professional and Team pricing plans.
Cons
Lacks advanced functionality for in-depth analysis.
No features available for website and content analysis.
May not always provide accurate keyword research data.
Verdict
SpyFu can be a valuable tool for agencies because it has huge databases, great data visualization capabilities, useful reporting features, and a variety of sharing options. SpyFu's pricing is competitive, making it an affordable option for agencies of all sizes. Overall, SpyFu's combination of features and affordability makes it a good choice for small or young agencies looking to improve their SEO workflow.
5. SEO PowerSuite
SEO PowerSuite is a comprehensive suite of SEO tools that offers the grand scope of key features that agencies need to drive real SEO results to their clients.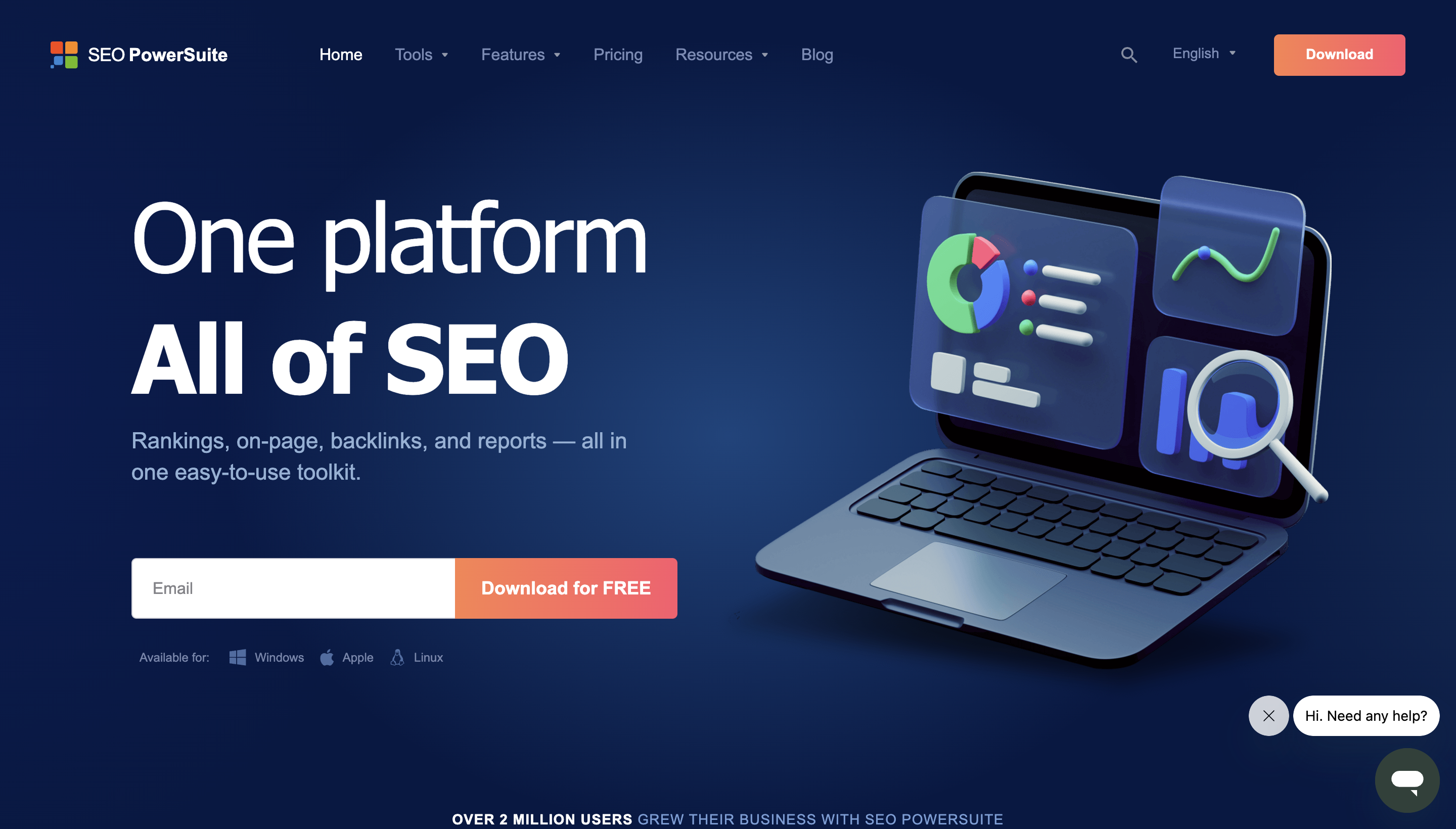 Tools and features
SEO PowerSuite offers a wide range of features, including keyword research, rank tracking, on-page optimization, link building, and analytics. It's a solid tool, but some users may discover that the software's interface and set of available features is somewhat outdated and not as user-friendly as some of the other competitors on this list.
One potential drawback of using SEO PowerSuite is that it requires users to download and install the software on their computer, which can be less convenient than using an online tool. Also, even though SEO PowerSuite's licensing system lets you install the suite on multiple devices, users can only access it on one device at a time, which can be limiting for agencies or teams.
Benefits for agencies
SEO PowerSuite's customizable reporting feature allows agencies to create detailed and branded reports for their clients, making it easy to showcase the effectiveness of their SEO efforts. The software offers a range of customization options, including the ability to add agency logos and colors, as well as choose which metrics and data to include in the reports. This feature streamlines the reporting process, saving agencies time and effort while also improving the presentation and impact of their SEO reports.
Pricing and subscription limits
SEO PowerSuite offers a free version and two paid plans:
Professional – $299 per year
Enterprise – $499 per year
The paid plans differ in their features, including the amount of keywords that can be tracked and the number of reports that can be generated. All agency-related features are available in the Enterprise plan, including unlimited tracking of both keywords and backlinks, scheduled report delivery, and the ability to export data.
Although the software can be downloaded and installed on multiple devices, it doesn't include multiple user seats. This means that if an agency requires several team members to work on a project simultaneously, they will have to buy multiple subscriptions.
Compared to its competitors, SEO PowerSuite stands out for its one-time annual subscription fee.
It also offers a 30-day money-back guarantee for paid plans.
Pros
Comprehensive set of SEO tools for on-page optimization, link building, keyword research, and rank tracking.
Enables users to track rankings across multiple locations.
Robust reporting features, including white-label reports and the ability to automate report generation and delivery.
Integrates with Google Analytics and other third-party tools.
Cons
Requires installation on a computer, making it less flexible than other online competitors.
May be challenging for novice users due to its steep learning curve and relatively complex interface.
Slower speed when compared to some of its competitors.
Limited customer support options, with only email and forum support available.
Only offers an annual subscription, which may not be suitable for many users.
Verdict
SEO PowerSuite is a good fit for agencies due to its data and visualization features. The tool offers customizable reporting features and the ability to automate report sending. Additionally, SEO PowerSuite offers integration with Looker Studio, white labeling, and an API for advanced reporting.
Dedicated website crawlers
A dedicated website audit tool is an essential part of any agency's toolkit, as it can assist them in providing valuable insights and delivering better results to their clients. Here are some ways a website audit tool can assist agencies:
It empowers agencies to analyze and evaluate websites, identify areas for improvement and develop better SEO strategies.
It provides detailed reports, making it easier for agencies to communicate their findings to clients and stakeholders.
It helps agencies streamline their workflow and save time.
1. Screaming Frog
Screaming Frog SEO Spider is an advanced website crawler tool that allows users to analyze and audit websites for technical SEO issues.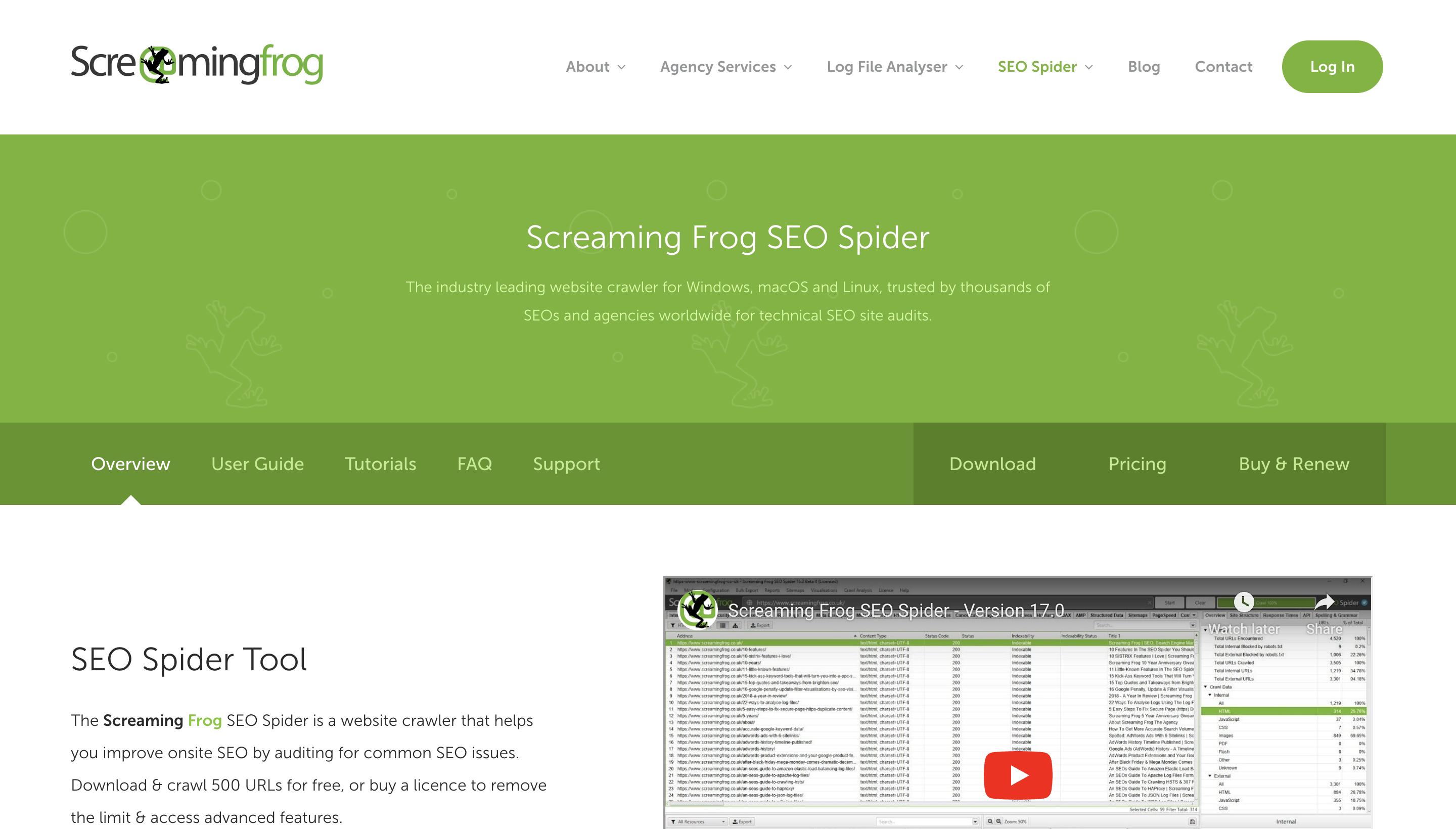 Tools and features
Some features of Screaming Frog include website crawling, finding broken links, identifying duplicate content, analyzing page titles and metadata, generating XML sitemaps, and more. It can also integrate with Google Analytics, Google Search Console, and PageSpeed Insights to provide additional data and insights.
Benefits to agencies
Screaming Frog is a good fit for agencies due to its accurate data and visualization capabilities, featuring charts and graphs. Its intuitive features enable agencies to easily generate customized reports and automate the monitoring and SEO issue-reporting process. Additionally, Screaming Frog's user-friendly interface, scalability, and cross-platform compatibility make it a popular choice for agencies of all sizes.
Pricing and subscription limits
Screaming Frog offers both a free and a paid version of its tool. The free version has some limitations, such as the number of pages that can be crawled, which is up to 500 URLs per month. The paid version, on the other hand, costs $239 per year, but has more features and higher limits, including the ability to crawl an unlimited number of pages. Users will also have access to additional technical SEO analysis features.
Pros
Simple and intuitive interface that is easy to use, even for those with limited technical knowledge.
Comprehensive reporting features, allowing users to create custom reports with ease.
Range of customization options, making it a flexible tool for agencies that need to tailor their SEO analysis to the needs of each client.
Cons
The tool can be slow when crawling large websites, which can be frustrating for users needing quick results
It may sometimes provide inaccurate information or errors during technical analysis
The free version has limited features and only allows for crawling up to 500 URLs, which may not be enough for some agencies.
Verdict
Screaming Frog is an efficient and flexible website crawler tool. It's a great fit for marketing agencies, allowing them to conduct in-depth website analyses, track issues, and monitor SEO performance.
2. Lumar
Lumar (formerly known as DeepCrawl) is a cloud-based SEO platform that enables businesses to improve website performance and rankings.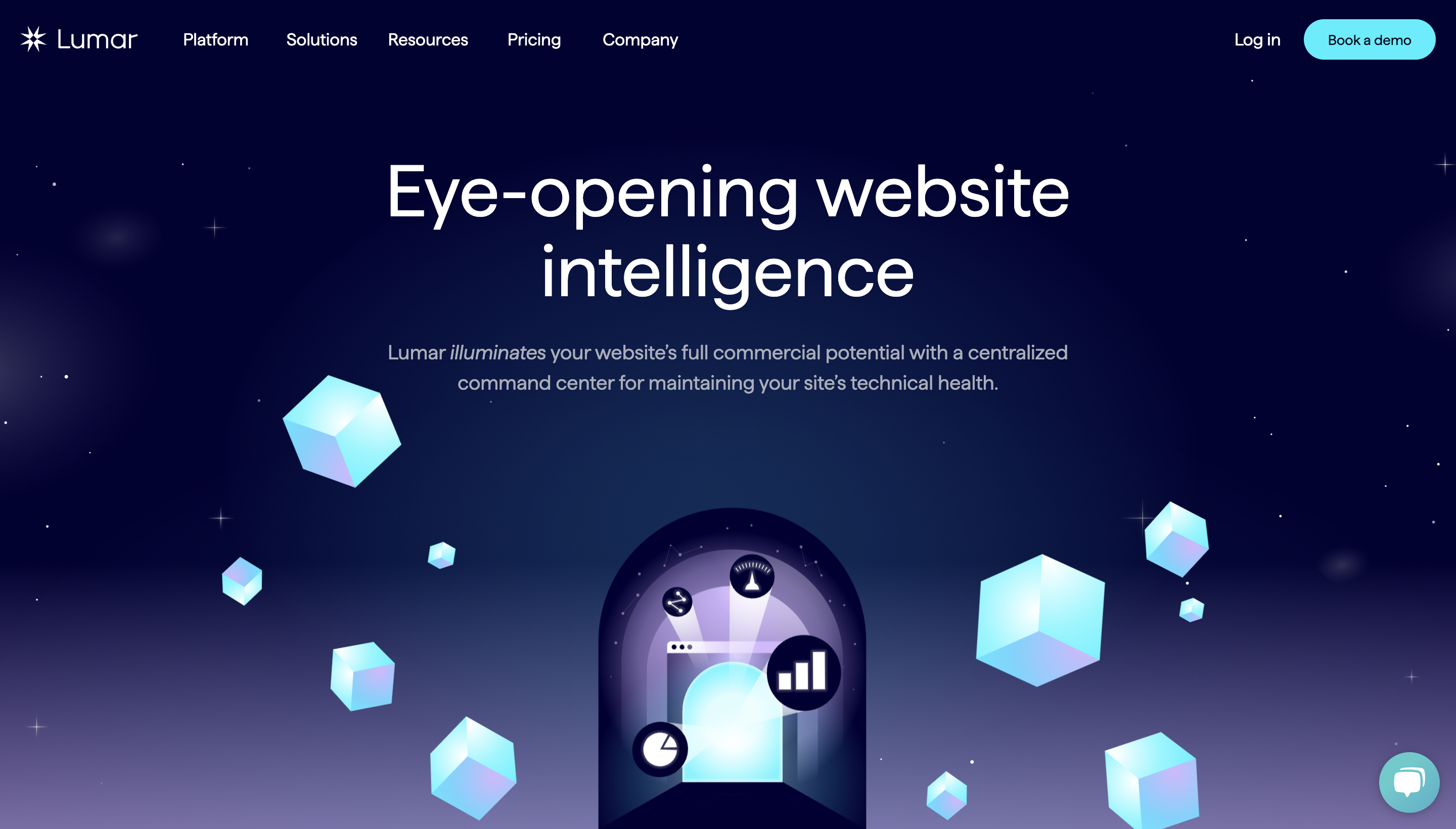 Tools and features
Lumar features a comprehensive website crawler and analysis tool that provides detailed insights into a website's health and performance. Lumar's web crawler identifies technical SEO issues, including broken links, duplicate content, and more. It offers a wide range of features, including advanced data visualization, reporting, integration with other tools, and smart notifications. Lumar also allows users to easily create and assign SEO tasks in the Analyze Task Management module to simplify workflow and project management.
Benefits for agencies
With Lumar's focus on data accuracy and recent updates, it is an excellent fit for agencies that need a reliable tool to analyze their clients' websites and identify issues that could hurt their rankings. With its large databases and customizable reports, agencies can easily share data with their clients and track progress over time. Additionally, Lumar supports integration with third-party solutions, providing additional data analysis options.
Pricing
Lumar offers a custom pricing model that's provided upon request.
Pros
Comprehensive website crawler that checks for technical and on-page SEO issues.
User-friendly interface that offers detailed visualizations and reports.
Integration with Google Analytics, Google Search Console, and other third-party sources.
Cons
Lumar has a custom-made pricing approach that can be more expensive than other similar tools.
The tool's comprehensive crawl can take longer to complete, which may not be ideal for agencies that need quick, surface-level insights.
Verdict
Overall, Lumar is a powerful website auditing tool that can help agencies streamline their SEO efforts and drive better results for their clients.
Content creation tools
Dedicated content creation tools can help agencies streamline the content creation process by:
Automating multiple aspects of content creation, such as research, ideation, writing, editing, and publishing.
Helping with grammar and spell-checking, SEO analysis, and readability scores to help ensure that content is top-notch and optimized for search engines.
Promoting collaboration between team members.
With a dedicated content creation tool, agencies can produce better quality content more efficiently, delivering better results for their clients.
1. Surfer
Surfer is our top recommended tool for content creation and optimization because of its all-in-one cloud-based functionality, which is great for agencies seeking to optimize their clients' websites for better search engine rankings.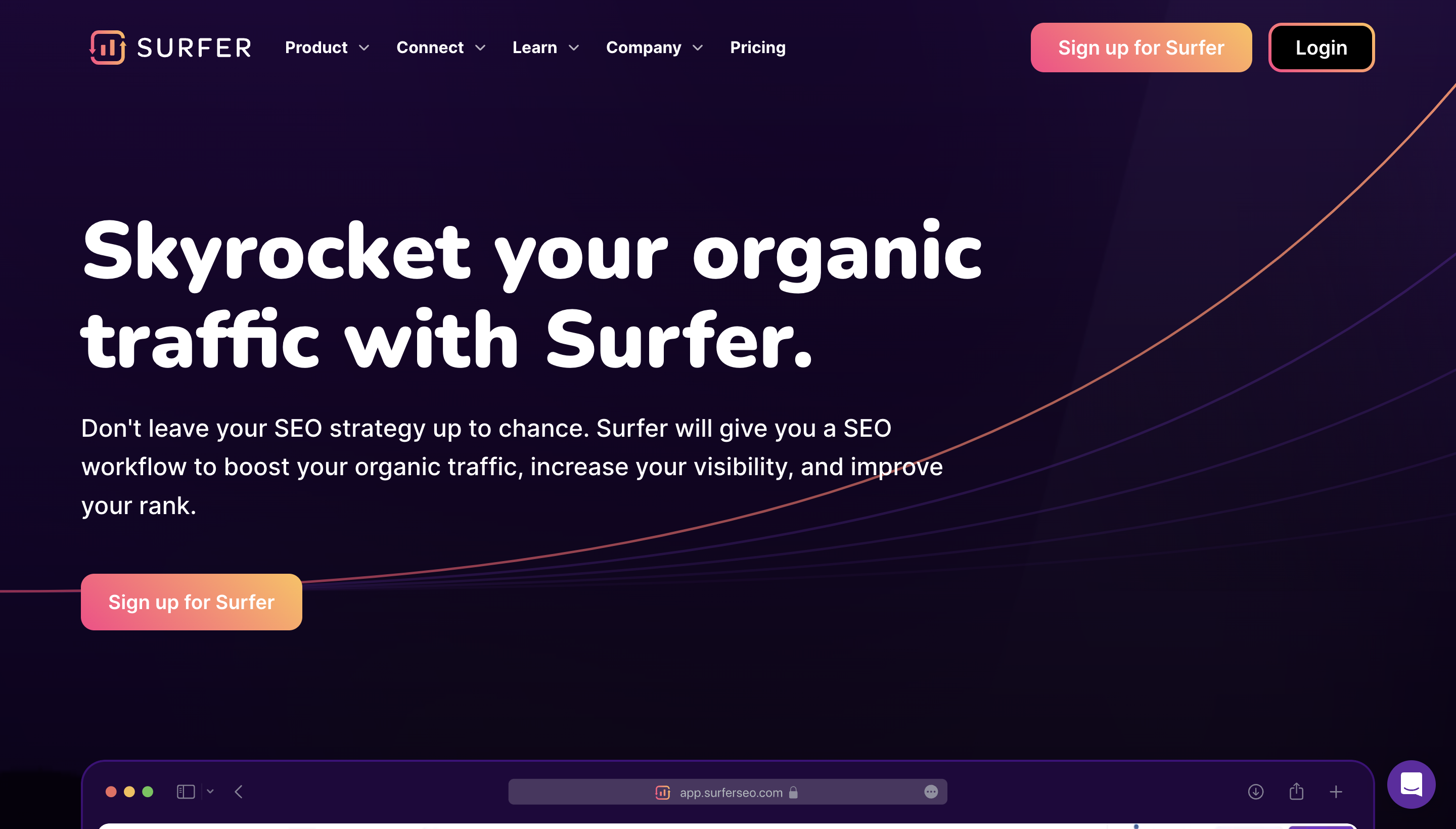 Tools and features
Surfer provides exceptional content analysis and optimization, competitor analysis, keyword research, and website audit capabilities. It also uses advanced algorithms and machine learning to analyze thousands of search results to provide actionable insights and recommendations for content optimization.
Benefits for agencies
The platform is comprehensive, to say the least. With it, agencies can analyze and optimize content, track rankings, and identify opportunities to improve content strategies for their clients. Surfer's intuitive interface and easy-to-use features make it a great choice for agencies of all sizes.
Pricing and subscription limits
Surfer has several pricing plans, each one varying primarily by the number of articles set to be processed in the content editing tool, albeit with some other additional features:
Basic – $49 per month
Pro – $99 per month
Business – $199 per month
Enterprize – custom price
We recommend the Business plan for agencies because it includes 10 user seats, 840 articles and 1680 page audits per year, as well as up to 10 trackable websites. It provides access to the most relevant features, such as white labeling shareable links, and reports and API.
Pros
Detailed recommendations on how to optimize content for search engines and outrank competitors.
Comprehensive analysis of the top 50 search results for a given keyword, providing insights into what works and what doesn't in terms of on-page optimization.
User-friendly interface that makes it easy to navigate and understand its features.
Integrates with popular CMS platforms like WordPress and third-party solutions like Jasper, making it easy to implement its recommendations.
Range of flexible pricing plans to suit different needs and budgets.
Cons
The tool's focus on content and on-page optimization may not be sufficient for some agencies that require more comprehensive SEO features.
Some users have reported issues with the tool's keyword research functionality, which may limit its usefulness for some agencies.
Verdict
Surfer is a great tool for agencies whose primary focus is on content optimization. Its core functionality is to analyze the top-performing pages in search engine results, with the aim of identifying the common factors that contribute to their success. Based on this analysis, it provides practical recommendations to enhance the content, structure, and overall on-page SEO performance of a website.
Reporting tools
A dedicated SEO reporting tool can help agencies with:
Tracking and reporting SEO metrics and KPIs, allowing the agency to demonstrate the impact of their work to clients.
Identifying areas for improvement and highlighting opportunities for growth.
Saving time by automating the report generation process, freeing up agency resources to focus on other tasks.
Overall, a dedicated SEO reporting tool can provide valuable insights to agencies and help them achieve better results for their clients.
1. AgencyAnalytics
AgencyAnalytics is a comprehensive all-in-one reporting platform designed specifically for digital marketing agencies.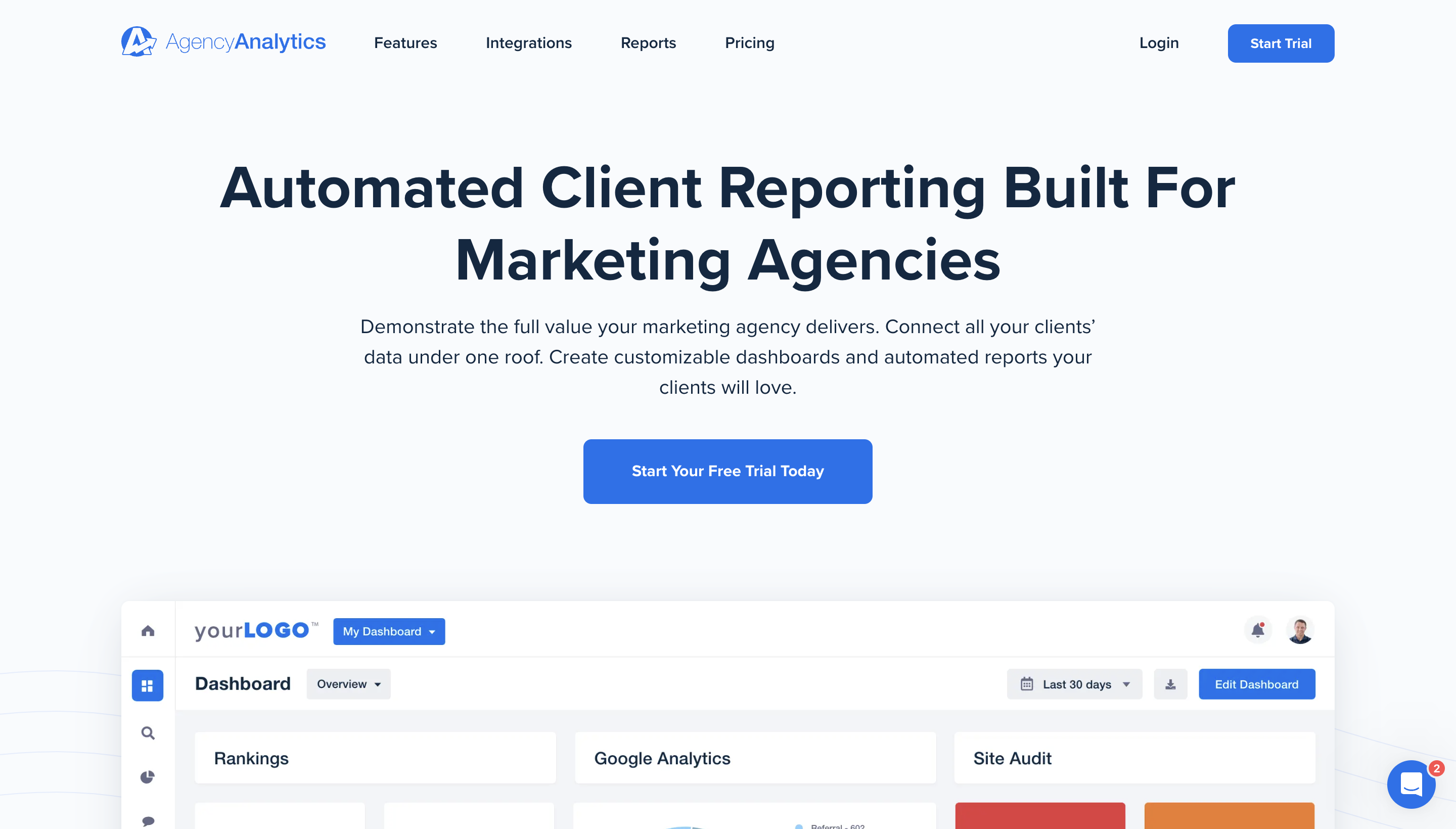 Tools and features
AgencyAnalytics offers a wide range of features, including SEO reporting, social media analytics, PPC reporting, email marketing reporting, and more. The tool enables agencies to track the performance of their clients' websites and campaigns, create custom reports, and then share these reports with clients.
Benefits for agencies
AgencyAnalytics' white-label solution allows agencies to rebrand the platform in their image as well as create custom reports. Additionally, AgencyAnalytics offers integration with various third-party tools, including Google Analytics, Shopify, Ahrefs, and more, making it a versatile and valuable tool for agencies looking to streamline their reporting and analysis processes.
Pricing and subscription limits
AgencyAnalytics offers affordable pricing plans:
Freelancer – $12 per client campaign
Agency – $18 per campaign
Enterprise – a custom plan that can be adjusted per user need.
All of AgencyAnalytics' pricing plans include an unlimited number of users and clients, but API is only available in the Enterprise plan. Additionally, AgencyAnalytics offers its own Rank Tracker and Site Auditor add-ons, which are optional and come at $50 each per month. The platform also offers a 14-day risk-free trial with no credit card required.
Pros
Integrates well with a variety of third-party tools, enabling agencies to manage multiple marketing campaigns and clients from a single platform.
Offers customizable reports and dashboards according to the agency's needs and brand guidelines, with white-label options available.
Enables easy automation of repetitive tasks, such as reporting and data collection, which saves time for agencies and allows them to focus on other aspects of their clients' campaigns.
Cons
The tool may be too complicated and overwhelming for beginners due to its many features and options.
The keyword tracking feature is limited compared to some other SEO tools on the market.
Verdict
Overall, AgencyAnalytics is a valuable tool for agencies that need to track data from a variety of sources and marketing channels, as well as report on their clients' website performance in a streamlined and efficient way.
2. Whatagraph
Whatagraph is a reporting automation platform that provides users with an easy and efficient way to turn complex data into visual reports.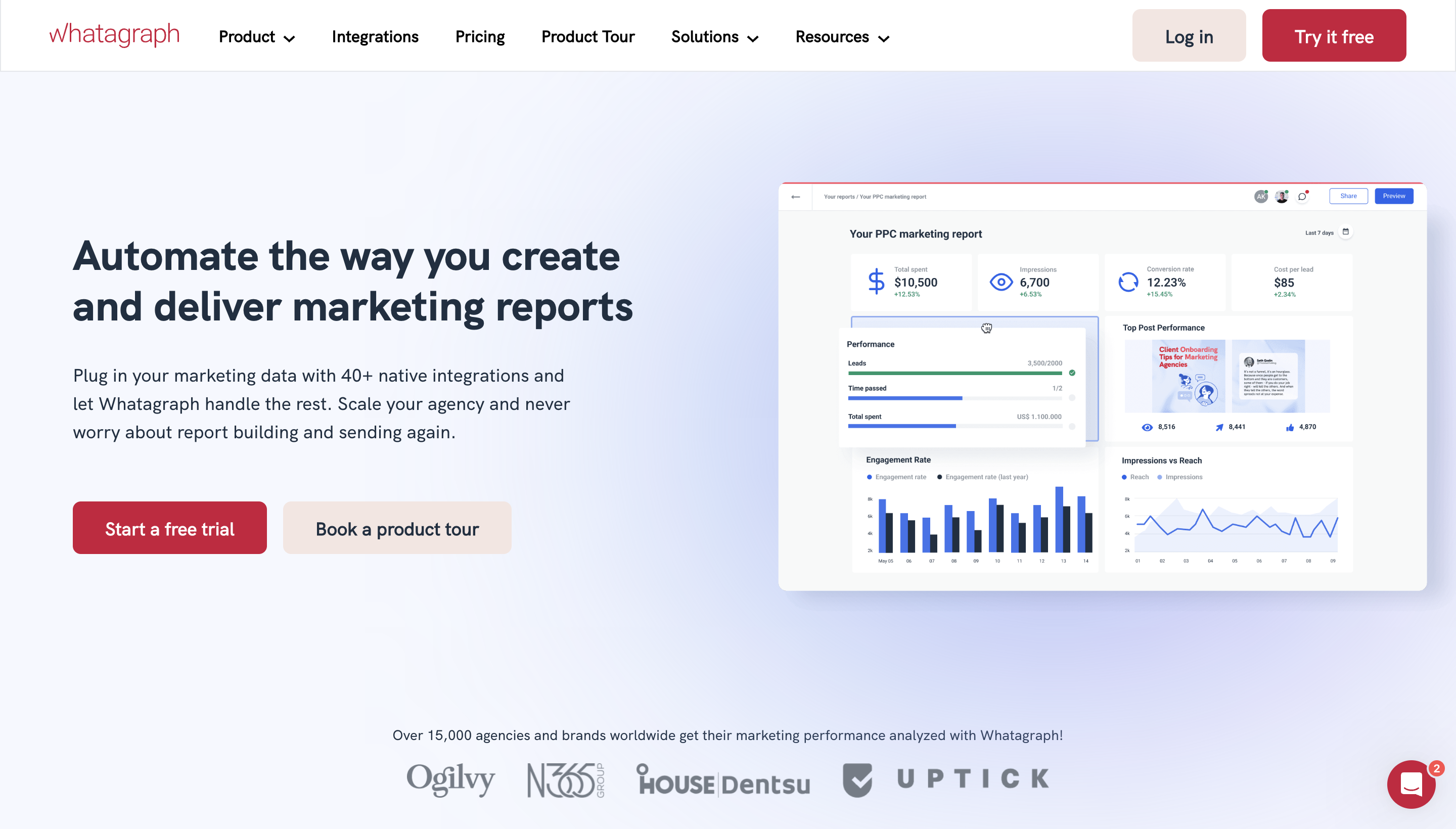 Tools and features
This marketing reporting tool is designed to help marketing agencies generate custom reports for their clients. With Whatagraph, agencies can automate the reporting process and deliver professional-grade reports that showcase the impact of their marketing efforts, saving both time and effort. Additionally, Whatagraph enables users to set goals and KPIs and receive alerts when these metrics are not being met, helping to prevent issues and improve overall performance.
Benefits for agencies
The tool offers customization options and white-labeling features, allowing agencies to tailor their reports to their clients' needs and match them to their brand. Whatagraph provides a range of customizable report templates and drag-and-drop report-building options. It also integrates with 40+ third-party platforms like Google Analytics, Facebook, Instagram, Mailchimp, Shopify, and more to collect and display key performance metrics and insights. It also features real-time data, easy data filtering, and data export capabilities.
Pricing and subscription limits
Whatagraph's subscription plans include:
Professional – $223 per month
Premium – $335 per month
Custom pricing upon request
Each plan has similar features to the other, such as access to custom templates and an unlimited number of generated reports, but the price you pay varies depending on the number of integrations and team seats you need. Whatagraph also offers a 30-day money-back guarantee, a free trial period, and a demo to help users get started.
Pros
User-friendly interface that is easy to navigate and customize.
Wide range of integrations with other popular marketing and analytics tools.
Automated report generation and delivery to save time and effort.
Custom branding and white-labeling options to match your agency's branding.
Multiple report templates to choose from or custom reports that can be created from scratch.
Real-time data updates to keep clients up-to-date.
Cons
Limited customization options compared to some other reporting tools.
Limited data visualization options for some metrics.
Reports may not be as visually appealing as some other tools.
Pricing can be relatively high for agencies with larger client bases.
Verdict
Whatagraph is a great fit for agencies because of its focus on automation, customization options, white-labeling, and collaborative capabilities. The tool also allows users to create custom dashboards and reports that can be shared with clients, which can help agencies strengthen client relationships.
Conclusion
If you're a marketing agency and want to boost your clients' website traffic and search engine rankings, the SEO tool you choose matters. All-in-one SEO tools like SE Ranking, Ahrefs, Semrush, SpyFu and SEO PowerSuite offer a range of features like competitor research, site auditing, backlink analysis, and keyword research. Tools like Screaming Frog, Surfer SEO, and Lumar are best for specific tasks like site health audits and content optimization. Dedicated reporting tools such as AgencyAnalytics and Whatagraph can create professional reports to keep clients informed. That being said, the tools you select for your agency will depend on your budget and needs, but having a mix of all-in-one with dedicated tools can create an SEO strategy that will keep your clients happy for years to come.