If you are looking for the best SEO solution for your website, we can immediately say that Serpstat is a strong candidate for the industry's leader. The platform has dozens of different tools, ranging from keyword research to rank trackers and competitor and backlink analysis. But does this tool provide the most value for money?
That's what our Serpstat review tries to discover. We left no stone unturned when analyzing this platform, its features, ease of use, and other relevant details. Keep reading to learn everything from the pricing to how Serpstat performs in different areas!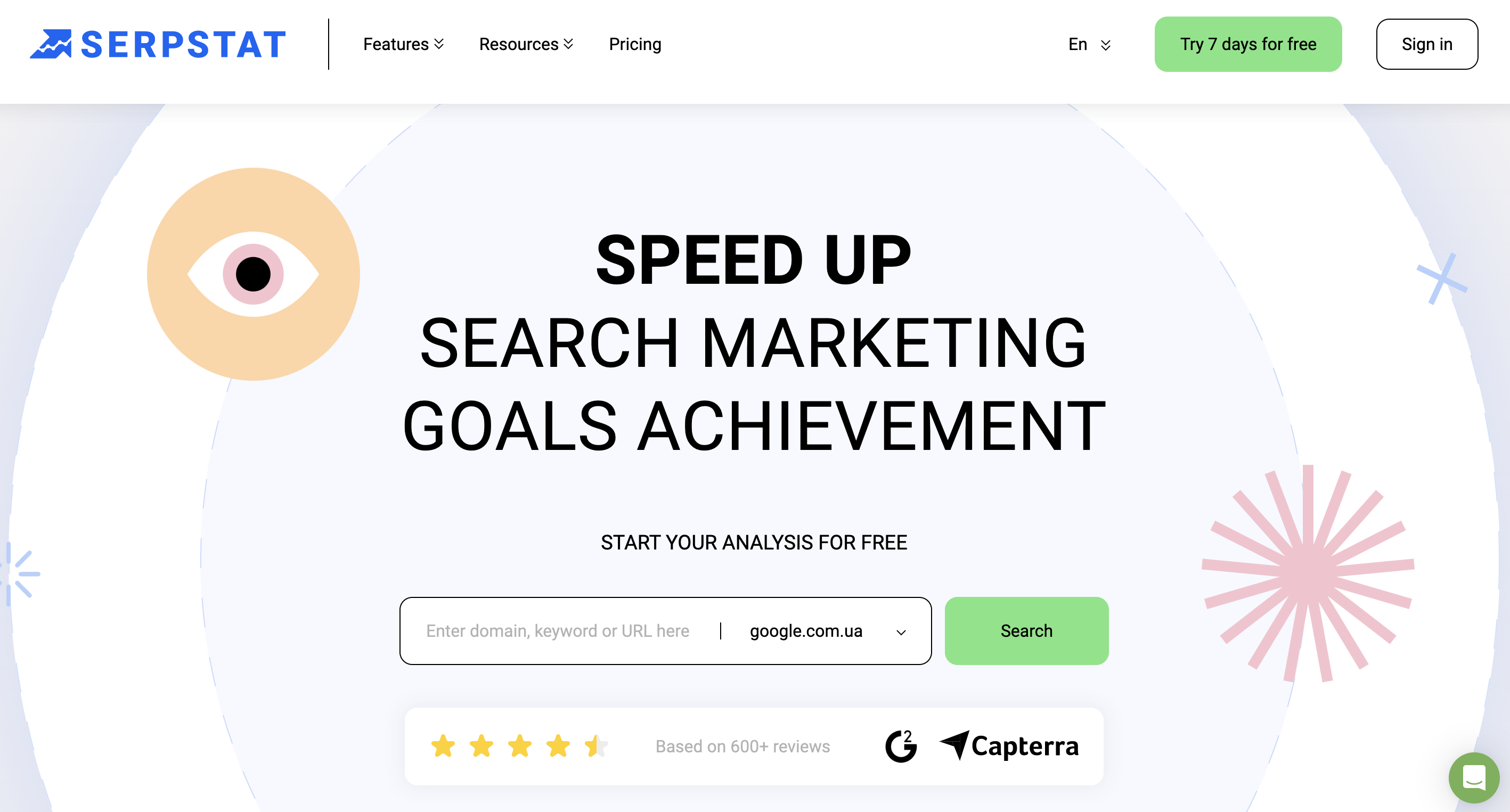 Pros & Cons
Pros
Rank tracking includes separate desktop and mobile device results and allows filtering by area or language
Reliable difficulty rating and other details when researching keywords
Backlink analysis is incredibly detailed and includes a Link Intersect comparison tool
Site audit sorts issues by priority and rates your progress in improving issues over time
Various pricing plans available, including a customized option tailored to your requirements
Cons
Some dashboard sections have a less intuitive design
Performing site audits could take a while
It takes some time to get used to how utilizing credits works
Customer support isn't available around the clock
Overview
Serpstat launched in 2013 as solely a keyword research solution. It took three years to migrate into an all-around SEO platform and it now includes dozens of tools divided into several main categories. The comprehensive software has become a popular solution among individuals with personal and business sites, but also with marketing agencies and enterprises.
At the point of writing this Serpstat review, the service has over 200,000 active users and over five billion keywords in its database. The platform is dedicated to constant updates, which is why around 25K keywords are updated per minute.
Oleg Salamaha is the founder of Serpstat, while Artem Borodatyuk is the co-founder. The company is now a part of the Netpeak Group, which is a digital marketing agency with Saas, conference organizing, and other solutions.
Serpstat's main categories of SEO tools include rank tracking, backlink analysis, keyword research, site audit, and competitor research. The platform has a dashboard you can access after you sign up for the desired package, and most services will require using the assigned credits. The credits you will receive depend on your subscription. Apart from the web-based dashboard, you can also install a Google Chrome plugin to learn more info about a domain you are visiting while browsing the web.
Pricing & Plans
The latest information our Serpstat review experts gathered from the official website shows that the service has four basic plans:
Lite. It's a basic package with a price of $69 per month and access to over 20 tools for analyzing competitors and enhancing your SEO efforts. It seems to be the best fit for individuals.
Standard. The subscription serves up to three users, making the price of $149 per month tempting. Apart from SEM, PCC, and SEO tools, it offers branded reports and an extended interface.
Advanced. Supports 8,000 searches per day and 50,000 results per report while offering rank trackers, site audits, and branded reports. It's an excellent choice for professional agencies and marketing experts, available at a price of $299 per month.
Enterprise. The most extensive default package offers support from the development team, white-label reports, loads of API and tools credits, and other useful features for $499 per month.
You can pay for each subscription yearly to activate a 20% discount. The company also offers customized packages upon request. According to Serpstat reviews, the staff is polite and ready to listen to your expectations to come up with a suitable deal.
A free trial is available, and it lasts for seven days. Our Serpstat review details showed that you can only apply for the Lite package for this test run, and it's necessary to enter card details to begin the trial. If you don't cancel within seven days, expect to be charged automatically for the first billing cycle.
Features
Our visit to the official website for the purpose of writing this review about Serpstat discovered that the platform includes over 50 different SEO tools for digital marketing and other experts.
Before accessing the tools, it's necessary to register an account on the platform. The process doesn't take more than a few minutes, including activating a premium subscription to unlock the platform's full potential. Here's what our Serpstat review experts have to say about the tools and features the service offers!
Rank Tracking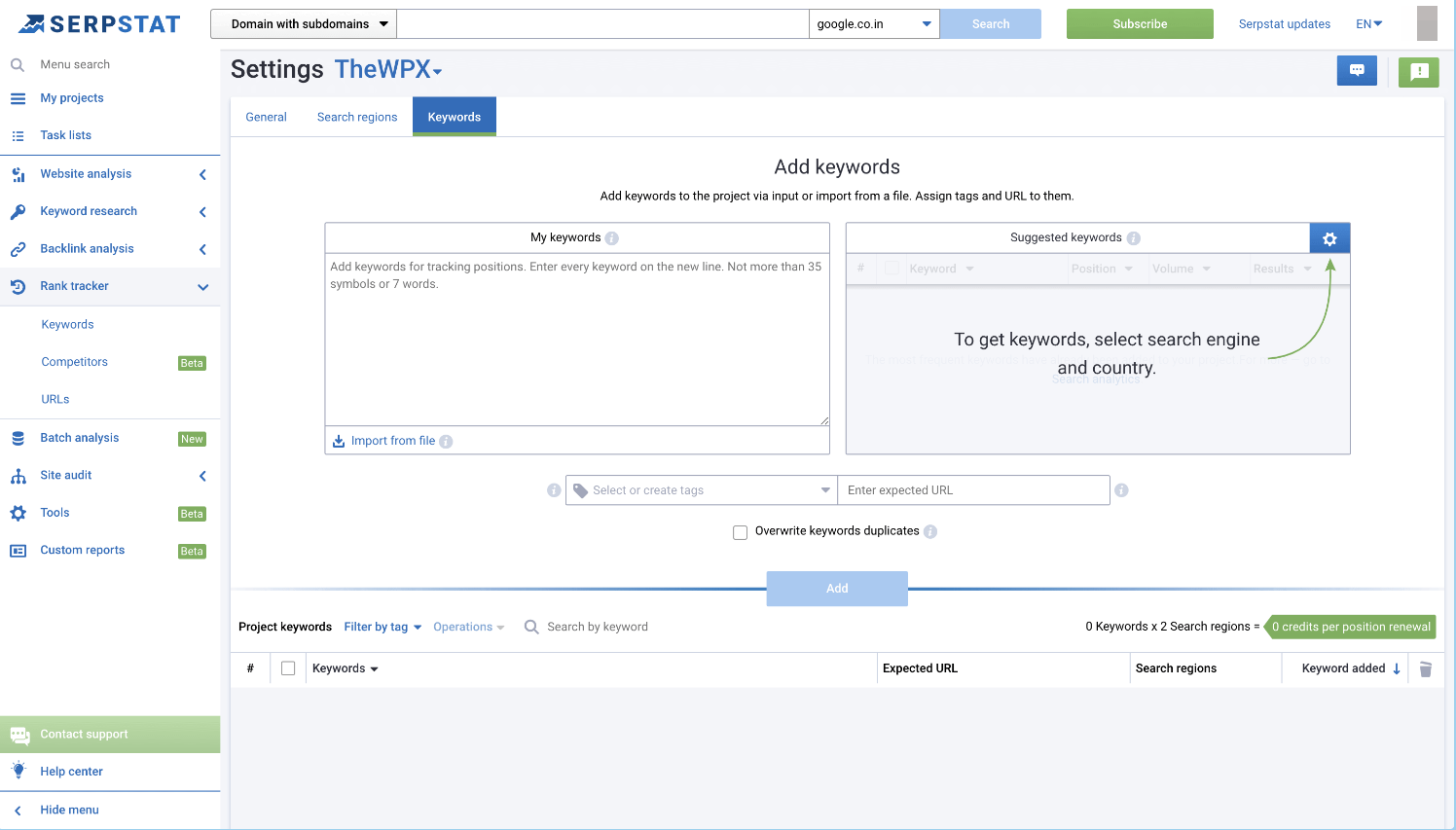 You might say we are starting a bit backward, but we believe a reliable rank tracker is an essential feature of any SEO tool. It's why our Serpstat review team was glad to discover that this ranking tool is versatile and exceeds all expectations.
The idea of a rank-tracking feature is to monitor the performance of your and your competitors' sites and specific keywords. Serpstat made things simple by enabling automatic reports, which are a huge time-saver. You can also access SERP historical information, which means you can see how a particular keyword is performing now and how it performed weeks ago. It's an excellent way to understand whether your keyword targeting and adjustments were successful.
Many Serpstat reviews confirm that you can trust the results of the service's algorithm analyzing the results pages in search engines. The rank tracker gives the option to monitor pages and website categories and delivers reliable info on your market share while comparing you with main competitors.
If you choose to try and review Serpstat rank tracker, you'll find many adjustments available for the tool. It all starts with choosing which page or category to monitor, but here's what else you can set:
Pick the search engine to focus on for tracking. Google and Yandex are the two platforms covered by this company.
Select search regions and see how you perform in different categories. You can focus on desktop and mobile devices and also select from organic and paid results.
Pick a country, city, or language. Some adjustments aren't mandatory, but they can help narrow down the results if you want to see how you perform on a local level.
While adding keywords, you can enter them manually or ask Serpstat to recommend some based on your domain. The results are comprehensive but well-sorted, which ensures they are understandable to anyone who reads them.
Keyword Research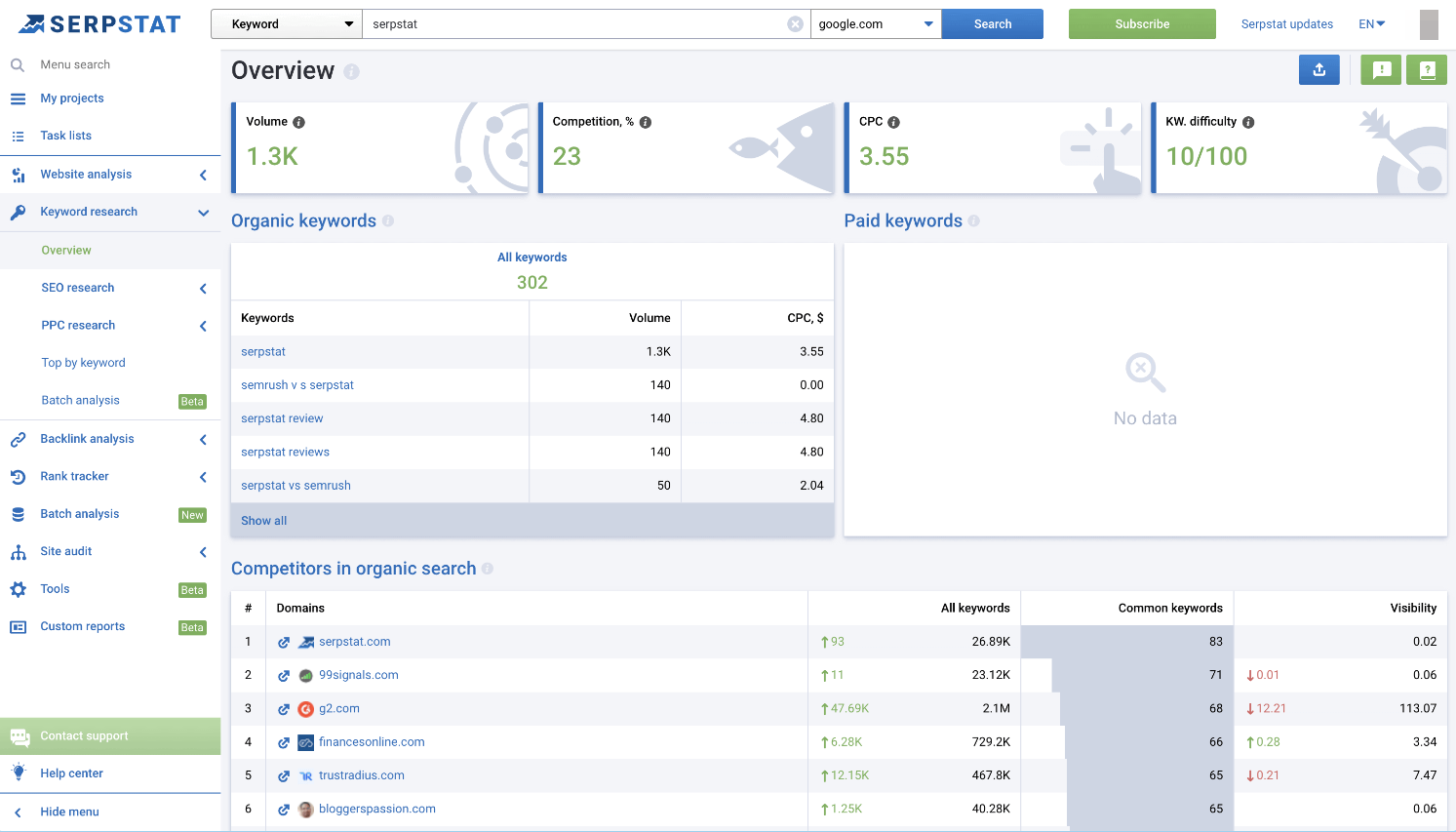 If you have experience in SEO, you know that keyword research is the primary tool used in search engine optimization. In short, keyword research serves to identify and gather the best keywords to improve your website's performance. It's why the biggest focus of our review of Serpstat is on the features included in this package.
The process begins with a keyword selection, which requires you to enter some keywords related to your page, category, or site. For example, if you are publishing a Serpstat review like we are, you can enter those words in the search bar. The software will then show top organic keywords, which you can narrow down by country if you want to target ranking in a particular area.
As you'll find in many Serpstat reviews, the keyword research tool is comprehensive. However, it could be a bit better organized. It all starts from the Overview page, but not all actions are available there. For example, you need to go to Keyword Selection to filter results. That means the tool comes with a learning curve, but the good news is that you get used to it quickly.
The important thing is that you have many options and detailed info on identifying the right keywords. You will receive reliable monthly estimates on a keyword's search volume, suggested keywords, and difficulty rating. The idea of this score is to show you how hard it is to compete for a specific keyword. While you review Serpstat keyword research results, analyzing all metrics will help you pick the best options for your site.
Compared to some other keyword research tools, Serpstat doesn't give as many recommendations. However, the choices available should be enough. An important advantage is that you can focus your analysis on paid advertising, which is helpful if you are planning an ad campaign. We'll discuss this more later on in the article.
Backlink Analysis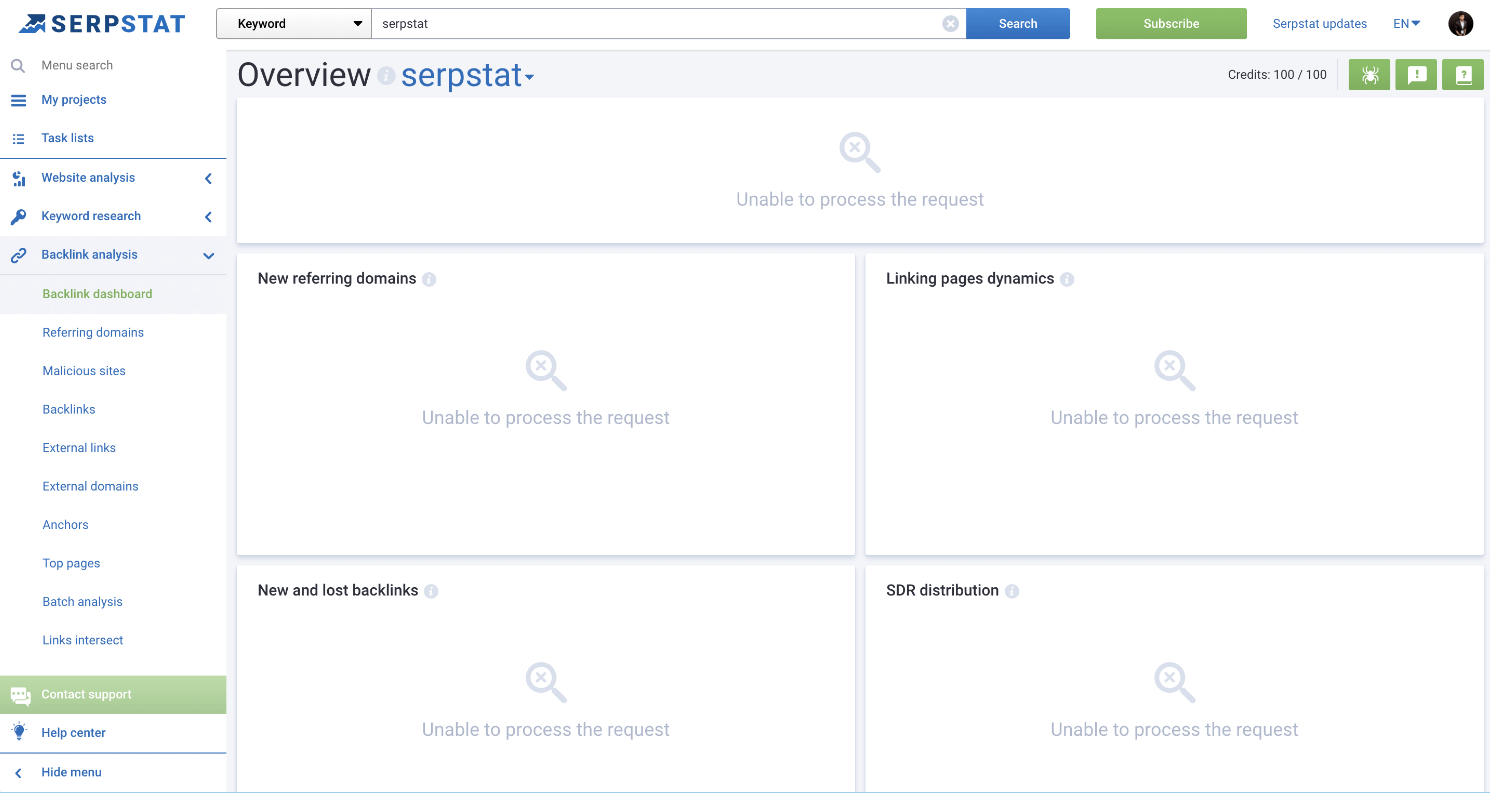 A true search engine optimization expert knows that backlinks are among the most important factors that determine your page rankings. That's why Serpstat has an entire section dedicated to backlink analysis. Similar to other areas, you begin from the dashboard of this subcategory, where you are required to enter the address of the domain to be analyzed.
Depending on how much information the service needs to process, you should be able to review the Serpstat backlink analysis results in seconds. The overview will show the number of backlinks, the ratio between new and lost links, the distribution by type, and other useful statistics. Serpstat also displays SDR – Serpstat Domain Rank – that ranks your site from one to 100 based on its estimated authority.
You can proceed to the Referring Domains page to get detailed info about websites that link to your site, as well as see the number of pages and domain ranks . As you can conclude from various Serpstat reviews online, Malicious Sites is a particularly useful addition. The platform uses methods like Google Chrome to determine potentially malicious sites that contain links to your pages. Malicious links negatively affect your SEO, so it's advised to resolve them.
Users can analyze active backlinks with useful details on follow / nofollow attributes and other details. Lost backlinks, as well as an analysis of external links from your site, provide additional insights into the entire linking structure.
Anchors could be a part of your keyword analysis strategy since they focus on anchors used for linking to a particular site. That info could tell you about the anchors that perform best, which in turn could help improve SEO effectiveness.
Website SEO Audit

Our Serpstat review 2023 confirmed that this platform keeps working on improving its services, as well as enhancing the site's design. The interface of the section that performs site audits is now considerably better and more intuitive than it was a few years ago. That being said, the tool itself is incredibly comprehensive. It will, however, require a bit of patience to conduct a site audit and receive the required information. That's perfectly normal since there are loads of data to process and convert into useful info.
The whole idea is to look for potential SEO issues and improvements that could be made to the website, so the audit is done from a technical perspective. You must create a project before conducting an audit, which requires entering the domain name, as well as the project name and group.
Before you review the Serpstat site audit details, check the SDO Score. It's the Serpstat Domain Optimization score created by the platform, and it will give you a general idea about the current website optimization in this area. The graph is a nice way to see whether or not you have improved the SDO score over time .
Serpstat site audit also sorts issues by high, medium, and low priority, which is convenient as you know where to focus first. You'll find that the tool checks HTTP status codes for client and server errors, metatags and headings issues, as well as potential content improvements. That could include a page that's too large or one that contains no body or only placeholder text.
Our Serpstat review experts point out that page indexing analysis is quite useful for SEO performance, as well as the analysis of links and redirects. The tool will even deliver page speed for desktop and mobile devices, which can be a critical part of the user experience . You can adjust the report to customize your needs, which is excellent for agencies and enterprises.
Competitor Analysis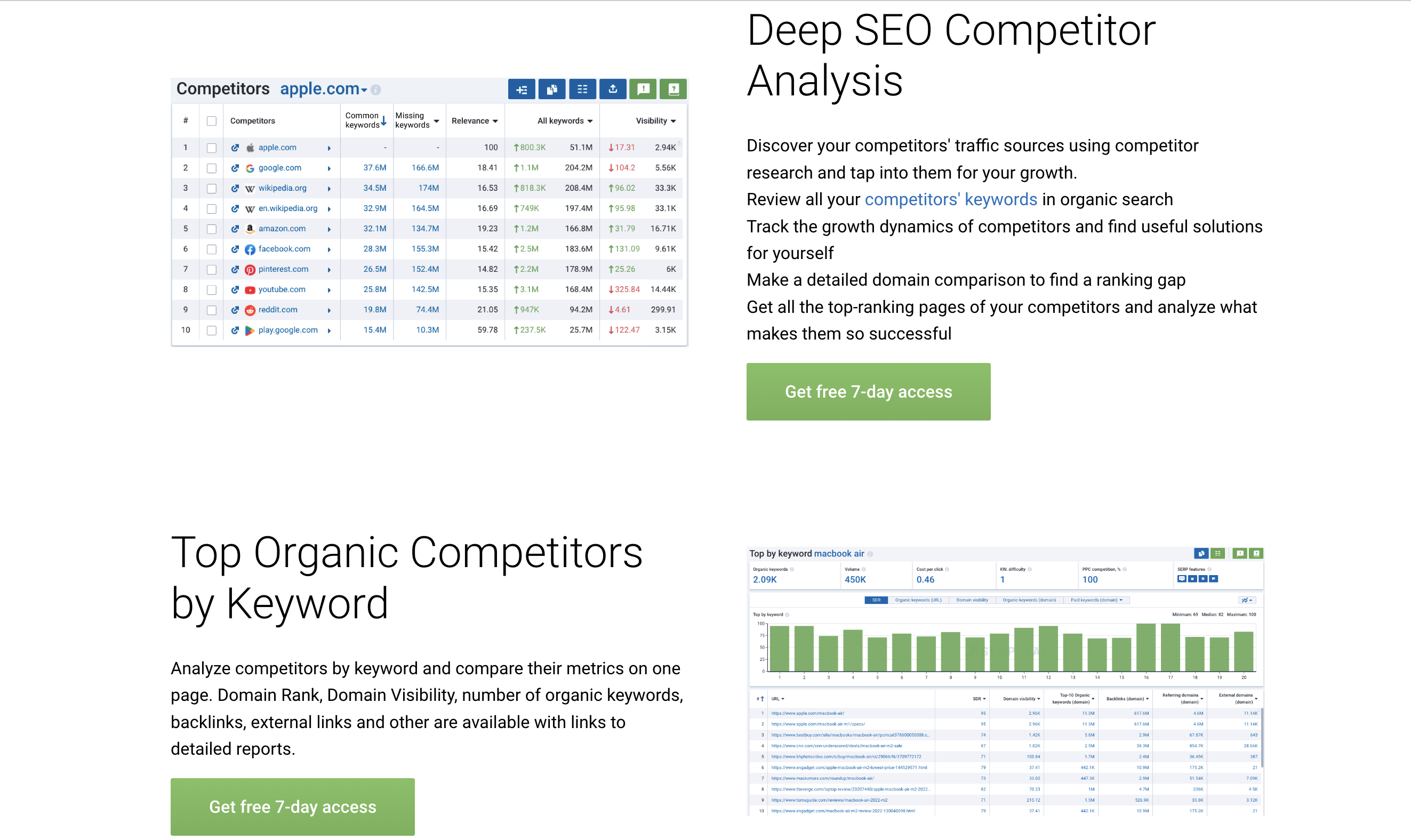 Information is power, and gathering detailed data on how your main competitors perform can help optimize your SEO performance. Although there's no one specific area that focuses on this goal, Serpstat reviews show you can use many tools to analyze competitors.
The most useful information will come from the rank tracker. Serpstat even has a Competitors tab that will show the companies working with similar or identical keywords, meaning you can discover the niche's top players in seconds. You can analyze a specific competitor and learn which of their pages rank best. Focus on organic keywords as they can provide useful information about what makes competitors' content and pages so successful. A PPC analysis of competitors' advertisements allows you to assess their campaigns and avoid repeating the same mistakes, reducing the time and effort needed to optimize your ad strategy.
PPC Analysis
Pay-per-click campaigns are an excellent way to drive traffic to your website, but only if you do them right. According to the Serpstat reviews available, the PPC analysis offered by this platform can help to maximize the effectiveness of your campaigns and give you a reliable assessment of the advertising done by your competitors.
Analyzing the competitors that are believed to be major players in your industry is a great start. You need to gather their names (domains) by yourself, but that shouldn't be a problem. The Serpstat review will provide information on the keywords that the competitors used, the ads they created, and suggestions on which keywords you might use as alternatives.
But it's not only about competitors, and that's why Serpstat also offers you PPC campaign analysis. You can begin by checking the keywords that are most suitable for launching ads. Information like keyword difficulty, how many advertisements exist for each keyword, and how many pages aim to rank for it can serve to identify the right options.
Among the Backlink Analysis tools, you'll find the Link Intersect option. It's convenient to compare different domains and see their SDR ranks, referring domains, and other details. Finally, don't hesitate to use domain batch analysis to assess various metrics and compare multiple competitors in a single report.
Other Features
The above sections have covered the main SEO categories covered by the platform, but if you review Serpstat more closely, there are some other features you'll encounter:
Local SEO. An entire page is dedicated to those who want to focus on attracting local traffic to their websites. You can check all listing directories in the desired location, use a single interface to complete profiles on those listings, as well as read and monitor user reviews.
Batch Analysis. You can pick from keyword and domain batch analysis. The idea is to display comparative tables of chosen keywords or domains, which can help generate loads of useful data in a few clicks.
Creating detailed and customized reports. Although we mentioned this several times in our Serpstat review 2023, it's worth noting the platform makes a huge range of personalized reports available. You can have reports delivered automatically at specific times, pick the details to include in the data, and even personalize the report with your logo.
Keyword trends. This is another tool added recently to the company's selection. It's a revolutionary addition that focuses on trending queries, showing the most popular searches in the desired area. As you review Serpstat info on the latest trends, you can identify the words that have the highest potential for growth in the future and focus your content and campaigns around them.
AI content tools. These could come in handy as they range from title and description generation to paraphrasing, YouTube transcription, and even an article builder.
Conclusion
It's no wonder that Serpstat reviews are mostly positive because the platform is an incredibly comprehensive SEO solution. It delivers many tools and features while maintaining a user-friendly interface. Considering the comprehensive range of options available, the minimal learning curve is only to be expected.
The dashboard offers easy access to the main sections, such as rank tracking, keyword research, and backlink analysis. Keyword research offers reliable and frequently updated information, and rank tracking offers useful details on your site. Using competitor analysis tools can help you learn how the major players in your niche do their SEO and advertising and tailor your PPC strategy.
Serpstat can be as simple or as detailed as you want it to be, it only depends on your preference. It's a shame that customer support isn't available 24/7 since that would be helpful to newbies and those who are only trying the platform for the first time.
If you don't find this SEO platform to be your cup of tea, we have good news. There are many Serpstat alternatives available, and it's all about finding the service with the right tools and the best value for your needs.
Quick Answers to Common Questions
What Is Serpstat?
Serpstat describes itself as an all-in-one SEO solution. It offers dozens of tools that ensure excellent versatility for domain and keyword analysis, marketing, PPC, and SEO. The features available range from site audits and competitor analysis to keyword research, rank tracking, and many others.
How to Use Serpstat?
Serpstat is an SEO platform, which means you sign up for the service and get access to a personalized dashboard. From the control panel, you can access all the available features. There are more than 20 different tools there, and their availability depends on the selected subscription. You can access each tool in a few clicks, and the entire interface is intuitive and user-friendly.
What Is Serpstat Used for?
Serpstat is a versatile SEO and digital marketing platform for individuals, teams, and enterprises. Its features range from keyword research and competitor analysis to site audit and backlink checks, as well as rank tracking and PPC research.
How Much Is Serpstat?
The cost depends on the package, with the price starting at $69 per month for the Lite subscription, which is suitable for individuals. You can trigger a discount by paying a yearly subscription at once, and there are customized packages for large companies and groups.