Gone are the days when the market supplied only a few SEO tools with highly similar functionality and your only concerns when choosing one were things like pricing and customer support. Now, there is currently such a large range of efficient SEO software that both experienced users and novices find it hard to understand which tools will be high-performing and increase rankings.
Sometimes even expensive tools might not align with your business goals and preference of features. Keep in mind that top-quality SEO software apps should keep track of various metrics and provide complex, in-depth stats to cover all the Google algorithms. CognitiveSEO is definitely capable of that. Its complete tool suite detects and fixes issues preventing the site from immense traffic as well as streamlines content for towering ranking.
Still, the platform yearns for more mobile accessibility to boost marketing efforts, exporting data is a bit confusing, and the interface appears a little clunky. For that reason, it is worth examining CognitiveSEO alternatives to find a choice with an ideal cost-benefit .
In this post, we have gathered the best CognitiveSEO competitors that will facilitate marketing growth in terms of ranking, traffic, sales, and brand awareness. Explore each CognitiveSEO alternative to make a reasonable decision catering to your specific SEO requirements and budget framework. Let's get down to it!
1. SE Ranking
Furnished with a powerful toolset, including advanced options for local, content and social media marketing, SE Ranking deservedly tops the list of alternatives to CognitiveSEO. Everyone from a novice to an SEO shark will discover all the essentials to enhance visibility in the SERPs and keep abreast of  progress. 
The platform has no equal apps in view of rank-tracking capabilities since it encompasses the most extensive database of keywords and links on the digital landscape, 4.2B and 3T, accordingly. When it comes to affordability, it provides excellent value for money, especially considering the high-quality data which users gain access to and the agency-oriented suite of functions like SEO reporting, Lead Generator, and API.
Features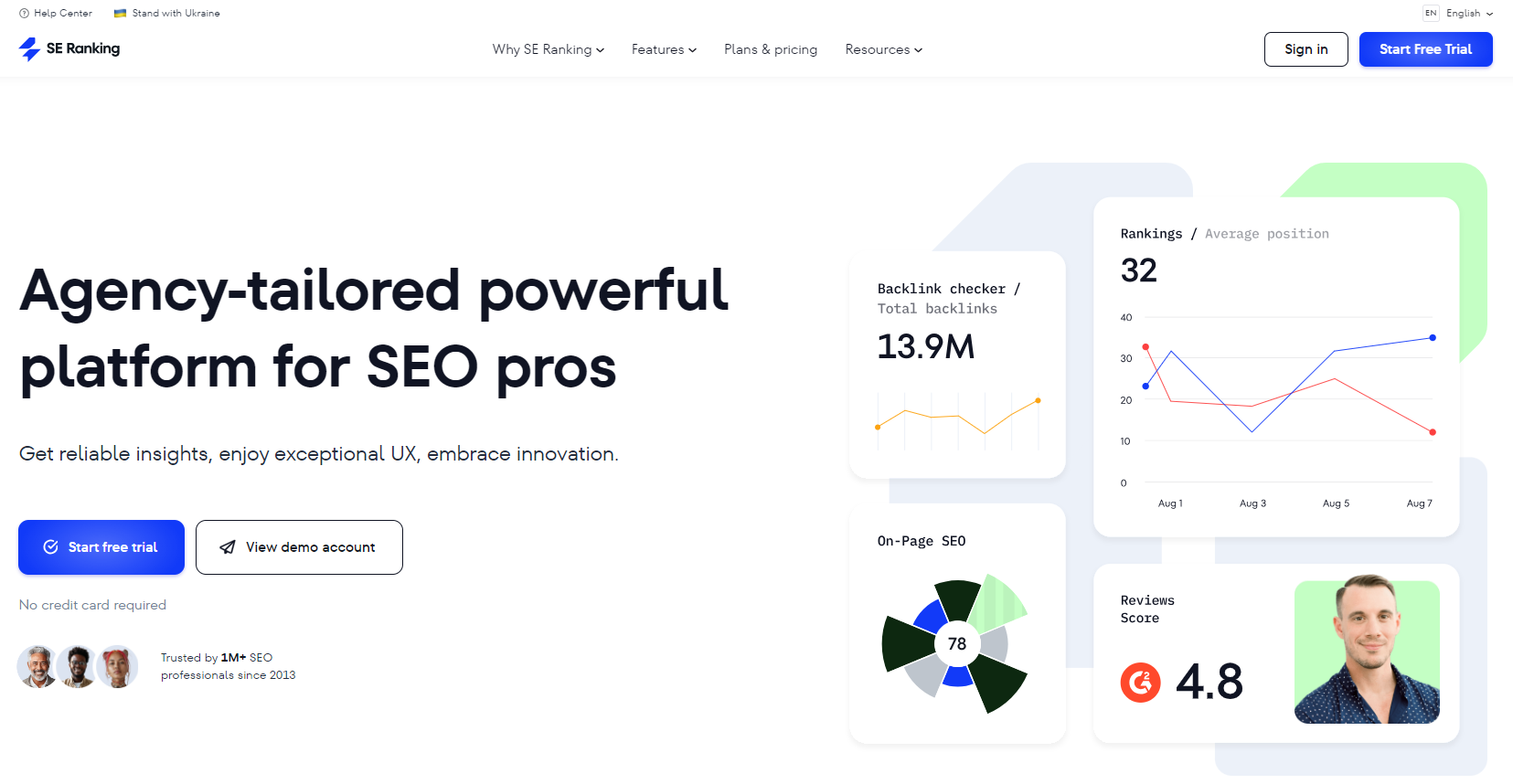 It is impossible to describe the benefits of this CognitiveSEO competitor in a couple of words. It boasts a feature-rich diversity, helpful for the advancement of every aspect of SEO . And to achieve fruitful outcomes, the essentials are typically sufficient. Let's overview them:
Keyword Rank Tracker. This tool will provide extended insights into your and your clients' keyword performance. Explore the most traffic-driving keywords and key phrases negatively impacting ranking, determine pages competing for the same keyword, and figure out how ranking algorithm updates affect your site.
Website Audit. It is responsible for carefully scanning all web pages for the scope of optimization work to rank high across search engines. This includes domain metrics, indexation status, page breakdown/resources, and internal and external links.
Competitor Analysis. With this feature, users can obtain comprehensive data on competitors' performance concerning keywords (difficulty, search volume, CPC), backlinks, and paid and organic campaigns with their dynamics.
Backlink Checker. It helps check the overall health of your backlinks and define the most backlink-attracting content. By investigating rivals' backlinks, you can develop a potent strategy to outperform them.
On-Page SEO Checker. Utilize this tool to test every page's SEO facet and detect malfunctions to repair. This comprises content analysis (uniqueness, keyword density, relevant headings), core on-page elements (title/header tags, meta description, internal links, URL structure), link and image analysis, page experience signals (page load time, Core Web Vitals, HTTPS, mobile-friendliness) and indexing.
Local Marketing Tool. It enables building, tracking, and managing your business's online visibility to rank within local searches.
Pricing
There is no better CognitiveSEO alternative for the money than SE Ranking . Covering different marketing tool requirements, it offers a flexible pricing system with three packages: Essential, Pro, and Business, with corresponding monthly prices of $55, $109, and $239 . Each plan's cost rises with the number of keywords tracked and rankings check frequency across projects. You can check out the flawless functionalities with a 14-day free trial.
Verdict
Can't find a decent alternative to CognitiveSEO? SE Ranking is hands down the ultimate solution. Its accomplished set of features, combined with the highest quality data and attractive pricing policy, will optimize all areas of the site. So both SEO newbies and large agencies and enterprises can succeed in their industries.
2. Seobility
If you are interested in SEO software that provides an easy and smooth SEO experience, Seobility might come in handy. Besides complete site crawling for errors, including optimization gaps and content-related problems, the platform is the best CognitiveSEO Competitor in terms of competitor tracking. Site owners can monitor the competition's keyword strategies in an entirely invisible mode.
Features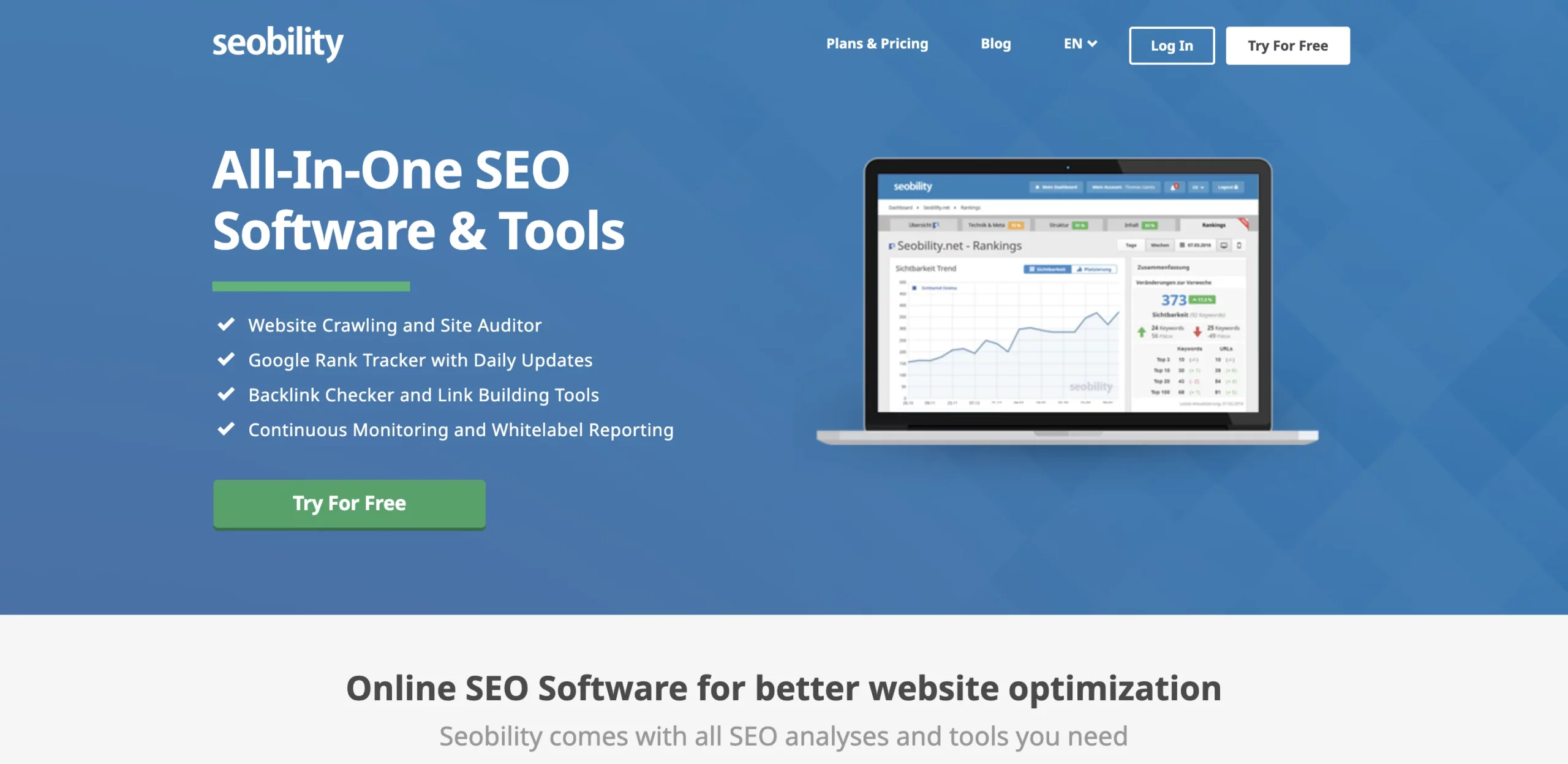 Whether you are just starting in the SEO arena or already proficient, Seobility has everything you need to boost your site. Develop well-performing SEO strategies with the effective suite of features below:
SEO Checker – analyzes the site's technical, on-page, and server issues and gives actionable, step-by-step guidelines on how to fix them. It forms a detailed report for parameters like meta information, page quality (duplicate content, poor mobile optimization, etc.), page and link structure, server errors, and external factors (popularity and reach on social media networks).
Keyword Research – allows for generating keyword ideas from various search engines, detecting similar target keyword insights, and checking out question-based search terms for specific target key phrases. Additionally, you can overview keyword ideas by metrics such as search volume, CPC, organic competition, and top 10 search results.
Rank Checker – reveals ranking positions for any term on a site/page. Users receive a report showcasing real-time data about keyword dynamics and whether referred strategies perform well or not.
Backlink Checker – makes it possible to review your backlink profile as well as competitors for aspects like total backlinks, referring domains, domain/link rating, follow/nofollow, and anchor text. What distinguishes this feature from most Seobility alternatives is anonymous viewing.
Pricing
Catering to all types of businesses and needs, the platform offers three pricing packages: Basic (free), Premium ($50/month), and Agency ($200/month). Everyone may choose their plan depending on the requisite quantity of projects/domains and internal links checks. On top of that, it is possible to try out the Premium and Agency plans free of charge for 14 and 30 days, respectively.
Verdict
Both small bloggers and big-time marketers can design and apply practical SEO campaigns with Seobility's all-inclusive toolkit. Unlike the other best CognitiveSEO alternatives, it proposes one free plan with limited functionality and two paid but concurrently full-featured and super-affordable plans.
3. SEO PowerSuite
Seeking a cost-effective SEO solution to improve organic traffic and convert the audience into leads ? SEO PowerSuite is the most suitable to implement  compared to other CognitiveSEO competitors. Due to its robust tracking capabilities,  companies of all sizes may advance their brand via increased traffic and impressive rankings in the SERP.
Features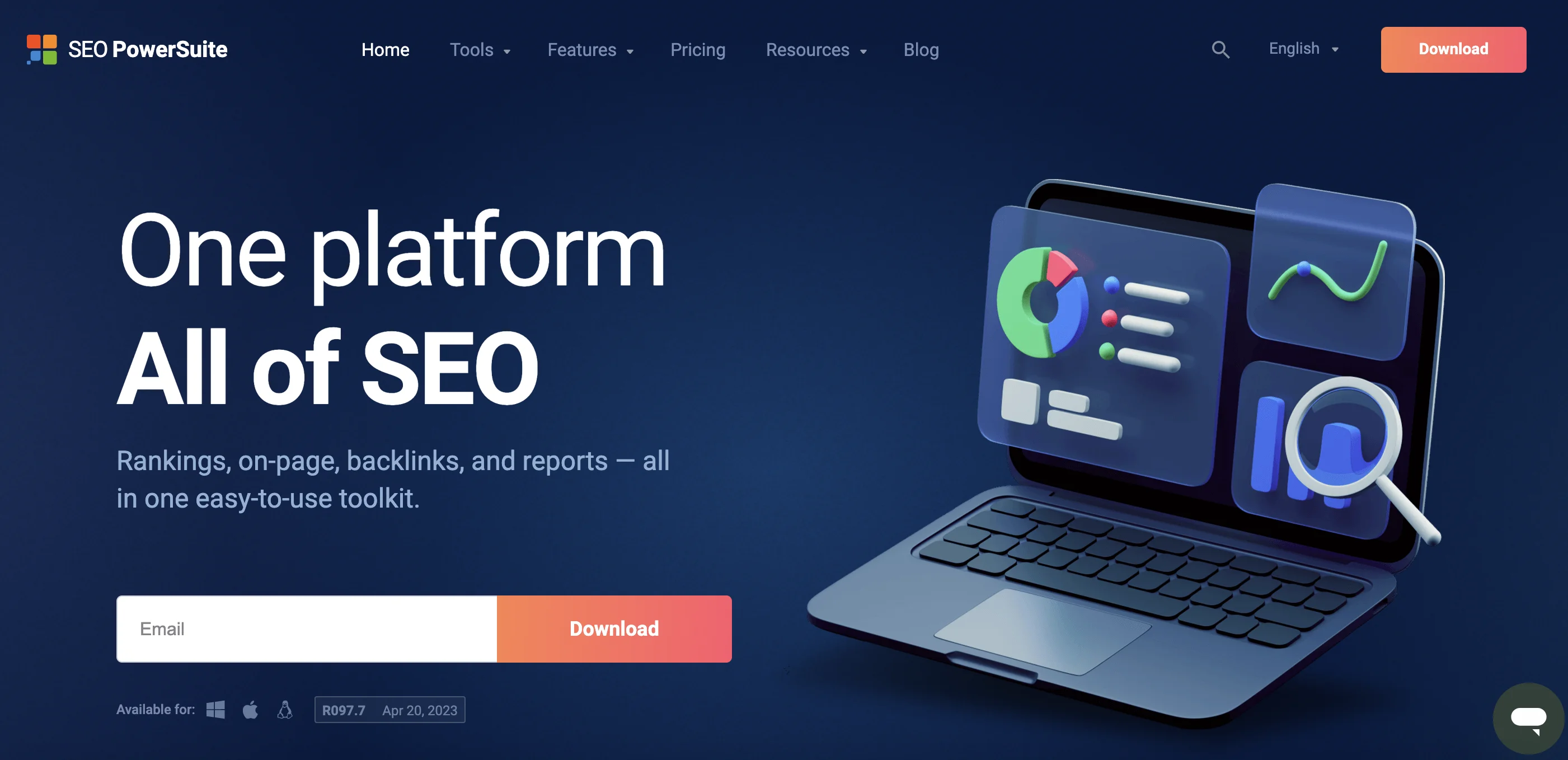 This web-based CognitiveSEO alternative involves 4 core tools that help SEOs focus on particular optimization facets.
Site Auditor – runs sitewide technical audits and identifies gaps for improvement. Each user may obtain useful recommendations related to site structure and content streamlining for any landing page to raise organic rankings.
Rank Tracker – allows SERP rank monitoring for a clear vision of the level of performance. It also provides different research methods for discovering fresh keyword ideas, low-hanging fruit key phrases, and organizing keywords into relevant groups. Competitor analysis in this vein is feasible too.
SEO Spyglass – in-depth scans through your link-building campaigns to determine the link profile potential. By spying on rivals' backlink opportunities, you might emulate some valuable tactics within your own strategies.
Link Assistant – facilitates link-building outreach campaigns, from searching for prospects to sending out the appropriate personalized emails.
One more highlight of this app is API, which is not always present among SEO Powersuite alternatives. Integrate the system with third-party applications effortlessly and in minutes.
Pricing
The pricing model contains three tiers. The Free plan is non-charged, and there are limits, like the inability to save data and export it to a spreadsheet. The Professional plan, priced at $299 yearly, will ideally fit those managing multiple sites. Meanwhile, agencies juggling different client sites simultaneously will definitely benefit from the Enterprise plan, costing $499 yearly. Thankfully, you may opt for the complete pack or purchase the tools you need separately.
Verdict
Despite being non-cloud-based software, SEO PowerSuite is still one of the top CognitiveSEO alternatives. Built-in multi-faceted features will assist SEO teams to promote the business swiftly from scratch. Increase online visibility, traffic, and leads without breaking the bank. 
4. Brightedge
Powered by a deep learning engine, Brightedge is an innovative platform that can measure web content engagement across all digital channels, covering search, social, and mobile. This is the best CognitiveSEO competitor for enterprise organic search and content performance. With its toolbox, any marketer can supercharge content for massive traffic, conversions, and profit.
Features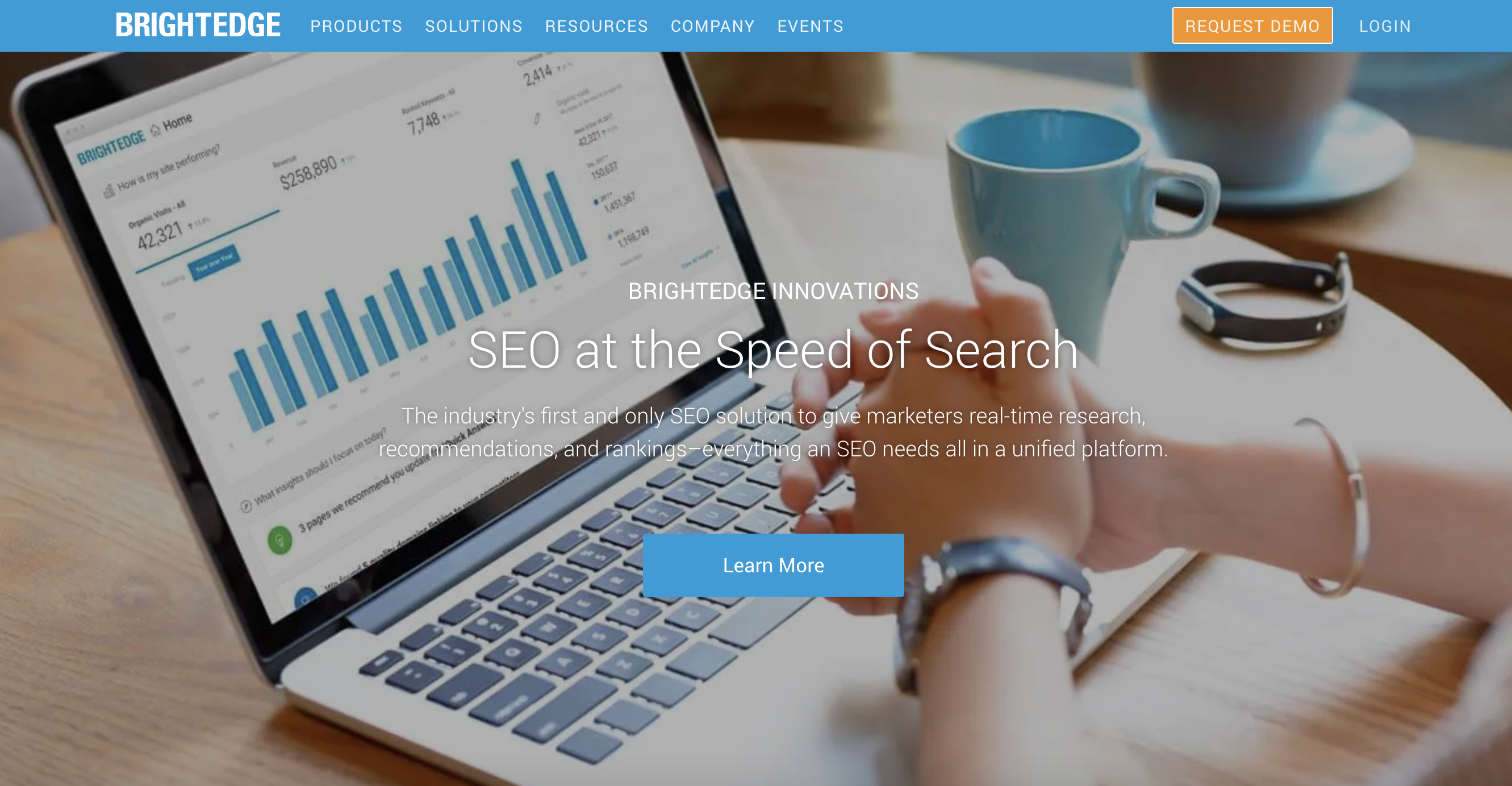 The software's motto, 'driving ROI through superior content performance,' speaks volumes. Each feature aims to give you top rankings via terrific content.
Content Performance Recommendations. In-built proprietary mechanisms audit all the targeted keywords and pages as well as difficulty, search volume, and competitive environment to create a high-performing optimization strategy to stay ahead. You can come across the unique function of ContentIQ here, which is missing in other Brightedge alternatives. It detects the crucial site issues that are impeding  search success.
Backlink Management. This tool tracks your site's backlinks, figuring out high-quality ones, and giving insights into competitive backlink profiles at the keyword level.
Social Content Performance. By profoundly analyzing social media pages for relevant keyword searches, users attain invaluable tips on how to create personalized search experiences to streamline campaigns for maximum ROI.
Local, Global, and Mobile Content Performance. Your content may get adjusted to local or global searches based on your SEO intents. Plus, mobile-friendliness is a must to grow the business successfully, and this feature will help marketers to develop winning mobile search strategies.
Competitive Analysis. Keep abreast of just rolled-out rival campaigns, up-to-minute backlink strategies, and the most traffic-engaging pages and keywords.
Pricing
Unfortunately, Brightedge doesn't come with a free version, but a free of charge trial is available. To find out more details about pricing, you can contact the vendor of this CognitiveSEO competitor.
Verdict
Considering AI and machine learning technologies within the toolset, Brightedge appears to be an excellent CognitiveSEO alternative. SEOs and marketers from medium to large businesses may leverage research opportunities while tracking  overall page performance and content ranking to thrive in the digital landscape. 
5. SimilarWeb
A detailed site audit and competitive analysis combine at SimilarWeb to outrank  industry opponents. Its intelligent scope of features will aid in boosting site performance and understanding competitors' behavior to create profitable strategies that align with the ever-evolving digital market . Producing a swift increase in online visibility, the platform among first-rate CognitiveSEO alternatives.
Features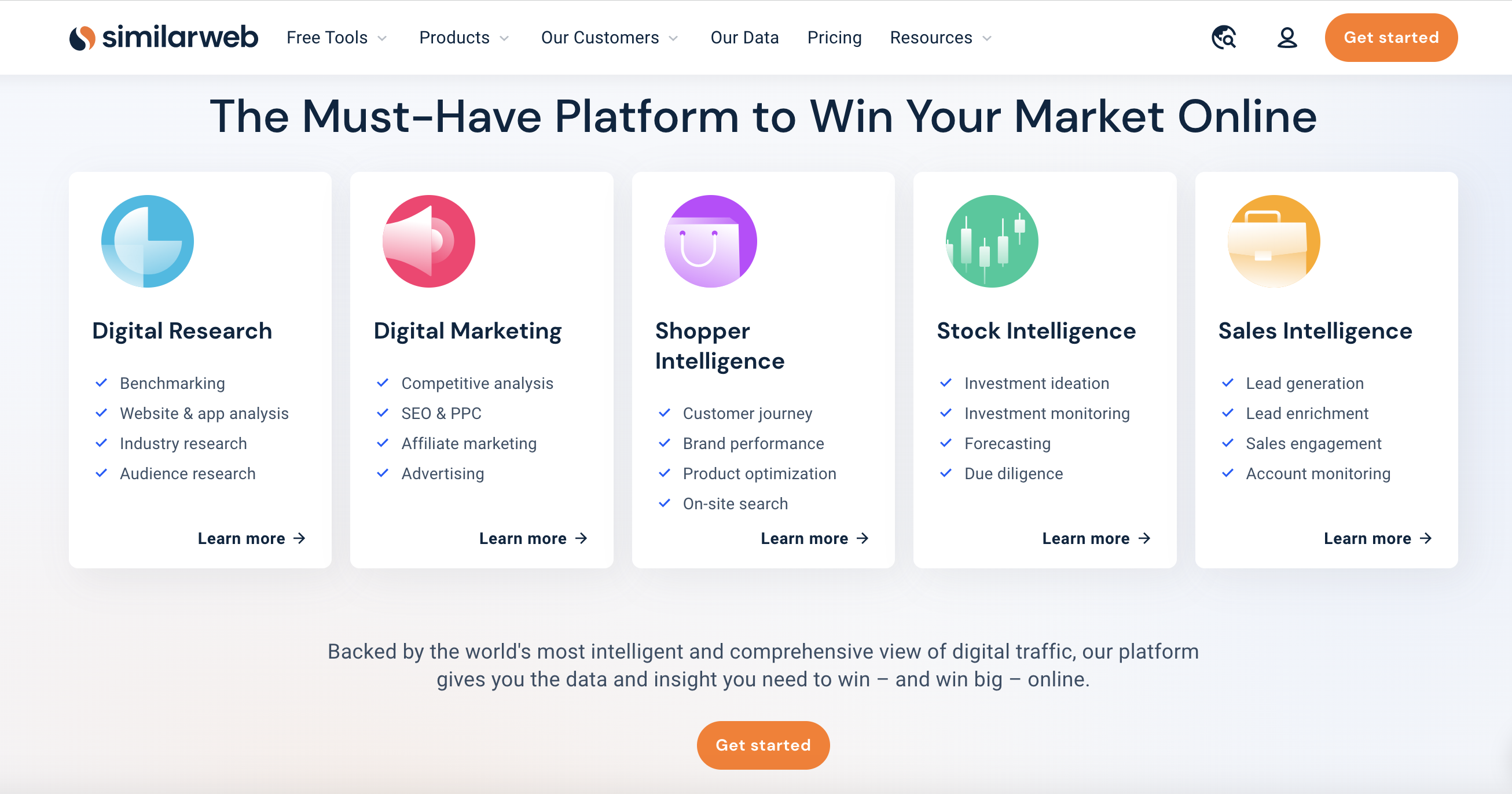 Site Analysis – amplifies your SEO efforts in real-time on traffic and engagement metrics (compare your site against competitors for online visits, time on site, bounce rate, and page views), SEO and PPC keywords, traffic sources, audience interests, and popular pages.
Competitor Analysis – monitors the competition's strategies and campaigns, concentrating on traffic indexes like volume, reach, distribution, and engagement.
Segment Analysis – crawls any site and examines the most meaningful segments.
App Category Analysis – presents top-ranking apps after an in-depth audit of app categories.
Search Intent Analysis – investigates markets resulting from the most searched topic across the web, including keyword level.
Web Industry Analysis – discloses red-hot industry trends and determines market leader and user behavior.
Moreover, compared to the other SimilarWeb alternatives, the platform boasts an incredibly efficacious Localization functionality that ensures keyword data based on geographical location and device type.
Pricing
Unlike CognitiveSEO competitors, SimilarWeb impresses with its flexible variety of packages. Hinging on different Intelligence solutions for both startup businesses and large enterprises, the platform offers five pricing tiers, ranging from $199 to $799 per month. Though not very affordable for marketers on a shoestring budget, its advanced suite of features is worth every dollar spent.
Verdict
SimilarWeb is the top CognitiveSEO competitor for a complex analysis of the industry, the competition, and UX in the digital environment, whether you are a site owner or SEO team member. In fact, the software isn't about spying on competitors but rather exploring their strategies to arm you with the necessary tactics and tools necessary for your workflow. Its easy-to-comprehend interface and versatile set of options will definitely boost site traffic and revenue as a result.
Conclusion
Adding the right SEO tool to your arsenal is critical while developing online reach. And with all the available choices in the present-day market, making an educated decision can be daunting .
Before purchasing a specific tool, it's essential to identify business intents and budget capabilities as well as the software's toolkit and scaling potential for further brand growth. When all points coincide, give the platform a try. Keep in mind that being selective is the best way to uncover a relevant tool that will help you to achieve your set goals within the long-term SEO process.
Rest assured  you won't go wrong with the CognitiveSEO alternatives from our digest. They all ensure robust features that make it easy to comprehend, utilize, and take action on the SEO data you need. Start with one all-purpose CognitiveSEO competitor and see how well it performs in your workflow.  Since the SEO landscape is ever-evolving, sometimes one tool functionality might not be sufficient to succeed, and adding a similar-feature CognitiveSEO alternative is the perfect solution.
Any option from the list above is noteworthy, but SE Ranking is the best CognitiveSEO competitor to optimize any site, blog, or company. Supported by its accomplished toolbox, both marketers and SEOs will always be one step ahead of the game.