General overview
The name Ahrefs can often be found on SEO forums and specialized conferences — and not just because it looks like a popular HTML tag. This is one of the top services for complex website optimization, which is among the leaders in terms of the range of features and the depth of data analysis.
In fact, we had mixed feelings after the Ahrefs review. On the one hand, the platform really provides an incredible amount of information that turns into real gold in the hands of an experienced analyst. On the other hand, most new users may simply fail to cope with this task due to the complexity of the interface, lack of tips, and confusing report structure.
Another aspect of the Ahrefs review 2023, which is worth mentioning, is the inflexible access conditions. The developer offers only a few subscription plans without the possibility of customization. Moreover, by default, they are designed for only one user, and the connection of a team will cost much.
So, who will be the main target audience of the service? Is it worth connecting to it in 2023? We will try to answer these questions in today's Ahrefs review.
Pros
Powerful web page crawling system
Great keyword research
Detailed domain and SERP analysis
Keyword management capabilities
Top-notch web link index
Advanced filtering tools for power users
Cons
Single-user subscription plan (5 additional users cost $1K)
Lacks SEO reporting features
Basic UX functionality
No mobile app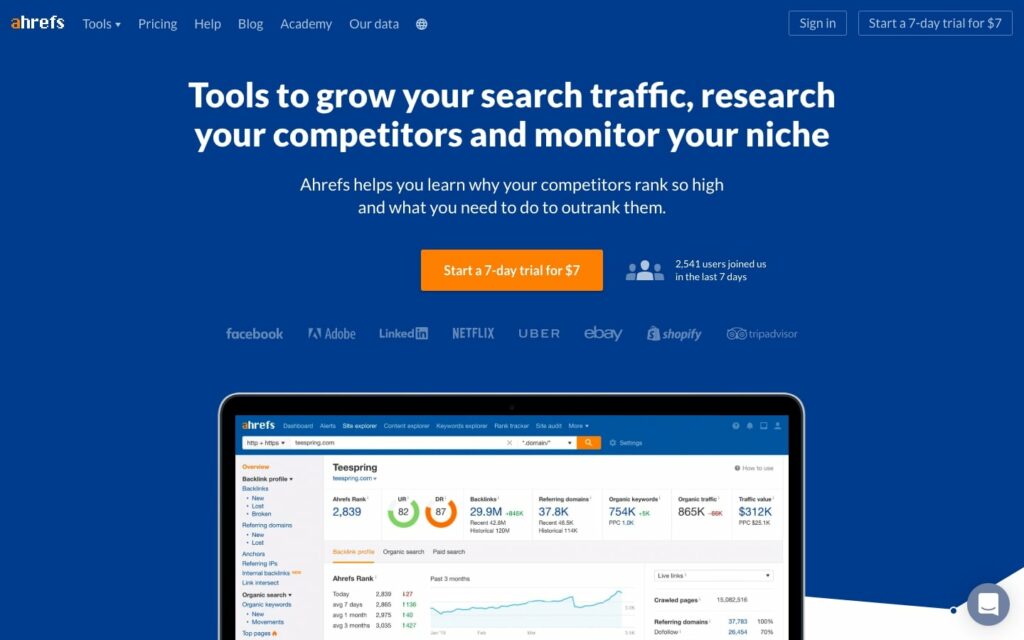 Ahrefs was released into the world back in 2011 and became one of the top SEO software solutions in no time. It is the go-to tool for growing online presence for a lot of SEO gurus, content writers and web developers.
According to Ahrefs, their backlink index has around 300 billion indexed pages and over 17 trillion backlinks, which is the largest among all other popular SEO tools. When you combine this with a great keyword explorer and competitor monitoring features, Ahrefs can give you everything you need to climb rankings, but for a price.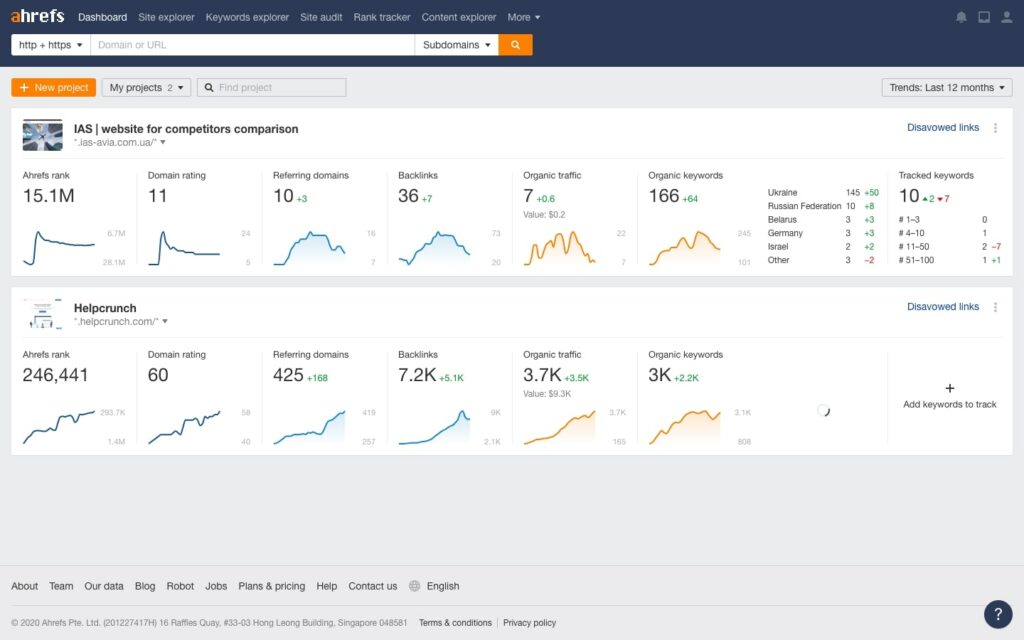 Despite the fact that Ahrefs does feature a range of SEO tools, its user interface, unfortunately, isn't too intuitive. It's almost as if the tool was specifically designed for professionals who know their way around SEO just like the back of their hands.
With annually billed pricing plans starting at $82 per month, Ahrefs offers domain comparisons, keyword research and tracking, and other essential SEO tools in addition to its backlink checking capabilities. All in all, it's a solid all-round tool that can help you produce quality SEO results. It is all the more interesting to read Ahrefs reviews and understand what exactly comes to the fore — rich functionality or an inconvenient interface.
Pricing & Plans
Ahrefs offers four subscription plans with preset account limits. This isn't exactly the most pocket-friendly solution out there, but it also isn't the most expensive one. Ahrefs is right down there in the middle.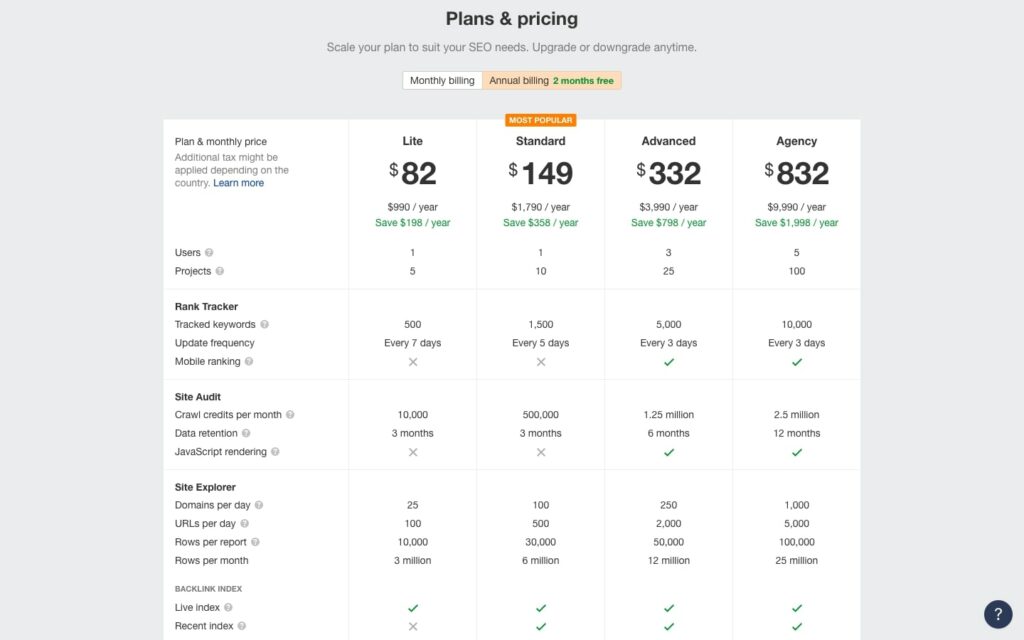 If you go for monthly billing, the cheapest plan in Ahrefs–Lite–will cost you $99. With this subscription plan, you get one user, you can track upto 5 websites, keep track of 300 keyword rankings each week, crawl 25 domains via Site Explorer, but you can only run 3 daily searches via Keyword Explorer. On top of that, there are limits on how many results can be exported from ranking and backlink indexes.
The next subscription plan–Standard–costs a monthly price of $179 and is a solid solution for small to midsize businesses. In Ahrefs reviews, the service is often called the most popular because it is consistent. For this price, you can track upto 10 websites, keep track of 1,000 keyword rankings every three days, crawl 100 domains daily via Site Explorer, and run 50 daily searches via Keyword Explorer.
The Advanced plan offers the third subscription plan level. At $399 a month, you get Ahrefs premium features, and can track 25 websites for three users, get updates on upto 4,000 tracked keywords every day, conduct 200 daily keyword searches, more data for backlinks and rankings.
Last up, Ahrefs has the Agency plan that is priced at a whopping $999 a month. The Agency plan allows you to track web mentions in real time, provides reports on backlinks every hour, as well as much higher account limits on tools like Keyword, Site, and Content Explorer. Most companies will get enough from the Standard and Advanced plan. Each plan gives you access to every tool available in Ahrefs, plus you can try out the Lite and Standard plans in a $7 seven-day trial.
Rank Tracker
Ahrefs keyword position tracking capabilities are expressed by the Rank Tracker tool. And just like the name suggests, it helps you keep track of rankings of your tracked keywords.

Besides performing its main function, the tool also monitors SERP features for your keywords, shows how much traffic you should expect to get from each tracked keyword, lets you see ranking dynamics, and do so much more both for desktop and mobile. While conducting our research to review Ahrefs, we came to the conclusion that the service simply has no competitors in this regard.
Let's take a look at everything you see in the Rank Tracker dashboard after adding a website. First, you get the Visibility score, which is the percentage of clicks that fall on your website in all of the SERPs that feature your target keywords. Second, the Average position lets you know what the average ranking position is for all of the keywords you track. So, basically, it gives you a general feel of your keyword campaign. Next, we have Traffic which is the volume of estimated organic traffic you'll drive to your site each month using your tracked keywords.
The SERP features report lets you know how many featured snippets show up for your tracked keywords, and how many SERP features your website is featured on. The more SERP features you show up for, the fewer results there will be on the first page of Google. Last, the Position metric displays how your keyword ranking positions have changed. With this data, you can get a grasp of how your keyword campaigns are coming along.
Besides providing you with the aforementioned metrics for analysis, there are several ways to benefit from various Rank Tracker reports.
The Overview report gives you a general breakdown of your keyword ranking positions. It is simple, as we will demonstrate in the review of Ahrefs.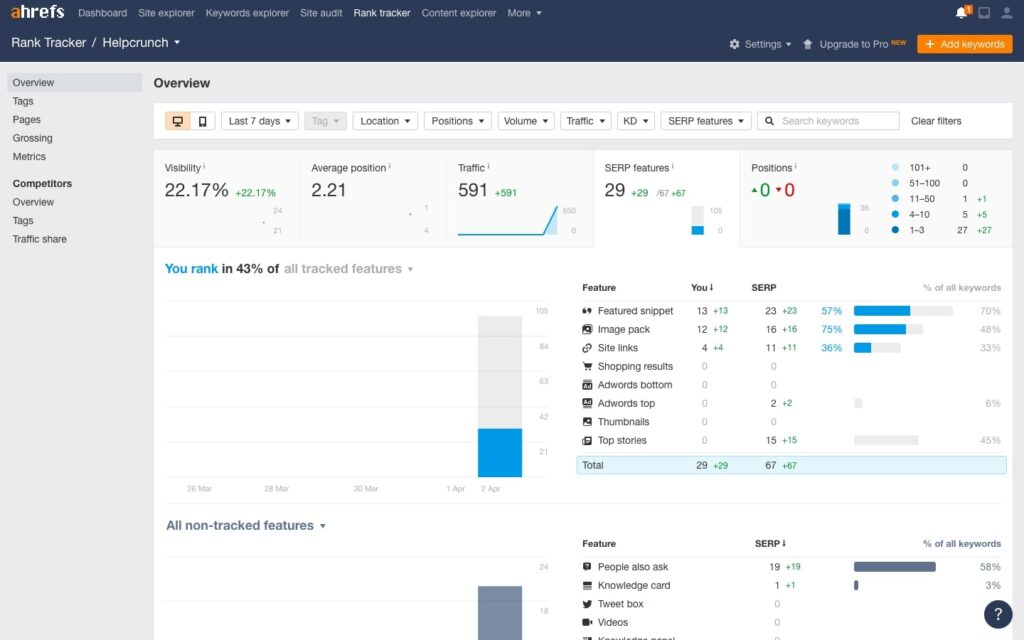 Here you can click on the different tabs at the top of the report like Visibility, Average position, Traffic and so on, to display different data on the graph. This is extremely useful if you like to get data visualizations.
As you scroll down, you can get detailed information on every keyword you track, including the search query, its ranking position, search volume, monthly traffic volume, keyword difficulty score, a breakdown of the SERP features, the URL of the target web page, the location that the keyword is being tracked in, as well as the when the ranking position was last updated.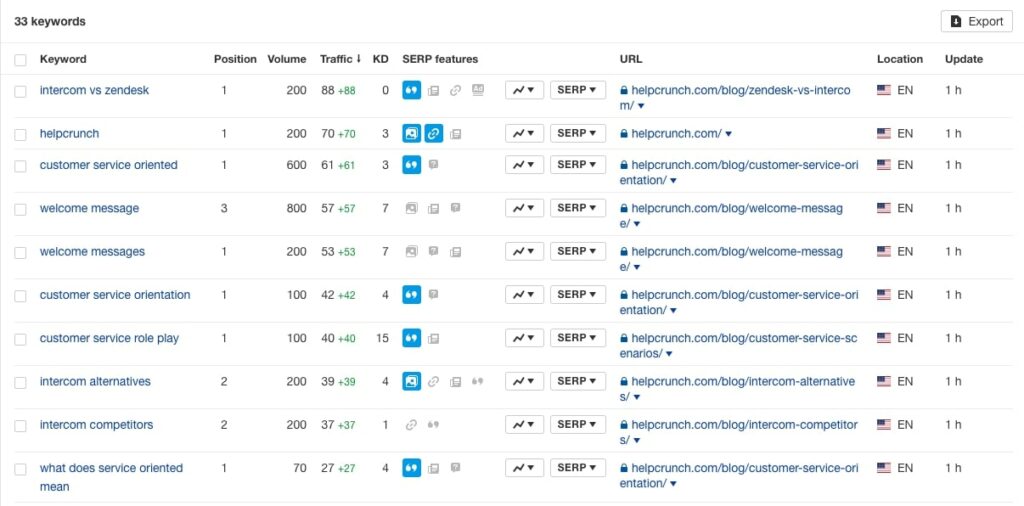 The two most important metrics here that you should definitely keep an eye on are Position and Traffic. They can let you know if your SEO efforts are successful, as in your ranking positions are going up, plus if the increase in rankings is resulting in a traffic boost as well.
Another useful report is the Competitor report. This report gives you a good understanding of where you are in terms of rankings compared to your top competitors.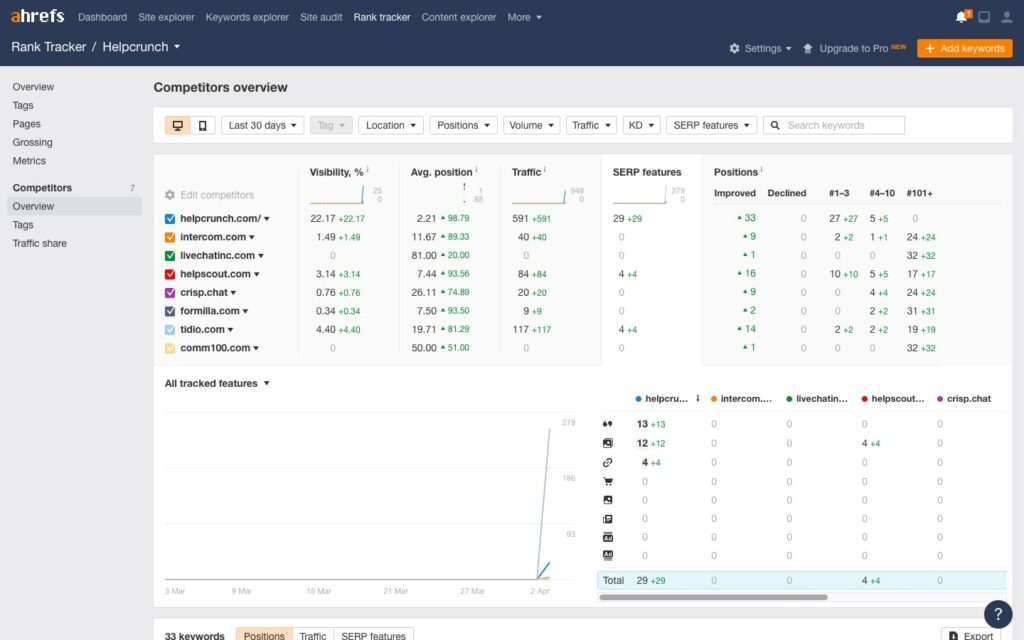 And, no, it doesn't just give you general information, but shows you how each one of your top competitors is ranking for your tracked keywords—something you don't find in every tool.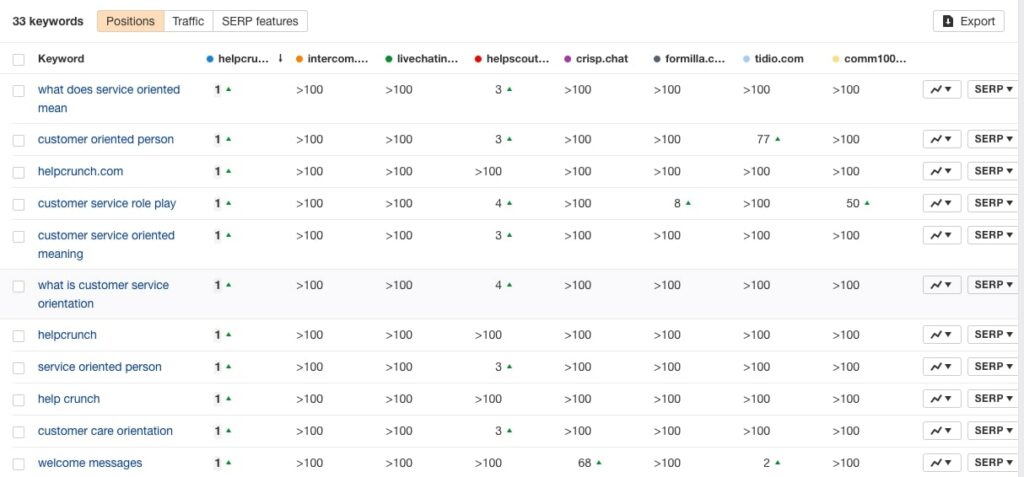 This is great for updating and adjusting your keyword strategy to outrank the rivals. Find out where you're really behind and what keyword you could focus on more in your campaigns.
Now, if you want to just look at all the available metrics Ahrefs has to offer on your tracked keywords, check out the Metrics report.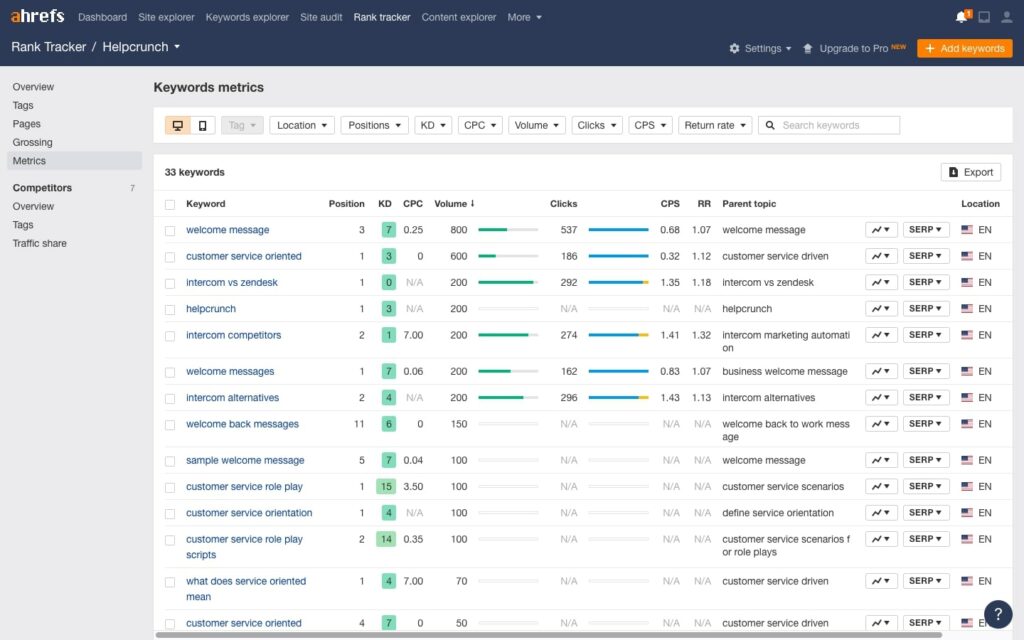 Here you have even more keyword data such as the keyword difficulty score, cost-per-click, search volume, estimated number of clicks it will get in SERPs, click-per-search (shows an estimate of how many results an average users clicks), return rate (shows how often the same user makes the same search within a month), SERP features, and Parent Topic (shows if you can possibly rank for your target keyword, and at the same time, target another keyword that's similar but has a higher search volume).
And, finally, Ahrefs has the Grossing report that provides you with data on your tracked keywords' ranking dynamics. You can, basically, see how rankings have changed in the last day, week, month, 90 days, or all time.
To sum up, Ahrefs is pretty effective in tracking keywords and is generally a solid tool. But if you need a tool that is excellent at tracking keywords, we'd recommend you try Semrush and SE Ranking.
Site Audit
If you're just starting your SEO journey and need to know which way to go, or if you're managing multiple sites for an agency, Ahrefs' Site Audit tool can crawl your site in real time with the goal of finding technical errors and suggesting ways of fixing them. With this tool, you can quickly pindown broken links, redirects, 404s, and get details on the page loading speed and social tags. The best part is that you can use filters to single out specific problems and focus on their solution.
So, just add any domain name, be it yours or a competitor's, and the audit will start. There are, however, several things you can do to customize the audit the way you see fit. They should be revealed in more detail in the review about Ahrefs.
Start by verifying your domain ownership using any provided method. Doing so will help Ahrefs crawl your site faster.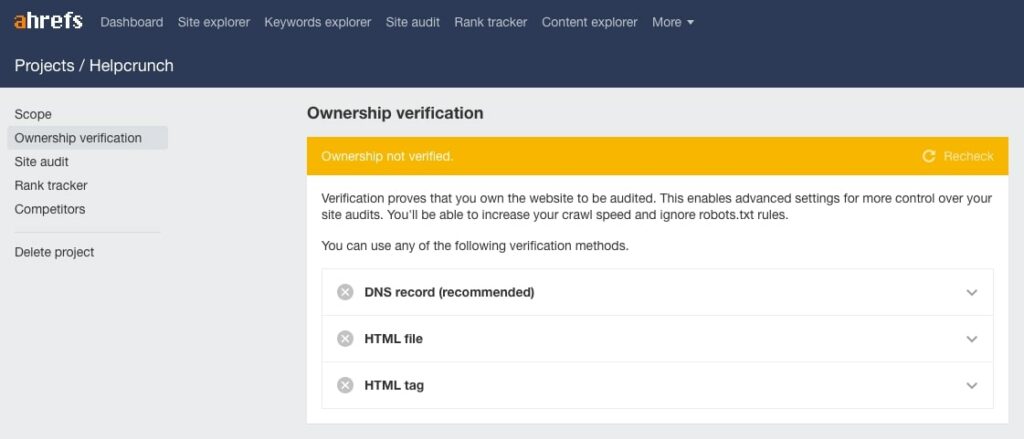 In addition, we want to point out that if you don't verify your domain, the crawl speed will be limited to a single request per second. If you can't do anything about verifying competitor domains, the least you can do is verify your own site.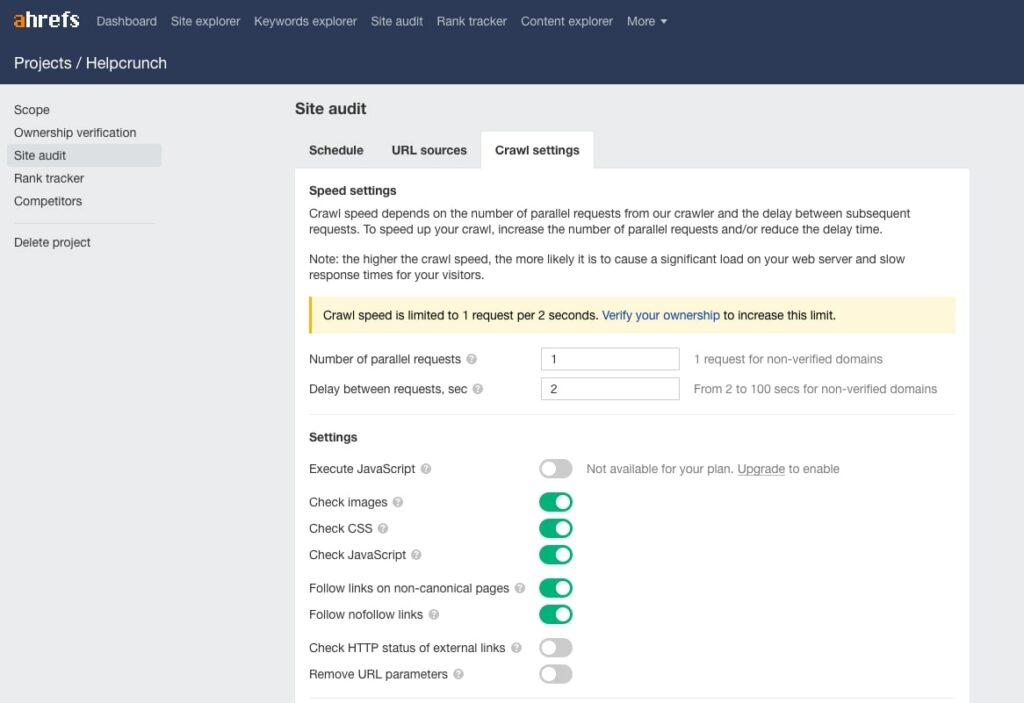 The default Site Audit setup is perfectly fine, however, you can change the settings for best results by enabling Javascript execution, setting the maximum number of internal pages and so on.
Now, depending on the audited site's size and your setup, it could take a while for the audit to complete, but once it's done, you will see an overview of the site's on and off-page SEO health.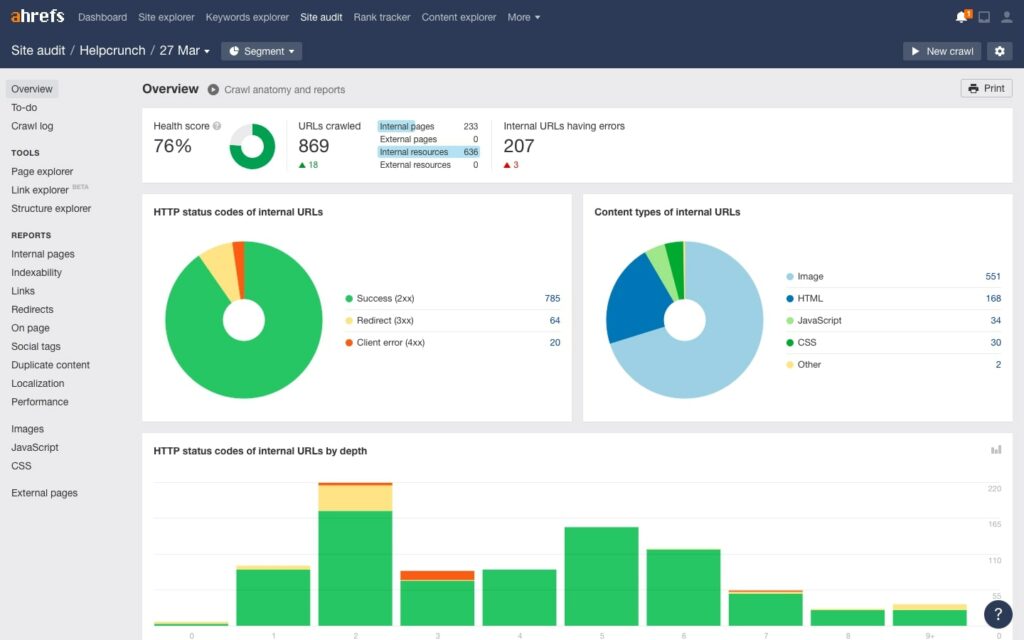 Take a good look at the results and figure out where you are struggling the most. Go for the tech SEO segment you'd like to take care of first, and then continue from there. Occasionally, the performance report may produce somewhat inaccurate data, however, the number of factors involved here could impact the final score.
We can draw an interesting conclusion from the Ahrefs review. If you are a more experienced SEO practitioner, we strongly encourage you to check out the Page, Link, and Structure explorer tools under Site Audit. There you can experiment with different presets to get actionable data and recommendations.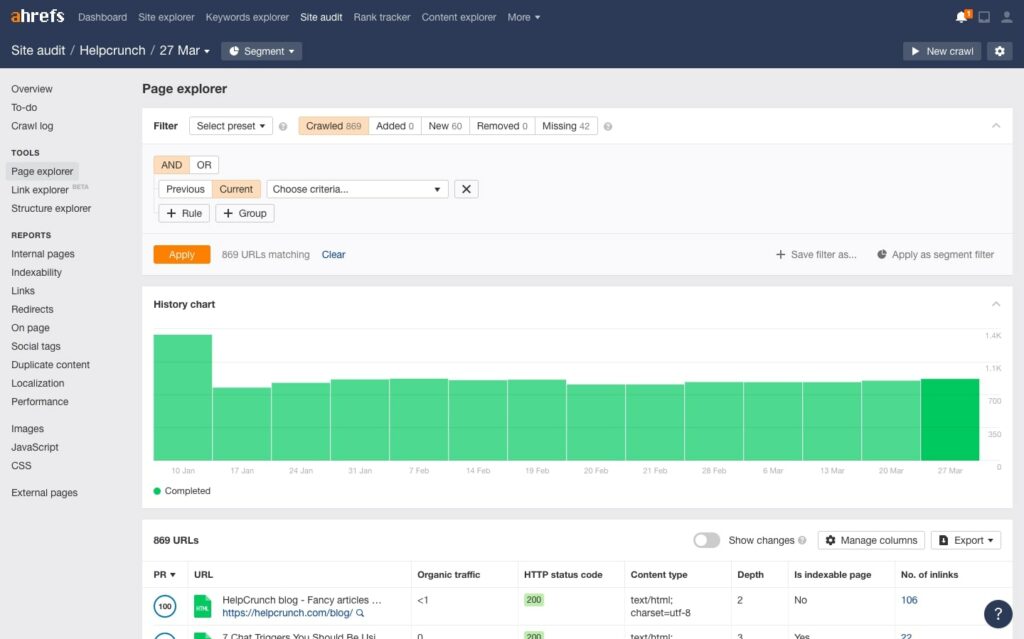 To get the most out of it, take your time to set up the Site Audit tool as soon as you first access Ahrefs. Otherwise, you might not get accurate results, making it more difficult to improve the site's SEO health.
Moreover, Ahrefs has a neat and useful To-do feature under Site Audit. Just choose an issue you'd like to focus on and mark it as a task. That way, you won't miss anything and will be able to improve your site, step by step.
The bottom line is that, if used correctly, Ahrefs' Site Audit can help you out a lot. The interface is rather intuitive, making it easy to use for both new and seasoned users. If technical SEO is what you're after, Ahrefs is a great tool to have.
Competitor Research
If you decide to choose Ahrefs as your go-to SEO tool, then you'll be spending a large portion of your time in the Site explorer tool. This is the most comprehensive tool you'll find in the platform that offers in-depth data on any website's backlinks–we'll focus on them in the next section–as well as insights into both organic and paid search campaigns. Let's take a look at all the features offered by Ahrefs' Site explorer.
The main dashboard, or the Overview page, gives you a bird's eye view of any website. Here you'll see Ahrefs' version of the domain authority metric, the total number of backlinks and referring domains, traffic value, and plenty of other data.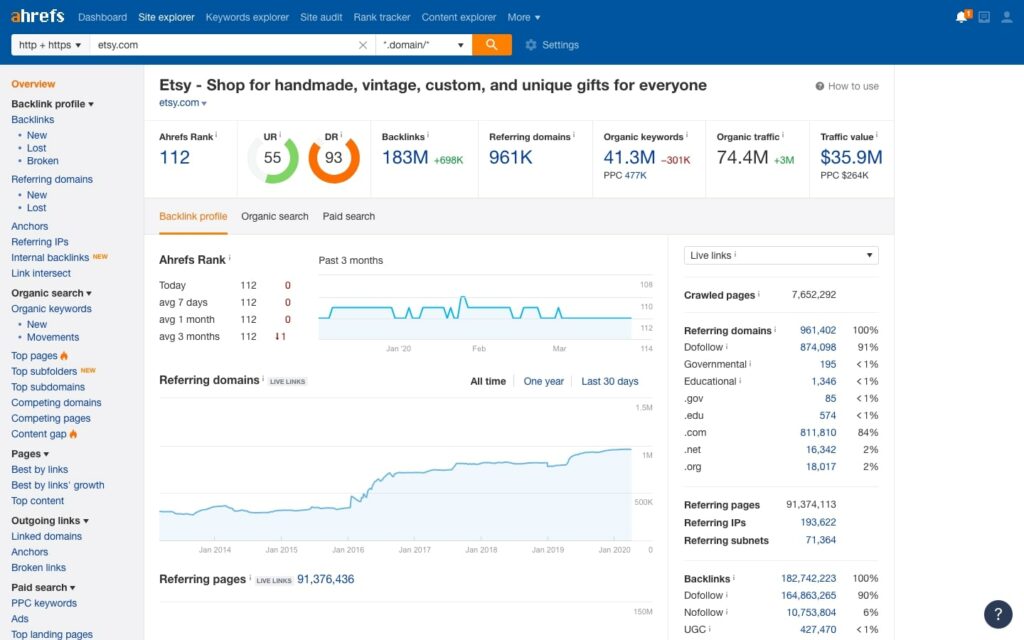 With this overview, you can understand what your rival is doing in no time. As an example, in the Ahrefs review 2023, just take a look to see if a rival's been getting more backlinks and traffic from organic search lately. If you notice that a competitor's backlink and traffic numbers aren't growing that much, this could be a sign that they aren't doing that good of a job at promoting their site.

As you scroll down the page, you get a plethora of data that includes link growth velocity in linking root domains and unique pages, URL and Domain rating, estimated organic traffic and its growth, most popular content with regard to shares and links, most popular ads running on Google, anchor text cloud, and much more.
As a rule of thumb, you only look at this page to get a general sense of what your competitors are doing in SEO. So, if you need to get a good idea of what's going on quickly–Ahrefs is your solution. For more specific data, you'll have to explore other sections.
Next, we have the Top pages area of the tool. Here, you can see which pages drive most traffic from organic search. You're welcome to analyze all the keywords each page ranks for among Google's top 100 organic search results, total number of linking root domains, along with the top search query, and its search engine ranking position.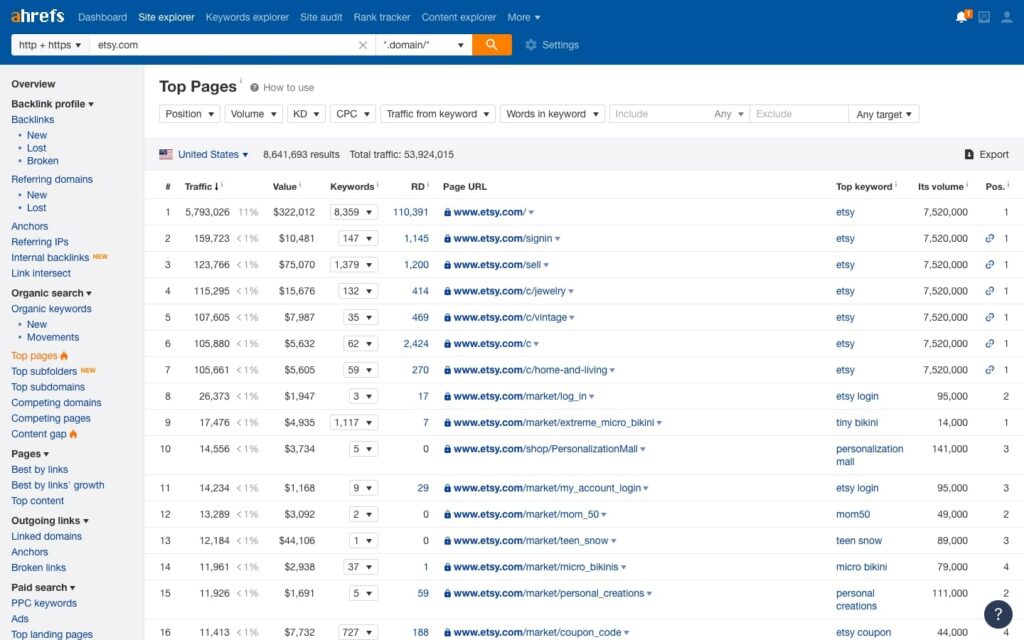 Ahrefs reviews often emphasize the Top Pages feature, which allows you to know what pieces of content are great at driving traffic. That way, you can learn if a certain type of content that you're not using works like magic for your competitors. This will ultimately allow you to create that type of content.
To get data on organic and paid traffic, explore the Organic search and Paid search subtabs of the tool, respectively. Besides organic data, get a list of keywords your competitors are running ads for, along with their most popular pages and a preview of the ads themselves.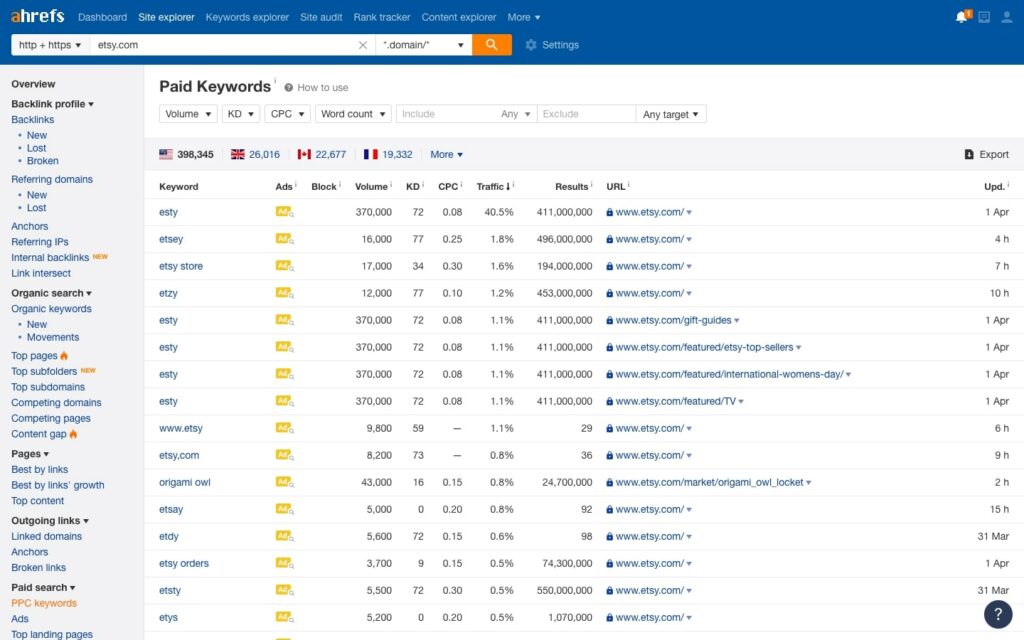 With this data, you can reverse engineer your competitors' ad campaigns and save a fortune on optimizing yours. This is definitely a huge plus.
The last area of the Site Explorer tool that we want to draw your attention to is the Content Gap. Ahrefs does a great job of showing plenty of data on competing pages and domains, but it also shows you which keywords you're not ranking for but your competitors are.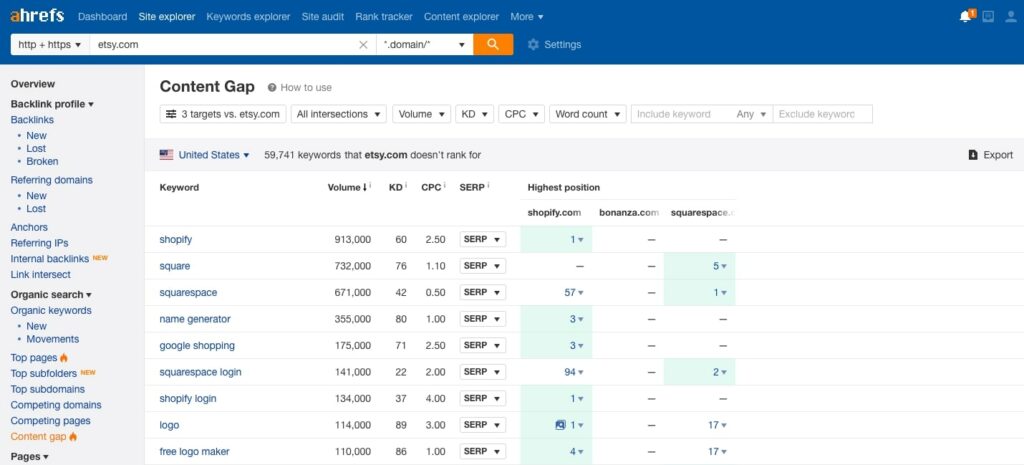 All you have to do is enter several competitors at the top of the page and then run the tool against your domain. We tested this feature in the Ahrefs review and came up with some interesting conclusions. The resulting list shows everything our competitors are doing in terms of keyword campaigns, and we're not.
Overall, Ahrefs is a solid tool for analyzing your competitors and finding out everything about their organic and paid campaigns. Once you figure out where everything is and how to work the tool, you'll start forgetting about the cluttered interface and will be able to visually filter out unnecessary data.
Backlink Research
We set out on a mission to find out if Ahrefs really is the most powerful tool on the market in terms of backlink research. They even made this tool free despite the fact that a 'free' trial of Ahrefs costs $7 for a week, which proves how confident they are in their backlink analysis capabilities.
In Ahrefs reviews, you can see that the backlink checker is available in the Site Explorer section. Given that you've already entered a domain into search, the Backlinks profile area will provide you with a snapshot of the website that includes the domain rating, top 100 backlinks along with top pages and anchor texts
The Backlink profile area is what Ahrefs is most famous for. This actually played a trick on them because many people fail to use Ahrefs for anything else other than checking backlinks.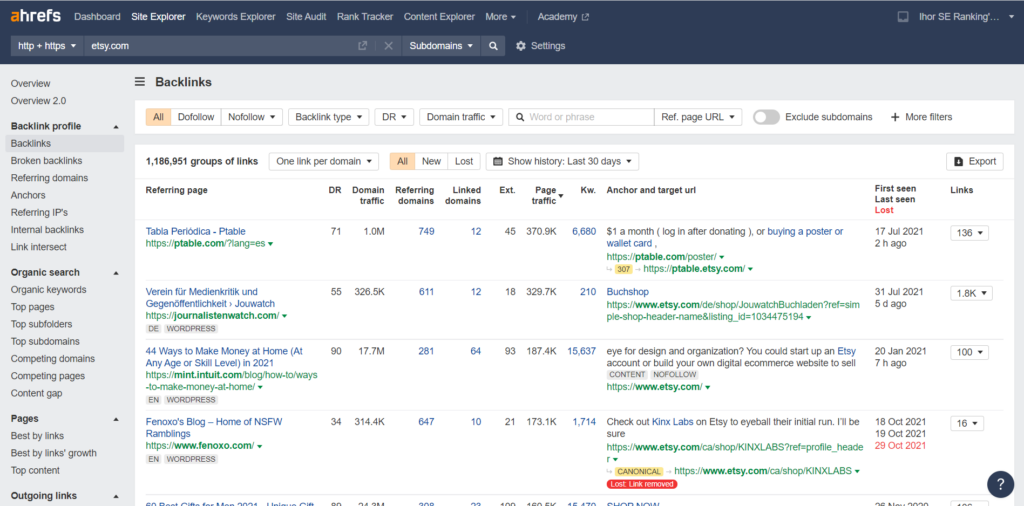 With this tool, you can get vast amounts of data on what links were acquired by competing websites. In turn, this gives you the opportunity to find new ideas for building backlinks to your own site. On top of that, Ahrefs has the disavow tool, just like SE Ranking, that helps you get rid of bad backlinks.
The search giant recommends we clean up any and all 'bad links' pointing to your site because it can negatively affect search results. With Ahrefs, you can easily create a disavow file containing bad links, and upload it to Google Search Console. Plus, Ahrefs will log all the disavowed links and domains, so that they don't show up in the link graph results. This will be a more accurate representation of how Google sees your site.
In the Backlinks section, you can make use of different filters to look at any website's backlink profile whichever way is most convenient for you. You can decide only to see nofollow or dofollow links, single out redirects, view links with or without a redirect chain, .EDU or .GOV links, links by traffic, and so on. This feature deserves a special mention in the Ahrefs review 2023, as managing link masses is becoming increasingly complicated. 
Generally, it's most useful for quickly finding valuable backlinks that make a big difference. Moreover, under this section, you can get a list of all new and lost backlinks. By the way, here you can also make use of all of Ahrefs' backlink filters to find links with specific characteristics.
In addition, Ahrefs goes out of its way to give you everything there is to give regarding backlinks. In line with this, it shows you every broken inbound and outbound link on your website.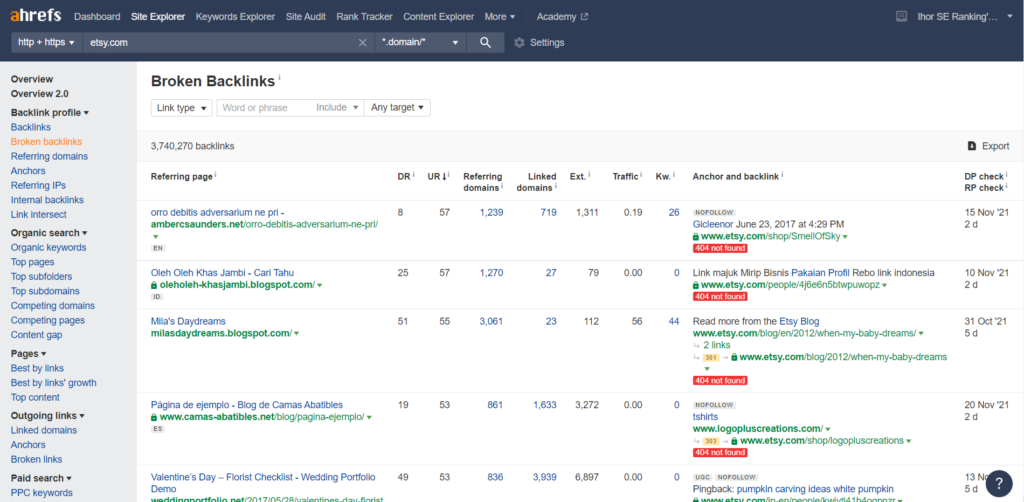 Summing up, Ahrefs is a great tool both for search engine optimization and content marketing. But it may be too expensive if you don't have a big budget. So, if you're just starting out with SEO, perhaps you should look at other tools until you know your way around SEO. It can replace a lot of different tools, so it's definitely worth checking out, especially if you regularly are engaged in building links. But if you run an agency that does both PPC and SEO for customers, you have to explore SE Ranking and Semrush.
Conclusions
The Ahrefs review shows that it was named after the HTML link tag for a reason. Its strong point is the possibility of building a link network, as well as analyzing and managing it in one application. The service provides you with many filters that can be used to sort resources, choosing authoritative, most effective, or suspicious ones.
Any Ahrefs reviews also praise the functionality of other modules, including technical audit, rank tracking, and competitor monitoring. In terms of the amount of information, the level of granularity, and the quality of analytics, the service is definitely among the leaders in its segment.
However, the Ahrefs review also reveals the disadvantages of such a comprehensive approach. The service is aimed specifically at SEO professionals of the Middle level and above. Its interface is very complicated, and the reports contain an incredible amount of raw information, so it is difficult for beginners to draw the right conclusions and find the best ways to optimize websites. Another disadvantage is the paid trial subscription. Yes, you have to pay for testing the platform's functions. And if you forget to cancel your subscription, the full cost of the subscription plan will be withdrawn from your card after the 7-day period.
Frequently Asked Questions
What is Ahrefs?
Ahrefs is a marketing service aimed at professionals in the fields of SEO, content management, and website development and maintenance. It allows you to get a huge amount of information to monitor competitors, determine the current position of your business, and evaluate the effectiveness of your optimization strategy. The platform also offers one of the most powerful technical audit modules, which allows you to quickly solve problems of website availability and performance.
How to use Ahrefs?
Ahrefs is a cloud service that runs in a browser. First of all, it is adapted for desktop computers and laptops — its interface is not very convenient for mobile devices. Unfortunately, the platform is available only through a paid subscription, even in the trial version. To get access to all its features, you will have to confirm the ownership of your website domain.
What is Ahrefs used for?
The most powerful modules of Ahrefs are technical website audit and external link building. With the help of the service, you can identify the most effective resources of your marketing network and block low-quality links. The platform also offers you tools for working with keywords and monitoring competitors, although it is slightly inferior to the leaders in its segment in terms of these features.
How much is Ahrefs?
A 7-day trial subscription will cost you $7. The basic Lite plan costs $99, and the optimal Standard plan costs $199 per month. For medium-sized companies, the Advanced subscription costs $399, and for large SEO agencies, the Agency subscription costs $999. It is worth noting that Ahrefs tariff plans are not flexible — you cannot pay extra for individual modules or increase the limit.
Visit website