Creating content for SEO can be a challenging process. It requires tons of careful planning and optimization, but thankfully there are several helpful tools designed to streamline this process so you can easily produce top-performing content. In this article, we'll explore the six best SEO content writing tools available today that make crafting web pages easier than ever before.
Factors to consider before choosing an SEO writing tool
Before you can reasonably decide which SEO content writing tool is best for you, there are some important factors to consider. Let's take a look at them before moving on to our list of top-notch platforms:
Brief creation/customization: An exceptional tool should make it simple to set up and edit briefs. It will allow you to give thorough instructions to your writers so that all of the written material aligns with your goals.
Content optimization: SEO content tools should offer built-in optimization features for keywords, word count, meta tags, etc. allowing you to fine-tune your texts for optimal results.
Content quality analysis: A good SEO copywriting software should include features to assess your material for punctuation errors, readability, tone of voice, and plagiarism.
Collaboration: The best content writing tool will have collaboration features that allow you to work seamlessly with other authors, editors, and marketing managers.
User interface and ease of use: The user interface should be intuitive and straightforward, making it easy to navigate and take full advantage of all features quickly.
Cost: SEO tools for content writing should offer good value for your money.
Top SEO content creation tools
To discover the best SEO content writing tools, we conducted a meticulous analysis of their features, design, and pricing. Afterwards, we read through numerous user reviews to ensure that only top-notch solutions were considered.
1. SE Ranking
Overview
SE Ranking's Content Marketing Tool was designed to assist businesses in producing exceptional content that outranks their rivals on SERPs. This tool offers comprehensive insights into what makes Google's top-ranking pages successful, including their Content Score, Domain Trust, word count, and number of referring domains. The tool then offers you a clear understanding of what you need to do to create content that achieves a higher score than your top-ranking competitors.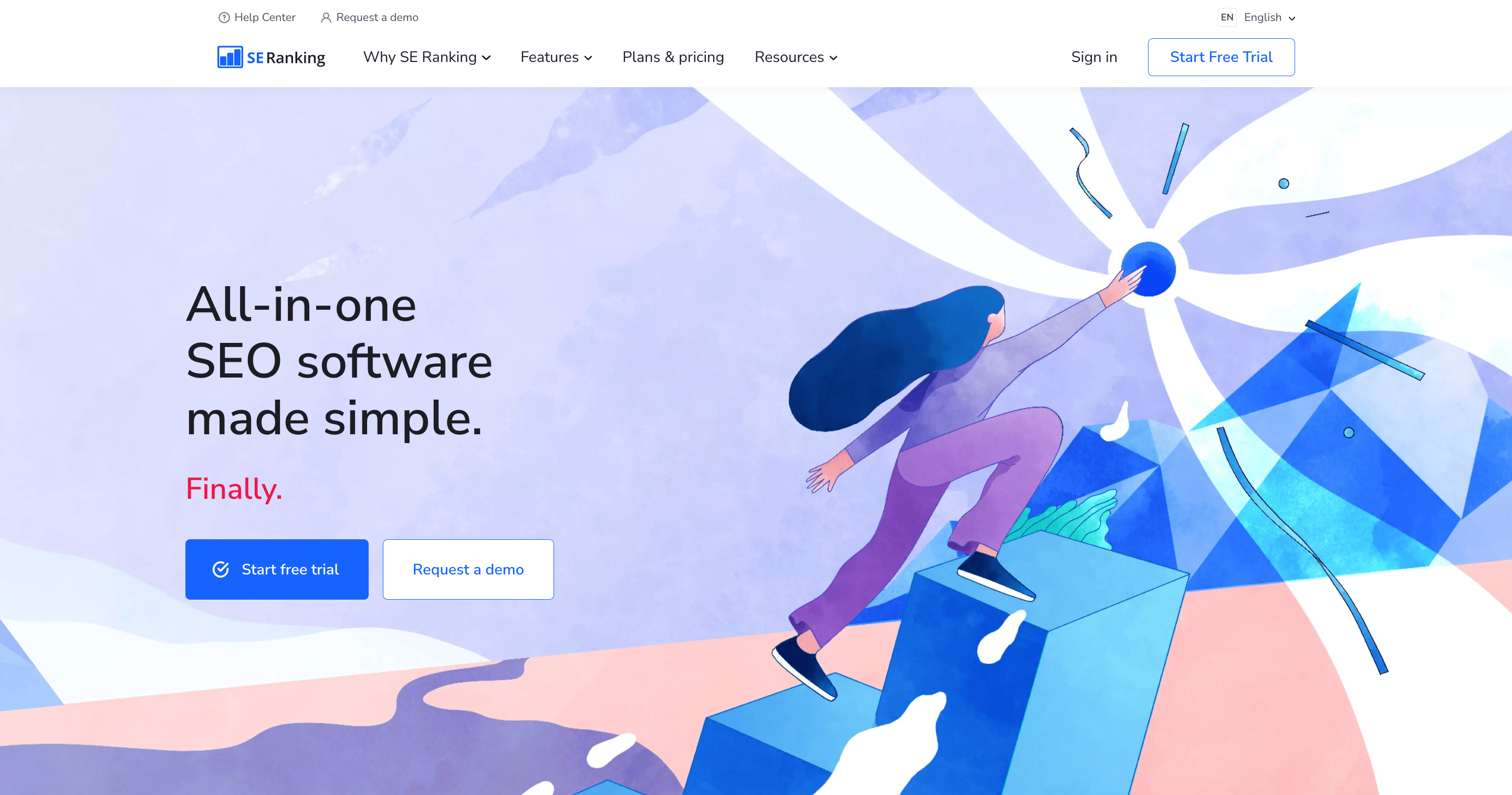 The tool's Content Editor module empowers you to create SEO briefs, write optimized texts, check for plagiarism, and evaluate the quality of your content based on niche and market standards. Through its advanced AI and NLP algorithms, the tool pulls crucial info from the best-performing content on the web to provide recommendations on word count, keyword usage, web copy structure, media element count, and more.
The AI Writer feature also enables you to generate optimized content tailored to your target audience effortlessly. By entering the topic, keywords, and chosen tone of voice, the tool automatically generates the initial draft of your content. Finally, the Content Editor module assesses writing quality through grammar and spelling checks, as well as spam filtering. These features substantially enhance the clarity of your copy.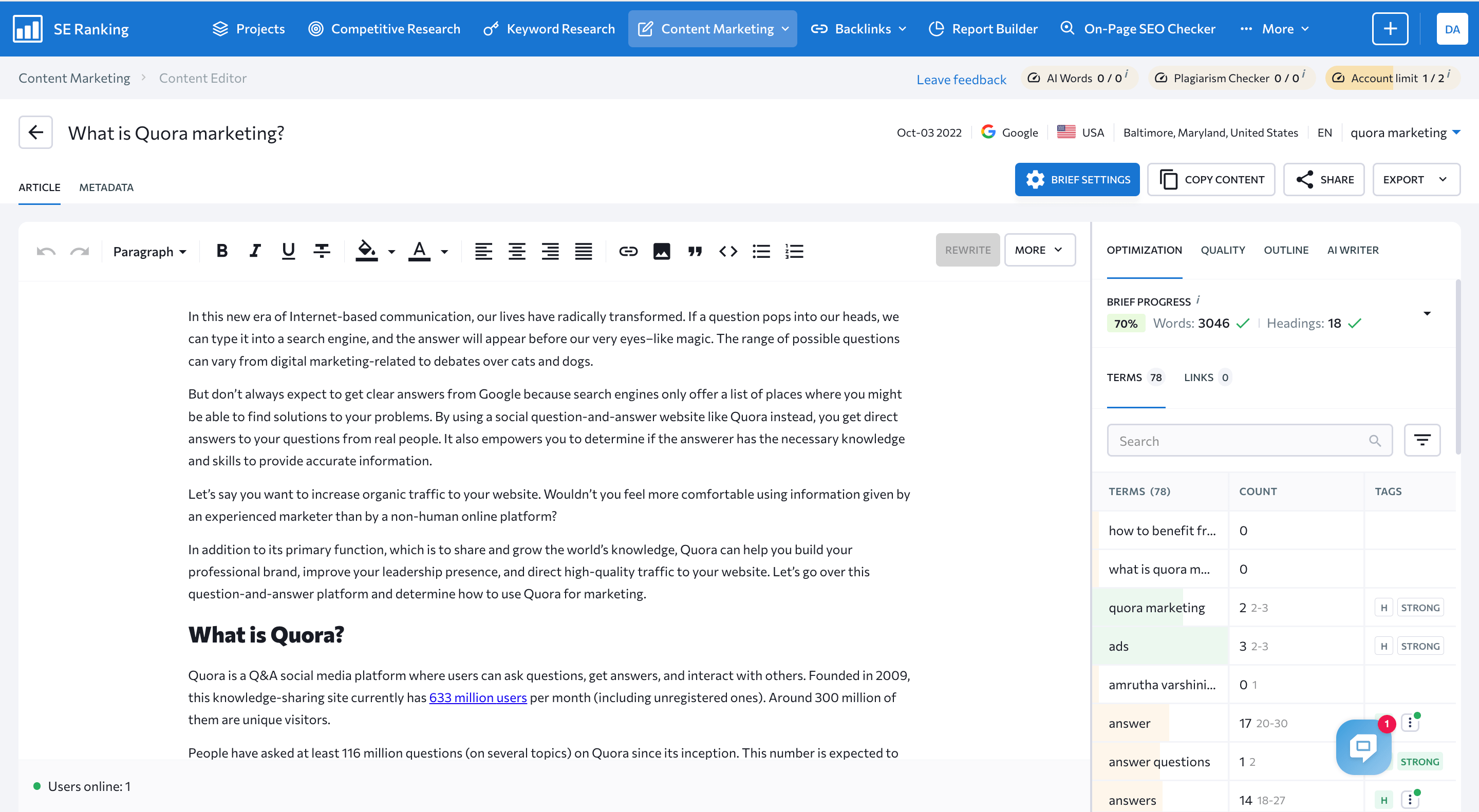 SE Ranking's Content Marketing tool also provides exceptional collaboration functionalities, allowing companies to bring their SEO and copywriting teams together to work on the same article. This feature is similar to Google Docs, but team members only have editing access. It makes creating content that meets all requirements, from grammar to style, easy, and if you prefer working within Google Docs instead, you can do so thanks to the add-on.
Another powerful feature of this platform is its Content Idea Finder. If you're a business or agency, you can use this feature to effortlessly find new ideas and keywords for your online content. By entering a keyword related to your desired topic, the tool generates a list of applicable phrases relevant to it. Moreover, it provides an idea of what competing websites are doing with those keywords by displaying the top 10 webpages ranked highest on search results for each phrase, giving you valuable insights into how others strategize their SEO success.
Advantages
In-depth term research
Comprehensive content quality checker
Plagiarism check feature
Content collaboration feature
AI Writer feature
Affordable and flexible pricing
Disadvantages
No WordPress add-on
No content monitoring feature (post SEO performance)
Pricing
This tool's subscription options are only available for paid SE Ranking accounts. To access them, you'll need to subscribe to one of the following plans:
Essential – $55 per month
Pro – $109per month
Business – $239 per month
There are three levels of pricing for the Content Marketing tool subscription, each based on the number of articles created each month.
15 articles per month – $29
30 articles per month – $49 (save 15%)
120 articles per month – $99 (save 57%)
SE Ranking also offers a 14-day free trial during which you can explore the Content Marketing Module and over 35 other SEO tools for rank tracking, competitor research, website audits, backlink analyses, keyword research, and other tasks. By subscribing to one of the plans above, you can cover the entire content creation cycle as well as a number of other SEO tasks—and all in one place.
If you opt for the annual plan, you can enjoy a 20% discount and receive free migration.
Verdict
SE Ranking's Content Marketing Tool is undoubtedly the ideal platform for you if you own an agency or businesses and you're eager to boost its content quality and visibility in SERPs. With the platform's comprehensive suite of SEO writing tools, including the Content Editor and Content Idea Finder, you can create optimized, high-performing texts that outperform your competitors.
2. Semrush
Overview
Semrush's SEO Writing Assistant is a great content creation platform that can assist marketers in crafting top-notch copy. Its features work together to provide detailed optimization guidance, including readability and plagiarism screening, as well as optimizing text for search engines. With the help of this software, you can create content tailored to your audience, while surpassing competitors in terms of quality and relevance.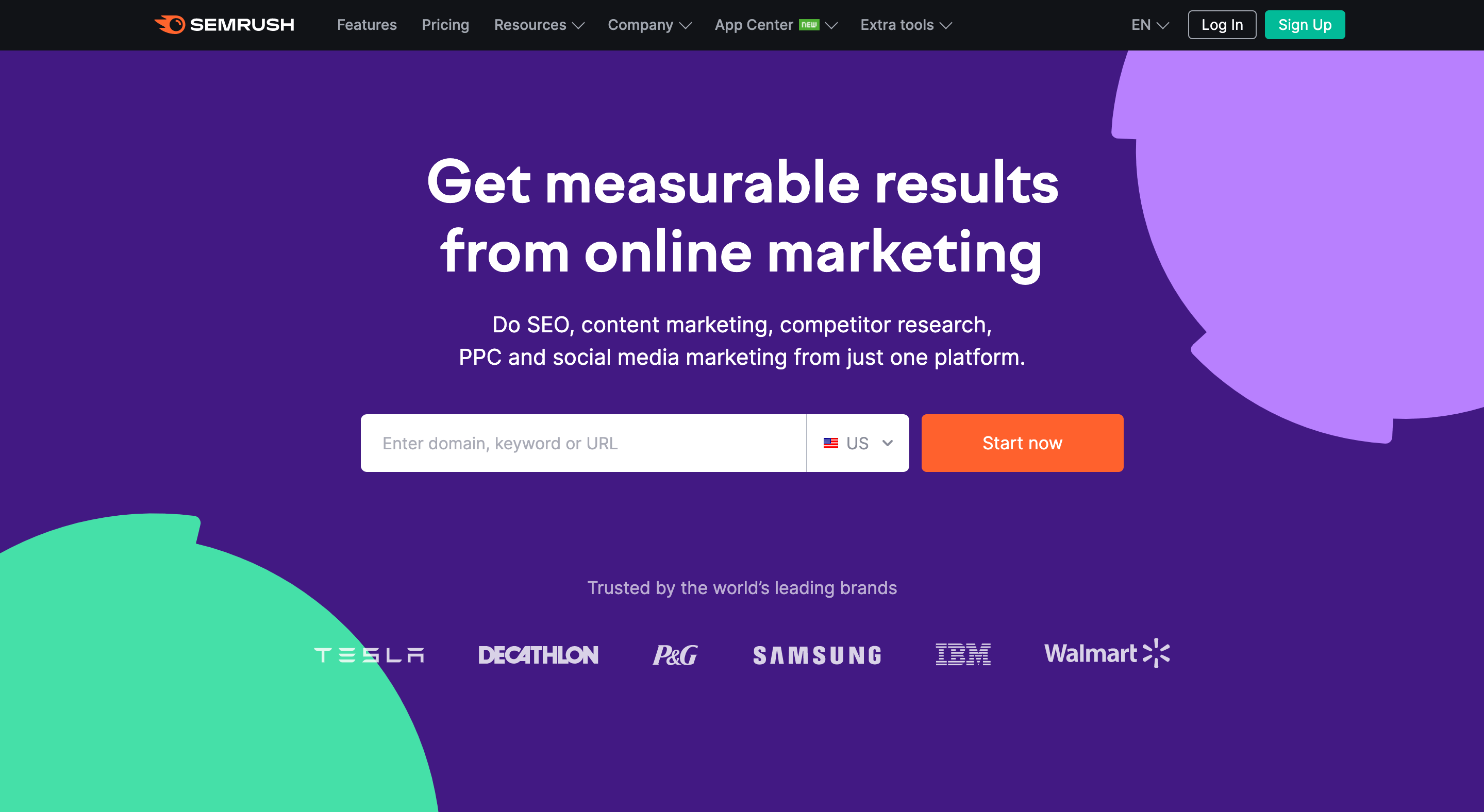 The platform provides writers with six key features to assist in optimizing text.
With the Overall Score feature, you can accurately assess and track your optimization progress. Not only that, it serves as an excellent benchmark to gauge how one piece of content stacks up against others in the industry. This helps you identify where improvements need to be made in your copy and adjust accordingly for better results.
The Readability feature evaluates your copy for clarity and comprehensiveness, considering aspects like sentence length, word selection, and paragraph design.
The SEO Recommendations feature is one of the most important aspects of Semrush's SEO Writing Assistant. By offering recommendations on how to use the right keywords, meta descriptions, and other SEO-driven elements in the content, this feature can help you make your texts more discoverable for search engines. Eventually, this will not only draw more eyes to your website but also assist with increasing conversions.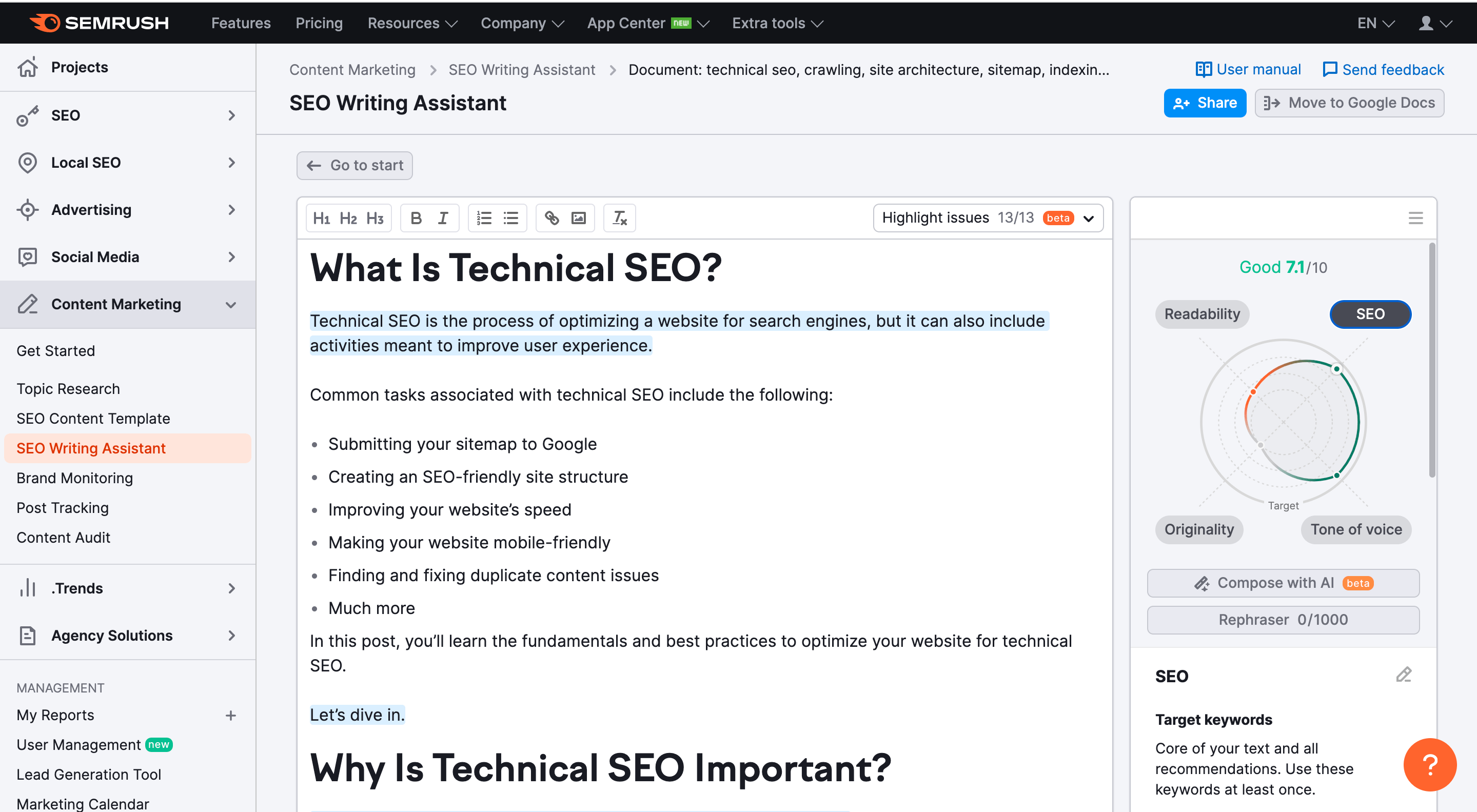 The Tone of Voice feature enables you to gain feedback on your language and writing style so that all your material is not only optimized but also designed to reach the right people.
The Plagiarism Check feature provides a score that indicates how much of the content matches that from other web sources.
The Rephrase feature offers helpful paraphrase suggestions for specific pieces of text to make your copy unique and distinct. Depending on the pricing plan, you can rephrase between 100 and 2000 words per month.
Advantages
Add up to 30 targeted keywords
Integrations with Google Docs, WordPress, Microsoft Word
Plagiarism check feature
Marketing Calendar feature to prepare and schedule your content ahead of time
Post Tracking feature to track any post's backlinks, referral traffic, search engine rankings, and social shares
Disadvantages
No outline builder
No content collaboration functionalities
Limited AI Writer capabilities
Expensive pricing plans
Pricing
The SEO Writing Assistant is only available if you have Semrush's Guru or Business plan. With the Guru plan, you can access up to 800 SEO Ideas units monthly along with up to 5 plagiarism checks, whereas Business plan provides access to 2,000 SEO Ideas units monthly along with 10 plagiarism checks.
The costs of these plans are as follows:
Guru – $229.95 per month
Business – $449.95 per month
Whenever you generate a template for your chosen keyword, one SEO Ideas unit is taken. For instance, if you generate a template for two keywords, two SEO Ideas units are charged.
If you're an annual subscriber of any of Semrush's plans, you can save up to 17% on costs. These plans provide access to a comprehensive suite of digital marketing tools for SEO, including keyword research, site audit, backlink analysis, and more.
On top of that, you can test Semrush's SEO Assistant for free with a 7-day trial. After that, you can easily cancel.
Verdict
Semrush is undoubtedly a solid online solution for you if you own a business or you're a marketer looking to improve your search engine rankings and online visibility. Still, it may be too expensive for beginners in SEO content creation and lacks some essential features. Nevertheless, with real-time recommendations, content templates, and plagiarism checker, the tool offers essential features for creating high-quality, optimized texts.
3. Clearscope
Overview
Clearscope is known for supplying web writers with tons of features to optimize websites for better search engine visibility. With this tool, you can research potential topics, examine keyword data to identify the most relevant phrases for your niche, analyze SERPs, and plan strategies accordingly. In short, Clearscope helps speed up content creation by streamlining the process of outlining, drafting, and editing new or existing texts.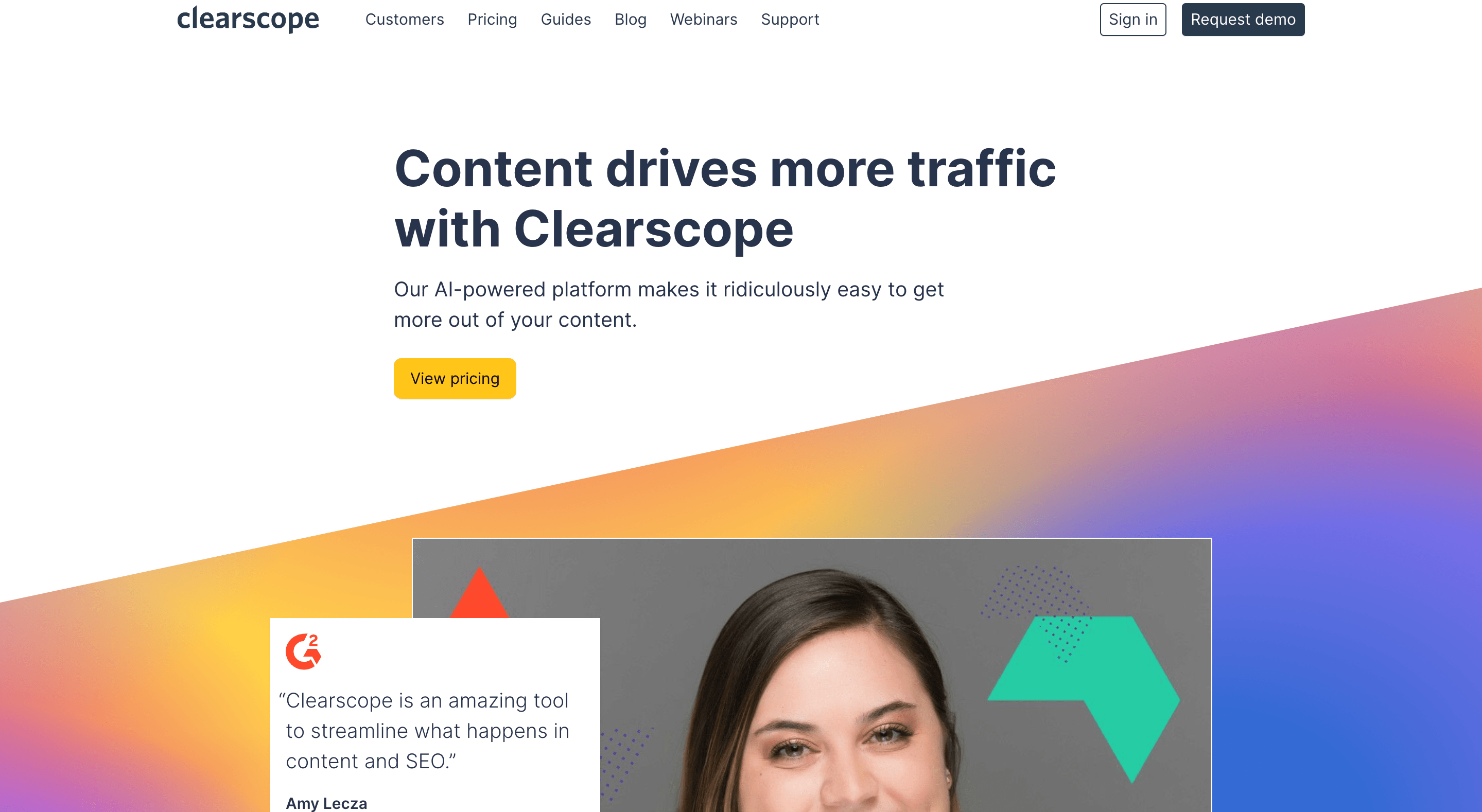 Clearscope also offers a content grading system that assigns a score to each copy based on how well it is optimized for a given keyword. The system considers various factors, such as keyword usage, text length, and the presence of related terms, to assign a score to the copy. This feature enables you to assess the quality of your written material and identify areas for improvement, guaranteeing that your content is always optimized for the most relevant keywords and phrases.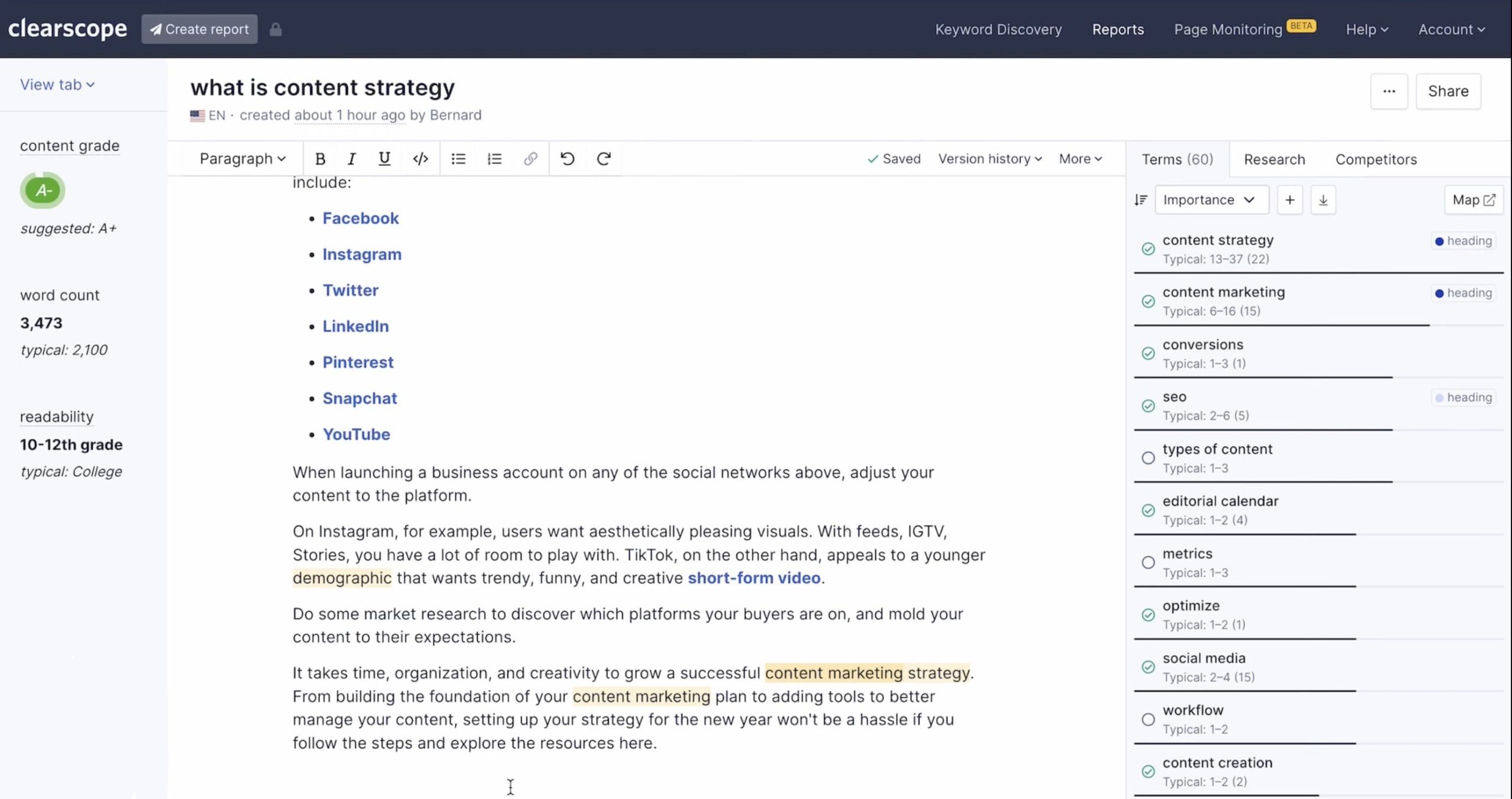 After publishing your copy, Clearscope provides tools to track your website content and target keywords. You can keep an eye on your content scores and update your pages when scores slip, ensuring that they remain relevant and optimized for your target keywords over time. With Clearscope, you can take a proactive approach to text optimization and guarantee that your website content delivers consistent results for your business.
Advantages
Robust content grading system
Content monitoring (post SEO performance)
Google Docs & WordPress integration
Unlimited sharing and exporting
Disadvantages
No plagiarism check feature
No check for readability, tone of voice, and grammar mistakes
No AI Writer
Expensive pricing plans
Pricing
Clearscope offers two different pricing plans to cater to the diverse needs of digital writers and businesses of all sizes.
Essential – for a total of $170 per month, you'll get access to all the tools necessary to start optimizing your texts. This plan comes with one user seat, 10 content reports, 20 content inventory pages, and integrations with Google Docs and WordPress. Additionally, you can optimize your online presence in five distinct languages, opening the door for international outreach.
Business – for marketing agencies and businesses that need more advanced features, Clearscope offers the Business Plan. This plan includes all the features of the Essentials Plan in addition to five user seats, custom content reports and inventory pages, SAML single sign-on (SSO), and customized account setup. The pricing for this plan can be customized to meet the specific requirements of your business.
Verdict
While SEO writing tools like Clearscope may not be the most affordable option, it can greatly streamline your content creation process and ensure that the content you produce meets the requirements of search engines and resonates with your target audience. Clearscope's platform provides valuable insights into SEO best practices, such as keyword density, use of relevant terms, and text structure. This makes it a useful assistant in creating high-quality, SEO-friendly copy that drives more traffic and engagement to your website.
4. Surfer
Overview
Surfer is a robust platform designed to optimize your content for search engines using data-driven insights in any language. With over 500 factors taken into account, this tool ensures that your online content meets all the necessary criteria to rank high on search engines.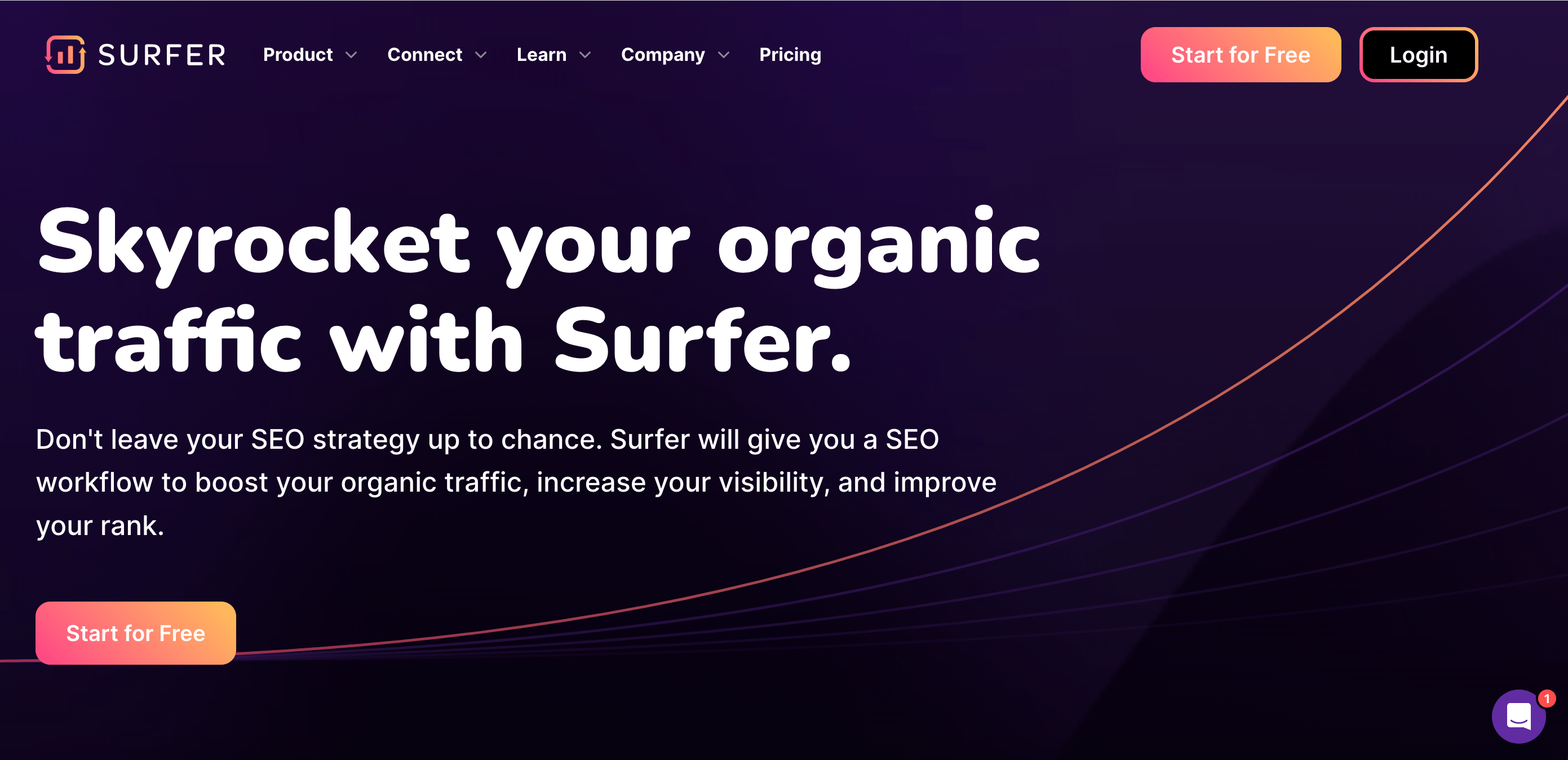 To get started with Surfer, just type in your desired keyword and generate a report. Surfer is uniquely beneficial to copywriters because it allows you to optimize your content for more than one focus keyword at the same time. Following that, the platform promptly provides recommendations such as which words to include in the text body, the optimal number of headings or images, estimated word count, and so on. If any outliers exist in the SERP, you can remove them or, if necessary, override the suggested recommendations.
The Outline Builder feature of this tool simplifies the content creation process for you so you can quickly generate titles, headings, subheadings, and more. You can also add these elements directly into the editor instead of generating ideas from scratch. This is also useful for making sure that your copy is well-structured.
After setting up all the essential data, you can start crafting the content yourself or create a link to enable other writers to collaborate. With this tool, other writers don't need an account to make any changes, accelerating the entire process and ensuring everyone is on track for the project's successful completion.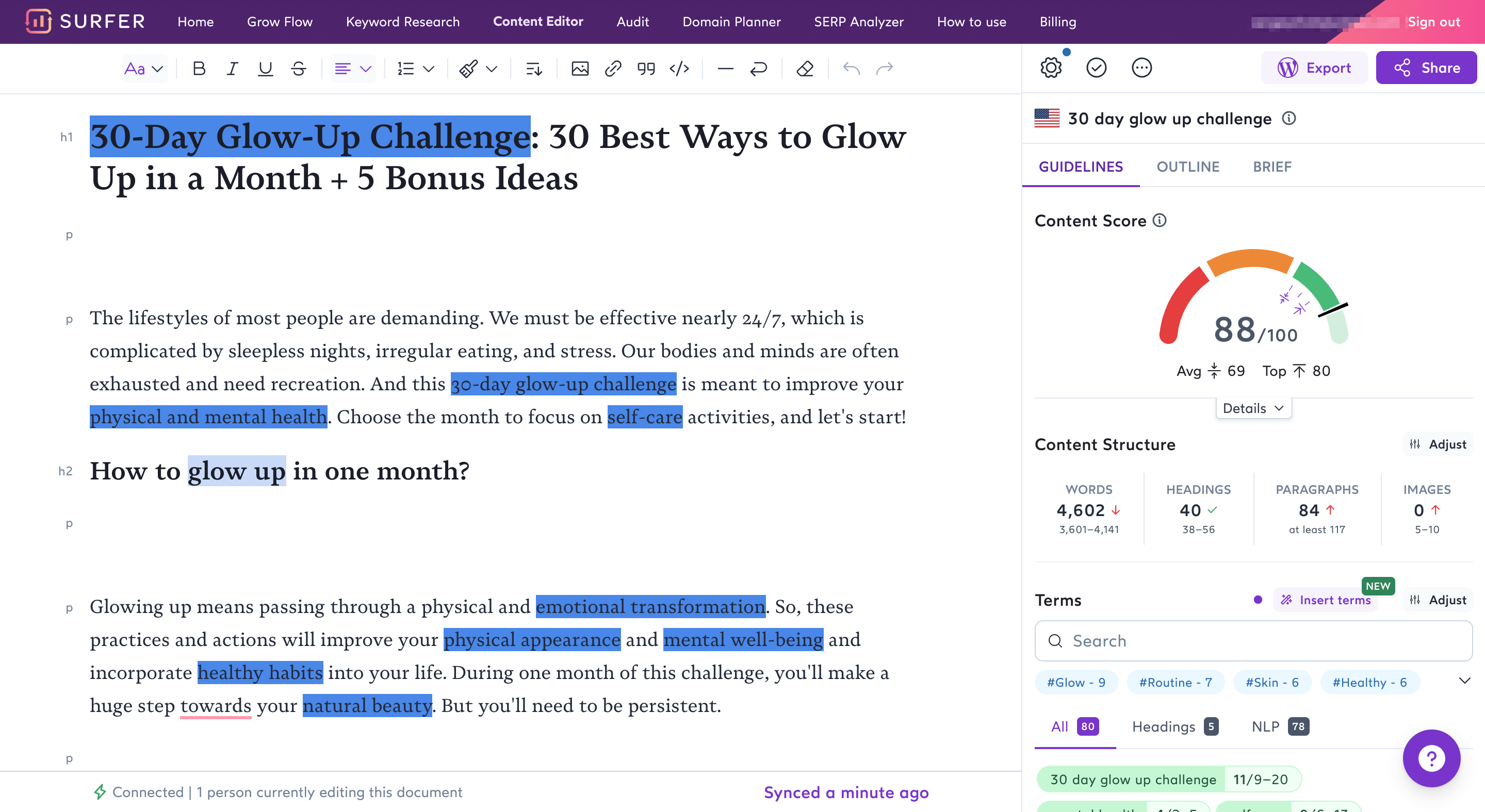 Although Surfer does not offer its own AI writer feature, it does integrate with Jasper, an AI-powered online assistant that makes it easier than ever to create compelling content. By downloading Surfer's free Chrome Extension and signing up for Jasper, you can start crafting optimized texts in no time.
Surfer has also integrated Semrush into one of its products called Grow Flow, an AI-based solution that automates SEO tasks and helps you enhance your domain and rankings. Using Grow Flow, you can receive a weekly list of backlinks that your competitors have recently acquired in order to analyze and improve your own link-building strategy. By leveraging this information, you can make data-driven decisions to optimize your SEO performance and stay ahead of the competition.

After you finish working on your article, Surfer will give you the option to download it in the form of an HTML file or export it straight to WordPress. This eliminates the hassle of having to copy content from one platform and paste it onto another.
Advantages
500+ SEO factors are evaluated by the tool
Integrates with Google Docs and WordPress
Optimization of texts written in a variety of languages
Plagiarism check feature
Content collaboration feature
Disadvantages
Keyword suggestions don't work well for larger long-tail keywords
Doesn't check for readability, tone of voice, or grammar mistakes
Pricing
Basic – $59 for 10 articles per month
Pro – $119 for 30 articles per month
Business – $239 for 70 articles per month
If you choose the annual payment option, you will receive an additional 17% discount.
You can also test this platform by taking advantage of its 7-day free trial, which grants access to the Content Editor, Keyword Research, and Audit tool, each with one free credit available.
Verdict
Surfer's Content Editor is an exceptional tool. It offers valuable insights for your content creation process by analyzing the top-ranking texts for your target keyword. With its intuitive interface, powerful research and planning features, and intelligent optimization recommendations, this tool can help you create web copy that resonates with your audience and boosts your website's search engine visibility. With all these features combined, it's no surprise that this tool is considered one of the best SEO content tools.
5. Frase
Overview
If you're a writer seeking to upgrade the quality and relevance of your content, you can also benefit from Frase, a powerful software that utilizes NLP and machine learning technology. With this platform, you can generate new ideas for your articles, enhance them for higher search engine rankings, and even repurpose and enhance your existing content so it remains relevant and useful over time.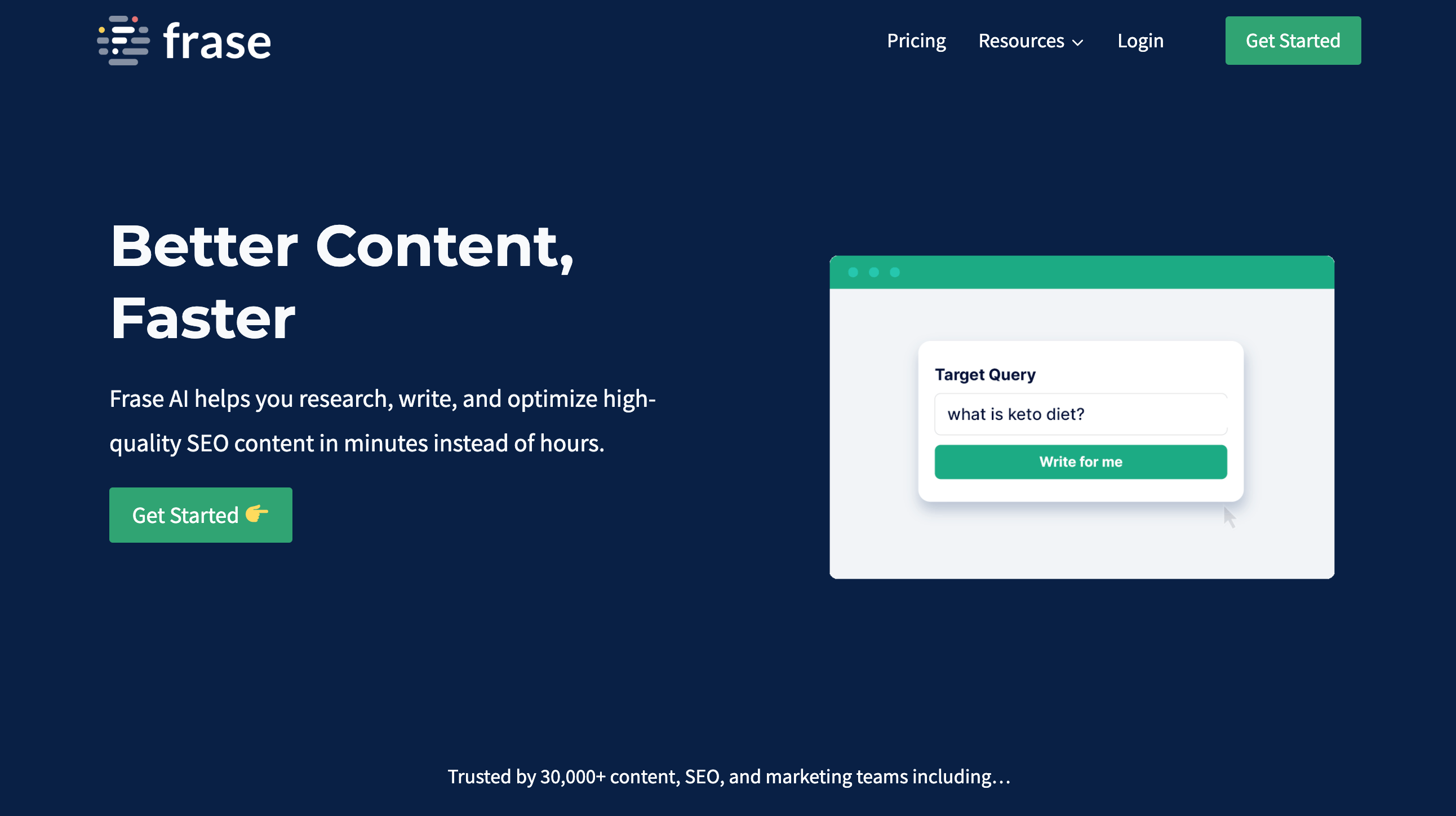 Frase has a key feature that can analyze content and identify key topics and themes. This feature helps you identify gaps in your own content and generate new ideas for future pieces. Additionally, Frase AI can help you optimize your texts for search engines by suggesting relevant keywords and phrases to include in your content.
Another valuable feature of Frase is its customized briefs. These briefs provide a detailed outline of what your web copy should include in order to be successful. These briefs are complete guides that cover everything from the topics to be covered and questions to answer, all the way down to which keywords should be inserted. Having such a clear roadmap saves you an endless amount of time and effort if you're a copywriter, enabling you to create great content quickly.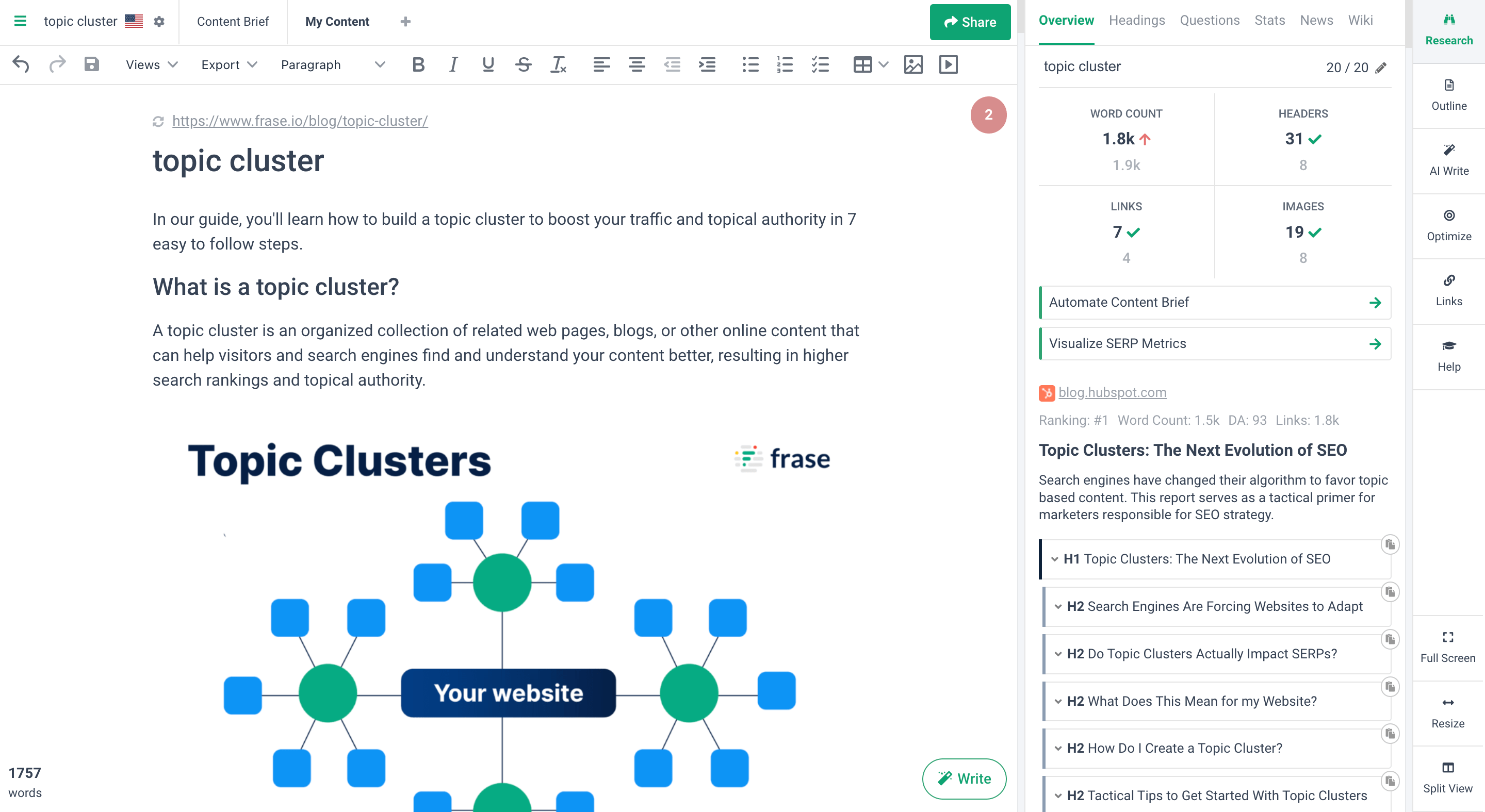 Finally, Frase has a powerful content optimization feature that analyzes existing text and suggests ways to change it to improve its relevance and quality. This assists you in keeping your content fresh and up-to-date so that it remains relevant to your target audience.
Advantages
Highly customizable content briefs
AI Writer feature
Content collaboration feature
Integration with Google Search Console, Google Docs, Hubspot CRM, and WordPress
Disadvantages
No plagiarism check feature
No integration with keyword research data in core plans
No check for readability and tone of voice (only grammar mistakes)
Pricing
Solo – $14.99 for 4 articles per month
Basic – $44.99 for 30 articles per month
Team – $114.99 for unlimited number articles per month
With Frase's core plans, you get all features except for the AI writer and SEO analytics tools. However, you can access these tools by paying an additional $35 per month for the add-on package, which provides keyword search volume and keyword modifiers. The add-on package also provides you with backlink data for the top rankings related to your keywords, as well as domain authority data.
You can try out Frase by taking advantage of its 5-day trial for only $1.
Verdict
All things considered, Frase is a powerful platform for you if you own a business or are a copywriter looking for new ways to improve the quality and relevance of your text. Its advanced NLP technology, customizable briefs, content optimization feature, and competitive pricing surely make it a standout tool in the content creation and optimization space.
6. MarketMuse
Overview
MarketMuse is a comprehensive SEO content writing software designed to help you achieve better results from your copywriting efforts. The platform has five main modules: Research, Optimize, Compete, Questions, and Connect, each serving a different purpose in the content creation process.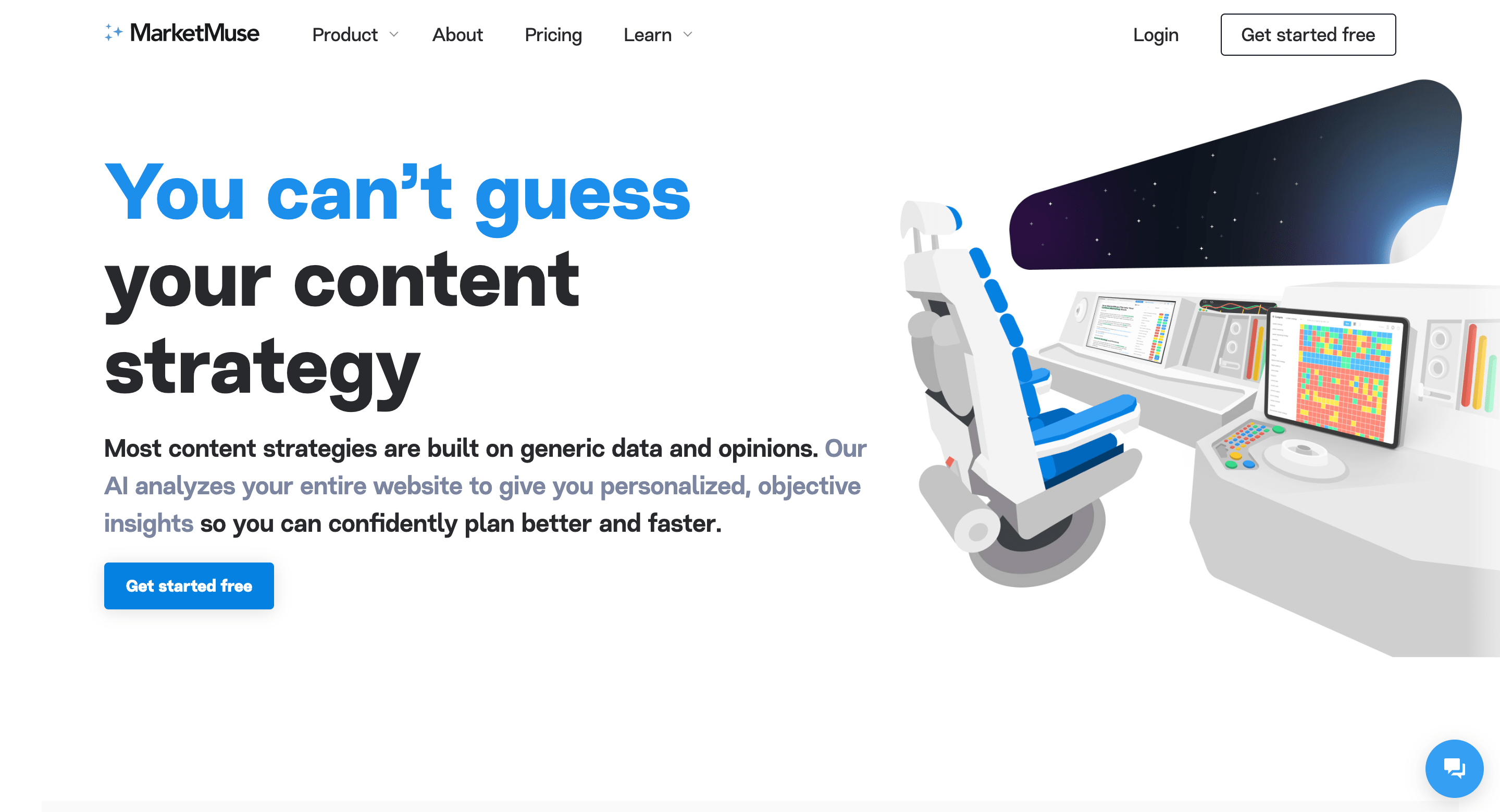 The Research module is one of MarketMuse's key features. It allows you to conduct in-depth research on a particular topic or keyword by providing valuable insights into what your target audience is looking for. By analyzing competitors' texts that are already available on a topic, the Research module helps you identify content gaps as well as opportunities for creating more effective web copy. This module can be used to discover new topics, prioritize content creation efforts, and ensure that the created content meets the target audience's expectations.
The Optimize module is another standout feature of MarketMuse. It enables you to optimize your texts for both search engines and human readers by providing guidance on how to use keywords effectively, how to structure material for maximum engagement, and how to use relevant internal and external links to enhance the user experience. This module provides recommendations for improving content quality, ensuring that it is well-structured, easy to read, and provides value to the audience.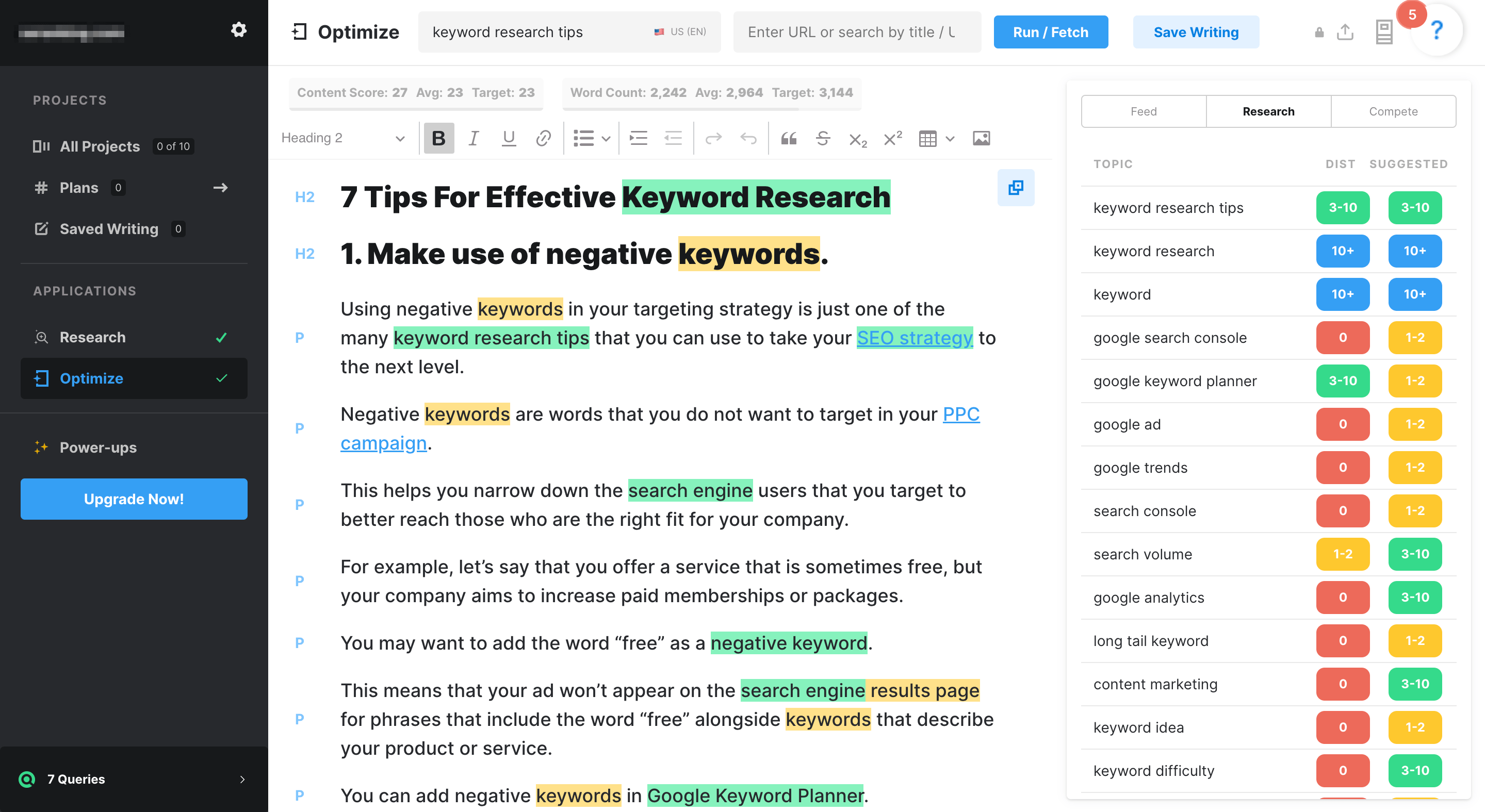 The Compete, Questions, and Connect modules are also vital components of MarketMuse. The Compete module allows you to compare your material to that of your competitors, identifying areas where you can improve and opportunities to stand out from the crowd.
The Questions module helps you understand your audience's needs by providing insights into what they are asking and what information they need. This allows you to create content that answers your audience's questions better and provides more value.
Finally, the Connect module allows you to track your content's performance across various channels, providing valuable insights into what is working and what needs improvement.
Advantages
In-depth keyword research
Brief customization
Competition-based content score
First draft feature
Disadvantages
No Google docs & WordPress plugin
No link sharing features
No plagiarism check feature
No AI Writer feature
Pricing
MarketMuse offers three plans to suit any business size or type: Free, Standard, and Premium. Each plan comes equipped with a unique set of features and functions designed to accelerate content production, whether you're an individual blogger, freelance writer, or entrepreneur.
Free – MarketMuse's free plan is a limited version of their software but it still provides incredible value, offering 5 monthly queries and access to their Optimize and Research features.
Standard – $149 per month or $1,500 per year. The Standard plan could be a great choice for entrepreneurs, copywriters, and bloggers who manage multiple sites. It includes 100 queries per month, unlimited projects, data export features, and more—all in a single user package.
Premium – $399 per month or $3,900 per year. This pricing plan is ideal for large firms and agencies that create a multitude of texts because it includes an unlimited number of queries and briefs. This package provides you with all the resources necessary to confidently produce quality material for numerous web resources.
Verdict
Overall, MarketMuse is a powerful online platform that provides businesses with some of the best content writing tools on the market. It gives you everything you need to produce high-quality text, improve your search engine rankings, and drive more leads and revenue. MarketMuse's advanced AI and machine learning capabilities also make it a great online solution for businesses of all sizes, especially if you're an industry looking to take your content marketing to the next level.
Conclusion
The importance of SEO copywriting cannot be overstated. It is the key to attracting attention from search engines and driving traffic to your website. This is why there are many tools for SEO content writing out there, but the ones on this list are the best for assisting in optimizing your web copy for search engines and improving your website's visibility.
SE Ranking and Semrush have some of the best tools for content writing on the market, each offering a complete toolset dedicated to optimizing your website for search engines. These include keyword research, content creation, website audit, competitor analysis, rank tracking, and backlink monitoring. With all these tools, you'll have everything you need to get to the top of the SERPs. However, it's worth mentioning that SE Ranking has a more advanced content module compared to Semrush.
Surfer SEO, on the other hand, promises to help you boost organic traffic, but focuses exclusively on content-related aspects of SEO. It lacks other essential tools for SEO, such as technical SEO, backlink monitoring, rank tracking, and so on.
Finally, although Frase, Clearscope, and MarketMuse have a much narrower focus and only provide tools for content marketing, they still excel at what they do and can be considered great content creation tools. Frase is more suitable for beginners due to its affordable price and simple feature set, but larger teams will appreciate Clearscope and MarketMuse's extensive features despite the heftier price tag.
Ultimately, the content writing tool that you choose will depend on your specific needs, skills, budget, and whether you're looking for something professional or simple. However, any of the 6 content writing tools for SEO mentioned above can do wonders, significantly improving your website's visibility and supporting you in achieving your online marketing goals.