Whether you are an SEO shark or a newbie, SEO PowerSuite aims to reinforce your digital marketing endeavor with valuable solutions. Handling each essential SEO task with this software suite is effortless, from rank tracking to website audit. Plus, the price is pretty affordable compared to other sought-after SEO tools on the market.
However, its industry popularity and approachability aren't guaranteed keys to success. Sometimes such software has significant drawbacks which can harm your overall SEO performance in the long run. And this is where SEO PowerSuite alternatives come into play.
Moreover, to utilize SEO PowerSuite you must install the software on your PC since it isn't a web-based tool. And this is a bit outdated due to most software being cloud-based now. Meanwhile, each SEO PowerSuite alternative uses cloud-based software, which means anytime access from any device.
So if you are seeking efficacy or yearning to test a fresh SEO novelty, you are in the right place. In this post, we will showcase the top SEO PowerSuite alternatives to help you grow the site within the SEO framework and scale your business accordingly. So let's examine things in depth!
SE Ranking heads the list of SEO PowerSuite alternatives for a reason. It provides all the needed versatility and usability for both simple and daunting online marketing operations and daily SEO tasks . The all-in-one, potent platform houses handy tools to enhance the performance of small business owners, digital marketing agencies, and even solopreneurs.
Features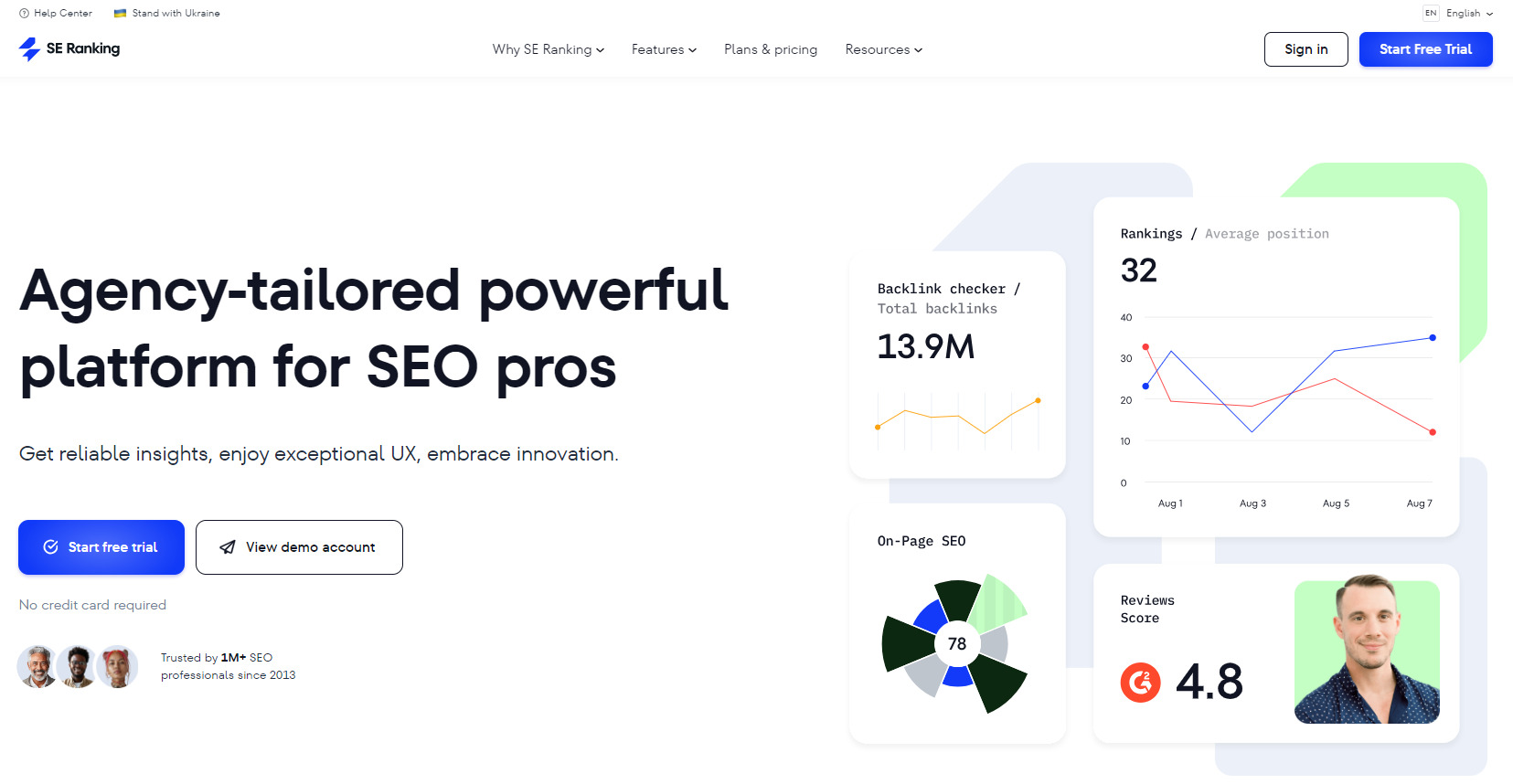 The SE Ranking platform offers the following core features to boost your site:
Projecting a campaign in detail
Profound keyword research
Exploring new keywords
Keyword clustering
Competitors' strategies analysis
Monitoring ranking positions in SERPs
New link-building opportunities search
Website audit
Backlink checker
On-page SEO review, including reports
API
Customer collaboration
Considering the modern-day market is highly competitive, SE Ranking's competitor analysis feature can give precious insights into your rivals' online strategies. By reviewing their keyword tactics for organic and paid searches and Google Ads history, you will know what to incorporate into your SEO campaign and what to exclude.
Another feature that makes the platform stand out from other best SEO PowerSuite competitors is the keyword research toolkit. It provides an easy-to-use interface, vast filtering options, and all the crucial metrics like search volume, CPC, and keyword difficulty. Besides, its 4.2B keyword database enables the incredible potential for site advancement that other platforms lack. The same refers to the backlink database that completely replaces SEO SpyGlass.  By checking competitors' backlink profiles, you will detect links worth targeting. 
SE Ranking is without a doubt a unique SEO PowerSuite alternative because it has one of the most full-packed rank-tracking features. It allows you to monitor the slightest fluctuations of rank positions not only across Google but also Yahoo, Bing, and more.
Keeping abreast and staying organized is also much easier with the Marketing and SEO Plan. Develop a roadmap with checklists of tasks to do for site optimization and set specific SEO goals. Tasks will conveniently appear within separate segments like on-page SEO, off-page SEO, pre-launch steps, etc.
Pricing
This platform represents excellent value for money. Starting at $55 / month with 14 days of free use, it is a more affordable paid plan than other market options. Of course, the pricing may vary depending on the SEO toolkit and keyword capabilities you need and the subscription period and usage frequency. The Pro and Business plans will cost you $109 and $239 per month, respectively.
Verdict
SE Ranking is the perfect decision for both those who run a small business as well as experienced digital marketers. Incredible automation and a user-friendly interface make project management and site optimization highly efficient. Rest assured this cloud-based all-in-one platform will complete all your SEO and marketing assignments with flying colors.
If digital marketing is your top priority, this alternative to SEO PowerSuite is for you. With RankWatch, SEO management runs smoothly and trouble-free, and users get actionable recommendations on how to optimize the site. The universal dashboard gives people the opportunity to analyze keywords with SERP data, trace ranking positions, audit the site from top to bottom, and discover competitors' performance and backlink profiles.
Features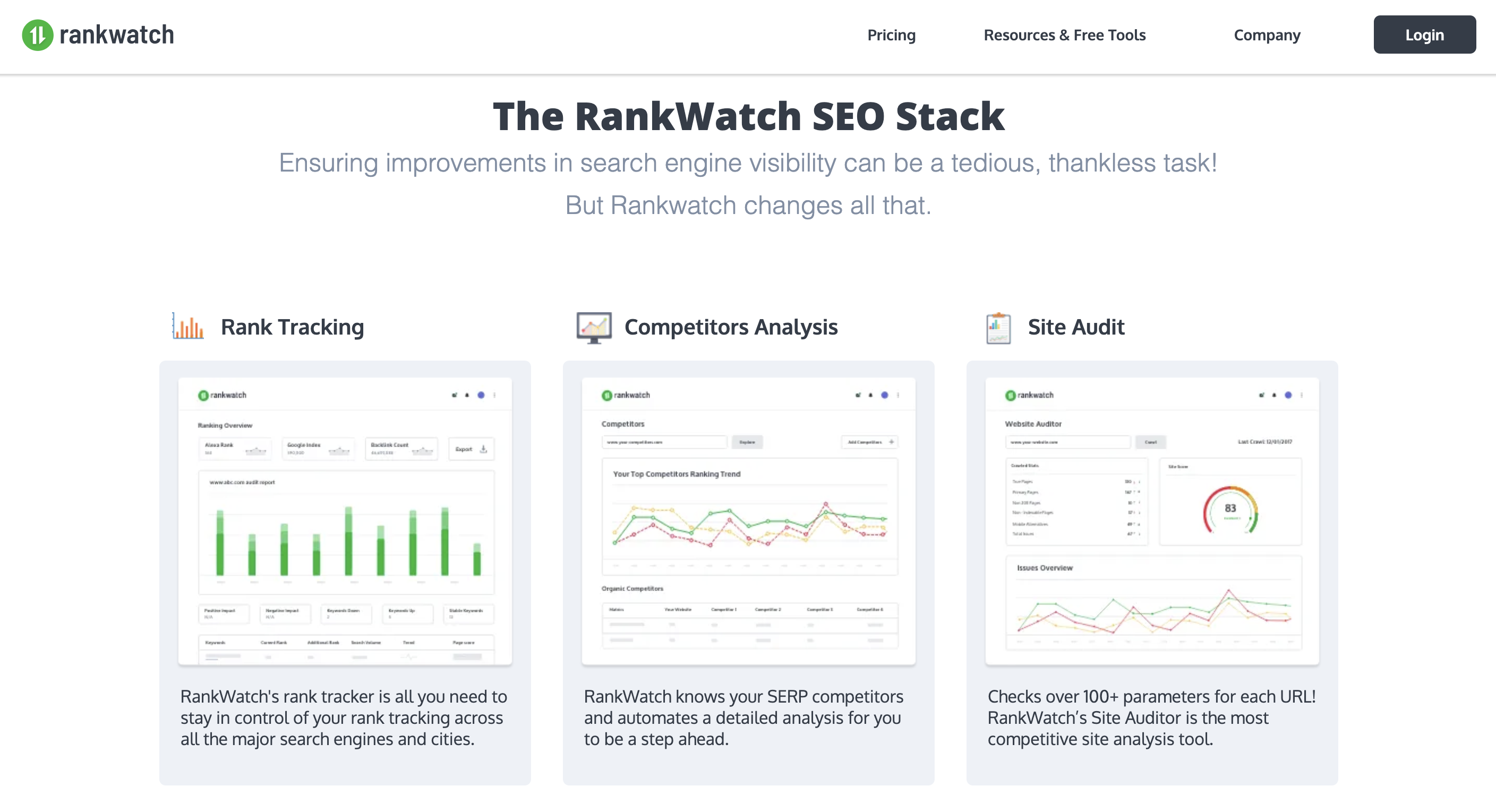 Unlike other top SEO PowerSuite competitors, RankWatch brings unique solutions like local SEO, alerts, and white-label reporting. If you are not already well-versed in SEO processes, this platform can help. It has many helpful features, such as an automated email alert system. Instead of time-consuming manual monitoring of keyword fluctuations, it notifies you about actual keyword ranking.
The Website Analyzer tool aims to reveal what aspects of your site make it exceptional. This info will aid in increasing ranking and boosting online visibility. As for competitive analysis, you can get a clear picture of the leading niche sites and their ad campaigns. Furthermore, you can learn precisely which keywords to incorporate to outdo them.
Pricing
The pricing policy is flexible and for every budget compared to the other RankWatch alternatives. The lowest-paid plan costs $29 per month, while the L package price is $99 monthly. In addition, there is a 14-day free trial and the possibility to acquire a custom-tailored plan coherent with your business.
Verdict
Though Rankwatch might be a bit predictable for SEO pros, it is a good starting point for those who are only getting acquainted with SEO management. Its step-by-step guidelines will definitely help grow a successful site from scratch.
AccuRanker is an immense SEO PowerSuite competitor in terms of keyword rank monitoring. The whole toolkit revolves around keyword performance and the ability to win towering SERP positions.
Features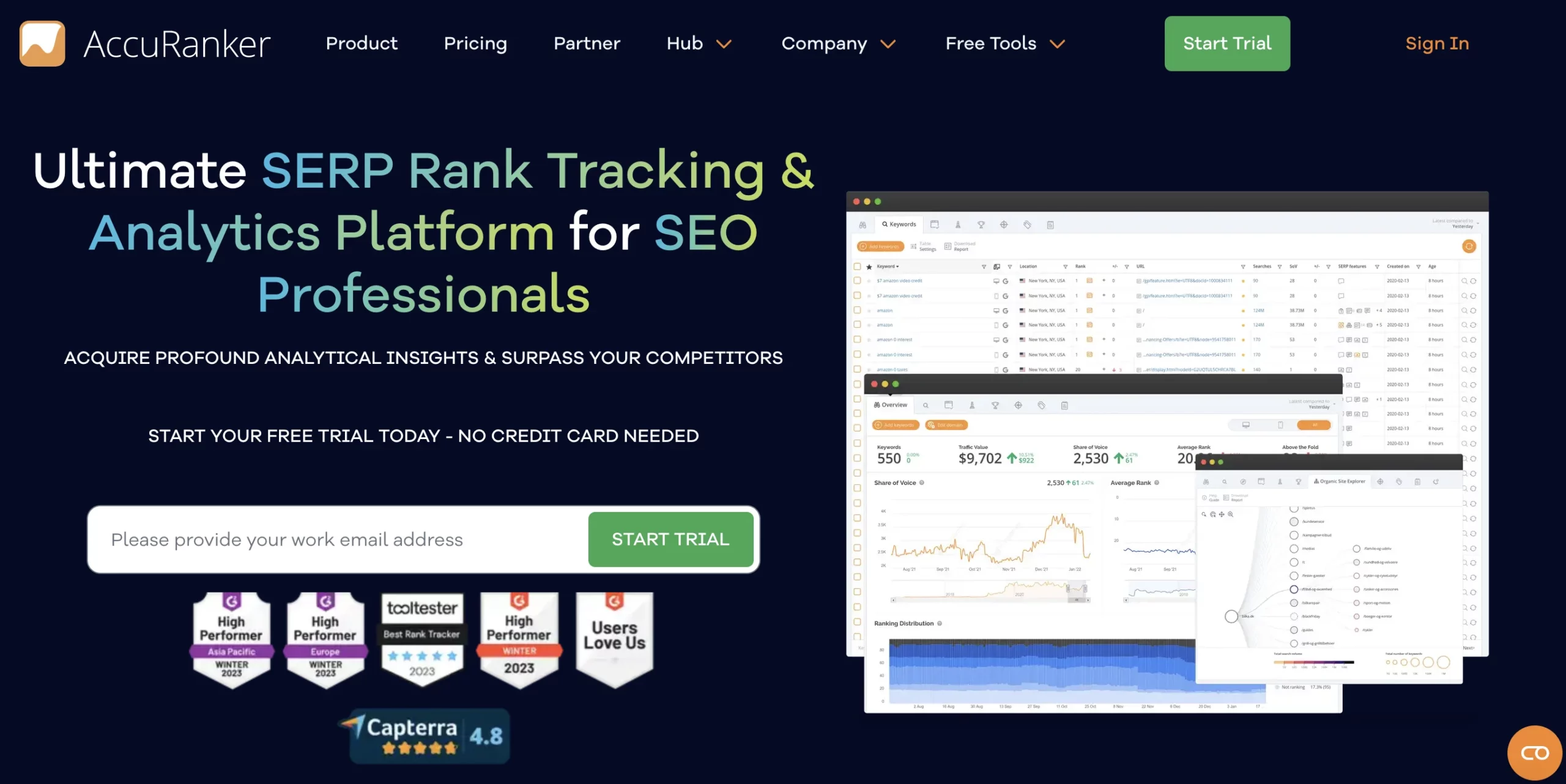 Tracking the SEO efforts of your competitors is decisive for business success. The platform provides a profound audit of rival ranking info through segmenting and data filtering options. It allows you to gather all the insights and share them with the digital marketing team for further keyword strategy development. Only some SEO PowerSuite alternatives possess this function.
To stay ahead of the curve in the SEO world and understand what decisions to make regarding optimization, you can learn in-built SERP History. It will shed light on how different Google SERP aspects impact the site's traffic and ways to improve it. Moreover, to stay aware of current search trends, AccuRanker allows you to check previous ranking keywords.
With this platform, you can benefit from such a feature as instant on-demand updates. It means that refreshing keyword ranking is possible anytime you need, and you will always be armed with up-to-the-minute info. This adds a lot of value to the tool since most AccuRanker alternatives are missing rank track options. Some other beneficial solutions you may leverage here are domain tracing, data segmentation, unlimited seats, API, and report automation.
Pricing
Frankly speaking, the pricing for available packages is somewhat expensive, with a starting cost of $129/month. Still, you are able to experience a 14-day trial for free and receive money back in two weeks, which proves the platform's trustworthiness and confidence in quality.
Verdict
AccuRanker alternative to SEO PowerSuite is the most suitable for those concentrating on keyword opportunities. Thanks to this instrument, tracking keywords and relevant tactics usage are hassle-free practices for qualified marketers and SEO newbies.
Are you searching for an automated solution among SEO PowerSuite competitors to discover the most profitable niche keywords? Long Tail Pro is just the job, especially for those who run micro-blogs. It will find relevant and traffic-driving keywords, thus enhancing online visibility and earning conversions.
Features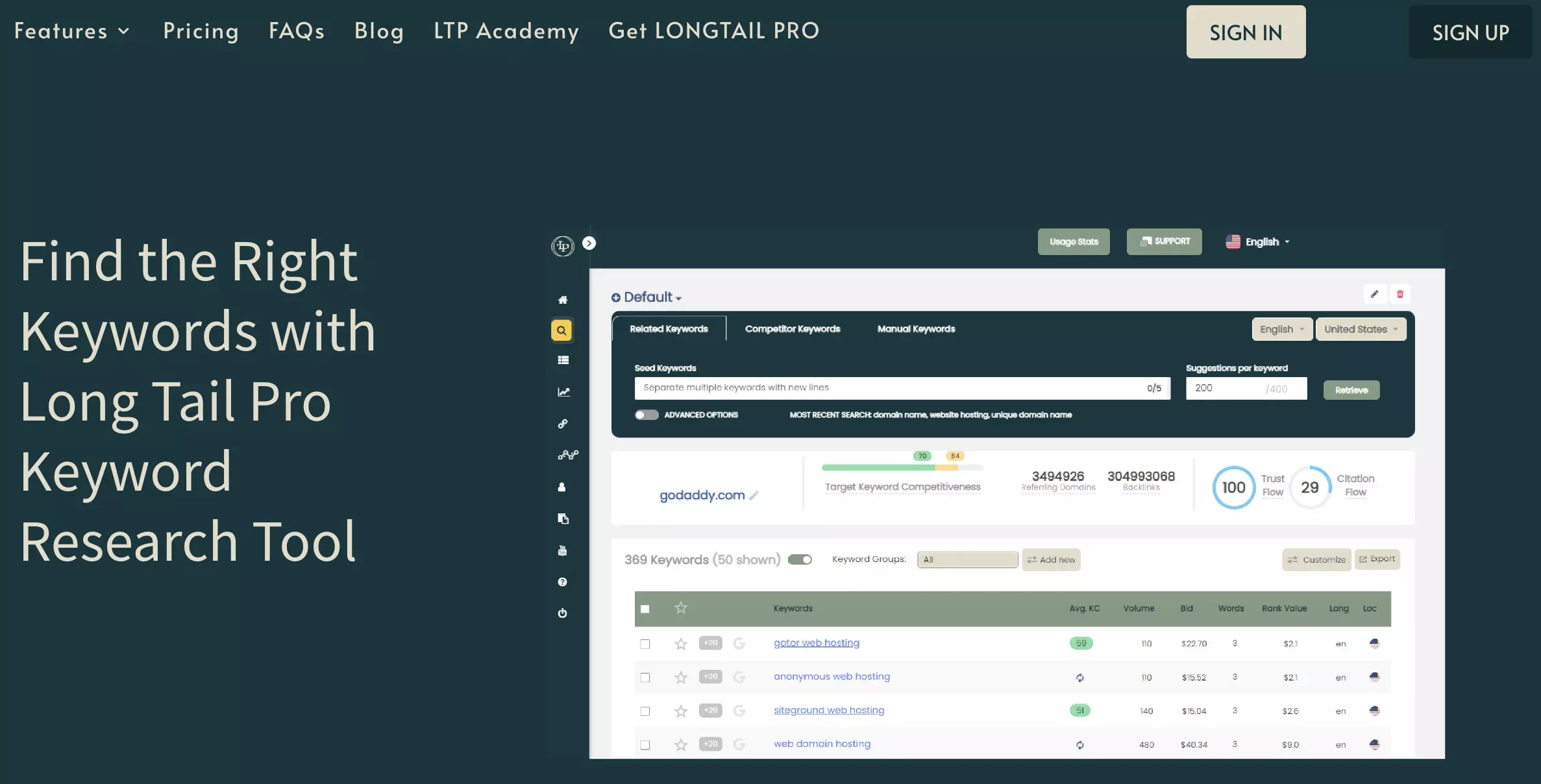 In addition to impeccable keyword research, this tool boasts plenty of other SEO-meaningful features. So you may enjoy such functions that only a few Long Tail Pro alternatives contain:
Create concurrent projects. Users can simultaneously craft several campaigns for different sites and keep everything organized.
Generate powerful keywords/phrases resulting from the seed keyword.
Detect long-tail high-CPC keywording to raise AdSense revenue.
Explore keyword-rich available domain names.
Check keyword rank across Google, Yahoo, and Bing.
Compare your keywording performance against competitors.
Track backlinks to maintain link equity.
Pricing
The platform comes with three plans to cater to different business needs and budgets: Starter, Pro, and Agency, priced at $59.99, $89.99, and $299.99, accordingly. Each package offers a specific set of keyword-related features tailored to small teams, mid-sized businesses, and large enterprises. To decide if Long Tail Pro is worth integrating as an SEO PowerSuite competitor, you can sign-up for the trial and test drive the tool for 10 days.
Verdict
Long Tail Pro is an excellent instrument for users who aren't SEO masters but want to extend keyword opportunities. Its easy-to-use interface, accurate ranking data, and competitor analysis will save time and help you scale even the tiniest blog. Due to its solid keyword research capabilities, organic site traffic and immense online sales are a sure thing.
Committing to this digital marketing toolkit would be a good decision for B2B companies and agencies. With its 23 advanced SEO tools, WebCEO deservedly houses one of the best SEO PowerSuite alternatives. This web-based suite will identify the most potent niche keywords, optimize internal links, and conduct a thorough ranking analysis and competitor metrics audit.
Features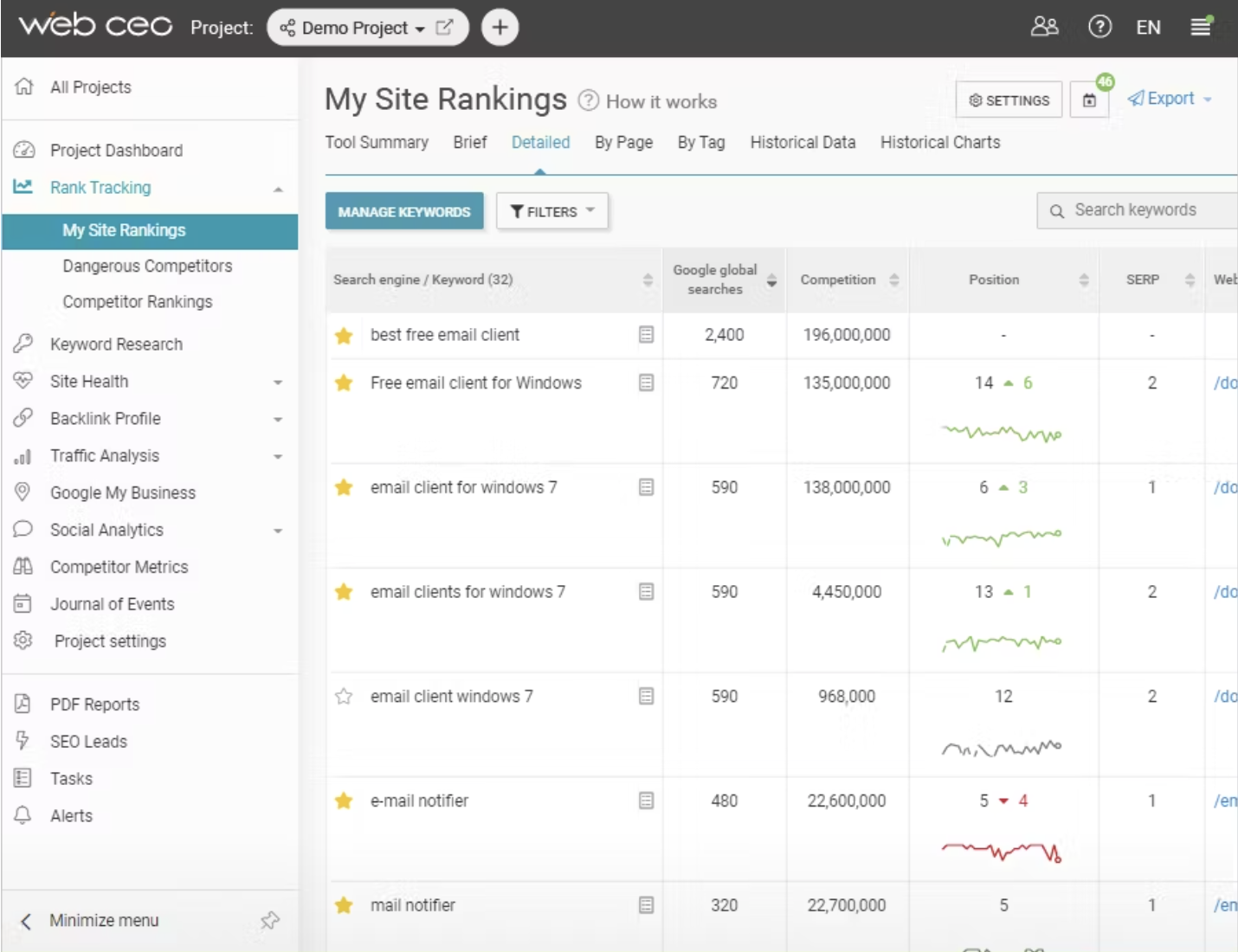 The platform facilitates link-building endeavors, scanning poor and toxic links directed to your site. Management processes also go smoothly and without hassle, enabling running multiple projects concurrently and tons of clients' sites. The same refers to scheduling and completing SEO tasks in batches.
Still, this is not the limit in view of alternatives to SEO PowerSuite. WebCEO presents a one-of-a-kind feature that will expand the customer base and take the business to a global level – multilingualism. That way, instead of using the 7 languages by SEO PowerSuite, companies can benefit from 24 languages to target new audiences and win the foreign market. While utilizing collaboration functionality, which is also the platform's highlight, marketers can trace the progress of any project and craft customizable SEO reports. A sitemap generator, social media analysis, content assistance, and submission cater to staying ahead of competitors and developing industry expertise.
Pricing
Based on its SEO capabilities and company needs, WebCEO appears within the Solo plan of $37 monthly (charged quarterly) and professional-level packages. These packages include Startup, Agency Unlimited, and Corporate with fixed corresponding monthly prices of $99, $99, and $299. A 14-day free trial is also available.
Verdict
When longing to optimize the site for your personal freelance goals or to supply vast digital agency needs, WebCEO is the ideal destination. Its toolkit, not inherent to other WebCEO alternatives, will aid in full local and global online promotion and swift and easy SEO performance management.
Searchmetrics is a search marketing suite with a sophisticated SEO toolkit to grow enterprise clients and small companies' businesses. Apart from being a search-visibility, rank-checking, and SEO auditing tool, it uncovers the content dimension of SEO capabilities. It turns out to be the best SEO PowerSuite alternative by encompassing both organic and paid searches and PPC. Plus, the incorporated unique visibility index helps search marketers keep abreast of site evolution and metrics performance.
Features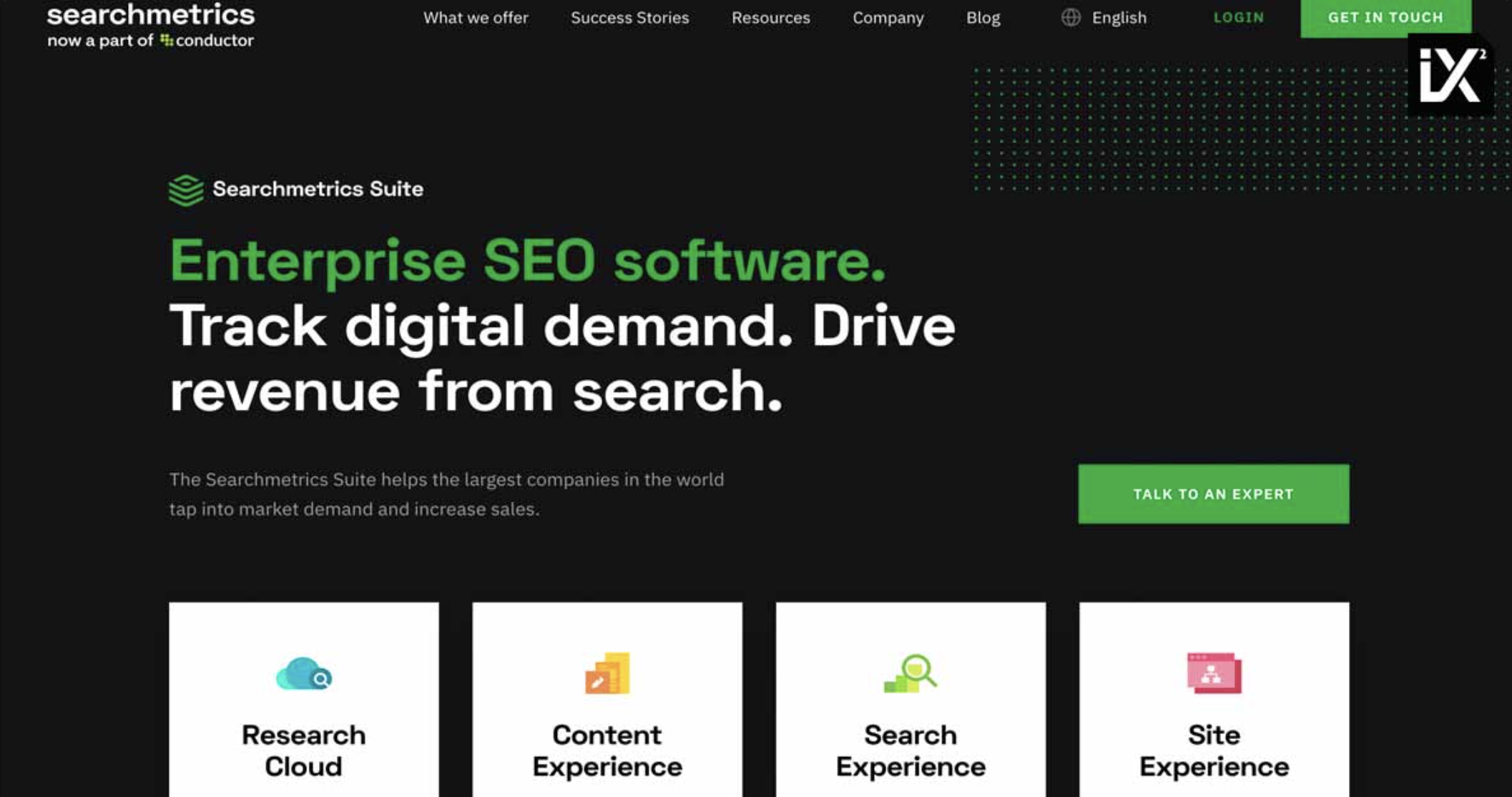 Speaking about perks, Searchmetrics provides a much broader scope of SEO solutions than other platforms, which makes it a leader in the industry. You can crawl your site, analyze backlinks, track keywords, and audit content. These tools work together to give you actionable recommendations to level up the site. Moreover, with Research Cloud, you can do competitor lookups and comparative views as well as estimate traffic volume and the number of ranking keywords per site. Meanwhile, other Searchmetrics alternatives don't boast such a highlight.
Pricing
Searchmetrics sells as a suit with a full range of features, including Research Cloud, Search Experience, Content Experience, and Site Experience. The pricing policy is primarily variable based on the credit system. You can get standalone access to the Research Cloud suite solely in Europe, but not the US, which isn't intrinsic to other SEO PowerSuite competitors. The entry-level price for the one-country version costs 89 euros, and for the multi country package – 159 euros. Unbundled plans are not available across the US, so you should purchase the entire toolbox.
Verdict
Despite the prohibitive pricing for small businesses, Searchmetrics' massive arsenal of tools is entirely worth it. It is definitely a one-stop shop for robust and efficient site optimization and content-driven SEO. The same refers to search engine visibility and international coverage that might bring the company to the global online arena.
Do you want to reasonably spy on your competitors and outrank them with flawless site optimization? iSpionage is the most suitable SEO PowerSuite alternative in terms of SEO advancement. This app carries on niche rivals' analytics and detects what types of landing pages, ad content, and search keywords highly engage customers, so users can enact fruitful marketing strategies to outperform competitive sites.
Features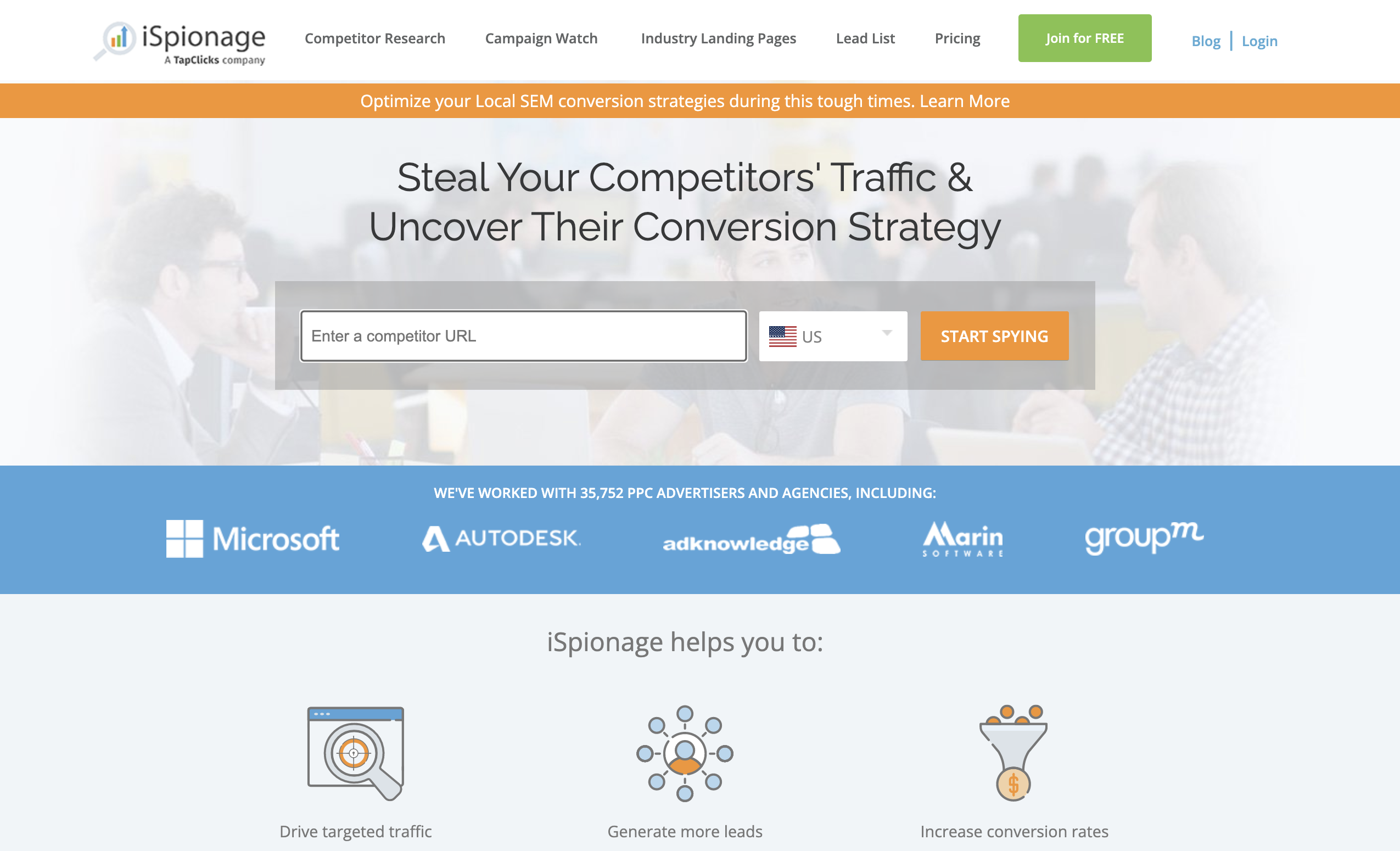 iSpionage introduces a vast intelligence base that promotes gaining valuable data for data-driven content creation and keyword usage enhancement. The platform also contains budgeting options to minimize spending in particular SEO campaigns and online marketing areas. Information Overview is another useful benefit. The system eliminates the need to sift through tons of data due to robust automation. On the contrary, marketers reach the most significant data within the easy-to-comprehend dashboard, which is missing on other iSpionage alternatives. With Insight Derivation, you can study competitors' ad campaigns to design maneuvers for better digital marketing.
Pricing
With affordability in mind, iSpionage suggests three pricing models: Starter, Professional, and Advanced, with a cost of $59, $99, and $299 respectively. This flexible price hierarchy makes the platform more accessible than other SEO PowerSuite competitors. Users can also try out the tool for free before subscribing.
Verdict
When one wishes to outperform rivals swiftly and with high quality, iSpionage is an excellent decision. By leveraging the power of PPC research, you will definitely craft the best-optimized ad copies. As a result, the cost per click will decrease and the sale rate will skyrocket.
Initially, Ahrefs was a potent backlink authority checker, but now it is much more. It is an intelligent web crawler with a full-featured sophisticated toolkit to grow the site. Corporate players and digital marketing pros adore the platform for its boundless opportunities to progress in the ever-changing SEO world.
Features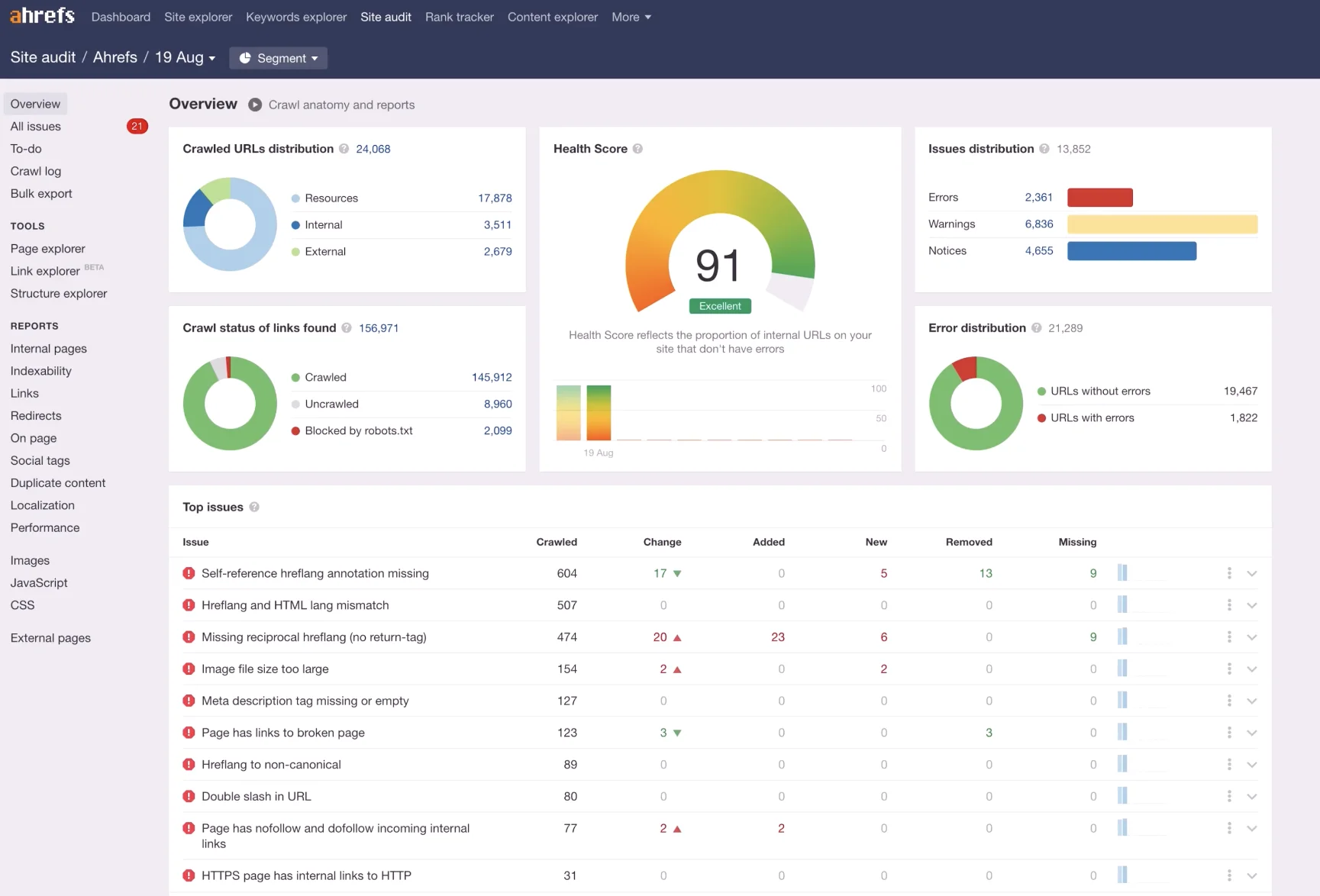 In fact, by opting for Ahrefs, you don't need any other SEO PowerSuite alternatives, as it has everything you'd expect, from keyword and content marketing research to site auditing. Adjust your site to the target audience and gain conversions with handy options like:
Content Explorer – reveals intensely shared content for a particular topic across social networks.
Rank Tracker – monitors desktop and mobile rankings based on location, compiling complex reports.
Site Explorer – audits your site backlink profile, suggesting the most beneficial keywords for organic/paid searches.
Immediate Notifications – alerts users on new or lost backlinks and web mentions that need to be reclaimed.
Pricing
The scope of features gradually translates to pricing plans Lite, Standard, Advanced, and Enterprise, charged $99, $179, $399, and $999 monthly, respectively. Though the price isn't affordable to everyone, like other Ahrefs alternatives, those who decide to integrate the app into their workflow won't regret it. To make sure that the platform is for you, it is possible to purchase a 7-day trial for $7.
Verdict
Ahrefs is the best SEO PowerSuite competitor for a reason. Each SEO and content marketing requirement is met due to a well-thought-out interface and impeccable web crawling capabilities. Every dollar spent is worth that quality. Instead of choosing a few cheaper choices, you can attain this all-in-one powerful instrument and get an instant impressive outcome.
One more top SEO PowerSuite alternative from the high in-SERP ranking perspective is Conductor. This tool gives users a leg up on their competitors via comprehensive and accurate reports with traffic-capturing actionable suggestions.
Features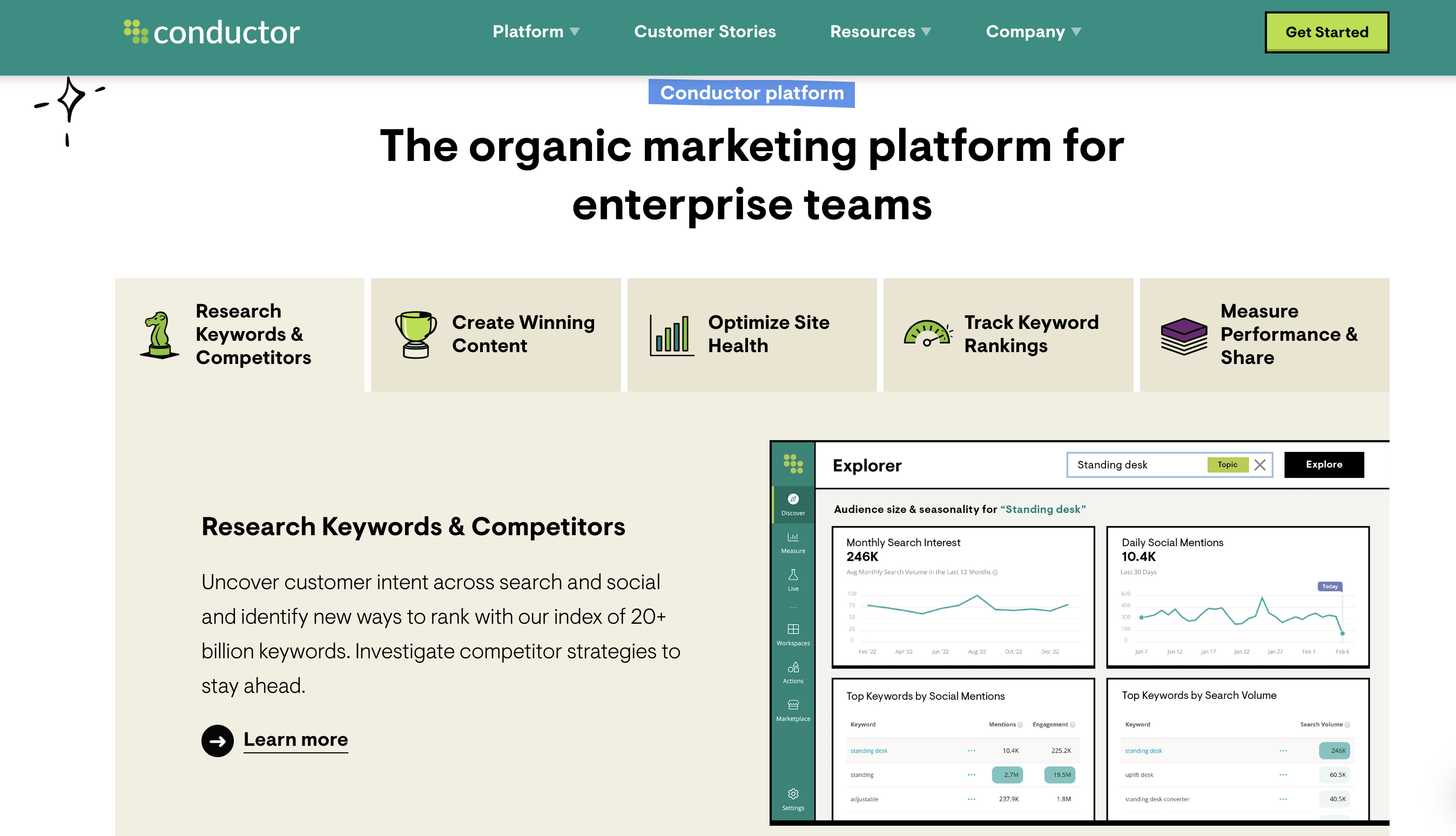 You can improve your web page visibility via functionalities like a sizable database and exceptional keyword info. Thus, targeting the relevant audience with keywords and phrases that resonate with them will be easy as pie. With rank displays for Google snippets like image results, local packs, carousels, and easy-to-automate reports, you will get the most out of the content generation practices.
In addition, there is the possibility to follow up on tactics used by rivals, and boost your site's SEO with those insights. Not to worry if you are a marketing novice. Top-quality customer service and a dedicated integration team will immerse you in all the web crawling nuances..
Pricing
The good news is that the platform doesn't require a subscription like most Conductor alternatives; it is an entirely free plan. So if you don't know which practical SEO PowerSuite competitor to start with, this one will work without harming the budget.
Verdict
Whether you are developing a personal brand or earning a name for a large enterprise, Conductor will satisfy your digital marketing endeavor. With its intelligent toolbox, users will effortlessly identify customer intents and generate value-driven content, attracting immense organic traffic and gaining high ROI.
Offering an intelligent five-point SEO toolkit and simple-to-navigate interface, Mangools is the best SEO PowerSuite alternative. Those who prefer a straightforward approach to SEO performance will find this platform highly accessible. Plus, it is an optimal option when you are focusing on marketing growth or starting to scale your business.
Features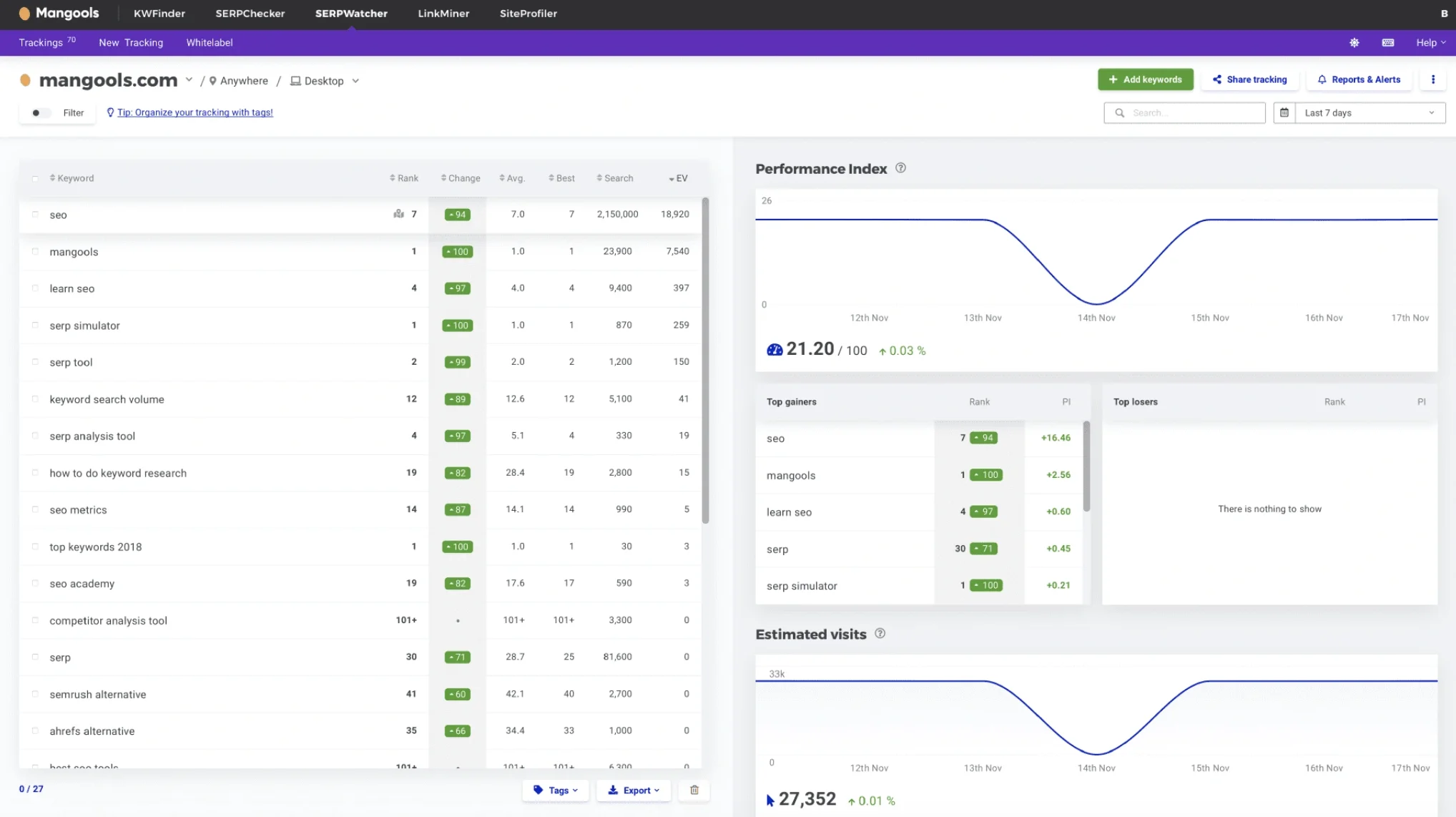 Mangools is a unique platform that features exploring SEO keywords with high search volume and low difficulty. With the SERP Checker, users may check for any location and compare ranking success in the needed areas. So you can keep up with up-to-minute fluctuations and take appropriate measures.
Like a few Mangools alternatives, there are incredible backlink opportunities to streamline the business . Finding the best-fitting backlinks and seeing previews without opening another tab is trouble-free via Link Miner. Furthermore, marketers can verify the authority of any site and access their backlink profiles on traffic generation. By utilizing KWFinder, empower your content with juicy, niche-relevant keywords.
Pricing
This SEO PowerSuite alternative is aware of different businesses' needs and budgets, and presents three pricing tiers: Basic, Premium, and Agency, with corresponding costs of $29, $44, and $89 per month. By selecting the annual subscription, users can rejoice and save up to 35%. If you are unsure if the toolbox can handle your requirements , a 10-day free trial is available.
Verdict
No doubt, Mangools tops the list of SEO PowerSuite alternatives for beginners. Its user-oriented simple interface is tailored to dive as smoothly as possible into the SEO agenda. A low-cost pricing policy and powerful toolset will assist small business owners even with a minimum budget and expertise to get the edge over their competitors .
Conclusion
The market is full of cloud-based platforms to enhance your online presence and win the top rankings. However, to capture the most high-performing SEO PowerSuite alternative, you should rely on your business goals, SEO needs, and budget frame. It's unusual to succeed the first time, and you'll likely undergo some trials and errors in acquiring the top SEO PowerSuite competitor. Whether you are searching for easy-to-use, affordable options or yearn to gain a set of sophisticated features, our digest of the best SEO PowerSuite alternatives will help you find your perfect solution.
Keep in mind that an efficient toolkit differs from site to site, so try not to treat fellow businesses' feedback as a critical metric. Evaluate each platform according to your specific needs and how it influences the overall SEO performance. Still, SE Ranking, WebCEO, Ahrefs, and Mangools are the alternatives to SEO PowerSuite that always guarantee site streamlining in terms of traffic, rankings, and sales. Due to their unique scope of tools, customer-oriented approach, and flexible pricing, every digital product, from a tiny blog to a vast enterprise, will progress in the online landscape.