General overview
The modular structure is not new to popular SEO toolkits. Almost all vendors in this market divide their applications into separate blocks, which makes them more convenient and simplifies the learning process for beginners. However, a review of SISTRIX makes it clear that some developers have a completely different understanding of this concept.
The service is not just divided into modules — each of them requires a separate subscription with a substantial tariff. On the one hand, this gives you the opportunity to budget only the priority areas of your business development. On the other hand, most competitors offer all-in-one platforms, where you do not have to pay extra for unlocking certain functions. This is an unusual solution, but, judging by the reviews, it is worthy of consideration.
In the SISTRIX review 2023, we will try to answer the question of how effective this approach is. Can this service offer such a high quality of service that users would be interested in paying a lot of money and receiving a limited set of tools in return?
Pros
Track digital market movements
Routine visibility updates
Actionable analysis and indicators
Customizable dashboard
Tools for social media management
Accurate visibility graph
Google Ads assistance
Cons
UI could be more friendly
Can be difficult to maneuver the toolbar
Some of the controls can get a little fiddly
Instagram collaboration still pending
Pricing is module-based and is comparatively high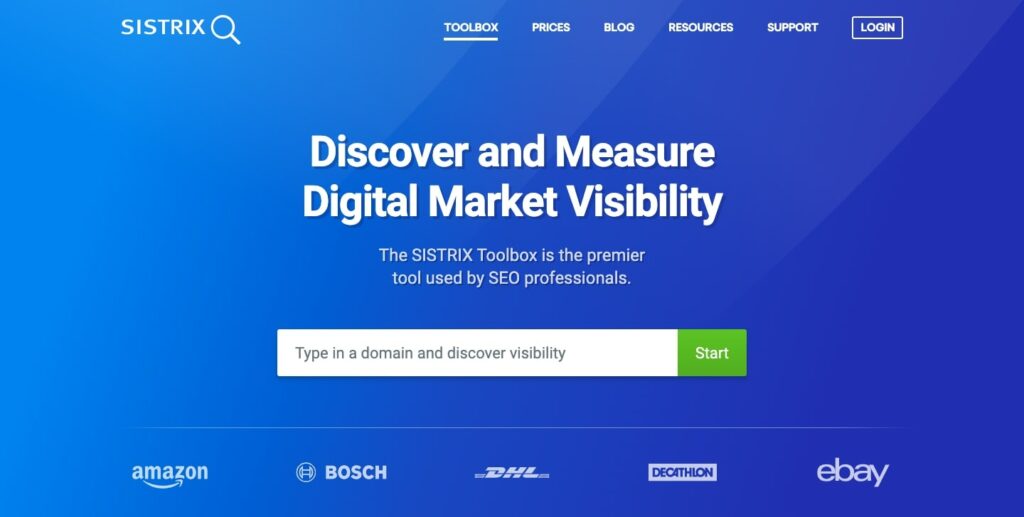 SISTRIX hit the market back in 2003 when it was just a visibility index tool, most popularly known as the SISTRIX visibility index. This tool was created by SEO consultant, Johannes Beus, whose motivation to create the visibility index tool was to make it easy for himself and his clientele to have a better understanding of keyword rankings. The visibility index helped with a visual representation of the most to least popular keywords on Google's SERP. With the visibility index, the rest of the tool suite followed and finally it led to SISTRIX as we see it now–an SEO tool that has a broad and accurate insight into websites and what works best.
SISTRIX Toolbox is a concoction of many worthy SEO modules that can make a worthwhile contribution to your website. Its main focus is SEO, of course, which makes it easy for you to optimize organic search results in Google. Then, there's a universal module that helps you analyze universal search integrations. The 'links module' reveals all the information that you need about backlinks. This also gives you a proper insight into rival websites while providing you with the gains and possible risk notifications on a regular basis.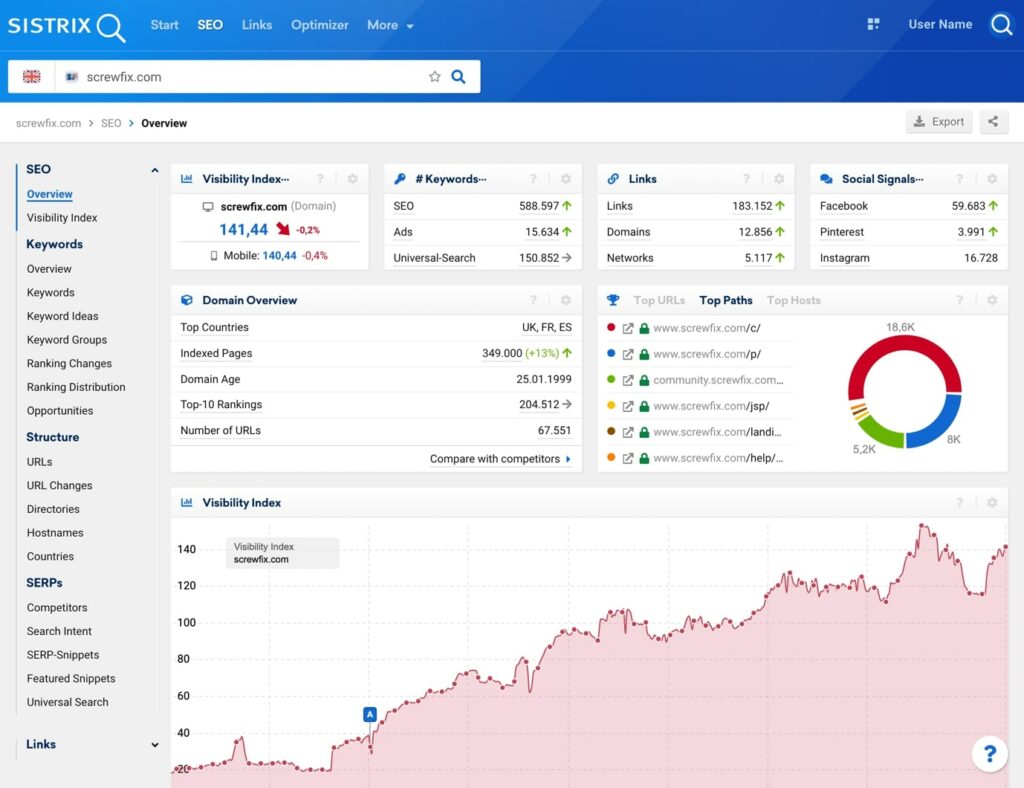 The Ads module can help you analyze and optimize banner campaigns and other advertisements for any website. The social module is all about social signals. SISTRIX provides integration with Facebook, Twitter, LinkedIn, Pinterest. The integration with Instagram is still a no-go. Finally, it is worth mentioning the optimizer module in the SISTRIX review, which allows you to analyze the website for better results and also assists you with the creation of unique keyword sets.
Coming to the ease of use, SISTRIX is a little complicated for beginners. It might take a while to come around the functioning of each module. This is a little disappointing if we compare the user interface with that of SE Ranking. SE Ranking still holds the top spot when it comes to price, ease of use, and database strength.
Pricing & Plans
SISTRIX offers five different price packages each catering to specific SEO needs and the amount of data that you are looking at. There is a 14-day trial period after which you are supposed to select your package.
SISTRIX offers a module-based pricing system. Whatever module you are interested in, you can pay for that only. You can opt for single or multiple modules as per your convenience. Each module is priced at $110 plus VAT which goes up to 19%. SEO, Links, Optimizer, Ads, Social are five highlighted modules, each catering to a different set of interests and priorities. Pricing is another facet where SE Ranking still rules it all.
In SISTRIX reviews, you cannot ignore the Marketplace module that's available for free. This tool is powered by Amazon and can be used to optimize e-commerce and marketing based on insights from Amazon only. This caters to a specific audience and is available in Beta mode as of now–hence, it's free of cost. This tool shows data on merchants and on all kinds of products they sell. You can check your product detail page and compare it with the competition. It also offers optimization help and notifies you whenever a new review is added to your product page.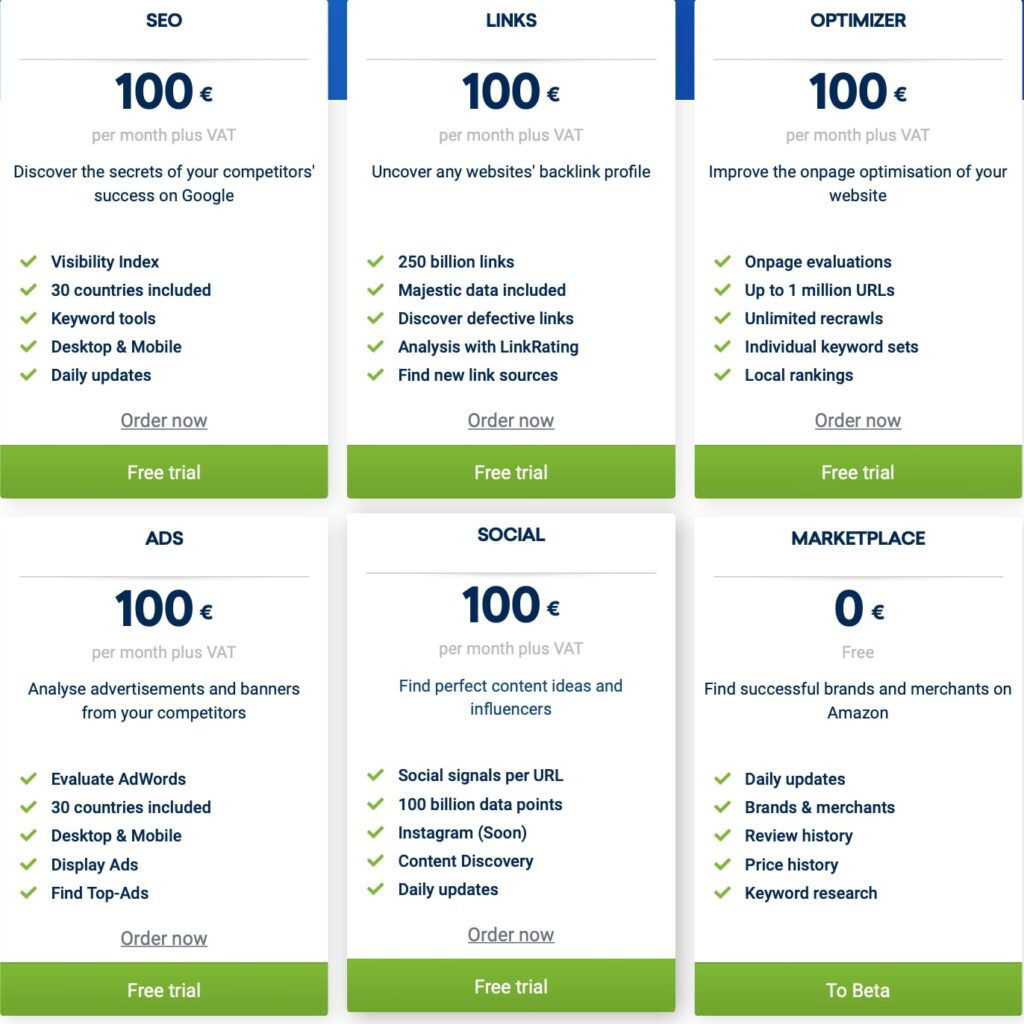 Moreover, each module subscription gives you access to white-label reports. You can add content to the automated reports and personalize them according to your brand by adding your logo or layout. On top of that, each module has API access. You can automate data export as well as integrate any of your external tools at no additional cost. This works with Excel and Google.
Each SISTRIX module gives access to six users at a time, with each user having access to the full history of your domain and there are no restrictions on that. With 'unlimited domain analysis', you can process as many domains as you like. There is no per day domain restriction. Finally, each module allows you to have unrestricted functionality, meaning you will have access to all the data within the module.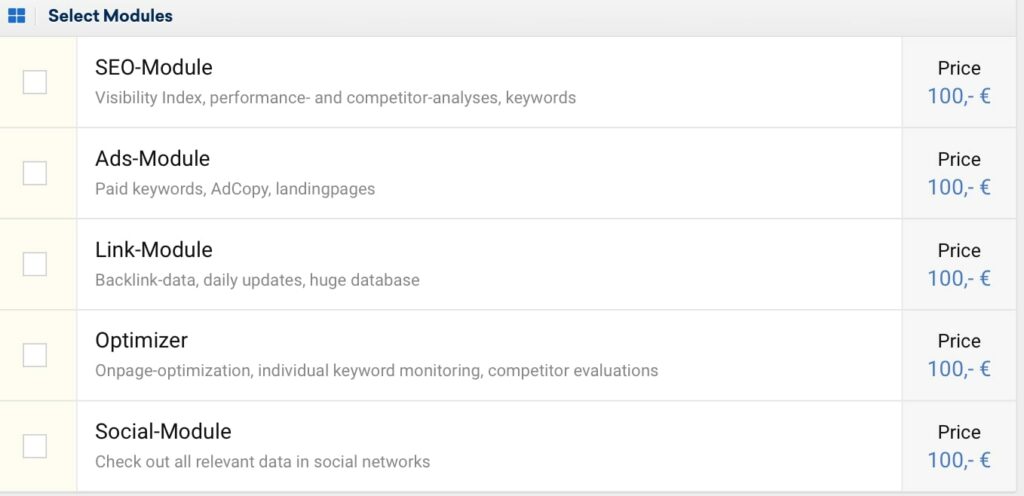 Pricing is flexible with SISTRIX for enterprise customers. They can get a customized package and the prices vary as well. The platform promises a discount after the addition of a third module to your package. So, it goes like this–for the first module inclusion you pay $110 plus VAT. For two modules you will pay $220 per month plus VAT. For three, you will have to hatch out $301 plus VAT, a saving of $27. Then, again for four modules, the cost goes up to $383 plus VAT, hence a discount of $54. When creating the SISTRIX review 2023, the most profitable was the 5-module package, for which you will have to pay $438 per month plus VAT, thereby saving $110 on the bill.
Rank Tracker
Keyword rank tracking is the holy grail of any SEO tool. The more accurate the rank tracker, the better is the customer base. This is the tool most marketers rely on because they understand that change is always real-time and content that is not updated has no takers. Hence the keyword rank tracker. This feature, which we will focus on while we review SISTRIX, lets you add your website and track the keywords in real-time. That means you will be able to monitor any changes that happen and decide on the possible course of action. You can always check the current keyword list that your domain is ranking for and also get an overview of what can make this better.
With SISTRIX, keyword tracking is easy. You can find this in the SEO module of the platform. The keyword opportunity table in the SEO module allows you to access all the keywords for which your domain is not ranked for on Google's SERP. "Interesting rankings" will give you the exact estimate of where your website stands and what its rankings are. This can be optimized well within the platform. The ranking also displays a list of content that might benefit from a quick update to sore in the ranking tables.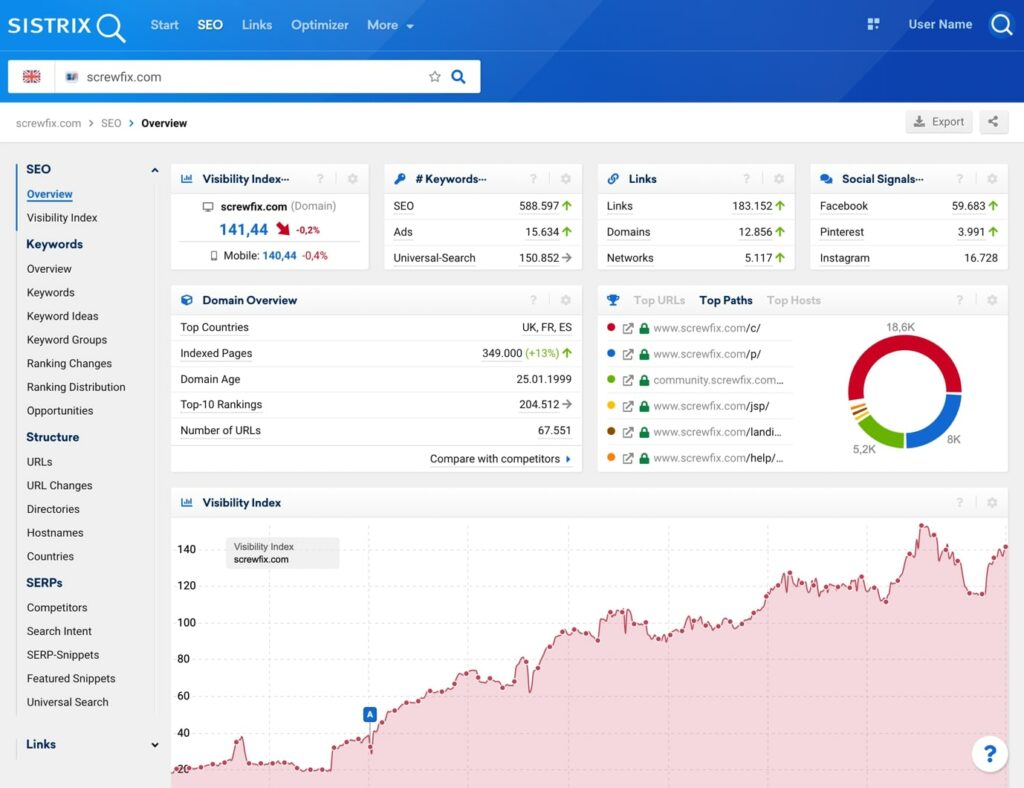 The data offered by SISTRIX is trustworthy as it is carefully validated and has proven to be useful in realtime applications. The data is available within comprehensive and easy to understand tables, and is driven by the SISTRIX time machine, which stores and has been cultivating data since 2010, meaning that it is vast. The platform will study your domain and provide you with the keywords that you are ranked for. You can also check "ranking changes" to keep track of the fluctuations.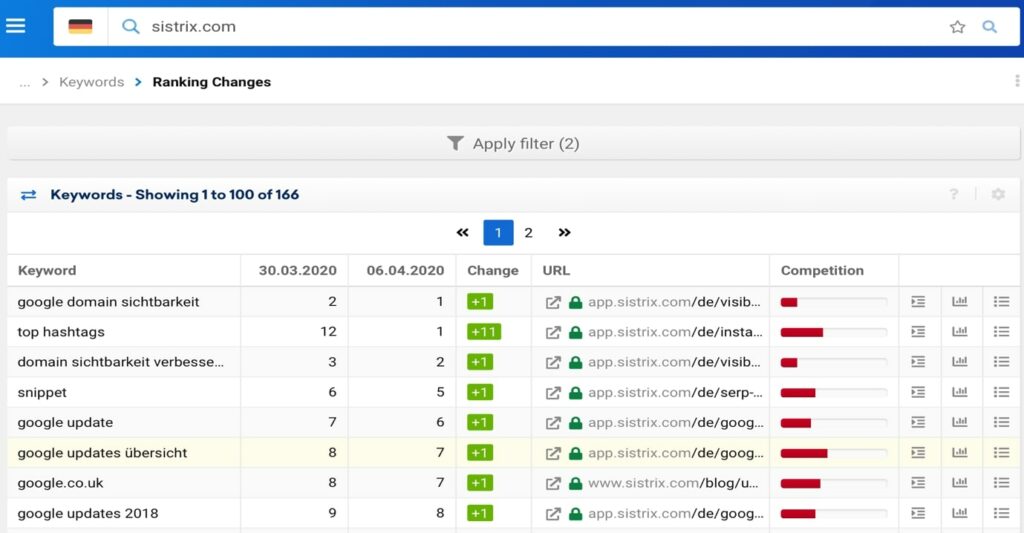 Each report provided will show the ranking position improvements, if there are any. In SISTRIX reviews, a lot of attention is paid to indication of whether or not your visibility has increased or decreased. If so, how did that happen? It is all an all-in-one insight tool that will help you optimize the page while allowing you to track down the history of any SERP keyword since 2010. You can scan a competitor's website as well to see where they stand in the rankings table.
The improvement and optimization of your site's visibility are what the SISTRIX visibility index is all about. The visibility index is a representation in the form of a graph to show the top hundred keywords that are currently in use. The results are extracted from Google's SERP. This can be done for a particular country or region, for whatever market is being targeted. The top 100 keywords are chosen from a huge list of 1 million keywords that are frequently used. This list is updated once every two weeks. There is a separate update for PC/MAC users and another for mobile users.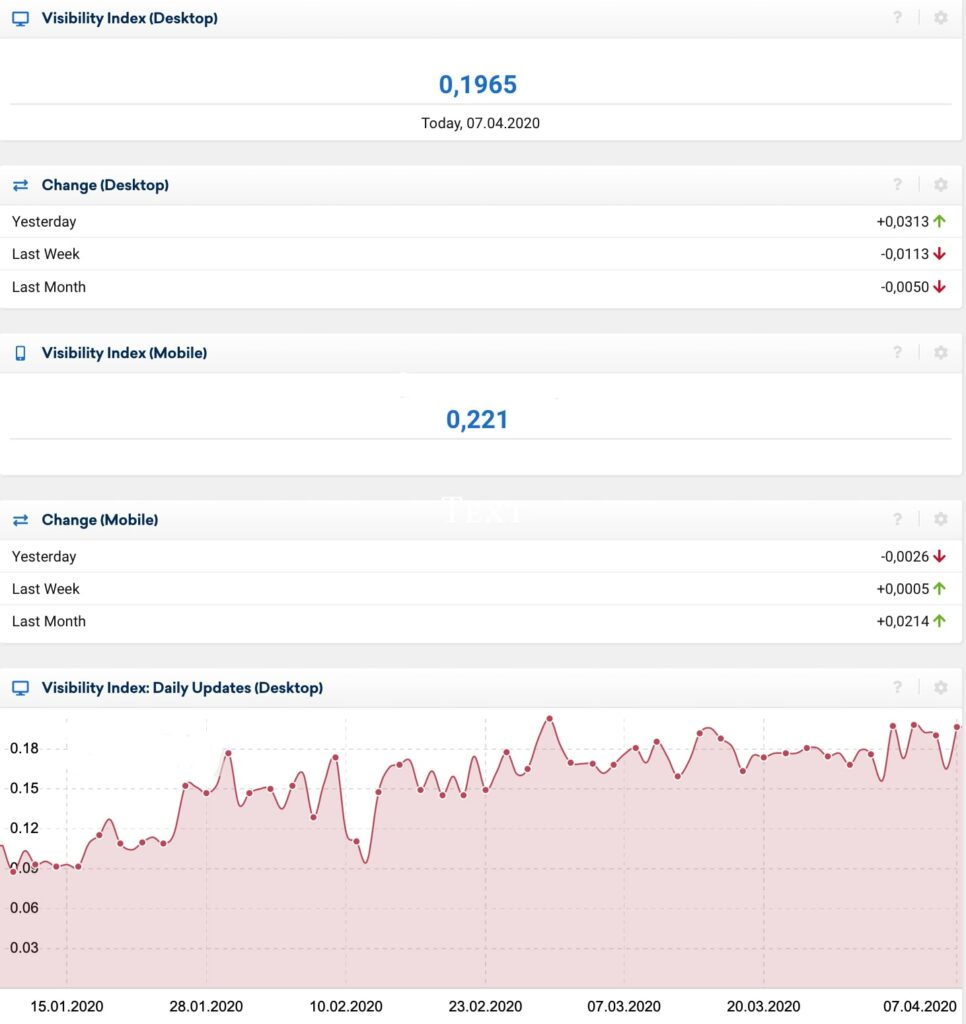 So, you will be able to track your website's rankings based on keywords and also optimize the content based on the suggestions made by the visibility index. The entire platform is available on mobile as well as on desktops and this is as easy as it gets. These important insights will help you stay updated and also keep an eye on what your competitors are doing. SISTRIX is your flashlight in the dark place called the Internet.
Site Audit
You can have the best content in the world with the best presentation of it, but if your website has a snag, it is all worthless. Your potential client may give it up if the website is not responding the way it should. This is possible for a whole number of reasons. The images are huge, the speed is slow, the links are broken, some pages have a 404. All of this can end up with bad user experience and your business can suffer. The website audit by SISTRIX is your savior. It might not be possible for you to optimize what you don't know about. That's why SISTRIX can help you save some time and resources while giving your website a whole new value.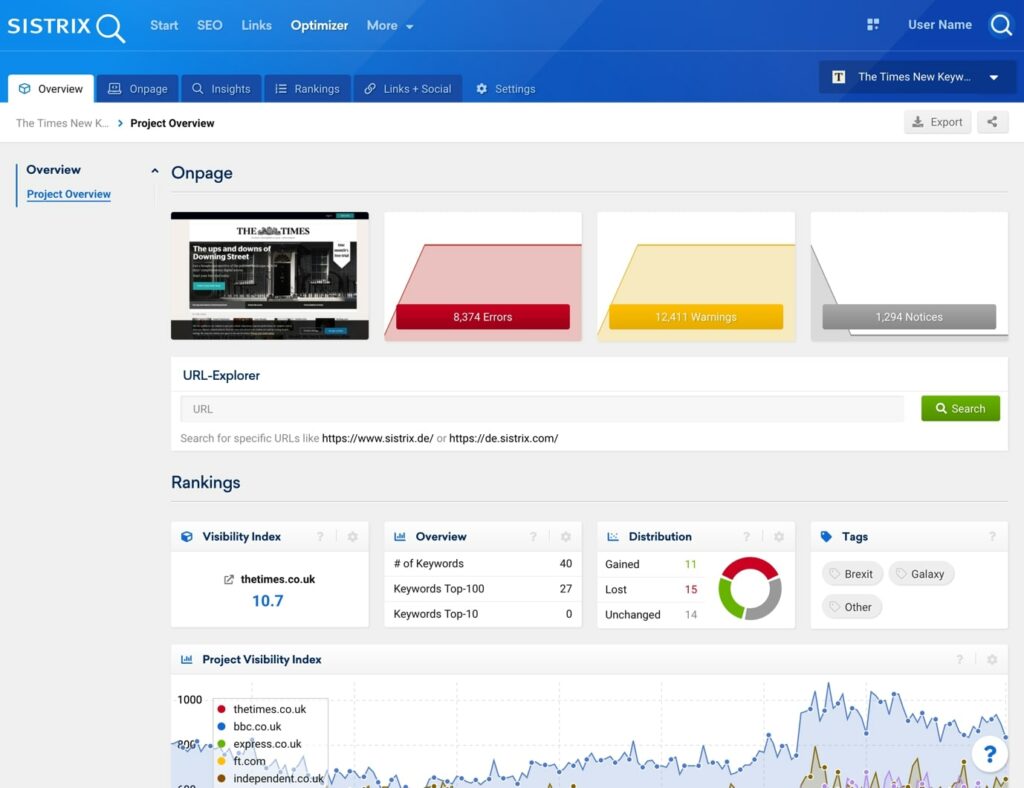 The Optimizer module of SISTRIX is exactly what it conveys in the name. It does two things: first, it analyses your entire page to see if it is thoroughly compatible with Google Search Console guidelines via a crawler. This gives you a report on the structural and technical conformity of your website. This tool will provide you with a detailed report on what is working, what is not and what can if slightly modified. The list of changes will be provided in a prioritized way, recommending what needs a fixing first and what can wait. This module will check the website for changes, showing you the updates that occurred since the last crawl.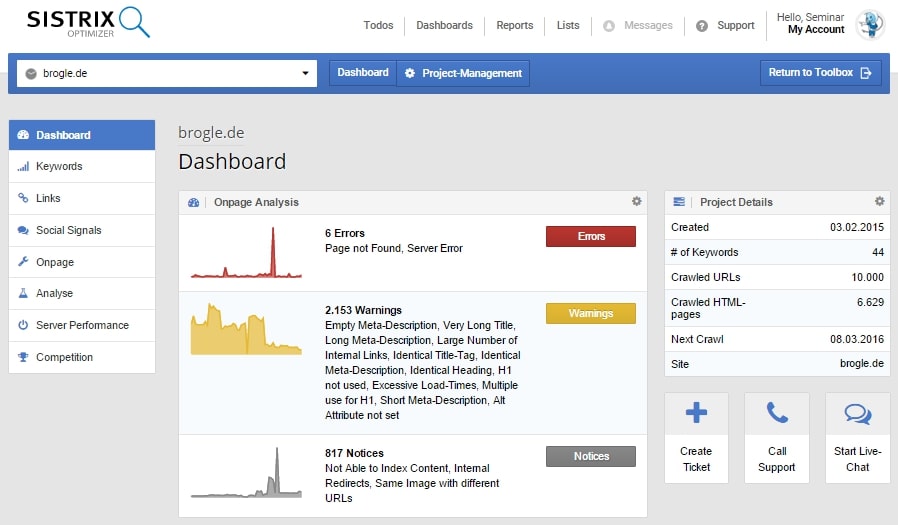 The review of SISTRIX demonstrates the excellent quality of the service. The tool will not just see what is wrong, it will also tell you the reason for every technical issue. The issues that the optimizer highlights are the ones that might hinder or confuse Google bot like the 404 pages or multiple uses of H1 on pages. This will also notify you of any change in your rank and the reason behind it. Each change that it recommends and each change that your process will be archived for future use. You can always use these archives for identifying trouble spots in the future, if any.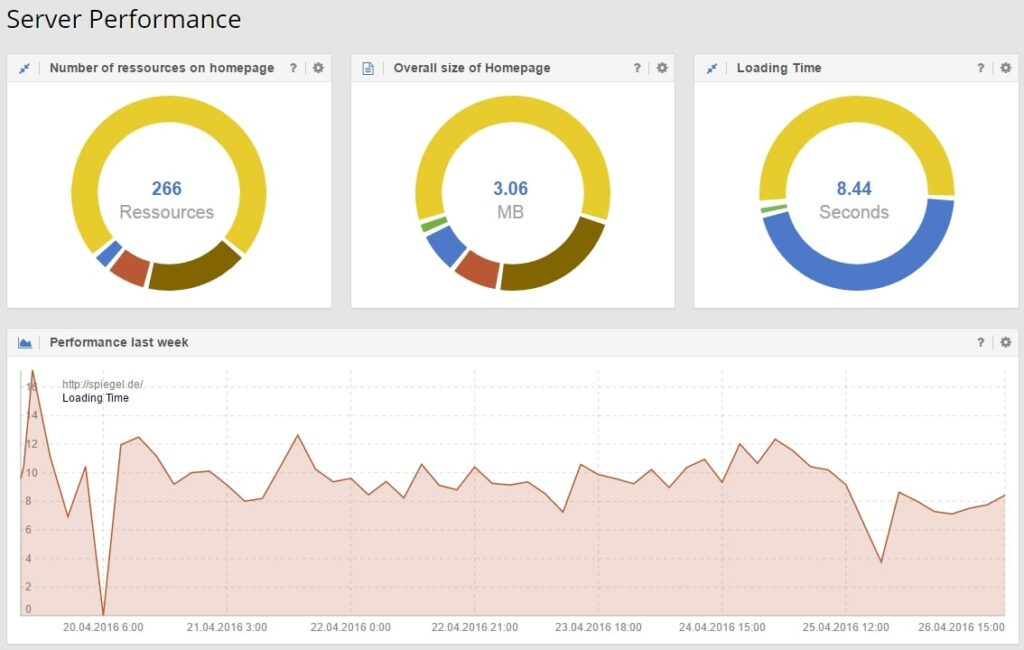 The Optimizer module facilitates you with unlimited recrawling. That means you can optimize your site as many times as you want. SISTRIX supports a crawl of a whopping 50,000 URLs within your website. You can also generate your visibility index here for your keyword database and you can monitor the same to see how they perform. A total of 1000 keywords can be monitored via the Optimizer module for up to fifty countries. These keywords can then be measured against your competitors to check on their performance.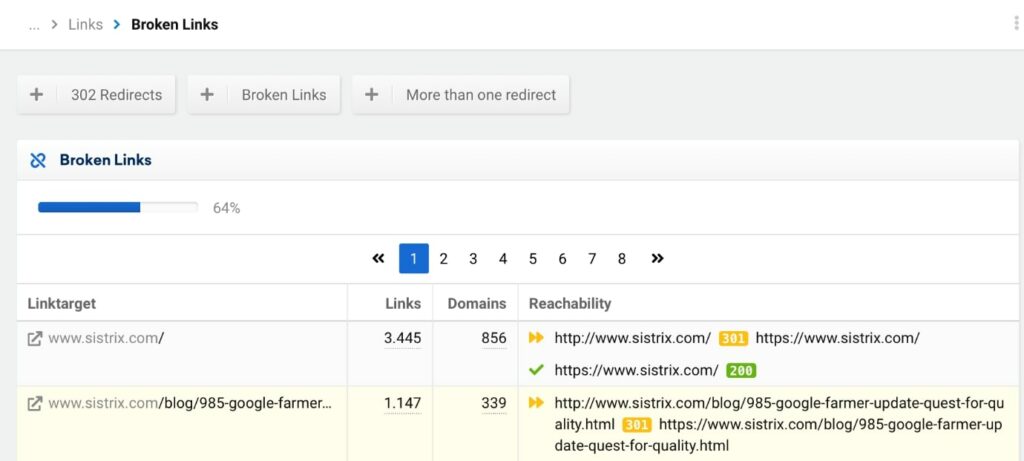 If you are international with your marketing and you need a tool to check the reflag attributes, this is the tool for you. You will always know whether or not the website is optimized for your actual intended audience. This module also includes access to the API, which is also often mentioned in SISTRIX reviews. That means you can use it with your SEO apps for seamless integration. Once again, other reviewed tools like SE Ranking and Ahrefs have a much stronger website audit module that's a part of a more comprehensive SEO package.
Competitor Research
When you are in any business, you understand that competition is inevitable. The best strategy to thrive is ensuring that you are a step ahead. But there is this thing with competitors… Their strategies are top secret. It is hard to gain insight into what is going on until it is not. SISTRIX will provide you with all the relevant information to help you stay ahead in the race.
The first step towards this is identifying who your competitors are. In many cases, the size of a competitor is too small to be taken notice of. But you never know the intensity of damage they might be causing. This tool will allow you to understand who is in direct competition with you. With SISTRIX you can do this in two ways. With domain level search and with predefined keyword sets.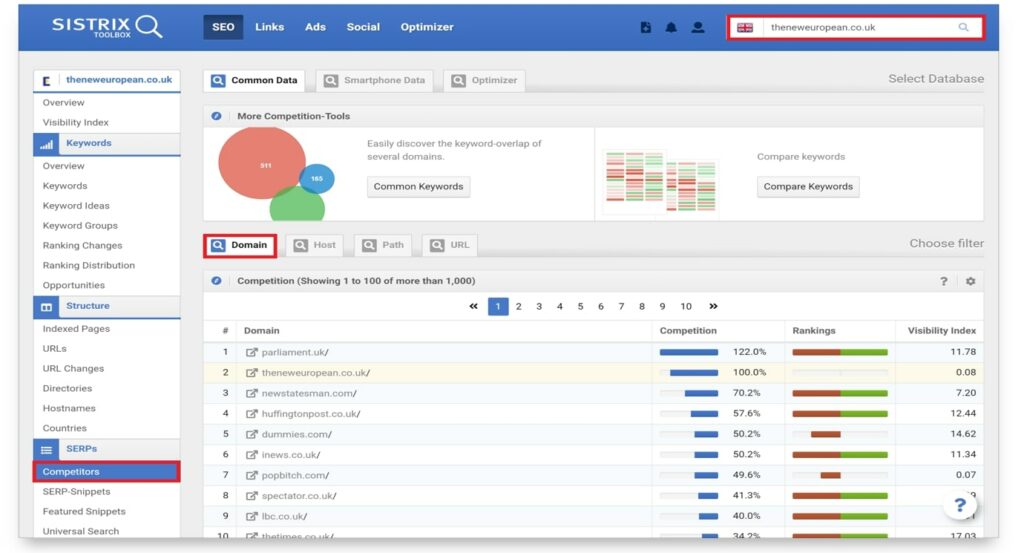 For the domain level search, all you have to do is enter your domain and start the search. Click on the competitor's option in the navigation menu on the left to get a list of your competitors and you will also be provided with a choice to analyze them. In the review about SISTRIX, we highly appreciated the convenience of this feature.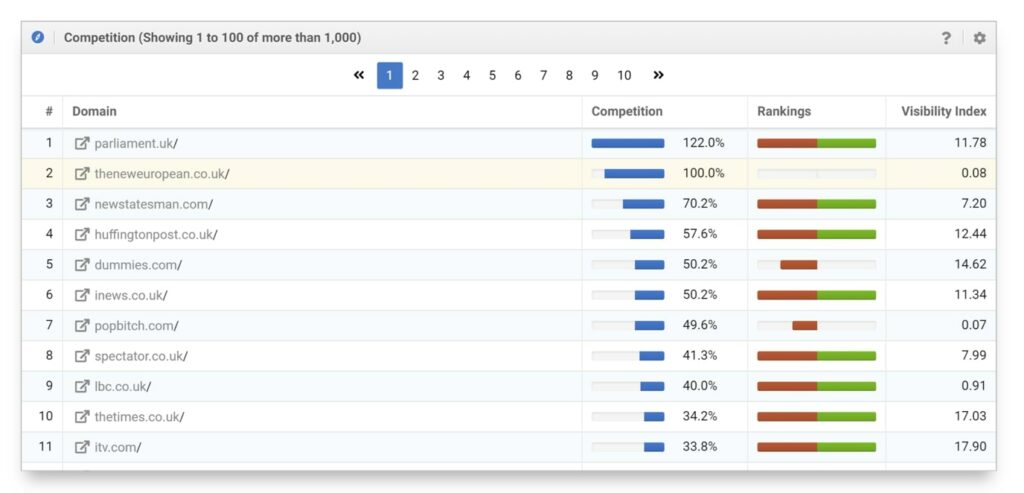 Searching with a keyword is easy too. You can use a particular keyword to highlight all the competitors active in that domain. The results will be matched with Google search results and the toolbox will also show a change in the result in terms of rankings.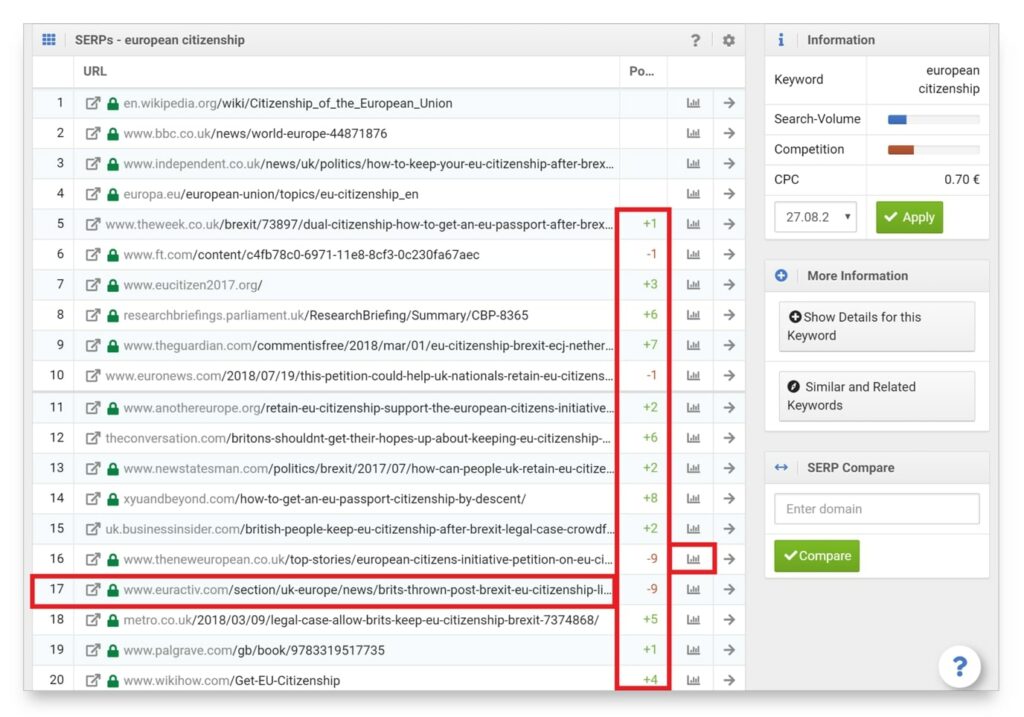 Now here is the thing that should be emphasized in the SISTRIX review 2023: You have all the data on your competitors and know who they are. You can also get an understanding of the composition of their website, their content, their traffic, both organic and paid. It is now possible to understand what is being sold best. You can start your campaign from what is being tried and tested already. This means you will save time and money on your research and adverts.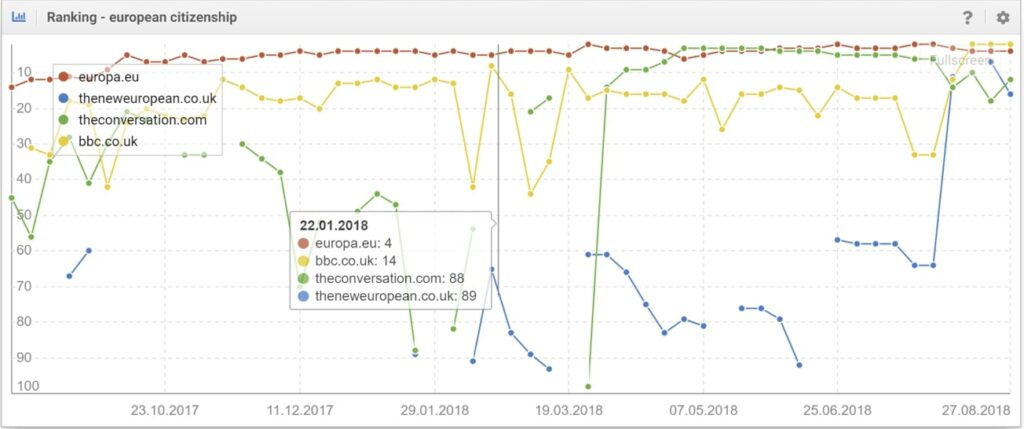 Now here is the thing: You have all the data on your competitors and know who they are. You can also get an understanding of the composition of their website, their content, their traffic, both organic and paid. It is now possible to understand what is being sold best. You can start your campaign from what is being tried and tested already. This means you will save time and money on your research and adverts.
Backlink Research
Backlinks are integral to any website's authority. They represent a reference from one website to another. Each search engine interprets backlinks as a recommendation. It is like one website recommending another. Each recommendation acts as a significant signal for search engines to evaluate the relevance of one particular website for one specific topic. The structure of backlinks is directly proportional to your website's effectiveness.
It is easy to explore backlinks in SISTRIX. All you have to do is punch in a domain and click on overview under the links option in the navigation bar on the left. Then, click on "Activate Linkplus" and this will activate all the data. You will be able to see the backlink structure in no time.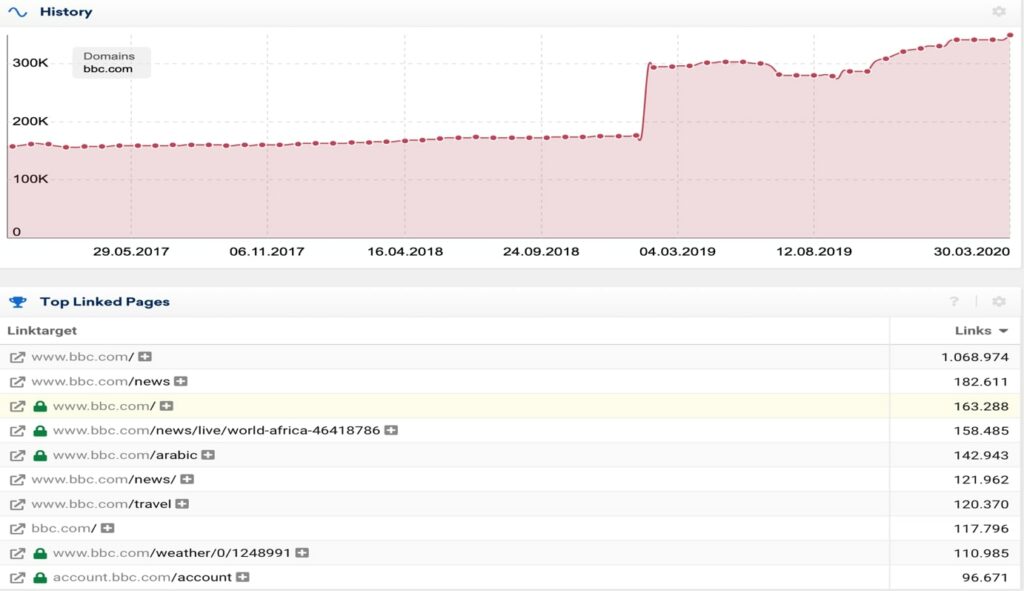 Clicking the "Link option" will give you details of every backlink structured in a website and the total number of such backlinks. You can do this check on your competitors' domain or your own. When conducting a review of SISTRIX, we applied filters such as follow-links, high-visibility links, links to the homepage, and sitewide links to find the results we wanted.

New Links will help you with a list of recently added or activated backlinks. Every link will have a source, destination, link text and visibility index host. You can also use the anchor text option to get the lust of top anchor texts.

One of the most vital options, while analyzing your competitor's backlink structure and comparing it with your own, is the "Opportunities" option under the Links menu. All you have to do is add three leading competitor domains and you will get a list of link opportunities that can do you some good. It is easy and you can do this much even if you are not a pro. This option is available in the trial period as well.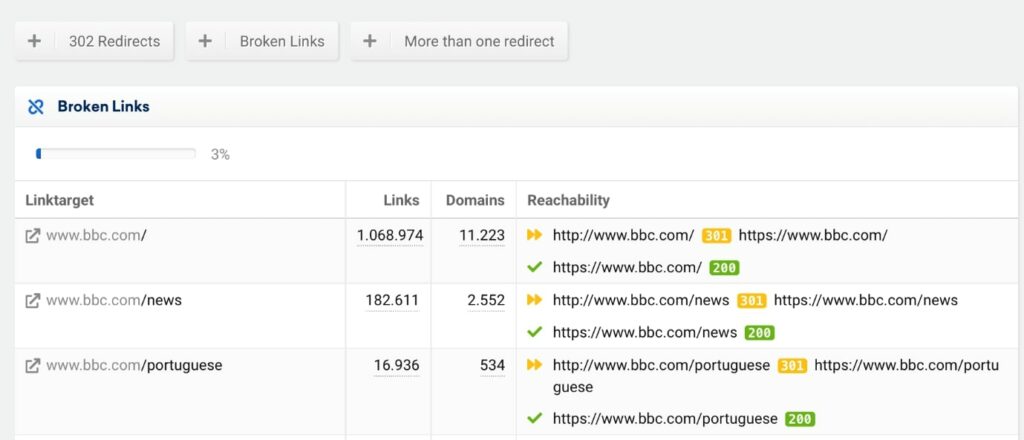 The SISTRIX reviews state that this tool will help you dig deeper into the backlink structure. It is always better to pursue quality instead of quantity. This way your content will be to the point and your website will be better structured. You can always dig more by clicking on the plus sign against each backlink. This will give you additional information about the type of link, whether they are a no-follow or followed, the page of the referring domain, the page where the link connects, the host information, IP information and much more. A complete backlink analysis audit comes handy when you are doing bulky research.

SISTRIX is fast. It crawls up to 500,000 pages per minute, which means twenty billion pages per month. This tool updates 250 billion links each month and that is huge. Now that you know what to do, it will get easy to evaluate your domain for weaknesses and strengths in the form of backlinks.
You can now analyze each domain (yours and your competitors) for its links rating evaluation.
You can have all the link sources with visibility ratings.
You can have all the details about any link including the link type summary (image, text, canonical)
You can get thorough competitor domain analysis including an overview of new links.
You can access all the historical data about the link building for a particular domain.
You can generate lists, reports by extending the filtering option. The whole process is extremely easy and quick.
You can analyze the technologies utilized by each domain that you are evaluating

Although the Link module is powerful, when you consider the fact that you have to pay separately for each module, SISTRIX is more on the high side in terms of pricing. Its competitors like SE Ranking and Ahrefs prodive much more features and data in a single package, plus SE Ranking has a very attractive price range that's perfect for SMBs.
Conclusions
We have mixed feelings about SISTRIX. The developer takes the all-inclusive concept very seriously. It does not set any limits on the number of domains, keywords, projects, or website pages. Moreover, all users connected to a particular account can view all the information in it without exception.
However, all SISTRIX reviews focus on the fact that the company provides access to its services by parts — you have to buy each module separately. Of course, this is more convenient than Searchmetrics' rigid 12-month contract with a similar pricing policy. But other services like SE Ranking, Ahrefs, and Moz offer all the functionality in one subscription. And we should note that the cost of their basic subscription plan is usually less than access to one SISTRIX module.
In terms of features, the service is definitely at the top of our preferences. It has been keeping its own statistics since 2010, independently identifies your competitors, and even generates suggestions for improving your marketing strategy. However, the pleasant impressions of the features in the SISTRIX review are somewhat spoiled by the cumbersome and not very user-friendly interface of the platform.
Frequently Asked Questions
What is SISTRIX?
SISTRIX is a service for optimizing marketing policy on the Internet. It uses an integrated approach to website optimization. It includes five sets of tools: a universal SEO module, link management, keyword optimization, social media promotion, and advertising. This gives you the opportunity to increase organic and paid traffic, improving your business's financial performance.
How to use SISTRIX?
SISTRIX is optimized for all types of devices — mobile and desktop. Its versions for Windows, Mac, Android, and iOS receive updates separately, making them as convenient and secure as possible. The platform offers separate subscriptions for each of the modules. This allows you to choose the optimal functionality according to your needs and budget.
What is SISTRIX used for?
SISTRIX allows you to determine the current place of the site in the business environment and build a strategy for further business development. It offers tools for tracking web page ranks, analyzing advertising effectiveness, monitoring competitors, and building an array of external links. It has valuable tips to help you choose the most effective ways to optimize your project.
How much is SISTRIX?
To get access to each of the five SISTRIX modules, you need to sign up for a separate subscription that costs $110, excluding value-added tax. If you purchase three or more modules at the same time, you get significant discounts — from $27 to $110.
Visit website