General overview
Sometimes, it seems that all SEO tools are divided into two groups — expensive and overly complicated services for professionals and highly simplified platforms for beginners with limited functionality. However, the Seobility review makes us realize that there is still a "golden mean" between them. This web application is primarily aimed at small and medium-sized business owners who usually optimize their websites independently.
Seobility also has a unique advantage that makes it incredibly attractive to those who are just taking the first steps in their SEO careers. The fact is that the service is generally free to use if you don't mind a few restrictions. This allows you to test your skills and only then buy a paid subscription or move on to a more serious tool, such as SE Ranking or SEMrush.
But is it worth wasting your time on a conditionally free service? After all, it might not be much different from the second group of platforms we mentioned at the very beginning. To find out, we will review Seobility in 2023 in detail.
Pros
Smooth UI and UX
Stunning PDF reporting
TF*IDF functionality
6 tools
Cons
Lack of filters for most reports/results
No stepwise guide for beginners
Advanced SEO functions can be overwhelming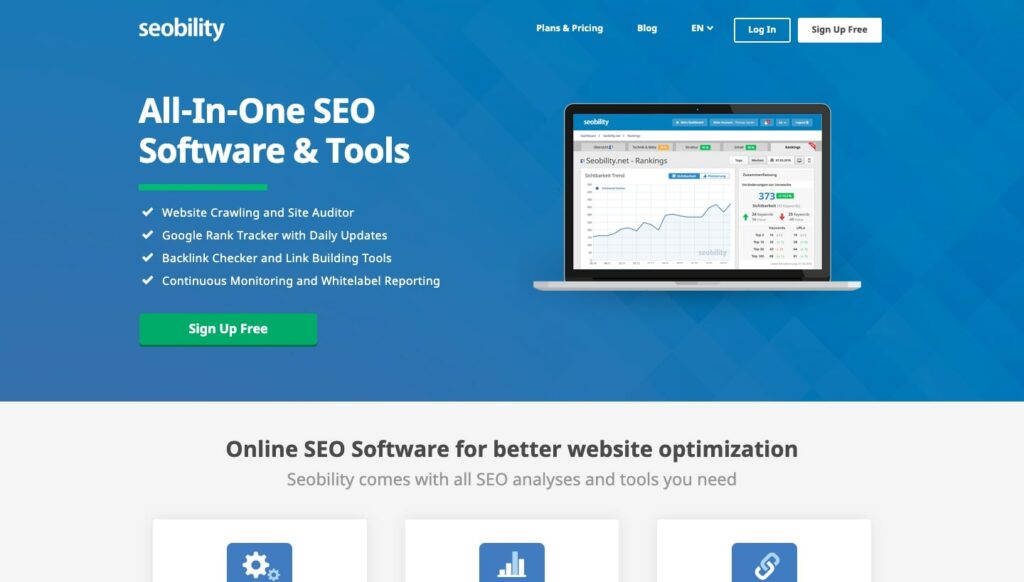 Seobility's mission is to provide the easiest possible SEO experience. The company first began as a free SEO tool for everyone in 2013. With time, they added more and more tools, and ultimately, the Seobility's current SEO suite includes such tools as rank tracker, keyword checker, website audit, competitor analyzer, a TF*IDF tool for competition content analysis, and a backlink checker.
Mentions in the Seobility review also deserve white-label reports and exporting options. Any user, even first-timers can easily upload their logo in the accounts. Once done, the reports they generate contain their very own branding–perfect for SEO companies and digital marketing agencies.
Probably the most impressive aspect of Seobility is its simplicity and how they get down to business, so to speak. Here's what welcomes you when you first login: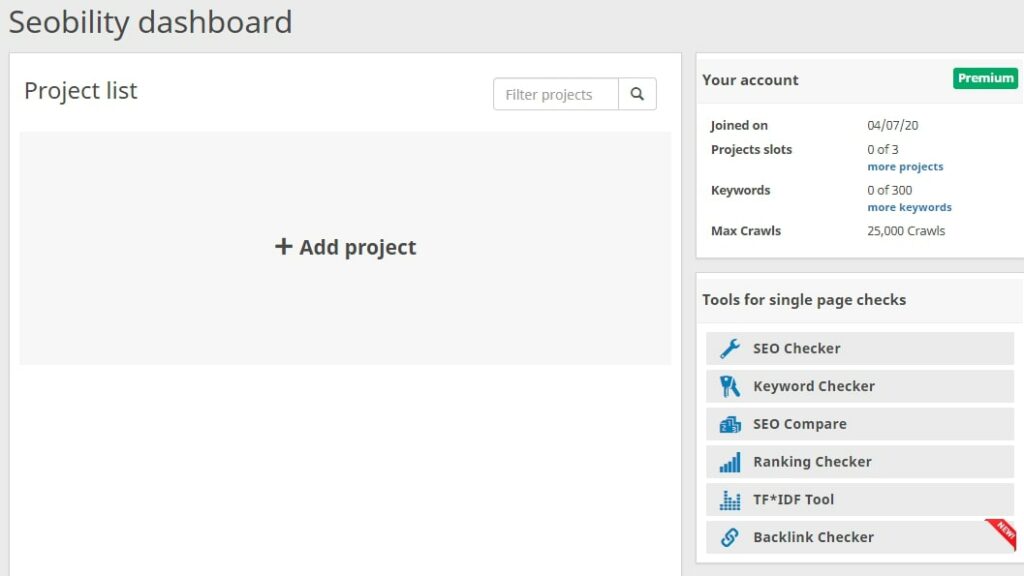 Add a project straight out of the gate by clicking on the big bold "Add project" button in the center. Or simply navigate to any of the available tools using the tool list on the right-sidebar. Seobility reviews also demonstrate the usability of the control panel, which shows you your plan details. This makes it easy to distribute your available resources better, knowing how many crawls, project slots, and keywords you have left. The top-bar serves as a navigational bar and lets you access your account, change the language, or log-out.
Sure, the UI isn't as modern as some other tools out there. But if they were aiming for simplicity and ease of use, they hit the bull's eye. In a nutshell, clearly one of the easiest and smoothest experiences. A solid all-round SEO tool that we definitely recommend trying, but it's still behind SE Ranking, Semrush and Ahrefs in terms of data and tools.
Pricing & Plans
No matter how feature rich a tool is, if it's not pocket-friendly it wouldn't go very far. Seobility kept its pricing plans simple, transparent and easy to understand. The good news is there's a 100% free forever plan. The better news is that it offers almost all the features that paid plans do, with a few exceptions of course.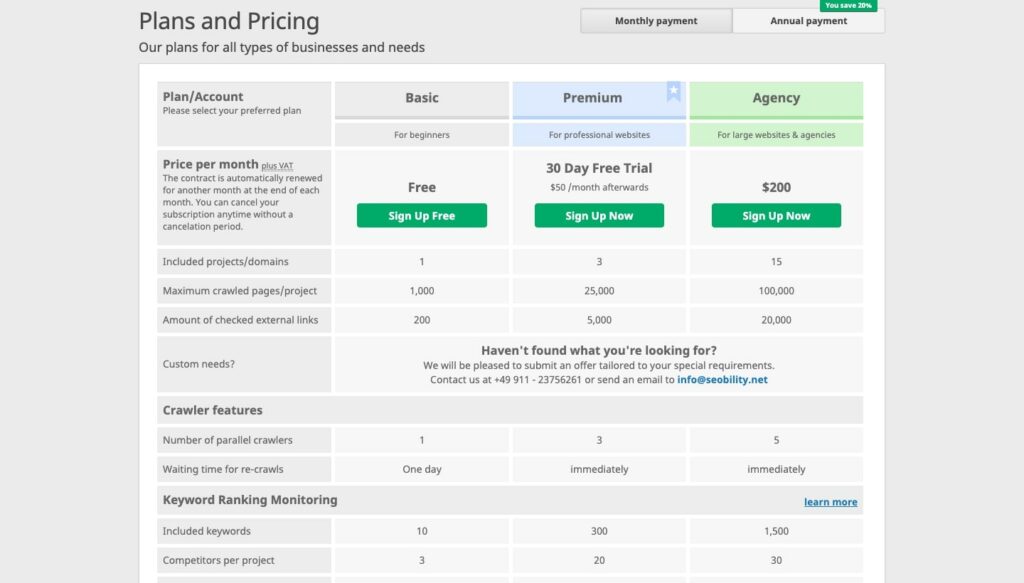 The free plan that definitely deserves a mention in any Seobility review 2023 has a couple more limitations like scheduled crawling or project sharing isn't possible. It also has a one-day cool-down period before a re-crawl, no such restrictions apply to the paid plans. Moreover, CSV and PDF exports too are available only for paid plans. Plus, you can't check mobile results or get access to the "cities" option. Geo-targeting is limited to "countries" only.
The company offers both monthly and annual plans, the latter comes with a 20% discount benefit. So if you pay yearly for the premium plan ($50.00/month) you only pay $480.00 and not $600.00 which would be the monthly pricing. The same applies to the Agency plan which comes down to $1920.00 instead of the monthly $2400 if paid annually.
What's also great is Seobility's "no-contract policy". So you don't have to get in a legally-binding agreement with the tool to use it. Simply pay for your plan in advance, use it as long as it's paid for. You can stop paying at any time at will.
And finally, they offer a 30-day free trial on their premium plan. The price ($50.00) is charged only for the subsequent month. While conducting the Seobility review 2023, we also learned about the possibility of building custom plans. These can be discussed over mail or phone, and the plan is custom-tailored exclusively for you. Either way, nothing's stopping you from trying out their Basic plan.
Rank Tracker
In Seobility, there are three different fronts for approaching keywords for your projects.
The first is simply checking a keyword's current rank for your domain. The second feature allows tracking them across the entire site/project, for all the URLs. And finally, there's another feature that allows analyzing and optimizing keywords.
The Keyword checker can be reached by clicking on the "Ranking Checker" option on the dashboard. Enter a keyword and your domain. You also get to choose the country, as well as the device (desktop/mobile) for the check. More precise checks using names of cities/states, as well as postal codes of locations is possible. This is the report that Seobility comes back with: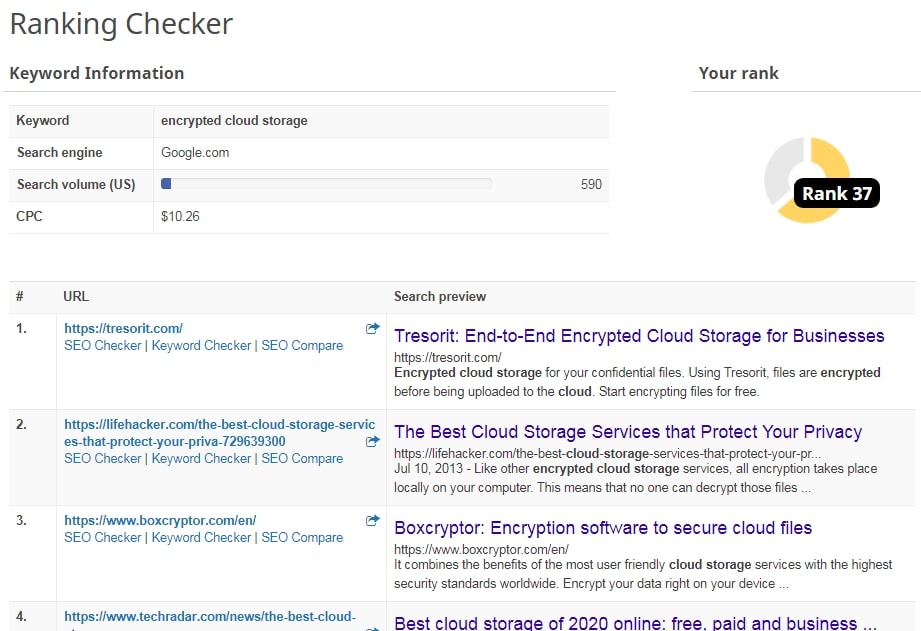 In the review about Seobility, we got our current rank, CPC, search volume and all the URLs (top 100) ranking above and below you. That's about it.
As for tracking a keyword's SERP movement, keywords need to be added in a "Project" as shown in the earlier section of this Seobility review. There's a "ranking" tab which can be used to add the keywords you wish to track.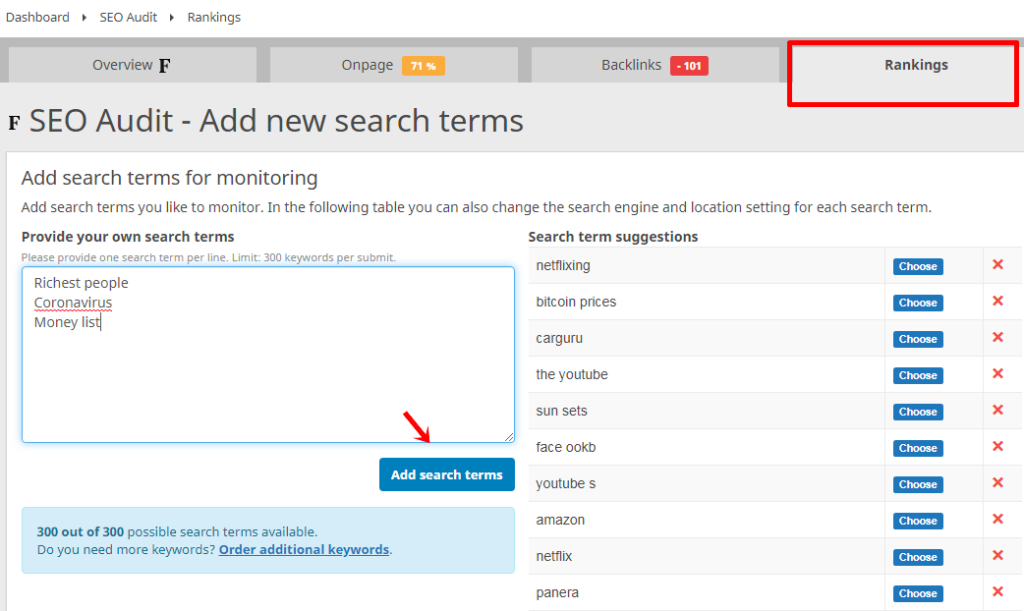 As soon as keywords are entered, you get the search volume, cost-per-click and level of ads competition for each keyword: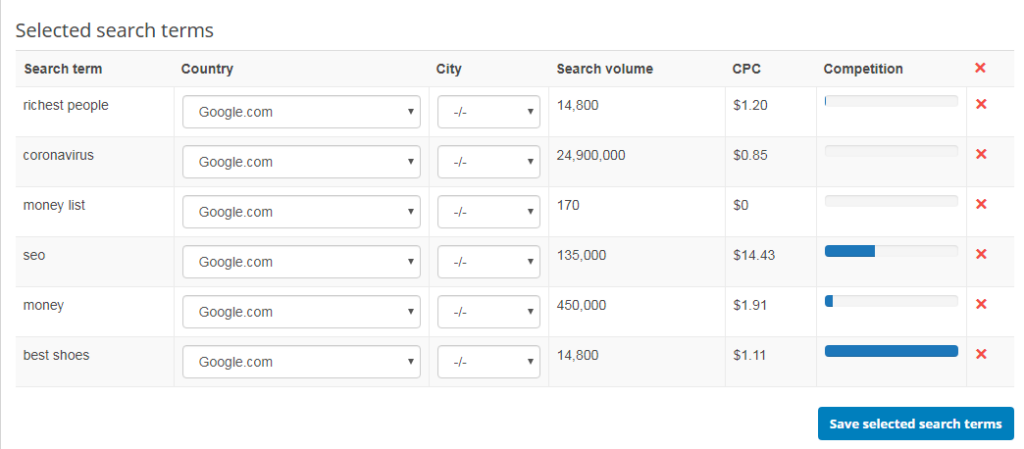 You also get to choose the country and city for doing your keyword research. These keywords are then added to your project and tracked. Here's what a keyword report looks like in Seobility: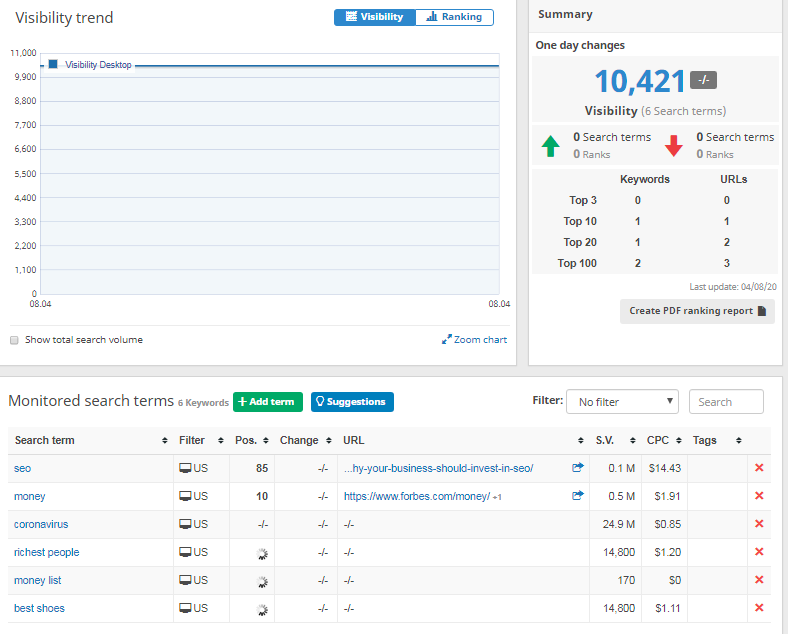 As you can see, the overview displays a visibility graph, the number of search terms that went up/down, and the number of keywords in the top 3/10/20/100 search results.
More detailed insights are included in the report which include the exact URLs from your domain ranking for the keywords, their current position, as well as changes. At the bottom of this report, a "Ranking optimization" list is available. It basically shows pages which could potentially be optimized for better results.
As mentioned earlier, Seobility also offers analysis for keyword optimization. This tool can be reached by clicking on the "Keyword checker" from the dashboard. Simply enter a keyword, and the URL for which you wish to track it. Optionally, it also lets you choose one of the two crawling modes: Standard without JavaScript and Chrome with JavaScript.
This is a more page-specific keyword research. So the keyword and optimization for the same is only tracked/audited for the exact URL you enter.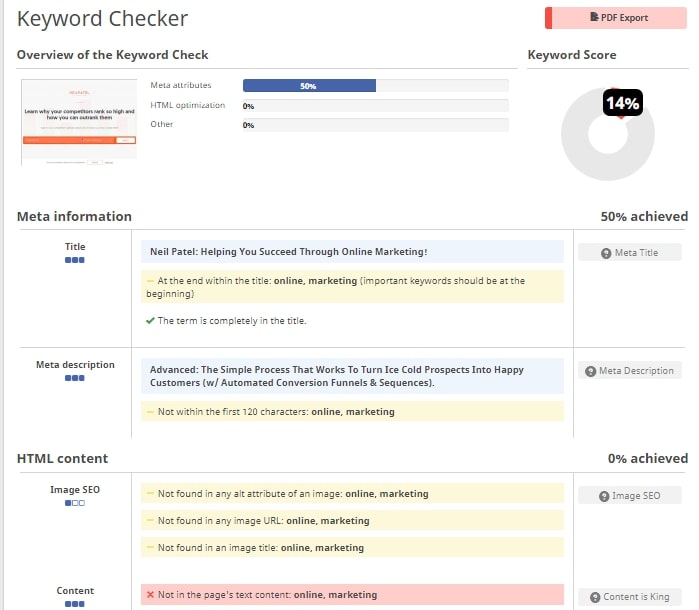 It tells you if the keyword is in the title, meta description, content and all the other important places. During the review of Seobility, we noticed that this analysis does not track your rank. So you don't get to know where your URL is ranking for the specific keyword using this tool. It's purely for analysis and optimization.
This, of course, is a major setback as an all-in-one SEO tool must be capable of tracking keyword rankings. We advise you to try out other tools that excel in this regard and provide powerful, actionable insights, such as SE Ranking and Moz Pro.
Site Audit
The "Website audit" button cannot be found directly on Seobility's interface. Rather, the company uses its "Projects" feature to provide you with audits. In other words, on the dashboard we get to add projects. These projects simply require a URL. Once that's entered, you get an overview of the website report: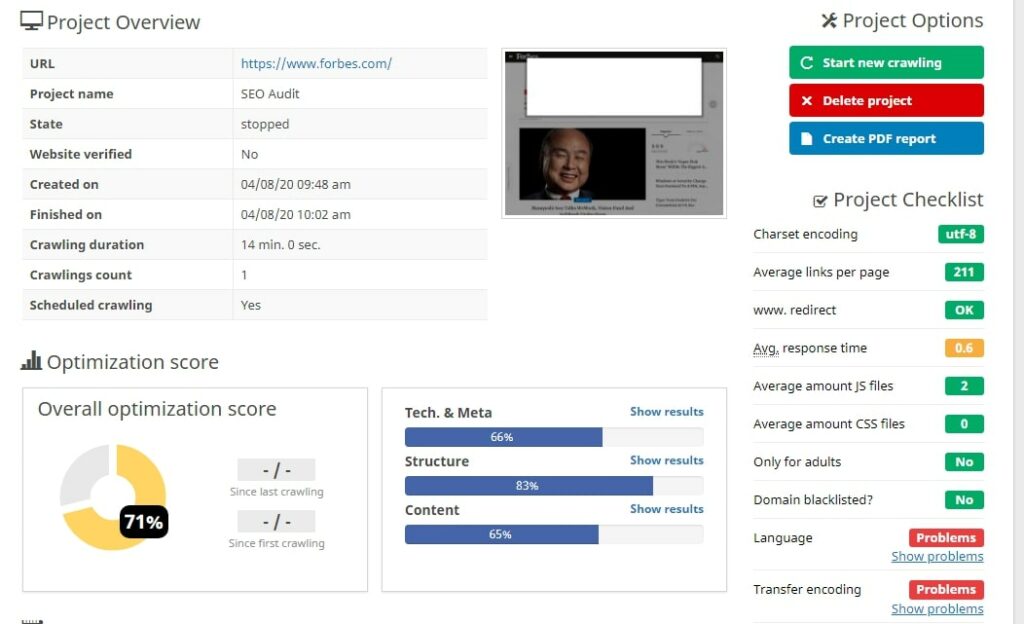 This report is broken down into 4 primary sections, namely Overall, On-page, Backlinks, and Rankings
The On-page tab is further divided in three primary categories: Tech and Meta, Structure and Content. An overall optimization score for each section is provided.
The "Tech and Meta" tab offers response-times, URL details, meta descriptions, etc. As the name suggests, it covers the "technical" aspects,meta descriptions, and other related aspects of the domain.
The "Structure" category basically helps us identify and solve problems with links (both internal/external). This includes redirection errors, anchor-problems, page levels etc. It also includes "Important pages" based on the number of internal links and their distance from the homepage.
The "Content" tab lets us know if we have multiple pages competing for the same keyword, blank pages, improper optimization for keywords and content, and so on. Basically, any aspect which can be optimized or monitored as far as "content" goes for a project is included.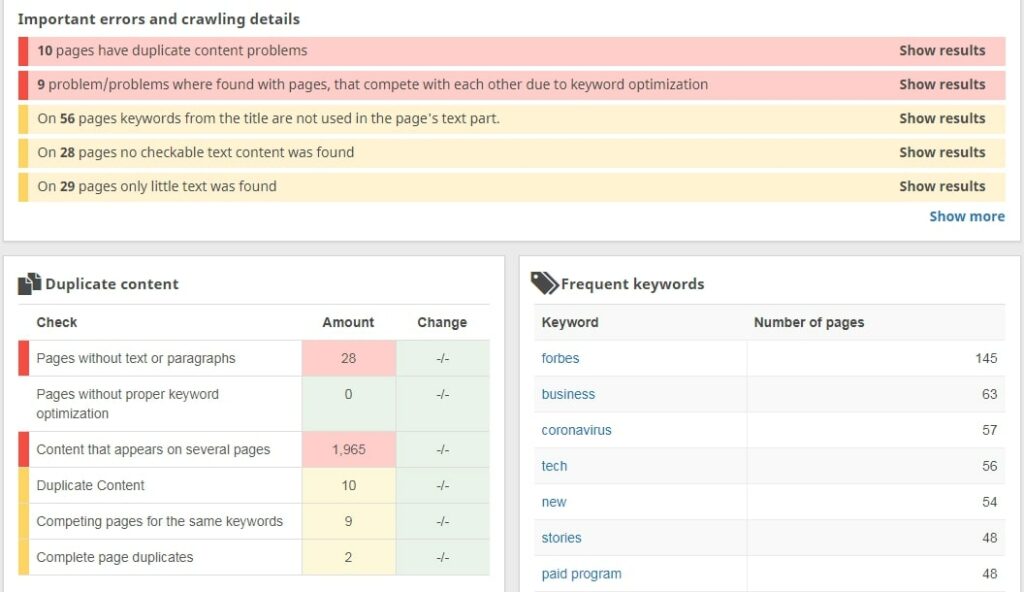 Going back to the dashboard in the Seobility review, we see that an overview of the project is then displayed for simple monitoring. It includes the on-page score, backlinks (including the number of new/lost links), and number of ranking keywords.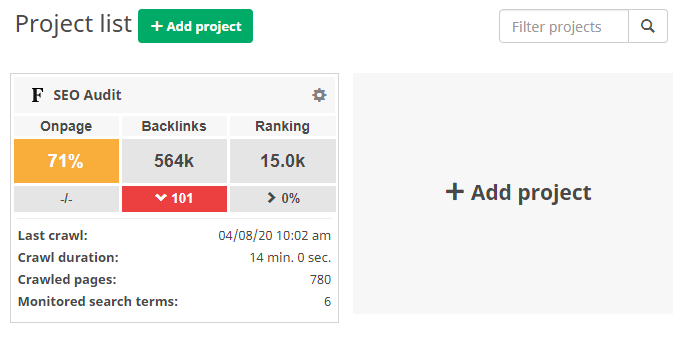 As for advanced settings and audit optimization, quite a few choices are offered by Seobility. For starters, the tool offers a choice of 3 user agents:
Seobility
Google Bot
Bing Bot
Google Bot mobile
We also get to manually choose the number of crawled pages that can be set as low as 50, or as high as 100,000 (for the Premium plan).
Other possible tweaks described in Seobility reviews include:
Number of external pages to be checked
Number of crawlers
Delay after requesting pages
XML sitemap crawling enable/disable
Crawling/ignoring nofollow links
And scheduled crawling
You can also choose to receive an automated email once crawling is completed. If you've gone through Seobility's pricing plan, you'd notice that these advanced features are mostly tied to your plans. So you may not get each of these options, or as many resources depending on which plan you're on.
All in all, I'd say there isn't much to complain about neither with the report nor advanced options, but there are competitors that provide more powerful and in-depth audit reports like Semrush, SE Ranking and Ahrefs.
Competitor Research
On the dashboard, there's a tool called "SEO Compare". That's what Seobility calls its competition research tool. A major deal-breaker here is that you can only compare 2 URLs even on the paid premium plan. So, definitely look to other SEO software solutions in this regard.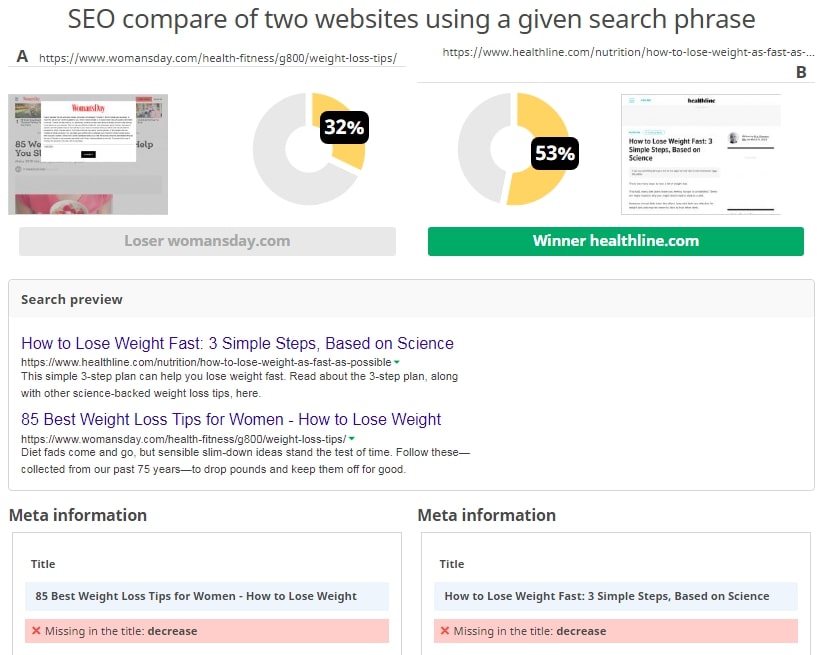 This is the biggest disappointment you will learn from Seobility reviews. It only compares the exact URLs provided by the user. So you don't get to peek into any other URLs which may potentially be competing or ranking with your for the keywords. Moreover, only content is compared. As in the keyword placement, image alt tags, and so on. So, instead of competition research, this turns into a "who has better keyword optimization, for one specific URL" kind of thing.
Although, fortunately, there are some other ways you can use Seobility to get more in-depth research done on your competitors. For example, if you go to the "Backlink" tab on your project, there's an option to add competitors. Not just that, it also automatically suggests the top competitors who might be worth adding to your watchlist.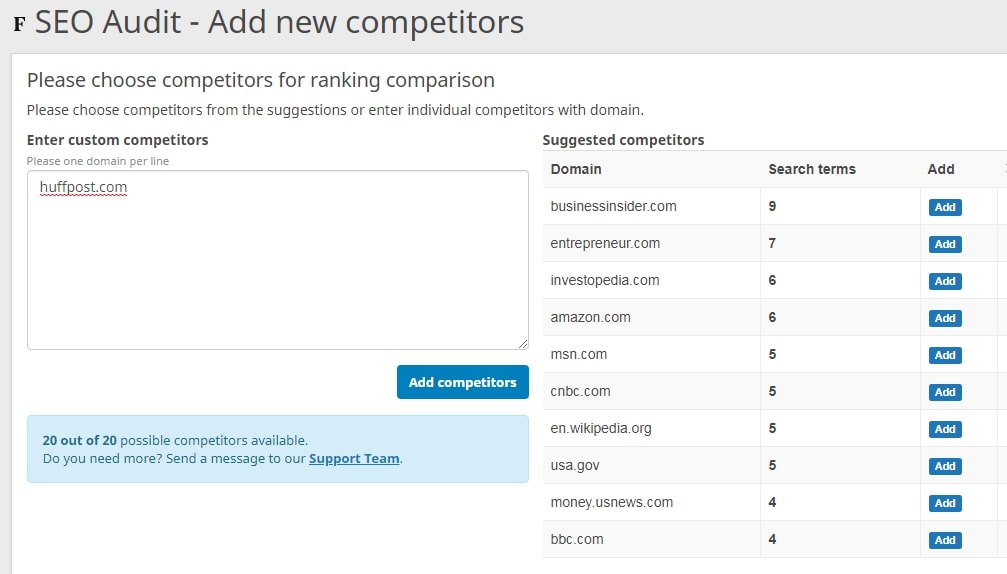 The tool then shows you the total number of referring domains/backlinks for each of those competitors.

Additional information including any page which may be used for building new links, sponsored content/guest posts, etc. is displayed as well.
Similarly, you can add competitors in your "Rankings" tab as well. The data for these competitor varies from those in the "backlinks" tab for obvious reasons. In this case, you'd get:
As in the number of keywords they are ranking for (out of the total keywords you're tracking), and their visibility score.
On top of that, you can click on any of these competitors to get more in-depth data. This applies to both the "Backlink competitors" and "Ranking competitors". In case of the "Ranking competitors", the in-depth report includes your rank compared against a competitor along with the ranking changes.

The Seobility review gives us not only disappointments but also positives. The company also features another tool, called the TF*IDF tool. It must be pointed out that this is a unique feature for this roundup. Even though it's a separate tool, its primary capabilities and use are totally in line with competitive analysis.
It's something quite similar to content analysis, but for all of your competitor sites. All you have to do is enter a keyword you wish to rank for, and select a country. Here's the TF*IDF report that comes back: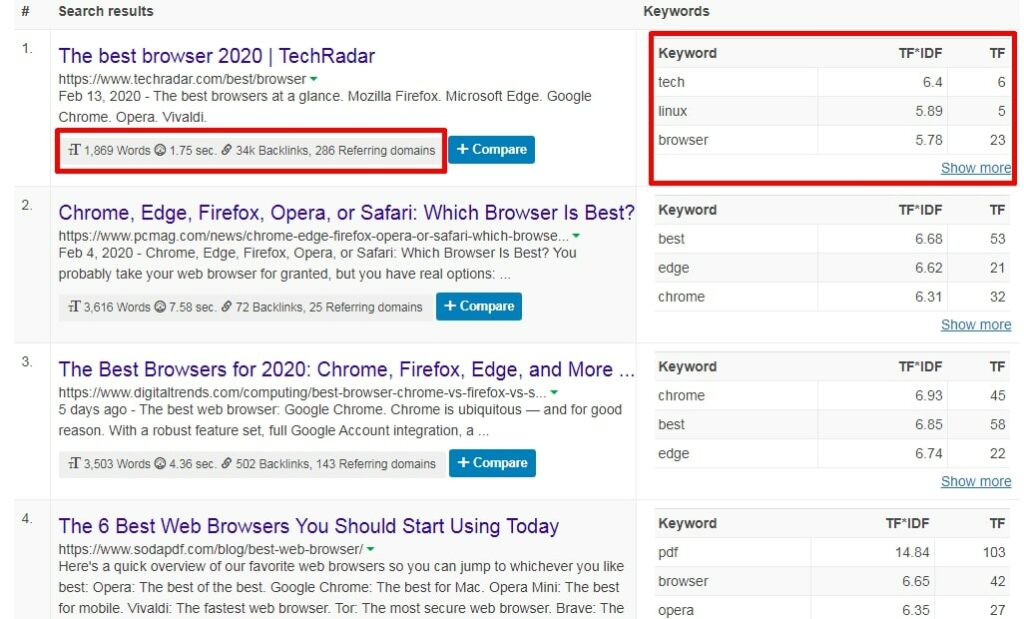 As is evident, the results include top 20–can be decreased manually–URLs ranking for the keyword specified by me. It also includes the keywords which seem to dominate the page, their TF as well as TF*IDF values.
Moreover, these results also include the exact word count for your competitors' ranking pages. Followed by the load time, number of backlinks and referring domains.
To top it all off, the tool has its own "Text editor/wizard" on the results page. This allows us to have a kind of "staging environment". So you can change the content of your page right there and see if it improved your TF*IDF score. If it did, the same changes can be applied to the actual site.
However note that the tool seems to be best suited for "Informative" keywords, primarily long-tail. Also it's not the best for market research if you're selling a product. Rather blog posts and informative articles would benefit most from the tool.
All in all, the "SEO Compare" feature might not be as impressive, but when the other tools are combined they do help get a pretty detailed outline of what the competitors are doing.
Backlink Research
Backlinks are without doubt one of the strongest factors which decide a project's SERP standings. Seobility offers a "Backlink checker" right on the dashboard. It allows adding either a naked domain, or an exact URL with additional directories. Here's a sneak peek into the kind of report you can expect from Seobility: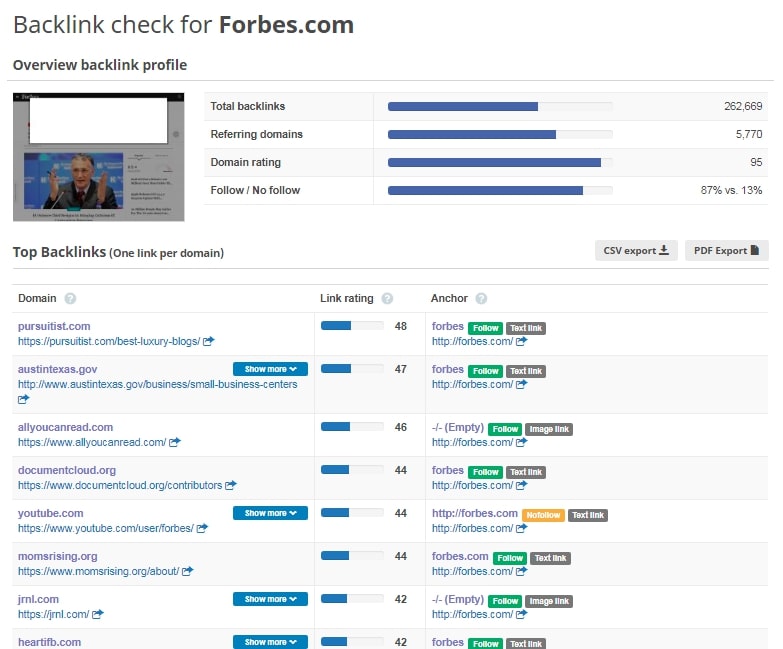 The report includes data on the total number of backlinks and referring domains, the domain rating, and Dofollow vs. Nofollow links. Plus, you get the exact backlink with their link ratings (value of the backlink), anchor text and the URL are displayed.
The link rating is something like the link strength metric we get with most other tools. It's rated on a scale of 0 to 100, where 0 signifies the lowest and 100 signifies highest quality of links.
The lack of filters is clearly a snag as it doesn't allow you to see links that meet a certain criteria, or are a certain type of link. No other filters based on strength, date or anything else for that matter are available either. Fortunately, it features a "show more" button next to those domains which have multiple backlinks to our site.
In the Seobility review 2023, we recommend exploring other tools that provide more data for backlinks like SE Ranking and Ahrefs, with the former offering a backlink monitoring tool as well that helps you keep a finger on the pulse of your backlink profile.
Conclusions
If you're looking for the most affordable tool for learning search engine optimization or developing your first project, check out our Seobility review. The main advantage of the service is that you can use it for free in the first stages! About 80% of its functions are freely available — to use them, you just need to create your account and sometimes close offers to upgrade to an improved subscription plan.
Seobility reviews show that this platform offers everything you need for search engine optimization — from keyword research and link building to a comprehensive technical audit. At the same time, it is worth noting that the service is inferior to its competitors in terms of the depth of granularity and quality of analytics. It has too few filters to generate informative reports. In addition, you can only compare your website with one domain at a time — a comprehensive assessment of the business environment will require too much time and effort.
The Seobility review praises the simple, user-friendly interface. However, there are traces of archaism in it — some tools are hidden too deeply. Besides, the logic of their grouping is more typical for the 2010s than for modern SEO.
Frequently Asked Questions
What is Seobility?
Seobility is a website optimization service created specifically for small and medium-sized businesses. It attracts attention with its simple interface, affordable subscription plans, and the possibility to use most of its features without subscribing at all. This also makes it an ideal choice for SEO beginners looking for a convenient platform to learn or improve their skills.
How to use Seobility?
The web application runs in a browser. You can use it on your computer or mobile device. To try the free version of the service, you just need to create an account. If you sign up for a paid subscription, you can cancel it at any time — the company does not force you to sign a long-term contract.
What is Seobility used for?
The main functions of Seobility are keyword research, comprehensive technical audit of the website, and external link management. The platform provides a large amount of information, although it is inferior to the leaders of its segment in terms of the level of detail of this data. In addition, it has rather weak functionality for monitoring competitors and tracking website ranks.
How much is Seobility?
A unique feature of Seobility is that 80% of the service's functions are available to you for free. The basic paid subscription costs $50 per month. The optimal subscription plan for SEO agencies and large businesses is $200 per month. If you sign up for an annual subscription, you get a 20% discount. The service allows you to cancel it at any time by returning the remaining money — it does not force you to sign long-term contracts.
Visit website