When speaking about benchmarks in the SEO industry, Moz is one of the first SEO instruments to come to mind. Its robust and rich-feature toolkit will help handle all content, link-building, and on-page tech issues to drive traffic and conversions to the site. Newbies who are learning the SEO ropes find Moz especially helpful for their marketing growth. 
And still, the platforms have some drawbacks that might hinder your business scaling in the long run. For example, the site audit features are outdated and missing crucial data, while the interface is complicated to use and hard to navigate. Moreover, the link analysis showcases not-so-accurate insights as other Moz alternatives, not to mention the expensive pricing. All these are reasons to consider switching to one of the Moz competitors in the industry .
Since the SEO world is ever-evolving, marketers must keep up with the latest trends and tactics to stay ahead of the competition. And if you are searching hard for the best Moz Alternatives, you have landed at the right spot. This post highlights the hottest options to get the most out of SEO performance and take your business to a higher level. Learn about each top Moz alternative in detail and choose the perfect one that meets your specific needs and budget. Let's cut to the chase!
1. SE Ranking
With an almost identical functionality to Moz, SE Ranking appears as a top-notch, comprehensive software solution. The platform offers excellent value for money due to its fantastic variety of features and pricing plans that cater to any SEO and marketing goals. The in-depth site analysis will give users 100% sharp insights into keyword tracking, backlink monitoring, SEO and PPC research, competitor campaigns, and more. So whether you are a newbie freelancer or an established agency, you will find relevant opportunities to efficiently boost your strategies with this alternative to Moz.
Features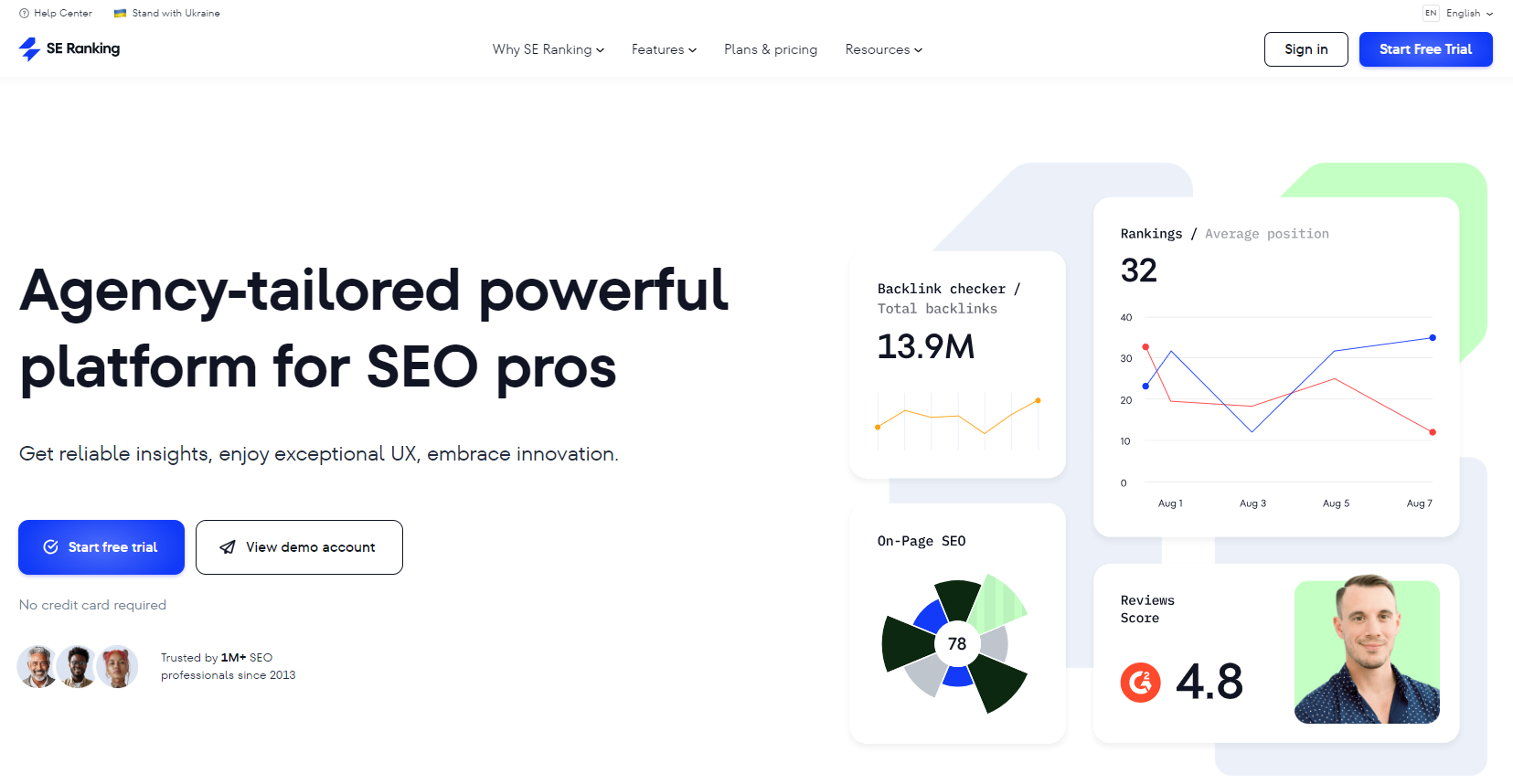 Keyword Rank Tracker. It is undoubtedly the precious gem of SE Ranking. This advanced research tool allows for checking real-time keyword performance across search engines, in any location, and with the required frequency.
The Site Audit. This feature is no less valuable. Profound scanning from the home page to the deepest links will detect all issues and provide guidelines to fix them. For instance, you can see if all the pictures are correctly streamlined and if the site gets uploaded quickly enough for visitors.
Backlink Check and Backlink Monitor. Only a few top Moz competitors enable such a powerful backlink toolbox for off-site optimizations. Users may effortlessly filter backlinks as well as conduct backlink campaign cost estimation. It is also possible to assess backlinks by particular SEO metrics to review performance.
Competitive Research. SE Ranking boasts unique competition investigation functionalities in terms of SEO/PPC. This means you can analyze all potential industry competitors' sites in-depth for keywords, backlinks, traffic, and more. 
On top of that, the platform offers much more than the usual SEO toolkit. Its social media management options make it stand out from other Moz alternatives and give marketing specialists the requisite suite for successful online presence optimization.
Pricing
The SE Ranking pricing policy is more attractive and flexible compared to leading market software apps. Starting at only $55 for the Essential plan, it is much more affordable than Moz competitors. Depending on the number of keyword rankings to trace, the frequency of checkups, and the subscription duration, you may also select Pro and Business packages priced at $109 and $239 per month, respectively. To see if your marketing and SEO requirements align with the in-built capabilities, try the 14-day free trial.
Verdict
SE Ranking's full-fledged intelligent toolbox supports online marketing efforts from small startups to well-known companies. With a simple, user-friendly interface, streamlining the SEO strategy and increasing the site in SERP rankings will go smoothly, swiftly, and strategically. So boosted brand awareness, high niche authority, as well as immense conversions and sales are guaranteed.
2. Surfer SEO
Considering on-page SEO functionality for content optimization, Surfer SEO is the best Moz alternative. Of course, it can't entirely replace Moz, but there is no better app with an in-link analytics toolbox. That way, you will get a potent content strategy tailored to your specific niche and audience.
Features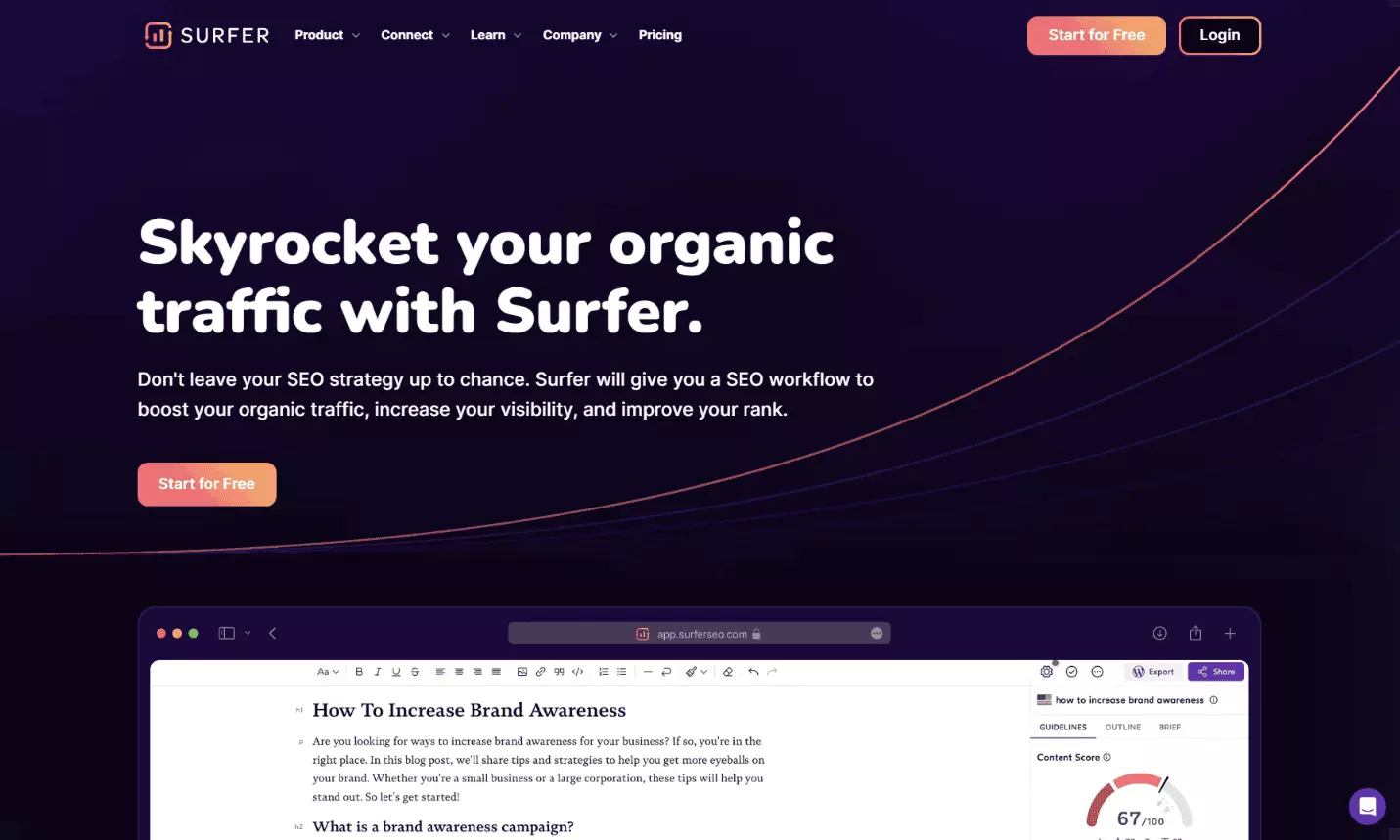 At the heart of the platform are an AI-based Outline Builder and SERP Analyzer. They aid in generating supercharged content pieces with catchy headlines for over 500 ranking factors. Just specify the target keyword, and Surfer SEO will handle it for you. Furthermore, there are no language limits, which is rare for Surfer SEO alternatives. Writing and streamlining articles concurrently utilizing multiple metrics and ranking top across the globe is possible.
Editing options will provide users with personal keyword suggestions and SEO tips to design high-performing content. In addition, you may get a score ranging from 1 to 100 that shows how well-optimized your writings are. To improve the outcome even more, incorporate the proposed structure and include more of the advised keywords . For those who don't like crafting at Surfer SEO Editor, the platform offers convenient integration with Google Docs and WordPress. Compared to other alternatives to Moz, users can leverage plagiarism detection capabilities to prevent penalties and truly engage the audience with the delivered content.
Pricing
Taking into account different content optimization needs and goals, Surfer SEO introduces the following pricing tiers: Basic, Pro, and Business, with corresponding costs of $49, $99, and $199 per month. To cater to more advanced content requirements, extra-large businesses can opt for the Enterprise plan with a custom price. Everyone may test out this software risk-free with a 7-day free trial.
Verdict
If your focal point is boosting your content for towering rankings, Surfer SEO is exactly that Moz alternative. Whether you are just starting with SEO-related content performance or are a reputable brand, this well-developed tool will help you outperform competitors in writing.
3. SEO PowerSuite
SEO PowerSuite isn't just a standalone product but a complex software solution featuring pro-level industry tools like Rank Tracker, Link Assistant, Site Auditor, and SEO Spyglass. Actually, this platform is one of the few Moz competitors that is not web-based.
Features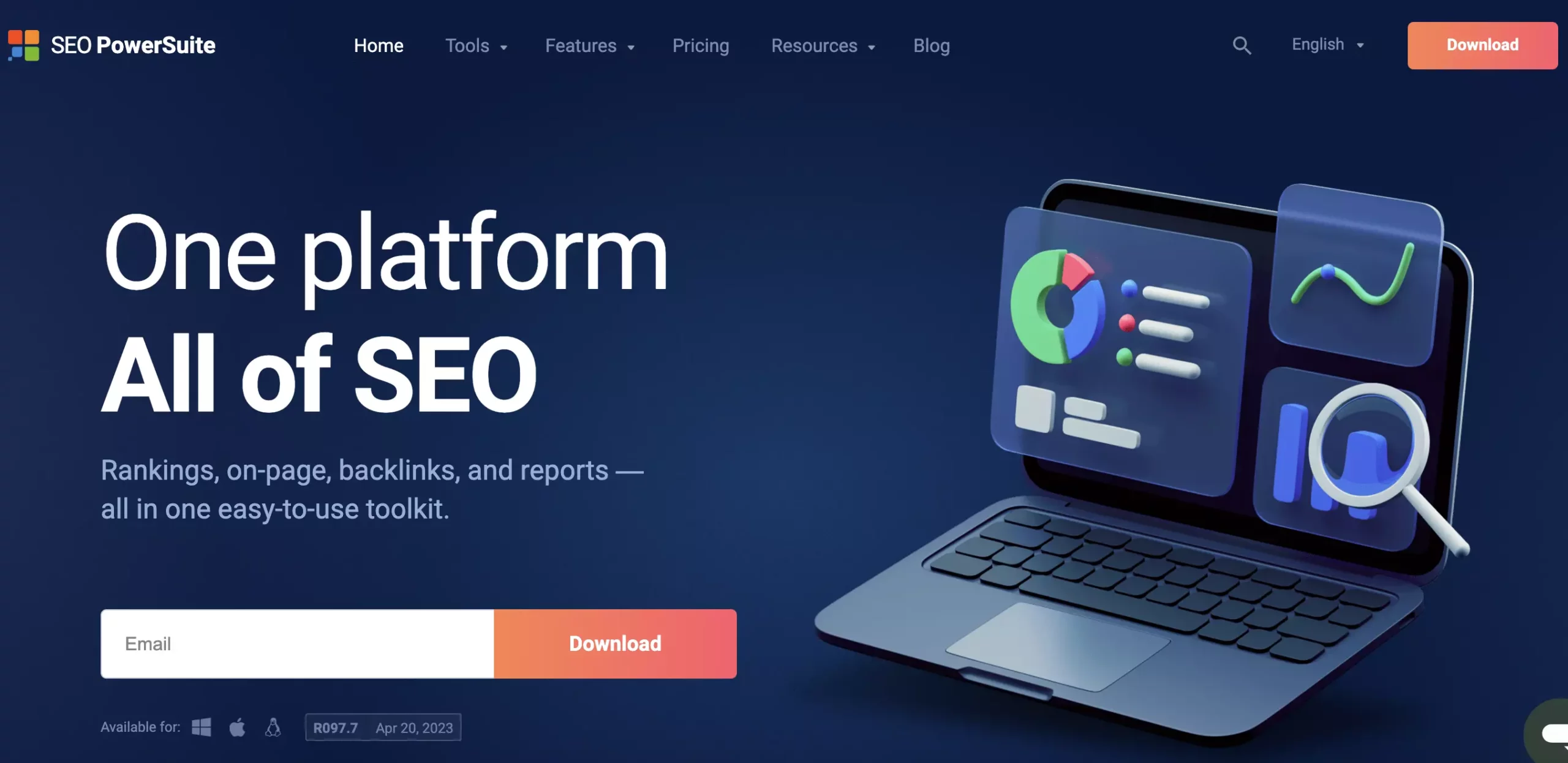 This platform differs from other SEO PowerSuite alternatives with unique keyword suggestion mechanisms and word combinations from 23 useful tools like Autocomplete, Keyword Gap, Google Ads Keyword Planner, TF-IDF Analysis, and more. Grow business locally is extremely comfy since the tool utilizes over 500 search engines to define local keyword rankings from anywhere around the globe. Competitor Analysis allows users to keep track of rivals' rankings and historical ranking-related data to monitor how they and their competitors have been developing within previous campaigns.
Another invaluable feature is an extensive SEO health site audit detecting all available and potential tech issues across the pages. Figure out problems severely affecting your ranking positions, from broken links to indexing. The app is the main Moz competitor in view of the Backlink Checker. Not only can you trace backlinks to your site, but also determine links that might negatively impact your ranking. It is also possible to examine anchor texts and outbound links by in-depth link quality auditing tests .
Pricing
The good news is that the tool lets people use it absolutely free of charge, as do only a few alternatives to Moz. Of course, it has limited access to plenty of features, but it's still a great decision for those on a shoestring budget. Plus, you can trouble-free update to a rich-feature functionality with Professional and Enterprise plans, with yearly costs of $299 and $499 . Keep in mind there is an obligatory monthly fee after the first 6 months to keep the software updated to the state-of-the-art algorithms .
Verdict
SEO PowerSuite is a viable marketing tool stuffed with the required functions to get your digital product to thrive. It will uncover all critical stats and provide various audit reports to investigate overall SEO performance gaps and take the necessary optimization measures.
4. Ahrefs
When nothing is equal to Moz from a usability perspective, Ahrefs offers the most extensive backlink capabilities. Coming with over 25 trillion internal links, it definitely outpaces the best Moz competitors. More essentially, the software is the second active web crawler after Google and boasts the largest third-party database of search queries around the globe.
Features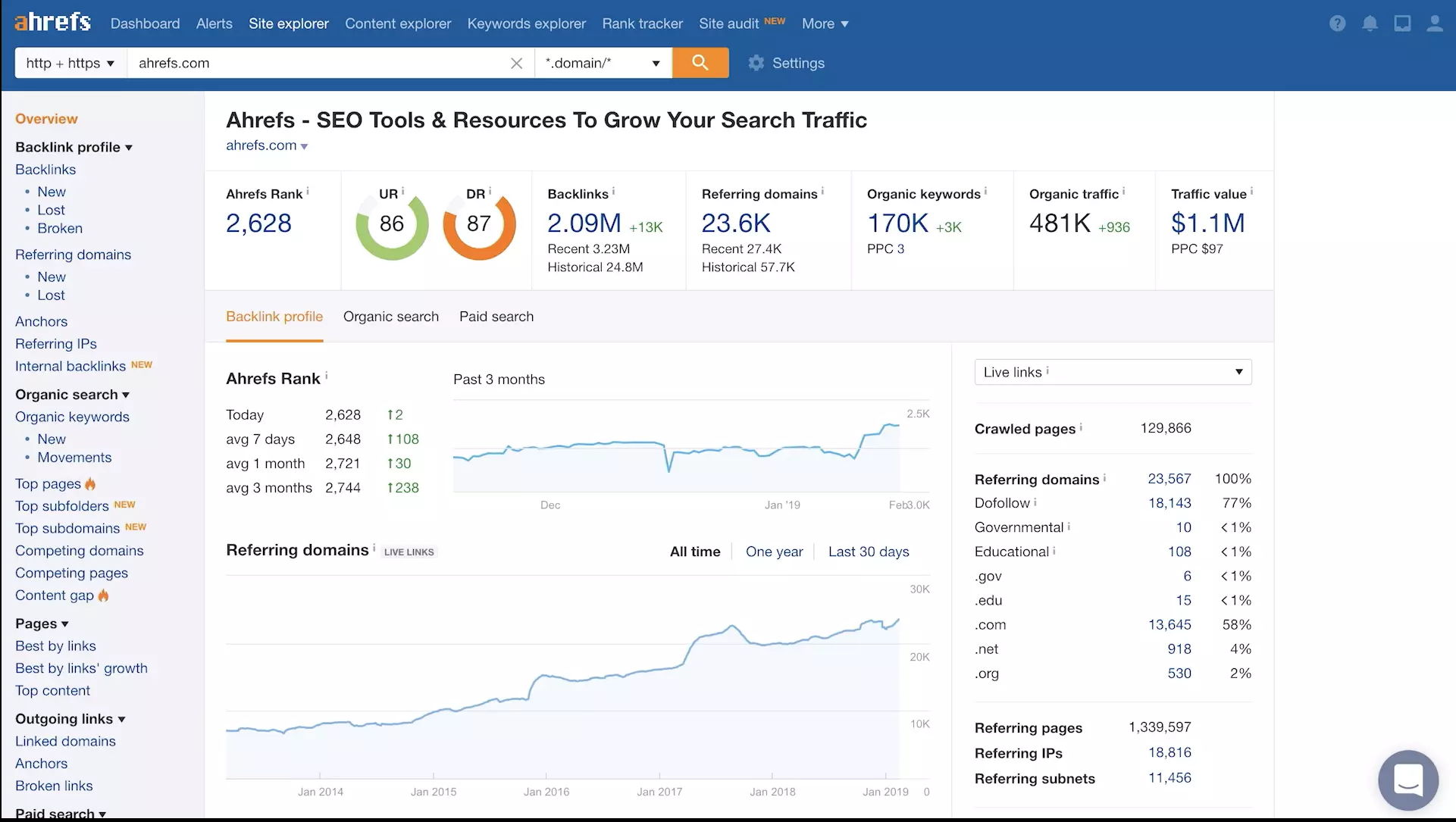 Ahrefs will audit your site for top keywords and demonstrate keyword research insights for ten search engines. Like some Moz alternatives, the platform gives an understanding of the backlink number you need to earn to rank high for specific keywords. You can also find a highly developed tool here – Positions Explorer. It will come in handy for investigating domains, subdomains, or particular URLs for their keyword-based rankings. By processing a vast amount of clickstream data, monthly search volume estimations and other keyword metrics are reasonably accurate.
Measuring the site's SEO authority is highly different from Ahrefs alternatives. Most tools, including Moz, apply the Domain Authority metric, while Ahrefs utilizes its proprietary Domain Rating metric. That's why the latter is considered a bit better at predicting ranking power. And a simply designed and highly intuitive-to-use interface will make the optimization process smooth and hassle-free for both beginner webmasters and expert marketers.
Pricing
Following the number of users and projects, the platform puts forward three pricing plans: Lite, Standard, Advanced, and Enterprise, costing $99, $199, $399, and $999, accordingly. When you pay a year in advance, you get a discount and two months of free usage. Before committing to one of the packages, dispel any doubts with a free trial .
Verdict
If you want to supercharge the site's backlink performance, no Moz alternative is more suitable to do the job. Ahrefs is another stellar all-in-one SEO solution for performing competitor analysis and building a robust backlink-generating strategy.
5. Ubersuggest
If you yearn for affordability and simple usage, Ubersuggest is just the thing. Featuring the cheapest toolkit on the market, it appears as the top Moz competitor for newbie webmasters and those with budget constraints. The platform will successfully manage every SEO-referred project covering keyword investigation, competitor analysis, domain overview, site audit, etc. However, regardless of its attractive pricing, users are limited to some options like detailed keyword searches.
Features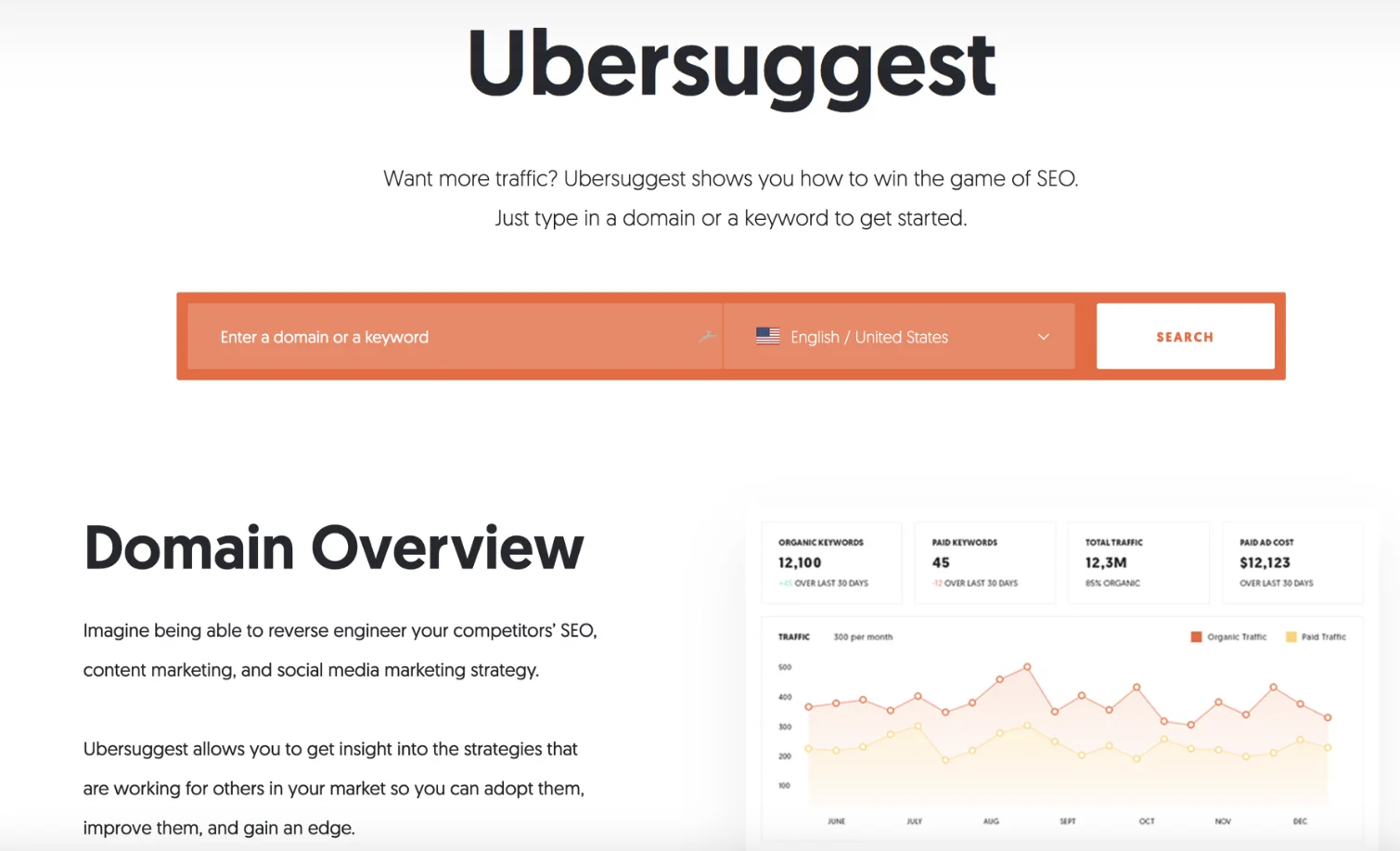 The core pride of this instrument is its Domain Overview feature. It allows you to spy on your competitors' SEO strategies to see how much traffic they gain, their top keywords, and the key phrases they are bidding on. To be more precise, you can attain a Top SEO page report demonstrating which of your rivals' pages engage the most traffic . Compared to other Ubersuggest alternatives, the platform houses unique Content Idea Report functions responsible for discovering proven topics in your industry that engage immense traffic and shares.
Ubersuggest also contains an intelligent Keyword Research tool that can find high-volume and low-competitive keywords to lift your site up in the SERPs. With well-designed SEO audit features, and swift and valid detection of on-page errors, it is easy to evaluate site speed issues as well as overall SEO health.
Pricing
In fact, you would have to go the extra mile to find a Moz alternative as affordable as Ubersuggest. Starting at only $12/month for the Individual plan, it gradually expands SEO capabilities within the Business and Enterprise plans, respectively priced at $20 and $40 per month. The package you choose should depend on your business requirements and the quantity of tracked keywords and daily searches. A 7-day free trial will help you make the right decision.
Verdict
Ubersuggest is the top Moz alternative for enhancing keyword-related SEO efforts and site audits. The easy-to-utilize toolset and understandable interface are ideal for those starting their SEO journey in the marketing landscape. Furthermore, users may leverage the free version, though with limited functionality. In any case, the platform has everything to advance and scale a business.
6. Long Tail Pro
Long Tail Pro is a head-to-head Moz competitor regarding keyword opportunities. Unlike Ubersuggest, it takes a more comprehensive approach to discovering niche keywords. For that reason, it will help you achieve an increased online presence and attract a target audience of the highest level faster .
Features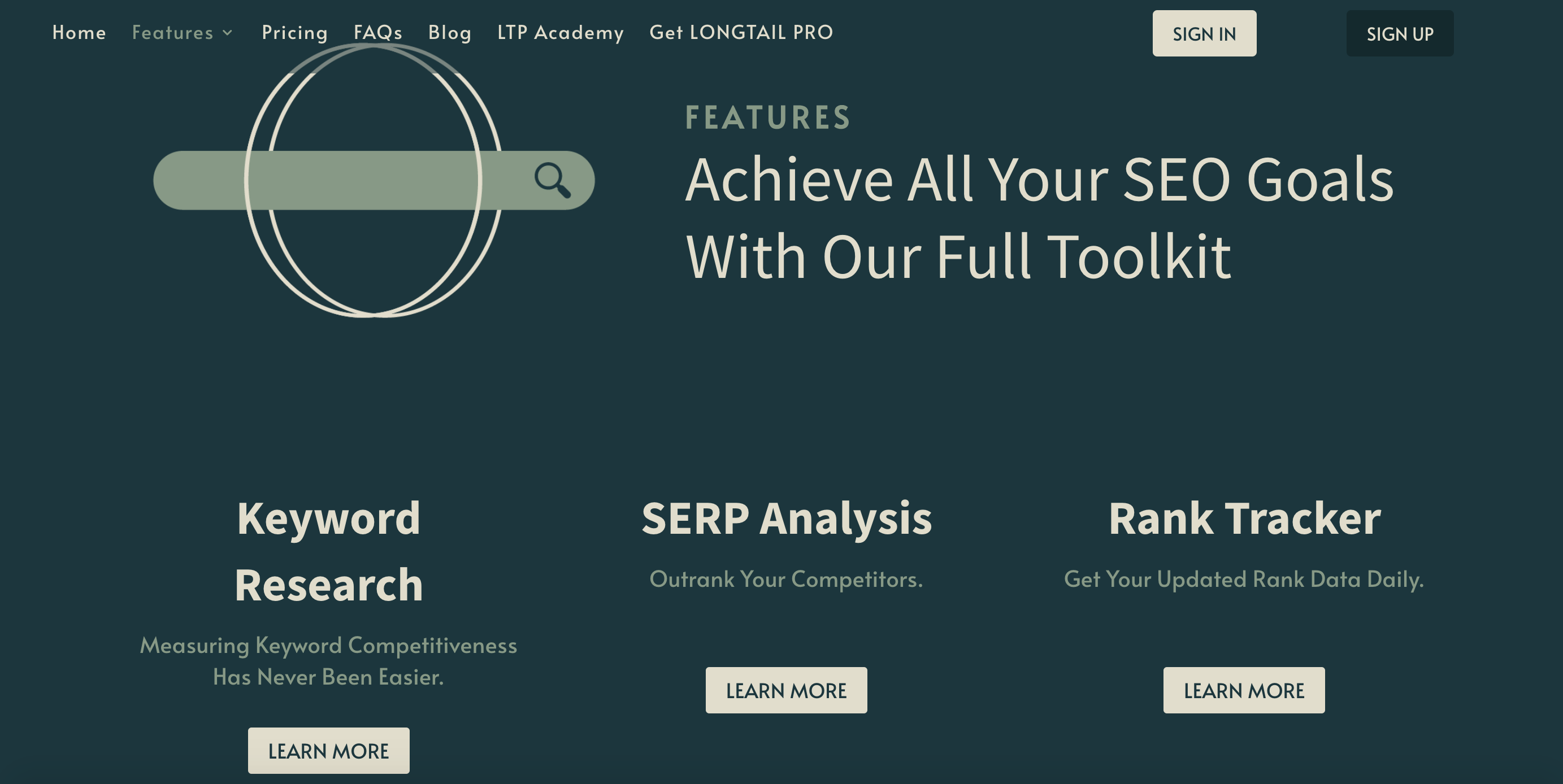 Keyword performance takes center-stage here, indeed. All you need to do to initiate an efficacious SEO campaign is enter keywords related to your site and receive valuable improvement insights. When looking up appropriate key wordings, the platform calculates their potential profitability across the content. SERP Analysis overviews your outcomes in comparison to competitors' endeavors and gives actionable guidelines to outperform them.
Users can enjoy an updated rank-tracking functionality that is missing in other Long Tail Pro alternatives. Thus, it is effortless to trace numerous domains rapidly, which facilitates the workflow of marketers concurrently managing lots of sites. The tool also hosts spying on the competition and long-tail keyword generation targeting the most beneficial combinations. However, its in-link option diversity is not as complex as other best Moz alternatives. Therefore it might be an insufficient full-blown suite for some enterprise-level businesses.
Pricing
The pricing policy is flexible, catering to all SEO needs and investing possibilities, from small teams to large agencies. You can pick from three plans: Starter ($59.99/month), Pro ($89.99/month), and Agency ($299.99/month). When opting for annual payments, you can save considerably, up to 25%. In addition, Long Tail Pro enables access to the most advanced features for 7 days free of charge.
Verdict
Are you only learning the SEO ropes but longing to promote the site with powerful keyword-focused SEO campaigns? Long Tail Pro is the ideal destination among all Moz alternatives. Its flawless keyword research tools work for every niche and can raise any site's traffic and sales.
7. Raven Tools
Raven Tools is a one-stop-shop software suite aimed at boosting domains' SEO rankings via deep SERP analysis. It is probably one of the few alternatives to Moz that features highly visual reports after detailed audits of all SEO aspects.
Features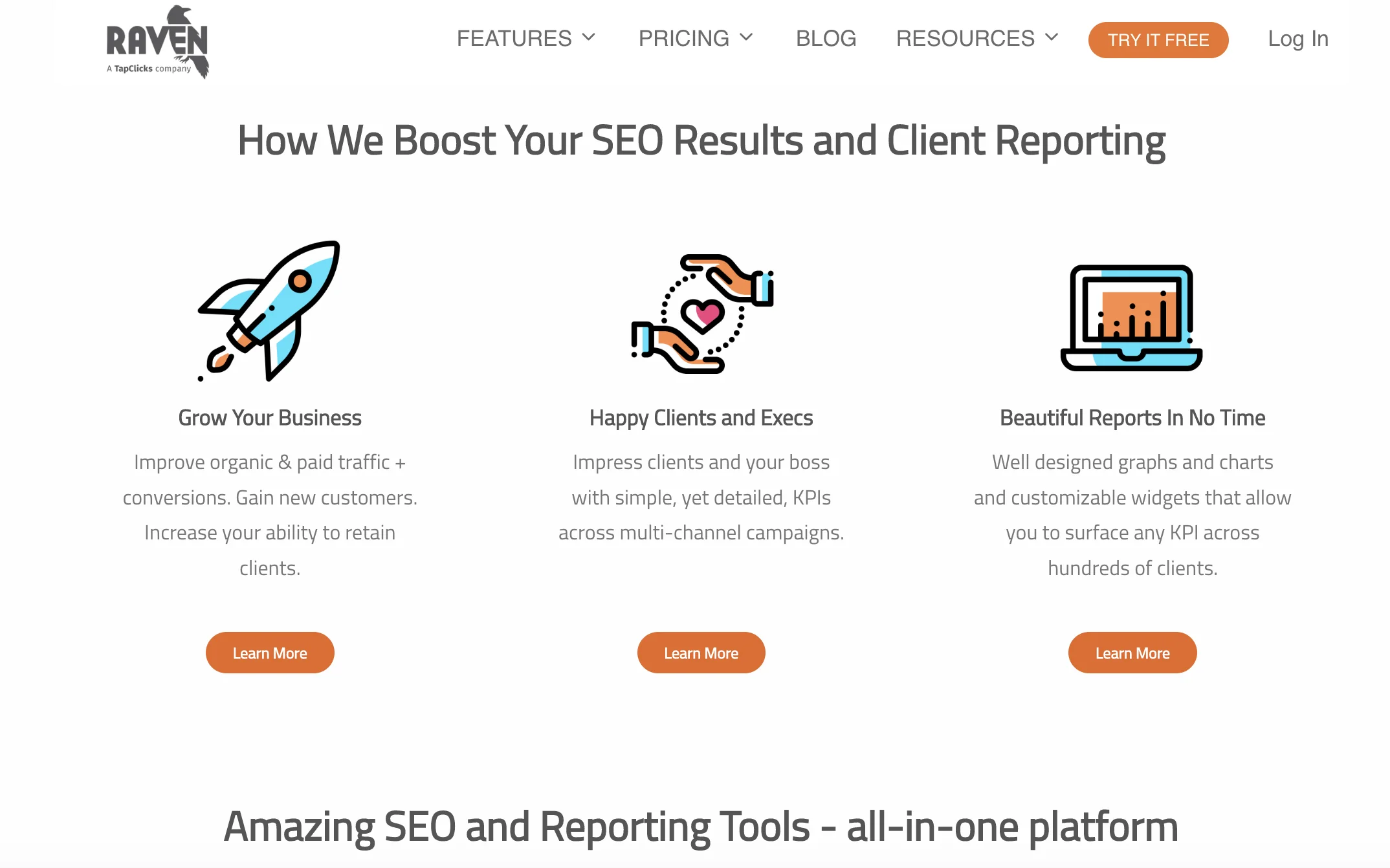 Through Site Audit, users may face common errors that end in low SERP rankings for their domains and outline ways to fix them. As a result, UX across the site will skyrocket, bringing excellent customer engagement. The main draw of the platform, making it memorable among the rest of Raven Tools alternatives, is its custom White Label Reporting features. This will significantly alleviate the workflow of agencies managing multiple clients who permanently require accurate reports. A Built-in Backlink toolkit lets you overview the backlink profile of any competitor site close-up. Thus, it is possible to consider all their strong and weak points and develop a much more fruitful strategy to outrank them.
Raven Tools ensure impeccable automation due to multifaceted integration with different performance metrics platforms like Google Analytics, Search Console, Facebook, and others. In contrast to other Moz competitors, the utility comes with PPC, social, and email reviewing options. Moreover, site owners can uncover essential data points within thorough marketing reports that are decisive in framing the SERP strategy.
Pricing
Raven Tools really impresses with a variety of pricing models tailored to reach various marketing goals, from tiny blogs to scaled companies. So you will definitely find your cup of tea among the five available plans: Small Biz, Start, Grow, Thrive, and Lead, with corresponding costs of $39, $79, $139, $249, and $399 monthly. Users can instantly save 30% by choosing an annual plan, which is very appealing.
Verdict
Looking for the most updated and accomplished web-based marketing platform to easily handle your SEO and social media campaigns ? Raven Tools is the ultimate solution. Due to the site's full SEO audit, including on-page issues like search engine visibility, domain authority, page speed, and links, your brand can earn an industry name, making good revenue. It is also an excellent decision for agencies who need to generate custom white-label reports for their clients.
8. WebCEO
Like Raven, WebCEO is an all-in-one software suite designed to aid users in managing campaigns from start to finish with keyword exploration, link analysis, rank tracking, SEO audits, and social media modules . And priceworthy plans make WebCEO an ideal alternative to Moz both for in-house SEO teams and digital agencies.
Features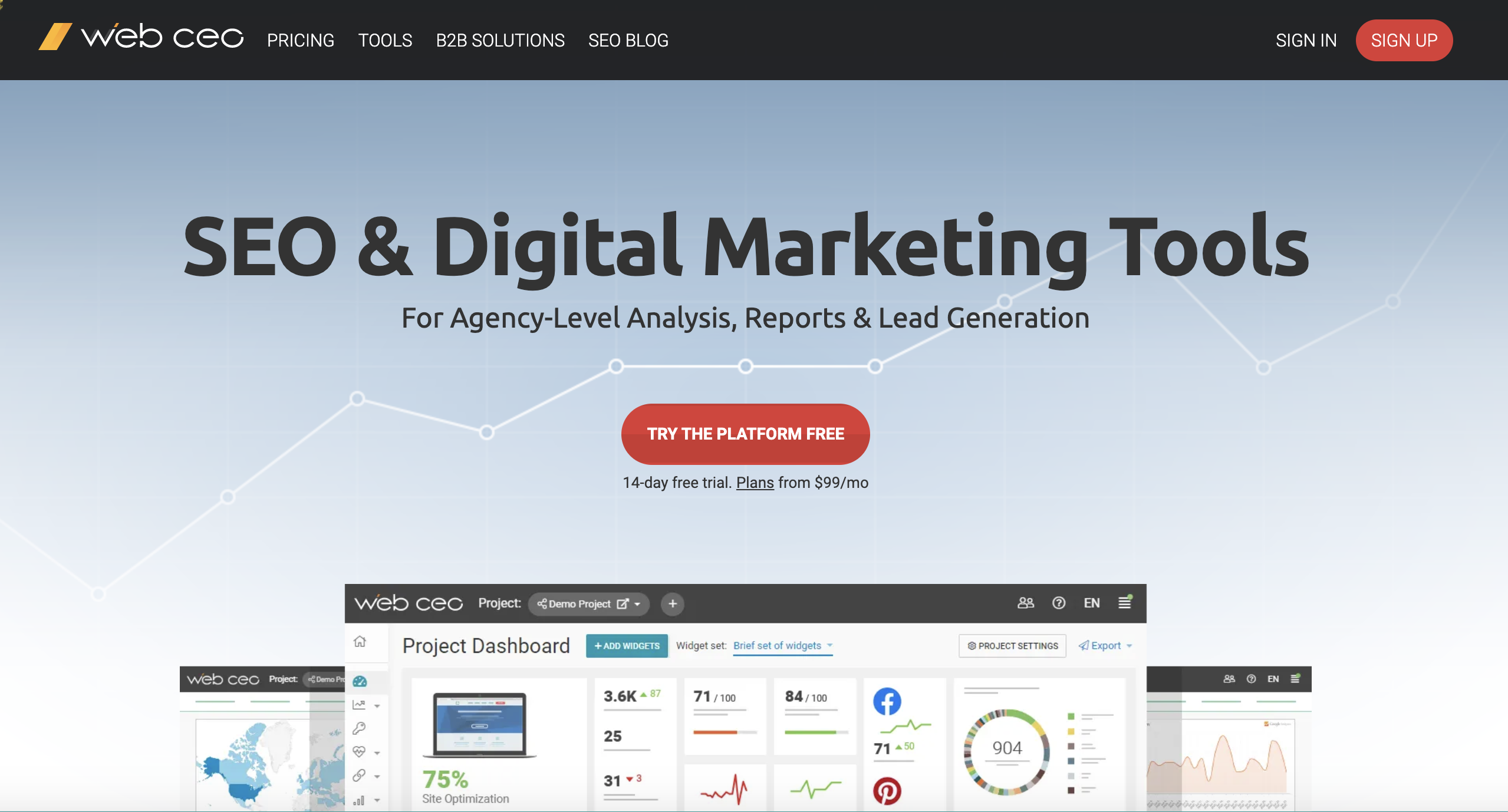 Since the platform hosts 23 pro-level tools, you may confidently scale the business via profound keyword research and SEO audits, safe link-building and link detox, social media and competitor analysis, and monitoring backlinks. Only some WebCEO alternatives can boast such toolkit diversity. In addition, its functionalities will be helpful for those who run multiple projects since scheduling SEO tasks in a batch is trouble-free and takes little time. And it's also possible to see progress at a glance with handy widgets and getmarketing analytics for each site .
Utility plays a pivotal role in client satisfaction within project delivery. It means you can produce impressive SEO reports branded with your company logo and style and customizable metrics. In order not to skip critical drops in rankings or backlinks, users are able to set alerts. Therefore, they will get notified via automated reports with step-by-step optimization guidelines as soon as a drop happens.
Pricing
This Moz alternative has an exceptional approach to pricing that is divided into two large categories according to SEO expertise . The first tier includes the Solo plan for newbie webmasters, priced at $37 per month. While the second one introduces three professional-level packages for experienced marketers: Startup, Agency Unlimited, and Corporate, costing $99, $99, and $299 monthly accordingly. 
Verdict
Whether you want to streamline the site to succeed in marketing as a freelancer or supply corporate needs, WebCEO will tackle it with a bang. It is the best Moz competitor in terms of local/global online advancement and SEO management processes . To see for yourself, try a 14-day free platform testing.
9. Nightwatch
With a futuristic design and progressive toolbox, Nightwatch is doubtless the market-leading Moz competitor for local rank tracking. Bloggers and SEO agencies can credibly develop their projects by accessing any Google Data Center worldwide. Apart from its core SEO features, it ensures the integration of your site's analytical and search console insights with software to showcase exclusive data about search performance.
Features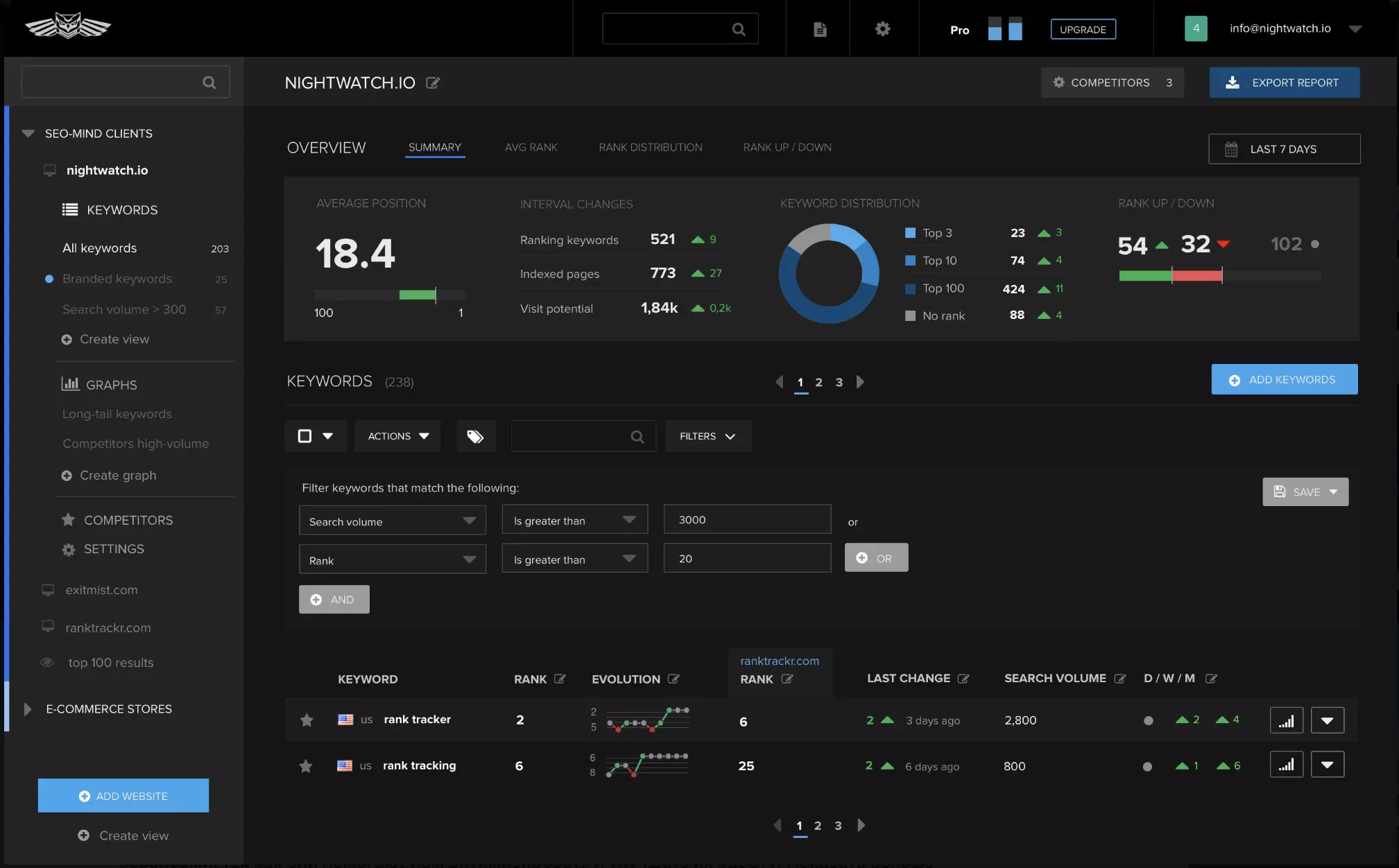 Advanced rank-tracking capabilities allow users to obtain stunning results locally. That is to say, it is possible to choose a specific location on the planet and trace ranking . And this is meaningful since Google doesn't demonstrate identical search results across the world. So unlike Nightwatch alternatives, this utility will make results personalized and geo-targeted to your particular audience. Furthermore, you can explore your present-time ranking positions in the SERPs and map pack across over 107 000 locations globally.
Another perk of the platform is its White Label Reporting. Generate custom, insightful, and easy-to-interpret reports for clients in minutes through the terrific automation of a drag-and-drop interface. There is a small number of apps that take pride in such powerful visual functionalities. Graphical representations covering reports will help you visualize your SEO performance success against your competitors and digest the info for further actionable steps. Plus, the toolkit enables the discovery of rank-boosting keywords and a solid Site Audit for identifying broken pages, links, missing tags, and more.
Pricing
Honestly, this is one of the cheapest Moz alternatives considering the tool arsenal users may get their hands on. At $39 per month for the Starter plan, it ideally supplies freelancers with valuable solutions. Marketing agencies and enterprises will greatly benefit from the features within the Optimize and Agency plans, priced at $99 and $369, respectively.
Verdict
Every newbie marketer and SEO pro with a strong focus on local and global rank-tracking growth will find Nightwatch the top Moz alternative. Owing to its innovative and comprehensive toolkit, any brand can become prime in its industry.
10. Site Analyzer
As the name implies, Site Analyzer aims to analyze each site corner profoundly and detect all SEO issues for increased online presence and towering ranking across search engines. Based on a multi-point audit, the platform delivers users relevant content to rank for in the SEO environment, which makes it one of the best Moz competitors.
Features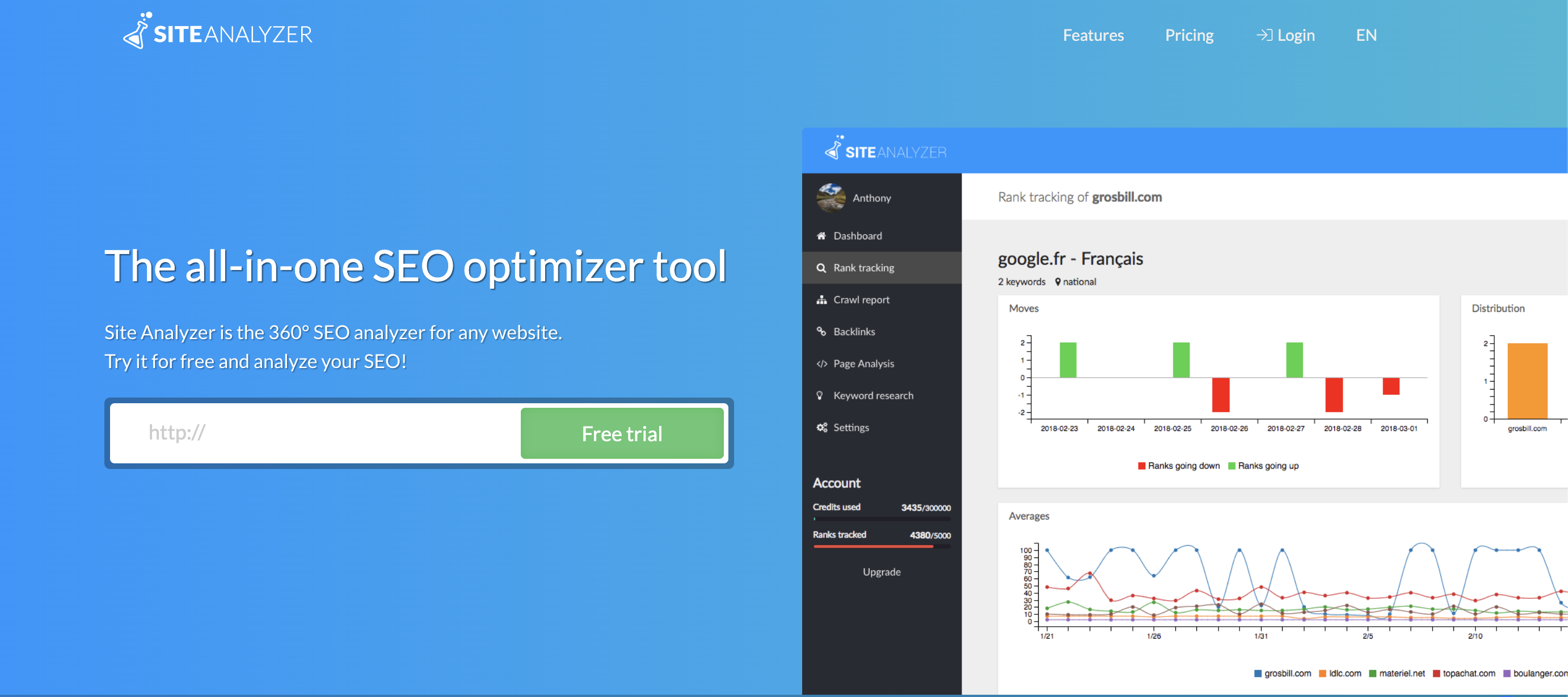 Like Nightwatch, Site Analyzer boasts an all-inclusive Rank Tracking tool. It will assist in getting insights into both your keyword rank modifications and your competitors. The same goes for getting a real-time overview of the SERPs against the competition. Thanks to the Keyword Research tool, you can enhance each keyword optimization for metrics like search volume, CPC, etc.
What truly makes this platform standout from Site Analyzer alternatives is the potent Site Crawl feature. By crawling, no SEO tech errors will go unnoticed. Apart from standard analysis of the site's architecture, broken and outgoing links, each page's content quality, and duplicate content, the utility comes with a fascinating highlight, such as checking the site for crawling by search engine robots. Additionally, you may determine good-authority links and remove poor-reputation ones with Backlink functionalities. It is also possible to develop customized reports and export them in PDF and CSV formats .
Pricing
The pricing system is designed to satisfy people of different budgets, even those with severe constraints. The first Starter plan goes as low as $29/month, while the more rich-feature packages: Pro, Agency, and Reseller, will cost you $69, $139, and $359 monthly accordingly. Besides, you're sure to save 40% on your investment if you pay a year in advance.
Verdict
Site Analyzer is arguably among the top Moz alternatives on the market regarding easy-to-comprehend and effective crawling and analyzing capabilities. The platform will boost online visibility across popular search engines and breathe new life into your business to outrank niche competitors. Try a 14-day full-feature trial .
Conclusion
Ever-emerging SEO trends and constantly updated Google algorithms dictate the rules. So implementing high-performing SEO tools for business development in the digital marketing environment is decisive. And if you yearn to achieve set goals, be sure to choose the right platform. No doubt, Moz tops the list of all-in-one solutions, but the market encompasses many other noteworthy Moz alternatives with more advanced toolkits and attractive pricing policies. But how to know precisely which top Moz competitor to add to your arsenal?
It is a challenging task since each platform has appealing perks and a unique scope of functionalities. To make a reasonable decision, both startup marketers and proficient SEO specialists should follow their business needs, budget, and aspirations. No less crucial is it to assess the toolbox of chosen software in terms of potential to scale the company further. Don't take other niche businesses' experience at face value while looking for the best Moz alternative. 
Each case ranges from site to site, so evaluate how the apps can optimize your overall SEO performance. However, there are alternatives to Moz, that facilitate digital product promotions from tiny blogs to vast corporations. They are SE Ranking, Surfer SEO, Ahrefs, and SEO PowerSuite. If you take a Moz alternative on board, you will certainly gain traffic, conversions, and sales.