General overview
SE Ranking is among the leading all-in-one search engine optimization services. The platform is aimed at a wide range of users — from small website owners and SEO freelancers to huge corporations and successful agencies with dozens of clients.
While conducting research for the SE Ranking review, we noted its extensive functionality. It offers many tools for keyword research, website rank tracking, competitor monitoring, and link building. The combination of carefully thought-out mechanisms and modern AI technologies allows you to receive comprehensive and clear reports that accurately indicate the next course of action.
SE Ranking review 2023 also shows that the platform has retained one of its key values that we love and appreciate — flexible subscription plans. It adapts to your budget and needs, not vice versa. You don't have to give up certain features or limit your business development because of huge gaps between the cost of certain subscriptions.
So, let's move on to a detailed study of the market leader of SEO tools.
Pros
In-depth organic and paid competitive research
Powerful backlink analysis and monitoring tools
Extensive keyword research capabilities
Provides pro features for a friendly price
Flexible account limits
Cons
UI can get a bit confusing and overwhelming
Granular level geographic data may be lacking
API access only on highest subscription plan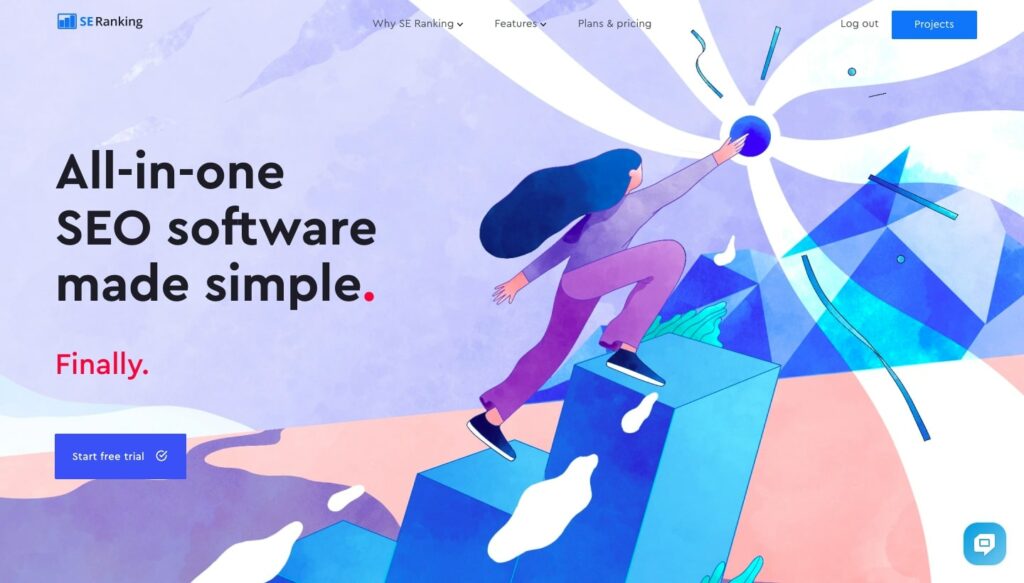 SE Ranking was founded back in 2012 and is headquartered in the United States. Known for its prompt customer support, SE Review is a tool that has been catering to this niche of marketers who understand that it is quintessential to not only build an effective and well-thought-out market strategy that keeps on evolving, but also follow through by keeping an eye on what the competitors are doing.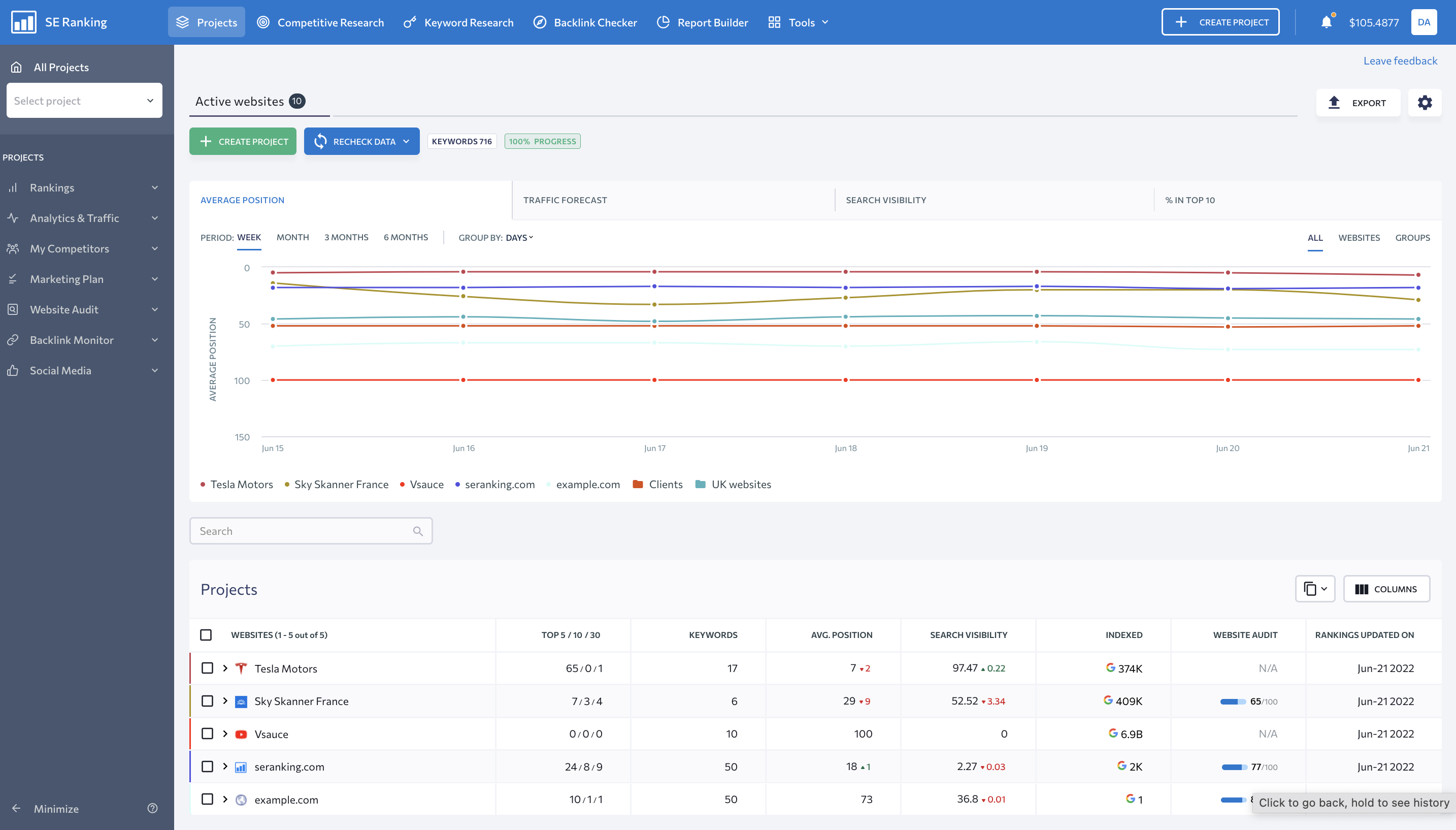 This cloud-based all-in-one search engine optimization tool has got all the tools you need to execute the right strategy. In the SE Ranking review, it is worth mentioning the keyword rank tracker, website audit, on-page SEO checker, backlink checker and monitor, page changes monitor, keyword grouper, white label, lead generation, SMM, API, and more.
SE Ranking is one of the best all-in-one SEO tools available, as it provides you with accurate data, detailed reports and analysis, and even extra tools that help you perform more tasks. This versatility and reliability make this an essential tool for any SEO professional or newbies. When you take the number of tools and features offered by SE Ranking and combine them with how much the tool costs, it ultimately comes up right on top of our roundup.
Pricing & Plans
In the SE Ranking review 2023, we should mention three available packages: Essential, Pro, and Business. Each plan has a different checklist from the number of keywords to other inbuilt features offered by the tool.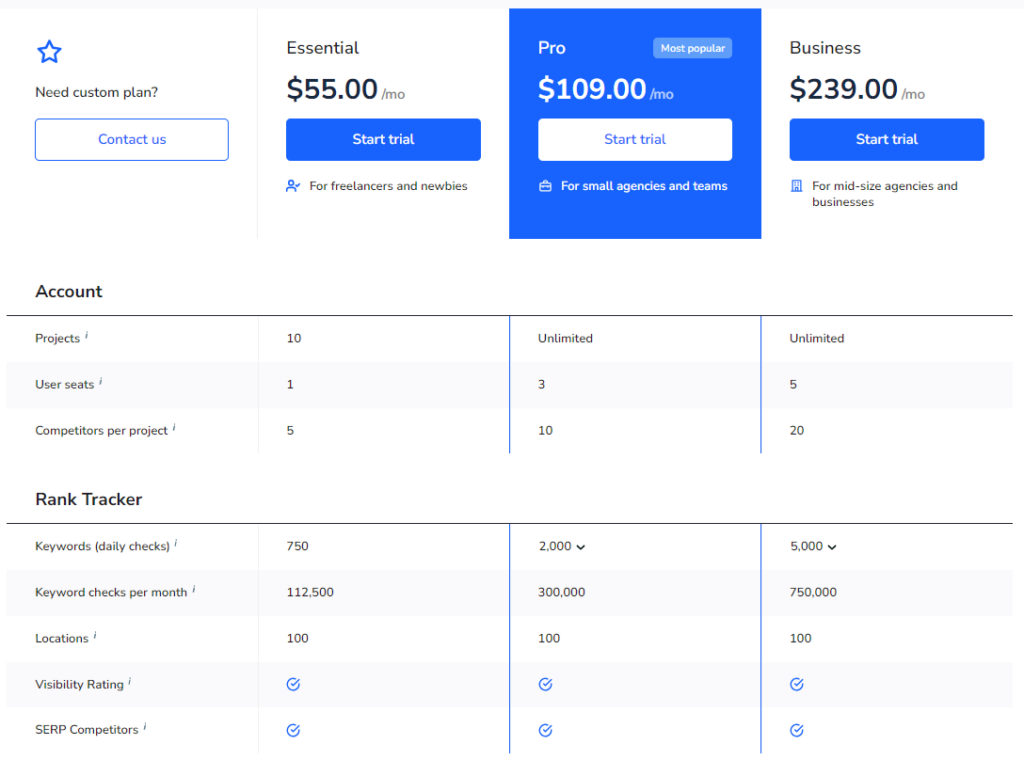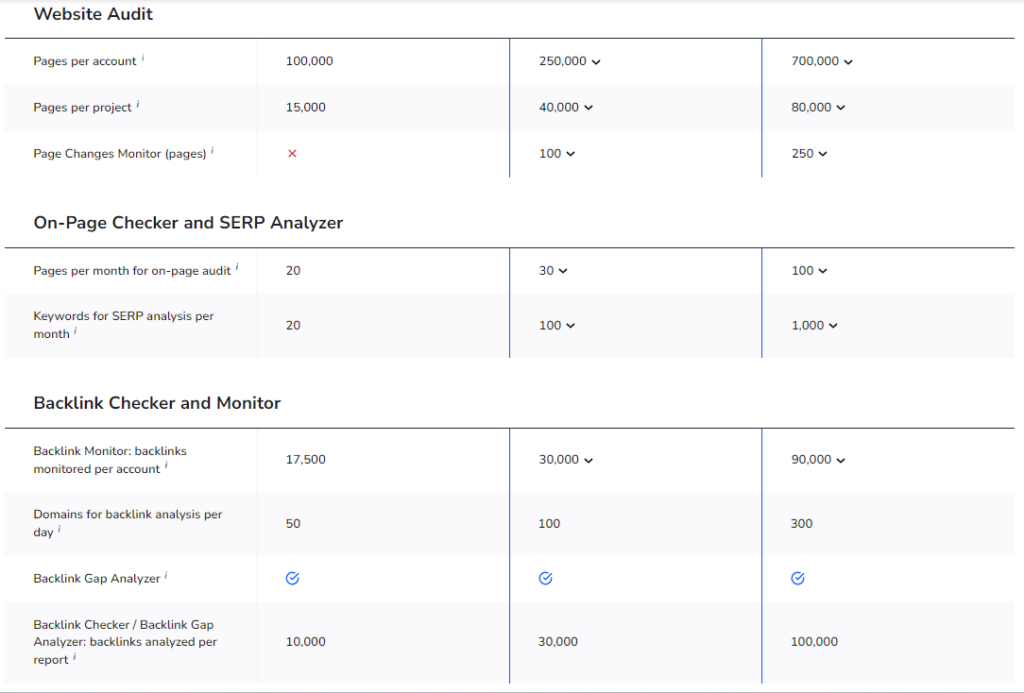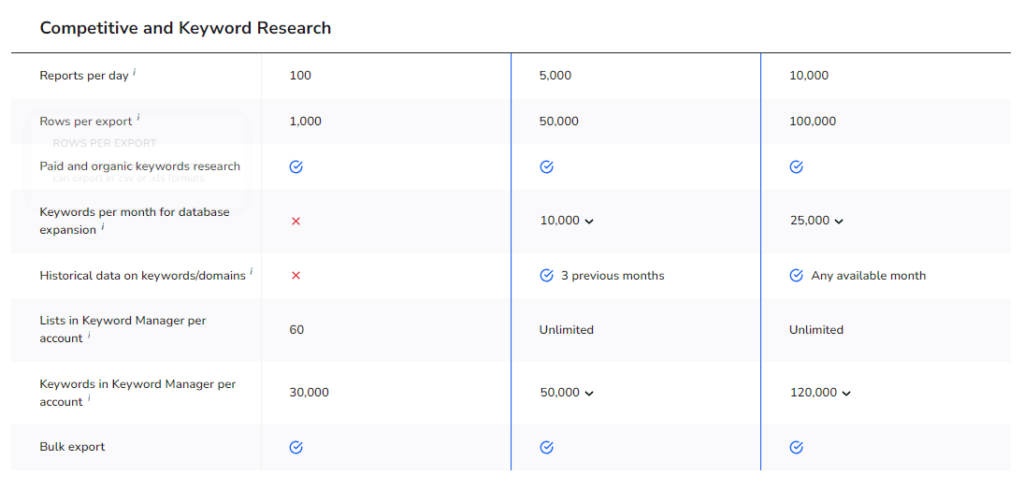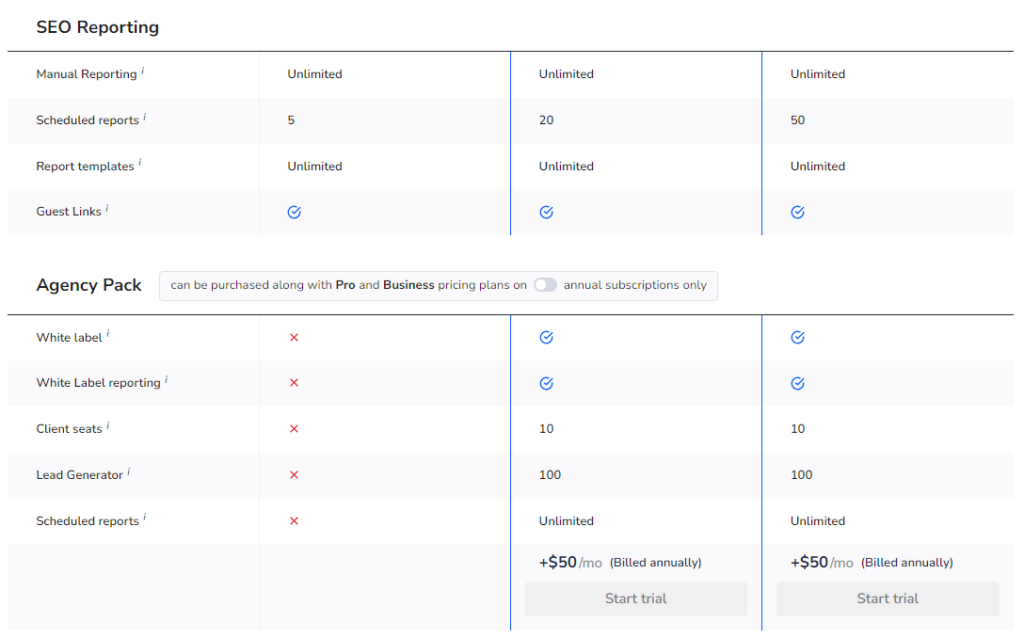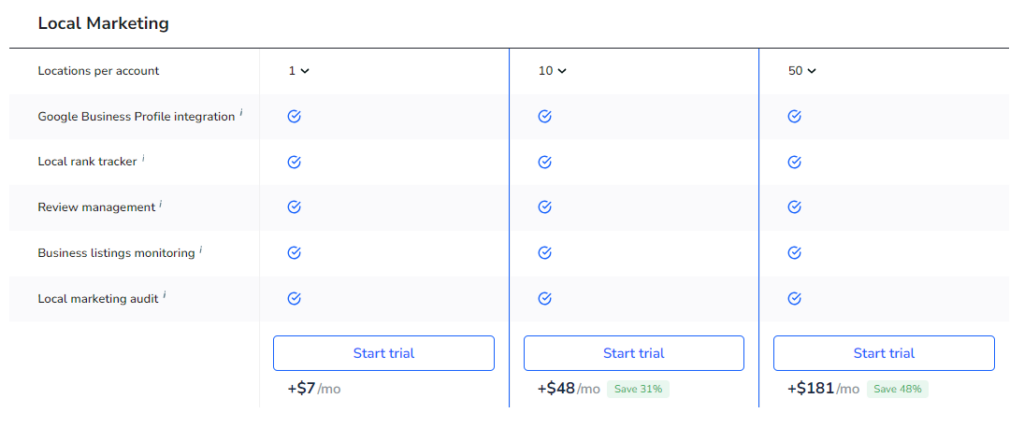 The Essential plan starts as low as $55 per month. For the basic 750-keyword plan, you get 112,500 keyword checks.
The Pro plan starts from $109 per month to $189 per month. For the 2000-keyword plan, you get 300,000 keyword checks. For the 3500 keyword plan, you get 525,000 keyword checks. All of the plans in the Pro range cater to an unlimited number of websites. This might be a better fit for businesses with an international presence.
During our review of SE Ranking, we paid special attention to the top Business plan, which offers an extended hand to large enterprises with hefty SEO needs. This plan starts from $239 per month and goes all the way up to $570 per month. For the 5000-keyword plan, you get 750,000 keyword checks. For the 10000-keyword plan, you get 1,500,000 keyword checks. It all reaches a maximum of 15000 keyword plan and 2,250,000 keyword checks for $899. All of the plans in the Business range cater to an unlimited number of websites.
SE Ranking offers a free 14-day trial that you can use to get a feel of the platform. By the way, you can always get help via the live chat. If you're not sure about the plan and what will work best for you, make use of the pricing plan calculator and SE Ranking will automatically come up with a plan that will suit your needs best.
Rank Tracker
Any SEO expert will tell you that you have to, first of all, target the right keywords to promote your web pages in search, and second, keep track of how these keywords are ranking and optimize your strategy in the process.
SE Ranking's Keyword Rank Tracker can let you know about the popular keywords that are striking the right chord with your audience. Plus, you can get historical ranking data on keywords that are most important to your campaigns, and check up on them to see if your ranking performance has improved over time.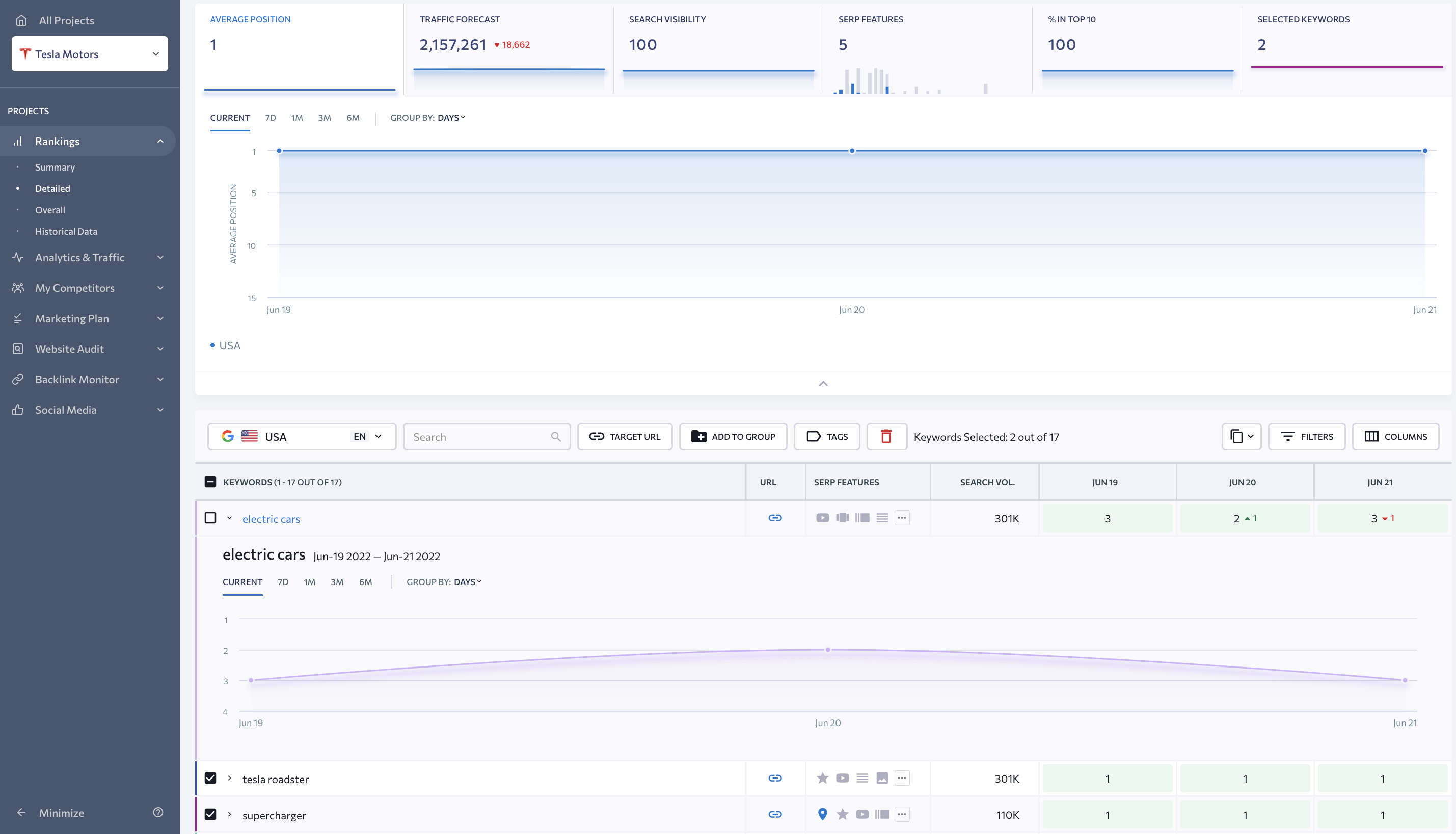 With SE Ranking, you can monitor keyword rankings across every major search engine, including Google, Google Mobile, Bing, Yahoo!, YouTube, Yandex, and Yandex Mobile. Moreover, besides keeping track of rankings on desktops, the platform lets you monitor mobile rankings as well on a daily basis, if needed.
In addition, you can use SE Ranking to get data on keywords like their search volume, what SERP features your pages show up for, level of ads competition, suggested bid, KEI, and traffic forecast. On top of that, SE Ranking even provides you with paid Google rankings data.
The best part of SE Ranking's rank tracking capabilities is that it lets you see how well your competitors are ranking for the same keywords you are targeting in your campaigns. This helps you stay focused on your direct competitors. Below you can see how Projectmanager is ranking for the same keywords that Trello is targeting.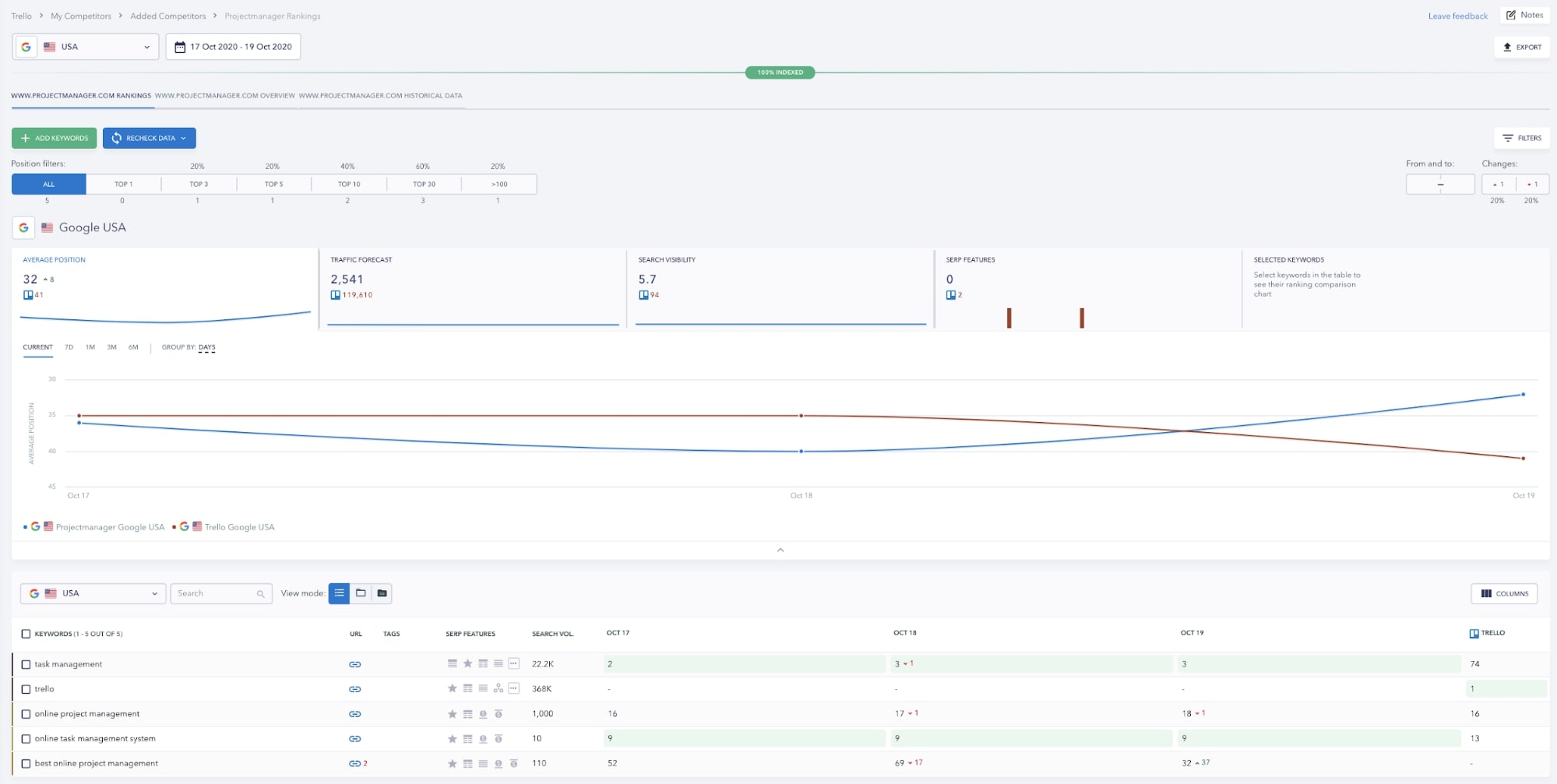 In the review of SE Ranking, we managed to find out who we are going up against for each of the keywords we target in our campaigns. Just go to SERP competitors to get a list of the top 100 organic rivals. You can use the calendar to go back in time and compare different periods to see what made a competitor go up or down in rankings.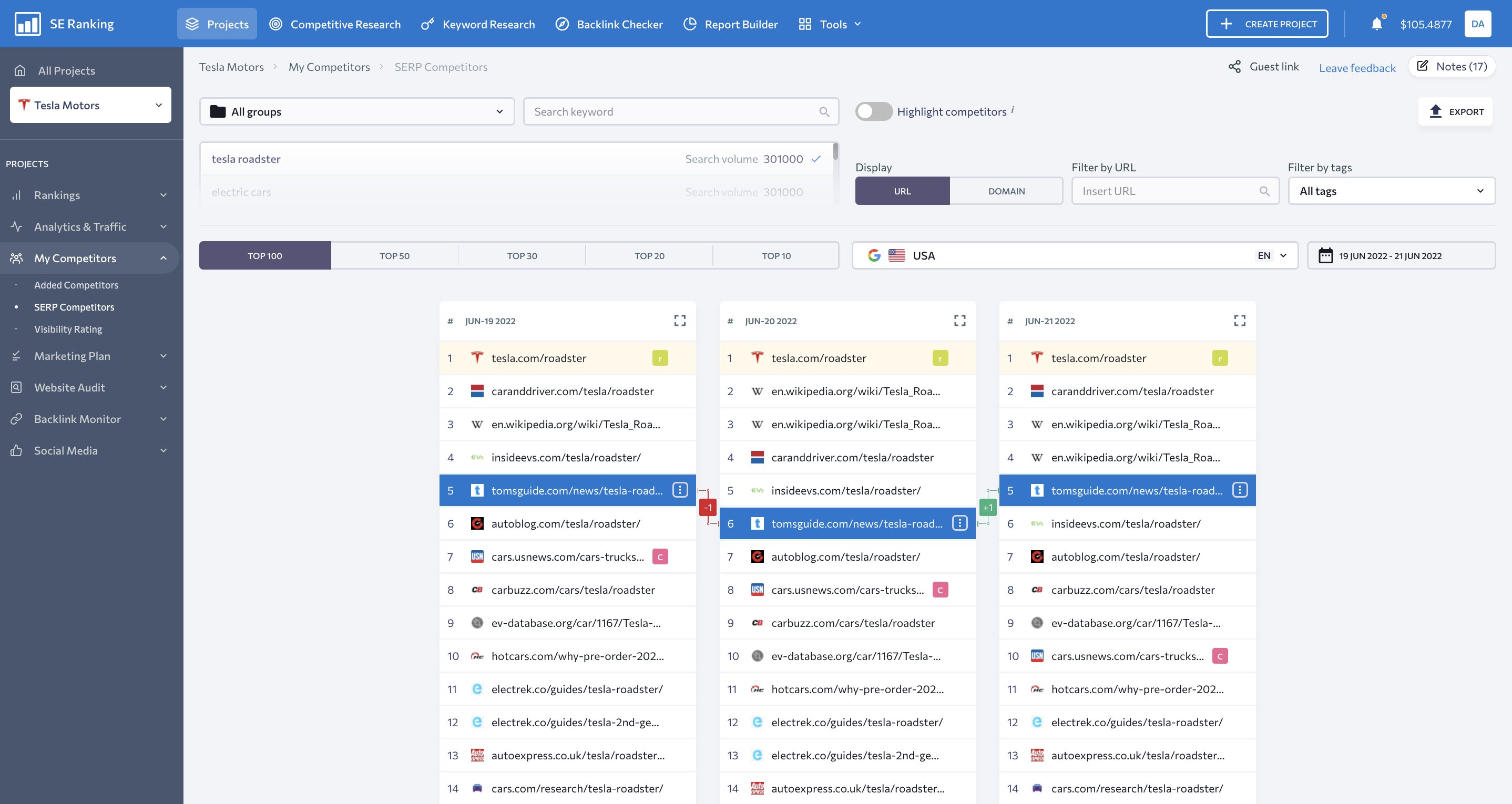 You can also bucket keywords into groups so that they don't get mixed up using the Keyword Grouper tool.
Overall, SE Ranking has vast keyword research and tracking capabilities, and the ability to monitor competitor rankings as well really make SE Ranking stand out. Given the very generous account limits, powerful data, and pricing policy, SE Ranking is a must-have tool in your SEO arsenal.
Site Audit
With SE Ranking, you can run an audit for a newly built or newly edited website. The limit for the number of pages is covered in the plans, with each one facilitating you for an audit of a limited number of pages. But don't get thrown off as the limits will still enable you to fully audit your website.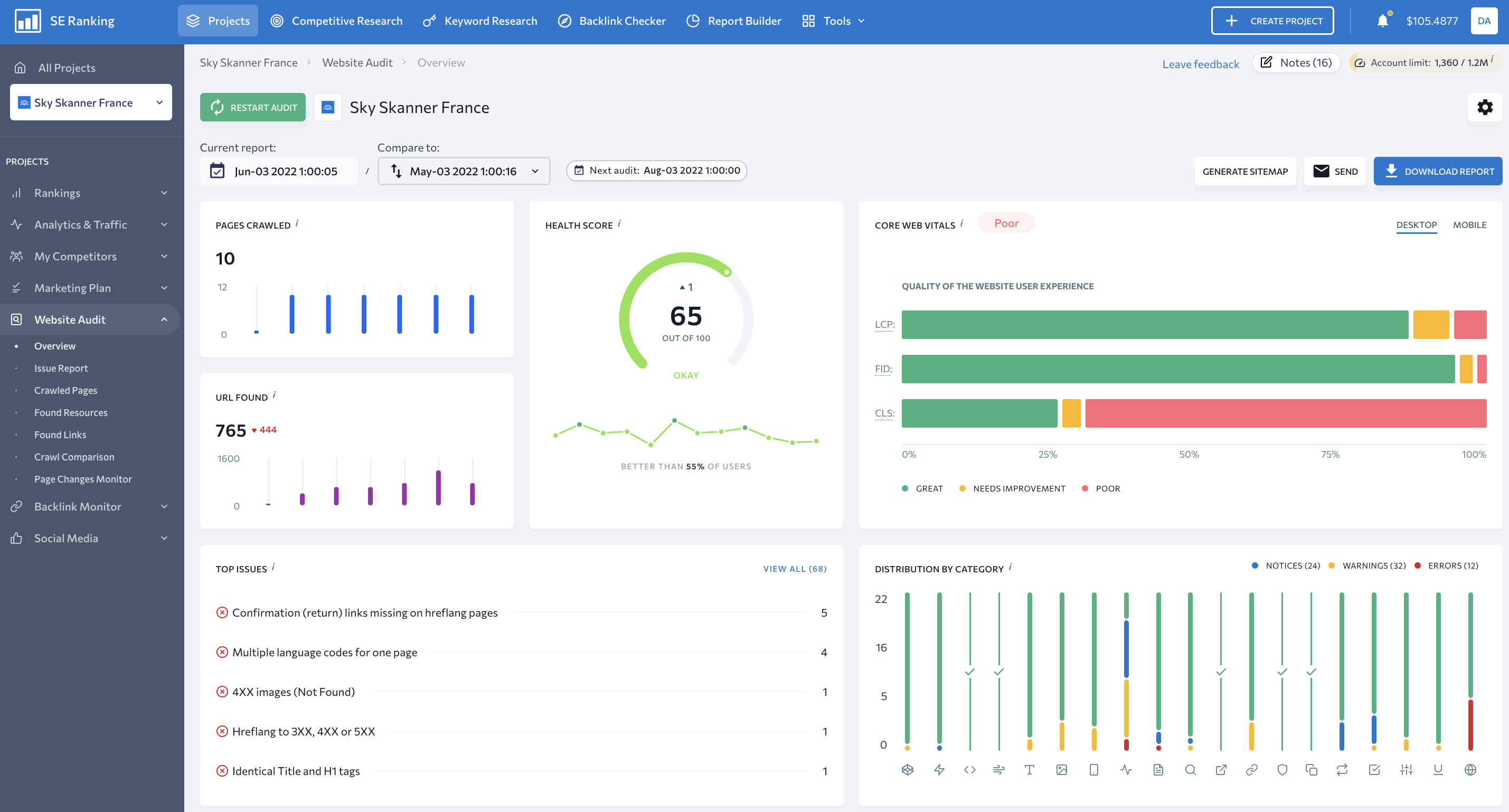 While running a website audit in the SE Ranking review, we could monitor the entire process as it happens. The audit will let you know if any important or semi-important fixes need to be made. In the final report that pops up, you can see the site's health, number of errors, the server location, the expiration date, and plenty of other data points that help you keep track of the on and off-page SEO performance of your site.
Moreover, other metrics like backlinks, index status are made available to the user. SE Ranking will also help you analyze content, links, images and other elements present on the website. The health check analyses the tech features of your website. Page analysis provides information about on-page errors.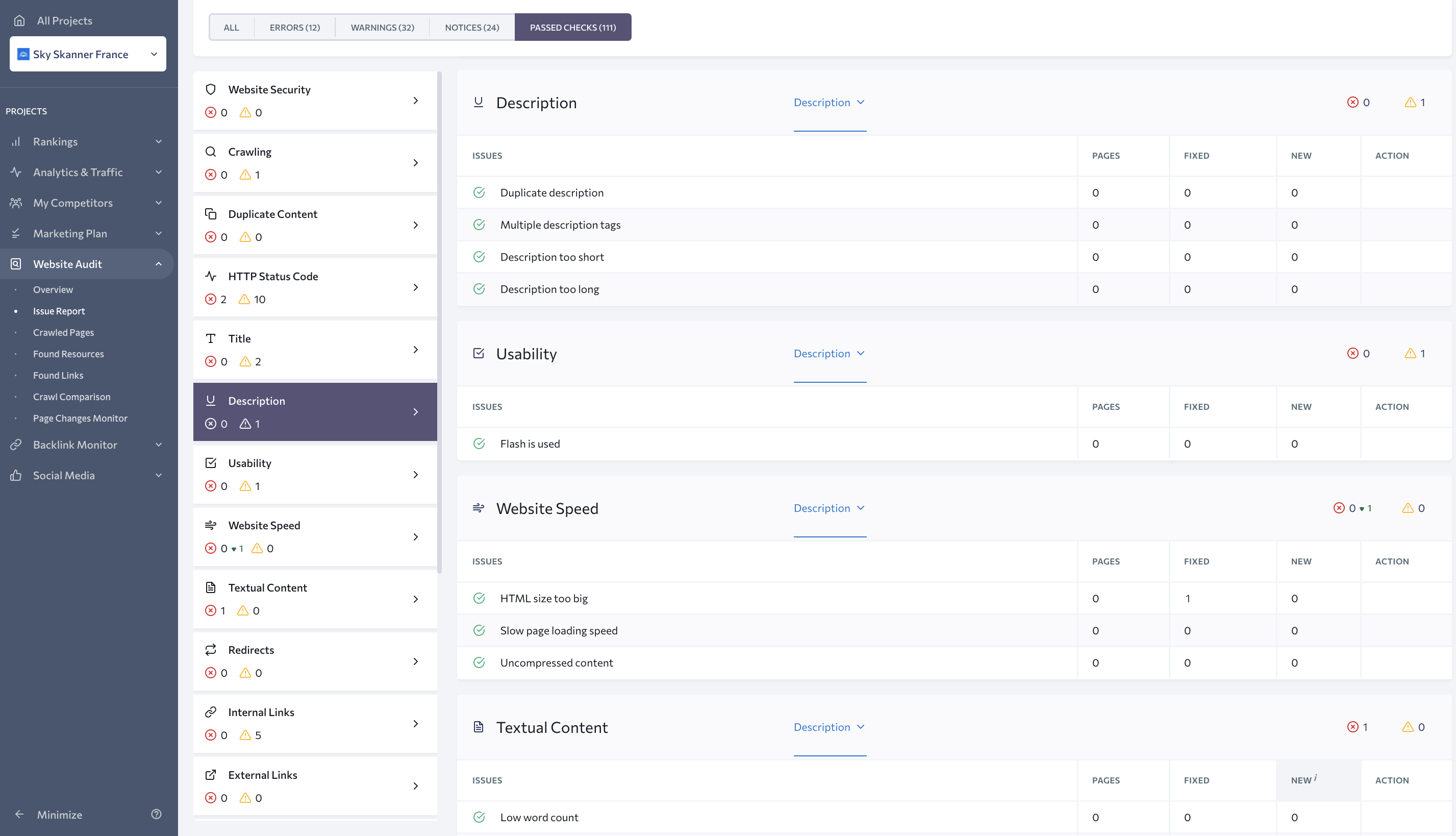 All SE Ranking reviews emphasize the wide range of tools available. A meta analysis will check up on the titles, descriptions, and the uniqueness of your website. Content analysis will check on the originality of your page copy. Link analysis helps monitor the outbound and inbound links. Many other functions can optimize your website in the best way possible.
It's all pretty straightforward, you can click on an issue to get additional information on how to fix it, fix it, re-audit your site, and check if everything's in shape this time around. Of course, you can configure the audit so that it runs only when you want to and audits only the pages you need.
SE Ranking has another excellent auditing tool, only instead of scanning the entire website, it audits a single page to see how well it's optimized for the target keyword. The On-Page SEO Checker examines the page and provides detailed suggestions on optimising it for both search engines and human visitors.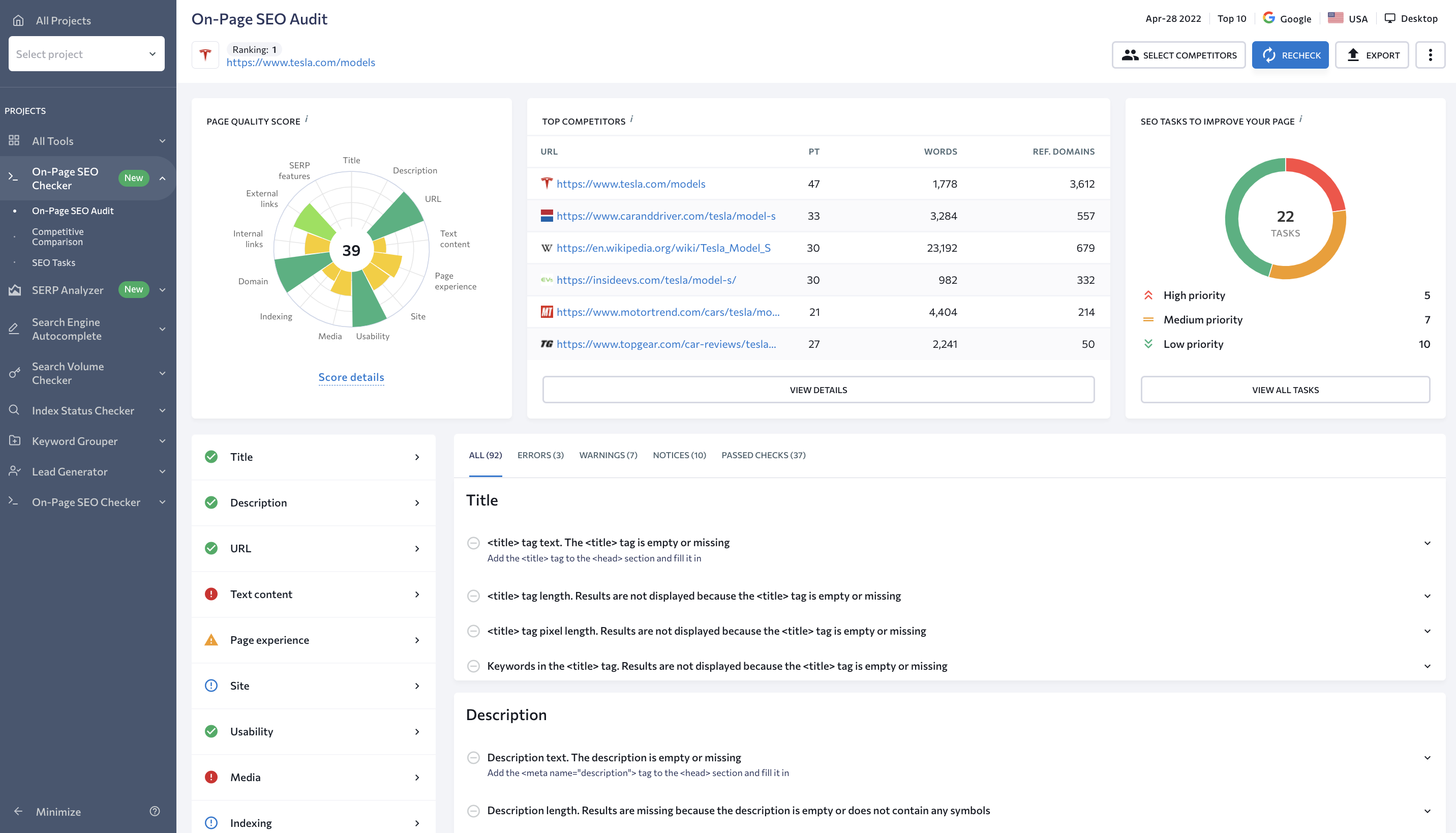 On-Page SEO Checker scans a page against 94 parameters (including HTML elements, content length, keyword density, page usability and backlink profile) to accurately estimate the page quality score and pinpoint any issues or inconsistencies that may affect a page's performance and its ability to rank high.
What makes On-Page SEO Checker special is that SE Ranking uses powerful AI-based technology to thoroughly analyze the best-performing competitors and to seamlessly calculate the average values of various page parameters.
Any parameter that falls out of the recommended range is thoroughly assessed and (depending on its impact on SEO) is qualified as an error, warning or notice.
In the SE Ranking review 2023, we should note that the system relies not only on AI predictions. Further suggestions are based on real-world metrics from a particular SERP. Users get accurate data that they can use to decide how to go about performing their individual project's on-page optimization. The tool creates a to-do list with SEO tasks and even offers users actionable tips on how to more efficiently achieve their desired results.
Competitor Research
SEO/PPC Competitor Research is one of the most sought features in SE Ranking, and it is second to none. It doesn't get much easier than that. You can easily check on your competitors and see what they are up to, learn what keywords they use in organic and paid campaigns, find out what their backlink profile looks like, and much more.
Take a peek at the volume of organic and paid traffic your competitor is generating and the keywords that are making it happen. SE Ranking reviews indicate that you can get a detailed report about the organic and paid keywords as well. You can also see what your competitors are bidding on and you can just start from there.
You can also find out who is competing with you and drill down to one or a few specific competitors. It is easy to see what they are paying for and start your trail from right there without having to pay for it. If you need more keyword ideas, you can even compare several domains to see what makes each one unique.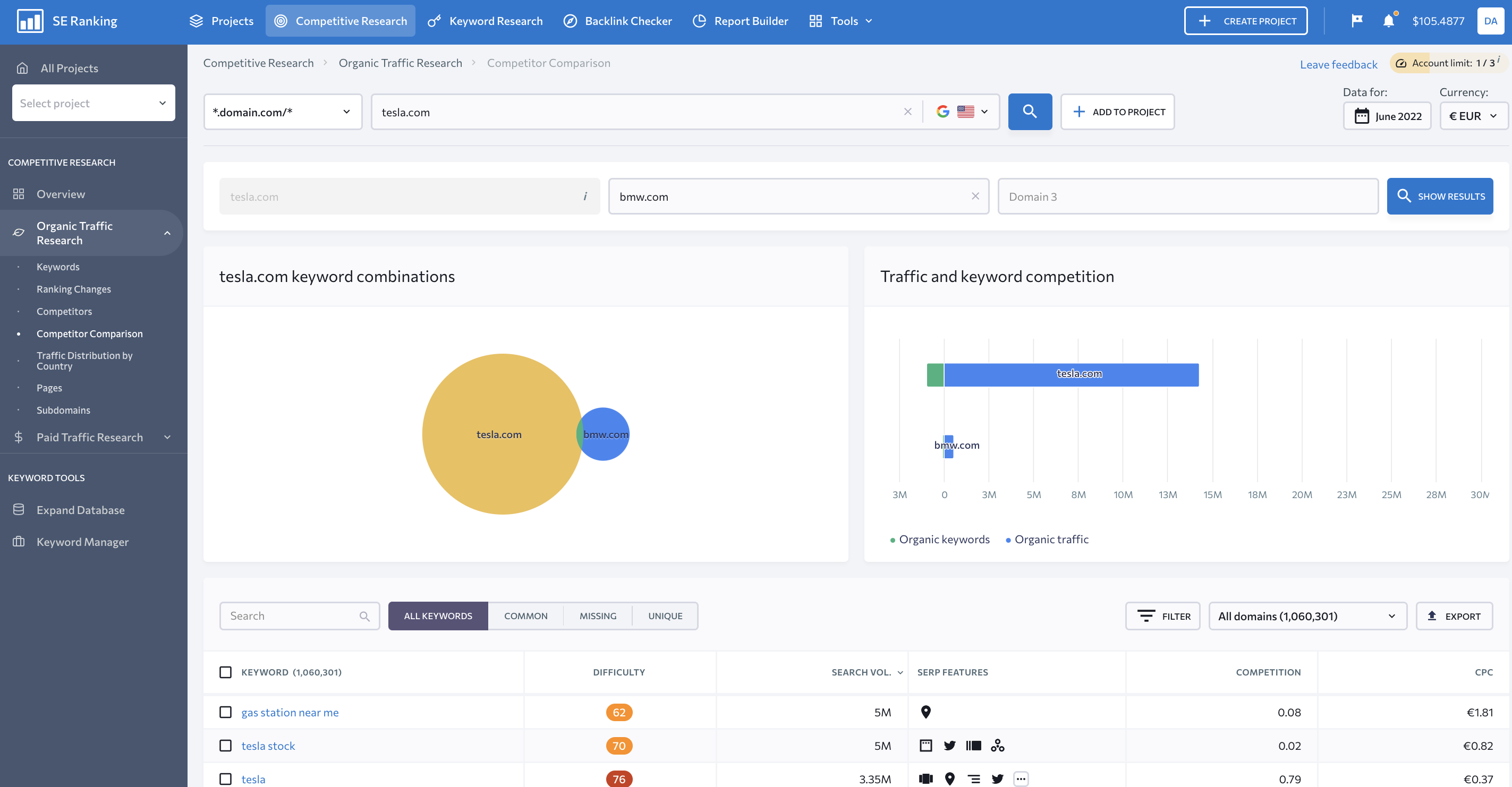 The same data can be found on organic and paid traffic, plus you can even see what ads your competitors are using and used in the past to drive traffic to their site.
Additionally, you can use SERP Analyzer—another SE Ranking tool designed to help you research the competitive landscape of a particular SERP. This tool will be handy for users who are planning to launch a new page and want to determine whether or not the page will be able to reach the top of the SERP. It can also help users gauge the amount of effort it will take to get there.
SERP Analyzer checks up to 50 highest-ranking results for a target keyword, and each search result is analyzed against 110+ on-page and off-page parameters. You can pick any combination of the analyzed metrics and look for correlations on the graph, e.g. you can check if pages with better page experience score rank high or how many backlinks top-ranking pages have acquired.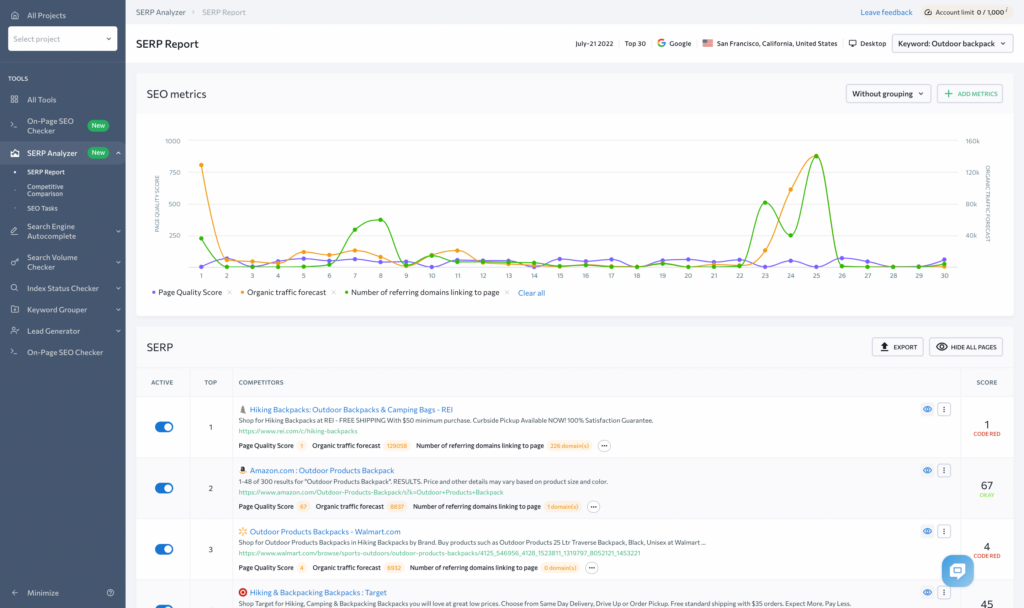 SE Ranking reviews emphasize that with SERPs Analyzer, users can compare the top search results, pinpoint their strengths and weaknesses and define specific patterns to follow when creating their own pages.
Finally, the Page Changes Monitoring will help detect any change just when it happens. Simply add a page, be it your or a competitor's, and SE Ranking will let you know if anything changes on that page.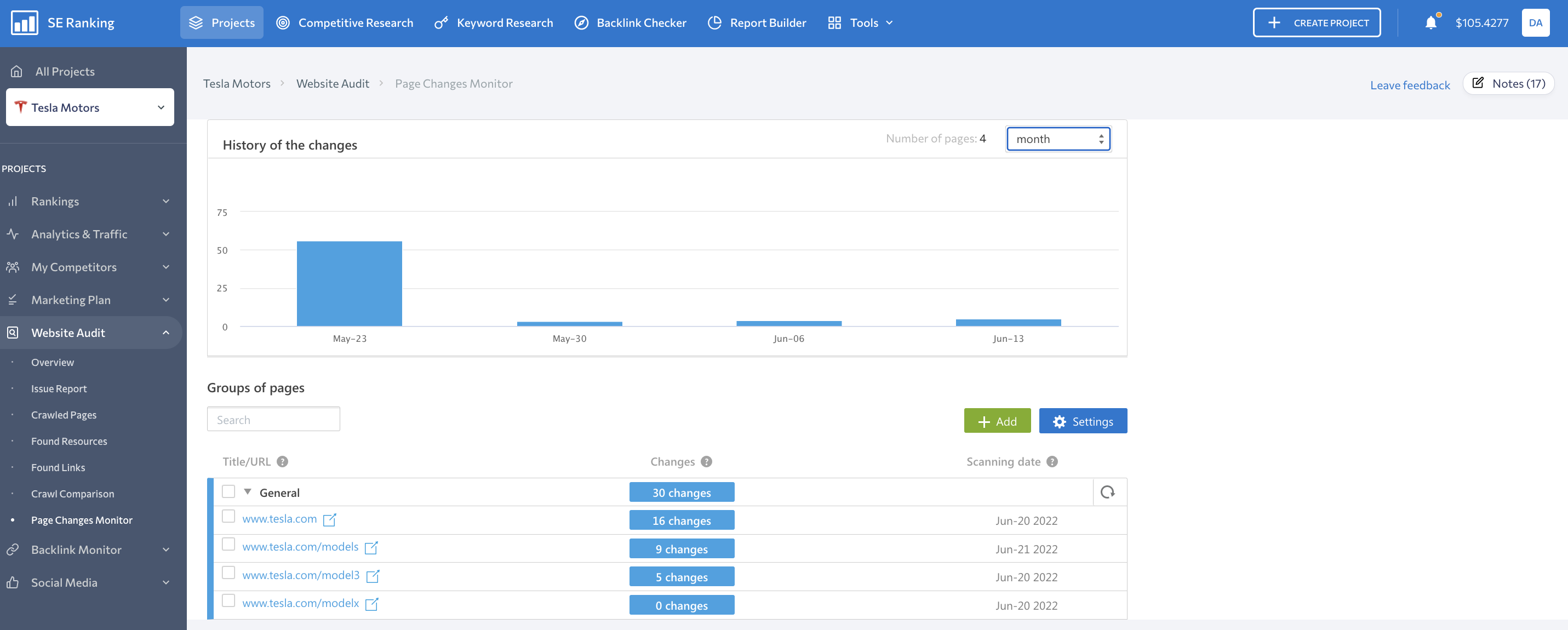 That way, you don't even have to keep an eye on your competitors and can focus on developing your business. You can actually add every competitor page one by one and know about every single thing they change. Doing so will help you adapt your own strategy as soon as your rivals change theirs.
Once again, SE Ranking comes up strong on top due to the complete data they provide, the number of tools and features designed specifically to help you spy on your competitors, and it's attractive price range. We recommend trying it out regardless of whether you're starting out with SEO or are well on your way.
Backlink Research
You know how you always wonder about the backlinks your competitors use or the ones you want to use? But the problem is that the competitors won't let you in on their data and you do not have an appropriate insight into what might work. Well, with SE Ranking, it's a walk in the park.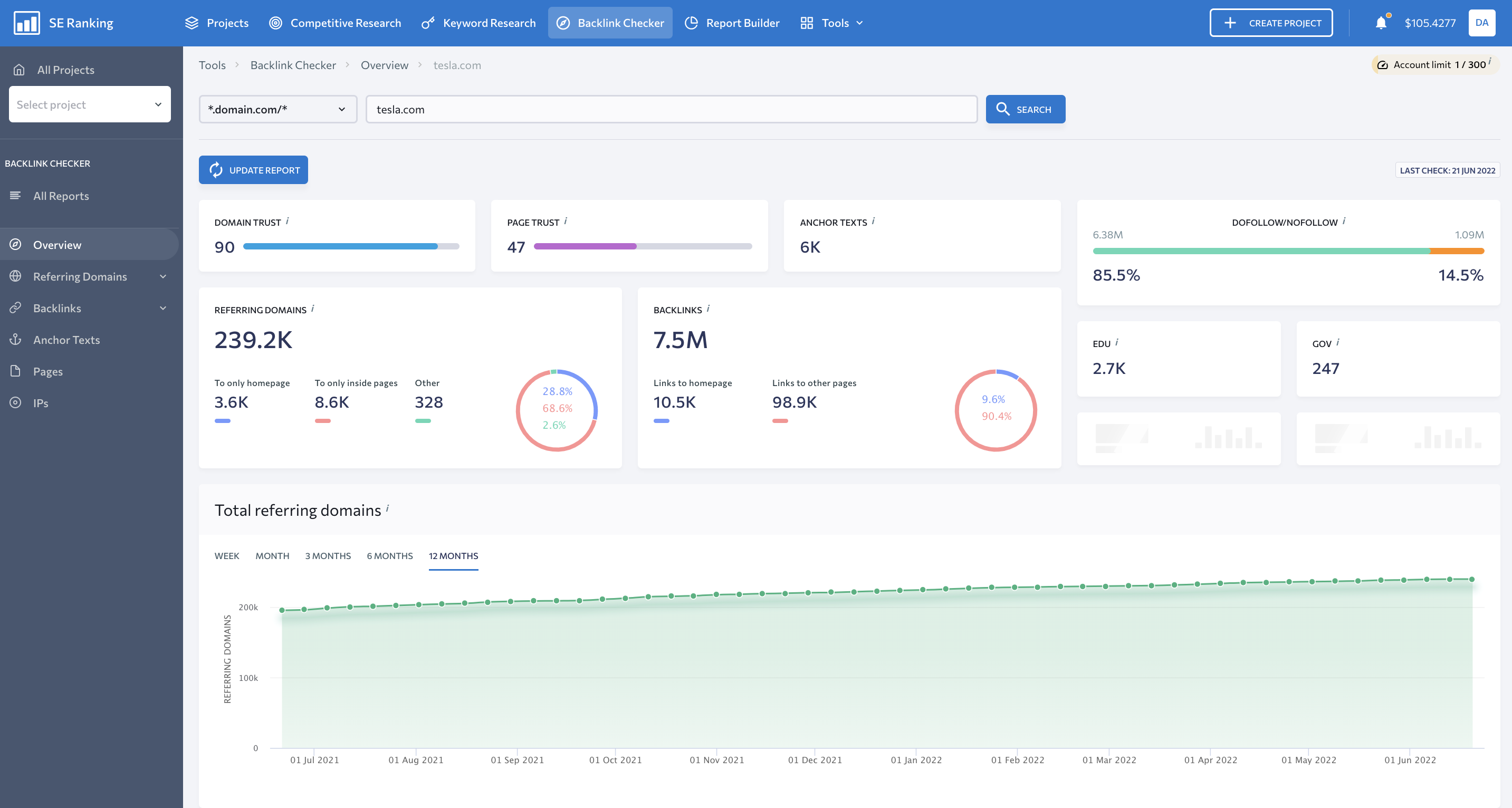 All you need to do is, punch in the domain of your competitor and there you have it. The tool gives you all the details about the most clicked and trusted backlinks and you just have to follow the lead.
It allows you to look at the referring IPs and referring domains and the amount of traffic generated in total. The domain trust is also visible on the page. You can filter the page as per the domain trust score.
By going through all the different tabs available under the tool, you can get more information about the backlink profile that includes a detailed list of referring domains, anchor texts, pages, IPs. Using this data along with actionable metrics such as domain and page authority, you can see what a competitor's backlink profile looks like and take their already beaten path.
Once you've obtained all the information you need about a backlink profile, you can easily keep track of the links using the Backlink Monitoring tool. Therefore, in the review about SE Ranking, the service gets a high rating for the work of this module.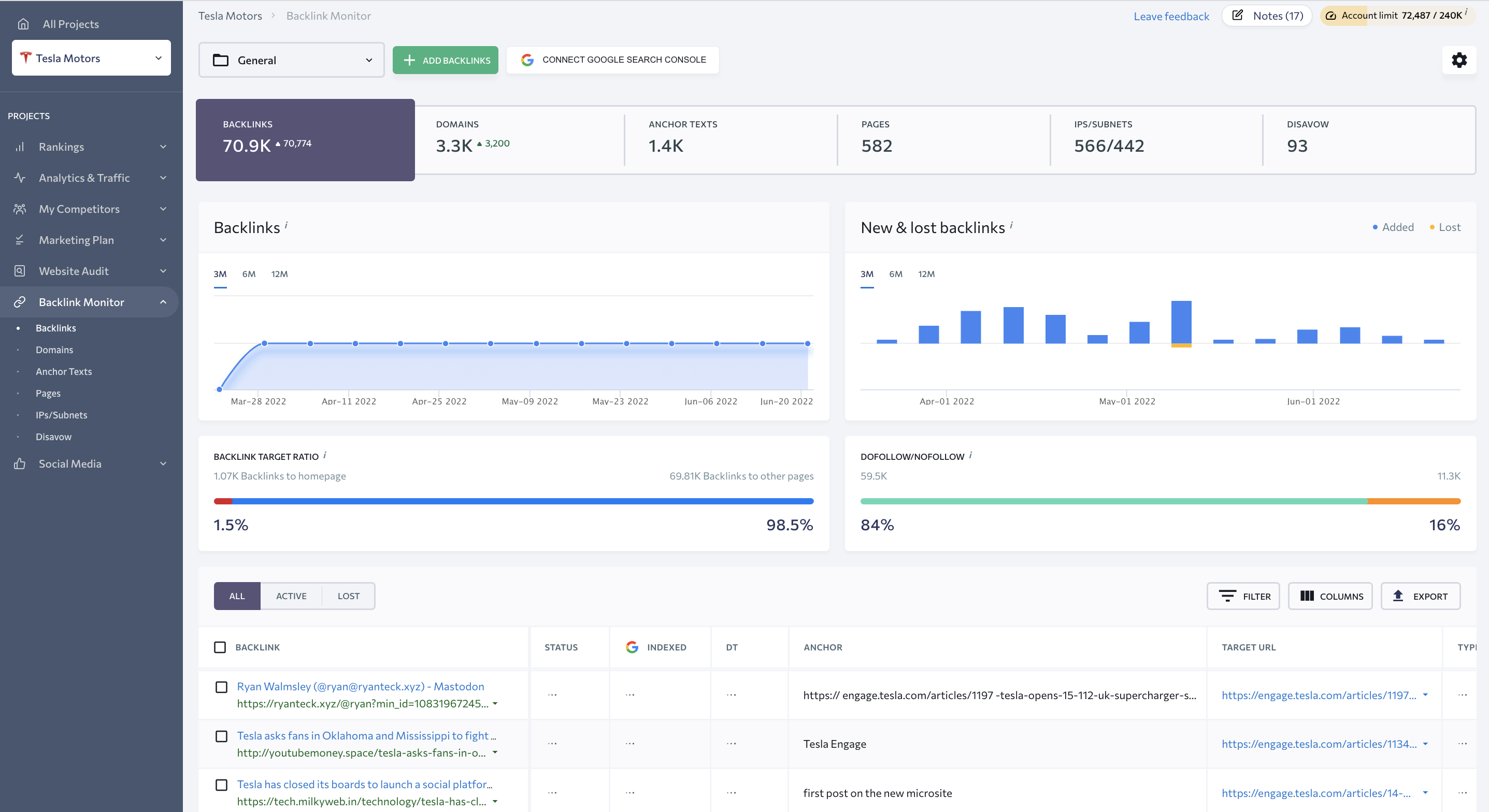 Just add them to the tool and always know about their status, and if anything changes, you can react immediately. On top of the tracking capabilities, the Backlink Monitoring tool pulls additional data on backlinks that isn't available in the Backlink Checker.
No matter how you look at it, SE Ranking gives you everything you need to excel in SEO and leave your rivals behind. An excellent all-in-one SEO tool for businesses of all sizes.
Even a quick SE Ranking review makes it clear that we are looking at one of the best SEO services in the all-in-one category. Its obvious advantage is the use of AI technologies that make analytics really fast and efficient. In just a few minutes, you can get a detailed report on the technical condition of your website, the comparison of its current state with competitors, and the effectiveness of your SEO strategy.
When preparing to review SE Ranking, it is also impossible to pass by the flexible subscription plans that can be customized to the budget of any user, from a small website owner to a powerful SEO studio. They are divided by both functionality and keyword limits, which allows you to increase costs in small steps as your project grows.
Of course, the SE Ranking review cannot overlook some of the platform's shortcomings. The interface of the cloud service is more likely to appeal to professionals. For beginners, it may seem very confusing, although this problem is partially solved by round-the-clock technical support. You can also complain about the lack of detail in geographic segmentation, but it will be relevant only in a narrow segment of international projects with a developed network of branches.
Frequently Asked Questions
What is SE Ranking?
SE Ranking is an all-in-one search engine optimization service. It is suitable for any user — from a small website owner to a reputable SEO agency or a large corporation. With its help, you can easily increase organic and paid traffic to your website, improving business efficiency.
How to use SE Ranking?
SE Ranking is a cloud-based service that does not require any software download or installation. You can access it using any modern browser — desktop or mobile. To use the platform, you need to register, create an account, and choose the optimal subscription option. The service offers a 14-day free trial period that allows you to evaluate most of its features.
What is SE Ranking used for?
The main modules of the SE Ranking platform are keyword research, website rank tracking, competitor monitoring, and backlink management. The service generates very convenient and understandable reports that allow you to determine the current status of the project and the best ways to develop it. The platform can also be used for a technical website audit to find and fix errors that affect the usability and performance of web pages.
How much does SE Ranking cost?
SE Ranking offers flexible subscription plans based on the set of features and the number of projects and keywords. An Essential subscription starts at $55. The Pro plan, aimed at SEO freelancers and small agencies, costs $109-189. The top Business subscription is designed to work with many large-scale projects and costs $239-570.
Visit website