General overview
If we are talking about comprehensive website analytics tools, it is impossible to do without a SEMrush review. It is one of the top platforms in its category, which has earned the recognition of tens of thousands of professionals worldwide. It covers almost every aspect of online business promotion — from keyword research to generating new ideas for project development, from fixing minor technical errors to continuously monitoring competitors. SEMrush allows you to build your marketing strategies based on the best solutions of your competitors or look for your own unique areas of development.
However, it is worth noting that the developer focuses on professionals, artificially limiting its audience. The platform is not popular among junior SEO specialists, freelancers, and small website owners. The reason is quite simple — expensive subscription plans, with no affordable subscription designed for the first steps in SEO. We should also mention the complicated interface that can confuse an unprepared person. So, will the considerable investment in a subscription to this service be justified? The answer is in the SEMrush review 2023.
Pros
Powerful, elaborate dashboard
Complete keyword research and domain analysis tools
Keyword suggestions
Backlink tracking capabilities
Breakdown of desktop and mobile searches
Useful project-based SEO campaign structure
Tools for social media management and content marketing
Cons
Pricing plans start at $100 per month
Limited functionality on mobile devices
Occasional use of industry terminology
Poor multi-user support
Low account limits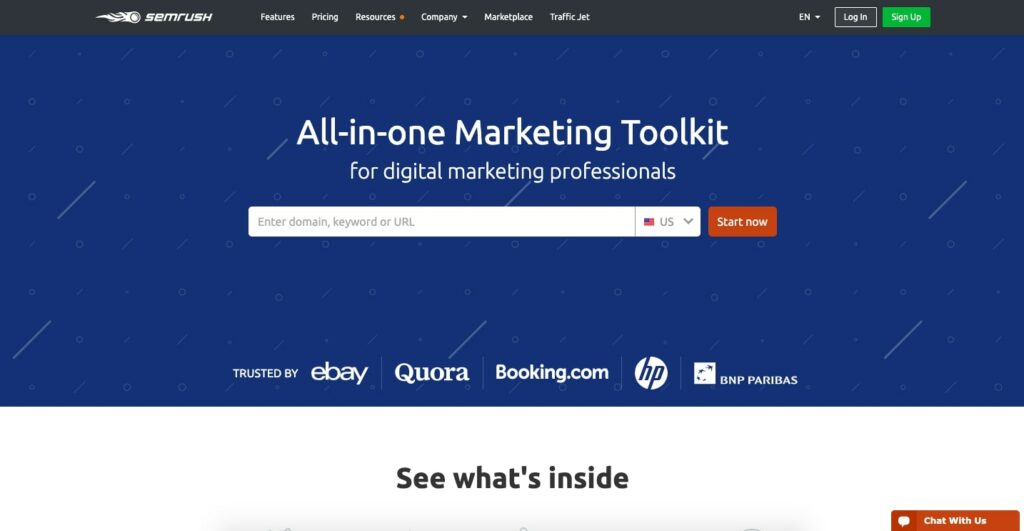 First launched in 2008, the Semrush toolset includes a vast number of tools developed for both SEO and marketing purposes. It strives to optimize all related processes ranging from researching your rivals to analyzing traffic and even lends you a hand in creating content.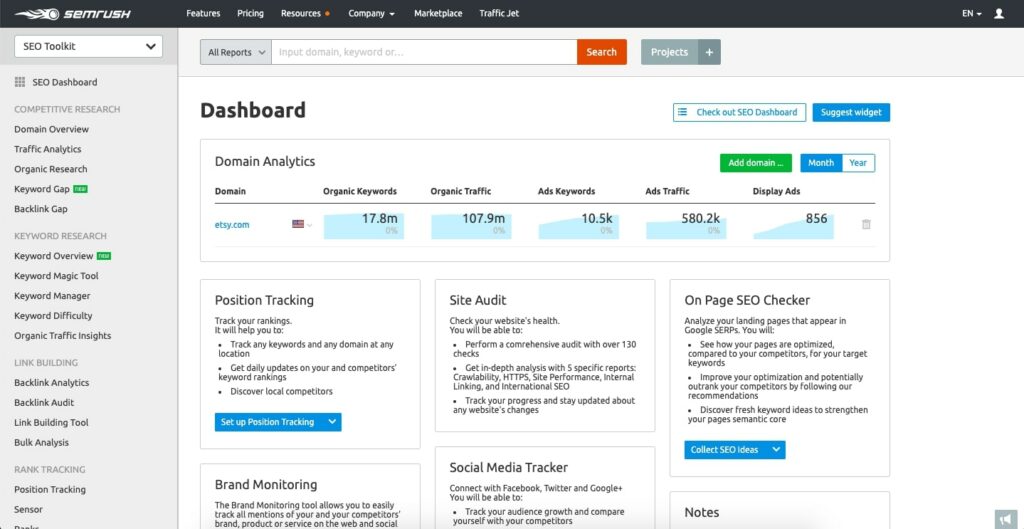 Taking into account how much data and tools it offers, Semrush is right there at top along with other top-notch SEO services that provide a number of tools that help streamline SEO and marketing for more visitors and, hence, sales.
Semrush pricing plans start at a whopping $99.95 a month and it's not perfect for teams due to the limits–it will cost you $70 a month to add an additional user. However, it offers a comprehensive toolset that can give you all the data you need in terms of keywords, competitors, backlinks, and lets you audit domains as well. Despite not being our top overall choice, Semrush is still an excellent SEO solution for midsize and large businesses.
Pricing & Plans
Semrush offers three subscription plans with preset account limits alongside the customizable Enterprise pricing plan that is best suited for large businesses.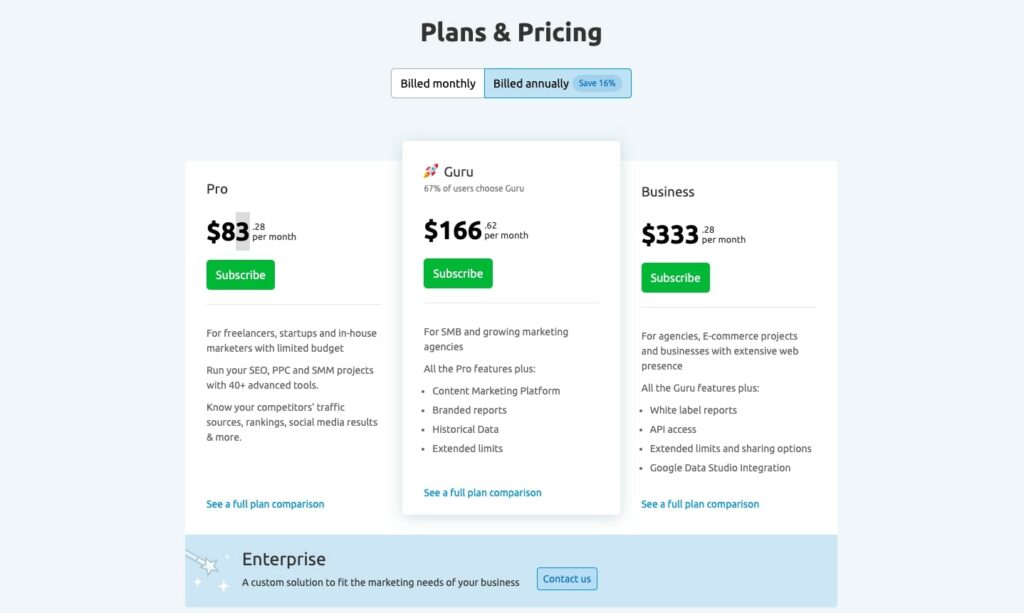 The SEMrush review 2023 starts with the Pro subscription plan — the least expensive subscription option in Semrush starting at a monthly cost of $99.95. It is designed for everyone working on freelance, startup companies, and other businesses with insignificant marketing needs. Besides competitive research, this plan unlocks access to essential SEO, advertising and social media management features and tools.
The Guru plan will cost you $199.95 a month. In addition to the tools and features unlocked by the Pro plan, the Guru plan grants access to such tools as historical data, branded reports, and content marketing. SEMrush reviews also indicate that some of the account limits are increased in comparison with the Pro plan, so if you're running a larger business then you should consider this pricing option.
The Business plan will cost you a small fortune each month with pricing starting at $399.95. On top of everything offered in the Guru plan and an increase in account limits, this plan includes Google Data Studio integration, access to the API, and white label.
If you need even more from Semrush, you can reach out to them and request a custom quota in the form of Enterprise pricing. If you go for any annual subscription, you will get 16% off. If you want to try it out, take advantage of the free trial offered for Pro and Guru pricing plans. As we review SEMrush, we should note that Business and Enterprise plans do not include a free trial.
Rank Tracker
In terms of keyword ranking position tracking, Semrush offers several useful features many of which are unique for the tool and cannot be found in rival solutions.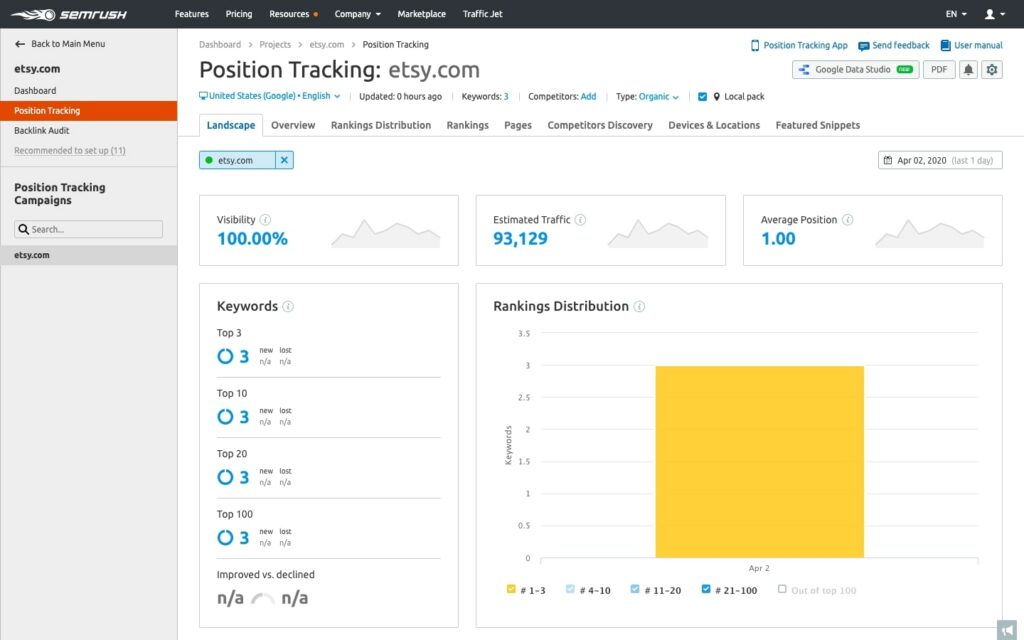 Besides providing keyword ranking positions for specific search regions, Semrush delivers a lot of additional data such as visibility index, estimated traffic, average position, and so on. Let's focu on them in greater detail.
The Visibility Index is based on the analyzed site's click-through rate and highlights how the site's progressing on Google's organic and paid search, taking into account currently tracked keywords.
Estimated Traffic is based on the average click-through rate multiplied by the keyword volume, and then divided by 30. This metric's purpose is to let you know how likely people are to click on the site in the SERPs, based on its current rankings.
The Average Position shows what the average keyword ranking position is for all tracked keywords in a campaign. Keywords provides data on keywords that are among Google's top 3, 10, 20 and 100 search results. Another metric, Top Keywords, puts your best performing search queries forward to let you know where you're successful.
SEMrush reviews often emphasize interesting metrics like Positive Impact and Negative Impact, which show you which keywords got the best/worst rankings in a given period of time. In order to view how your rankings have been distributed over time, check out the Rankings Distribution metric. SERP Features shows what SERP features were tracked on the last date of the selected time period.
And last, we have Top Competitors. This area lets you monitor competitor rankings and compare your overall ranking progress to theirs. With this data, you can improve your keyword strategy to keep up and, ultimately, outrank your digital rivals.
If you're tracking thousands of keywords, keeping track of all these metrics can be rather difficult. To help you do this, you can group your keywords by adding a tag. You can add up to 5 tags to each keyword to add them to different groups, depending on your campaign goals.
Now, in addition to all the data you get under the Landscape tab, Semrush also gives you the opportunity to track your local competition, which is a very useful added bonus.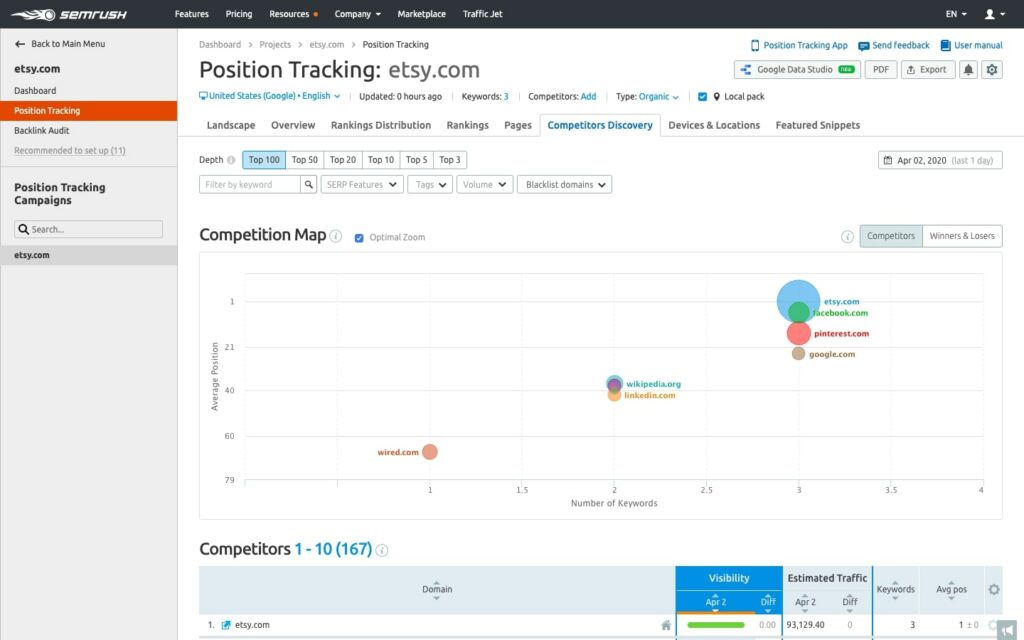 Once you know who you are going up against on a local level, make use of Semrush's other tools to learn what strategies they use to boost their own search engine rankings. SEO is always changing and your competitors are always doing something to improve their rankings. Keep track of their activities to refine your own strategy–that's the key to success.
The SEMrush review 2023 also gives us information about another important benefit. Since a lot of searches are now being made on mobile devices, only keeping track of desktop searches isn't enough. You really have to know which devices people use to search for your target keywords. Good thing that Semrush lets you decide if you want to get rankings data on desktops, smartphones or tablets. After all, their results will vary, and Google favors websites that are adapted for mobile devices.
Next, Semrush Sensor tool was designed to help you measure SERP volatility. It tracks over 20 categories both on desktop and mobile, plus highlights any possible updates from the search colossal.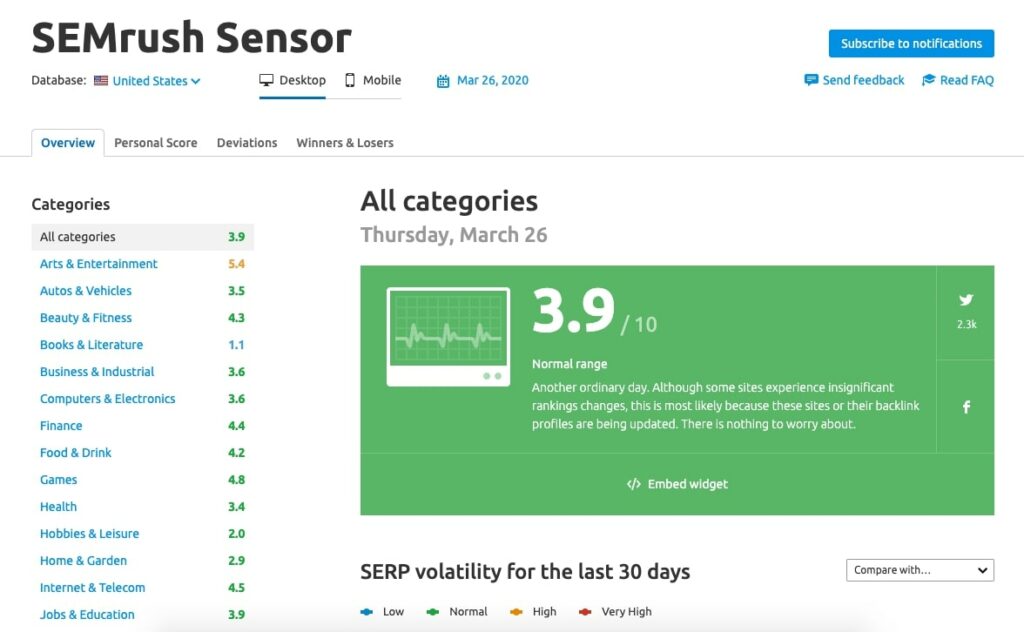 To elaborate, Semrush Sensor keeps track of volatility of Google's SERPs. It takes into account daily ranking changes and keeps an eye out for any signals that indicate that Google has released an update to its algorithm. The bottom line is that it helps you understand if your niche is more or less likely to be impacted by Google's algorithm changes.
Lastly, Semrush only allows you to track 2 search engines, which is a huge setback if you're operating on a global scale and need to know more about how your target audience finds you online.
Every major SEO tool has keyword tracking capabilities, but what matters most is how much data you get and how accurate it is. Our verdict is that Semrush isn't as powerful as some of its competitors, including SE Ranking and Ahref–both of which are great alternatives to Semrush. While there are several shortfalls, Semrush is a solid tool that can give you a great overall idea of your digital keyword echo system.
Site Audit
With Semrush's Site Audit tool, you can audit any website against more than 130 parameters that take into account various on and off-page SEO issues like duplicate content, technical issues, link and image analysis, and lots more.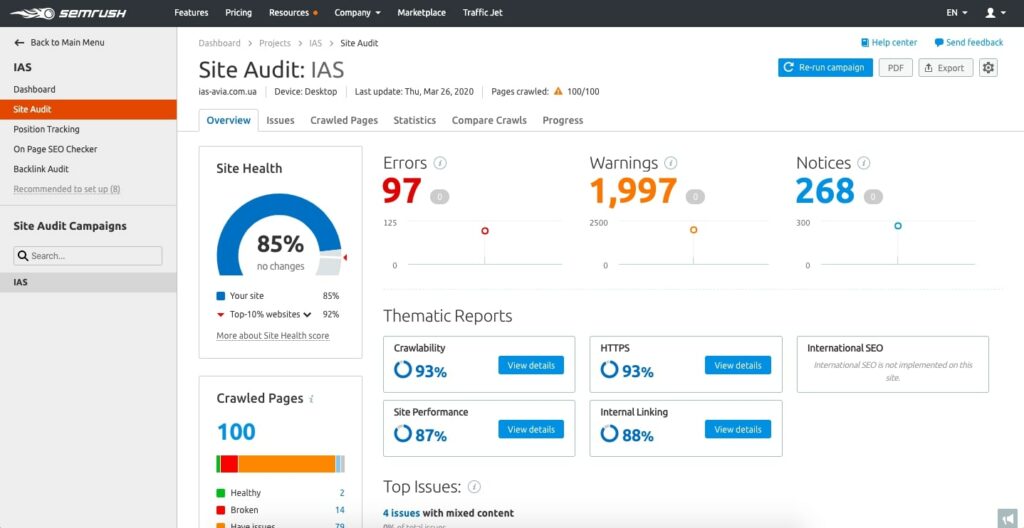 Site Audit allows you to crawl up to 1,000,000 pages of any website, depending on your subscription plan. The review of SEMrush makes it clear that the free plan only lets you go through 100 pages per audit, which isn't very helpful, so we recommend going for a paid subscription.
Once you run an audit, your report will be available in just a jew minutes. All in all, audit reports are easy to understand even for newbies and the best part is that they include actionable advice on how to solve problems, as well as nudges you in the right direction so that you can further investigate and optimize your website.
During the check, the tool scans websites for usability taking into account industry standards and expectations. Some of the elements that are considered during the audit are broken links, page metatags, headers, structure, loading speed, http vs https, hreflang, and so on.
You can easily share the results with anyone on your team or with clients to make communication easier. And since you can easily re-audit websites and compare audit reports, it will be simple to keep track of website improvements.
Once the results are in, your site will get a score that looks at the ratio between 'passed' and 'failed' checks. With this data, you can quickly understand how well your website is doing in the eyes of both search engines and people.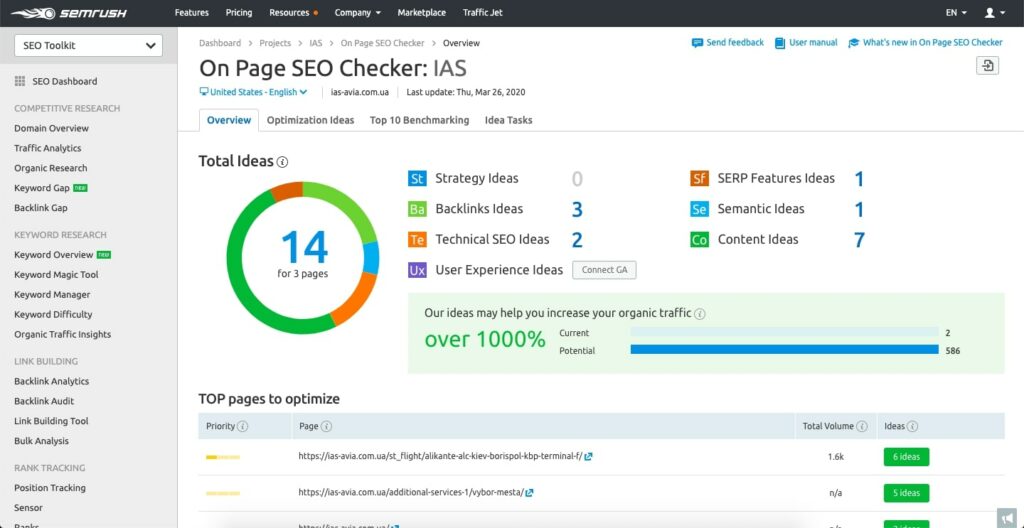 Besides looking at the entire website, Semrush's On-Page SEO Checker tool helps you keep track of rankings as well as find some recommendations on how to improve the performance of your web pages.
With the On-Page SEO Checker, you can analyze Google ranking factors that are impacting website performance, get actionable page improvement recommendations, and compare your top 10 Google rivals to ultimately outrank them. The standout feature of this tool is Semrush's ability to prioritize pages. So, just open the list and start working your way down from the first page.
Competitor Research
In addition to giving its users the possibility to research and analyze keywords, Semrush also has a powerful competitive research feature that you can use to get and stay ahead of your digital rivals. Find out everything that your competitors are doing in terms of semantics, paid advertising, backlinks, and content. Plus, the Organic Competitors Report provides a list of the top 20 domains ranking on Google.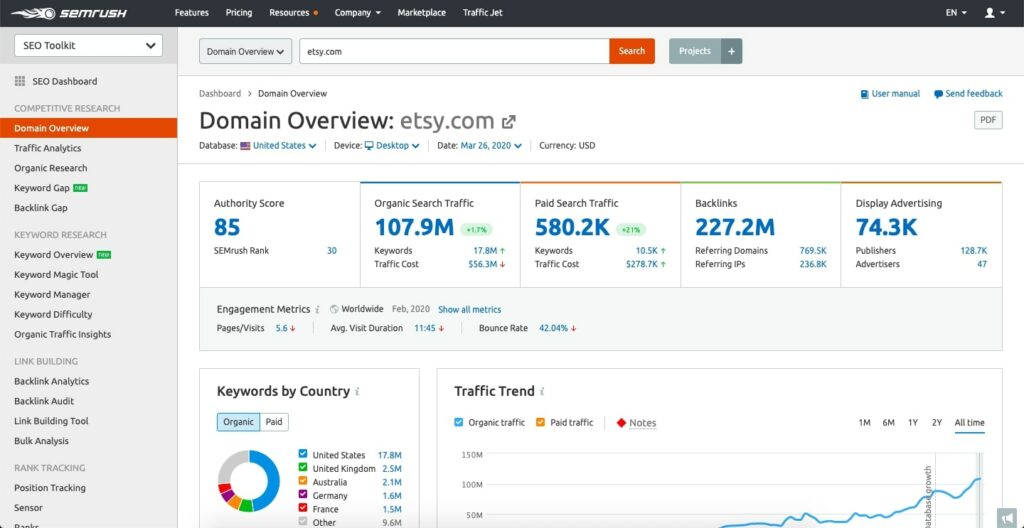 In terms of paid campaigns, Semrush shows you all of the keywords your competitors use in their ads as well as provides the ability to go back in time to see what ads were used in the past. With this competitive data, you can get inspired to create your own ads.
Going further into detail, Semrush is packed with several competitive analysis tools, such as Traffic Analytics, Market Explorer, Organic Research, Keyword Gap, Advertising Research, Display Advertising, PLA Research, Brand Monitoring, and Topic Research. There are a few additional ones that focus on backlinks but we'll cover them in the next section.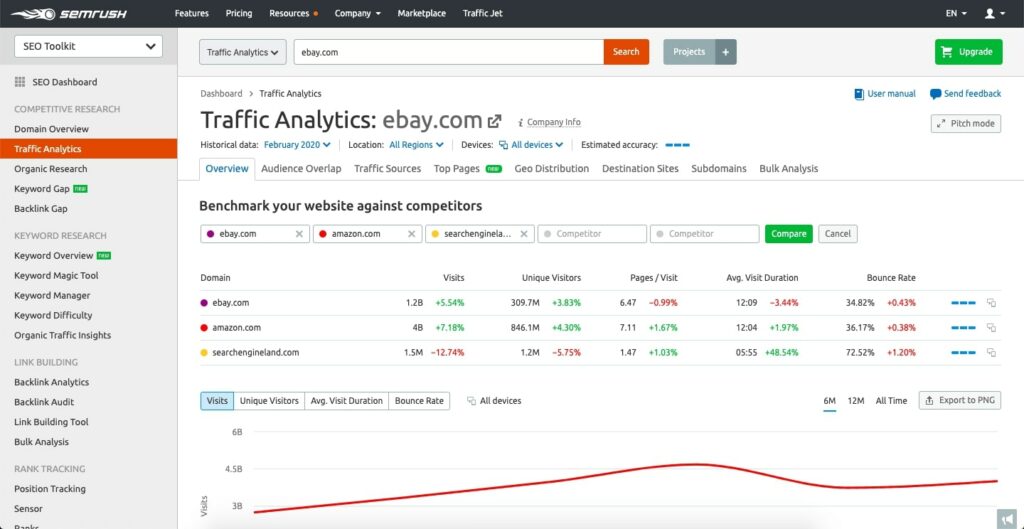 One of the most important conclusions from the SEMrush review is that Traffic Analytics helps you learn where your rivals direct their marketing efforts, and hence, where they drive traffic to the most. On top of that, you can also find out what sources your rivals are getting traffic from, and discover what they are doing in different areas around the globe.
The Market Explorer tool enables you to get data on market traffic trends and what share of traffic falls onto your competitors. If you're at the beginning of your journey, you can use this tool to learn who the top domains are in any market and devise a strategy to outrank them. Moreover, you can find out everything about your niche audience like their demographics and interests, and use that information to find more leads for your domain.
To discover what your competitors are doing right in terms of SEO, you can turn to Organic Research. This will help you pindown the websites you are going up against in Google and give you all the data you need on their semantic strategies. But if you want data on competitor PPC strategies, make use of Advertising Research — a tool that is a constant subject of SEMrush reviews.
This feature helps you discover your top rivals in paid search, gives you an insight into the keywords that are bidding on in Google Ads, and even shows you what their ad copies look like. You can get even more data on the different ads used by your competitors on desktop on mobile by accessing the Display Advertising feature. To boot, with Product Listing Ads (PLA) Research, Semrush allows you to find out who your Google Shopping competition is and how they go about advertising and pricing their offerings.
All SEMrush reviews note that you can also monitor your rivals' online reputation, learn referring domain authority, and understand how successful their PR campaigns are using Brand Monitoring. Last, the Domain vs Domain feature gives you a comprehensive analysis that lets you compare your website to that of your rivals–extremely useful.
Overall, competitive analysis is one the best SEO features that Semrush has to offer and it can easily go up against any other powerful tool on the market.
Backlink Research
Most experts consider top-notch content along with backlinks to be the most vital SEO factors. With Semrush, you can avoid doing all the heavy-lifting yourself and find out where your rivals are building their backlinks, and basically, repeat their strategy.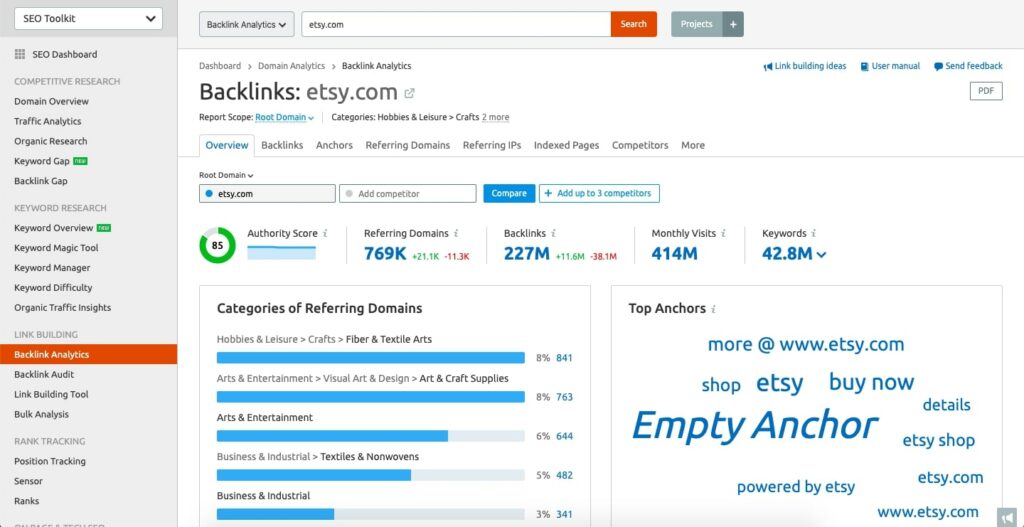 Besides being able to get the backlink profile of any website, you can simply enter a competitor's search query into the main search box and discover how many backlinks link out–something that you don't find in every SEO tool.
For more information on a backlink profile, you can access the Backlink Analytics report. Here you can get the full backlink profile picture of any website. In addition to the backlink itself, you can find out how many there are and how many are unique referring domains. On top of that, you can see how the backlink profile has grown over time via a graph.
In addition, you can get a detailed list of the types of backlinks that are pointing to a website, their authority, what niche the referring domain belongs to, what countries the backlinks are linking out from, as well as the TLD backlink and anchor text distribution.
Using this data during the review about SEMrush, we learned how exactly our rivals are building backlinks and what content or pages are linked out to the most. Then you can perform an analysis of the best-performing rival pages to discover what they are doing and what makes other websites link out to them. Ultimately, you need to do link-building better than your competitors by creating better content and reaching out to sites that also link out to your digital rivals.
The best part is that you can compare different websites to see how their backlink profiles differ and pull the best ideas for your own link-building campaign. Like most SEO platforms, Semrush's backlink analysis tool is useful for in-depth link analysis, but it's backlink database is not as vast and powerful as that of Ahrefs or SE Rankings, although it could still put up a fight.
Conclusions
So, the goal of our SEMrush review was to find out if the hefty investment in a subscription to this service is worth it. The answer depends on the scale of your work. If you represent a large-scale SEO agency or a large company where a well-developed marketing department is engaged in SEO, the answer is definitely yes. If you are a freelance professional, you should carefully weigh the pros and cons, because there are cheaper analogs on the market with a slightly smaller list of functions.
Any honest SEMrush reviews will make you realize that the platform is definitely not suitable for beginners. It requires too much money for training and testing different techniques. Moreover, the process of professional development will not be very pleasant due to the complex interface of the service.
But the overall assessment in the SEMrush review is positive. If we disregard these shortcomings, the service offers you flexible customization of subscription plans, a powerful system for generating ideas and insights, and a unique module for promoting projects on social media. As a result, you can not only keep up with the competition but also experiment with new techniques, making a strong claim for leadership in your segment.
Frequently Asked Questions
What is SEMrush?
SEMrush is a multifunctional marketing platform. Its main task is promoting business on the Internet through SEO and technical website optimization. First of all, the service is designed for professionals and the corporate segment. It is suitable for experienced SEO specialists, agencies with a stable client base, and large companies.
How to use SEMrush?
SEMrush is a cloud-based service available in a browser. You can access it using any device with a modern operating system — a PC, laptop, smartphone, or tablet. The platform automatically generates detailed reports containing information about the current state of the project, its strengths and weaknesses, and priority areas for further development. To get the necessary data, you just need to enter a link to your resource or to a competitor's website.
What is SEMrush used for?
The main module of SEMrush is in-depth keyword research with segmentation by user intent, competition, optimization complexity, and other parameters. The platform also offers tools for website audit, competitor monitoring, and link building. Among its features are very powerful modules for working with social networks and mobile versions of web pages.
How much does SEMrush cost? 
The cost of the SEMrush Pro starter plan starts at $99.95. The Guru subscription costs $199.95, and the Business subscription costs $399.95. The price of the top Enterprise plan is determined individually depending on the list of connected modules, the number of keywords, and other parameters. Each plan allows you to "buy" limits, which makes them really flexible and convenient.
Visit website