If you are running a successful digital business, you want more traffic and sales. Essentially, you want your website to get the highest positions in Google. But what do you do when someone outranks you? How do you make sure your website is not lagging behind the competition?
Competition drives business, so whichever industry you are in, it is absolutely essential to keep track of your rivals. To ensure your website is able to maintain the competition, you need to be aware of the competitive landscape: who your competitors are, what they are up to, and how you can respond. This means, you need access to accurate data that will help you make informed decisions and adjust your overall SEO efforts.
Luckily, modern SEO tools have in-built competitive intelligence that does most of the routine work. All you have to do is analyze the results and adjust your strategy accordingly. But how do you select the one that works best for you? What features should you pay attention to when choosing a tool?
We have reviewed all the top SEO tools on the market, and in this article, we provide a comprehensive analysis and comparison of their competitive research capabilities. In addition, you will be able to compare their functionality, advantages, and pricing options and select the ones worth adding to your tool stack.
Let's dive in.
What you need to think of before choosing?
The SEO market is full of competitive intelligence solutions with great functionality. But before reading the review and selecting the tool, ask yourself: what exactly are you looking for? Assess your website's size, current needs, and available budget.
Think about features that matter to you most. This will help you pick the right competitive research tool. And if you are not on a tight marketing budget, you can even use several tools at once—they will complement each other and give you a full picture.
What competitive research tools are there in the market
To find the best SEO competitor analysis tools, we analyzed their functionality, unique features, design and pricing. We have read tons of user reviews and combined them.
Top 10 SEO tools for competitive research
Now let's take a look at each of them in particular.
1. SE Ranking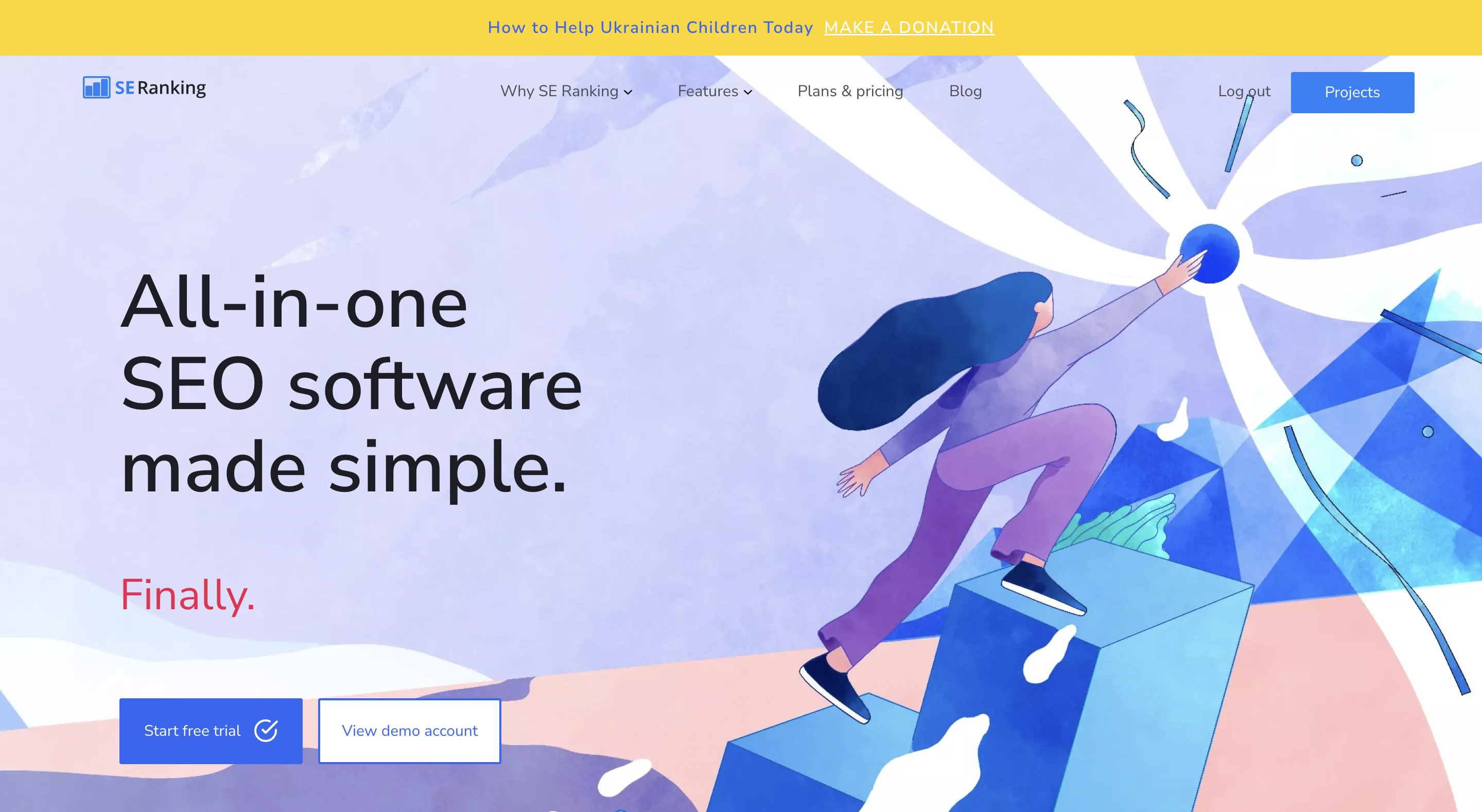 SE Ranking is an excellent all-in-one SEO platform that offers a complete set of tools for any marketing task at, what is important, a very affordable price. You can use it to track rankings, monitor backlinks, do keyword and competitive research, audit sites for technical errors, and anything else you can imagine.
SE Ranking's own 190 databases cover the entire world, so you can quickly check any competitor in any country and see what they are up to. For example, its US database includes 400 million high-performing keywords with traffic potential, making it one of the biggest on the market. You can either check worldwide data or analyze traffic for a particular country to get the most relevant information for your project.
With SE Ranking, you can check the volume of organic and paid traffic, analyze traffic distribution by country, find what keywords they use in organic and paid campaigns, check out their backlink profile, detect best-performing posts and most popular ads, check historical data, and much more. In addition, the Page Changes Monitoring tool will detect and notify about any change on a competitor's website and how it affects its overall performance.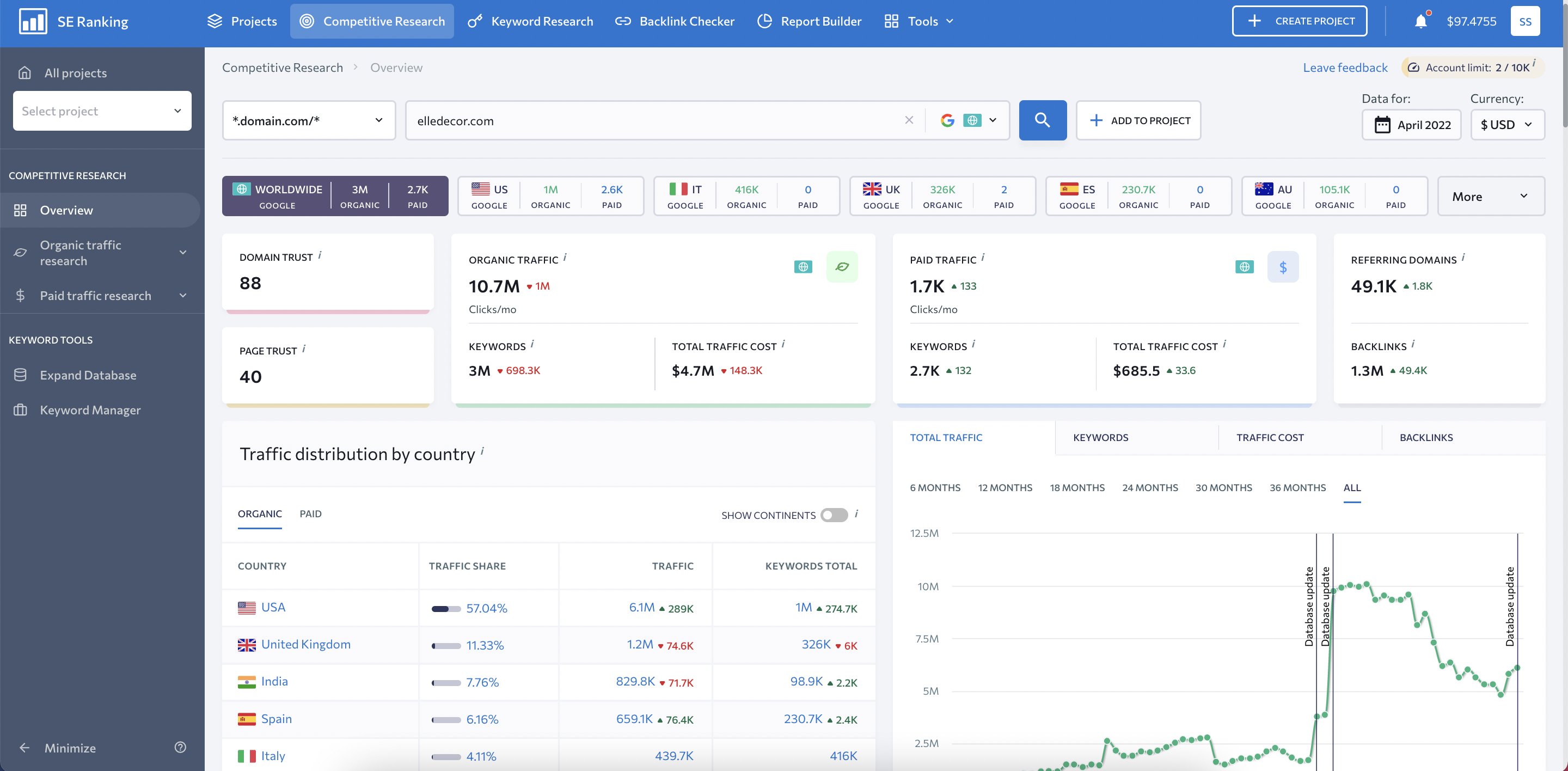 One of the most handy features is the Competitor Comparison tool, which compares your domain's organic traffic and keywords with two of your main organic competitors. This helps discover common keywords, and more importantly, identify missing high-volume keywords worth adding to your site. So, if you got stuck with ideas, this tool would help you find new keywords that proved to be working.
SE Ranking also features SERP Analyzer, which allows you to scan and analyze top-ranking search results against 110+ metrics to assess the competitive landscape. You can also use it to more accurately determine whether the top ranking position for a target keyword is reachable as well as how much effort it would take to get there.
Pros
Accurate competitive research data
Impressive competitor backlink analysis and monitoring
Powerful SERP analysis tool
Extensive keyword research capabilities
Flexible pricing plans with a very friendly price
Self-explanatory design with valuable tips
Cons
Local data may be insufficient for some countries
Some data may take a long time to load
The design could be confusing for new users
Pricing
SE Ranking offers the most friendly prices for their subscription plans, depending on the number of keywords and other inbuilt features:
Essential: $55/month
Pro: $109/month
Business: $239/month
SE Ranking offers a free trial period.
Verdict
SE Ranking provides every tool a marketer and SEO expert needs at an affordable price. SE Ranking is our top pick for a competitive research tool. It offers a wide array of functionality to get accurate competitive data, find keywords, track rankings, audit website and individual pages, manage backlinks, and much more to reach the top of the SERP and stay there.
2. Semrush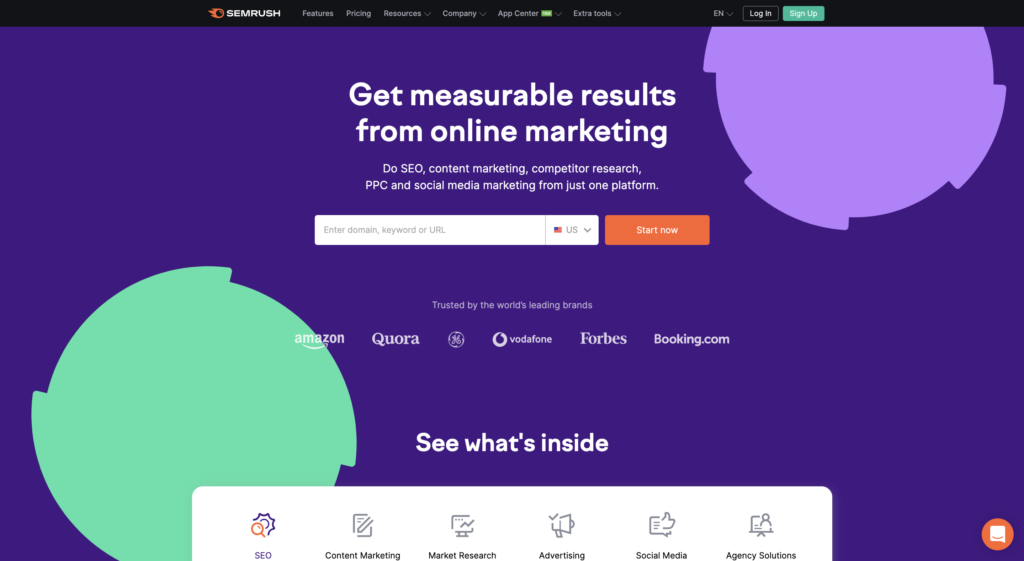 Semrush is probably the most popular SEO tool on the market. This is a professional all-in-one platform that offers over 50 digital marketing solutions: SEO and PPC, website analytics, content optimization, market research, social media monitoring, etc. It is well-known for outstanding keyword research capabilities and SEO competitor analysis reports. Most importantly, you can do it all on one dashboard.
Semrush competitive analysis offers various tools that help identify main competitors, analyze organic and paid traffic metrics, single out best-performing keywords, review backlink profiles, and get insight into their social media, content, and advertisement strategies. You can use this powerful set of competitive analysis tools to get valuable insights into the site's overall marketing strategy, identify keyword gaps, and find new ideas on how to improve your own content.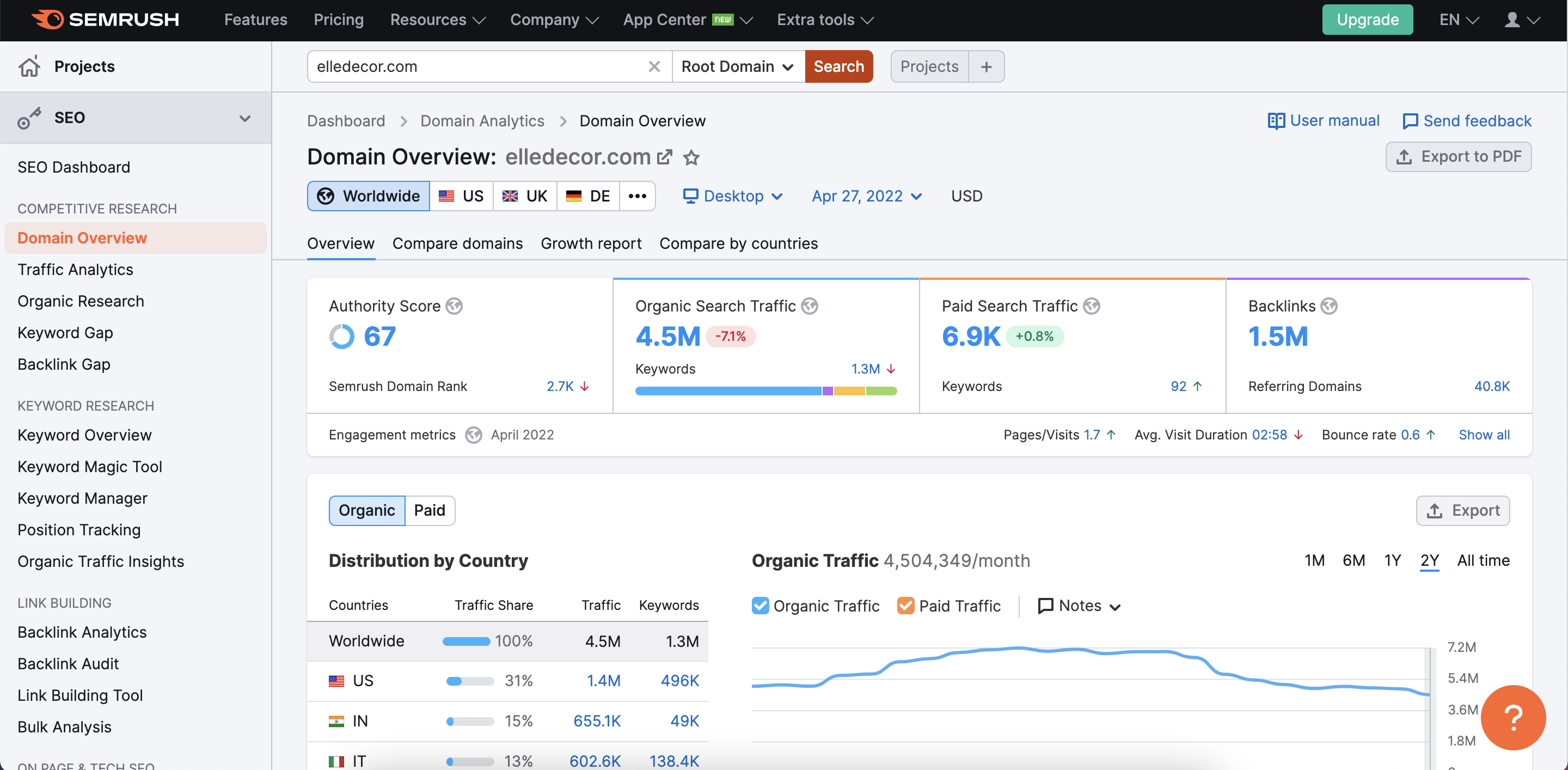 What is great about this platform is that Semrush constantly updates its databases, so you can be sure that keywords are accurate and metrics are up-to-date.
Pros
Variety of competitor research tools
Accurate data on organic keywords
Large keyword database
Great backlink tracking capabilities
Tools for social media and content monitoring
Cons
High pricing compared to other tools
Poor multi-user support
Low account limits
Pricing
There are three plans available: Pro, Guru, and Business. Each plan offers different features, so you can select the one that matches your business needs.
Pro Plan: $119.95/month
Guru Plan: $229.95/month
Business Plan: $449.95/month
A 30-day free trial period is available for new users.
Verdict
Semrush is a robust SEO tool widely used by marketing and SEO professionals. Semrush lets you spy on your competitors and track their performance in real-time. Use it to identify competitors, analyze organic and paid traffic, collect data on SEO and PPC activities, research new keywords opportunities, and improve content and advertisements. It is best suited for marketing agencies and enterprises that track a large number of competitors and require frequent data updates.
3. Ahrefs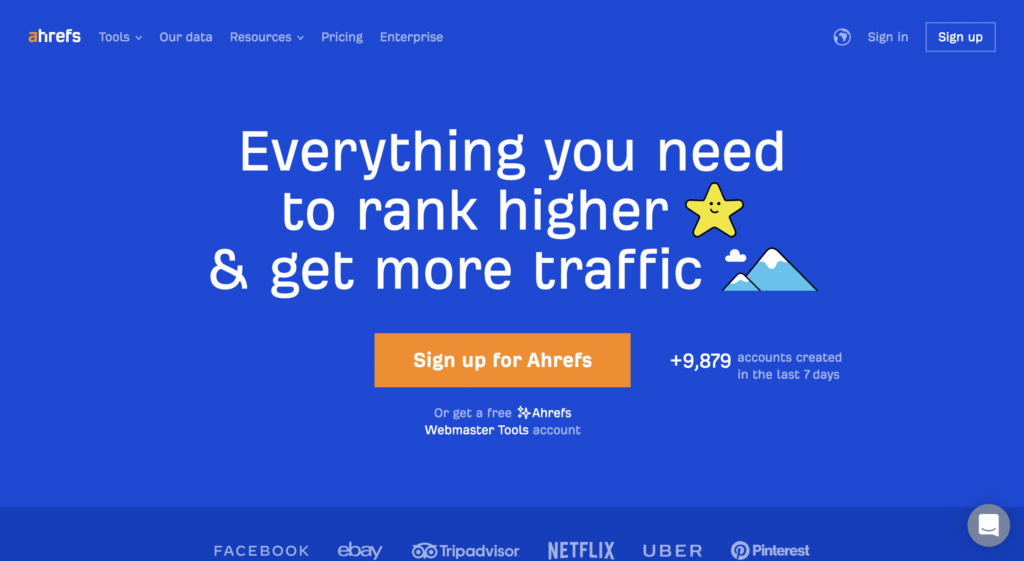 Ahrefs was created as a backlink analysis tool and has evolved into a robust SEO platform, with useful features and a powerful toolkit. Now, it is one of the leading software in the SEO market, trusted by the most prominent businesses.
Ahrefs offers a rank tracker and keywords explorer, site audit and content research, but most importantly, it provides valid competitive intelligence data that helps boost search rankings. Its Site Explorer tool provides in-depth organic and paid traffic research, and keywords and backlink analysis. With this information, you can dive deep into competitor research and investigate traffic, organic keywords and content, keyword competition, changes in rankings, backlinks and referring domains, PPC keywords, as well as identify best performing pages and ads. This gives you an understanding of competitor's current marketing efforts and how they affect site performance.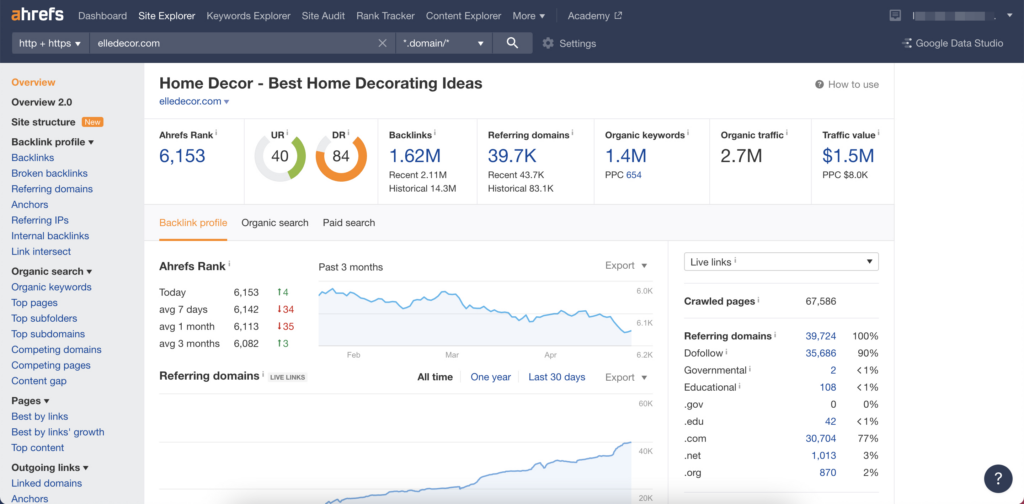 Backlink analysis continues to be Ahrefs's biggest strength. Ahrefs's backlink analysis tracks backlink profiles of multiple sites and automatically sends monthly reports on their performance so that you won't miss any significant change.
Pros
Extensive backlink database, including historical indexing
Robust keyword research and analysis capabilities
Excellent help resources and tutorials
Cons
Scanning speed can be deficient, especially for large sites
Not easy to use at first, especially for new users
High prices and no free trial
Pricing
Ahrefs has four subscription plan options:
Lite: $99/month
Standard: $179/month
Advanced: $399/month
Agency: $999/month
Verdict
Ahrefs is an excellent tool for competitive research, primarily if you are engaged in the link building tasks. It may be too expensive for those managing a relatively small project or just starting with SEO. Nevertheless, it is a powerful, well-built tool that successfully manages every task you need to boost your SEO and beat your competitors.
4. Similarweb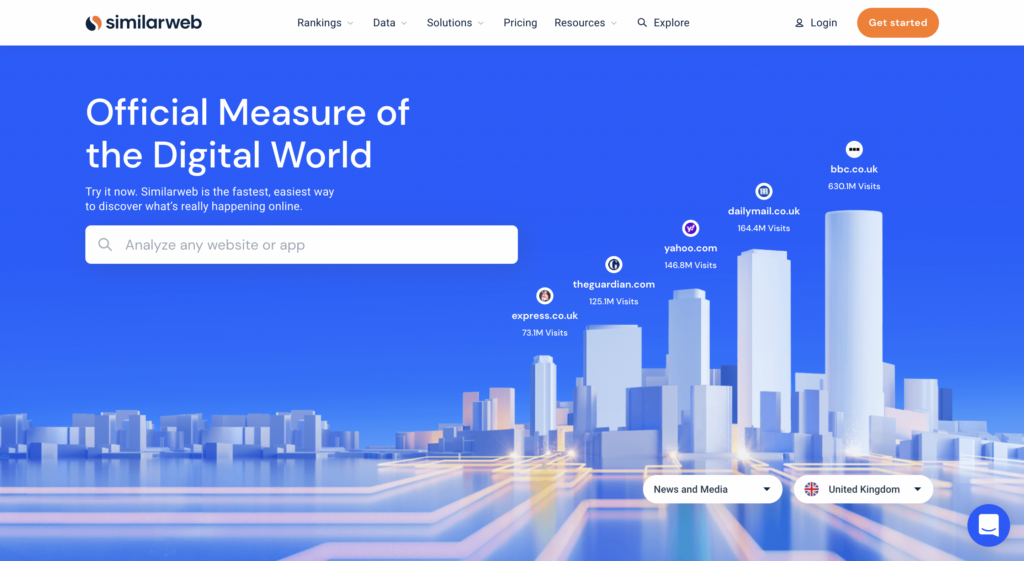 Similarweb is one of the most potent competitive intelligence tools on the market. It gives quite accurate and fresh data on traffic to monitor your industry and benchmark your website against the competition. Finally, and most importantly, you can use it for free.
Unlike most SEO platforms, Similarweb analyzes data across all marketing channels: direct, organic and paid search, referrals, email, social and display traffic marketing channels. This gives a whole new perspective on the site's performance and how you can use it to your advantage.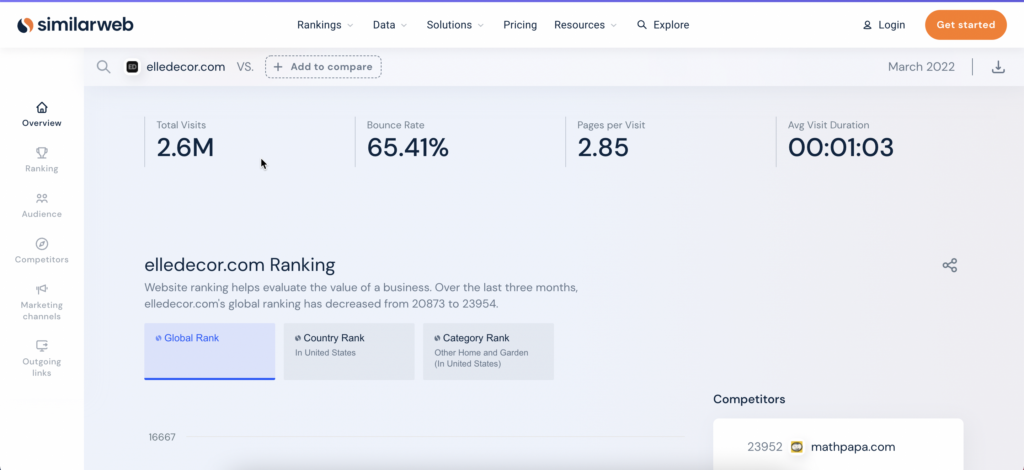 With Similarweb, you can get an overview of your competitive landscape in just one click. Simply enter domain address for analysis. The tool will run a quick audit and present data against important metrics: traffic and its sources, visit duration, bounce rate, audience geography and interests, top keywords, backlinks, ads, and other vital data. Along with traffic data, Similarweb will show a list of competitors and other big players in your niche. From there, you can go to a detailed comparison by either selecting one or several competitors from the list or by adding them manually.
Pros
Beautiful and easy-to-use design
Data is updated daily
Covers all marketing channels
Custom reports
Browser extension
Free access to basic features
Cons
Some features are available in the paid plan only
Some data is inaccurate
Pricing
As we mentioned, most features are available for free. But for deep insights, you will need to upgrade your account. This will open access to more detailed data: traffic and engagement, keywords, rankings, referring domains, channels, as well as create detailed reports. To find out the price of an advanced plan, you'll need to contact Similarweb. Also, you can use a 7-day free trial.
Verdict
Similarweb is a go-to tool for competitive intelligence. Although its free account is limited to surface-level data, it could be a great starting point for your research. And with premium features, Similarweb has become a powerful tool for competitive analysis in SEO.
5. SpyFu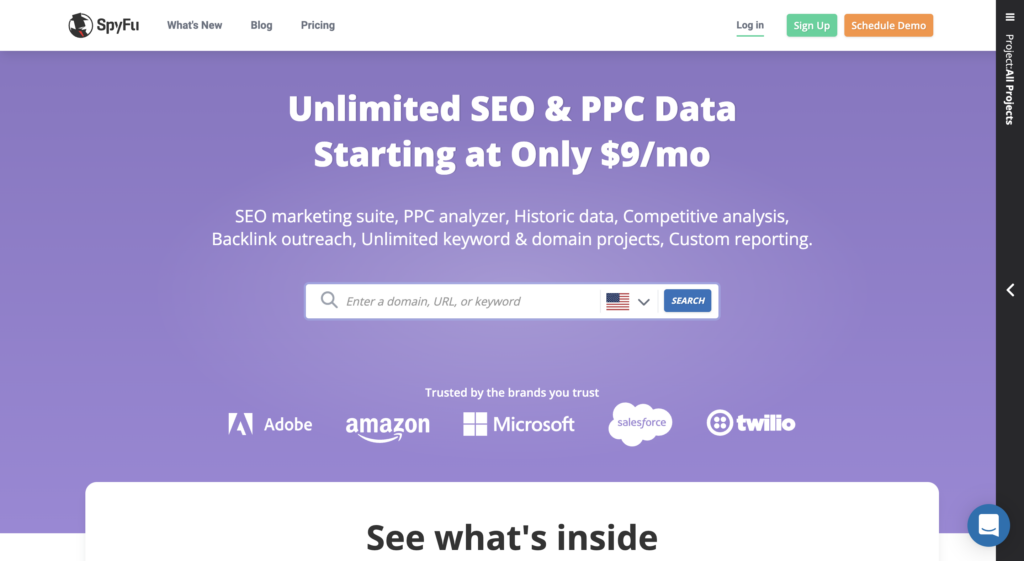 SpyFu started as a keyword research and analytics tool. Today, it is a powerful SEO platform that helps identify organic and paid competitors, assess their SEO performance, analyze top-ranking pages, monitor backlinks, perform keyword research, and more.
As a keyword research tool, SpyFu reveals top organic keywords that the rival's website is ranking for as well as keywords used for Google Ads campaigns, including historical data. Users can identify the site's most popular content, as well as backlinks and authoritative referring domains. It also provides an overview of more significant niche trends, which can help plan other marketing activities.
SpyFu is a perfect choice for SEO beginners. They can use it to research niches, find high-volume keywords, track competitors' backlinks, run tests, and plan their digital campaigns accordingly.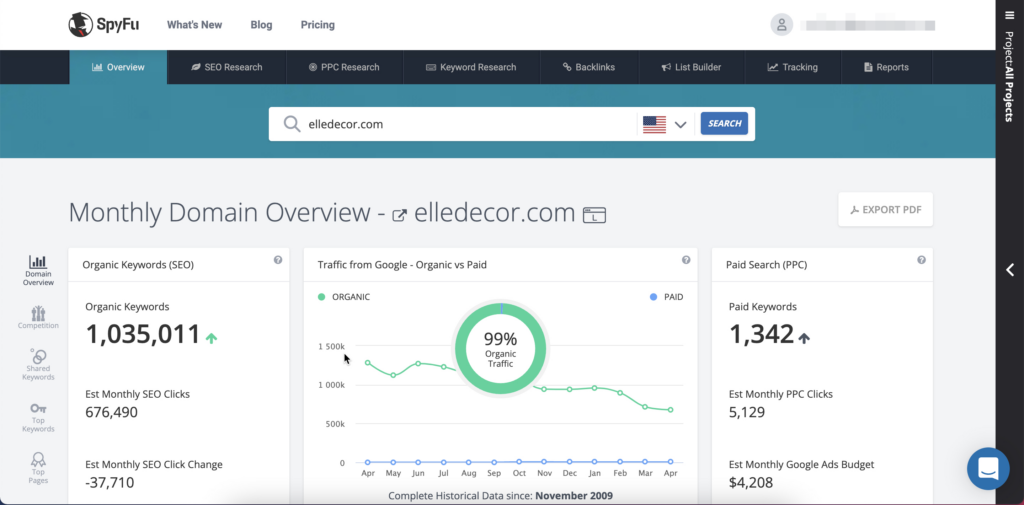 SpyFu's unique advantage is its keyword and PPC intelligence. Users can use special tools, like Top AdWords Buy Recommendations, AdWords Advisor, and AdWords Templates, to plan their PPC campaigns: find high-volume keywords, calculate ad spending, and track potential threats.
Pros
Great for basic SEO information
A powerful keyword analysis tool
A comprehensive review of AdWords campaigns
Low cost compared to other tools
Free pricing plan for ten search results
Cons
The user interface is a bit outdated
It may be lacking some data
Limited functionality for in-depth analysis
Pricing
SpyFu offers three pricing plans:
Free for Life: $0/month
Basic: $39/month
Professional: $78/month
Verdict
SpyFu is a potent tool specialized in keyword research and PPC monitoring. If you are new to SEO, you can use it to identify main competitors, find keywords that bring the most traffic to their websites, find and assess their AdWords campaigns, and determine general trends in your business niche. Probably everything you need to know before starting any digital marketing project.
6. Moz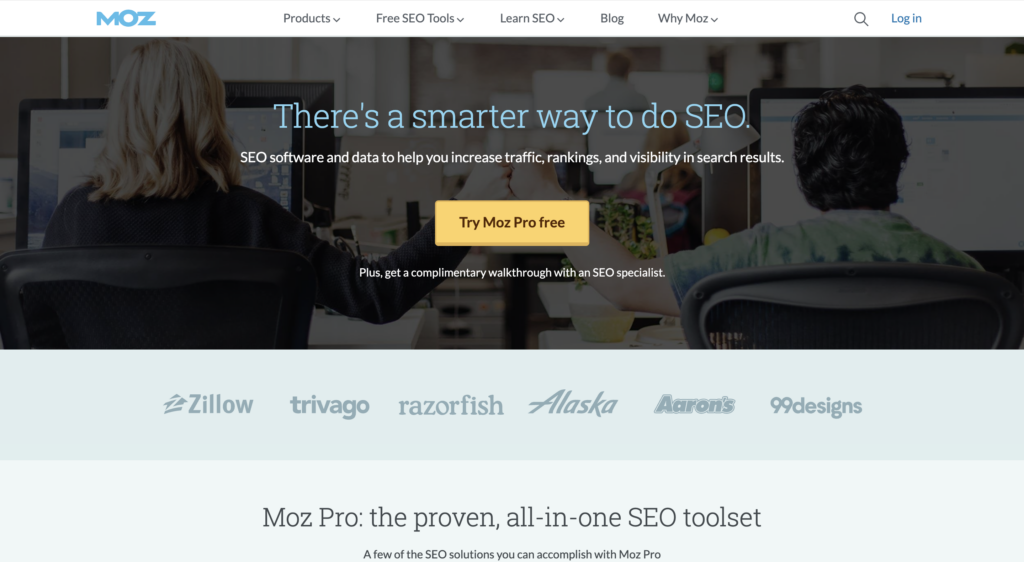 Moz is another popular professional SEO suite. Like other analogs, Moz provides tools for most optimization tasks: rank tracker, keyword research, backlink analysis, page audit, and reporting.
Moz competitive analysis allows you to identify and track your top competitors. The tool shows the overall website health using the domain authority and page authority scores. It helps find keyword opportunities, suggesting popular combinations that can drive substantial traffic to the website. You can also identify the most popular pages on the competitor's site and borrow some ideas for your content. With Moz, you can also analyze the number of keywords ranking in the top-3, top-10, or top-20 search results, showing you where your website stands compared to the rivals.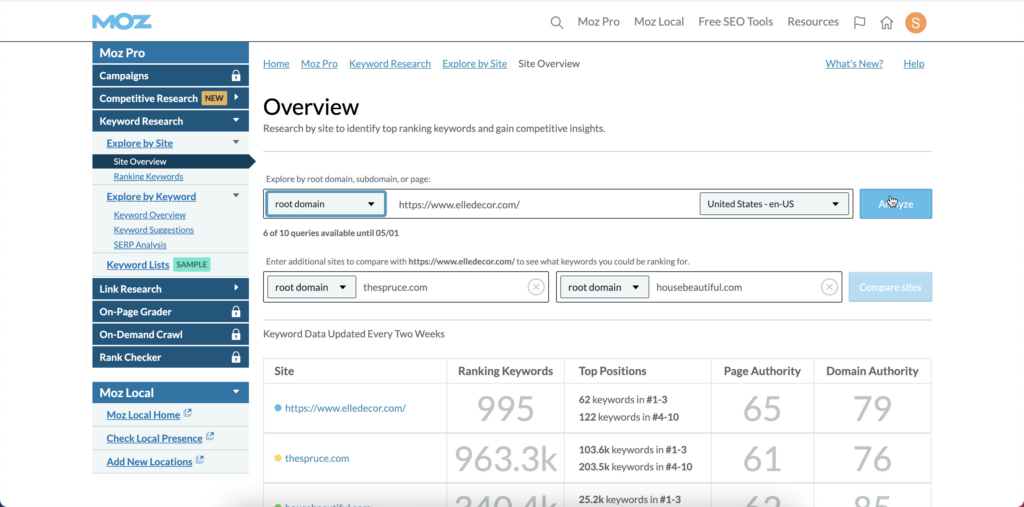 Pros
A fast and accurate website audit
Impressive analytics and backlink data
Cons
Keyword data is inaccurate
Lots of features are missing
Poor navigation
Expensive considering the toolset
Pricing
Moz Pro offers a free 30-day trial. Once you decide to get the full version, you have four pricing plans.
Standard: $99/month
Medium: $179/month
Large: $249/month
Premium: $599/month
Verdict
Moz Pro is still a solid tool, but it's becoming outdated. Moz offers pretty much the same as any other all-in-one SEO solution but has poor design and provides inaccurate data, and it comes at high prices. Nevertheless, Moz will be sufficient as a separate tool for competitive research. But if you are choosing a professional tool, there are better alternatives.
7. Mangools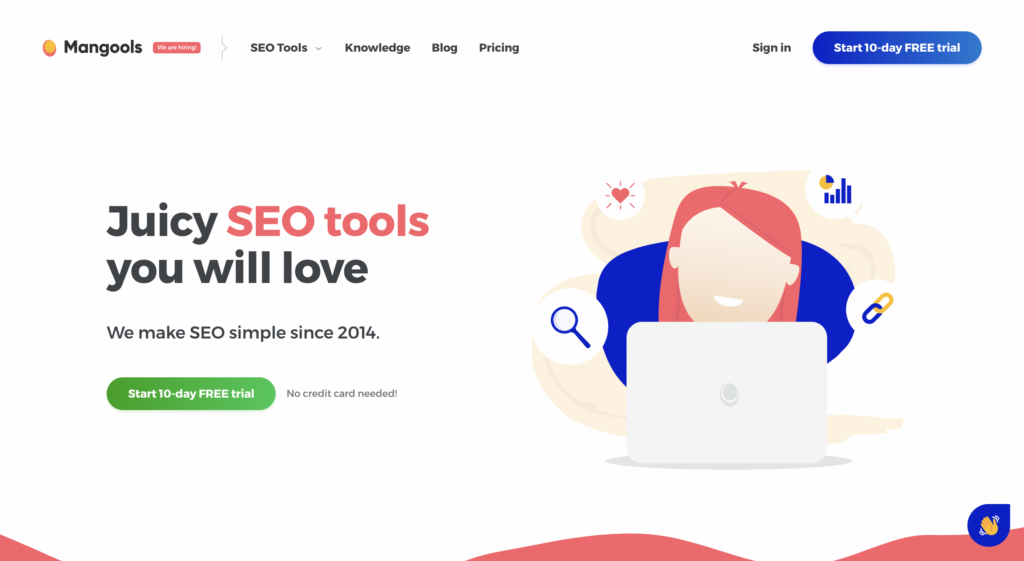 Mangools is a beautiful SEO platform that offers tools for keyword research, backlink analysis, and rank-tracking. But it can also be a valuable source of information about your rivals.
Using Mangools is easy. Enter your domain address in the search box, and the tool will identify and demonstrate 12 main organic competitors. With Mangools, you can check essential SEO metrics of rivals' websites: keywords you have in common, domain authority, page authority, etc. The platform will also show you the competitor's top content, backlinks, and referring domains.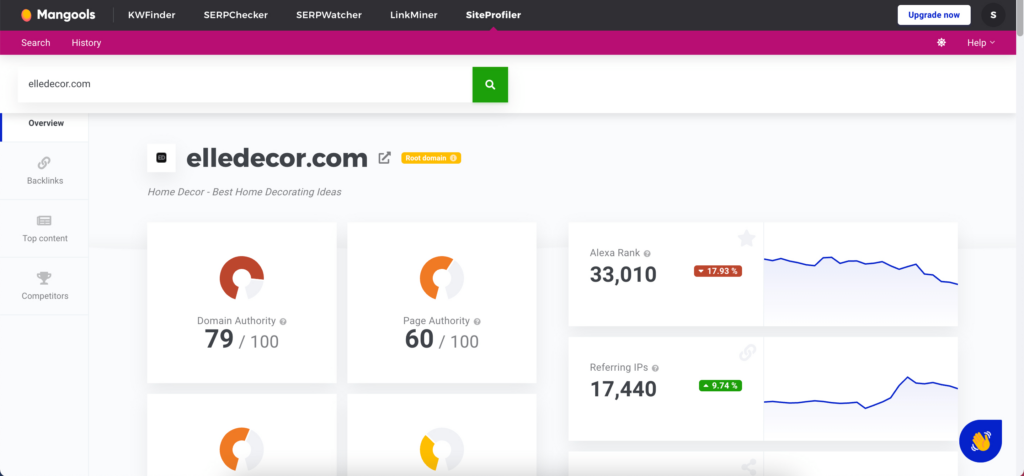 Pros
All-in-one integrated toolkit
Beautiful and user-friendly design
Has Chrome extension
Custom reports
Cons
Insufficient data on backlinks
The monitoring tool is weak
Pricing
Mangools comes in three subscription plans, depending on the limits:
Basic: $29.90/month
Premium – $39.90/month
Agency – $79.90/month
Verdict
Mangools is a cheaper alternative to other professional SEO tools. And it is a quality product worth its money. It would be helpful for SEO newbies: it is simple, intuitive, and gives everything you need for a fresh start.
8. Serpstat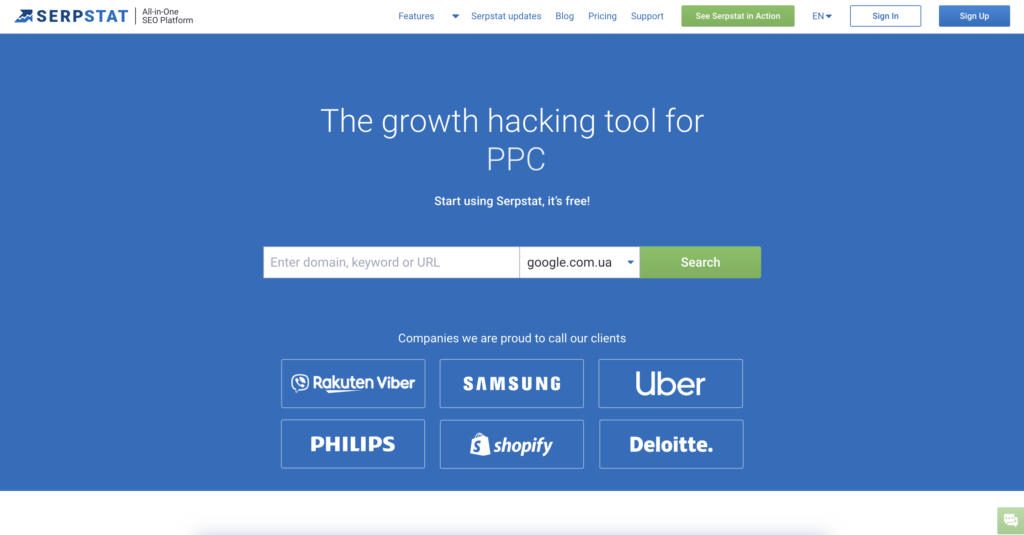 Like many other similar solutions, Serpstat is a universal SEO tool. You can use it to check keyword rankings, analyze backlinks, audit websites, research competitors, and monitor competition in your niche. It helps marketers, agencies, and small and medium enterprises who want to improve their search engine visibility. The best thing about it is that it is cheap and straightforward.
Serpstat's SEO competitor analysis report helps find competitors in SEO and PPC, scan and evaluate popular pages and ads, analyze keywords they use for organic and paid search, and figure out the potential website traffic.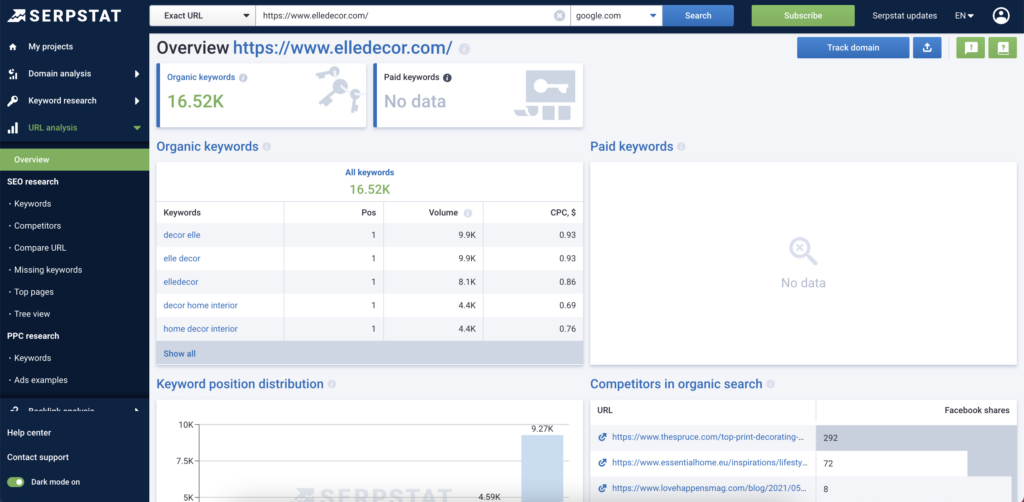 With Serpstat, you have access to accurate competitive data in one place. If you have used other SEO tools before, Serpstat could be a good alternative—it's much cheaper and offers similar solutions. If you haven't used anything like this before, it will be easy for you to start using it for your projects.
Pros
Lots of easy to use tools in one dashboard
Great for keyword and competitor research
Multi-user mode
API for all pricing plans
Better priced than most competitors
Cons
Keyword research isn't the most accurate
Identifies major backlinks, but not all of them
It doesn't support local marketing features
Lacks data on low-traffic searches
Pricing
As we mentioned before, Serpstat is cheaper than other similar solutions. It offers four plans:
Lite: $55/month
Standard: $119/month
Advanced: $239/month
Enterprise: $399/month
Verdict
Overall, Serpstat is a solid task for most SEO tasks. However, it may not be the most accurate and sometimes lacks some critical data. But it comes at lower prices and does most of the routine job as intended. So, it could be a good choice if you have a limited budget.
9. Ubersuggest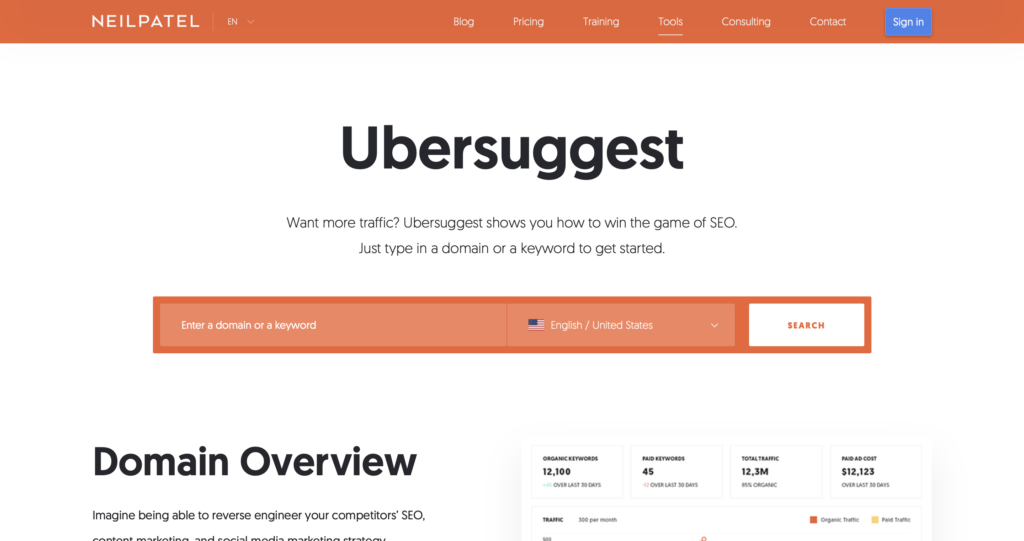 Ubersuggest is a popular SEO platform and marketing research tool. You can use it for a site audit, keyword research, backlink analysis, and competitive analytics. With Ubersuggest, you can find high-ranking keywords, spy on competitors, explore popular pages, and find ideas for content.
Ubersuggest doesn't have an individual tool for competitor analysis, like many other platforms do. Instead, it has several separate modules—Keywords, Traffic, and Backlinks. So, you will have to browse platform modules to find the information on your competitors, which may confuse some users.
For example, in the keywords section, you will find an overview of keywords with suggestions on expanding the keyword list and improving content. Also, here, you will also find the list of competitors. The traffic section offers an overview report with competitors' top pages and popular keywords with their metrics: search volume, position, estimated visits, and SEO difficulty. When analyzing a domain, you choose a combination of a target country and language.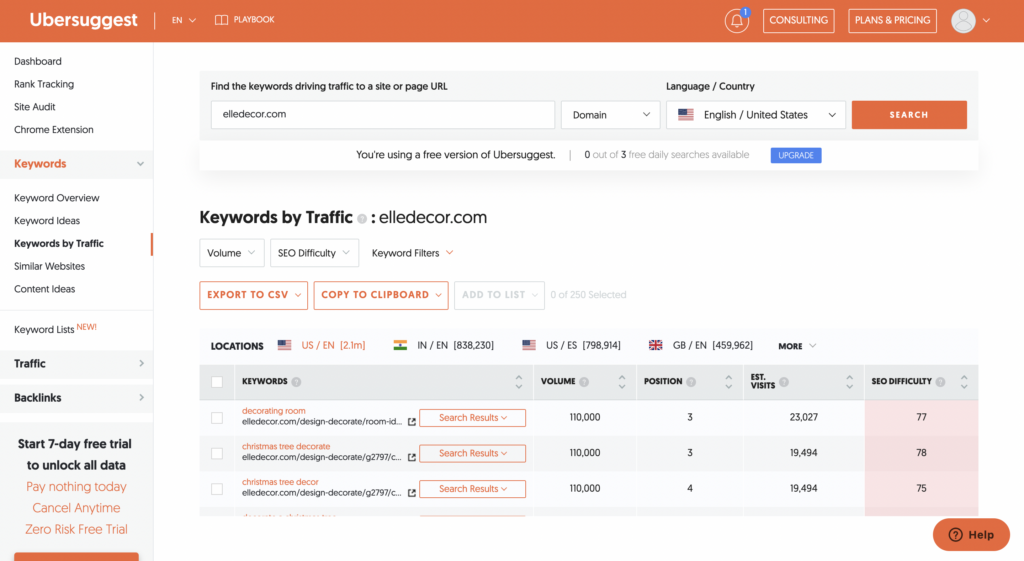 From the traffic module, you can jump straight to the backlinks section to get a competitor backlink analysis: referring domains, authority scores, and other metrics. Alternatively, you can go to the backlinks section and manually type in the domain address, yielding the same results.
Pros
Runs very fast and smooth
Relatively cheap
Chrome extension available
Cons
No separate module for competitive research
Too many ads on the platform
Pricing
Ubersuggest comes in a free and paid version. All the features are available in the free version but have limits in the number of searches, keywords, and competitors. So you will probably need to upgrade to the full version to access the required data. Luckily, paid plans come at reasonably low prices:
Individual: $12/month
Business: $20/month
Enterprise/Agency: $40/month
Verdict
Overall, Ubersuggest provides pretty accurate data and valuable suggestions to help a website rank better in the search. However, it doesn't have any unique features—basically, other tools can do the same job but better. At the same time, it is cheap and easy to use and provides suggestions regarding tech-SEO and content. So Ubersuggest could be a great option for someone new to SEO.
10. BuzzSumo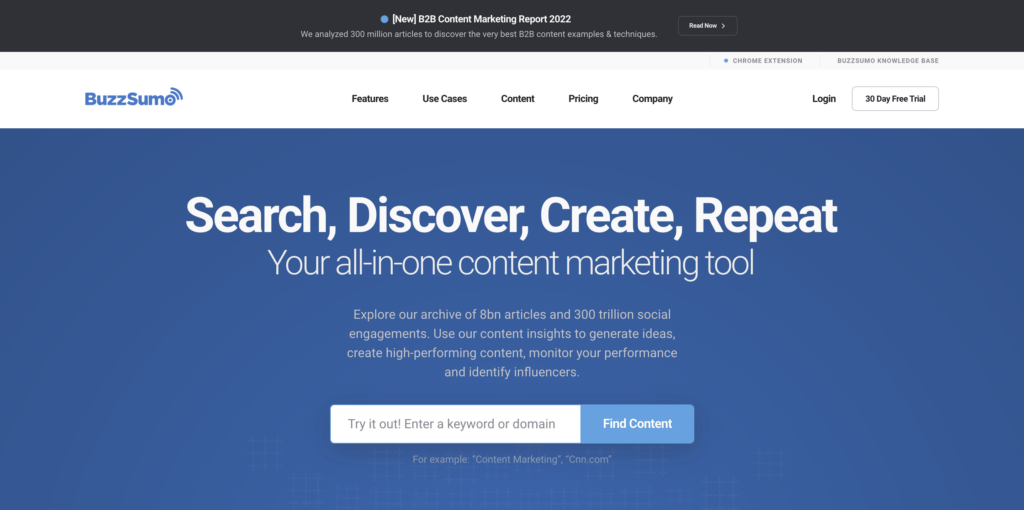 BuzzSumo is a content marketing platform that allows tracking and analyzing top-performing posts on the internet. In other words, if you're looking for new ideas for content, you can take a look at your competitor's activities or just track topics popular in your business niche. Find ideas, channels, and influencers and add them to your project. With this data, you'll know exactly what kind of content resonates with your target audience and use it against your competitors.
BuzzSumo offers admirable content analysis capabilities. You can enter a particular keyword to scan the web for new ideas. This will give you a heads-up about what is currently popular in your niche, what social media works best, and who shares the most posts. But it can also be used as a powerful competitor research tool. Enter the rival's domain address, and BuzzSumo will show the list of most popular pages on rivals' websites and in-depth data around them. It shows main elements (titles, subject, formatting), engagement and quality scores, etc. You can apply filters to find the most relevant data for your search, such as tracking popular posts within the last month.
You can also use BuzzSumo for your backlink portfolio. If you have found a similar post on the web with an excellent engagement rate, enter its URL in the search bar and see all its backlinks. Find the most relevant and include them in your outreach activities.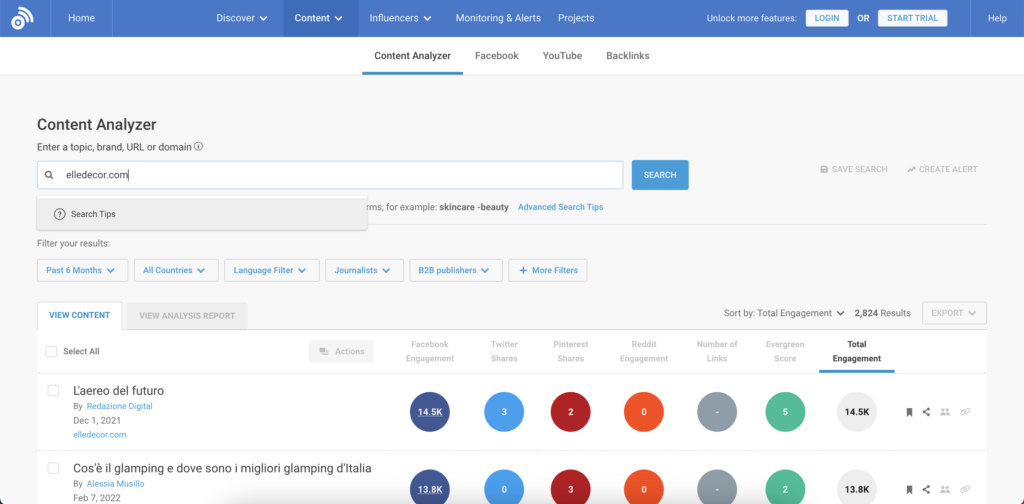 But the most remarkable feature is the alerts. You can set notifications and be aware of any new content or mentions that your competitors get. This way, you will be able to keep a close eye on any activities your competitors are currently working on.
Pros
Fast and accurate content analysis
Notifications about any updates
Filter help get granular data
Chrome extension available
Cons
Lacks competitive research capabilities
Pricing
You can use BuzzSumo for free, but your account will be limited to 10 searches per month. If you need more, you can use one of the three available options:
Pro: $99/month
Plus: $179/month
Large: $299/month
Verdict
BuzzSumo is not a regular SEO competitive research tool but rather a content and PR solution. It won't help you with most of the typical routine tasks. Nevertheless, it can help you get an overview of your business niche, see the most popular posts, and track your competitors' activities. If you are working primarily on your content strategy, BuzzSumo is the right choice.
Conclusions
Competition is an essential part of any business, so get ready to keep up with it. Any decision you make must be well-thought-out and data-driven. Especially when you operate in a high-competitive niche. Without proper tools and accurate data, you risk lagging behind your competitors.
Selecting the right SEO tool for your project could be challenging. We have provided the top-10 SEO tools for competitive research, but this list is not finite. Sure thing there are other marvelous solutions out there that can help you achieve your goals. Yet, we are confident that the ten tools we've selected are the best.
Let's sum it up. There is no single solution for every possible SEO task. You can use universal all-in-one tools, but they don't provide as much attention to specific details as specialized tools. And vice versa—niche tools don't offer additional features that you might suddenly need.
This leads us to the conclusion. To select the tool, you must set your goals and clearly understand what tasks you need to complete. Your choice will depend on it:
If you are looking for a professional tool with various features and accurate data—use SE Ranking, Semrush, or Ahrefs.
If you are looking for something simple that will help you start your first campaign—use Mangools or SpyFu.
Looking for a comprehensive market research tool—Similarweb is your choice.
If you want to improve your content—use BuzzSumo.
But don't worry if you have selected the wrong tool. Digital marketing is all about trying, testing, and analyzing. Any experience brings you a step closer to your goal. So, go ahead and try them all out.