General overview
Moz Pro is among the best SEO tools we reviewed and that's available on the market. Its keyword and link exploring tools can easily go up against any other solution out there, and its metrics have been largely accepted as industry standards, even by experts using other software solutions. Moz Pro has an intuitive and simple UI, loads of data and is definitely worth trying if you have a large business.
Pros
Great all-round SEO solution
Top-notch keyword research
Powerful link explorer
Generates metrics accepted as industry standard
Loads of educational content
MozBar Chrome extension
Cons
Too much depth and range for SMBs
Can be difficult to understand feature arrangement
Requires subscription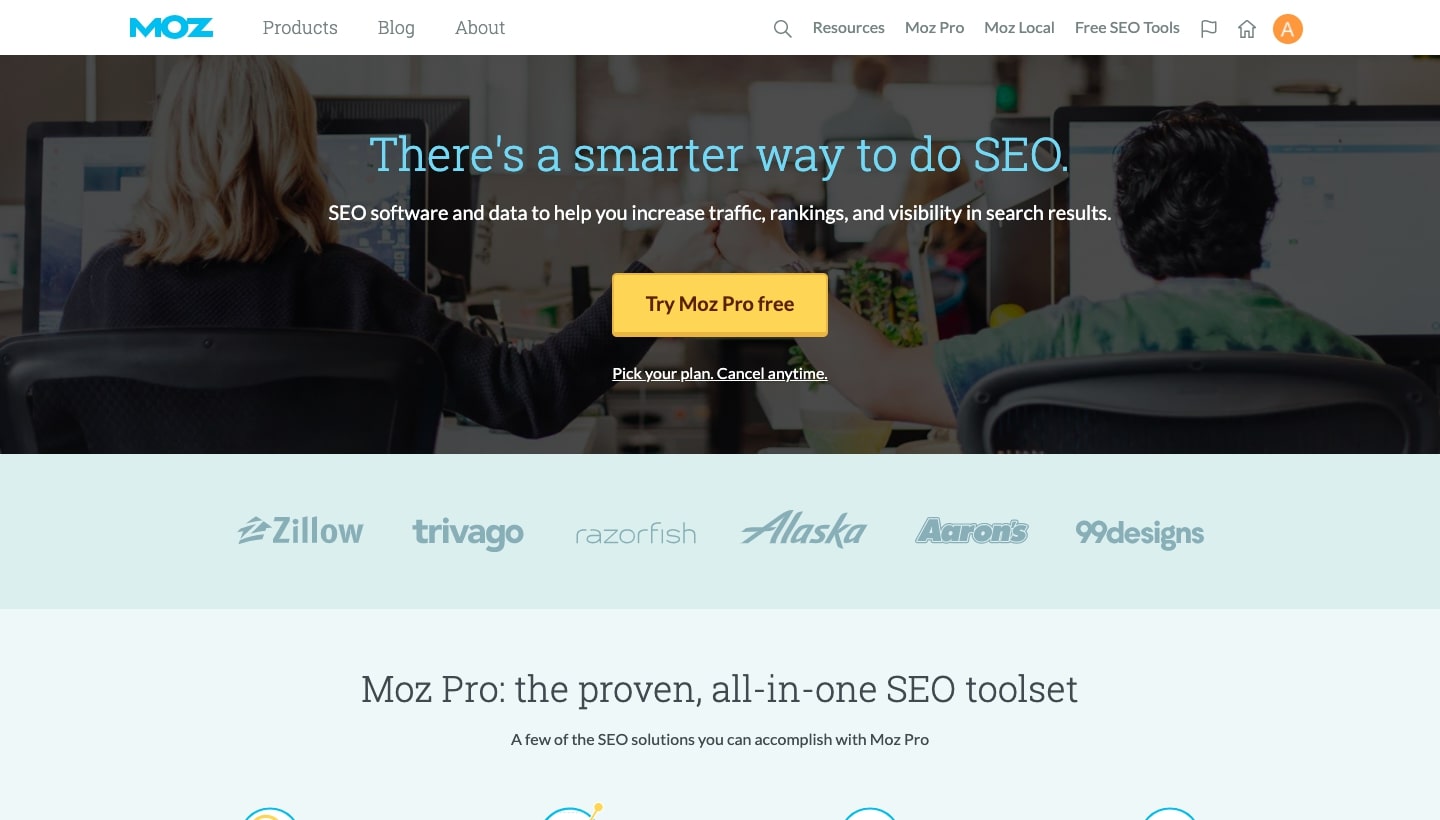 Founded in Seattle in 2004, Moz was among the first few to make a shift to SEO software development in 2008. The company has come a long way since to develop their offer into a complete SEO tool that includes website crawling and optimization, keyword research, competitive analysis, and more. When you take all of that and combine it with an affordable price, we get a solution that we recommend along with SE Ranking, which offers the same in terms of features, but is more intuitive and pocket-friendly.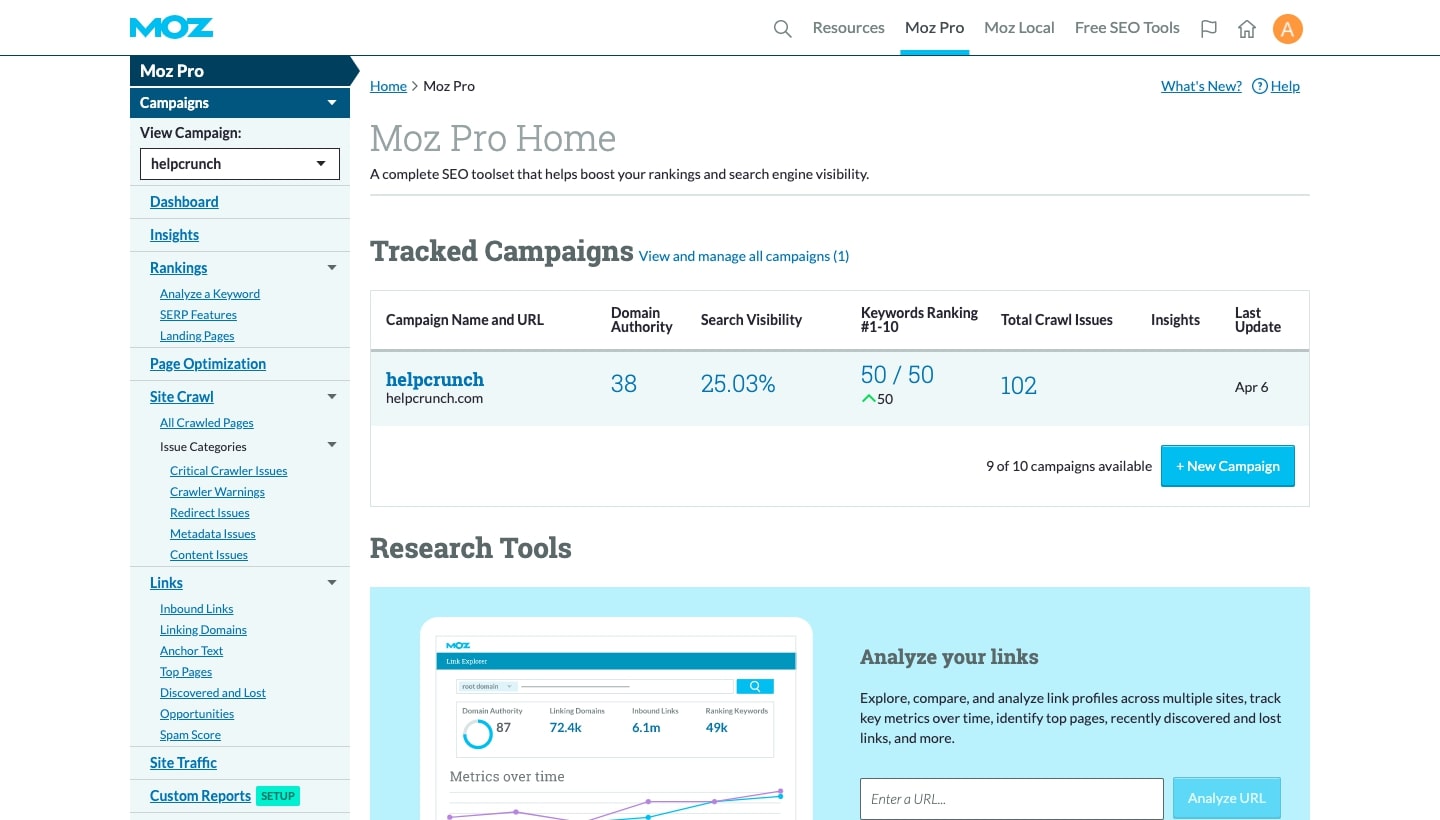 Given all the valuable educational content it provides across its website and platform, Moz is not only great for advanced SEO pros, but for newbies who want to learn as well. Plus, the clean and uncluttered user interface simplifies the entire SEO analysis process, and the data gives you a great understanding of how to optimize your site.
While Moz does provide a vast amount of data, it doesn't show its users everything, because it doesn't have enough power to give data-starved marketers what they need as soon as they do.
This is often the case when you try to have a foot in both camps. In this case, when Moz made the shift to SEO they had to make a decision. Do they narrow down their resources to boost customer search traffic, and, as a result, exclude content marketing and social media practices, or keep things the same. Ultimately, Moz went for the first option.
On the plus side, Moz remains relevant thanks to its metric Domain Authority–arguably the most reliable metric when it comes to measuring the quality of a website. In addition, Moz's Keyword Explorer is a solid solution that can hold its own against any competitor tool.
As other tools on the market developed and started providing more data, Moz may have fallen behind some of its rivals in terms of data and value, but it's definitely a solid SEO tool.
Pricing & Plans
Moz Pro offers a free 30-day trial and four subscription plans with preset account limits. On top of that, it offers the customizable Enterprise pricing plan that is perfect for large organizations.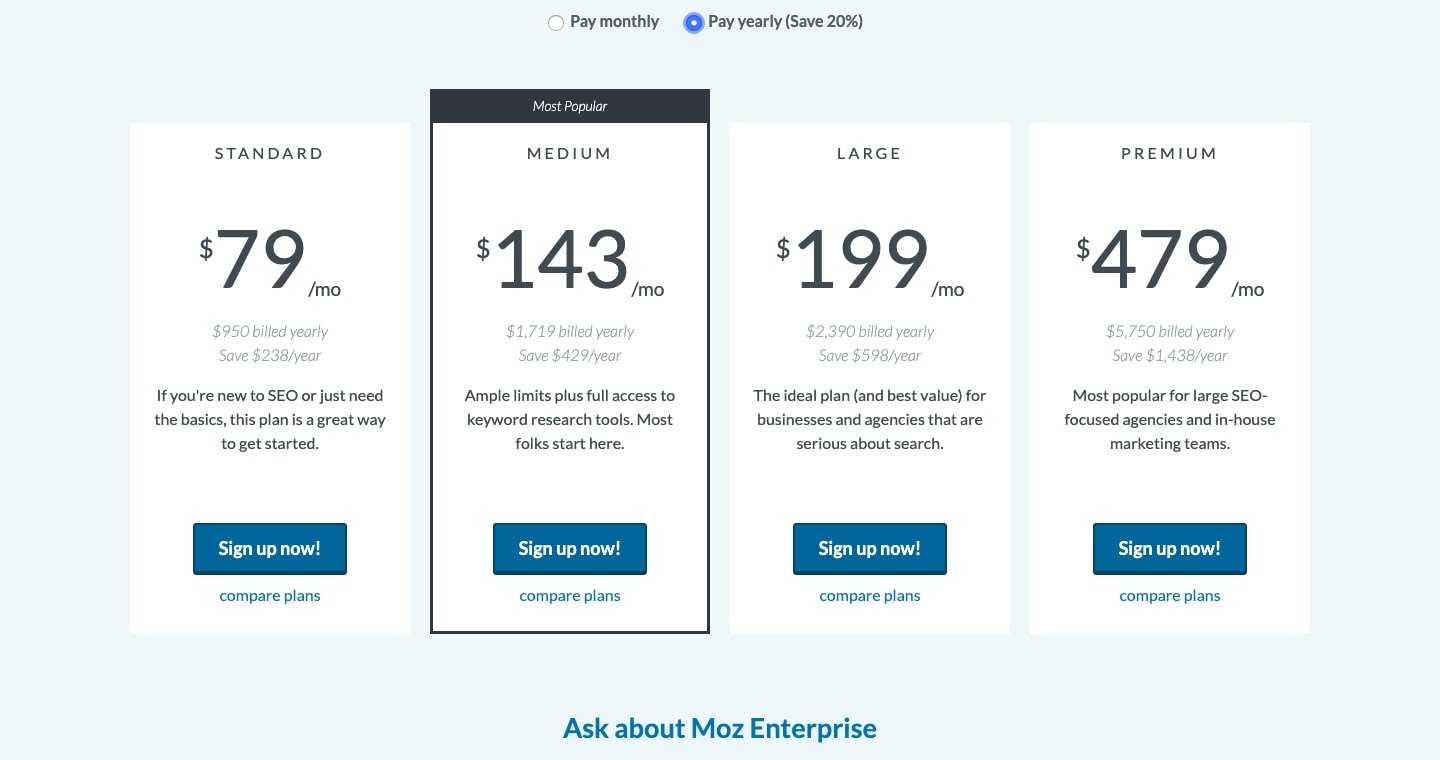 The lowest pricing plan available in Moz Pro is the Standard plan. At $79 when billed annually, the Standard plan provides the bare minimum that you need to benefit from Moz Pro: access for two users, five tracked website campaigns, rank tracking for 300 keywords, and a quarter million crawled pages each month. However, this plan limits keyword research, SEO reporting, and keyword management.
The Medium plan, available at $143 a year, was put together primarily for SMBs. Under this plan, you get access for 10 users, 5,000 reports on keywords and 30 keyword lists each month, along with branded reports, 10 tracked website campaigns, rank tracking for 900 keywords, and double the amount of crawled pages each month.
The Large plan can be yours for a year for $199 a month. It's perfect for companies that want to boost their online presence and do more SEO research. With this plan, users get 25 tracked website campaigns and users, rank tracking for 1,900 keywords, crawl 1.25 million pages each month, get 15,000 monthly keyword reports, and 60 keyword lists.
The last pricing plan available in Moz Pro with predefined quotas is the $479-a-month Premium plan, for annual billing. With such high account limits, this plan is really intended for enterprise organizations, as in those that need to keep track of 50 campaigns, 4,500 keyword rankings, get 30,000 keyword reports every month and give access to 40 users. Moreover, you can reach out to Moz to request a custom quota under the Enterprise plan, and all annual billing discounts give you 20% off.
Rank Tracker
Once you've done everything you can to improve your site's search engine visibility, you need to keep track of how your keyword campaigns are performing. Moz Pro's rank tracking tools will help you out with this.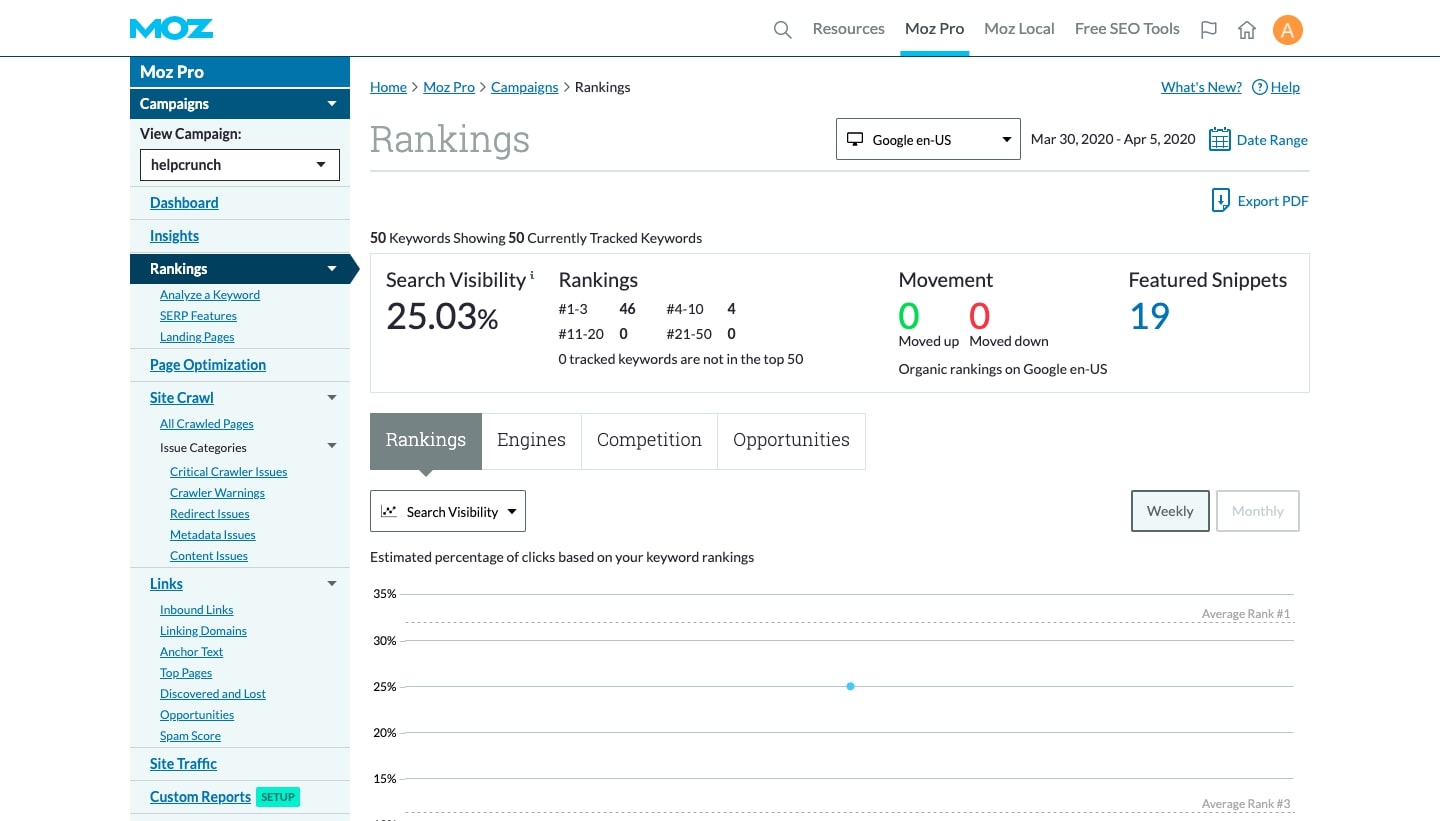 Moz analyzes your SERP standings to provide all the necessary tools for tracking keywords and web pages. Besides providing an overview, as is shown in the screenshot above, you get a detailed list of all your tracked keywords along with their search engine ranking positions:
With Moz Pro's keyword rank tracking tool, you can obtain an abundance of data that will enable you to make the right decisions in terms of your SEO strategies. Like all the other rank tracking tools we reviewed, Moz Pro's tool also helps avoid manually checking up on your SERP rankings, which can be a very cumbersome process.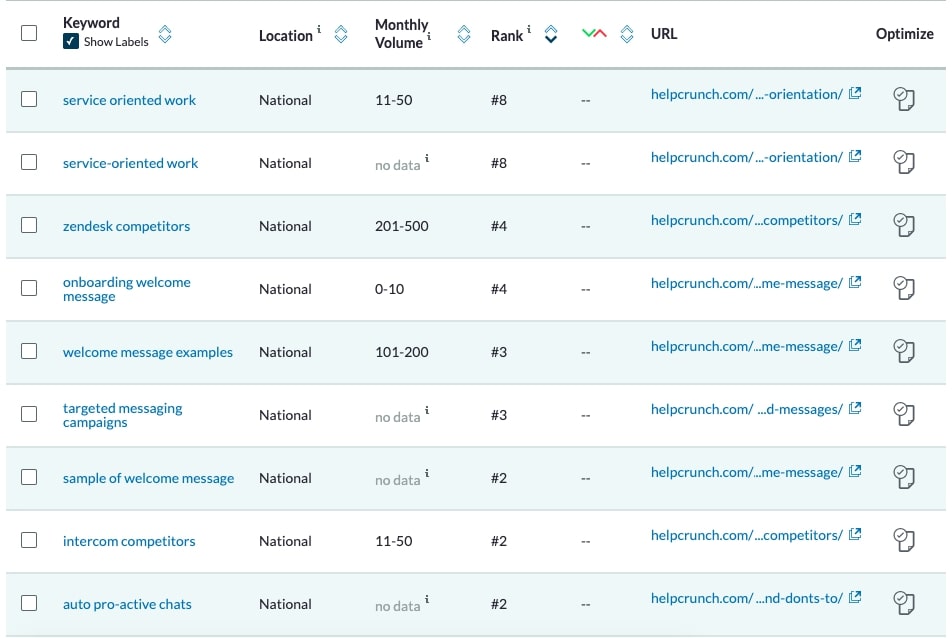 Since doing SEO properly usually involves looking back at what's been done in the past, analyzing and optimizing your strategy for the future, Moz Pro provides you with access to much-needed historical data. On top of that, you can check out this data across every tracked search engine like Google, Google Mobile, Yahoo!, and Bing. This enables you to understand which of the strategies you used in the past was most successful and effective.
Something that no rank tracking tool can go without is the ability to track not only global, but local rankings as well. In line with this, Moz Pro gives you the opportunity to find out how well your keyword campaigns are performing in over 200 countries. Plus, you can sort data by label, ranking position, search engine, or by ony of the many available parameters. Knowing how you rank in your area, city, region, or country is essential if you want to communicate the right message to different audiences who may end up finding your site. By the way, this is also essential for doing international SEO.
Knowing how you rank for the keywords you target is great, but it's not enough. You must also know who your closest competitors are and how they're ranking in search.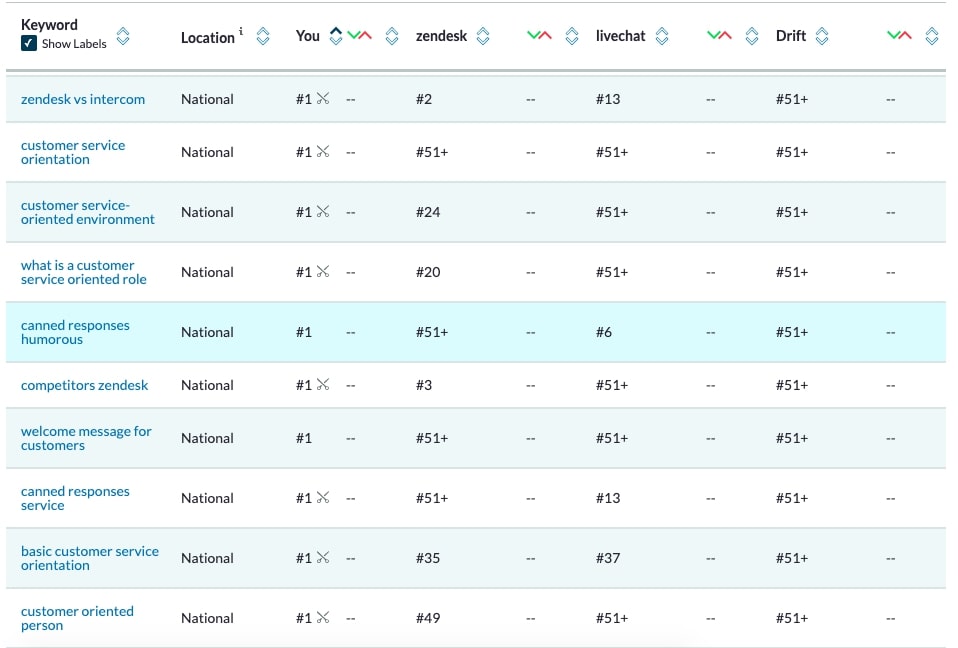 Find out who's targeting the same search queries as you, and what they do to maintain their ranking position. The more you know about your competition, the easier it is to outrank them. Moz Pro gives you a comparison of your and your competitors' performance. This is where you can use Domain Authority, link metrics, anchor and title tag tools to understand more about your rankings.
Given how much attention mobile devices are getting these days, any quality rank tracking tool simply must give you the ability to keep track of both desktop and mobile rankings. And Moz Pro doesn't disappoint. Compare rankings on different devices and let Moz help you up your game by identifying and fixing issues that impact your search engine standings.
Although the keyword rank tracking tool isn't as robust as that of SE Ranking or Semrush, Moz's suite of SEO tools totally overshadows that shortfall. The high overall level of tools they provide make up for any other weaknesses.
Site Audit
Using Moz Pro' Site Crawl tool, you can identify and offer fixes on every technical on and off-page SEO issue found on your website that may have a negative impact on your Google rankings efforts. Moreover, Site Crawl also keeps an eye out for duplicate content and other in-depth data to give you more actionable insights.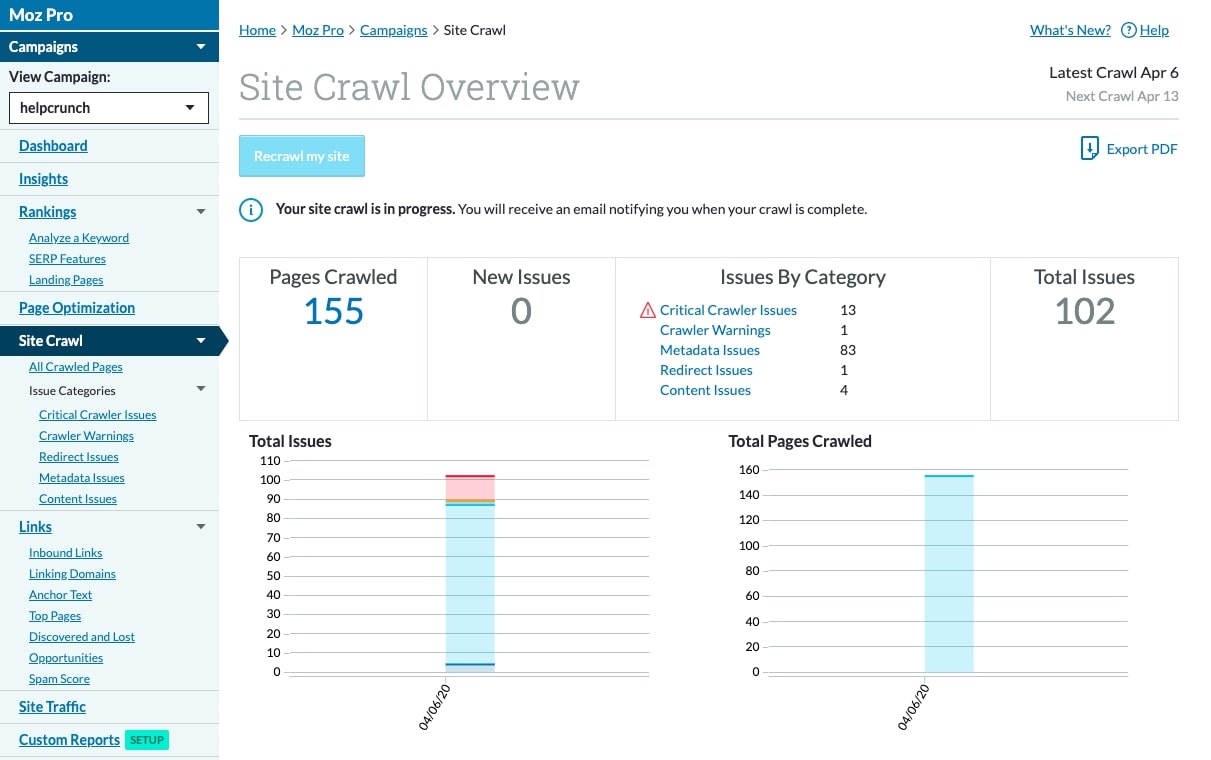 Once the audit has been completed, Moz Pro will send you an email containing a report of all errors. By the way, you can schedule to automatically get such reports via email on a weekly or monthly basis. This lets you focus on your core business, while Moz monitors your site for possible issues.
The alerts you receive from Moz about site errors are sorted by their level of impact, where such metrics as page authority and crawl depth are used as key prioritizing factors. The errors found by the tool are broken down into five categories, such as Critical, Warnings, Redirect issues, Metadata issues, and Content issues.
But the best part is that Moz will tell you exactly how to take care of each issue. Every found issue is accompanied by a "Moz Recommends Fixing" text that provides information on why the given issue has high or low priority, as well as a guide on solving the issue.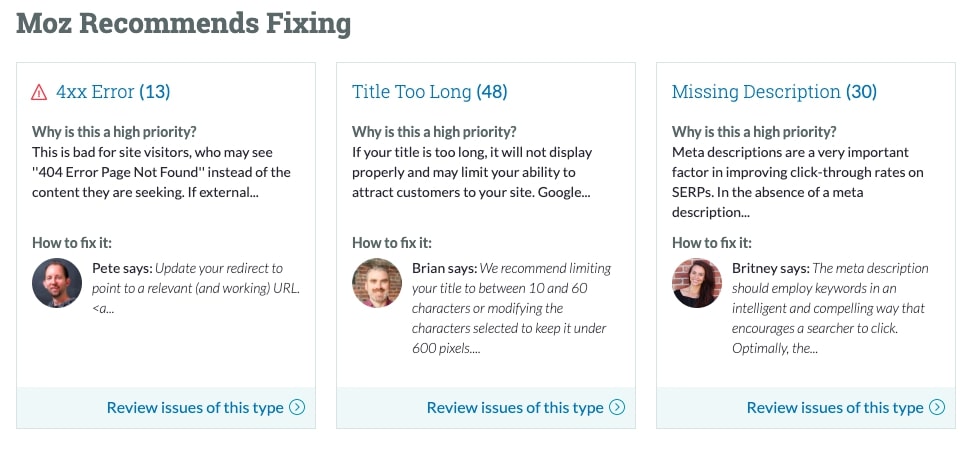 Last but not least, by clicking "Recrawl my site", you can make sure that the issue you have fixed has been successfully resolved.
Although Moz Pro's site crawler isn't as powerful as some standalone tools out there, it's recommendations on fixes sure do help out a lot, especially if you're an SEO newbie. All in all, the tool definitely doesn't take away anything from Moz Pro and is a solid solution.
Competitor Research
Moz offers a free Domain SEO Analysis tool in addition to several other tools within Moz Pro that were developed to provide competitive data on websites. The domain analysis tool provides such metrics on websites as Domain Authority, top ranking pages, rankings keywords, discovered and lost linking domains, top featured snippets, top search competitors, and more.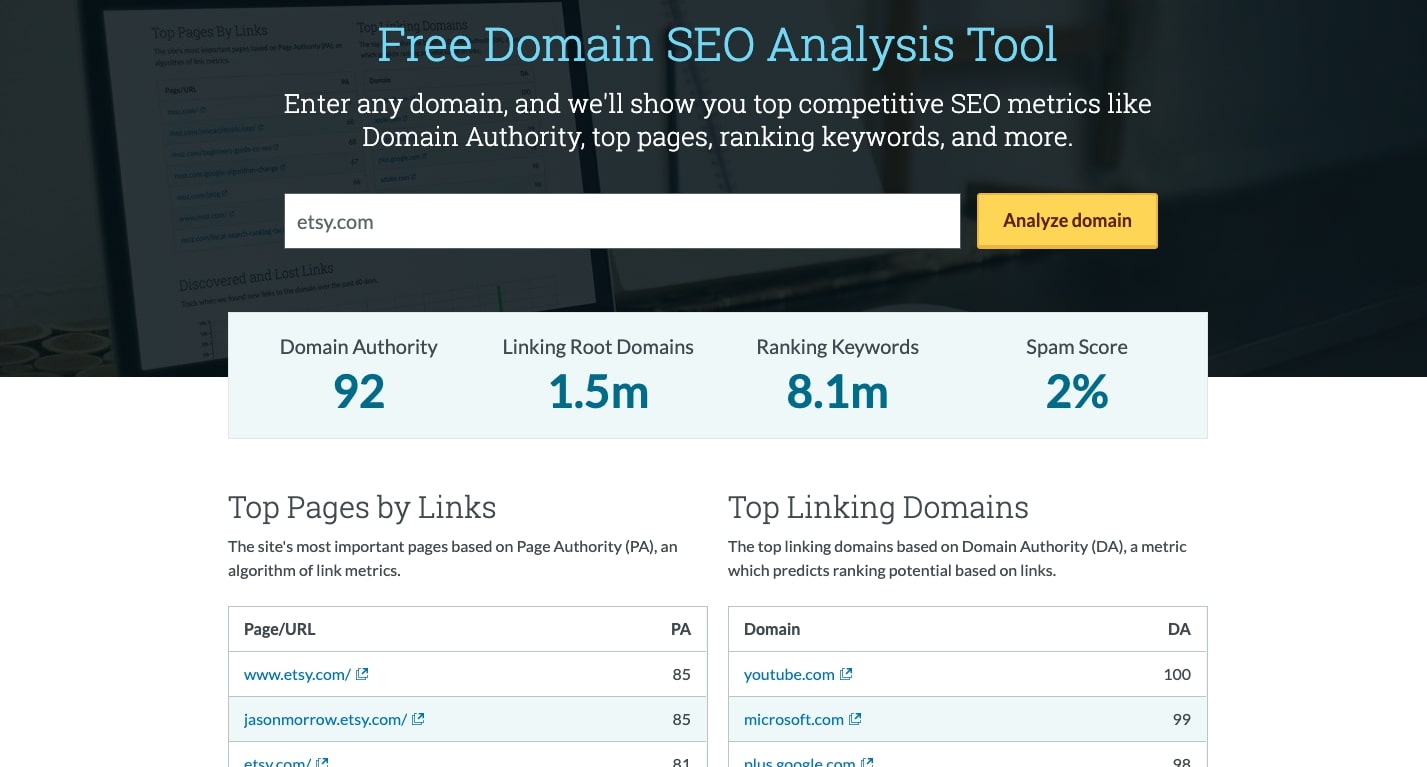 Just enter any website, click "Analyze domain", and Moz will provide you with its DA score, number of linking root domains, total number of ranking keywords as well as the spam score. Moreover, this enables you to find the "Top Pages by Links" along with their Page Authority scores that predict how well the page, not the entire domain, will rank in search. Plus, there's a graph that shows every new and lost backlinks–something that impacts your Domain Authority score.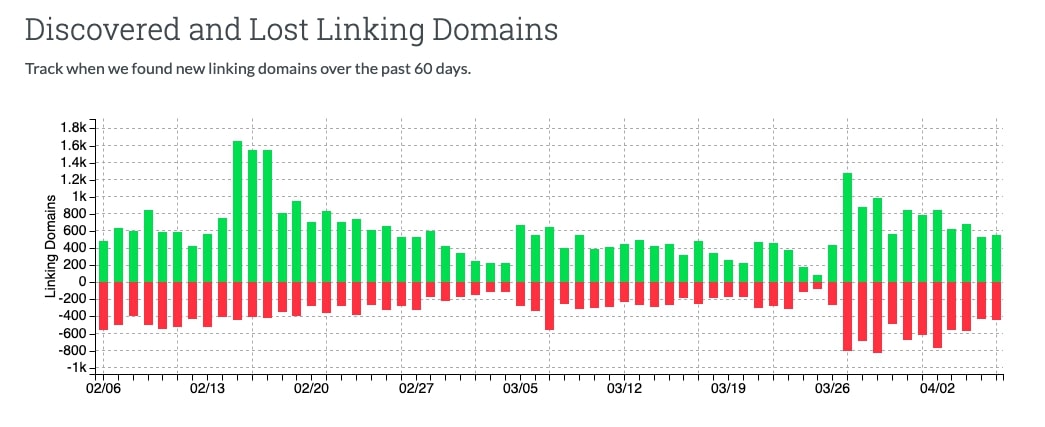 As you scroll down, you also see the "Top Ranking Keywords" together with your SERP standings, and an estimation of how many clicks each keyword will get. Then, the "Top Featured Snippets" section lets you know if you own any of them, and "Branded Keywords" will list keywords that reflect your brand–but only those with the highest monthly search volume.
Under the Keyword Ranking Distribution graph that lets you know how many keywords rank for different spots in SERPs, you get a list of the analyzed website's closest competitors, sorted by visibility score.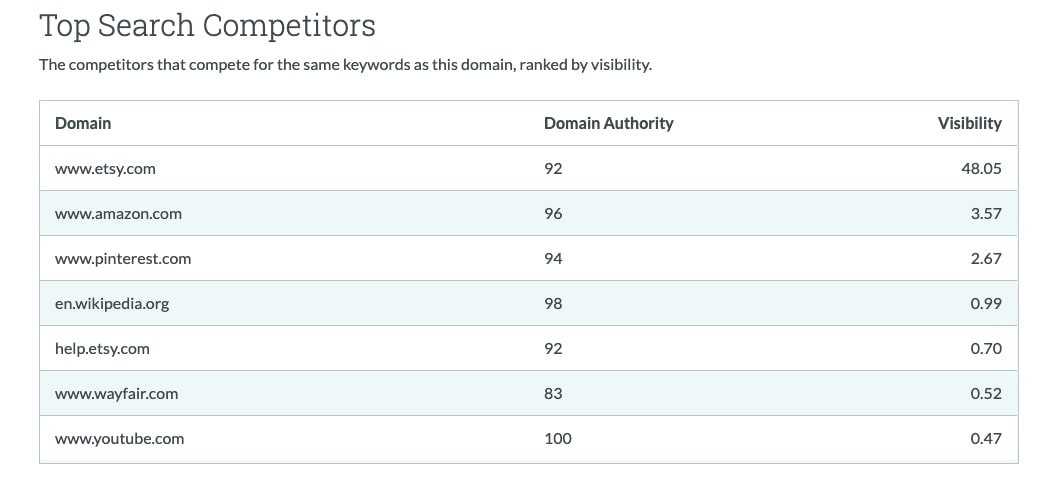 Now, although this Moz tool does provide a lot of data, it's still very limited. For more data, you'll have to get a paid subscription that will give you access to Moz Pro where you'll find additional tools for competitor research.
By going over to the Keyword Research tab in Moz Pro, you'll have the option of exploring a root domain, subdomain, or page instead of the classic search query. For best results, we advise you to enter a couple of competitors as well.

Once the results are in, you can scroll down to check out the summary data for each of the three websites, plus get a list of the top ranking keywords for each analyzed website along with their difficulty score and monthly search volume.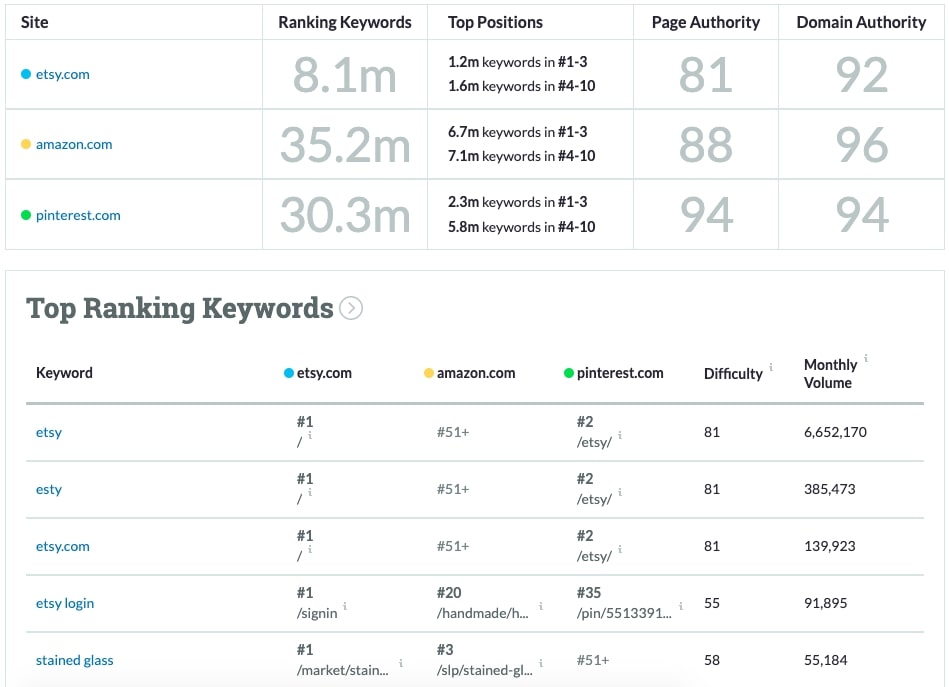 Right below the "Top Ranking Keywords" table, you have the option to click through to get more detailed results. Doing so will redirect to you to a page that will show you how you generally compare with your competitors in terms of keywords. But once you scroll further down, you'll get a list of keywords that all three websites rank for in search along with their ranking position for each competing site, keyword difficulty, and, of course, monthly search volume.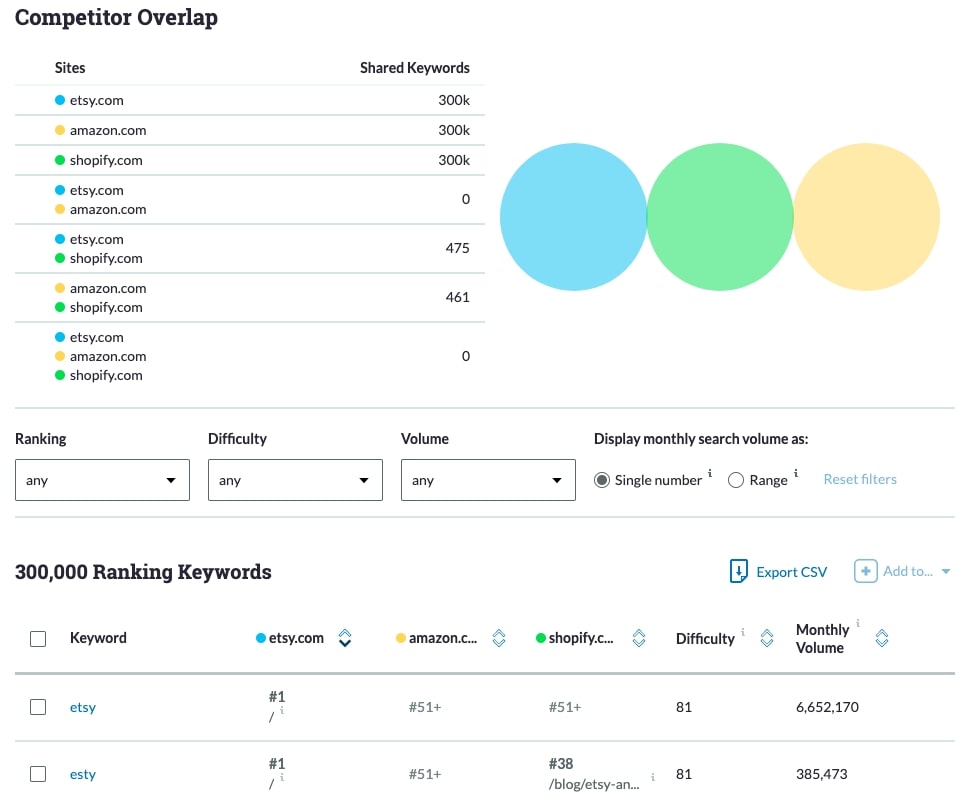 Finally, the SERP Analysis sub tab under Keyword Research, provides you with additional data, but we must point out that competitive research in Moz Pro is conducted through the lense of keywords. So you cannot get any specific organic or paid keyword data on websites using Moz Pro.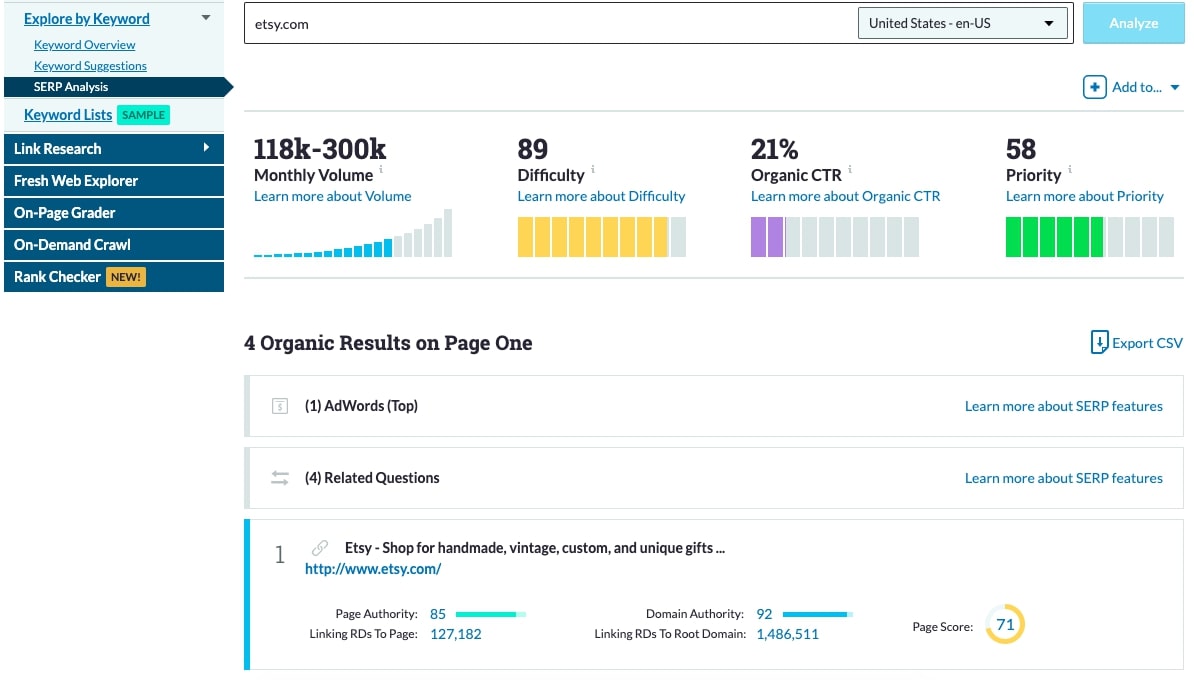 Compared to other tools on the market, Moz Pro doesn't have a strong competitive analysis module because it doesn't go beyond analyzing keywords. Other tools like SE Ranking and Ahrefs do a much better job at giving you all the competitive data you need.
Backlink Research
With Moz Pro's powerful Link Explorer tool containing helpful metrics, you can create a quality backlink profile. Basically, you can track your own performance dynamics and compare your link profile with that of your closest competitors and adapt your strategy to get ahead.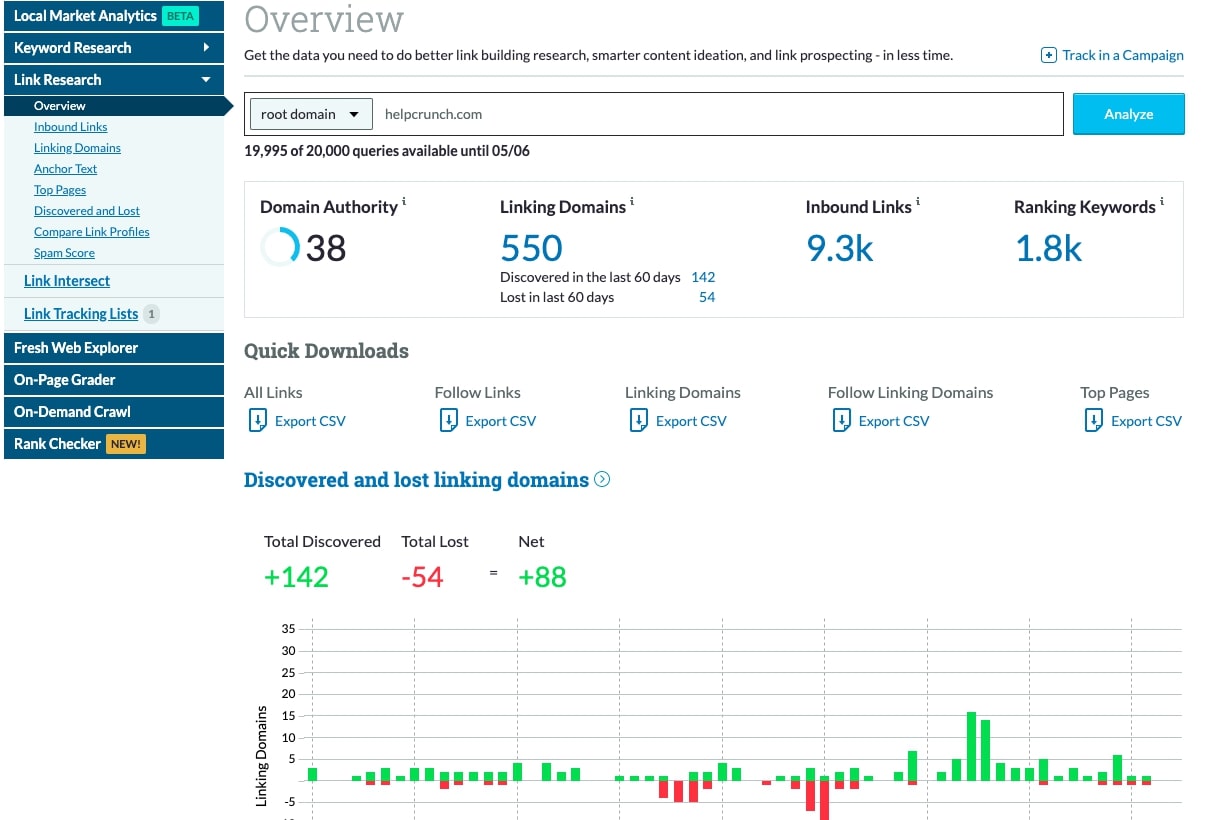 The best way to use Link Explorer is to reverse engineer your rival's backlink profiles. So, how does it actually work?
Start by entering a rival domain into the tool, as shown above, and you'll get an overview of their backlink profile that includes the site's domain authority, number of linking domains, inbound links, and ranking keywords. In addition, you get a graph showing all discovered and lost linking domains, and graphs showing your progress with your Domain Authority, Page Authority, and Linking Domains.
Naturally, you can also see the ratio between follow and nofollow links, top followed links to this site, top pages on this site, top anchor text for this site, and linking domains by DA. By the way, you can click through to each section to get detailed information on inbound links, linking domains, anchor text, top pages, discovered and lost backlinks, and spam score.
The best part of Moz Pro's Link Explorer is that you can compare several competitor backlink profiles, and then dig deeper into each competitor to see what makes their backlink profile tick.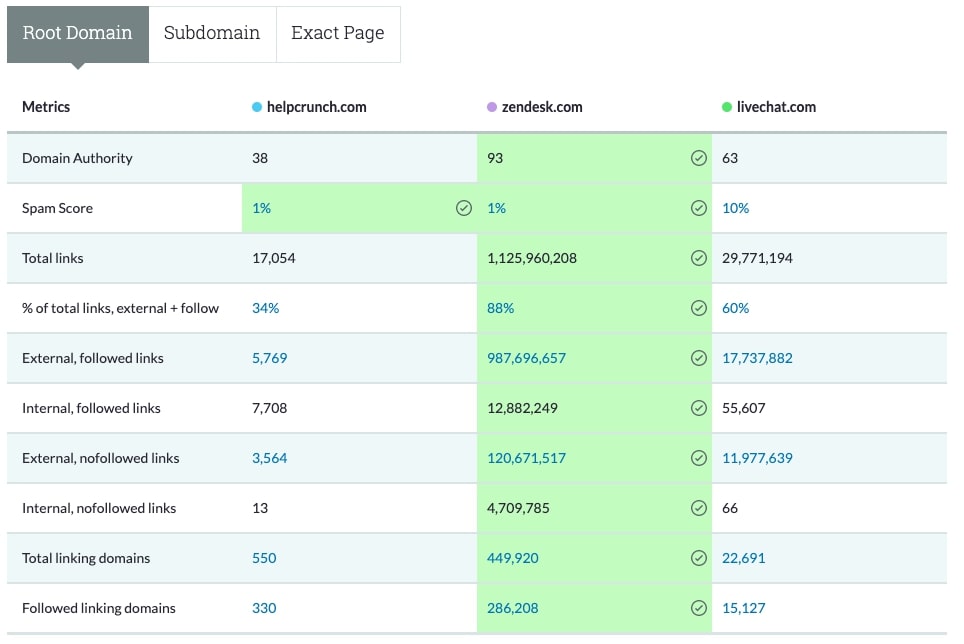 The bottom line is that Moz Link Explorer is right there at the top along with Ahrefs and SE Ranking in terms of quality backlink research–both of which have bigger databases. However, Moz is a tool that you can't pass up and simply must try, at least because of the educational content it provides.
Visit website