Capturing consistent and quality traffic to the site can be challenging in the modern-day digital world. Still, things can change dramatically when you take the lead in SERPs, resulting in engaging relevant audiences, boosting sales, and earning a name in the industry. To implement this with flying colors, you can't do without potent SEO tools. And Seobility makes the cut here. Offering full-fledged functionality from in-depth site crawling to backlink building, this software ensures consistent and efficient site growth.
But due to an ever-changing SEO landscape, rules, and business promotion trends, it is hard to stay ahead of the curve solely with Seobility capabilities. Moreover, objectives, needs, and budgets vary from company to company, and those features fitting one workflow may not benefit the rest. Therefore, it is worth considering different Seobility alternatives to find what is most suitable for your digital marketing growth. 
We have conducted an overview of the best Seobility competitors that enjoy wild success among SEO specialists and marketing sharks .. Whether you are only launching a brand or developing large enterprises, you will doubtless come upon what you expect. So let us arm you with practical alternatives to Seobility.
1. SE Ranking
Those who have worked with SE Ranking at least once understand why it appears as the top Seobility competitor. It is an all-in-one suite providing valuable solutions for bloggers, digital agencies, business owners, and SEO experts. As the name implies, the platform initially prioritized rank tracking metrics. However, it is currently a comprehensive toolkit for crawling and fixing every single aspect of SEO performance. 
Moreover, a flexible pricing policy enables both large-scale enterprises and startups to leverage site streamlining opportunities. And the easy-to-use interface and robust resource library offer fantastic value for money that other options frequently miss.
Features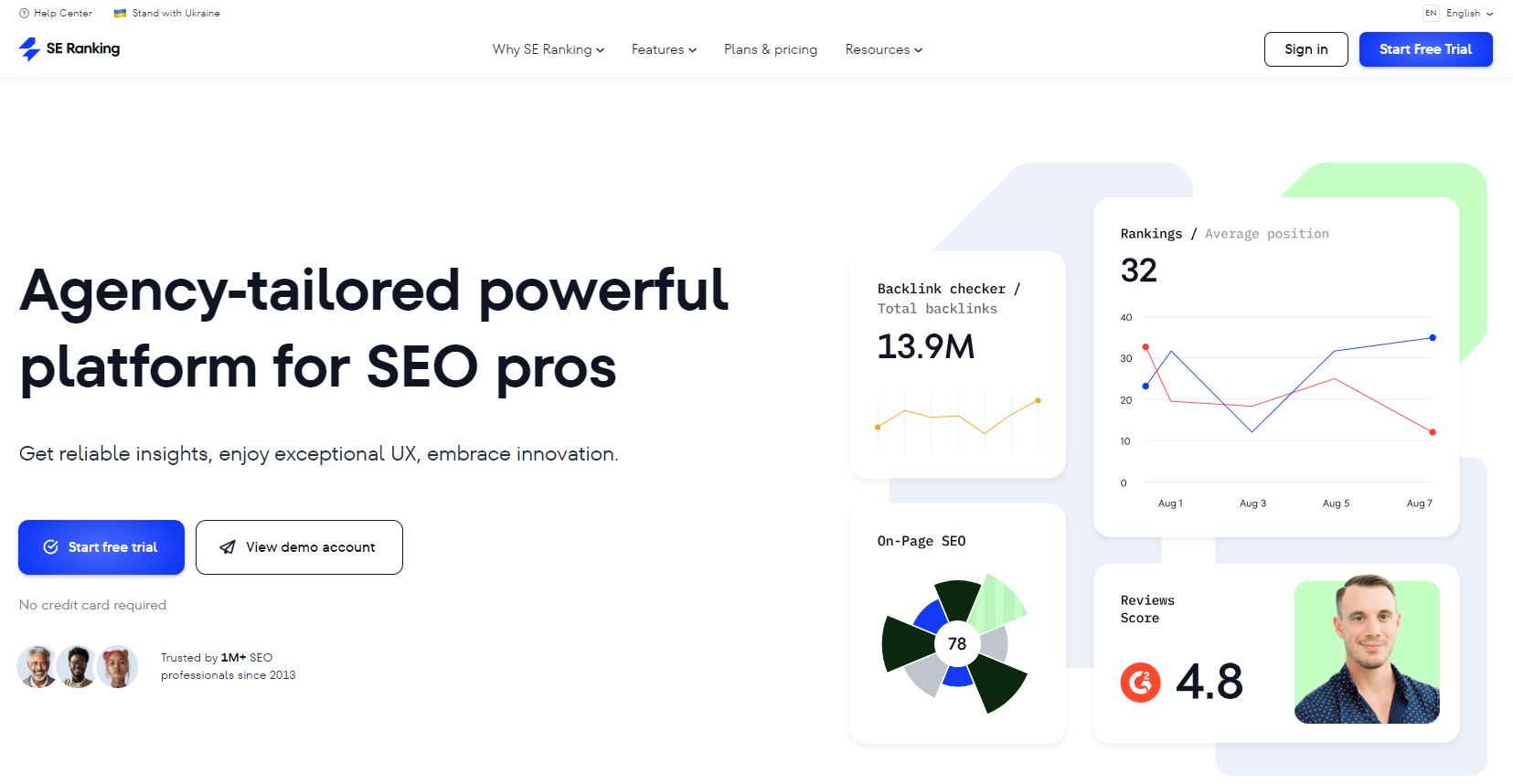 With SE Ranking, you acquire a robust set of SEO/PPC features. From the many actionable functions, let's explore the core ones close up:
Competitor Analysis – helps you keep abreast of your competition's SEO achievements and applied PPC tactics. Just copy and paste any site URL or domain to get a clear picture of its SEO and PPC strategies in terms of such metrics as traffic, keywords, backlinks, ads, etc.
Keyword Rank Tracking – allows tracing site positions on the SERP across different search engines like Google, Bing, Yahoo, and more. Maps and ads monitoring are also applicable here.
Backlink Checker – audits site backlink performance from top to bottom and detects lost and new backlinks. It also discloses the potential of referring domains, anchor text distribution, and most-linked pages.
Website Audit – discovers tech issues hindering high rankings.
Keyword Research – analyzes keyword power from the perspective of the level of difficulty , CPC, and search volume.
In addition, SE Ranking stands out from the best Seobility alternatives with the unique features such as White Label, Report Builder, Lead Generator, and Guest Link. 
Pricing
When it comes to pricing, the payment structure is well-thought-out and more affordable than other SE Ranking alternatives. Based on three main pillars: frequency of ranking checks, desirability of periodicity to pay, and the number of keywords tracked, it will cater to any business requirements and budget. You may opt for the Essential, Pro, and Business plans, with corresponding prices of $55, $109, and $239. You can even try out the platform for 14 days..
Verdict
SE Ranking is an excellent Seobility alternative. Due to its versatility, it makes the perfect cloud-based choice for small businesses as well as SEO agencies. Its pricing model lets users get the most out of the required functionality. You can watch out for competitors to outrank them, gain top-quality backlinks, audit the site's tech gaps, and luxuriate in keyword opportunities. No doubt, this terrific suite with impeccable automation and a user-responsive interface will change the way you perceive and perform SEO processes.
2. Advanced Web Ranking
If you are seeking advanced tracking, smooth management, and accurate reporting on ranking positions, Advanced Web Ranking will suffice. Unlike other Seobility competitors, it allows for handling numerous projects concurrently and keeping track of keyword opportunities. The platform's option flexibility makes it extremely handy for individuals and small or mid-sized businesses.
Features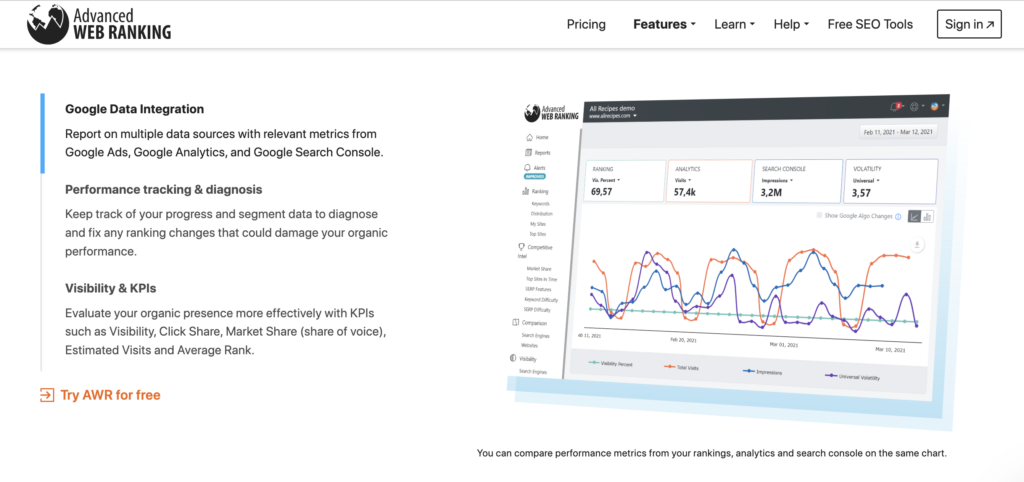 It goes without saying that the software's key highlight is tracing ranking data. However, with Advanced Web Ranking, users can also measure local online performance, which is decisive for raising visibility in local listings. White-label functionality aims to aid in proper and fruitful hosting permalinks within the site.
Since this solution encompasses API features, SEO pros and marketers may run rankings programmatically and transfer data safely and soundly. Besides, social media integration and multi-language configuration facilitate growing sales. In addition, a user-friendly interface and superb customer support are tailored to make your SEO workflow trouble-free.
Pricing
The pricing tier results from monthly subscriptions available in three versions: Standard, Professional, and Enterprise, priced at $99, $199, and $399, respectively. For agencies, there is a full-packed plan Server, starting at $1499. As prices are above the market, the platforms enable users to try out the quality with a 30-day free trial that other Advanced Web Ranking alternatives do not offer.
Verdict
When you need some keyword optimization expertise and want to boost your ranking positions based on location, device, and industry, Advanced Web Ranking is just the job. With its in-depth analysis of site online data and easy-to-comprehend reports, all your team members will benefit.
3. Rankwatch
Rankwatch is a good choice for those who wish to collect SEO-related info and empower their strategies and campaigns. Instead of manually mining data which is time-consuming, now you may harvest it swiftly via smooth and well-organized automation. More significantly, optimizing your site's SEO aspects can proceed with no harm to the budget, which is rare for top Seobility alternatives.
Features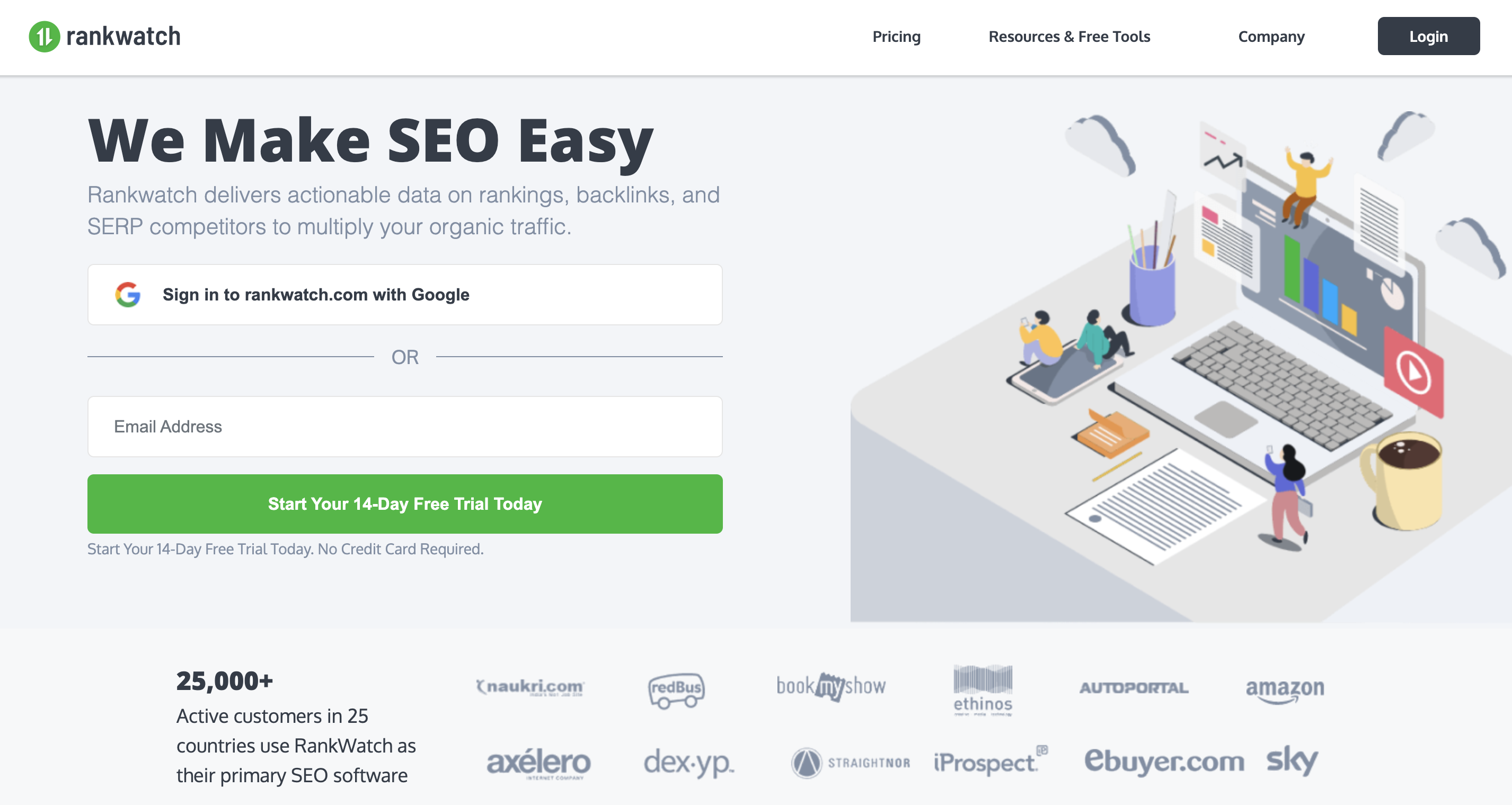 The platform's toolkit will guide users through crafting a formidable SEO strategy with the features below:
Keyword Research – aids in determining keywords your site ranks for and brainstorming phrases and search queries to use within the content.
Competitive Analysis – spies on your rivals' best-ranking key wordings you should streamline for.
Website Analyzer – diagnoses the site for the most relevant on-page SEO factors and crafts white-label reports.
Link Center – reports backlink performance over time and prompts high-quality linking back.
Pricing
Compared to other Rankwatch alternatives, you will meet the cheapest on-the-market pricing here. With the M package for $29/month, you may keep track of 250 keywords in any location. To uncover more functions, choose L or XL plans with monthly prices of $99 and $499. One more essential perk is users can create a custom package to their business needs as well as benefit from a 14-day trial period.
Verdict
Do you want to learn the SEO ropes while not investing too much? Rankwatch is the perfect match. This intelligent, affordable Seobility alternative will ideally come in handy for newbie blog owners and digital marketers. But an in-built toolbox might be insufficient for those who wish to scale their business globally. 
4. Cognitive SEO
CognitiveSEO is a suite tailored to analyze digital marketing strategies and provide users with insightful recommendations on fixing any SEO issues that arise. It helps keep up with the site's evolution to boost traffic and optimize the content for conversions. This Seobility competitor not only flags gaps to fix but indicates specific reasons why the site is not ranking well.
Features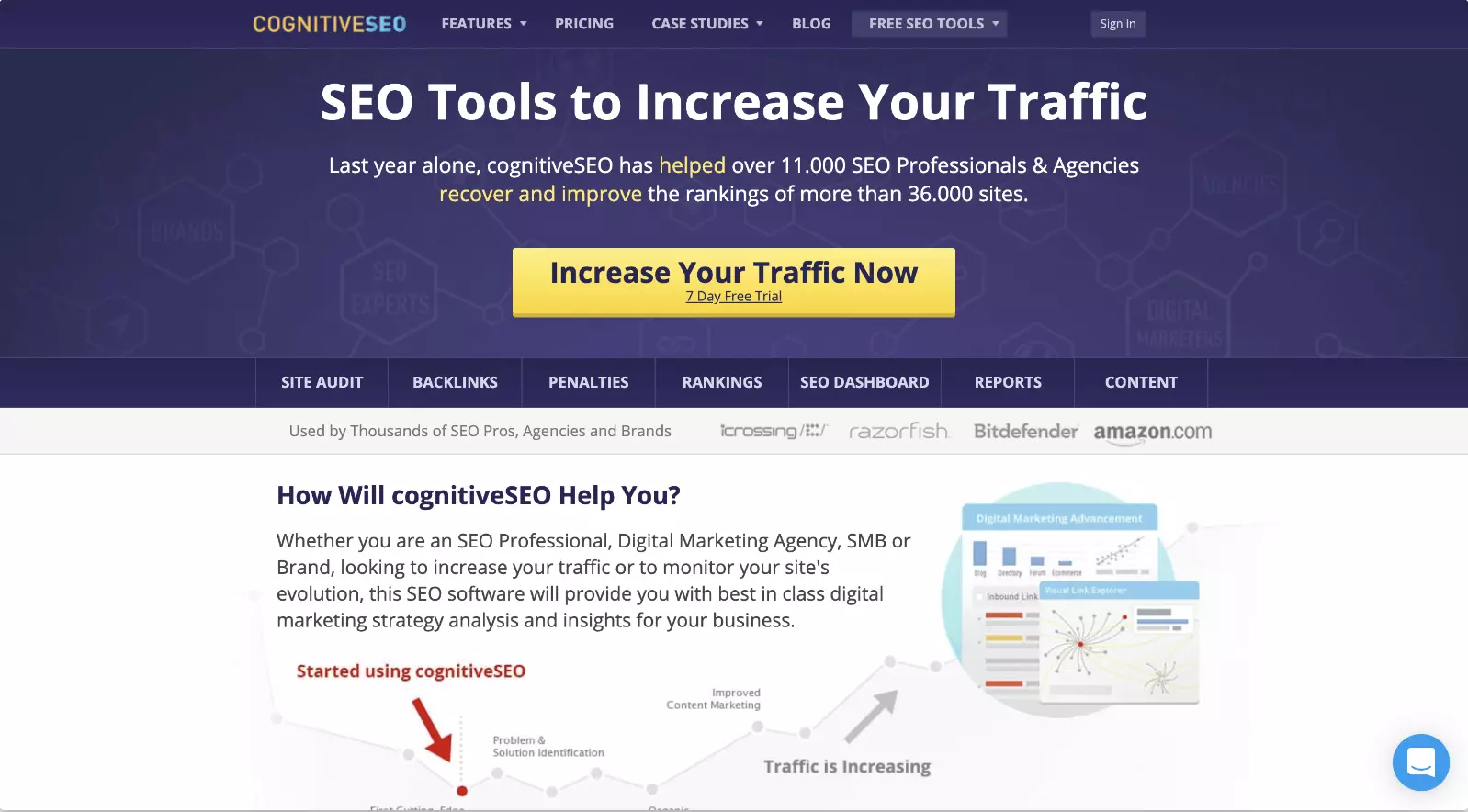 With CognitiveSEO, you attain an extended scope of auditing capabilities, including content and backlink analysis, technical SEO checkups, keyword exploration, and rank tracking. In addition, it boasts a unique Google-specific penalty prevention and recovery feature.
To optimize content for any type of business locally or worldwide, the vendor has designed the tool to support all languages and countries. As for other highlights, the platform enables customizable marketing reports, which may emphasize the required areas, like social visibility, rank tracing, or link audit. While CognitiveSEO integration with Google Analytics produces report builders to unite essential KPIs.
Pricing
The Starter plan of $129.99/month is pretty overpriced considering the toolkit and compared to other entry-level packages of CognitiveSEO alternatives. However, the Premium and Elite offerings justify the cost entirely, priced at $199 and $499 accordingly. Feature customization to your digital marketing goals will definitely develop a beneficial and budget-suitable plan. 
Verdict
CognitiveSEO is the top Seobility alternative for solo web professionals and agencies to boost their marketing efforts significantly. Via overall SEO health audit and a rich range of functions, it will target the right audiences and arm you with the best practices to make your site a leader in the market.
5. AgencyAnalytics
If you are a freelancer or a marketing agency pro, AgencyAnalytics will be ideal for your SEO research and client reporting. This is an all-in-one software with numerous integrations that can generate brief and comprehensive dashboards and reports to manage campaigns effectively.
Features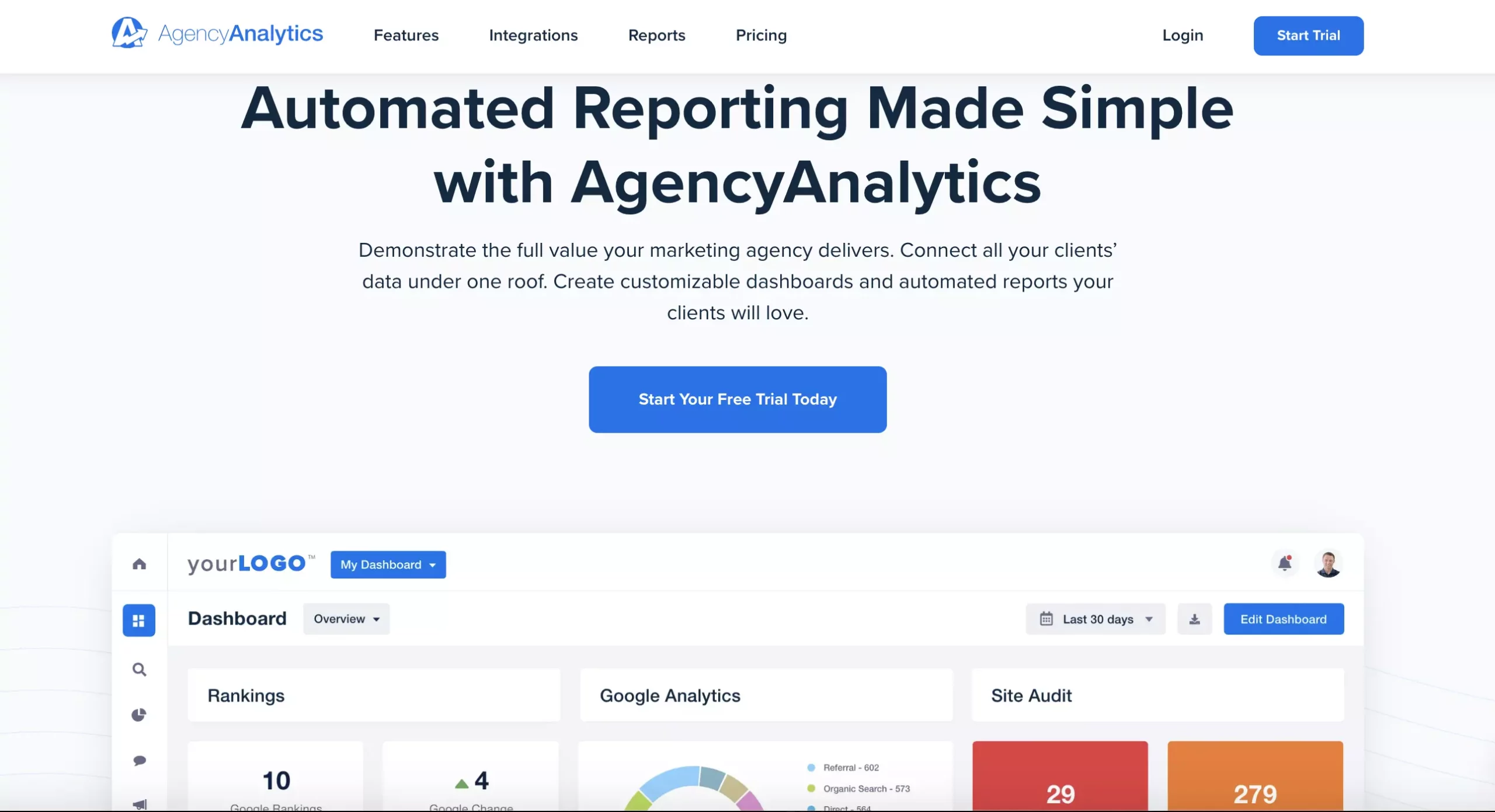 AgencyAnalytics relies on three core pillars – a Keyword Rank Tracker, a Backlink manager, and a Site auditor. They concentrate on giving users flawless automation and improving all the site's optimization processes. If you run an SEO or PPC agency, you know that reporting can be time-consuming and challenging. But with this alternative to Seobility, you can forget what exhausting manual data-related labor means.
Thanks to a flexible integration system with nearly 75 platforms, you can substantially streamline your email marketing, social media, and eCommerce strategies. Plus, a competent and friendly support team is always ready to solve any issue lightning-fast .
Pricing
The pricing options of this Seobility competitor are available at three levels: Freelancer, Agency, and Enterprise, with respective monthly payments of $49, $149, and $399. The plan varies depending on the number of campaigns to deliver, site audit pages, and keyword rankings. So you can choose a plan according to whether you possess a personal brand or work for corporate objectives. The platform also provides a 20% discount on annual plans.
Verdict
This well-designed tool more productively manages all your customers' marketing channels and SEO data than the other AgencyAnalytics alternatives. So you can outperform the competition successfully, keep track of your ranking positions, leverage backlink opportunities, and enhance on-page tech SEO via a complete built-in toolbox.
6. AccuRanker
AccuRanker tops the Seobility alternatives list for keyword rank tracking accuracy. Profound analytics and a well-designed potent infrastructure provide Enterprise SEO and SEO Agencies with swift and up-to-date solutions. Its cloud-based capabilities aid in producing excellent keyword performance on both desktop and mobile devices. No doubt, you will stay competitive in whatever marketplace owing to its functional agility.
Features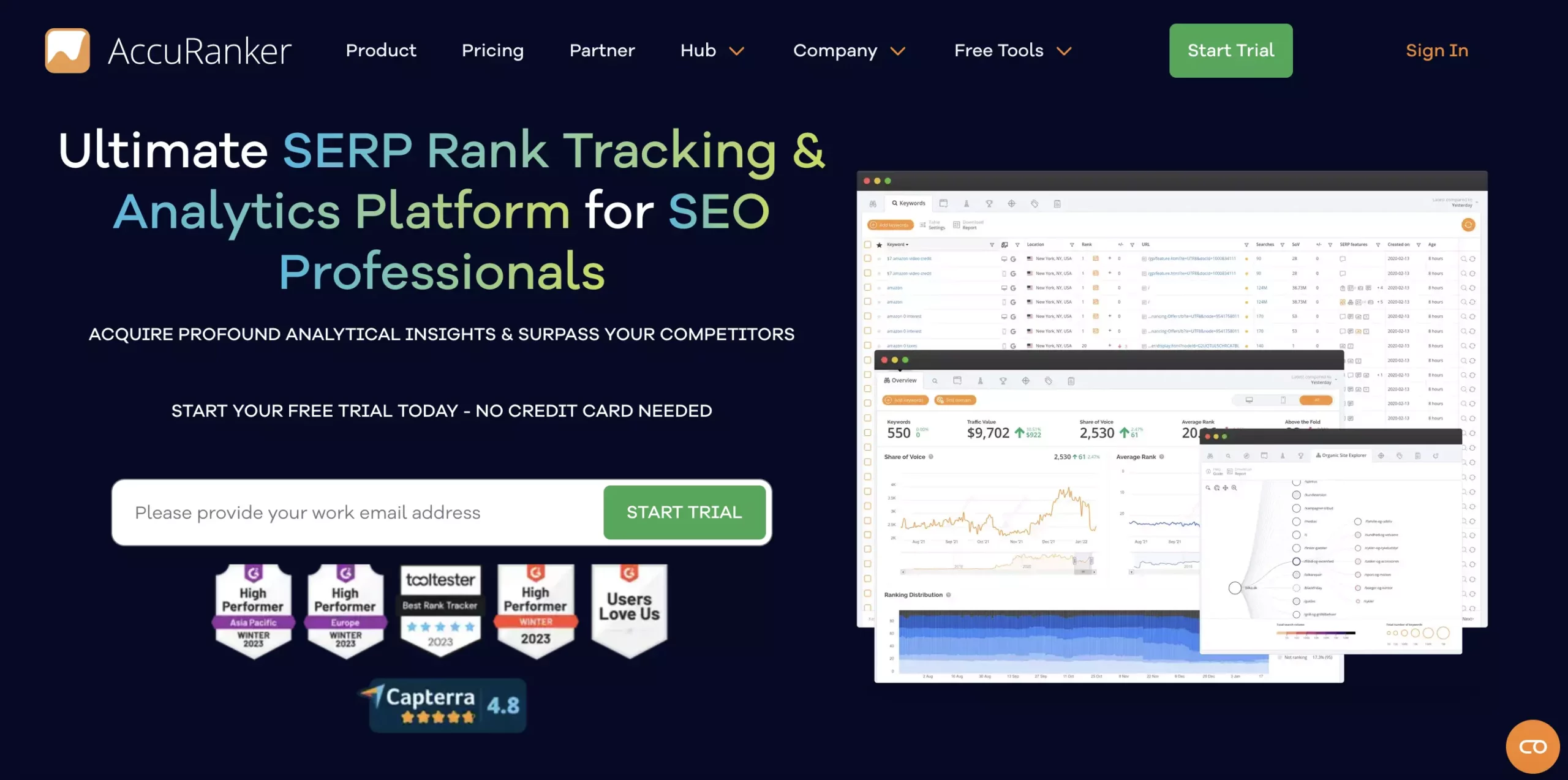 The platform comes with multifaceted features on keyword ranking, landing page audit, and search engine results monitoring. With historic data storage, managers can review essential historical modifications in keyword rankings to build a robust SEO strategy. Additionally, the incorporated share-of-voice feature allows stakeholders to see how the business performs in the organic search space.
As only a few AccuRanker alternatives, this platform involves API, supporting integration with third-party software Google Analytics, Google Data Studio, Databox, Adobe Analytics, etc. The joint toolkit potential creates impressive optimization outcomes, especially if you run a small business.
Pricing
Transparent and flexible price plans make this suite the best Seobility competitor. Users are charged exclusively for the number of keywords aimed to track. With a starting price of $116 per month, it is possible to earn a 10% discount on the selected package by paying a year in advance. AccuRanker has a refund policy from the initial purchase in case of a negative experience with the toolset.
Verdict
AccuRanker contains all the requisite data and instruments to measure and analyze keyword success across SERPs. An easy-to-navigate interface and perfectly balanced reports will supply marketing agencies and large enterprises with sufficient functionality and actionable insights to win the market.
7. Surfer SEO
Seeking the best Seobility alternative for all-purpose site optimization? With its cloud-based opportunities, Surfer SEO will thoroughly analyze and compare your pages against what takes the highest ranking. Instead of blindly following practices to rank top in the SERPs, the platform offers data-driven solutions for what your content, page, and site fall short of.
Features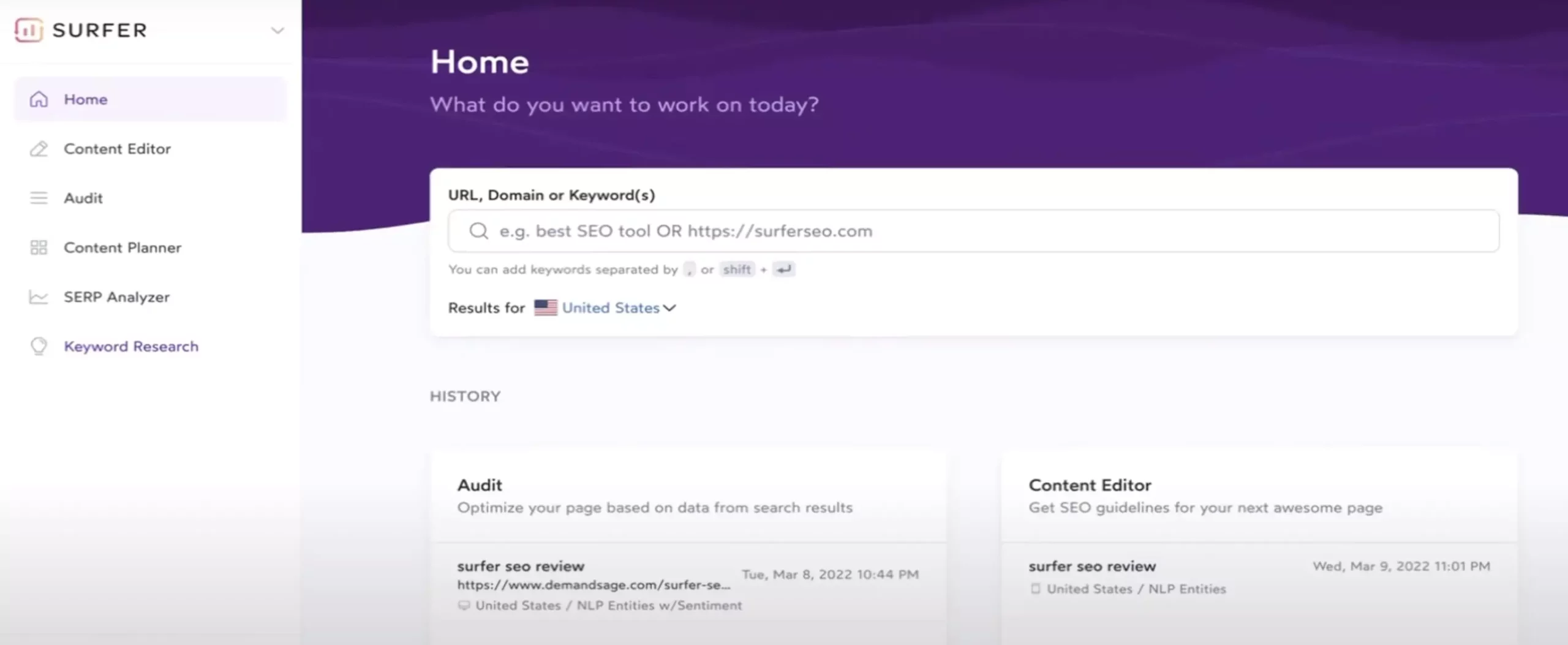 Surfer SEO's precious gem is its Content Editor, which can work wonders for your on-page streamlining. Its step-by-step efficient guidelines can take your company to a new level merely by polishing content, not even leveraging link-building capabilities. The SERP Analyzer provides a terrific way to immerse yourself into the competition for specific key wordings from a content-first perspective.
Due to the Content Audit options, users can benefit from practical suggestions for improvements. This happens based on URL analysis and the SERP of its primary keyword. Before implementing optimization techniques, design your campaigns with the Content Planner. Unlike other SEO Surfer alternatives, you will come across the state-of-the-art Grow Frow feature here. This AI-driven aid intends to enhance the SEO presence with plain and performing tasks. 
Pricing
SEO Surfer offers three pricing models according to different business needs and budgets: Basic, Pro, and Business. They will cost you $49, $99, and $199 monthly, respectively. The scope of features extends with the number of created and edited articles via Content Editor. Plus, the available Enterprise plan ensures a personalized experience and custom price for extra large companies.
Verdict
Surfer SEO is a must-try Seobility alternative for those who strive to rank organically. From small blogs and freelancers to mid-sized and enormous organizations, the SEO workflow is sure to skyrocket. Besides profitable rankings, you will revel in boosted organic traffic and advanced online visibility.
8. Nightwatch
Nightwatch is one of the leading alternatives to Seobility, featuring a comprehensive rank-tracking toolbox. Its daily keyword updates and segmentation options, site and backlinks audits, as well as automated reporting allow users to attract traffic across the world. Unlike other Nightwatch alternatives, it comes with a sleek, well-developed interface together with eye-catching graphs and visuals, which makes the complex functionality user-friendly.
Features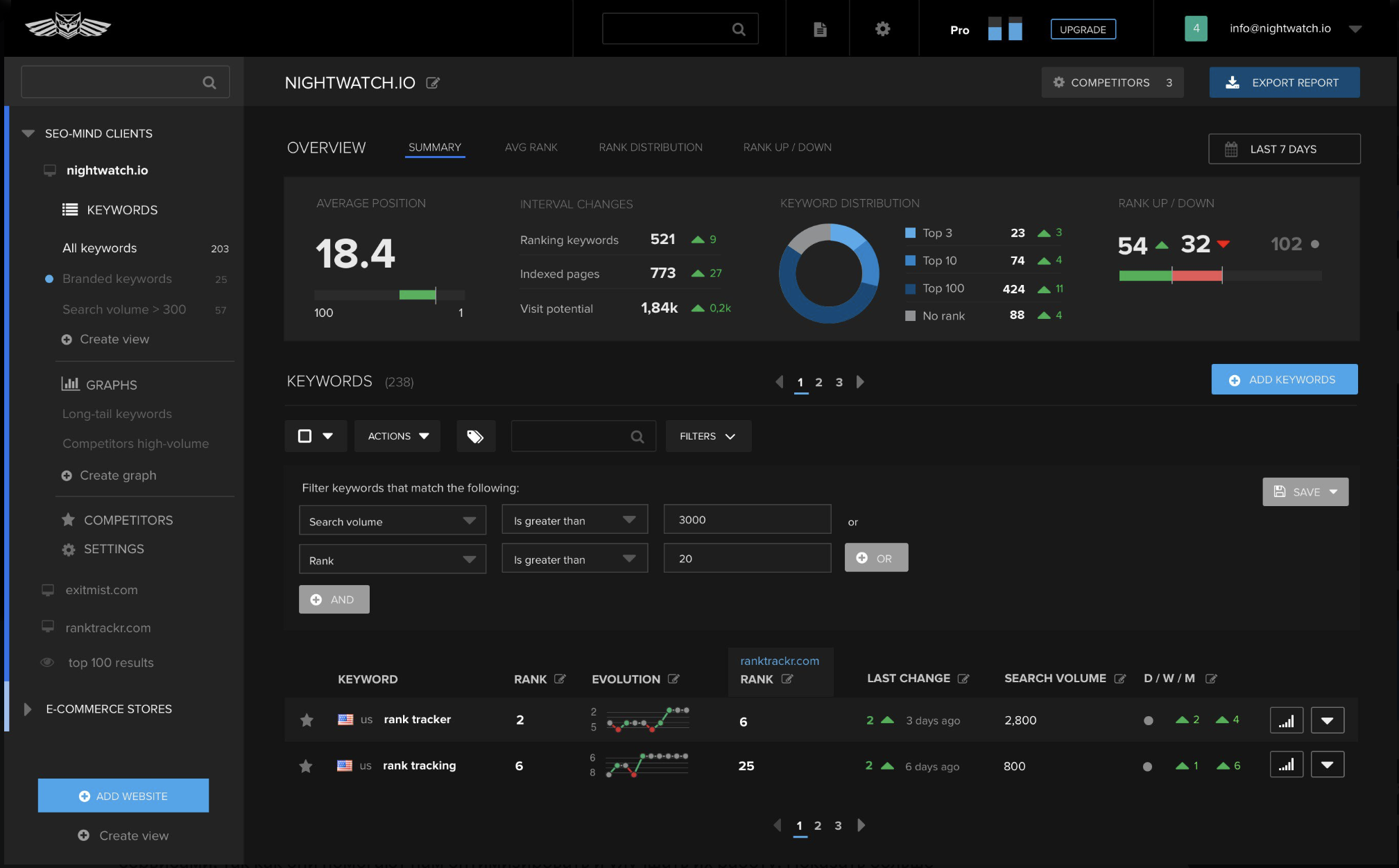 The software contains such valuable functions as:
Rank Tracking – swiftly updates ranking data, providing a quick overview through the detailed panel. Due to its strong filtering options, you may quickly optimize keywords for tags, locations, and search engines. Competitive tracing is also at your disposal here.
Site Auditing – performs fast-loading audits and detects streamlining on-page issues as well as diagnoses the health of particular pages.
Backlink Monitoring – identifies links with a positive impact on ranking and points to the harmful ones to fix or remove them.
Integrations – plans provide optimization-favorable collaborations with Google Analytics, Google Search Console, or Google Data Studio.
Reporting – ensures convenient and visually engaging reporting features to share rankings and site audit advancement.
Pricing
Compared to Seobility competitors, Nightwatch heads the SEO tool market with its fixed and affordable, and supple pricing policy. Freelancers and marketers can opt for a Starter plan of $39/ month, while Optimize and Agency plans, priced at $99 and $369 monthly, are perfect for marketing agencies and growing corporations. 
Verdict
Anyone looking for a full-feature, accurate, and approachable rank-tracking decision will find Nightwatch to be the best Seobility alternative. Excellent for local and global SEO, it will breathe new life into your business, making it industry-prime.
9. Sitechecker
Sitecheker is a progressive platform scoring site's parameters to determine overall SEO health. It is considered one of the top Seobility competitors for immediate traffic gain owing to the top-notch crawler module that investigates and fixes all tech SEO-related issues.
Features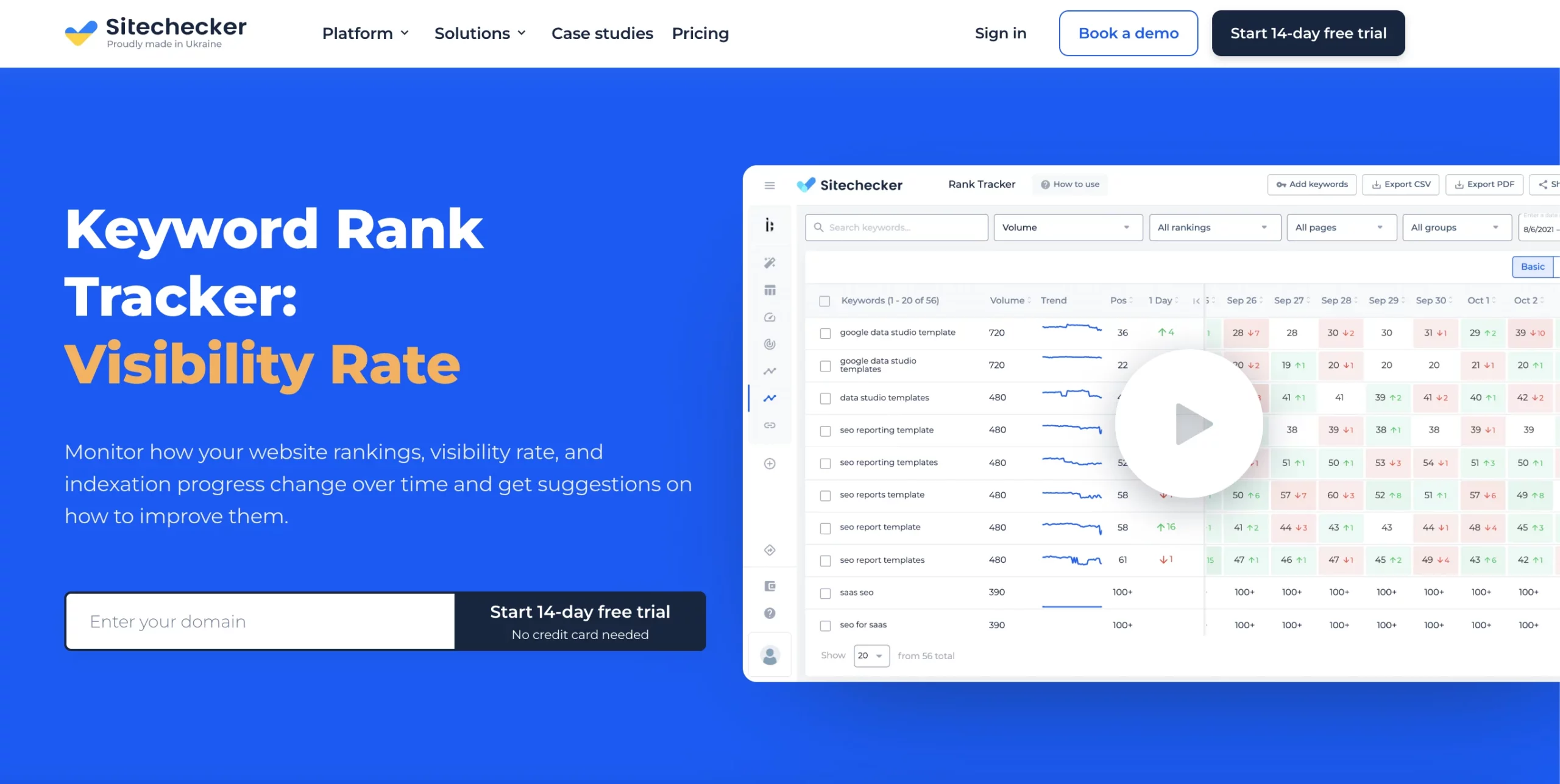 Its innovative toolbox facilitates users in discovering broken links, reviewing site structure, and defining top landing pages to adequately streamline the site. With Keyword Rank Checker capabilities, the SEO team may check and assess site domains for Google rankings. Plus, the software shows a list of the 10 most suitable keywords to drive organic traffic.
In addition, every page tech gap can be optimized, like meta tags, page response speed, indexation, etc. It is also possible to learn site traffic stats by various channels and in different timelines via Site Traffic Checker. A user can explore leading sites for specific targeted key phrases and figure out what elements are traffic boosters and underperforming.
Pricing
Frankly speaking, you will likely not find a cheaper alternative to Seobility for provided functionality. Available plans, Basic ($33/month), Standard ($124), and Premium ($208), will meet all SEO requirements of startups, small agencies, and mid-sized businesses accordingly. While selecting an annual subscription, users might profit from the 2-month free utilization.
Verdict
Rather than investing heavily in other Sitechecker alternatives, this cloud-based tool offers a scope of cost-effective solutions via complex SEO reports, resulting in increased conversions and a scaled brand. Everyone from freelancers and small agencies to dedicated SEO teams will grow organically, quickly, and productively with an intelligent set of features.
10. SEMRush
Looking for a Seobility alternative that will guide you smoothly through site optimization for search engines and develop effective digital campaigns? SEMRush will handle it for you. In addition to being an impeccable SEO toolbox, this platform is the best for conducting competitive intelligence.
Feature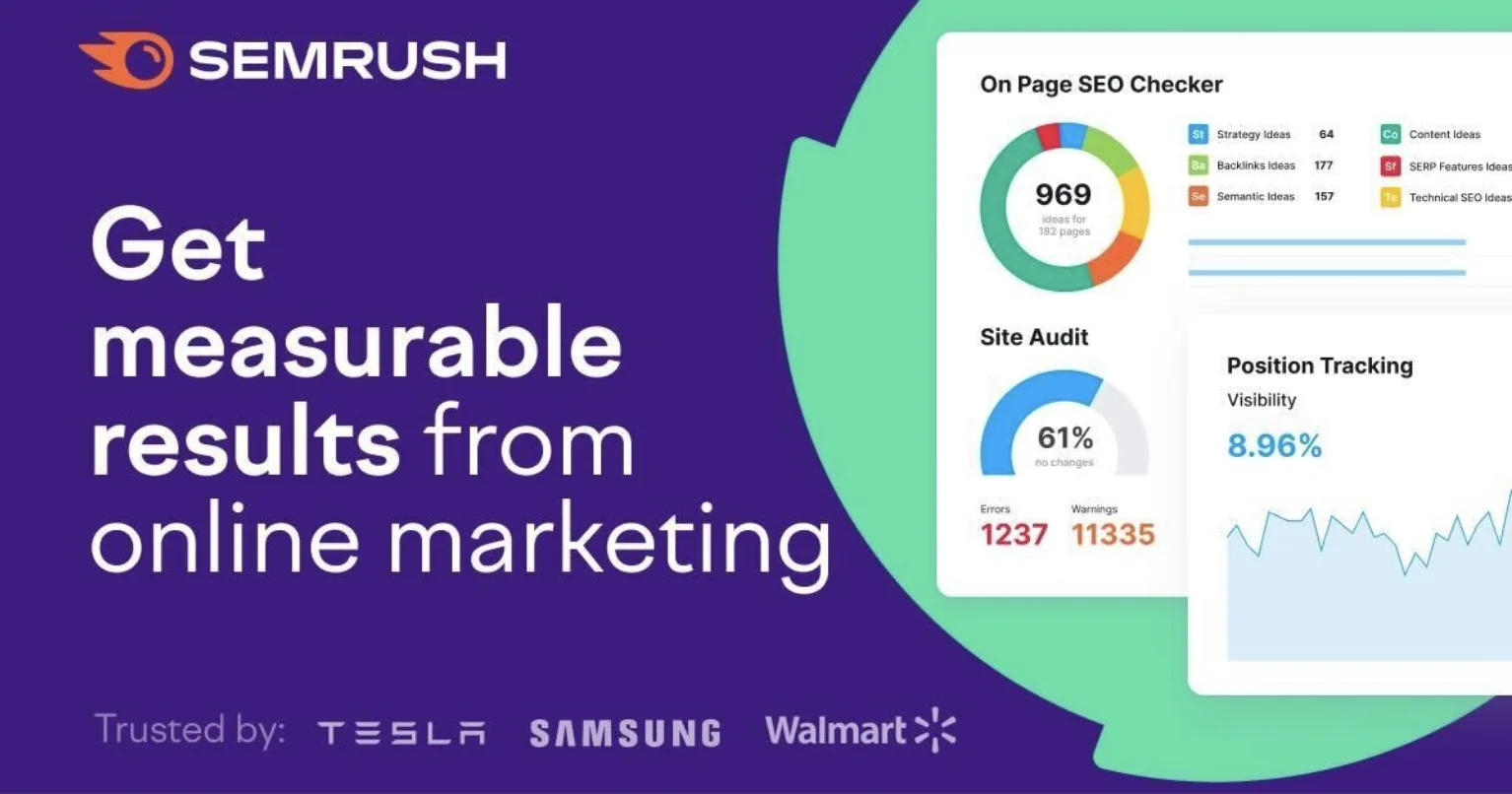 SEMRush comprises a gigantic keyword database of over 24B, which users may leverage for target keyword investigation, ranking follow-up, searching for competitors, ad tracking, and gap analytics. Crafting and managing different projects concurrently is hassle-free with the Projects feature. Crawl the site, monitor backlinks, and uncover brand mentions to produce high-performing campaigns for your digital marketing progress.
As to competition analysis, SEMRush proves itself as the core Seobility competitor. Competition Research options help uncover what means rivals take to beat you in the SEO arena. Apart from their ranking keywords, backlinks, and ad strategies, users can detect key phrases they share in common with the competition. Unlike other SEMRush alternatives, this will give you an edge in obtaining new links that others have elsewhere. Furthermore, Social Media Tracker enables you to define high-value social networks that are better to invest time and effort into for a business's extensive scaling.
Pricing
Like most Seobility alternatives, SEMRush pitches three subscription plans based on the functional variety of the toolkit. Pro, Guru, and Business packages, with corresponding prices of $119.95, $229.95, and $449.95, will cater to any SEO goals, from small and mid-sized companies to promising agencies or marketing pros.
Verdict
SEMRush appears among the best Seobility alternatives for a reason. With the advanced toolbox, it ensures an effortless SEO workflow and a user experience so intuitive that everyone might take control of it. SEO sharks and newbies alike can streamline different sites' aspects in terms of marketing strategies.
Conclusion
In conclusion, Seobility is doubtless the biggest name in the industry, but sometimes its functionality proves insufficient at providing a seamless SEO experience. So digital marketers and SEO specialists need to choose another best Seobility alternative, which can pose a real challenge. While making a decision, it is vital to carefully consider not only pricing attractiveness but marketing and SEO goals and the potential to scale the business further. Each of the Seobility competitors described above boasts specific unique features suitable for various business levels and needs. 
So as not to go wrong with a Seobility alternative, focus on what you expect to reach from the platform both immediately and in the long run. Moreover, don't perceive other niche companies as a model since Seobility alternatives promoting someone's SEO strategies might not benefit your marketing endeavor. 
Look through the top Seobility competitors to find your perfect software from the perspective of content optimization, keyword research, backlink opportunities, site audit, competitor analysis, and integrations. But also be sure to evaluate interface responsiveness and pricing policy to see whether it matches your overall work frame. All this will help you capture the top Seobility alternative with immense traffic-driving and site-streamlining capabilities. So don't waste a minute and arm yourself with the best Seobility alternatives to grow your business locally and globally in 2023.