General overview
The standard business model in the SEO tools market is to create an expensive, complex, and expensive all-in-one service. However, some developers dare to deviate from this "canon" by creating affordable platforms with narrow specialization. We'll take a look at one such example in today's SpyFu review.
The name itself says that this service is aimed at monitoring competitors. It is so convenient, informative, and effective that its use is really close to industrial espionage. With its help, you can not only find your place in the current business environment but also spy on the best solutions of other players, adding them to your strategy.
SpyFu is also capable of conducting keyword research, although this module remains in the shadows due to its limited functions. In addition, you have only basic tools for managing external links, and you can't count on technical analysis at all.
Thus, the platform is more of a sniper's weapon than a universal combat vehicle. Continuing the analogy, it is also worth noting that it is much easier to master and cheaper. The answer to the question of who should buy a subscription to this platform will be revealed in the SpyFu review 2023.
Pros
Multiple keyword research and management tools
Detailed PPC and CPC metrics
Database with 14+ years of Google data
Highlights unlikely competitors
Displays rival ROI
Unlimited reporting
Cons
Ad metrics can be complicated for novice SEO users
Keyword research tool lacks data
Basic keyword rank tracking
No site audits
Overwhelming and confusing UI showed in SpyFu review
Data only for UK and the US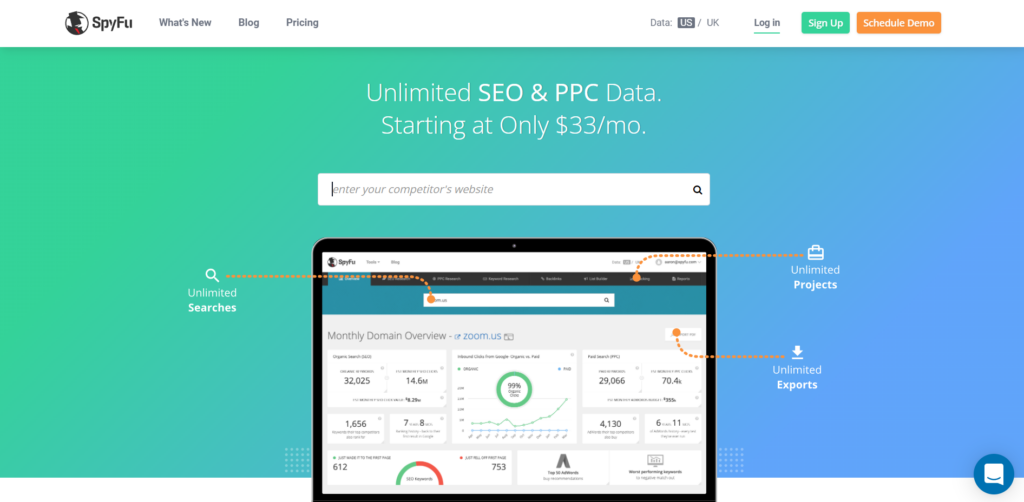 Founded in 2005, SpyFu grew from a small web-scraping project to the Arizona-based search analytics company it is today. As was mentioned, SpyFu is primarily known for its competitive and keyword research capabilities, and as the name suggests, it lets you 'spy' on other online businesses. It's a great tool for finding target keywords for SEO and PPC campaigns, and understanding what your rivals are up to. And it is this functionality that will be the main concern of the SpyFu review.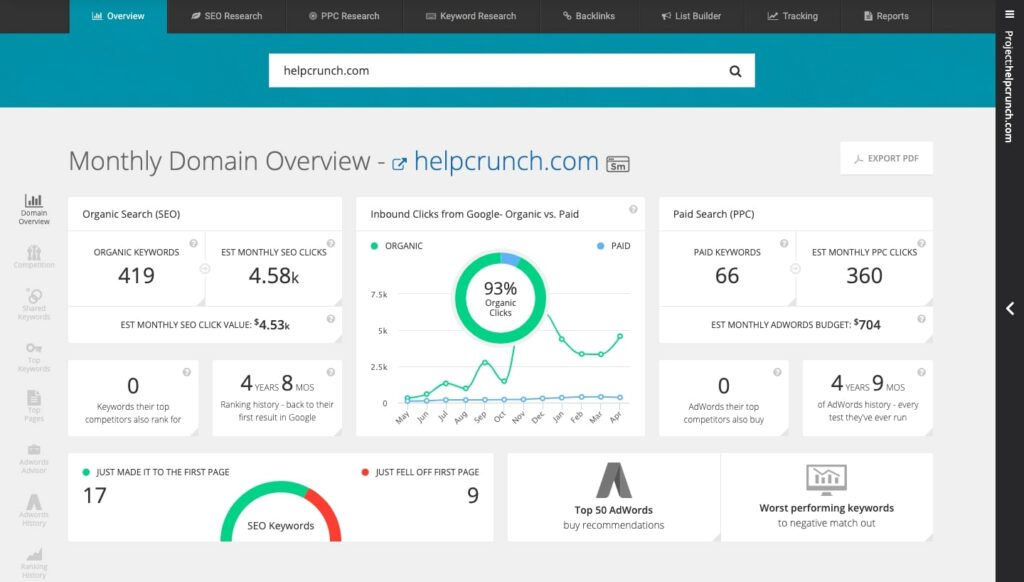 Given the fact that SpyFu doesn't have a website auditor, it can't really be a contender for our favorite tool by default. However, it's slick UI paired with the data it provides provides great value to marketers seeking to boost their online presence. So if you can do without a site auditor and operate mostly in the US and UK, then SpyFu is a bargain.
Pricing & Plans
SpyFu offers a free 30-day trial along with three subscription plans, with the most affordable one costing $39 a month–a great option for SMBs.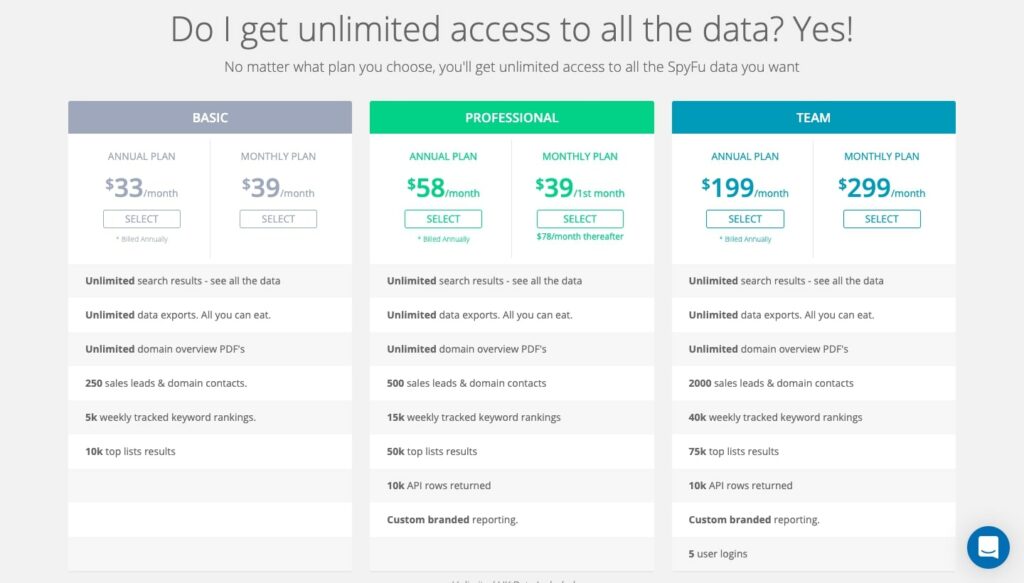 The Basic plan in SpyFu comes at a monthly cost of $33, if billed annually, and $39 if you decide to pay every month. But unlike the other tools we reviewed in this round-up, SpyFu doesn't price its plan by search results. In SpyFu, every plan includes unlimited research for domains, keywords, keyword groups, backlinks, domain comparison, and unlimited data exporting capabilities. In terms of keyword research, an unlimited number of searches sure does come in handy. However, in the SpyFu review 2023, we should mention that there are still limitations. You get 250 sales leads and domain contacts, 5k tracked keyword rankings per week, plus 10 domain and PPC reports.
Next in SpyFu reviews is the Professional plan, starting at $78 a month or $58 a month when billed annually. With this plan, you get 500 sales leads and contacts, can track 15k keyword rankings each week, get access to the API and custom-branded reports.
Last, SpyFu offers the $299-per-month Team plan that costs $199 a month when billed annually. Get 2k sales leads and domain contacts, track 40k keyword rankings a week, plus share your access with 5 users.
Rank Tracker
Getting started with SpyFu is very simple. All you have to do is enter a domain or keyword you want to analyze and get a plethora of data.
We will get to competitor data later on in this review of SpyFu, but in terms of keyword research, you get a lot of data from SpyFu, including top domains ranked for the target keyword, search volume, value, daily clicks, keyword ranking dynamics, cached copies of the SERP, similar keywords, and last but not least, URLs of the pages that come up in search for the target keyword. With this data, you can improve your content strategy to better appeal to your audience.

Once you've enhanced your content strategy, you can use SpyFu to get an understanding of whether or not you're getting the desired results. And that means keeping track of your site's keyword rankings.
Under SpyFu's Tracking tab, you can do just that. Here, you can take the list of keywords you track in your campaigns and monitor their search engine standings. SpyFu will send out weekly reports to your inbox with data on overall domain rankings and keyword ranking dynamics.
SpyFu reviews note that you can also set up custom SEO reports. Just enter a domain and decide if you want to get a report on suggested domain keywords. Upon entering custom keywords and choosing competitor URLs, you will get the option to get a report on them now or every month. As is the case with most tools available in SpyFu, and it's sort of in the name, you can use the tool to keep track of your rivals' performance in paid and organic search.
Furthermore, SpyFu's report on rank tracking can let you know where your web pages are ranking for a search query over time. For the time being, SpyFu can track weekly organic and paid keyword ranking positions on Google and Bing.
Given the fact that this is a must-have feature for any SEO tool, SpyFu doesn't track rankings daily, and hence, doesn't quite offer the same level of sophistication as its competitors.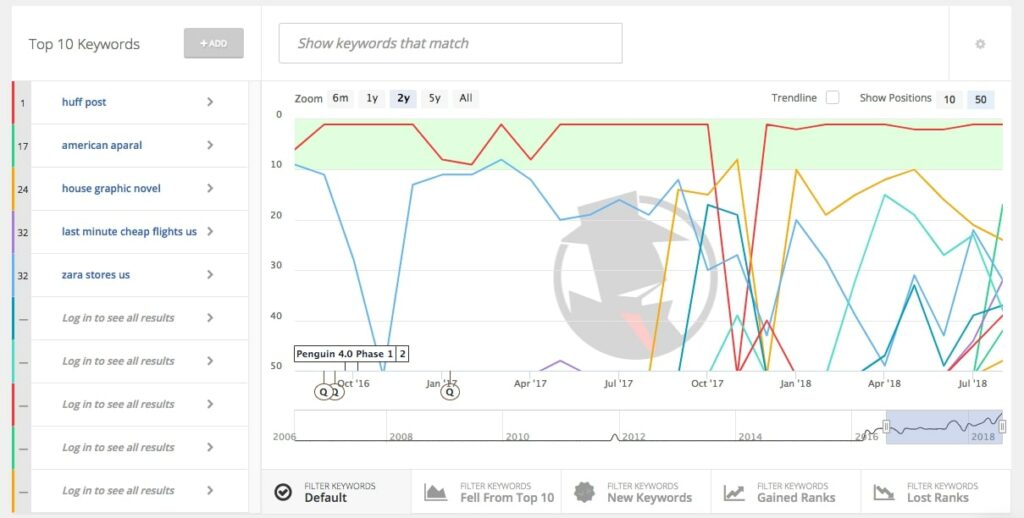 Another useful feature in terms of rankings is SpyFu's Ranking History that allows you to see your or your competitors' rankings across time, going back more than a decade. Not only will this allow you to know what worked for you in the past, but you can also single out the competition that is doing a fantastic job with their SEO strategy. On top of that, the graph provided in the report will let you know how Google algorithm updates impact competitor rankings. Considering the frequency of search engine updates lately, this is very important to note in the SpyFu review 2023.
Site Audit
Since we are reviewing each SEO tool against its keyword rank tracking, website auditing, competitive research, and backlink research capabilities, we couldn't skip this section, despite the fact that SpyFu doesn't have any sort of website or web page auditor. In our SpyFu review, this will be a significant disadvantage of the service.
Competitor Research
When you research any domain using SpyFu, you won't just get data about that website, but about its competitors too. Competitor reports help you find out more about your top direct competitors, send out warnings when a domain is catching up with your keywords in search, provide you with an estimated value of clicks on competitors in SERPs, and even give you an idea of what your competitors will do next.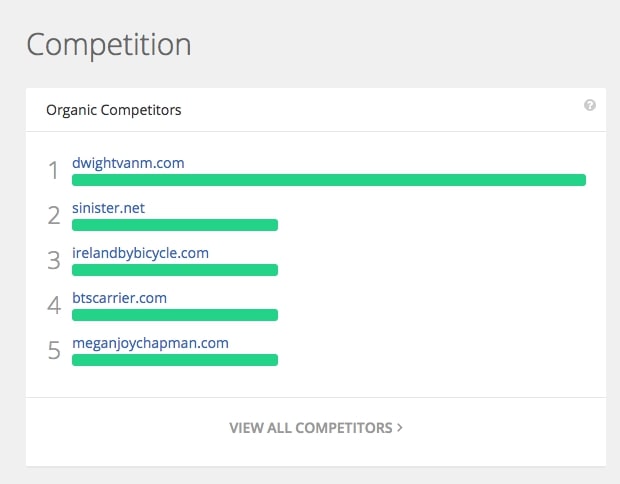 SpyFu's Kombat tool deserves a special mention. Using this tool, you can enter your domain along with two competitors, and get recommendations on what keywords to use. All SpyFu reviews show that it is the most convenient competitive analysis system on the market. To elaborate, you can learn what keywords you don't rank for, but your rivals do and vice versa, get a list of all the keywords a competitor targets, as well as a list of all the keywords all of the competitors have in common.
On SpyFu's main SEO dashboard, you get such overview data on a website as the total number of organic keywords, monthly volume of organic traffic and its estimated value, keywords that improved or lost ranking positions, and inbound links by type. As you can see, the website is analyzed from the perspective of keywords.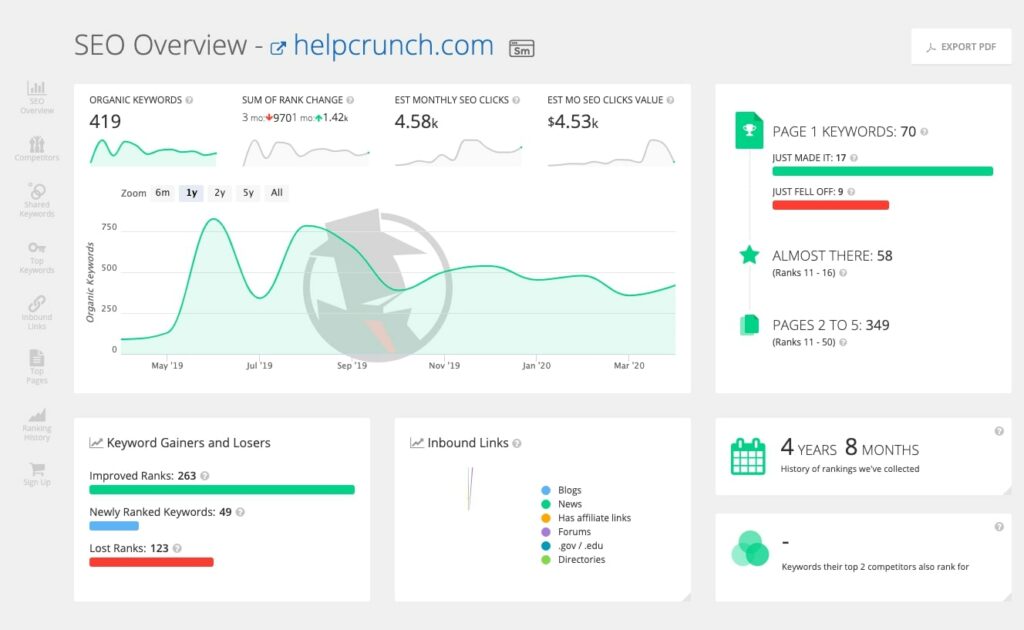 While we review SpyFu, we have the SEO Keywords report that shows you what keywords are performing best in organic search for any domain. Once again, don't just use it to understand your site and audience better, but to understand your competition as well.
With regard to keywords, SpyFu provides data on its ranking position, CPC, keyword difficulty score, search volume and clicks. To make it easier to absorb and analyze data, you can sort keywords based on how successful they are.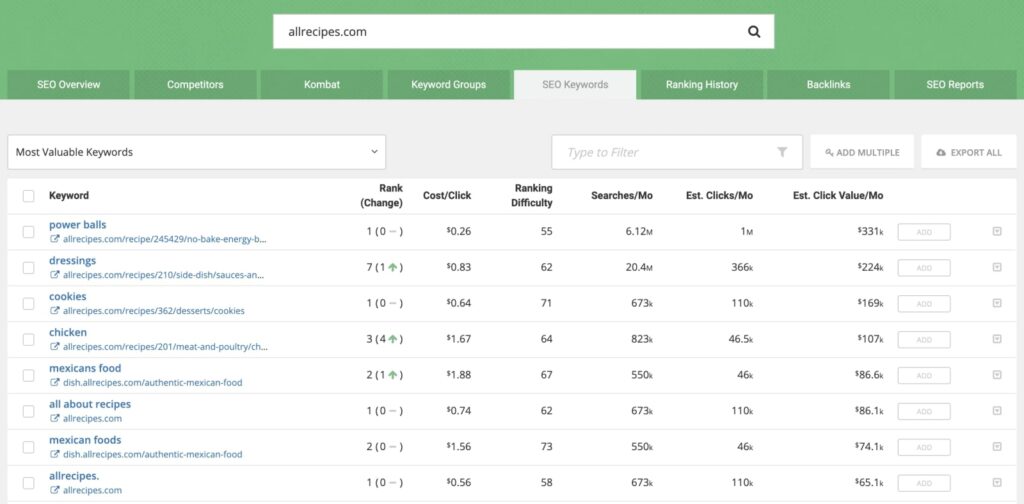 Besides providing organic data, SpyFu has a strong PPC research module that has more than a decade of data on paid search activity across all the big sites. Once again, don't just look at your own site, but closely analyze the competitors.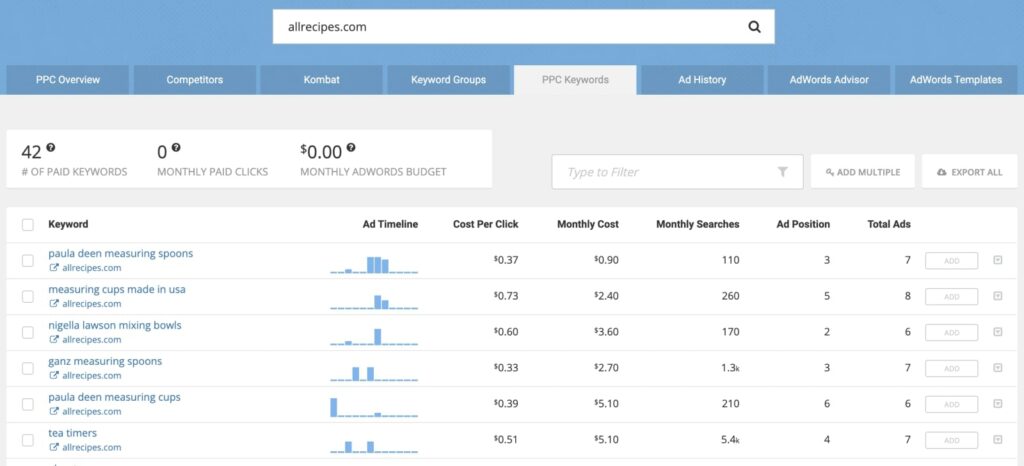 In our SpyFu review, we noticed that you get a bit different data on keywords, like ad timeline, cost-per-click, monthly cost, monthly searches, ad positions, and total number of keyword ads. Going back in time to understand your rivals' ad campaigns is a great advantage.
Backlink Research
Although SkyFu's backlink research tool isn't as powerful as that of SE Ranking or Ahrefs, it still provides a lot of quality data on any website's backlink profile.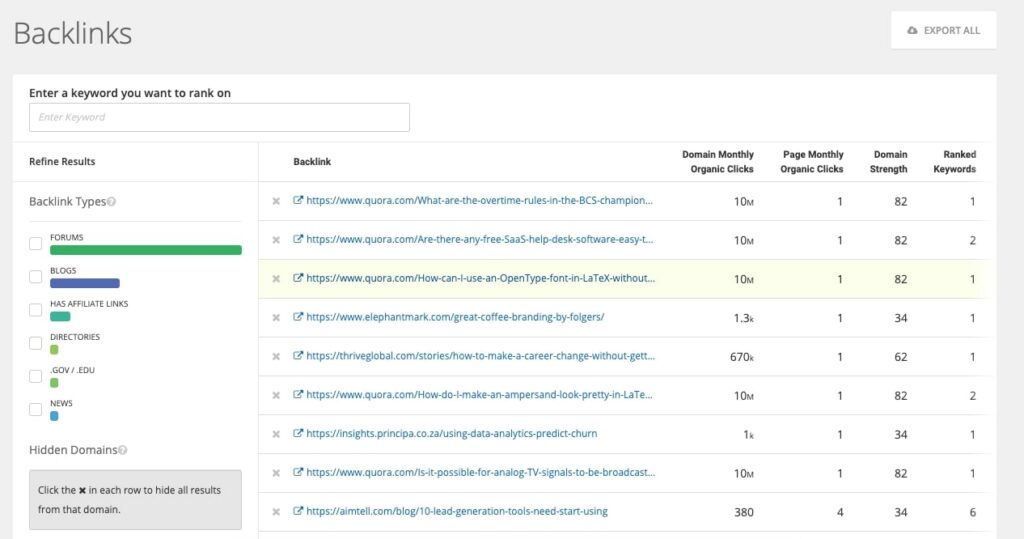 The backlink report provides a list of every backlink linking out to a website. Along with each backlink, you get data on it such as the strength of the referring domain and how much traffic that domain gets each month. If we compare SpyFu with other services in the SpyFu review 2023, it will show decent but far from the best results.
You can also sort the websites that link out to you or a competitor by type. Doing so will make it easier for you to understand where you or a competitor is getting backlinks from most.Are the vast majority of links coming from blogs, forums, news sites, or other website types. While conducting the review of SpyFu, we easily identified the policies of conditional competitors and got meaningful results.
With the help of the data provided under backlink reports, you can locate links that help rivals get more juice, pin down top competitor links. But note that SpyFu only displays backlinks that rank among Google's top five result pages. SpyFu definitely deserves your attention if you are an SMB and already have a favorite site auditor that you don't want to replace.
Conclusions
A detailed review about SpyFu allows us to conclude that the service's audience will be as narrow as its functionality. First of all, the platform is intended for small and medium-sized businesses that already have a website and operate in a highly competitive market. We can recommend it to those who are paving the way to success in e-commerce.
SpyFu review shows that the service allows you to conduct an in-depth analysis of competitors' activities to "borrow" the best strategy elements from the leaders of your segment, avoid mistakes of other companies, and follow current trends. In addition, the platform will warn you in time if your business is threatened by a young, ambitious resource whose rating has been growing rapidly lately.
However, all possible SpyFu reviews show that this service should not be recommended as an all-in-one tool. It does not have an audit module, so you will have to solve minor technical problems yourself or sign up for another subscription. And the keyword research and external link management functions will be more of a nice bonus that might not be necessary given the platform's loyal pricing policy.
Frequently Asked Questions
What is SpyFu?
SpyFu is a specialized service for analyzing competitors on the Internet. It provides a meaningful set of data about other players in your market segment. You can use it to compare website optimization strategies to "borrow" the best solutions. The platform also offers keyword research and external link research modules, although they have somewhat limited capabilities.
How to use SpyFu?
SpyFu is relatively easy to use. You get access to all its features after signing up for a trial or paid subscription. To get the information you need, you just have to enter a website domain or keyword phrase in the search bar.
What is SpyFu used for?
The main purpose of SpyFu is to compare your business with competitors, track the marketing policies of other companies, and study the best solutions of market segment leaders. The service is also suitable for determining website rank, analyzing keywords, and building an array of external links.
How much is SpyFu?
You can use a 30-day trial period to get acquainted with all SpyFu features. The cost of a paid subscription starts at $39, making it an ideal solution for small businesses. To increase the number of leads and keywords, you can upgrade to the Professional plan for $78. The top Team subscription, which costs $299, significantly increases the limits and also allows you to engage a team of 5 users. If you pay for the service for a year, you get a significant discount.
Visit website