If you run a digital business and need to find out how you're ranking on search engines like Google, you must have access to a keyword rank tracking tool. Such tools take the hassle out of the work of SEOs and digital marketers by letting them know how well their pages are performing in search—as in how high they are ranking for their target keywords.
There are a lot of options out on the market that offer different features and functionality, and it can be a real head-scratcher when you have to decide which is worth the investment.
In this post, we provide a comprehensive analysis and comparison of the top 10 SERP rank tracking tools that are available today. When analyzing the tools, we paid attention to:
How many keywords can be track
At what price
How many search engines can each tool track
Is the tool standalone or part of an all-in-one solution
Additional unique features
So read on to discover the advantages and disadvantages, pricing options and decide which keyword rank tracking tool best suits your digital business.
Which SERP Rank Tracking Tool Is Right for You?
We have put together a comparison table to help you get a clear picture of each tool's keyword rank tracking capabilities, price, G2 rating as well as our own.
But before coming to a decision, ask yourself: What features matter to your business? How much money can you spend on SEO every month? It will be much easier to pick the right SERP rank tracking tool once you know what you're looking for.
You can use this table to quickly understand which tool is right for your business in terms of capabilities and budget. The maximum rating in the table is 5, and each rating was scored on the basis of reviews from professionals.
Top 10 SERP Rank Tracking Tools
To make it easier for you to find the perfect keyword rank tracking tool for your business, we reviewed the top 10 solutions on the market. We take a close look at their strong and weak points, their pricing plans, and make a comparison to identify the best solution. By the time you finish reading this post, you will know which SERP tracking tool is right for your business.
1. SE Ranking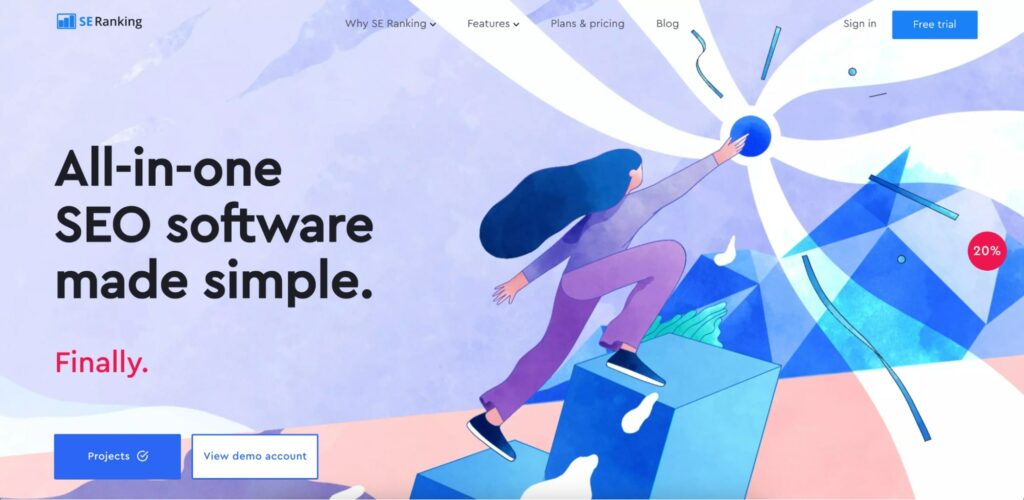 The best thing about SE Ranking is that besides keyword rank tracking, it also has a complete set of tools for SEO and marketing professionals, all for a very affordable price. Monitor backlinks, do keyword and competitive research, audit sites for technical errors, send out neat SEO reports, and do so much more other on- and off-page optimization work.
The Keyword Rank Tracker tool keeps tabs on how well your website—and its competitors—are ranking for its target keywords. Learn everything about a keyword and make use of historical data in the process. Know everything about organic and paid keywords, discover 35 SERP features—more than any of the reviewed tools—that your pages can be displayed for, find out what the level of Google Ads competition is, cost per click, and much more.
You are free to track search results every day, every 3 days, once a week or even on demand across every major search engine including Google, Google Mobile, Bing, Yahoo, Yandex, Yandex Mobile and YouTube in any global location and on any device. Unlike other tools, you can specify the tracking location down to the postal code level and select the Google interface language, which is extremely useful for local SEO campaigns.
And the absolute best part is that when you want to check a single keyword in several locations, the tool doesn't consider this to be additional keywords checks. So you can track 1 keyword in 5 locations and it won't chip away at your account limit.
On top of that, if you need to expand your keyword list, you can always make use of the Keyword Research tool to get great search query suggestions.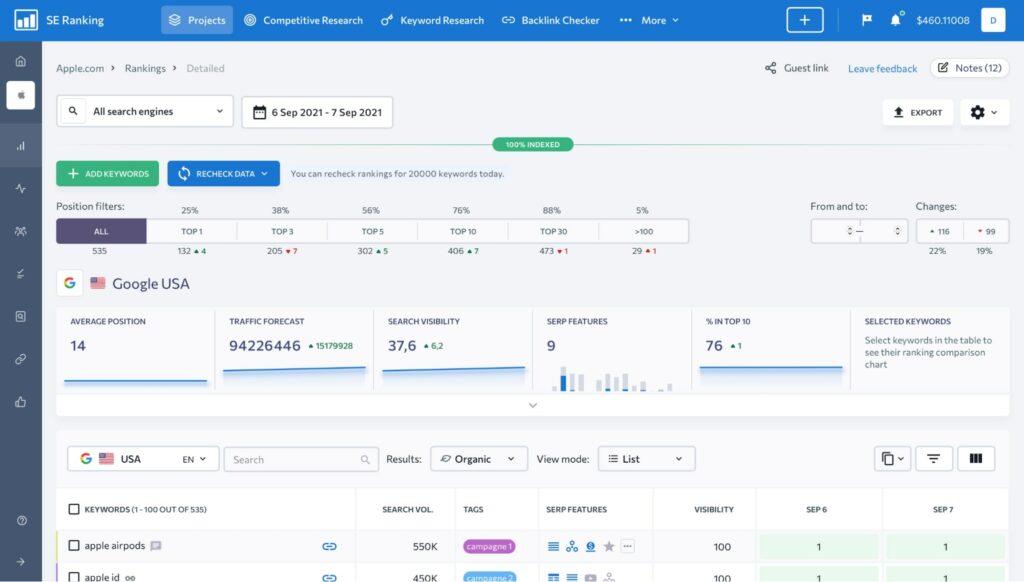 Pros: Assign tags to keywords or group them for convenience, great interface layout and navigation, rankings are broken down into several viewing options, very affordable pricing options and rather generous keyword limits, monitor top 100 search results for all tracked keywords, all-round SEO toolset, multiple ways of organizing data on the screen, excellent customer support, help center documentation and YouTube how-to tutorials.
Cons: UI can get a bit confusing and overwhelming, granular level geographic data may be lacking, API access only on the highest subscription plan.
Pricing
SE Ranking offers a free 14-day trial after which you can purchase one of three default plans or reach out for a custom plan. The Essential plan lets you keep track of 500 keywords with daily updates for $55. Tracking 750 keywords will cost you $109 a month under the Pro plan, and the Business plan will cost you $239 a month and will allow you to track 5000 keywords.
The pricing is very flexible allowing you to get discounts if you decide to pay for several months or a year ahead. Plus if you decide that you want to get ranking updates on a daily or weekly basis, the price will change a lot. The annual discount is 20%.
Verdict
SE Ranking is a very powerful tool that allows you to pay exactly for what you need. Customize your plan and don't get frustrated that you're wasting money on something you don't need. In addition to rank tracking, the platform has very strong tools for research, auditing, and reporting. It has an intuitive, easy-to-use interface where you won't even notice the SEO learning curve. You get onboarding, emails, and other support mechanisms that guide you through everything, transforming you into an SEO guru in the process. The tool is great for businesses of all shapes and sizes, from freelancers to digital marketing agencies.
2. Semrush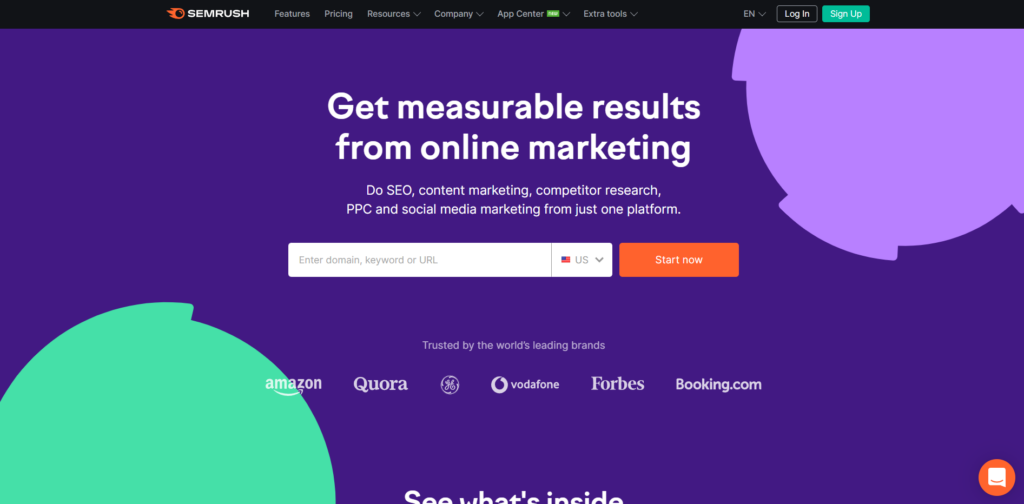 One of the first things that should be pointed out is that Semrush is a rather popular, well-rounded SEO software solution. Besides keeping track of keyword rankings, the tool will also help you do keyword research and collect competitive intelligence, carry out technical website audits, engage in link building, and more. Among other reasons, Semrush remains one of the go-to all-in-one SEO tools due to its constant updates and developments.
In terms of SERP rank tracking capabilities, Semrush's Position Tracking tool has smart filters that let you see what SERP features are triggered by your target keywords. It also points out which SERP features are displayed for your and your competitors' sites, giving you an understanding of where you need to do some additional work and where you are currently performing well.
Moreover, the tool provides you with information regarding the pages that will most likely rank high in search. And if you need to do local SEO targeting, you are at liberty to create multi-targeting campaigns within a single project that will simultaneously keep track of several locations and devices, giving you the ability to select locations down to the city level. The tool also has several integrations, including Trello, that let you create Trello tasks and assign them to your colleagues.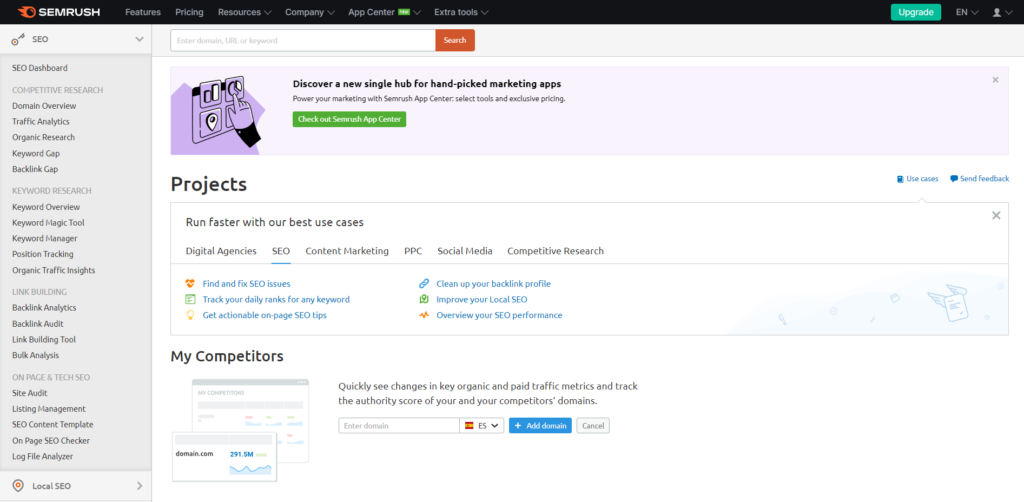 Pros: Rankings are updated within minutes, the visibility index is very efficient, ranking details are provided on a city, state, and country level, and SEO reporting can be customized.
Cons: Despite providing daily ranking updates, rankings cannot be updated on demand; rather expensive; if you need a customizable solution, white labeling will cost you a lot; tracked search engines only include Google and Baidu along with the mobile results.
Pricing
To give you an opportunity to try out the tool, Semrush offers a free 7-day trial of its tools to its potential customers. In order to get full access to the tool's services and features, you are required to subscribe either to the Pro, Guru, or Business plans. Their basic plan offers rank tracking of 500 keywords. To be able to track these keywords, you will either have to pay $120 each month or make a commitment for the year and save $20 each month.
If you need to track more than 500 keywords, you will have to go for the Guru plan with 1,500 keywords that will cost you $230 every month or $192 a month if you go for an annual plan. And the Business plan $450 per month and $375 per year will give you the possibility to track 5,000 keywords. Automated report scheduling is offered in the Pro plan, while the Google Data Studio integration requires you to be subscribed at least to the Guru plan.
Verdict
All in all, it's a very solid tool that is widely used by marketing and SEO professionals. However, the number of search engines it allows you to track is very low, especially if you need more than Google, and you will most definitely need to upgrade from the basic plan if you need to track more keywords. Also, keep in mind that if you want to check a single keyword in, for example, three locations, this will be counted as three keywords. So the limits of the Position Tracking tool are not very generous.
3. Ahrefs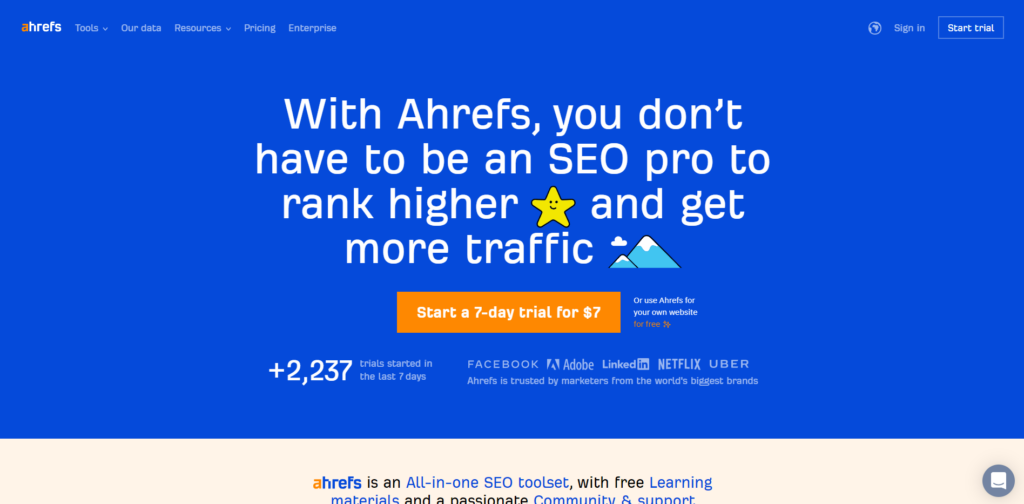 Ahrefs is another top-shelf tool for search engine optimization. Being an all-in-one solution, we can't ignore Ahrefs' other tools that include everything you need to carry out your duties as an SEO or marketing pro, such as backlink analysis and tracking, website auditing, keyword and competitive research, and analyzing your overall business growth.
With the Rank Tracker, you need to define the keywords and select the countries where you want to monitor their ranking positions. Ahrefs will automatically let you know what keywords your site is already ranking for in search, plus it will make suggestions as to what additional search queries you should consider targeting.
The tool provides a lot of detailed information on each tracked keyword, including the keyword's visibility that determines the estimated percentage of people who will see your page in search after entering a specific keyword, the average ranking position of all tracked keywords, an estimation of the number of clicks a certain ranking position will generate, SERP feature tracking similar to SE Ranking and Semrush, overall and detailed ranking dynamics, distribution of top keyword ranking positions, and also not of less significant importance—competitor rankings.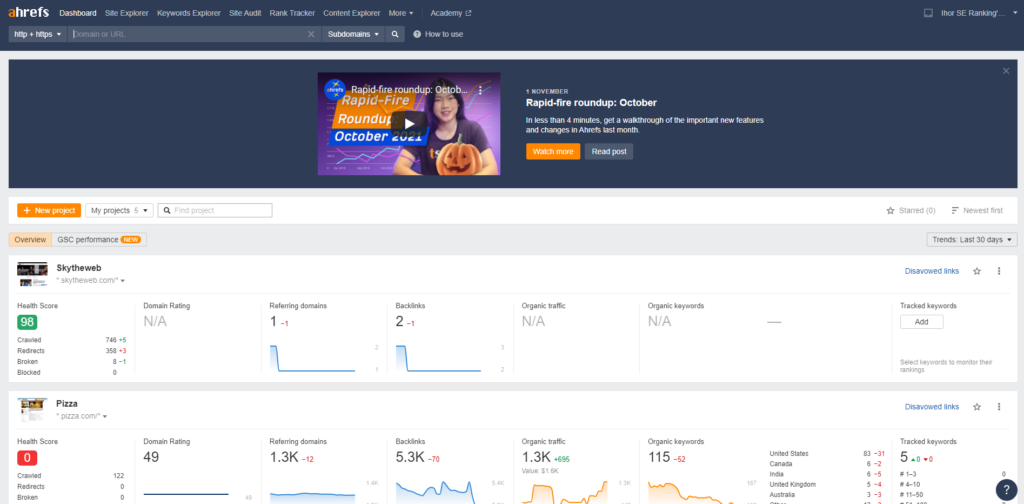 Pros: Great keyword research capabilities, efficient keyword and backlink tracking, provides a clear picture of traffic growth over time, competitive insights, plus it supports 10 search engines along with mobile results, namely Google, YouTube, Amazon, Bing, Yahoo!, Yandex, Baidu, Daum, Seznam, and Naver.
Cons: No daily keyword ranking updates, no storage for historical keyword data, not easy to use for beginners and there is a huge learning curve that you need to go through.
Pricing
Unlike its direct competitors, Ahrefs offers a trial of its tools for $7 for 7 days. The basic Lite plan costs $99 a month, allows you to track 500 keywords and the rankings data gets updated once a week. If you go for the Standard plan for $179 a month, you'll be able to track 1,500 keywords and their data will be updated every 5 days. The Advanced plan is priced at $399 per month and lets you track 5,000 keywords. The Agency plan costs a small fortune of $999 a month, lets you track 10,000 keywords, plus rankings data is updated every 3 days for the last two plans. If you pay for the year ahead, you will get two months for free.
Verdict
Overall, Ahrefs offers a great experience, but its cost is too high when you consider the value it provides. With more and more similar tools appearing on the market, Ahfres needs to seriously think about lowering its price. There are plenty of tools that offer for free what Ahrefs is offering for money. Ahrefs just combines it all together. The tool excels at backlink tracking, competitive research, and technical website auditing. Ahrefs is right there along with Semrush and SE Ranking in terms of all-round comprehensive SEO tools.
4. Nightwatch.io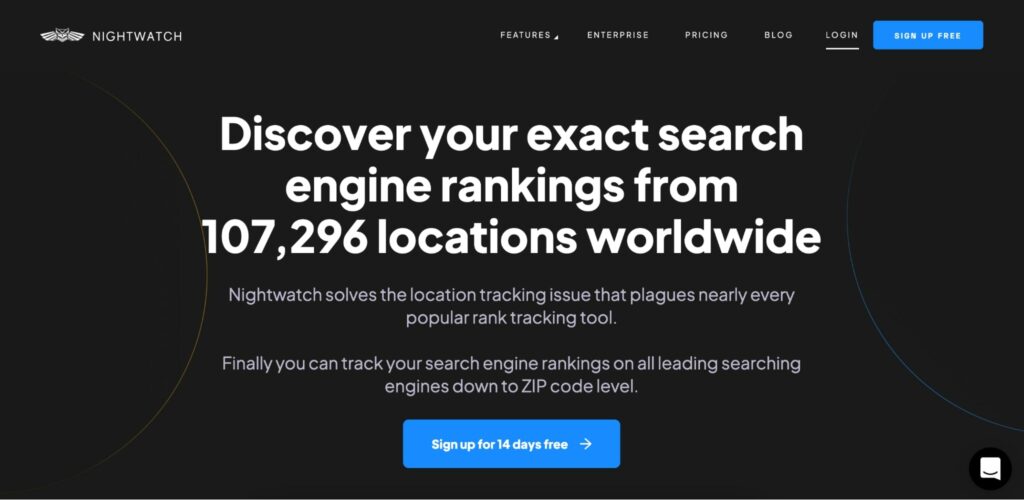 Unlike the first three tools we reviewed, Nightwatch is not an all-in-one SEO solution. This tool was primarily developed to quickly provide keyword performance data. The dashboard displays current ranking positions along with their distribution among the top search results, data on traffic, and other data related to keywords and the pages that rank for them. Plus, you can connect your Google Analytics and Search Console accounts to the tool. In addition to keeping track of keyword rankings, Nightwatch also has a website auditing tool and provides custom SEO reports.
The tool's rank tracking capabilities allow you to keep track of keyword rankings for practically any location, providing great local SEO opportunities. The search engines that Nightwatch can track include Google, Bing, Yahoo and YouTube. Like most SERP rank tracking tools, Nightwatch provides you with information on how your competitors are ranking for the same keywords your site is targeting.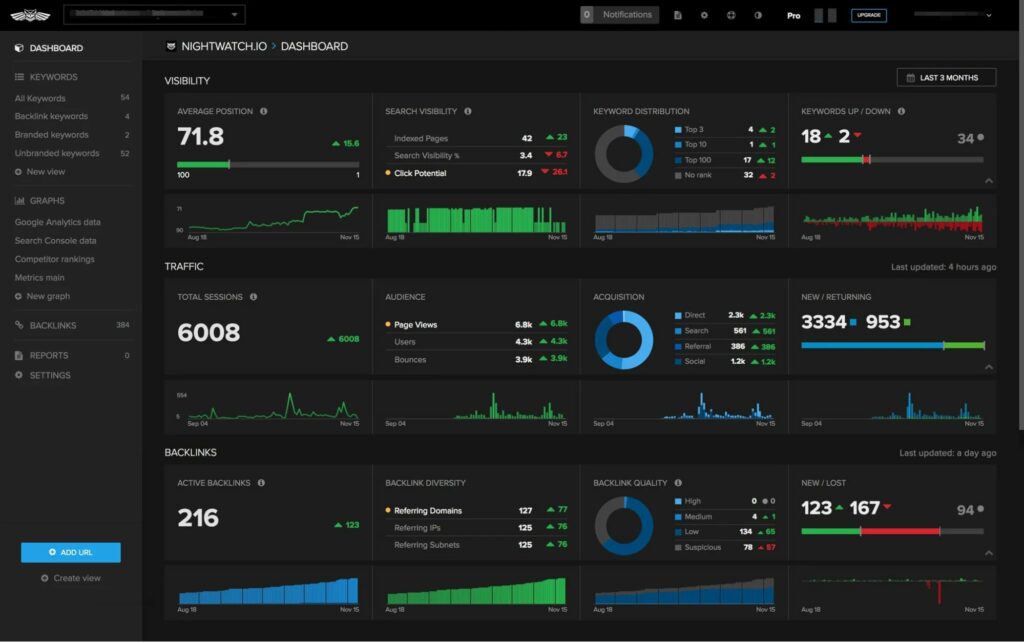 Pros: Search visibility and keyword metrics provide a view on the overall performance of the website, rankings are tracked in Google, Bing, Yahoo, YouTube and DuckDuckGo, Google Analytics integration provides traffic insights, SEO reporting includes customization options and graph creation, and includes GMB map listings.
Cons: Designed for SEO agencies who can handle the cost of an SEO tool that doesn't include all of the tools an all-in-one solution would include, no on-demand ranking updates, the interface needs time to get used to, and white labeling is available in more expensive plans.
Pricing
Nightwatch offers a free 14-day trial to its potential customers. To track 500 keywords, you have the Starter plan that costs $39 a month and $24 a month if you pay annually. The Optimize plan tracks 1,000 keywords and costs $99 per month and $59 under the annual plan. The Agency plan tracks 5,000 keywords and is priced at $369 per month and $221 per year.
Verdict
Nightwatch is best for SEO agencies that are looking for a powerful tool that will help them manage their client's keywords. The tool's reporting capabilities are also very robust, giving your agency a great opportunity to show off your work with great visuals.
Not being an all-inclusive SEO tool, Nightwatch is still great for keywords and website audits. However, when you consider the price you need to pay to track keywords and the fact that the tool doesn't focus on all aspects of SEO, it is not the best option on the market.
5. AccuRanker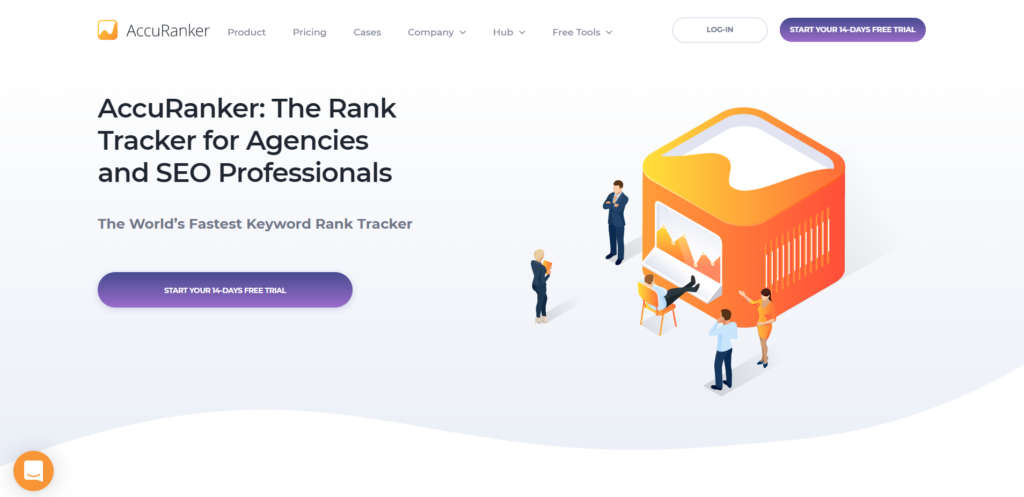 AccuRanker is a cloud-based tool that explicitly focuses on tracking SERP keyword rankings. Its biggest selling point is that it claims to let you refresh keyword rankings data whenever you choose to.
With AccuRanker, you can keep track of local and global keyword rankings on mobile and desktop devices, see how your competitors are ranking for your target keywords, plus know all about the SERP features that you can potentially be displayed for.
Plus, it offers a number of integrations including Google Analytics, Search Console and Data Studio that allow you to seamlessly switch between apps without switching browser tabs. Furthermore, all of the rankings data can be neatly packed in reports and presented to clients.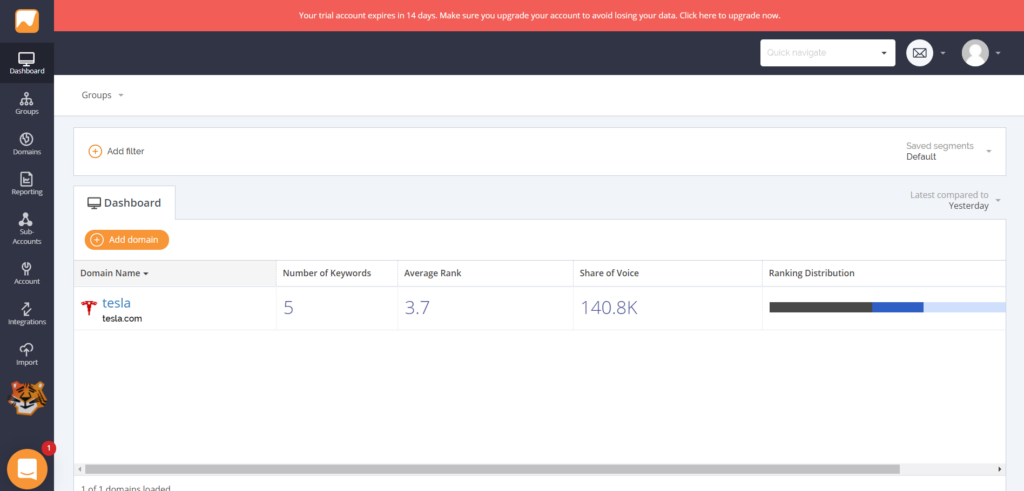 Pros: The design looks great, uncluttered and everything's intuitive, shows all site links in addition to keyword rankings for Google, Bing, Youtube, Yandex and Baidu, allows users to update keyword data at any time.
Cons: Great for SERP rank tracking but loses out when compared to other tools for the same money, not an all-in-one solution, sometimes takes a while for data to refresh, rather expensive.
Pricing
AccuRanker offers a free 14-day trial and its pricing starts at $99 a month for 1,000 keywords. You can save 10% if you decide to commit to an annual plan. If you want to track 2,000 or 3,000 keywords, you will have to pay $189 and $279 respectively. The tool's pricing calculator allows you to go all the way up to tracking 50,000 keywords for $1,979.
Verdict
The tool is great for SEO agencies who have a big budget. Having said that, AccuRanker is a standalone solution that does not offer anything besides SERP rank tracking. So when you do the math, you can get a lot more for your money by investing into one of the all-in-one SEO solutions covered here.
6. Wincher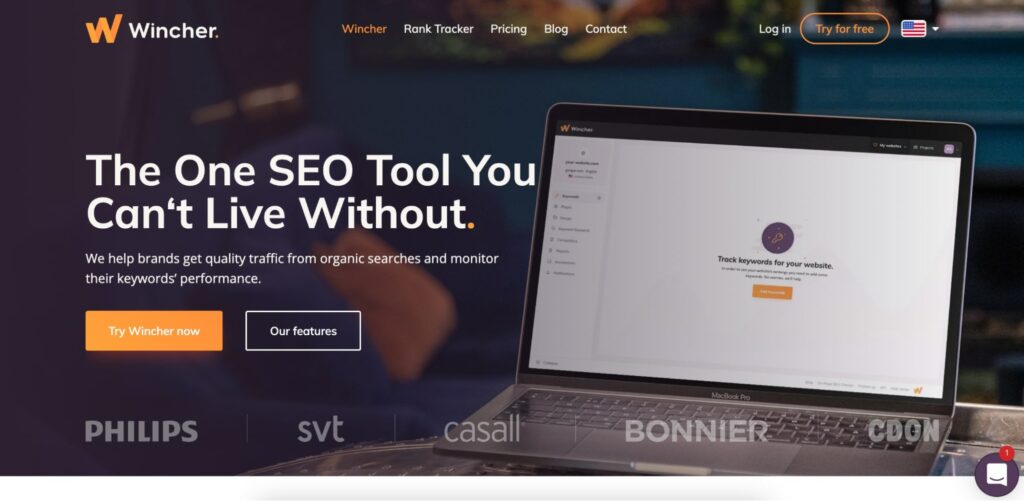 Like AccuRanker, Wincher is also a SERP rank tracking tool that helps track keyword positions, monitor competitor rankings, create beautiful reports, and get alerts whenever something changes.
Among standalone rank tracking tools, Wincher is one of the most affordable options. With this tool, you can monitor your performance and progress in a nice, clean interface. Not having any other tools allows Wincher to have a straightforward design that lets you focus on keywords, their data, and search rankings. Naturally, it lets you know how your competitors are performing in search for your target keywords too.
With the help of this tool, you can also expand your list of targeted keywords using suggested terms and phrases. In terms of local SEO, the tool supports more than 100,000 locations in more than 40,000 cities across 180 countries.
Besides connecting to Google Data Studio, access to the API lets you set up your own integrations. Plus, you can create custom SEO reports, set up the dashboard so that it includes all the data you need.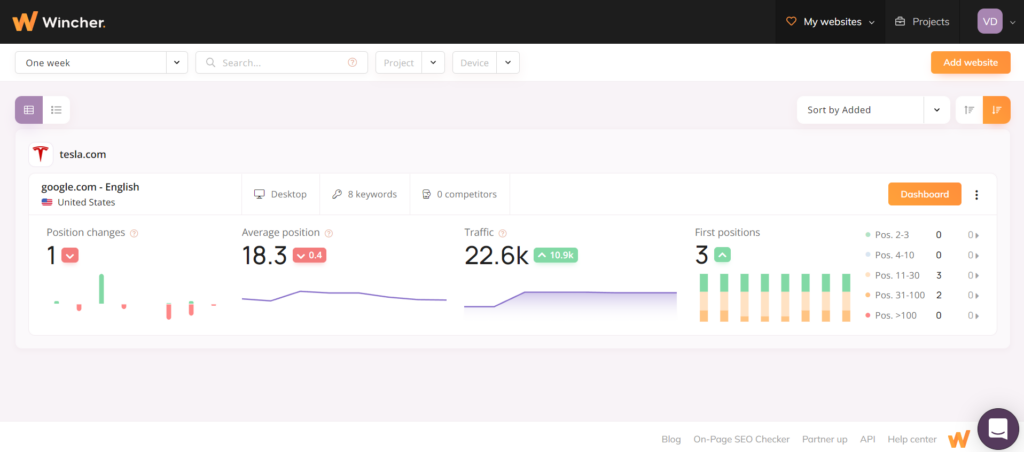 Pros: Simple because it lets you focus specifically on keyword rankings, offers keyword grouping, sends out notifications when your or your competitors' rankings change, powerful SEO reporting, multiple user access, free on-page SEO checker tool.
Cons: WordPress plugin offers limited functionality, search volume data is not always accurate, doesn't offer anything besides keyword rank tracking.
Pricing
Wincher offers a free 14-day trial. If you decide to purchase the tool after the trial, you can get the Starter plan and track 500 keywords for $29 a month or $24 if you get the annual plan, the Business plan and track 1,000 keywords for $59 a month or $49 for the year, and the Enterprise plan that allows you to track 5,000 keywords for $249 a month or $199 on annual plans. It should be also mentioned that you can also track 2,000, 3,000, 4,000 and 10,000 keywords using this tool.
Verdict
Wincher specializes in rank tracking and provides accurate up-to-date data on your target keywords as well as on the traffic each keyword drives to your website. It can be of great help to agencies that need to report on SERP performance to clients.
An argument could be made that it's a top keyword ranking solution. However, Wincher isn't right for you if you are seeking for a toolset that will help you set up a full-scale SEO strategy. Even when you consider the keyword research capabilities of Wincher, it's still not enough to convince SEO and marketing professionals to go for this tool when they can get way more for roughly the same price. If Wincher wants to become an indispensable tool, they need to add more features so satisfy the needs of modern day search professionals.
7. Moz Pro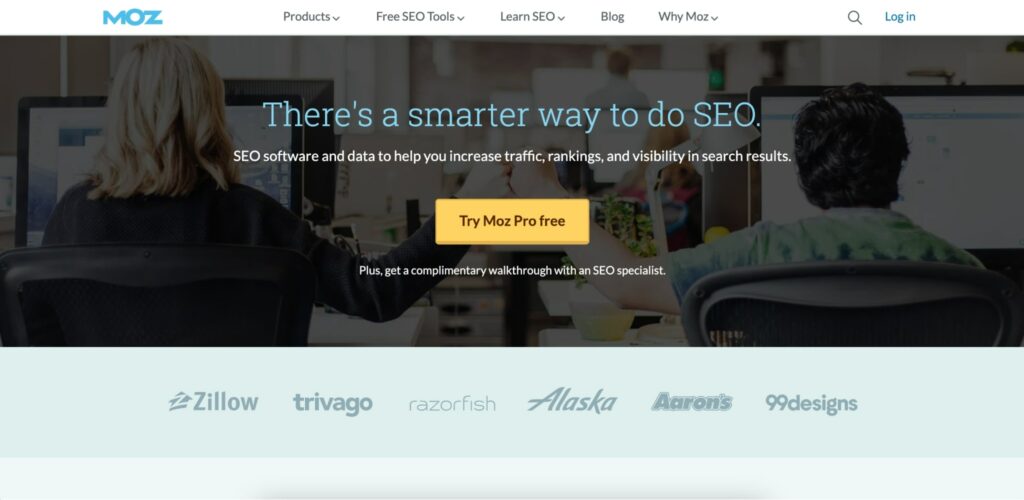 Moz Pro is another all-in-one SEO solution that has features for different aspects of SEO like keyword research, link building, technical audits and on-page optimization. It has been around for a very long time and has an established reputation in the SEO field. However, due to its lack of constant updates and improvements, a lot of the competitors have managed to catch up to it in terms of quality and number of features.
The Rank Tracking tool provides its users with daily ranking check quotas. This is rather unfortunate as you can only focus on a limited number of keywords on a daily basis. Of course, all of the rankings get updated on a weekly basis, but diving in isn't possible every day.
Another downside of the tool is that it can only monitor keyword rankings for the top 50 Google while other solutions allow you to dig deeper all the way to the top 200 results. For this reason, the tool isn't great if your site doesn't rank high in search. However, Moz explains that there are too many fluctuations beyond the top 50 results which make it practically impossible to provide actionable data and insights.
Like many top-notch SERP rank tracking tools, Moz Pro has great local SEO capabilities, allowing users to track keywords down to the city level and select the browser language. Both desktop and mobile result tracking is supported by the tool.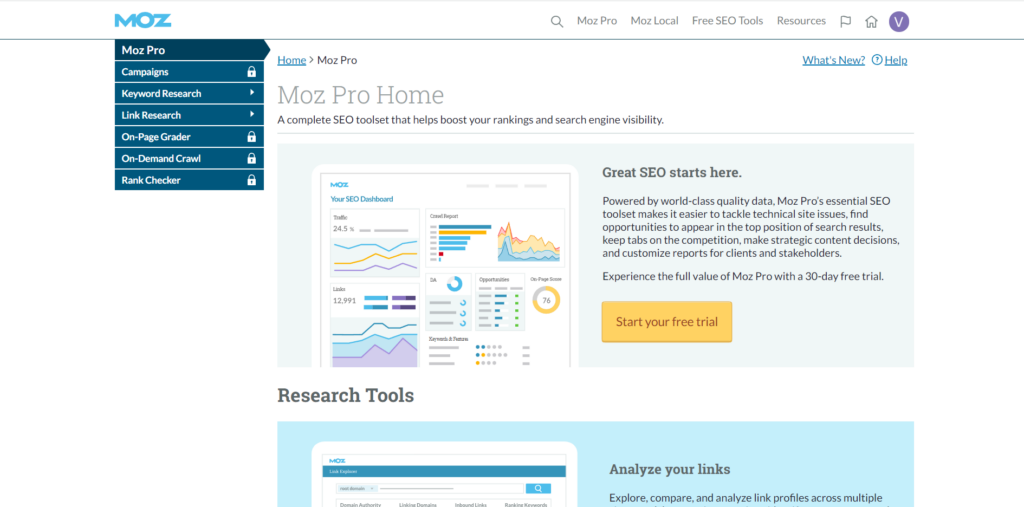 Pros: Find relevant keywords and know their likelihood to rank high, discover content that needs to be optimized for higher rankings, keep tabs on your most important highest-performing keywords.
Cons: Lots of features are missing, poor unintuitive navigation, no mobile app to check rankings on the go, expensive and not very up-to-date.
Pricing
Moz Pro offers a free 30-day trial to any one who wishes to try out the platform. Once you decide to get the full version, you have 4 pricing plans to choose from. The basic Standard plan costs $99 a month and tracks 300 keywords. The Medium plan priced at $179 a month gives you the opportunity to track 1,500 keywords. The Large plan that costs $249 a month will let you track 1,900 keywords. And last, Moz Pro offers the Premium plan for $599 a month that enables you to keep track of 4,500 keywords. Note that you can track the indicated number of keywords in 4 search engines at the same time, plus you can save 20% by going for an annual subscription.
Verdict
Despite having done a lot of work on their tools, the all-in-one SEO solution Moz Pro still excels at analytics and tracking backlinks. They haven't redesigned the interface in ages which is why new SEO experts who are used to new style apps may find the tool a bit dull in terms of the appearance. On top of that, it remains a rather expensive SEO solution regardless of the fact that there are a number of competitors with higher quality tools.
8. SERPWatcher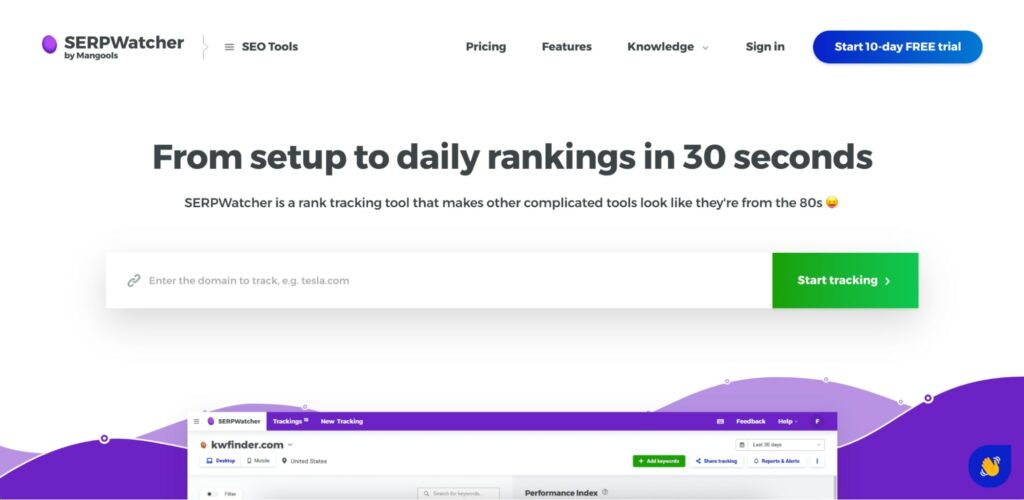 SERPWatcher is a tool developed by Mangools and it's very similar to all the other SERP rank trackers on the market. Since Mangools is an all-in-one SEO solution, you can do all of your SEO and marketing activities in this toolset.
Like other similar tools, you need to insert keywords manually or via a file before the tool is able to collect their rankings data. There is nothing that stands out in this tool other than the fact that it's more affordable than most of its competitors. If you're a start-up company and don't have a huge budget to spend, you can start by trying this tool.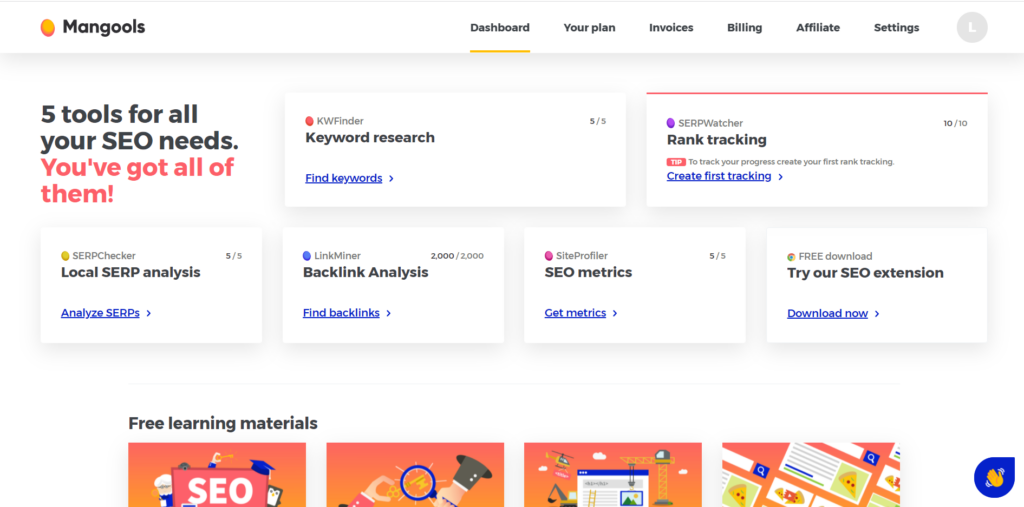 Pros: affordable price compared to bigger tools, straightforward design, provides rather accurate ranking results, the tool's support services are responsive and helpful, each tool feature has a dedicated tool, keywords are updated daily.
Cons: Doesn't excel in other features except rank tracking, no data on featured snippets, often provides estimated data.
Pricing
The tool offers a 10-day free trial, after which you have several subscription options. For $49 a month or $29.90 per year, you can track only 200 keywords. The price will increase to $69 a month if you decide to track 700 keywords. To track 1,500 keywords, you have to fork over $129 each month. Plus, you can save 40% if you opt for an annual plan.
Verdict
SERPWatcher is a great tool that provides data aimed at helping you make informed decisions when it comes to doing keyword research, and it also gives insight into your site's search rankings. However, when you actually do the match and compare the keyword limits that the tool offers, you can see that it's not even as affordable as it claims to be. Other tools can give you twice as many keywords to track for the same investment.
9. Advanced Web Ranking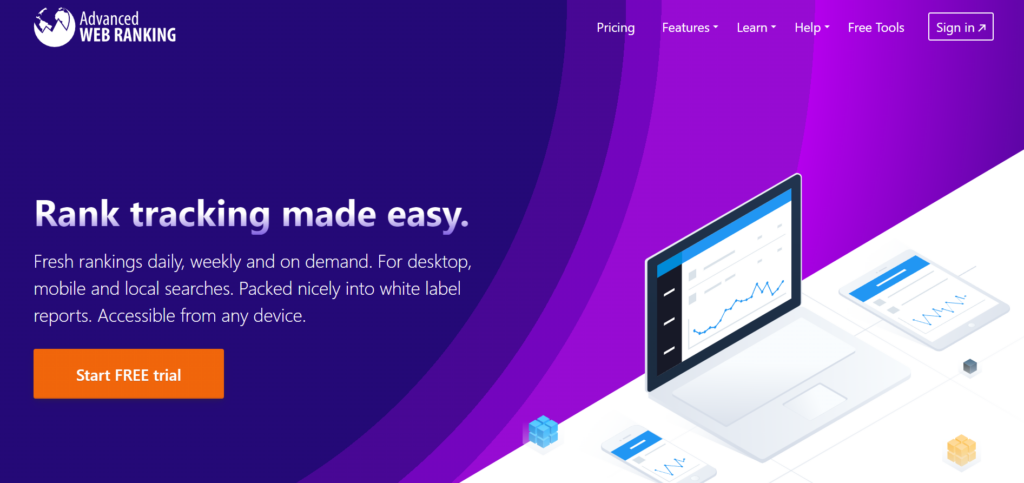 Advanced Web Ranking was designed to focus on keyword tracking, management, as well as reporting across every big search engine. With this tool, you can manage an unlimited number of projects, sites, as well as keywords all the way from doing the research to daily tracking. Because of this flexibility, Advanced Web Ranking can be a great tool both for freelance pros and SEO agencies.
Besides rank tracking, the tool offers integrations with Google Ads, Google Analytics and Search Console, plus it has tools for performing technical site audits, keyword and competitive research. It can be easy to use because of its focus on rankings.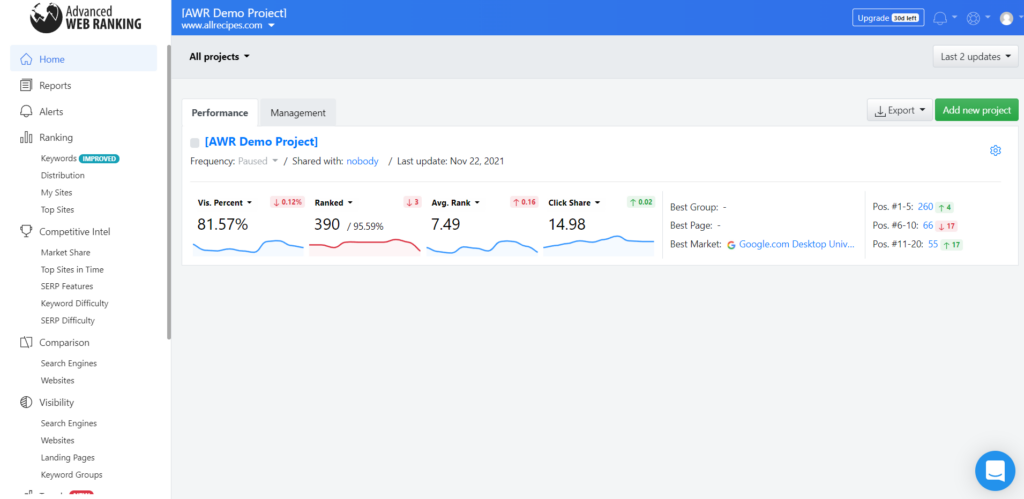 Pros: Provides mobile and desktop data from 4,000 search engines including every major one, allows you to specify keyword tracking down to the city level (GPS coordinate tracking is supported too), on-demand ranking data updates, and most generous keyword tracking limits.
Cons: No goal and conversion tracking, no possibility to manage multiple sites, large projects can load and update slowly, and the cost quickly goes up as you start tracking more keywords.
Pricing
You can start your journey with Advanced Web Ranking with a free 30-day trial. If you go for a paid subscription, you can start tracking 2,000 keywords for as low as $49 per month. The Pro plan lets you track 7,000 keywords for $99 per month, the Agency plan offers 14,500 keywords for tracking for a price of $199 per month, and the Enterprise plan gives you 35,500 keywords to track for $499 a month. By the way, you can save 10% by paying annually.
Verdict
If you need to track a lot, and I mean a whole lot of keywords, this is the tool for you. Unfortunately, it doesn't offer much beyond rank tracking but it's very difficult to compete with the tool's price if you don't offer any other SEO tools. It's great for agencies who have to keep tabs on all of their clients' keyword rankings. However, it makes more sense for most professionals to have an all-in-one tool that allows them to handle all of their SEO from one central location.
10. ProRankTracker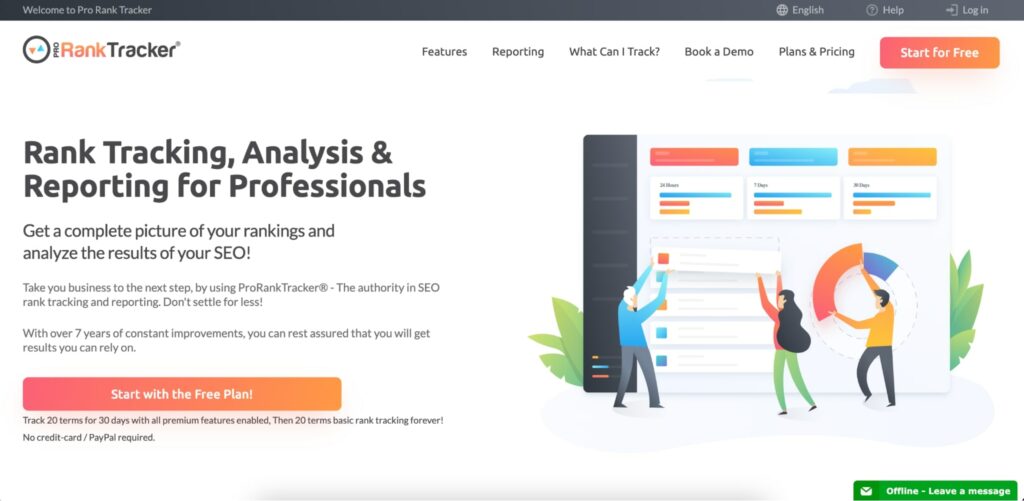 As the name suggests, ProRankTracker offers comprehensive SERP rank tracking features along with SEO reporting to help everyone involved stay on top of website rankings. It is a cloud-based tool that's great for SMBs and large enterprises. It's a standalone platform that lets you check keyword ranking positions for websites and videos.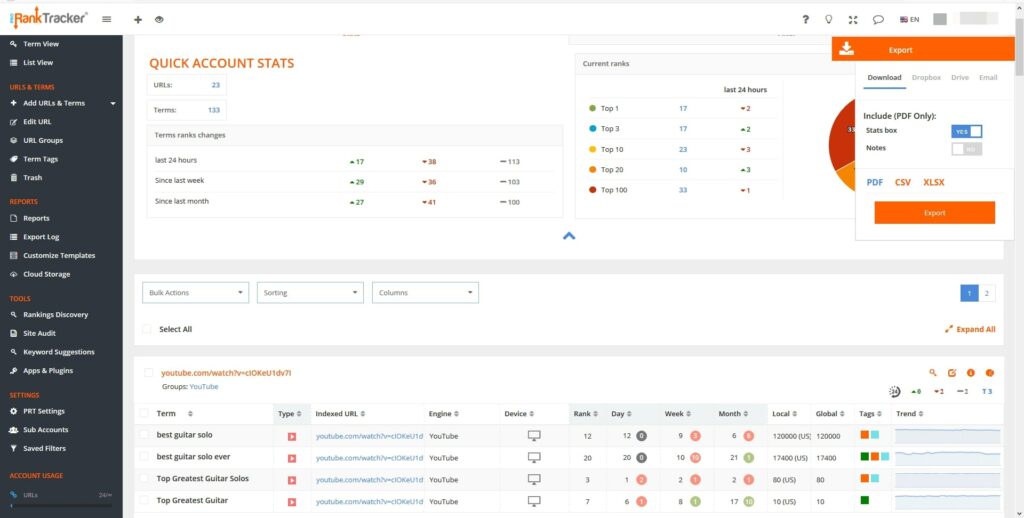 Pros: On-demand ranking updates, historical data on keywords, easy to navigate, provide a vast amount of data on keywords, and offers automated reporting.
Cons: Team view option has poor design, no Google features, knowledge panels or snippets, data can be inaccurate, projects aren't organized logically, and doesn't offer other SEO tools.
Pricing
You are welcome to take advantage of the free 7-day trial to try out the tool. They have very flexible pricing options that allow you to decide how many keywords you want to track. To track 200 keywords, you will have to pay $25 a month and $49 will enable you to track 500 keywords. Tracking 1,000 keywords will cost you $89 each month and 2,000 keywords costs $129. ProRankTracker also offers a 10% discount on annual plans.
Verdict
ProRankTracker offers a decent rank tracking tool that has good reporting features, has Google Drive and Dropbox integrations, as well as a WordPress plugin. With an entry-level plan, you can track 200 keywords for $25 which is a tad on the expensive end. It's not our top pick as it's a standalone tool and the cost of tracking 200 keywords can get you a lot more in other more comprehensive tools.
Final Thoughts
The 10 tools covered in this post are the best options currently available on the market, be they standalone or a part of a bigger tool-rich platform. The bottom line is that they help you keep track of your rankings.
We have found SE Ranking to be great in terms of the price-value ratio it offers. Semrush and Ahrefs are also amazing when it comes to all-in-one solutions. However, there are some strong competitors in AccuRanker and Nightwatch that focus solely on rank track. Obviously, go for the one that covers your rank tracking needs and doesn't eat away at your budget.